BMX Mania Co-Sponsors




---
October 2008
Today's BMX Racing News - Friday, October 31, 2008
---
RaceplaceBMX.com Launches New Bike Shop Team!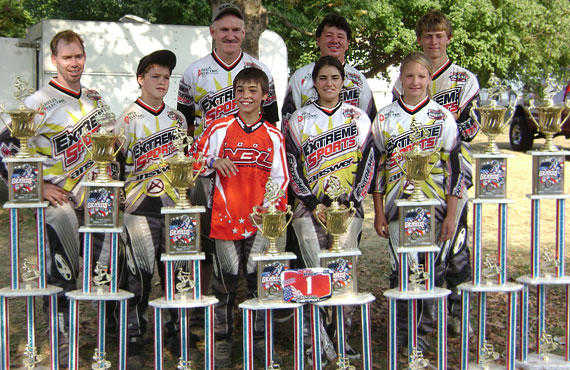 Raceplacebmx.com, out of Las Vegas has announced the formation of a hot new RacePlaceBMX.com Bike Shop Team.
This new Bike Shop Team will be in addition to the existing RacePlaceBMX.com Factory BMX Team.
The new Bike Shop Team has a long history, as it's none other than the former Extreme Sports Team, under Team Manager, Scott Angus, no stranger to BMX Battles, himself!
Scott raced pro back "in the day", and currently terrorizes 'old guy riders' in both the ABA and NBL BMX Racing Sanctions.
Scott and the whole team are excited about hookin' up with RacePlaceBMX.com and expect to have an awesome year.
"Vegas Paul" and the team are also all excited about pickin' up a great new frame sponsorship with Intense BMX as our main sponsor, and would like to thank, "Mr. Intenese", Pete Dylewski. for all the help he has given them.
Look for the RacePlaceBMX.com Bike Shop Team doin' battle at an ABA or NBL National near you, SOON!
---
Today's BMX Racing News - Thursday, October 30, 2008
---

Team ONE/Kenda would like to congratulate Maris Strombergs from Latvia on
his new contract with Free Agent.
We want to thank Maris for the 5 years that he was on ONE Bicycles and the results
he brought ONE and their sponsors.
We hope Maris will bring his new ride the same results and joy that he gave us.
Thank you Maris.

---
---
---
---
---
Mike's Bikes Cleans Up At ABA Redline Cup Central

Mikes Bikes Racing team headed for the Redline Cup Central finals this past Saturday the 25th of October to finish what they started in September.
To start things off we want to tip our hat to the fine folks and crew in St. Peters… considering there entire facility was under a small lake only a few short weeks ago they really pulled together and found a way to get the track back in to shape.
Thanks from the entire team for all your hard work and efforts.
That work must have inspired our riders as we were on a mission Saturday, Trenton DuVall got the team started with a Win in the 11-12 open Classes grabbing the first of what would be many Redline Cup #1 plates for the team.
The Girls on the squad turned things up with "Sassy Cat" Christina Riedemann grabbing second in the 6 year old girls calls.
Team mate Krista Bernick Also scored up a second place finish. Katelyn Deters brought home a Redline Cup #1 plate along with Kaitlyn Larson both riding a superb race out pacing the field.
In the Cruiser Classes Nick Deters won his Second #1 plate of the day for his great performance in 9 year old Cruisers, his first win came just a bit earlier in the day during the open classes, Nick will be one to watch at grands.
Dylan Riedemann brought home a second place finish in 12 cruiser for the National team.
The teams A-Pro Anthony Wallace delivered a 3rd place finish, the class of pros was really getting things done in St. Peters.
In class 10 year old Expert "Turbo" Taylor Riedemann brought home the teams Final #1 plate of the day battling one tough field on his way to the win on a beautiful day in St. Peters.
With the Redline Finals in the books the team riders are turning their full attention to the ABA Grands.
Our team is really looking forward to making some noise in a very tough field of riders down in Tulsa, feel free to stop by and check out what is happening with the team by visiting Mikes Bikes MN at the grands this year.
You won't be sorry as our team has partnered with some of the premier companies in the industry… On board with the team for 2009 are Fly… Formula… Formco… Tangent…. Stealth Hubs… Alienation… Kovachi Wheels…. Alltheracing.com
With more companies yet to be named you can see why this team is on its way!
With industry leading products, National calibler riders, and a Strong moral fiber these young racers will be there when the checkered flag drops.
Watch for the future… Watch for our riders…We hope to see you stop by and visit us in Tulsa!
---
2008 ABA BMX PRO Standing through Fall Nationals/Disney Cup-Kissimmee, FL

The ABA BMX Fall Nationals - Disney Cup event was as exciting as ever. With 10 countries and 40 U.S. states being represented you can see why!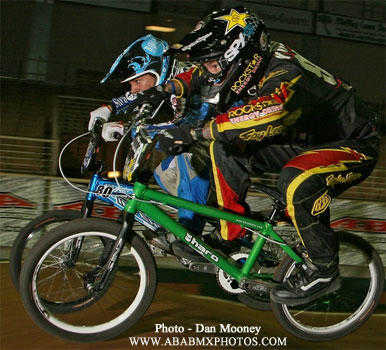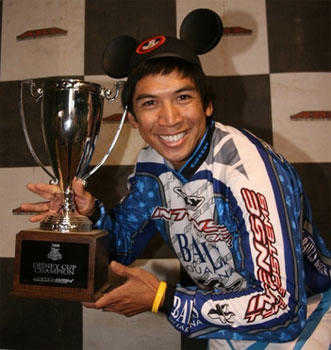 There were also three ABA BMX PRO SERIES scores on the line, many of the sports top athletes were on hand to take a shot at getting some much needed points towards the ABA BMX titles and the brand new fuel injected 450 RMZ Suzuki`s that go with them.
There were several 2008 Olympians in the house this weekend. Team USA's Kyle Bennett was back on the ABA BMX scene and was looking good all weekend long. South Africa's Sifiso Nhlapo was also at the Disney Cup making the AA PRO main on Sunday. South America was well represented as well. It truly was and international vibe to all the classes this weekend!
Current ABA National #1 PRO and PRO Cruiser rider, "Easy Money" Danny C. continued his quest for a repeat history on both titles. Intense/BAWLS rider Danny has been "THE MAN" to beat again this season and isn't looking to hand his ABA BMX PRO # 1's at the end of this season. Danny C. battle through injuries over the weekend and still managed to win PRO cruiser all three days and was able to win in AA PRO on Saturday with a stacked field!
Not to be out done, Redline's new main man, Denzel Stein took the win on Friday showed why he's a force to reckon with. The "Alabama Slama" Barry Nobles, had a rough weekend but put all together for a HUGE win on Sunday to help Clayborn's main man get that much closed to the ABA BMX PRO title.
2007 ABA BMX Rookie Pro of the year, David Herman was fresh his UCI SX win in France and came straight home to the Disney Cup weekend. David looked great and the jet didn't really seem to effect him. The Intense/BAWLS rider strung together some great races and took second on Saturday and Sunday to help bring him right in the middle of the ABA BMX PRO title picture.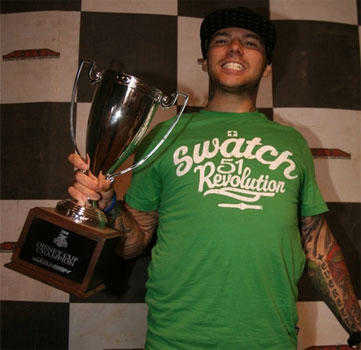 Another rider that has been all over the podium this season is Haro's Khalen Young. The crazy Aussie is a great guy and fun to be around. He's also super fast on a bike and can jump like nobodies business. Khalen strung together three great days inAA PRO making the podium all thre days with a 2,3,3 for the weekend. These scores and Khalen consistency made Khalen Young the overall AA PRO Disney Cup Champion. Khalen was really stoked on the Disney Cup, but his eyes are set for the ABA BMX National PRO Cup that comes over Thanksgiving weekend in Tulsa, OK next month.
ABA BMX has had an unbelievable 7 different AA Pro winners this season. That just goes to show how DEEP the talent pool is at ABA BMX Pro Series events. With only the Race Of Champions and the ABA GRANDS left the racing is going to be intense!
On the Ladies side . Alise Post, Dominique Daniels, and Arielle Martin continued to battle it out all weekend. Dominique seemed to be back in stride this weekend taking all three wins over the three days.She also took home the Disney Cup Championship as well. Defending # 1 ABA PRO ladies champ, Alise Post, battled out with Dominique and Arielle Martin all weekend long taking 2nd on two of the days and she put on one heck of a show for the Disney fans. Arielle Martin was back from her UCI SX title win in France the weekend before and the jet lag didn't slow her down either. Arielle continued to sneak her way into the ABA PRO Ladies title hunt as well. She rode solid to a 3,2,3 weekend. We hope she does because it will only add more talent to an already stacked ladies field. We can't wait for the ABA Grands!
Pro Cruiser saw Danny C. take three big wins at Disney. This makes three wins in-a-row for Danny and he has a strangle hold on the ABA PRO Cruiser Title. But, Barry has been so close this season he can taste it, he seems to be more focused then ever on winning it all at this years ABA Grands!
Vet Pro saw the Kenth Fallen and Dale Holmes show going at it. Dale has been back racing the BMX scene hard. But Kenth Fallen has been on a mission for the ABA BMX VET PRO title. Dale got the experience, Kenth has the speed. It's been quite a battle all year long and things are really starting to heat up out there with these two. The ever professional John "The Jackal" Purse was back in the house at the Disney Cup as well. John been a solid contender all year long and is always contender for the podium. Chad Street is looking to take his first ABA BMX VET PRO title as well. Chad's always solid and usually fly's under the radar while the Kenth - Dale show is going on around him. Chad's put in some great rides this season and has been soooo close before. Could this be Chad's year?? If he keeps it up, it just might be his year for the cup!
The ABA would like to thank all the participants, families, teams, sponsors, and BMX industry for helping make the Disney Cup event such a huge success

GO211.com has over 400 videos posted from the ABA BMX Disney Cup/Fall National weekend!

Check it out at: http://www.go211.com/u/disneycup08/
Rider ABA BMX PRO wins after Fall Nationals/Disney Cup Nationals –

AA PRO - Danny "Easy Money" Caluag – Intense/BAWLS – 8 ..... Barry Nobles – Clayborn Bikes - 5 ..... Khalen Young - Haro Bicycles - 4 ..... David Herman – Intense/BAWLS – 2 ..... Denzel Stein – Redline Bicycles - 2 ...... Kyle Bennett - Free Agent - 1 ..... Cristian Becerine - Free Agent - 1
Woman's PRO - "Demolition" Dominique Daniels – 10 ..... Alise "The Beast" Post- Formula – 8 ..... Arielle Martin - Formula - 2 ..... Kayla Gaddis - Intense/Bizarro/JRA - 2 ..... Stephanie Barragan – 1
PRO CRUISER - Danny "Easy Money" Caluag – Intense/BAWLS – 12 ..... Barry Nobles – Clayborn Bicycles - 5 ..... Kenth Fallen - Supercross – 2 ..... Paul Lange – Redman/Rockstar – 2 ..... Michael Kapes – J&R Bicycles -1 ..... Tyler Brown - Supercross - 1
VET PRO - Kenth Fallen – Supercross - 11 ..... Chad Street – Intense/Phantom/On-Trac – 6 ..... Dale Holmes – Free Agent – 6 ..... John Purse – GHP/Powerbar/ABA BMX – 1 ..... Paul Caldwell – Hurricane - 1

2008 Pro Standing through Disney Cup / Fall Nationals:
AA PRO - 1 DANNY CALUAG 2508 ..... 2 KHALEN YOUNG 2247 ..... 3 DAVID HERMAN 2182 ..... 4 BARRY NOBLES 2171 ..... 5 DENZEL STEIN 1280 ..... 6 RANDY STUMPFHAUSER 1071 ...... 7 JASON ROGERS 1049 ...... 8 JARRETT KOLICH 992 ..... 9 STEVEN CISAR 856 ..... 10 CRISTIAN BECERINE 842

WOMEN PRO - 1 DOMINIQUE DANIELS 2488 ..... 2 ALISE POST 2422 ..... 3 ARIELLE MARTIN 1881 ..... 4 STEPHANIE BARRAGAN 1780 ...... 5 RACHAEL LUNA 1690 ..... 6 TERRA NICHOLS 1572 ..... 7 KAYLA GADDIS 959 ..... 8 AFTON SCHRIMPF 767 ..... 9 BRITTANY BATES 694 ..... 10 AMANDA GEVING 652
PRO CRUISER - 1 DANNY CALUAG 2485 ..... 2 BARRY NOBLES 2203 ..... 3 KENTH FALLEN 1925 ..... 4 TYLER BROWN 1725 ..... 5 PAUL LANGE 1569 ..... 6 BILLY ANDERSON 1476 ..... 7 MATT BAISLEY 859 ..... 8 MICHAEL KAPES 828 ..... 9 TODD PARRY 782 ..... 10 JOE SOWERS 570
VET PRO - 1 KENTH FALLEN 2548 ..... 2 DALE HOLMES 2377 ..... 3 CHAD STREET 2357 ..... 4 JOHN PURSE 1950 ..... 5 ROBERT HARRIS 1380 ..... 6 JASON CARNES 1125 ..... 7 MIKE GUL 898 ..... 8 PAUL CALDWELL 898 ..... 9 TIM DINGER 838 ..... 10 ERIC DYER 595
A PRO - 1 KRIS FOX 942 ..... 2 MATT KELTY 939 ..... 3 JON MILLER 915 ..... 4 JASON MORRIS 914 ..... 5 LIAM PHILLIPS 895 ..... 6 MICHAEL LARSON 833 ..... 7 TODD PARRY 805 ..... 8 KARL CLARK 792 ..... 9 JUSTIN MCLINTOCK 742 ..... 10 BRANDON PANUCCIO 711
ABA BMX would like to thank all the 2008 National Series sponsors
American Suzuki-(www.suzukicycles.com ) Dan's Comp (www.danscomp.com) Jig-A-Loo-(www.jigaloo.com) BAWLS Guarana (www.bawls.com) Bawlstyle (www.bawlstyle.com)Redline Bicycles-(www.redlinebicycles.com) FLY Racing-(www.flyracingbmx.com) Sponsorhouse-(www.sponsorhouse.com) Tangent-(www.tangentproducts.com) ABABMXRACERS- (www.ababmxracers.com) Intense BMX-(www.intensebmx.com) T.H.E. (www.bmxthe.com) Fire Magic Premium Grills (www.rhpeterson.com/firemagic/) Disney's Wide World of Sports Complex (www.disneysports.com) GO211.com (www.go211.com)
Without their support, we couldn't make the 2008 ABA racing season such a huge success. Support the sponsors that support ABA BMX racing.
---
Calendar michal.prokop09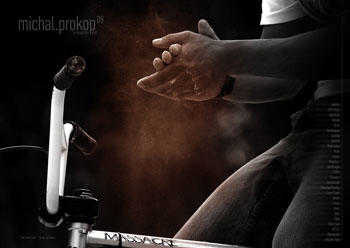 Tons of iron lifted in a fitness centre, kilometers on roads, days on trips, training plans, massages… enough for a talented sportsman to become successful, but too little to become a real professional. It does not depend on how big his sport is, but it depends on what all he is willing to do to not remain only a local hero…
Michal Prokop managed to step out of the shadow of sports giants even before the flames went up over the Beijing. Life on pedals is his hobby and livelihood as well. Today, the twenty-seven-year King of Czech Cycling of 2006 and the factory rider of Author Bicycles acquired all titles on his mountain bike and he's even defended them again. Also, in 2006, only several months after a severe injury, he initiated the Czech national team of the track world championship on oval… As the double World and European champion and the double winner of the World Cup in fourcross, he has again found another great challenge in his highly successful carreer - nothing smaller than the premier of BMX at the Summer Olympic Games 2008 in Beijing, China. He flies tens of thousands of miles in planes and spends hundreds of hours in the car; he does not spent a lot of time at home.
One year of life of the most successful Czech biker and BMX rider was caught by the photographer Rob Trnka in the series of twelve unique pictures of the calendar michal.prokop09. Raw, black & white photos, sensitively processed by the graphic designer Jan Mocnak, offer neither attractive sceneries nor insane tricks. Least of all, they include egoistical posturing or nostalgic looking back to the Olympic year. It was not intended to amaze by a list of exotic destinations. Month by month, we can watch Michal at his training, ice skating race, care for his racing machine or his own body, behind handlebars, or on the road…
Michal Prokop brings a project which does not want to astonish and that's why it is worth attention. The outcome from sale together with the profit from auction of replica of the Michal's Olympic Author machine is determined for the Fund Of Sportsmen at the Foundation of Tereza Maxova. The calendar in the A2 format will have its premiere at the Sport Life exhibition in Brno, where the mentioned auction shall take place.
Michal Prokop's interests in business negotiations are represented by Polis.Riders; communication with media is secured by the company Polis.Media. For any business information, press information, and any supplementing information we are fully at your disposal on below stated contacts.
---
---
BAWLS Guarana Launches a New, Bounce-Packed www.BAWLS.com!
Go211.com Posts ABA Disney Cup/Fallnational Videos!

Go211.com posts over 400 videos of the ABA's Disney Cup/Fallnationals in Kissimmee, FL

Check it out at: http://www.go211.com/u/disneycup08/
---
---
Long time ABA National Vendor Mikes Bikes from Fergus Falls Minnesota is excited to present the next step in Team BMX Racing Evolution.

Racing in previous seasons under the Fusion Force team banner Mikes Bikes Racing is emerging in 2009 partnering with some of the hottest and progressive companies in the country to bring the team on to the racing circuit. The team will bring a rich and proud history into a new era where the belief in each other and giving back to the race community is un-paralleled. The team will enter 2009 sporting a Factory Racing team and a National Support team that will race in the trophy team bracket. While the team is still looking for a select rider or two our Factory roster includes some of the top riders in the country that match our family and team sponsors values.
We have been busy building a community, a following of families that believes that what happens off the track is as important as what happens on the track. That is why in addition to being a national vendor for the ABA, supplying the National racers the top products and information, we will also work with tracks around the mid-west to host free clinics on racing. Education of the families, racers, and the general public is an important part of our overall program. The other point of focus is developing healthy, active young adults. Teaching them that pursuing their dreams and goals while learning how to give back to the racing community as part of Mikes Bikes Racing Family is not only rewarding but extremely honorable.
Please Stay tuned for further announcements to be released regarding our teams sponsors, clinic dates and programs, and exciting race reports from the teams. For more information on the team or sponsorship information please contact info@mikesbikesracing.com
Our 2009 Initial Factory Riders….Elliot McGrath - Taylor Riedemann - Trent DuVall - Zach Tossett - Brad Stover - Kate Larson - Christina Riedemann - Erin Moore - Krista Bernick - Gunnar Gaudette - Jett Gaudette - Anthony Wallace
---
---
Formula Europe Picks Up Fast Euro Kids!

October 22, 2008

Lucie Meerholz (Holland) and Max Ganser (Germany) join Formula's European Trade Team

Lucie Meerholz, the 12 year old daughter of Dutch Distributor FritsBMX, joins the Formula European Trade Team.

Lucie is one of the talented young Dutch girls going fast and jumping smooth.

She is a former European Champion with 5 Dutch National Titles on her name and numerous podium finishes in the big international races.

Lucie is training hard on her custom made Nucleus bike in order to rock the Formula colors in Europe in 2009.

German Max Ganser was also recently added to the Team.

Max has been making a lot of progress the last years and his hard work was rewarded with a 2nd place in the tough Boys 16 category during the European Championships in his home country.

Max proved to be ready to compete in the Junior Men Class next year.

He is also gaining experience in the Supercross Series and will try to be the first German Olympic BMX rider in the 2012 Games.

Formula Bicycles, EuroBMX, Formco Parts, Swatch Watches and Navada.Net Web Design.

EuroBmx - Super Smart Racing- is still looking for dynamic dealers in France, Latvia, Norway, Spain, Italy, and the Czech Republic to promote the Formula brand. If interested, check

www.eurobmx.be

.
---
Ken Cools Signs 4 Year Agreement As Coach For Bike New Zealand
Straight from the Super Coach, himself, Ken Cools, comes the word on a sweet four year deal coaching New Zealand to BMX Fame and Glory!
Coach Cools sez....."Well it's official, yesterday I signed my contract and am now the High Performance BMX Coach for New Zealand for the next 4 years. It puts me thru 'till just after the London Olympics in 2012. I'm pretty happy with everything and am really excited to get my family moved to Auckland and start helping out the country with some good coaching. I will be in charge of all the BMX stuff for the High Performance team and will also be working with BMX New Zealand on a few different things as well. Our arrival date into NZ will be the first week of December, a few weeks later then we first anticipated."
"Separate from my job with BikeNZ, I will be running my Camp Cools training camps throughout the country to make training available for everyone. If you are a track member and would like for me to come to your track, please email me so we can get the wheels turning."
"For the faithful Canadians who have supported me over the years, I will be in Canada for about 6 weeks in the summer where I will be doing select High Performance camps as well as my usual Training Clinics. I will only have a few weekends open so it would be a good idea for tracks to RSVP me ASAP."
---
Vincent Pelluard Signs with U.S. Pro Bikes/Intense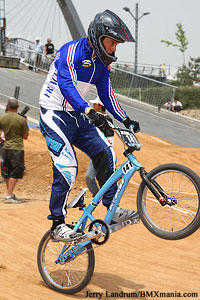 2009 will see Vincent Pelluard riding on the U.S. Pro Bikes team, doin' battle in the tough Euro Rounds, the French National scene and selected UCI races around the world.
Vincent will be doing battle on an Intense Podium, so look out for him to be on......The Podium!
http://www.usprobikes.com/BMX-2009/
---
New Web Site For Excalibur BMX

The Excalibur BMX Team has launched a new web site.
Excalibur is the home for Jeff Upshaw, Josh Meyers, Tommy Zula and a whole bunch of fast kids, and now they've got a new home.
Wanna check em out? Launch it to http://excaliburbmx.weebly.com/ .
---
REDLINE TEAM REPORT
QUEENSLAND, WESTERN AUSTRALIA & NEW SOUTH WALES - STATE TITLES 2008
The Queensland BMX faithful gathered in Cairns North Queensland this year for the annual State Championships. The event was sponsored jointly by Redline Bicycles Australian distributor, BMX International and it's North Queensland agent, Toys R Us.
Credit must go to the BMX Queensland team who put on a first class event. The racing was exciting and went off without a hitch thanks to the considerable efforts of the dedicated band of volunteers and the BMX Qld organizing committee.
The event was an extraordinary one for the Redline team who came out at the end of the weekend with an impressive list of finals placings.
The Titles started well for the team at the Friday cruiser event with this year's World Titles 15 girls gold medalist Melinda McLeod placing 1st in 15-16 girls. Mackay club mate Tristyn Kronk placed 8th in 11-12 boys and North Queensland local Katie Van Zanden placed 2nd in 8-10 girls. The South Queensland crew were not to be outdone with Sarah Harvey placing 3rd in 13-14 girls, Liam Hilliam 5th in 11-12 boys, Toowoomba's Troy Elliot 3rd in 8 – 10 boys and the hard charging Kev Hilliam 2nd in the 45+ old boys.
The team had four representatives in Saturdays Probikx / Champbikx 08/09 round one event. Melinda McLeod came away with another 1st place in 15 girls, locals Ash Pemberton and Todd Pascoe were 3rd and 2nd respectively in Senior Men and Sarah Harvey placed 4th in 14 girls.
A great effort from Sarah in her first Champbikx event and follows on from a W4 & W6 at the 2008 World Titles in China.
Sundays 20 inch finals brought a flood of finals placings for the team. The amazing Melinda McLeod scored her third gold for the weekend in the 15 girls final. North Queensland's Katie VanZanden [9 girls], Mitchell Hoad [9 boys] and Tristyn Kronk [12 boys] all scored 1st placings in their age finals. The Harvey family from Brisbane's Pine Rivers Club came home with the double, Sarah placed 1st in 13 girls and brother Lachlan 1st in the 11 boys. Lachlan put in an impressive performance to come from behind for the win. Troy Elliott rode very strongly to place 3rd in the very tough 10 boys, Todd Pascoe placed 7th in Senior Men and the big man Kev Hilliam came home with another 2nd place in the hard fought 45+ mens event. Ash Pemberton, Liam Hilliam and Adam Hilliam all advanced to semi's.
To top off the weekend for the Queenslanders, the team manager for the event, the remarkable Jeff Mills of Toys R Us scored an amazing 1st and 2nd place for Redline in the Corporate Teams Trophy. A truly remarkable team performance from all Redline's Queensland crew.
Western Australia and NSW were the next states to line up for their titles, and once again NSW Redline team members were out front. This time it was Redlines current 9 girls W1 Saya Sakakibara in the 9 girls blitzing the opposition. Brother Kai and current W3 rode consistently over the weekend to take out 1st in the 12 boys. Both riders dominated their opposition in the finals against some very significant opposition.
The Western Australian event saw current Australian Champion and Junior Development Coach Karl Mustchin take out the double, 1st place in the 30+ masters and 1st place in the 30-34 cruiser. Current Australian Champion in 11 girls, Rachelle Smith continued her good form with another double for the team winning 11 girls and 11-12 girls cruiser. The placings continued to flow with Paul Throns placing First in 45-49 cruiser, daughter Hannah placing 2nd in the combined 13-14 girls class, younger sister Rebecah 4th in 10 girls and Luke Tanner 3rd in 13 boys and 8th in 13-14 cruiser. The team placed 3rd overall in the hotly contested Western Australia Corporate Teams Trophy.
We now look forward to the Victorian state titles in November at which Redline will be represented by the Callan family, Josh, Ziggy and father Damien.
The Redline team invite you to go to www.bmxinternational.com.au and on to the Redline team tab to read individual team members reports on the state titles events.
The Redline Team would like to thank Bill Demaid and his team at BMX International for their continued support and for their ongoing commitment and support for the sport of BMX racing.
---
Today's BMX Racing News - Wednesday, October 22, 2008
BREAKING NEWS!
---
---
---
Future Girl Pro Challenge!!!!!
Sunday December 14th, Steelwheels Indoor in Hobart Indiana is hosting the 5th annual Future Girl Pro Challenge!!!!!
The first and only BMX race to put the spotlight smack dab on the AMATEUR ladies of the sport.
If you're 14 or older by the end of the year and signed up for the double point race on the 14th, YOU'RE IN!!!!!
With only a $5 extra entry fee you can take a chance at being on BMXMANIA.COM or in the pages of BMXWORLD magazine.
Be a part of history and add your name to the growing list of champions that have competed in this great event.
Guaranteed purse for each class (girls and guys) is $600.Riders under 15 will be paid with ABA saver stamps.
Call the FGPC hotline at (219)765-1473 for more info.
Or contact the race director at futuregirlprochallenge@yahoo.com.
---
---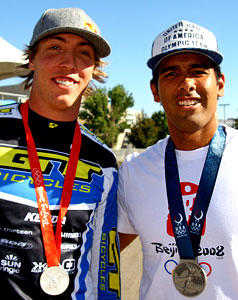 Training Programs
Offered From
Coach Greg!
Coach Greg Romero has recently updated his site, and is making the following offers:
-New 5 week preparation plan for ABA Grands
-New videos
-More free training information on proper warm up. how to train etc.
-Beijing Olympic blog*
-Were offering serious real high performance camps (2009)
*Wanna read some GOOD Stuff? Read Greg's blog on preparing Mike Day and Jill Kintner for the Beijing Olympics.
Washington State's Peninsula Indoor BMX Re-Opens!
Peninsula Indoor BMX 5867 Dogwood Road SE Port Orchard, WA This week....... check it out at http://www.gobmx. com/
Gate Night -- Wednesday Night -- FREE ....!
Gate night participation does require that the rider hold a current ABA membership; memberships, both new and renewal are available at the track on gate night... Full year ABA membership is $45 ......
Racing -- Fri., Sat., Sun.... Friday Night -- registration is 6:30-7:00PM Saturday Afternoon -- registration is 3:30-4:30pm Sunday Morning -- registration is 10:30am to 11:00am
Entry Fees -- Points class = $15, Points class + Open = $20
GoBMX updates are ongoing -- check it out at http://www.gobmx. com/
See you at Peninsula Indoor BMX this weekend... ;-)
---
Sunday ABA Disney Cup Pro results!
Monday Update
Disney Cup race report posted, a little Warwick stuff, Meyers turns pro, Sam & Sifiso rock a final and there will be BIG photo gallery to be posted!
Click on your favorite rider to get all the Pro Finishes on the BMX Mania Fallnationals Race Report Page!
Saturday Photo Gallery Posted!
SATURDAY ABA Disney Cup Pro results!
It's a Danny C Saturday, as Caluag takes AA & Pro Cruiser wins at the ABA Disney Cup!

AA Pro - Danny Caluag
Girl Pro - Dominique Daniels
Vet Pro - Kenth Fallen
A Pro - Fausto Endara
Pro Cruiser - Danny Caluag
Click on Danny C's bike to get all the Pro Finishes on the BMX Mania Fallnationals Race Report Page!
---
---
---
COMING, FRIDAY NIGHT/SATURDAY FROM BMXMANIA.COM!
COVERAGE OF THE . . . . .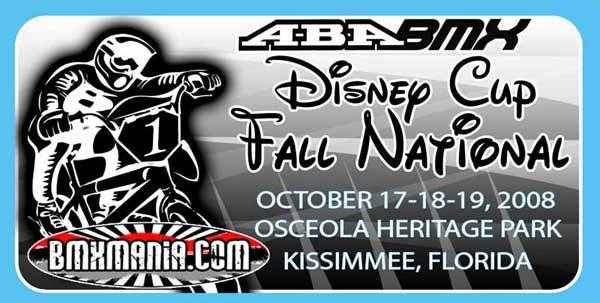 ---
Australian BMX rider accepts two year drug ban
According to the Sydney, Australia Morning Herald - October 17, 2008
Victorian BMX rider Daniel 'Danny' Galea has been suspended for two years after he was caught possessing and using steroids.
The Australian Sports Anti-Doping Authority (ASADA) Friday announced that the former state champion accepted the ban.
He is ineligible to compete in all sporting competition for two years, dating from April this year.
Galea was found by ASADA to have possessed and used nandrolone, metenolone and methandienone at various times in 2007, and testosterone at various times in 2005 and 2007.
According to ASADA he attempted to import trenbolone concealed as another substance.
The four packets of liquid steroids, which were labeled non-allergenic personal lubricant, were posted through the mail and detected by the Australian Customs Service in late 2007.
"This sanction is another example of ASADA's success in identifying and sanctioning serious anti-doping rule violations by athletes without a positive test," ASADA Chairman Richard Ings said in a statement.
"By working collaboratively with other government agencies, in this case the Australian Customs Service, ASADA has been able to identify and sanction serious doping violations that previously went undetected."
---
Today's BMX Racing News - Thursday, October 16, 2008
FLY RACING TALON II SPD SHOES

With some huge improvements over last years shoe the Talon II is a great shoe for the new BMXer to the seasoned expert.
Now featuring a stiffer sole, re-enforced toe and heal, mesh ventilation, and a solid 3 strap design this shoe is race ready.
In addition to the black on black color, there's also a Limited Edition white and black color option this year that has gold buckles and logos.
These are sick and only $70 retail.
The Talon II's are available in U.S. sizes 2-13 and are in stock now.
Check out your local dealer or favorite mail order and ask for the FLY Talon II's!

---
GOBBLE, GOBBLE, GOBBLE BMX!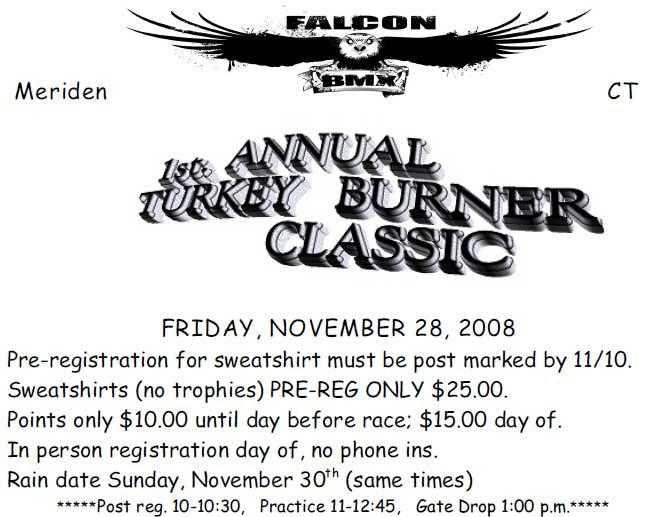 For information, call Gina Layman @ 860-638-9441
---
New FSA BB30 Technology and Assault Crank Set on '09 Diamondback Reactor Pro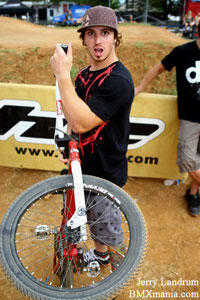 We got some Spy Shots of Diamondback's new '09 Reactor Pro while talking with Diamondback's Pro BMXer, Nate Berkheimer at a recent race.
It's pretty darn sweet.
You really ought to check it out, it's got a revolutionary new bottom bracket that Nate was really psyched about.
Here's some Diamondback insight in to the new feature, straight from the company . . . . .
"Just when you thought the world had too many bottom bracket shell designs already, FSA has introduced another, but hold your sighs regarding the new size; this one actually serves a purpose and provides many benefits too.
Why the new shell?
To accommodate FSA's new BB30 technology; a spindle that is 30mm in diameter and the smooth-rolling and reliable over-sized bearings to keep it spinning.
How is having a 30mm diameter crank spindle going to help you?
The increased diameter allows FSA to construct it out of lighter weight alloy materials and the design also makes for a very stiff and responsive crank set.
The BB shell is also slightly narrower so the cranks can provide better ankle clearance.
Couple the new stiff and snappy crank set to an equally responsive frame, like say - a Diamondback Reactor, and what you end up with is a bike that allows power to be put right to the ground without any delay.
Our '09 Reactor Pro will be the first production BMX bike to feature FSA's new BB30 bottom bracket.
We can't say too much just yet, but the bike will also feature a new and lightweight set of FSA Assault cranks as well as lighter weight Alienation rims.
We'll tell you more about the Reactor Pro complete and how we'll be offering a series of Reactor frames too in the coming year, but for now; please enjoy these sneak peeks of Nate's bike."
---
---
---
---
Today's BMX Racing News - Wednesday, October 15, 2008
---
Crupi-Fly-Europe Picks Up Fast Latvian riders!
Some HOT World Class riders have been signed up for the 2009 Euro BMX Racing season, to the Crupi-Fly-Europe factory BMX race team.
Crupi-Fly-Europe is very proud to announce that they have signed up 2 new worldclass riders, and it's not accidental that both come from Latvia, one of the worlds leading BMX countries.
More about these riders later on our website www.crupi-fly-europe.com.
14 year old Latvian rider Kristaps Vinters (2008 UCI world #3)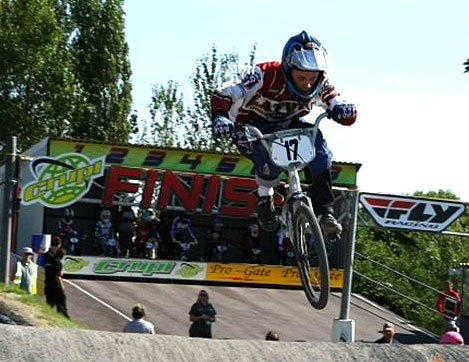 15 year old Latvian rider Klavs Lisovskis (2008 UEC #1 and UCI world #2)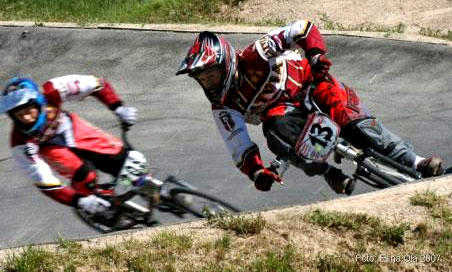 ---
Today's BMX Racing News - Tuesday, October 14, 2008
UCI BMX Supercross Training camps at World Cycling Centre before final event
UCI Media Services - October 10, 2008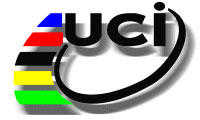 With the final of the BMX Supercross series just days away, five contenders have been training on the track at the World Cycling Centre (WCC) in Aigle, Switzerland.
The final of the five-strong Supercross series will be disputed in Fréjus, France, on October 10th and 11th.
Norwegian athlete Anders Grönsund concluded his preparation on the WCC's track from October 3rd to 8th. He was joined by a training partner from the United States, Joey Bradford.
The Danish Cycling Federation also sent three of their athletes to Aigle to prepare the Fréjus race.
Seasoned Elite Women rider Amanda Sørensen was accompanied by two of the country's promising young athletes, Klaus Bogh Andresen, 21, who finished 3rd in this year's Danish National Championships, and the National Juniors Champion, 18-year-old Mike Kaltoft.
The BMX Supercross Series began in Madrid in February, stopping over in Adelaide, Australia, in April, Copenhagen, Denmark in May, and Salt Lake City, USA, in September.
Going into this weekend's final competition, Donny Robinson, of the United States, leads the World Cup standings in the men's competition, while the New Zealander Sarah Walker is top of the women's ranking.
---
---
---
---
GO211.COM BRINGS YOU "FREE" LIVE WEBCAST COVERAGE OF THE
ABA'S FALL NATIONALS/ DISNEY CUP

FOR IMMEDIATE RELEASE: October 14, 2008
GO211.COM BRINGS YOU FREE LIVE WEBCAST COVERAGE OF THE ABA'S FALL NATIONALS/DISNEY CUP – Orlando, Florida – GO211.com, in conjunction with the American Bicycle Association, is proud to bring you the live FREE webcast of the ABA's Disney Cup, a Pro Series event hosted by Silver Spur Arena in Orlando, Florida. Tune in for all the action starting Friday, October 17th, through Sunday, October 19th. This will be a first-of-its-kind production featuring a one-hour talk show before racing gets underway on Friday morning, interviews between all rounds of racing, and a post-race interview show. Wanna know what the pros are up to? Make sure to tune in to check out interviews with ABA BMX Top PRO's!
The ABA 2008 season is nearing a close and all the 2008 Pro and Amateur titles are up for grabs! The Disney Cup is the final event before the ABA Grand Nationals and you know there's going to be some heavy race drama with competitors scrambling for last minute points. Can current ABA BMX NATIONAL # 1 PRO keep his points lead on his way to a repeat title?
Can hard charging PRO's, Khalen Young, Barry Nobles, and David Herman tighten up the points even more on Danny C.??
Will there be a EURO PRO invasion this year, and will they be spoilers in the ABA BMX PRO title chase?
Can Alise "The Beast" hold off the Disney comp to make it THREE ABA BMX Ladies Pro titles in a row?
Can Kenth Fallen, Dale Holmes, or Chad Street nail down a couple more VET PRO wins?
Will the Jackal and Dinger make a late season title charge?
ABA BMX TEAM Titles? Can Intense/Phantom/ On-Trac continue to dominate, or will BFR Factory, Factory Answer, or Tangent BAWLS make their mark and close the points gap going in Tulsa?
Who's going to take home points towards the overall Amateur National Number One and NAG titles? Long? Blevins? Griffith's? Garcia? Cook? Fields? Nopens? Glynn? Wolcott? Schaefer? Harvey?
This is the last chance for the 15 and over Experts and 14 and over Girls to earn enough points to qualify for the NAG 5 Challenge; who's making it and who's sitting in the stands?
The Disney Cup will set the stage and be the preview event for the action to come in Tulsa!
Best part?
If you miss any of the action, all Main Events (plus Pro Quarters, Semis, and Motos), interviews, and shows will be posted on GO211.com the week following the event.
Be sure to check out www.GO211.com and www.ababmx.com for more details.

GO211.com Broadcast Schedule - http://www.go211.com/u/disneycup08/ - Event: American Bicycle Association Disney Cup/Fall Nationals hosted by Silver Spur Arena
(ALL TIMES ARE EASTERN)
Friday - 2:00……Pre race show - 2:30….Pro Interviews - 3:00 …Racing Starts
Saturday - 10:30….Pro Interviews - 11:00 …Racing Starts
Sunday - 7:30….Pro Interviews - 8:00 …Racing Starts
About GO211.com: Go211.com is the leading community and video site for lifestyle sports created by and for action sports athletes and enthusiasts. It's the place to hang with the Pros and friends to get behind-the-scenes video, blogs, photos, webcasts and podcasts from featured contributors along with other action sports fans. Go211.com offers a broad range of exclusive content submitted directly from the athletes. The Go211 Pro Team roster includes Danny Kass, Jeremy Jones, CJ Hobgood, Christian Hosoi, Hannah Teter, Ross Powers, Donny Robinson, Alise Post, Kyle Bennett, Randy Stumpfhauser, Mike Losness, Seth Wescott and Kelly Clark, among others.
---
Today's BMX Racing News - Monday, October 13, 2008
Intense BMX/Bawls Guarana Pro Team Race Report
UCI Supercross World Cup Roc D'Azur, France

The last round of the 2008 UCI Supercross World Cup series was held in conjunction with the Roc D'Azur bicycle festival, located in the beautiful south of France in the town of Fréjus, just next to the Mediterranean Sea. The 2008 Supercross series has been a huge success and the level in the Pro class had risen to an all new level.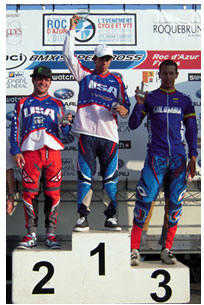 David Herman has had a incredible season on the 5 race UCI World Cup Supercross series, with one win in Adelaide, Australia, a 6th place finish in Salt Lake City along with 2 semi final main event appearances in Madrid, Spain and Copenhagen, Denmark. This consistency had David sitting in 3rd overall heading into the final event. David was selected as one of 4 male athletes to represent team USA in France, as part of the funded team, which is a huge honor.
In the time trails, David would qualify 19th fastest out of the 96 entrants. The top 64 would advance to the event, and David easily made his way out of the 1/8, ¼ and ½ rounds into the main event.
In the main event, David was up a strong field of riders, including many riders who just competed in the Olympic Games. When the gate dropped, David had his best start of the weekend and just edged out fellow USA racer Donny Robinson going into the first turn and from there, David was never contested for the lead and rode a strong lap to the win. The win, the biggest in his short Pro Career, catapulted him to 2nd overall in the 2008 UCI series, and solidified him as one of the new starts of the Supercross series with being the only rider to win 2 events in 2008. David will now return to the USA and get ready for the ABA Fall Nationals Disney Cup in Orlando, FL. David currently sits in 4th in the ABA title chase, where his teammate Danny Caluag, leads the series.
The Intense BMX/Bawls Guarana Pro Race team is proudly supported by GoPro Hero Cameras, THE Products, Fly Racing, SINZ Racing Products, Intense Tyre Systems, Shimano, Ogio, and Skull Candy.
Intense BMX Podium frames, the ABA Bike of the year for 2005, 2006, and 2007 come in 15 different frame Sizes and 2 different colors. Intense BMX also offers 24 different complete bikes for BMX racing, Dirt and Street. For information on frame geometry, the line of the Intense BMX Complete bikes, or any other scoop on Intense BMX, please visit www.intensebmx.com.
---
Today's BMX Racing News - Saturday/Sunday, October 11/12, 2008
SUNDAY......MASSIVE SATURDAY PHOTO GALLERY POSTED
TO BMX MANIA UCI BMX SX FRANCE RACE REPORT PAGE!!!!!
Team USA Takes UCI BMX SX Series Top Spots!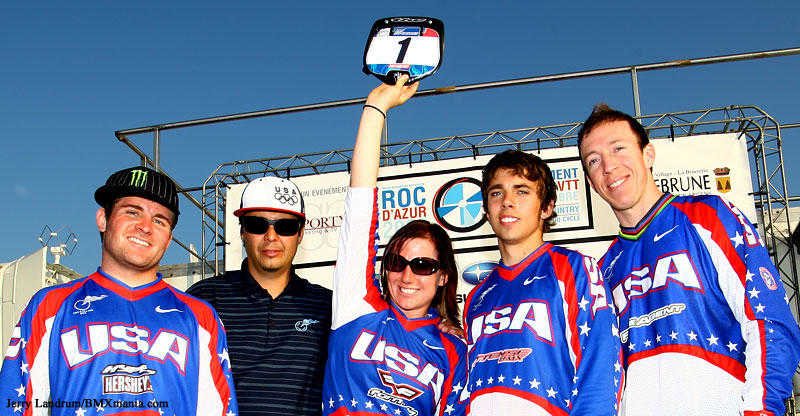 Robinson/Martin take series wins, hermanator & KB 2&3
complete results being posted to bmxmania race report page from roc d'azur!
---
---
Herman wins final BMX World Cup as Robinson and Martin grab titles
Official USA Cycling News Release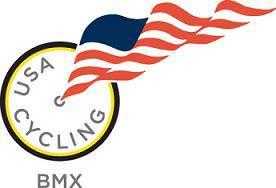 Frejus, France (Oct. 11, 2008)-The United States continues to displayed its strength in BMX racing as David Herman (Wheat Ridge, Colo.) and Donny Robinson (Napa, Calif.) went one-two in the final round of the 2008 UCI BMX Supercross World Cup in France on Saturday. With the victory, Herman moved himself into second-place in the final World Cup standings, only to be bested by Robinson who grabbed the title as Americans swept the first four overall spots. The only American woman in contention, Arielle Martin (Pleasant Grove, Utah) finished second, which was good enough to earn her the overall Supercross World Cup title on the season.

After qualifying three men for the final, the Americans were one, two and three going into the first turn before Olympian Kyle Bennett (Conroe, Texas) crashed to remove himself from contention. After qualifying 19th, 20-year-old Herman was able to out sprint Olympic bronze medalist Robinson and Andres Jiminez Caicedo of Columbia to take home his second Supercross World Cup title of the season.

The BMX competition featured the entire U.S. Olympic Team from August, plus several international starts looking to grab final World Cup points towards their overall standing in the season's last Supercross event. In the eight-man main, Herman not only beat Robinson and Bennett, but also won from a main that featured several international powerhouses including Robert De Wilde (NED).

After the fifth and final 2008 World Cup event, Robinson won the overall World Cup standings with 63 points over Herman (50), Bennett (46), Olympic silver-medalist Mike Day (Santa Clarita, Calif.) who had 33 points and the only non-American in the top five, Olympic gold-medalist Maris Strombergs of Latvia (29). Click here <
http://www.uci.ch/Modules/BUILTIN/getObject.asp?MenuId=MTUzMzY&ObjTypeCode=FILE&type=FILE&id=NDEwMDQ&
> to view the final men's 2008 UCI BMX Supercross World Cup standings.

Also on Saturday, after qualifying second, Martin finished second in the women's race as the only American woman in contention in Frejus. The women's event was won by Laetitia le Corguielle of France, while her countryman Amelie Despeaux (FRA) took third.

With her second-place finish, Martin was able to keep both the men's and women's World Cup titles All-American, beating out Le Corguille for the overall title 42-31. Click here <
http://www.uci.ch/Modules/BUILTIN/getObject.asp?MenuId=MTUzMzY&ObjTypeCode=FILE&type=FILE&id=NDEwMDU&
> for the complete women's World Cup final standings.

Click here <
http://www.uci.ch/templates/UCI/UCI1/layout.asp?MenuId=MTUzMzU
> for complete results from the fifth and final UCI BMX Supercross World Cup event of 2008.
---
Lookin' For An Old Skool Redline!
One of our best buddy, Old Skool BMX Legends just dropped us a line and was asking for some help looking for a vintage redline 600a frame and fork probably from the era of 83 or 84?
Anyone out there have a eye full of One O Dem?
If so, just drop us an email at BMX Mania and we'll get you lined up with a friend of BMX who has a need!
---
Today's BMX Racing News - Friday, October 10, 2008
Mike Day & Laëtitia Le Corguille Take Time Trial wins!
Moana Moo Caille & Arielle Martin Take #2 Spots!
Complete Time Trial Results posted, on the bmx mania race report page!
---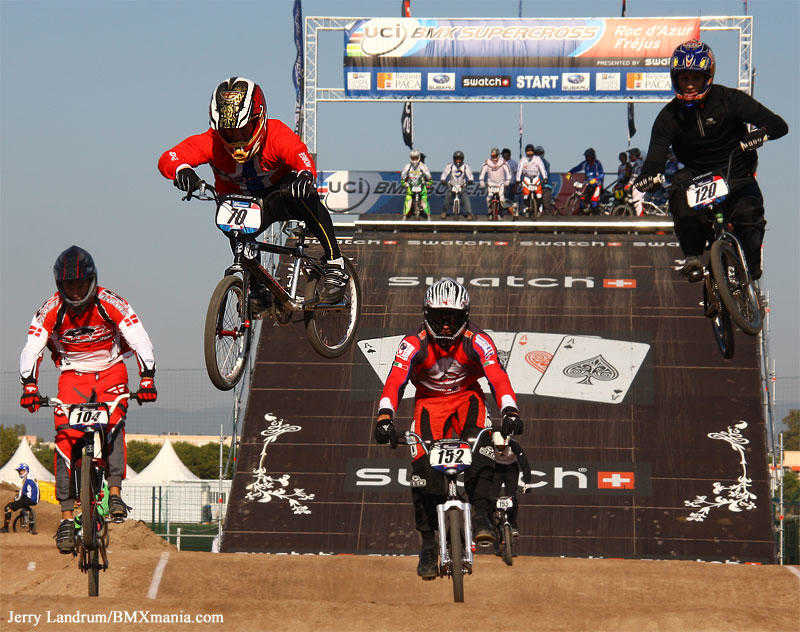 Norway's, Anders Gronsund gasses his Redline in to Turn One during practice at the UCI BMX Supercross in Frejus, France!
Check out the BMX Mania Race Report Page for complete Time Trial results and Photo Gallery.
---
Today's BMX Racing News - Thursday, October 9, 2008
Practice Day kicks of race action at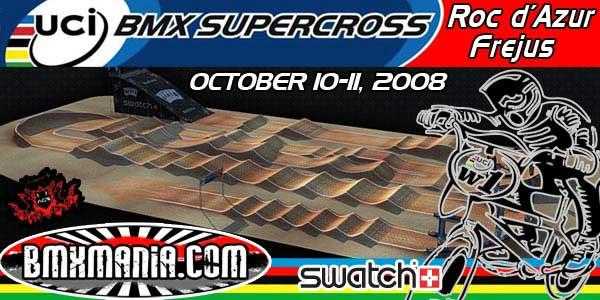 CLICK HERE FOR BMX MANIA RACE REPORT PAGE!
---
---
USA Cycling Fields Strong Team At UCI BMX Supercross Finals!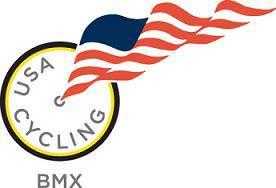 The fifth and final 2008 UCI BMX Supercross World Cup event will take place in Frejus, France, Oct 10-11.
USA Cycling will send five athletes as a part of the American contingent. Four men - Kyle Bennett (Conroe, Texas), Donny Robinson (Napa, Calif.), Mike Day (Santa Clarita, Calif.) and David Herman (Wheat Ridge, Colo.) received nominations to the funded team.
The lone women on the squad will be Arielle Martin (Pleasant Grove, Utah) who was selected as the top athlete in the UCI Supercross World Cup Rankings where she currently sits in second overall.
The Frejus Supercross will also serve as the fourth of 18 races that factor into the 2009 USA Cycling BMX Rankings on the men's side and the third of 17 for the women.
The last race will be the UCI BMX World Championships in Adelaide, Australia on July 26.
Click here to learn more on USA Cycling's squad in Frejus and here for more on the UCI BMX Supercross event.
---
Today's BMX Racing News - Wednesday, October 8, 2008
Coming To You Thursday From BMX Mania!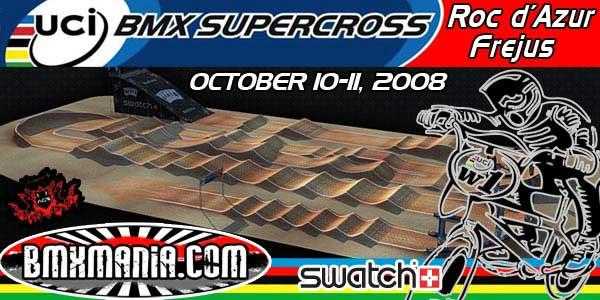 ---
Formula Europe Trade Team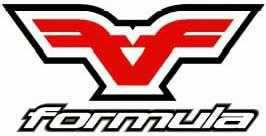 The Formula European Trade Team signs 2 new riders to join Edžus Treimains and Rihards Veide in the 2009 Team 'setup'.
In Elite Men, we added Steven Wong to our Team, Hong Kong national Team member and living in Belgium. He will represent the Team riding the European Season combined with several big races in Asia. Steven is already flying around the track on his new black Formula Nucleus bike.
He's doing some Belgian and Dutch National races to stay in shape for the Asian Championships mid November. Steven can win this title for the 3rd year in a row.
In Junior Men, the young Danish talent Niklas Laustsen will race the Formula Europe colors. At the moment Niklas is training at the UCI centre, riding the Supercross track to become a more complete rider. We expect big things from this kid in the next years!
| | |
| --- | --- |
| | |
| Steven Wong at his home track. | Niklas Laustsen at the UCI SX Training Track in Aigle, Switzerland. |
---
J&R Celebrates The Dew Tour In Orlando With BIG Savings, Just For You!
---
Injured Rider, Mike Aitken Needs Your Help!
Mike Aitken is a Professional BMX rider in need of our help. Mike is an icon in the sport of BMX and is someone who rides with incredible style and passion for the sport. He is also a proud husband and a father. Read the message below from his brother Jeremy Aitken:
"Mike Aitken has been hospitalized in serious condition. While in Pennsylvania over the weekend, Mike was seriously injured when he over-rotated a 360. He is currently in the ICU unit and has not regained consciousness. His injuries include a fractured eye socket, sinus and both sides of his jaw. A CAT scan shows no swelling on his brain. As soon as any changes in his status are available, we will pass them on. Thank you for your faith, prayers, and support of Mike and his family. They are needed and greatly appreciated."10/6/2008
This is a time when we can pull together to make a huge difference in Mike's recovery. No amount is too small and if everyone pulls together and offers a little bit we can make a dent in the medical bills to come.
Ways for you to help:
www.5050bmx.com There is a link and a Paypal account set up for Mike and his family.
www.athleterecoveryfund.com Click the "Make a donation button" and because ARF is a 501(c)3 Non Profit the PayPal fees are less than most anywhere else, meaning more of your donation goes to Mike and his family. All donations made at this time go directly to Mike Aitken and his family.
Mail a check to:
Athlete Recovery Fund c/o Mike Aitken
27636 Ynez Road L-7 #284
Temecula, CA 92591
Write check payable to Mike Aitken
Athlete Recovery Fund is in the process of providing a grant to also assist Mike and his family through this tough time. While extremely unfortunate this is the reason why we started our charity. For the PayPal and mailing address we are simply helping coordinate donations with the approval of Mike Aitken's family. For large donations or concerns about receiving tax deductibility please contact aaron@athleterecoveryfund.com.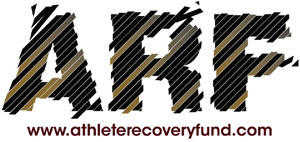 ---
The ABA will be awarding awesome large trophies each day. Come out and join the best riders from across Canada and the U.S. at what will be an incredible indoor BMX track.
Friday, October 10th - National Pre-Race - Trophies 1-4th in Main - Double District Points - 200% Pro Pay back*
Saturday, October 11th-National Event #4 - Trophies to All in Main - Triple District Points - $1,500 Pro Purse*
Sunday, October 12th - Canadian Grand Nationals - Trophies to All in Main - Quadruple District Points - $2,000 Pro Purse*
For race schedule and pre-registration info visit: www.ababmx.com
*8 riders required for full payout*
The 2008 ABA Canadian Nationals Series is brought to you by: Fly Racing-(www.flyracingbmx.com) - Intense BMX- (www.intensebmx.com) - Tangent-(www.tangentproducts.com)
Without their help, we couldn't make the 2008 ABA Canadian Nationals Series such a huge success.
---
Camarillo, California's Freedom Park BMX Raceway Present:
Mike Redman/Greg Hill Pre-Grands Training Clinic
Mike Redman & Greg Hill, two of the most respected trainers in the sport of BMX will be together for an intensive 2-day training clinic designed to prep you for the grands or just to make you a better racer!
Many top riders expected to attend.
Come for one or both days!
Space is limited and will fill quickly. Call or email for more information and to reserve your spot!
Where: Freedom Park BMX Raceway, Camarillo, CA
When: November 15th & 16th, 10am – 4pm
Cost: $150.00 for both Sat. & Sun., or $80 for either Sat. or Sun.
Contact: 805.824.7854 and/or email us at info@freedomparkbmx.com
---
Today's BMX Racing News - Tuesday, October 7, 2008
J&R and the Dew Tour Join Up To Rock YOU With Dew Tour Tickets And Prizes!

---
---
"Italian stallion", Manuel De Vecchi Lookin' for a new ride!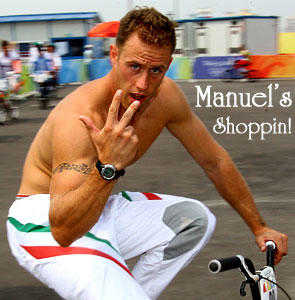 According to Manuel De Vecchi......"After this year I'm closing the contract with my team (Ciclomania Racing) and I'll be completely free for 2009 - 2012."
"My goal is to go to the next Olympic Games and I'm making my own team. I'm looking for new sponsors and I'm looking for sponsors for the season 2009 with my site www.manueldevecchi.com."
Manuel is one fast Italian BMXer, some cool team/sponsor out there ought to have a good chance to pick up a fast guy, get ahold of the boy!
---
---
Today's BMX Racing News - Monday, October 6, 2008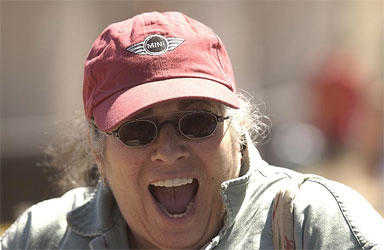 NBL Announcer and BMX Great, Linda Dorsey Passes Away
The sport of BMX has lost one of it's most "vocal" supporters with news of the death of Linda Dorsey.
Linda was involved with BMX for more years than most of us will ever be involved, and she literally, has "seen em come and seen em go" when it comes to almost all aspects of the sport.
Linda has announced at all levels of the sport, and is best remembered for her great voice, exciting announcing style and knowledge of the riders on the course.
One of the hallmarks of her style was her use of the "Spanish rolling R" as in one of her racing favorites, by announcing, BMX Legend, "Rrrrrrrrrrrrrrrrrrrrobbie Mirrrrrrrrrrrrrrrrrrranda".
Dorsey was a factor on the NBL National scene for years, it just wasn't the NBL Grands without Linda, and in the future, it just won't quite be the same without Linda.
We could go on and on, but it's going to be hard to beat comments from her "partner in crime", Roger Plaskett, one of the best announcers around who spent many a weekend, locked in announcing towers across the country with her, working hard together with our dear friend, NBL Announcing Great, Linda Dorsey.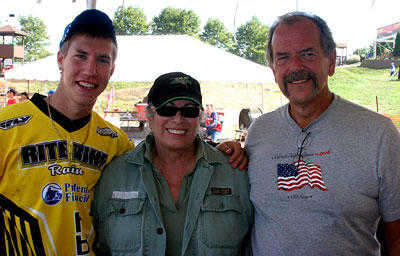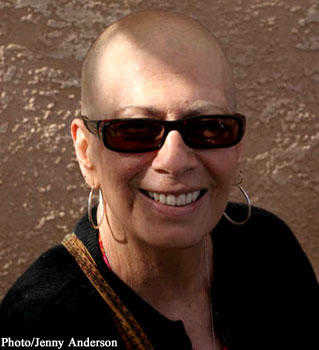 From Roger, via VintageBMX.com - Last night the National Bicycle league lost one of its most dedicated and loyal volunteers. Announcing great Linda Dorsey lost her two year battle with cancer and has passed away.
It was in 1992 when she first called me and asked me to do the Grands with her. I have done every one of them since then. Linda and I had a wondeful chemistry in the tower together and the memories that she provided me with are some of the best that I too will someday take to my grave.
My heart sank today when I got the call as I had just spoken with her on the Woodward weekend and it was evident then that the end was approaching.
Any success that I have enjoyed in the NBL, can be directly related to the wonderful race weekends that we shared together.
She taught me so much about how to announce, relax, and most of all, have a good time.
I will miss her tremendously.
The only "Official Voice" of the National Bicycle League, has been forever silenced. - Rog Plaskett
Funeral arrangements will be a small gathering for family and close friends, next Saturday, October 11th, but messages of condolence may be sent to the family via her son, Bryan at http://dorsey132.com/linda/.
---
Today's BMX Racing News - Friday, October 3, 2008
HRVfitness coast to coast!!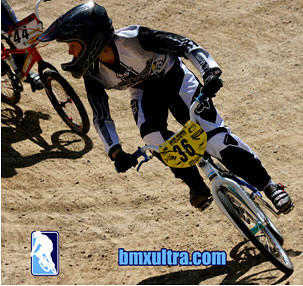 What a weekend for HRVfitness.com. The team representing all over Australia last weekend as the boys headed up to Cairns to strut their stuff at the first round of the National Champbikx series and QLD state titles. All three riders dominated qualifying and made finals.
Matt Dunsworth finished strong with 2nd on both days of racing.
Olivier Hoarau had a spill the first day but came home strong on day 2 with a 3rd in the QLD state titles.
And what can you say about Madison Denholm? The big fella made the main in the 14 boys Champbikx and had an unlucky spill in the main, but then jumped on a plane back to Victoria and took out the final in the 14 boys at the Eastfield experience the next day. What a fantastic performance!!
HRVfitness.com Online training Programs
Do you want to be the best? You need the best!
Take your BMX racing to the next level; go to www.hrvfitness.com for all your training needs.
Sponsored by: Avent, Skin Industries, Louis Garneau, BMXPress, Bsc, Kompressorz
---
---
NBL Woodward, PA
Supercross National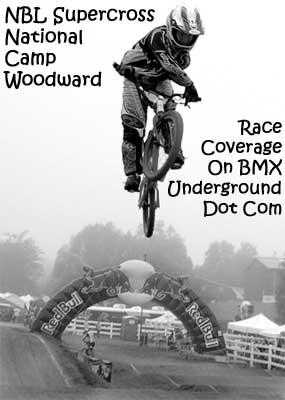 Weren't at the NBL Supercross National at Camp Woodward?
Check it out on bmxunderground.com.

Woodward, PA Supercross National.
---
---
Today's BMX Racing News - Thursday, October 2, 2008
Save some money on your '09 ABA Reno Lodging From Adventure Travel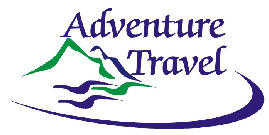 ---
---
---
Yep! We're all done with our Interbike coverage,
we just finished posting some more shots and observations.
We've never before covered Interbike in such an in depth manner.
If you have never made it to the show, you may want to stop by our report page.
To do so, CLICK HERE!
| | | | |
| --- | --- | --- | --- |
| | | | |
| Bright lights and crazy stuff all over the place. Interbike has seemed to settle down in Vegas, they're comin' back next year! | SWEATIN' TO THE OLDIES! Didn't know such high powered celebs such as Richard Simmons were there, did you? | Well, Richard is actually the mullet sportin' All Round BMX Pro from Diamodback/UGP, Nate Berkheimer. Keep an eye out, cuz "PersonaMan" WILL show up again, some where! | MCS had a ton of new product on display. They took a bunch of orders, makin' owner, and BMX Kruiser King and MCS Owner, Jeff Devido a pretty happy lookin' dude! |
More Interbike info on our Interbike Report Page!
---
ABA PRO Standings thru Blackjack Nationals in Reno, NV

The American Bicycle Association hosted the Blackjack Nationals, August 29-31, in Reno, NV at the Reno Livestock Events Center, which is main stay on the ABA BMX tour for over 20 years. The Blackjack Nationals have a long-standing history with the racers and fans alike.
RENO is always a must attend for the racers and this year they were treated to a unique track design. Billy Allen and the boys really mixed it up and we were told by many it was one of the best indoor tracks of the year. With the 2008 Olympic debut for BMX racing being a HUGE hit, the buzz, the hype, and the media were all around.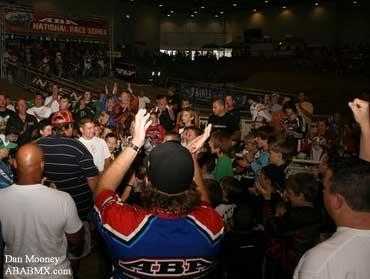 The fans were treated to a surprise visit from past ABA BMX Champion, Team USA rider, and Olympic Bronze medalist "dR" Donny Robinson. ABA President, Clayton John presented Donny with a $5000 check from the ABA BMX Olympic Medalist Program for earning a bronze medal in Beijing. Then ABA BMX "ACE" announcer and Olympic announcer, Mike "REDBONE" Redman interviewed "dR" on the Olympic experience. Donny stated "I raced my first ever BMX national in the this building.", he also stated "I turned PRO in this building, I won my first PRO and AA PRO race in this very building." He then went on to say "This place feels like a homecoming for me." The fans were going crazy and the whole crowd could be heard chanting USA, USA, USA!!! If you weren't there, you missed out BIG TIME!
Then "dR" was off to do autographs and ABA had plenty of the Donny Robinson Team USA trading cards on hand for the fans as well. Donny was greeted by thousands of fans and signed autographs for hours. There were 100's of fans still lined up to meet Donny even after the last main event was run. Donny was so blown away that he elected to come back the next day to make sure each and every one of his fans were taken care of. Hats off to Donny Robinson for being a real trooper and a great ambassador to our great sport. A big congrats from the entire ABA BMX family to Donny for all his Olympic accomplishments.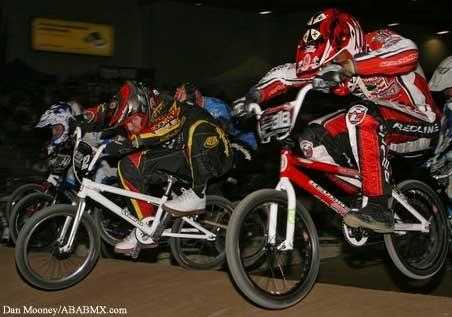 Saturday- AA PRO goes like this, Redline's new main man proved a lot of the internet critics wrong and took his first ever AA PRO win in Reno. Big Congrats to Denzel and we're sure it won't be his last win. Not by a long shot. This kid has a big, big future in our sport. The 2nd spot went Haro's very own Steven Cisar, Steven is fresh off a great Olympic team run, so it was nice to see him back on the ABA BMX PRO tour. The 3rd went to fellow Haro teammate Khalen Young. "KY" is a force on the track and can win at any time. He's said several times he wants the ABA BMX PRO Title and the way he's been riding, he looks to be on track come ABA Grands time!
Sunday we had Haro's Khalen Young back on top the podium. This makes his 4th win of the season on the ABA BMX PRO tour. 2nd went to another stand out this season. Clayborn's Barry "The Alabama Slamma" Nobles was laying down the power to stay in the ABA PRO Title hunt. Talking with Barry, he's another rider that wants the ABA National #1 plate on his bike! 3rd went to Steven Cisar. Steven has been very impressive since he turned PRO. He's got style for miles and he puts the "MOTO" back in Bicycle Motocross. From whips to scrubs, Cisar is hard to match in this department. And trust me when I say this, the kid can rip on a 450 too! If this kid wins the ABA BMX PRO title and the New Suzuki RMZ450 that goes with it, watch out SX!
On the Ladies PRO side we saw Formula's Alise "The Beast" Post back on top both days. Alise has had a rough season but is getting back to her winning form. She hasn't won all those ABA BMX titles for nothing and you can be sure she plans on winning another one this season. The 2nd went to fellow Formula rider and Utah's own Arielle Martin. Arielle has definitely made her presence known back on the ABA BMX PRO tour. In her last two events she's done no worse than 2nd place. Four starts and four podiums! That's a good Formula for an ABA BMX PRO title win. Arielle's been living at the Olympic Training Center and her riding is stronger than ever. She's already started training for the 2012 OLYMPICS! Arizona's own and current ABA National #1 girl and girl cruiser turned PRO, Dominique Daniels, scored 3rd on Saturday. Dominique has been a podium main stay this season and with her finishes in Reno, she is still very focused on the ABA PRO title. GT's Rachel Luna rode solid as usual and is always floating around the podium. Rachel's solid riding took her to a 3rd on Sunday. Not too shabby for a BMX MOM eh?? The ladies racing has really stepped it up over the last couple of years and with the new crop of younger woman moving up, the future of the Women's PRO class is very promising.
Pro Cruiser went down like this, Clayborn's Barry Nobles was flat out handling things. "The Alabama Slamma" took the win both days and creeps ever so close to current ABA PRO Cruiser Champ Danny C. in the points chase. Redman's Pauly Lange was back on the podium with a 2nd on day #1. Day #2 saw another rookie PRO Intense/Phantom/ON-TRAC rider "Factory" Matt Baisley take his first PRO podiums in Reno. Matt placed a solid 3rd in A PRO on Saturday and a 2nd in PRO Cruiser on Sunday. Matt's been improving with every race for sure and Reno paid off for him. 3rd on Day #1 went to Santa Clara PAL local Mike Hughes. Mike always gets some of the loudest cheers in Reno do to his Santa Clara PAL fan club. Good job for Mike. Day #2 went to Action Sports Depot rider "Brutal" Billy Anderson. Billy's been a favorite out on the internet scene and I'm sure all his fans were stoked for him on the weekend!
Vet Pro was back in action too! Hurricane's Paul Caldwell laid down some serious horsepower on day #1 for his first win of the season. If this guy ever decides to race for the ABA BMX VET PRO title he would definitely be a contender. He is strong, fit, and solid as a rock! Intense/Phantom/ON-TRAC's Chad Street was consistent all weekend. Chad nailed down the second on day #1 and took the big win on day #2. Chad's always a front runner in the class and is looking to take his first ever ABA BMX VET PRO title. Day #2 also saw Action Sports Depot rider, Mike Gul bring home a solid second. Mike looked great all weekend and it was good to see this ABA BMX PRO Tour veteran on the podium in Reno. Day #1 saw Reno local and Big Tool rider Scott "Spanker" Simmons take his first VET Podium of the season. "Spanker" is a Reno crowd favorite and known for "KEEPING IT REAL" with his flat pedals. GHP's Robert " The Rajun Cajun" Harris was back on the podium as well. Robert has been a super solid rider in the VET PRO class this season and now sits in the top 5 in points after Reno.
Reno once again proved just how deep the talent pool is on the ABA BMX PRO tour. There have been seven different AA PRO winners in eight stops. That's very impressive!
The ABA, the city of Reno, NV. and the entire ABA BMX crew would like to thank all the participants, families, teams, sponsors, and BMX industry for helping make the Great Salt Lake National event such a huge success! Next stop on the ABA BMX PRO Tour, Golden State Nationals in Lancaster - California, October 3-5. We hope to see you all there!
Be sure to click on the GO211.com link below to watch all the videos from the ABA BMX Blackjack Nationals.
http://www.go211.com/u/blackjacknationals08
Rider ABA BMX PRO wins after Blackjack Nationals

AA PRO ... Danny "Easy Money" Caluag – Intense/BAWLS – 6 ... Barry Nobles – Clayborn Bikes - 4 ... Khalen Young - Haro Bicycles - 4 ... David Herman – Intense/BAWLS – 1 ... Denzel Stein – Redline Bicycles - 1 ... Kyle Bennett - Free Agent - 1 ... Cristian Becerine - Free Agent - 1
---
---