---
Today's BMX Racing News ..... Monday, September 14, 2009
FASTLANE BMX ISSUE 4 IS OUT NOW IN THE U.K.!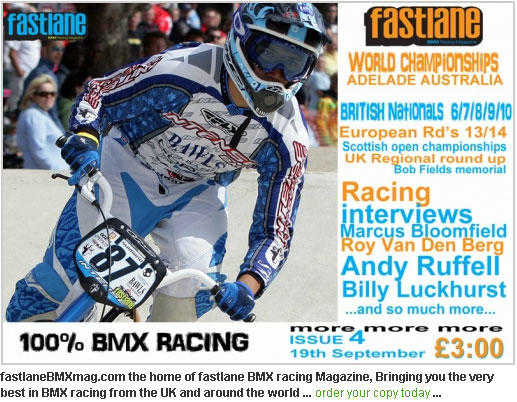 Hey, BMXmaniacs! Can't get enuff BMX Racing? Issue #4 of Fastlane BMX is out on the news stands in England so moto on down to your fav place to pick up BMX Racing Mags and check it out.

You can also order Fastlane BMX online at one of the Fastlane "Online Sellers", which includes, www.tibbscyclestore.co.uk, www.greenmachinebmx.com, www.sourcebmx.co.uk, www.grooveracingshop.co.uk , www.nolimitssports.co.uk, or www.urbanair.co.uk .

While you're at it, make sure to check out Dave Lane's, Fastlane BMX web site, hit up the 'News' section and play a little of the "Right Here, Right Now" vid from Aaron Bartlett.

The video features men's racing highlights from the Euro Round 14 at Cheddar, England featuring Marcus Bloomfield, Liam Phillips, Martijn Scherpen, eventual Elite Men's winner Arnaud Dubois, as well as Lewis Lacey and Daniel White.

It's a good vid to get you out and on your bike, check it out, order a copy of Fastlane and tell Dave that BMX Mania sent cha.
---
Indiana Ultimate State Challenge
Lake Sullivan BMX will host a very special event on October 11th ABA and NBL RIDERS CAN RACE REGARDLESS OF HAVING A LICENSE!!!!!
WE WILL RUN THE RANDOM GATE!!!
WE WILL RUN MAINS IN ALL CLASSES WITH LAST PLACED RIDERS BEING DROPPED NOT EVERYONE WILL MAKE THE MAIN YOU WILL EARN IT!!!!!!
ALL WINNERS WILL ALSO RECEIVE FREE PRACTICE ALL OF 2010 AS LONG AS YOU RUN THE PLATE DURING PRACTICE IN 2010!!!!
COST IS 20 DOLLARS FOR ALL THREE CLASS CRUISER AND TROPHY DASH!!!!!!!!(so you get 3 entries for only 20 bucks) bargain! The U.S.C will determine who is the ultimate state racer in each select age group. There will be only one plate per class it will be number one.
We will trophy number one/two and three.
Also we will have trophy dash races and opens.
In addition we will have a pro am with a 100 percent payback.
Class racing structure is, 5-6 boys 7boys/8boys/9/10/11/12/13/14/15/16/17-24/24-33/33and over men
5-6 girls 8-9/10/11/12/13/14/15/16-27/27 and over girls cruiser 12 and under boys 13-14 boys 15-29boys 30 and over men
Cruiser 12 and under girl 13-15 girl 16-27girl 27 and over girl
Trophy dash races boy and girls mixed open wheels only one trophy per class!!! 11 and under 12-15 16-29 30 and over
ANY INFO CALL 317-213-3955 - Cut this to your web browser to check it out
..... http://lakesullivanbmx.weebly.com/indiana-ultimate-state-challenge.html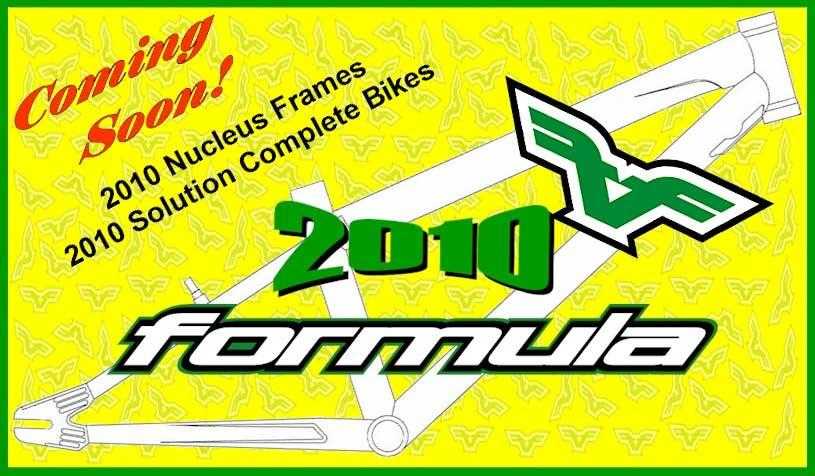 Formula 2010 Nucleus frames and Solution completes are in production and are expected by late October.
2010 Nucleus frames will feature hydro-formed top tubes and chainstays, all new butting profiles and a few new sizes. Basic geometry and frame specifications are approximately the same.

The new 2010 Solution completes include the Mini, Junior, Expert, Pro, Pro XL, and Pro Cruiser like last year but this year we added an Expert Plus size. We also have the blue, red and gold decal sets but this year we have added Silver.
ADVANCE ORDERING: Due to the fluctuating economy, we will be ordering frames and completes in smaller quantities but placing more orders throughout the year. The demand is high and we have just about sold everything we have coming in the first order, so if you would like to start the new year with a new 2010 frame, or complete, or if you want to make sure you have that special gift under the tree for Christmas, you may want to plan ahead and place your advance order now and be guaranteed availability when they arrive. We are placing our next order in about a week. Call for details.
DEALER NEWS:
We have implemented
a new marketing plan by which dealers can now order Nucleus frames and Solution complete bikes factory direct from Formula Bicycles. To order your 2010 Nucleus frames and Solution complete bikes call

619-906-8734

, or email
info@formulabicycles.com
, fill out a dealer application, and upon approval, you are ready to place your first order and start selling Formula with much better profit margins.
| | |
| --- | --- |
| | EUROPEAN NEWS: The first batch of 2010 Solution complete bikes were shipped to Belgium over a month ago to be distributed by EuroBMX, Formula's European headquarters. The second batch was also purchased by EuroBMX and was shipped just 2 weeks ago. EuroBMX has also placed the first big order for 2010 Nucleus frames and will take delivery late October. We also understand EuroBMX are already setting up for their next order. For dealer information or customer information please contact eurobmx@skynet.be or www.eurobmx.be |
| | AUSTRALIAN NEWS: We have established a new distributor in Australia and they have placed the second largest order for the 2010 Nucleus frames and they will not only be selling to dealers in Australia but promoting the Formula brand, track side, at the Australian events in 2010. For dealer information or customer information please contact formulabmx@optusnet.com.au |
| | SOUTH AFRICA NEWS: Our distributor in South Africa is going on their third year with us now, having sold frames and completes bikes, and they have just placed their first order for the 2010 Nucleus frames and will also take delivery in late October. |
GRASS ROOTS TEAM PROGRAM:
If you have a team of 5 riders or more, are looking for some grass roots sponsorship, and are willing to put the Formula Logo on your jerseys, Formula has put together a pricing plan that should fit your budget and allow your team to have a top of the line race frame, or complete, for a price that is easy on your race budget. A number of teams took advantage of this program last year and are already renewing for 2010. Contact us for details. See Advance Ordering
OTHER NEWS: We are in the process of adding new distributors in Ecuador, Puerto Rico and Canada. Any other international distributors or dealers that are interested in promoting the Formula brand, please contact us at 619-906-8734, or email info@formulabicycles.com
Formula Bicycle Company manufactures the best BMX racing frames and bikes in the world. Offering many sizing options for frames and the best spec'ed complete bikes on the market. Formula is a market leader in BMX. Now in its fourth year, Formula has lead the way with design, innovation, and quality. For more info, call 619-906-8734, or email info@formulabicycles.com
---
Bill Madden Seriously Injured At NBL Grands.....Update!

From the heart and from BMXer Bill Madden ..... Please know that due to my life's current circumstances, I am forced to ask for help on top of all the wonderful help I have already received. You'll probably see this same thing all over the internet with me asking for some help, but just know that I am literally forced into it and have to put my family first and killing any pride that wells up.

The following is a request for assistance on medical bills stemming from my crash at Louisville. Again- a huge teary eyed thank you goes out for any help already given or subsequently given after considering this......

Let me first say thank you for even considering helping me out in this very difficult time. Injuries by themselves are hard enough, but add the expenses of today's medical costs and it's a wonder anybody does any sport, let alone BMX racing.

My reasoning for not having health insurance was not a protest or flippant way to approach life, but it was a choice I had to make for a short time to help stabilize my family at the moment. My wife (who had us all on a wonderful policy when she worked at an area hospital) was the victim of some cutbacks in the medical field and was let go earlier this year. The problem was (and still is) she discovered problems with her heart and is undergoing testing to warrant heart surgery or not. We had to keep her on COBRA to prepare for anything that arose from the findings (still being tested) and the only way our budget ( now down to just one salary) could handle it was to go without health insurance for me. I am in great shape and we have medical policies in place here at our skatepark/BMX facility and the racing sanctions have supplemental insurance for accidents at their events, so we went with that direction, hoping it would meet our needs.

Needless to say, we never imagined a wreck at a race could get as bad as it has for me on this one. I broke my upper arm bone in two spots..one very close to the ball joint and it is needing extensive and imminent surgery(s) to ever have normal use of my arm again. Hospital stays, MRI's, CT's, X-rays all add up so quick and so much that we are already over 25,000.00 as of now and more is to come.

The NBL's insurance will not cover the whole amount, the surgery and recovery are going to very big financial amounts, so I am forced to ask you for any and all help you can give in my need.

The good news is this...

Since I run Emerald Coast Dirt & Vert, I can make this a win/win situation for you or your business. We have sponsorship packets I sent along or can send you outlining 'tax deductible' advertising and free park use for you on a number of levels. This way, it's not just a handout by definition, rather an advertising opportunity or sponsorship gift you can write off your taxes and not just throwing money down a hole that you never see the benefits of your help. You can see the park at

www.ecdandv.com to see what I do here in the panhandle of Florida.

I implore you to help in any way you can and promise that the benefits you will receive will not only make you feel good to help a brother in need, but with contracts of sponsorship and logos advertised along with free use of the facility, you will be able to see and measure your contribution to me and ECDV. Please contact me and I can provide the different plans we offer for businesses and individuals like yourselves who want to support/sponsor our kind of lifestyle at a plce like ECDV. We have plans for individuals ranging from 25.00 to 500.00 and for businesses from 150.00 all the way up to 3,000.00 in different levels of park support/sponsorship.

You never know.................you might find yourself in a spot like this somewhere down the road.

Please consider helping me. You can dial up paypal.com and make a contribution to emeraldcoastdirt@earthlink.net or e-mail me for info on the park sponsorship programs for businesses.

Thank you again for your time and consideration. - Bill Madden / BMX Hard Core
---
Today's BMX Racing News ..... Weekend Update, September 12-13, 2009
BMX MANIA PHOTO OF THE DAY!

2009 UCI Worlds - Adelaide, Australia

It's full speed ahead at the UCI BMX World Championships in Adelaide, Australia, except for......

.....when Elite Men's practice features a nice long wait in staging while getting to the zig zag ramps that take you up to the top of 'Supercross Style' start hill.

At left, Randy Stumpfhauser takes to the air to clear one of the Big Sets that populated the Adelaide Worlds track, while Latvia's, Maris Strombergs comes in for a landing in the other direction. - Photos by BMXmania.com
---
Start Interbike Off With Stephen Murray And His Friends!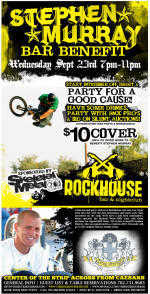 Click it out with the flier above!
---
Today's BMX Racing News ..... Friday, September 11, 2009
NEED A PERSONAL ECONOMIC BAILOUT? FORMULA IS HERE TO HELP!

San Diego, California – Formula Bicycle Company has some exciting, and money saving, news! In order to make room for the all new 2010 lineup of race frames,

Formula is blowing out their remaining 2009 Nucleus-Series frames at the unbelievable price of $199.00 which includes shipping in the US.

That's right, for less than the cost of a carbon fiber fork, you can get a brand new Formula Nucleus frame, factory direct! For those who think these are just factory seconds, all remaining frames are first-quality with absolutely no defects and a full factory warranty.

Formula is doing their part to keep BMX racing affordable! Make sure to get one before they're all gone! Limited to sizes on hand.

Formula is a market leader in BMX. Now in its fourth year, Formula has lead the way with design, innovation, and quality.

Formula Bicycle Company is proud to represent the following partners: Profile Racing (www.profileracing.com), Fly Racing (www.flyracingbmx.com), Maxxis Tires (www.maxxis.com), FormCo (www.formcoparts.com), Alienation (www.alienationbmx.com), Tektro Brakes (www.tektro.com)

For purchasing info, please check out www.actionsportsdepot.us , or call 619-906-8734, or email sales@actionsportsdepot.us

---
RacePlaceBMX Bike Shop/Intense race team completes successful NBL BMX Season!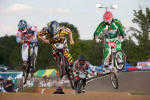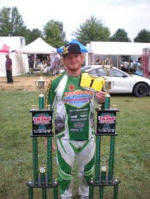 The RacePlaceBMX/Intense Bike Shop team concluded the 2009 NBL season on a high note by winning the Team NBL competition for the weekend at the NBL Grands, but coming up short by three places to take 2nd overall for the year. A great turnout with over 25+ teams competing. Congratulations to the HBR/SE team for a great season to capture its 6th title and the Intense/Dyna-Pep/JustgoBMX.com with a great looking team as well.
Of the nine team members who attended the event, every rider in every class entered made the main, including Super-Ex rider Matt "Hot Rod" Rubeck on Friday and Saturday night (below).
A big congrats goes out to "Quick" Nick Tuttle for his double, winning 26-34 expert class and 25-29 cruiser. This follows Nick's double at last year's ABA Grands - what a year for the red-headed Diva! With his 30th birthday next June, does he have what it takes to move the ultra tough Vet Pro class?
As for the NBL National plates, the team picked up a slew of them, including: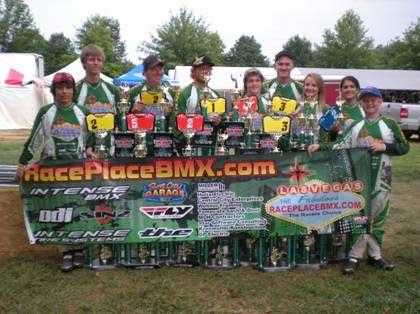 (left to Right) Ryan Pettigrew (11x- #2), Matt Rubeck, Robert Raymonde (41x-#2), Nick Tuttle (26-34x-#1), Zack Vankammen (14x- #3), Scott Angus (45-49cr-#2), Lauren Whisler (14g-#3), Jessica Navarro (17g- #2), and Levi Pope (10x-#3)
The team is made possible with the help of some great parents and sponsors that include: RacePlaceBMX (www.raceplacebmx.com), Intense BMX (www.intensebmx.com), ODI Grips (www.odigrips.com), Fly Racing (flyracingbmx.com), Helix Electric (www.helixelectric.com) , T.H.E. & Sinz (www.vsiproducts.com), Miller Construction, Surf City Garage (www.surfcitygarage.com), Stephens Plumbing, Star Software Consulting, Western Industrial Technologies, Central City Enterprises, and MLH Contracting. - Scott Angus- TM
---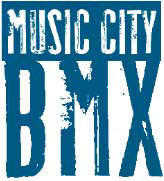 THANKS from Music City BMX
Music City BMX would like to thank all the Elite and amateur athletes that attended the NBL Music City National thanks for attending and a job well done by the National Bicycle League. The national was a great weekend of BMX racing and good times.
SPECIAL THANKS to Axe Heaven, Gibson Guitars, and Outback Steakhouse for the Elite awards and Elite dinner. Intense (Pete), Standard Bikes (Rick), Alienation, No Fear, Diamond Back, HBR/SE (Hines), Haro Bikes (DB), and many others for all the great raffle items.
The success of the national is the great people that share a common bond to race and enjoy BMX at the highest level. To each of you and to the Music City parents group and volunteers THANK YOU! Job well done. - Track Director/Robert Campbell
---
Today's BMX Racing News ..... Thursday, September 10, 2009
Factory Felt / SC Action Sports Wins the National NBL Title!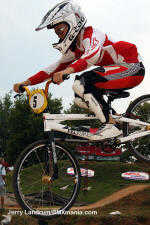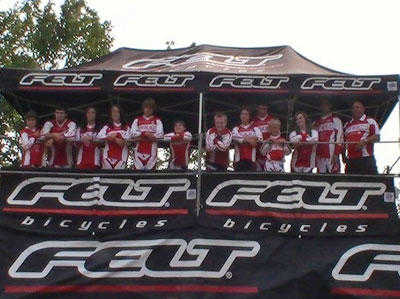 I started pacing around the house in July in anticipation of the NBL Grands The riders had done their job getting us in a position to contend for the 2009 NBL national team championship. Everyone was semi healthy and eager to prove that we were the best team in the NBL. Arriving at Derby City BMX on Thursday the jitters grew until I heard the first gate cadence and then a calm came over me that you only get when you enter your home after a long day.
The Grands felt like home, the riders were pumped, the parents and spouses were getting their vocal cords ready for the big event and I was going over team sheet combinations like a mad scientist. The term "it is what it is" was thrown around the pits all weekend in hopes that we would never have to use it. The Felt Executive Sky Box was erected and we were ready to battle.
Joey Albright in Masters started us off on Friday night with an inspired Masters win in front of a big crowd and lifted us into the weekend. (picture)
Tony Lehman 40 Cr had some fast laps in a very competitive class and after suffering a big crash on Saturday which included several stitches he made the main and took a fourth in the main. Jeremy Thompson 35x had the fastest lap times all weekend and was coasting to a perfect moto set when disaster struck and nose bunked a roller twenty feet from the finish line and ended his bid for national #1 on 20". Jeremy came back out determined in his cruiser and led the race to the line but was edged out by John Miller.
Brandon Murphy 16x/Cr was flying in his motos and had some bad luck in the quarters that ended his day but bounced back on Cruiser and won the overall title. Dylan Perez 16X the birthday boy blew out the candles and jumped into the 16X class making it to his semi's before being eliminated, not bad when your b'day is the day before the Grands. Dalton Simons 15X/Cr cruised into the finals in the very competitive class and pulled a sixth in class and a third on cruiser. Brandon Roharick 14X was on fire all weekend and everyone was picking him to podium. Disaster struck when in the main he snapped his chain coming out of the gate, still great racing by Brandon all weekend.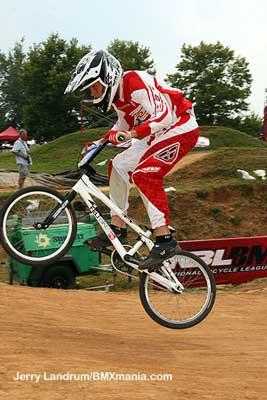 Cole Tesar 13X/Cr what a year this kids had winning the UCI Worlds in class and cruiser and now he can add an NBL National#1 to both bikes. Cole absolutely rode the wheels off his Felt Sector Pro X and showed everyone why he is the world's fastest 13 yr old. Brock Heffron 12X the NBL had their first chance to see this phenom in person and he put on a BMX riding clinic. Brock was coming off a double win at the UCI Worlds and wanted to add an NBL title to his many accomplishments add he did it with style and grace. Congrats Brock on winning your first NBL title!
Cameron Moore 11X/Cr the kid has been on fire all year winning every lap of every race to this point and he wasn't finished just yet taking the win in class and national#1 and a third on cruiser. Jeremy Smith 1 1X/Cr had his hands full with Ryan Pettigrew all weekend and finally got it together in the main to pull a third in class and a win on cruiser taking the cruiser title. Coleman Habib 11X/Cr Coleman was also a recent birthday boy and after destroying the 10X class all season was thrown into the lions den of 11X and he delivered making his cruiser main and a great finish. Vaughn Herrick 9X/Cr I don't think I have enough words to describe how important this little guy was to the team all year. He came out to every race that we asked of him and performed like a champion. Vaughn was on the accelerator all weekend taking home national# 1's on both bikes.
A lot has been said about the Factory Felt / SC Action Sports girls and I only have one word to describe them "fierce". Carly Veeder 17G was cruised along through her motos to only have bad luck in her quarters when she crashed down the front straight and ended her day. Great year for Carly and she'll be back in 2010. Alaina Henderson 16G What a year Aliana has had UCI success and now NBL National#1 she finished off her year with dominating wins in class and open.
Felicia Stancil 14G what more can be said about the three time world champion she got plenty of pressure from Ms Whissler all weekend and came home with number #! plates in both class and cruiser. Taylor Williams 13G showed the heart of a lion even though she had the title wrapped up she went for the main win crashing with Wooding and still finishing no#1. McKenna Calhoun 9G finished off her season with a repeat performance of last year and taking home the skinny digit again.
It takes more than great rider to make a great team, the Factory Felt / SC Action Sports national team is made up of great dedicated parents and friends who sacrificed and put in the time it takes to create champions. So to all the parents and family members of the NBL National#1 team THANK YOU!
I would like to thank Alan Foster at Felt Bikes, Scott Cranmer SC Action Sports, Pete Dylewski THE/Sinz, Ray Hudson Fly Racing, Gus Profile Racing, Alex Rims. Without the help of those companies and friends we wouldn't be here today. It's been a great year and we'll see you down the road at the next national.
Carlos Perez - TM Factory Felt / SC Action Sports
---
SE/Hundreds 26" PK Ripper Looptail Bike!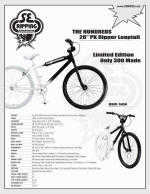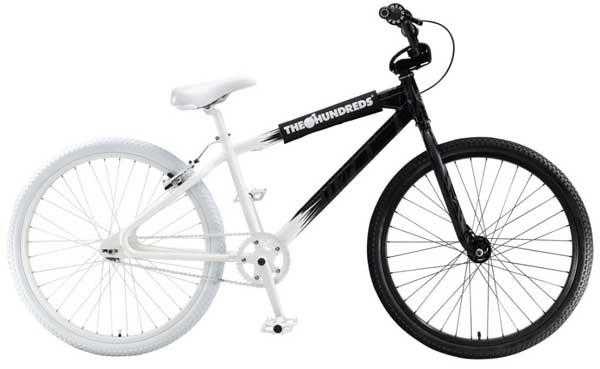 SE Bikes is set to release the first ever 26" PK Ripper Looptail this week. But as you can clearly see, we have designed this highly anticipated bike in collaboration with The Hundreds streetwear clothing company.
Check out the custom Jags motif on the entire frame, fork, & bars. For sure you've never seen a bike like this before.
Since Day One, The Hundreds has been about California Culture / Los Angeles Lifestyle. California has been a breeding ground for some of the world's most prolific subcultures.
From the punk scene of the '80s, to gangsta rap and skateboarding, California lifestyle is all about Doing It Yourself, questioning authority and the norm, and being different.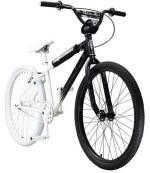 At the core, The Hundreds is influenced by this attitude, and all the various subcultures that we grew up in during the 80s and 90s. The SE/Hundreds collaboration bike follows the same logic
Direct from The Hundreds:
"I think it was Smokey Robinson who said cruisers are made for loving. And The Hundreds have to agree with that. So we've teamed up with one of the longest standing, and most respected names in BMX, the pioneers at SE Bikes, to develop this completely original, and custom made from scratch 26" cruiser.
The design is based on SE's world famous PK Ripper – one of the most popular and longest selling bikes in the history of the sport. Scot "OM" Breithaupt founded SE Racing, way back in the mid-70s, pioneering many aspects of the world of BMX. It would be all but impossible to leave a bigger impression on the sport of BMX than Scot Breithaupt has.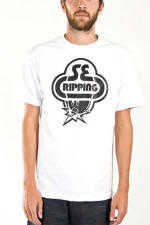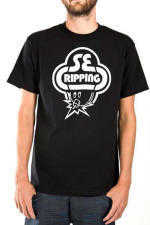 Named after team rider Perry "PK" Kramer, the original PK Ripper was one of the first aluminum frame BMX bikes on the market, and so it's fitting that this brand new 26" variant was manufactured with all new 6061 Floval aluminum tubing.
It also features a looptail rear end, retro dropouts, and is finished in an eye-catching monochrome, tonal "Jags"motif. If you need it to have a deeper meaning than just looking great, consider that the contrasting black front half and white rear half serves as a metaphor for social and philosophical issues."
Only 300 bikes were produced. Each is individually numbered.
MSRP: $650
Collaboration SE/Hundreds t-shirt available here: https://shop.thehundreds.com/p-530-th-x-se-t-shirt.aspx - www.thehundreds.com - www.SEBIKES.com
---
Today's BMX Racing News ..... Wednesday, September 9, 2009
STERKenBMX and GHP BMX present
two new riders for the GHP BMX Europe team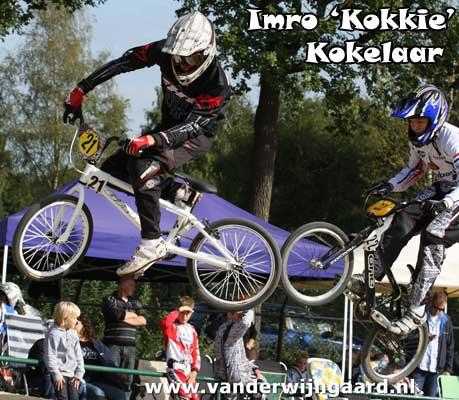 Amsterdam, September 8, 2009 – During this weekend's 5th Topcompetion at Schijndel (National series in the Netherlands) GHP BMX Europe took home some good results.
GHP BMX Europe team got 2 new riders on the team. Imro 'Kokkie' Kokelaar, Dutch champion boys 14 and Dutch champion cruiser 13-14 together with Pim de Jong, boys 15-16 and cruiser 15-16 got on the team.
This first National race on their GHP BMX bikes showed that they stay in the winning mood.
Imro 'Kokkie' Kokelaar won both class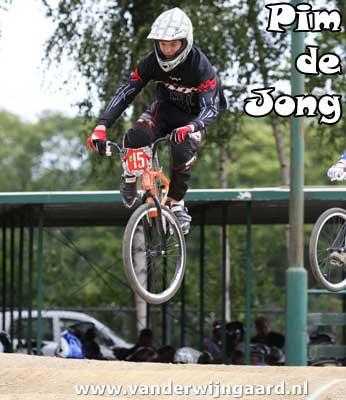 es on Sunday (boys 14 and cruiser 13-14) Pim de Jong finished 3rd on Sunday in cruiser 15-16 and made it to the semis in boys 15-16.
Demi Schuring (girls 7-8) finished 4th in the final, Michel Boven made his first appearance on his bike after a serious crash in Dessel, Belgium last May.
Michel made it to the semis in Junior Men, finishing 6th.
In 3 weeks time we will have our final TC round at the track of Kampen.
Look for all the race action on www.bmx-videos.com TC5, Schijndel.
Special thanks go out to our sponsors and partners ; Payebel Wood (www.payebel.nl) , Panama–club, restaurant in Amsterdam (www.panama.nl) GHP BMX (www.ghpbmx.com) , Rhythm wheels (www.crupibmx.com), Tioga (www.tiogausa.com) , Squashcity Fitness Amsterdam (www.squashcity.com) , GHP BMX Shop (www.ghpbmxshop.com) .

Pictures : www.vanderwijngaard.nl
---
Will Grant's Lookin' For A New Ride!

Will Grant, one of the Fast Guys In The Fast State......Florida, is lookin' for a new sponsor.

Will's 17 years young and in the Super Ex/A Pro classification.

As an amateur he was 2X National Champ and 7X Florida State Champ and in 2007 he was UCI World #8.

This past season, 2009, he took the Junior Men's Bronze Medal at the USA Cycling National Championships.

Will sez......."If anybody is interested in sponsorship opportunities with me, they can contact me at willgrizzant@yahoo.com"
---
Today's BMX Racing News ..... Tuesday, September 8, 2009
ESPN.com coverage of the NBL Grands

The NBL is pretty psyched to get some great coverage of last weekend's, NBL Grand Nationals on ESPN's action sport site, ESPN BMX.
ESPN correspondent/photographer, Pat Nugent was at the Grands and turned in a sweet bit of coverage that headlines today's BMX section.
Wanna ck it out? No worries, we got the link for ya! = http://espn.go.com/action/news/story?page=nbl_grands
---
FLY RACING 2010 RACE WEAR AVAILABLE NOW!!!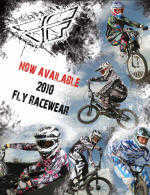 Fly Racing is pleased to announce the arrival of our 2010 race wear. All new F-16 and Kinetic pants, jerseys, and gloves are available now with the top of the line Evolution Race Wear coming in a few weeks.
The popular Lite Glove, used by many top riders and pros, are also back in stock.
F-16 race wear now features a new green/black and limited edition Lime Green color option.
Also new for 2010 is the all white F-16 glove.
These are way cool!
All this new gear is sick and will make any rider stand out in the crowd.
Available at your local dealer or favorite mail order now!
See all the new FLY Racing Product at www.flyracing.com
---
NBL GRAND NATIONALS WEBCAST REPLAY
TUESDAY-THURSDAY ON GO211
The biggest NBL race of the season took place over Labor Day Weekend and GO211 is replaying the three day webcast in its entirety. Starting Tuesday September 8th at 2:00 pm (est) and continuing through Thursday September 10th, fans can relive all the races from this amazing event.
The Amateur and Pro qualifying races air Wednesday. On Thursday, fans can watch the Pro and Amateur finals.
In the meantime, check out On-Demand videos from the 2009 NBL Grand Nationals.
---
Hire Park Pro/Am Shootout
Featuring the KING OF THE OLD GUYS RACE

Hire Park BMX Track - 550 Arthur Street - Warsaw, Indiana 46580
Check out all the track info at www.hireparkbmx.com
Saturday, Sept. 12, 2009 - Registration: 12:00-2:00 - Time Trials @ 2:00 / Race: A.S.A.P.
Entry Fees: All Classes - $15.00 - Non Cash Opens - $5.00 w/ class
Pro/Am - $1500 Pro/Am Purse - Time Trials - (Payout to fastest 3)
Entry fees; $15.00 Am - $20.00 Pro
K.O.G Race - Flat pedal shootout - 35 and over - Open wheel
Custom Trophies - Hole Shot Shootout - Entry Fee - $15.00
Women's Cash Class - More riders, bigger payout
There will be a class for EVERYONE!!! - Rookie, Novice, Expert, Pro and Opens will be run!!
This is a Local Race you DO NOT want to miss!! - NO License required, just come out and race!!!!
Hog Roast - Free Hog Roast After the Race!!! Also, Covered Dishes, Deserts, Chips….
All Racers Welcome, and we will be Accepting Donations
 
For more information please contact Dan Rumple @ 574-268-RIDE (7433).
Sponsors:vBMXmania.com, Answer BMX Products, Alienation - with more to come!!!!
---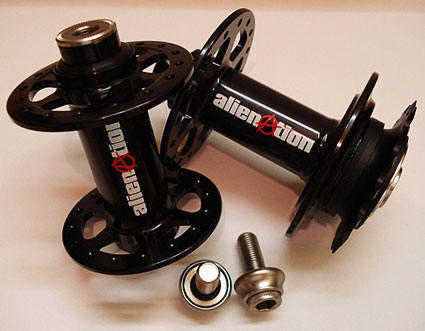 HOT NEW ROYAL BMX RACE HUBS
Coming FROM ALIENATION BMX!
The Royal is Alienation BMX new high end race hub.
Available to customers as hub-sets only or full wheel kits (Hubs, Rims, Spokes-not assembled), the Royal hubs alone will weigh 195grams (6.87oz) for the front and 310grams (10.93oz) for the rear.
The Royal hubs feature the same inner cassette workings as the popular Alienation Bullitt hub and have been designed with tall flanges to reduce spoke length that brings unnecessary flex to the wheel.
Color options are not yet final.
To see more images of the Royal hub, please visit our news section at www.Alienationbmx.com .
Preliminary release date of the new Royal hubs is Jan 1st, 2010.
---
Today's BMX Racing News .....