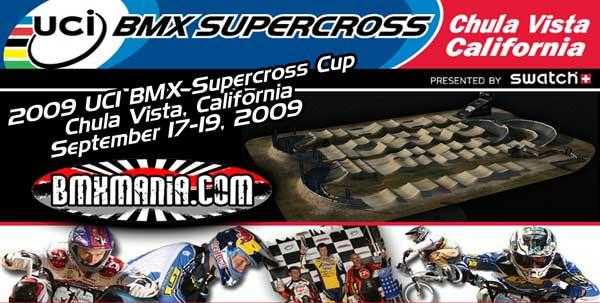 THIS BMX MANIA RACE REPORT PAGE SPONSORED BY
THURSDAY/ELITE PRACTICE - ABA HALL OF FAME BANQUET - FRIDAY UCI SX TIME TRIALS - TIME TRIAL FOTO GALLERY - SATURDAY UCI SX FINALS
Official Results - UCI BMX Supercross Round 3
US Olympic Training Center - Chula Vista, California
Elite Men - 1Maris Strombergs/LAT 2 Sam Willoughby/AUS 3 Connor Fields/USA 4 Ivo van der Putten/NED
5 Mike Day/USA 6 Tyler Brown/USA 7 Nic Long/USA 8 Marcus Bloomfield/GBR
Elite Women - 1 LaŽtitia le Corguille/FRA 2 Mariana Pajon/COL 3 Arielle Martin/USA 4 Merle van Benthem/NED
5 Brooke Crain/USA 6 Amanda Geving/USA 7 Alise Post/USA 8 Lauren Reynolds/AUS
SATURDAY, FINAL FOTO GALLERY
UCI BMX SX

Chula Vista

Time Trial Results

Elite Men

1 Mike Day (USA)

2 Donny Robinson (USA)

3 Maris Strombergs (LAT)

4 Sam Willoughby (AUS)

5 Nic Long (USA)

All Men's Results, Click Here!

Elite Women

1 Mariana Pajon (COL)

2 LaŽtitia le Corguille

3 Arielle Martin (USA)

4 Lauren Reynolds (AUS)

5 Taylor Wolcott (USA)

All Women's Results, Click Here!
---
2009 ABA Hall Of Fame Inductees

Troy

Lee

Industry

D. D.

Leone

Racer

R.L. Osborne

& Mike Buff

Freestyle

(Pictured, Mike Buff)

Eddie

Fiola

Freestyle

Danny

Oakley

60's / 70's

BMX Pioneer

Jeremy

McGrath

Special Recognition
| | | | | | |
| --- | --- | --- | --- | --- | --- |
| | | | | | |
| The ABA threw a BIG OL party for hundreds of ABA BMX Hall Of Fame race fans at the San Diego Hall Of Champions honoring it's '09 inductees. The HOF will be permanently moved from ABA to San Diego and will now yearly honor Freestyle as well as BMX racing greats. | Bob Haro at left with his friend, Mike was celebrating the 2009 induction ceremony. Bob is one of the early leaders in BMX, known as an artist, bike company founder and BMX innovator. | Some of the folks who made the spectacular event (and many other great ABA BMX races!) possible. From left, Bill Curtin, Jennifer Gillette, Shannon Gillette, Bill Morris & John David. | Still friends after many years, Team USA's, Mike King was the 'presenter' for Troy Lee, one of Mike's former BMX and MTB sponsors and one of the greatest Action Sports designers of all time. | "Instant Hall Of Fame"! Left, Oakley's, Steve Blick; ABA / UCI / Olympic BMX announcer, Mike Redman; Hot Shoppe's, Dave Marietti & "The GREAT One", Stompin' Stu Thomsen! WHEW! Kwite A Krew! | Free Agent was well represented by T. M., Dale Holmes and FA's, Maris Strombergs. Dale made sure to point out that Maris was "training" on come nice chocolate cake & a cold beer, the night before the UCI SX race. I doubt that it'll make any diff come Saturday. :-) |
The whole proceedings were broadcast on Go211.com and if you were checkin' it out or have watched some of the nationals on Go211.com, you can thank this guy at left, Rich Montalvo, who runs his console like a champ. He's pretty quik on a BMX, too!
One of the more entertaining speakers of the evening, Gene Roden, ran Factory Redline in the 80's after he left ABA leadership.
MX/Supercross racer, Jeremy McGrath received a "Special Recognition" award for his early and continuing support of his 'first love', BMX racing. Before moving on to moto, Jeremy ran ABA Socal BMX racing and scored a ride on Factory VDC, movin' on to international MX stardom. Presenting Jeremy's award was legendary BMX announcer, Mike Redman. In the photo at right, McGrath is snapped by John Kerr, one of the greatest BMX photographers, as Redbone looks on from the stage.
Loads of BMX talent here, that's for sure. From left, it's Denzel Stein, Sean Dwight, Mike Day, Tom Ritzenthaler and Barry Nobles. FASSSSST!
| | | | | | |
| --- | --- | --- | --- | --- | --- |
| | | | | | |
| ABA BMX CEO, B.A. Anderson speaks to the crowd, and is lookin' to the future. As such, the ABA hosted US Olympic Comm., UCI BMX and USA Cycling officials at the celebration. Hopefully, lots of good stuff for BMX racing in the good old US of A. | The 'Master Of Ceremonies' for the evening, Cash Matthews kept things on track and had some "Old Skool" observations of his own to add. No one knows "BMX Background" like he does. | Old Skool? Nope, but 'Skool' IS in session when Clayborn's, Barry Nobles and 'Supercross' Kris Fox hit the trak. And they look pretty stylish as well, don't cha think? | Gene Roden spoke of D.D. Leone being the first "young gun" to be brought on to a Factory Team in a time of All Pro riders in that position. | Italian BMX Olympian, Manuel de Vecchi and his wife made the party. | More Euro's at the show, Sandy Stevenson and Emma Smith video all of the UCI World Wide events as well as the Pro Snowboard tour and tons of other actions sports video stuff. |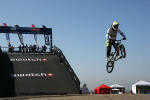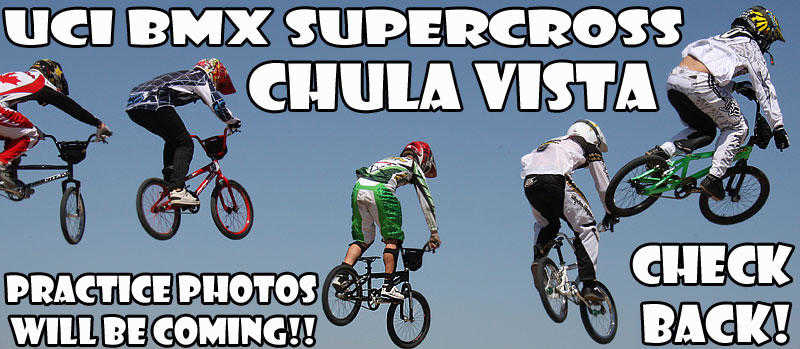 ---