BMX MANIA RACE REPORT PAGE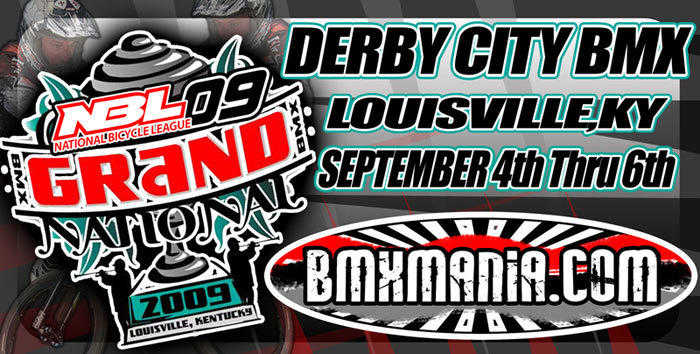 FRIDAY / PRACTICE & LAST CHANCE QUALIFIER - SATURDAY / ELITE FINALS - SUNDAY / AMATEUR FINALS
MASSIVE NBL GRANDS AMATEUR FOTO GALLERY!!!!
NBL Grands Main Event Finishes
Elite Men - 1 Randy Stumpfhauser 2 Cristian Becerine 3 Bubba Harris 4 Tyler Brown 5 Robert de Wilde 6 Sergio Salazar 7 Matt Pohlkamp 8 Maris Strombergs
Elite Women - 1 Dominique Daniels 2 Krystal Hime 3 Amanda Geving 4 Alise Post 5 Stephanie Barragan 6 Rachel Smith 7 Jamie Lilly 8 Allie Dragoo
Super Ex - 1 Matt Kelty 2 Logan Collins 3 Weston Pope 4 Fausto Endara 5 Tyler Faoro 6 Josh Meyers 7 Randall Neave 8 Matt Rubeck
Masters - 1 John Purse 2 Joey Albright 3 Will Murray 4 Tim Dinger 5 Sean Dwight 6 Scott Moreland 7 Tremain Johnson 8 Dale Holmes
SATURDAY PHOTO GALLERY
Autograph Session Time! Everybody loves a hero and here Redline stars Alise Post and Robert de Wilde 'sign it up' for the fans.
Free Agent Autograph Time! Connor Fields is just happy to BE at a race, just coming back from a LONG injury recovery, Maris Strombergs is psyched with his cool F.A. Autograph card and Cristian Becerine just keeps on being 'Mr. Cool, Calm And Collected'.
"Uh Oh", sez, Alise! "De Wilde's got the camera!"

"Besides, that, those rough lookin' GHP guys are movin' in next door!" - Photo by Afro Bob.

It takes a lot to get Randy Stumpfhauser mad, but looks like he's about to grab Robert and take our camera away from him. - Photo by Afro Bob.
What did Mr. Mania say to "Big Jeff" (Upshaw) that's got him smilin'? He's probably glad that Alienation BMX's, elite rider/Jeff Upshaw isn't as seriously hurt during a bad crash in the Friday race as it initially appeared. Whew! - Afro Bob Pic
The three GHP / Redline riders above have more national pro titles than you could ever comprehend. Long steller BMX careers that keep on rollin', all driven by a love for the sport! Left, 'Stumpy', Jason Carnes and 'The Jackal', John Purse. Wow!
Josh Meyers was sportin' a slick lookin' setup on his Profile cranks. The prototype external bearing set WAS cool. Easier mounting alignment and a spin that went on forever.
Speaking of Josh Meyers, along with his National #1 in Super Ex, Josh was sportin' a new sponsorship with Garbage and a attention getting set of 2010 Troy Lee threads that had people talking.
"Speaking Of' Troy Lee Designs....Robert de Wilde was wearing out the new 2010 TOTALLY NEW D3. Newly designed from the inside out, the new skid lid is not only re-enginneered, it's pretty cool lookin'.
Maris Strombergs is quickly becoming one of America's favorite sons. Oops, he's Latvian! Doesn't seem to make a diff to these kids who he's sharing his new NBL Title Toys with. Who sez, "nice guys finish last?"
John Purse and Joey Albright had a pretty intense battle going on at the Grands. Joey won Friday and Jackal won Saturday, but Dale Holmes was the big winner taking home the NBL Masters National Title!
You can always count on Matt Pohlkamp to look good, know where the camera's at, throw down some style and go FAST.

Chalk up yet ANOTHER NBL Grands Main Event finish for Ruckus.

The "BMX Zoolander", Tim Dinger strikin' a pose and haulin' his NBL Masters National #2 award check.
Dominique Daniels had a great weekend of racing, got to battle with her long time rival, Alise 'The Beast' Post but most of all she enjoyed taking home ANOTHER national championship to add to her list. The '09 NBL Elite Women's National #1!
| | | |
| --- | --- | --- |
| | | |
| Answer's Bubba Harris turned in a good weekend with a 4th and a 3rd in Elite Men. Not bad for a guy who's still recovering from some pretty heavy duty body damage. Nice job, Bubba! | It's a yearly tradition at the NBL Grands, the Team Penthouse pit setup. MCS BMX had the biggest, grandest layout for team members and families to get the best view of the track and hang out and catch some of the cool breeze up there in the air! | Kovachi Wheels was not only the place to go to get your battered wheels fixed and get a HOT deal on some new ones, now with a new sponsorship from Ball Park Franks, it's the place to cook up some dogs! |
FRIDAY / PRACTICE & LAST CHANCE QUALIFIER
Last Chance National Official Race results!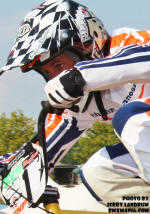 Elite Men - 1 Maris Strombergs 2 Randy Stumpfhauser 3 Cristian Becerine 4 Bubba Harris 5 Sergio Salazar 6 Matt Pohlkamp 7 Steven Cisar 8 Kyle Bennett
Elite Women - 1 Alise Post 2 Dominique Daniels 3 Amanda Geving 4 Krystal Hime 5 Ashley Verhagen 6 Madison Pitts 7 Rachel Smith 8 Stephanie Barragan
Super Ex - 1 Tyler Faoro 2 Fausto Endara 3 Josh Meyers 4 Logan Collins 5 Weston Pope 6 Diego Carvallo 7 Randall Neave 8 Matt Rubeck
Masters - 1 Joey Albright 2 John Purse 3 Percy Owens 4 Will Murray 5 Phil Potosnak 6 Sean Dwight 7 Tim Dinger 8 Jason Sherrill
FRIDAY FOTOS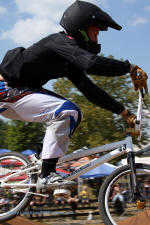 ---