BMX MANIA team CO-SPONSORS
BMX Racing News - Wednesday/thursday - October 28/29, 2015
On Pace with BMX Mania Team Member, Shannon Taylor
BMX Mania Team Member, Shannon Taylor has released a cool video detailing his day to day training, BMXing and 'down home' summer at his home in Warsaw, Indiana.

Shannon's currently attending Marian University where he's majoring in some serious studies and some World Class BMX and MTB racing for the Marian Knights, one of the premier university cycling programs in the world.

We're quite proud of Shannon at BMX Mania, he's one of the most dedicated BMXers that we've ever come across and a great team member.....Check out his 'On Pace With Shannon' vid, it's pretty sweet!

---
Cascade Velo to Distribute TRUTH BMX Frames and More
October 14, 2015, Bend, Oregon: Cascade Velo and Mechanicsville, MD based TRUTH BMX Products form a partnership to distribute Truth BMX parts and frames.
"I am excited to be able to offer Truth BMX Products to Cascade Velo's dealer network." Cascade Velo owner, Mike Albright said, "I really like what Eric and Tony Spears have going on at Truth and look forward to phasing in more Truth BMX Products like handlebars, stems and their new 4013 cro-mo frames."
To start, Cascade Velo will be offering the Aluminum Main Event frames in mini, junior, expert, pro, pro xl, pro xxl, junior 24", expert 24", pro 24", pro xl 24" sizes. Offered colors include black, blue, red, white, yellow, neon pink, neon green and polished. Custom colors are also available.

Cascade Velo is also accepting resumes for 2016 team co-sponsorship deals! Teams must be supported by an independent bike dealer (bike shop) to be eligible.
Team Managers; send all inquiries to sales@cascadevelo.com
For more information check out:
www.truthbmxproducts.com
www.cascadevelo.com
---
BMX Racing News - Monday - October 26, 2015
Chase BMX Race Report - USA BMX North American SX Race - Oldsmar, Florida
Connor and Joris are on the podium both days once again,
with Connor winning on Saturday!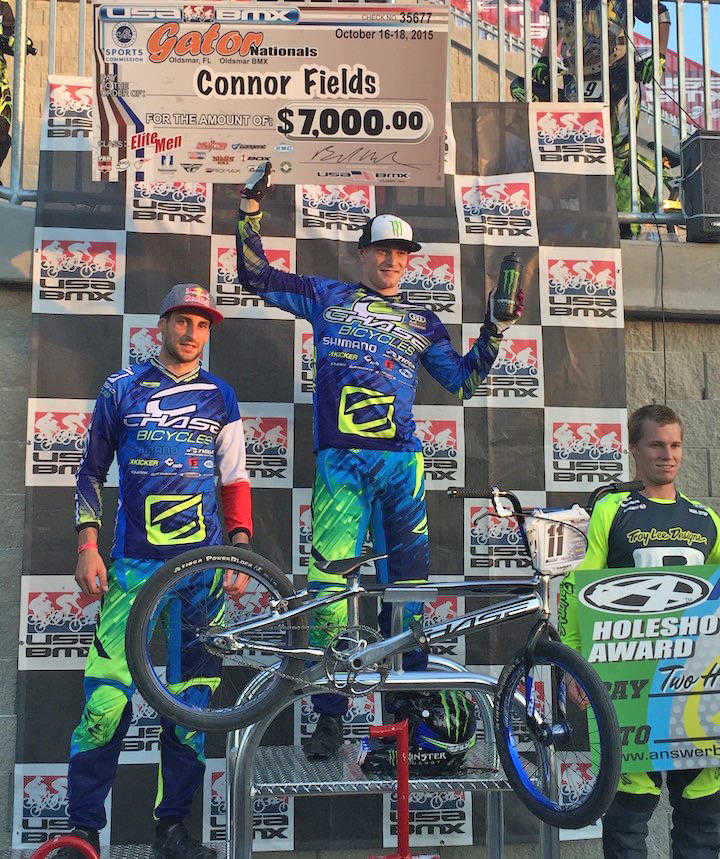 The 2015 USA BMX Pro series is winding down, as the series recently moved to Oldsmar, Florida.

This would be huge weekend for the BMX Pros, as this was not only the last stop of the Pro Tour before the USA BMX Grand Nationals, but this would be one of the USA BMX North American SX events, where not only the newly rebuilt Oldsmar track would be huge, but the prize money would be giant and the chance to gain some more points towards the overall 2015 USA BMX Pro title would be priceless.

Joris and Connor currently sit 1 & 2 in the overall points, so if they want to put any separation between each other, or 3rd place in the points Sam Willoughby, they would need to do it this weekend.
The newly rebuilt Oldsmar BMX track had the riders excited to race on the newest Supercross track built in the USA and battle it out for the huge Pro prize purse.
On Friday night, Connor and Joris would race the opening day of the 2 day event for the final stop on the USA BMX pro tour, before the Grands weekend.

Arriving to the Oldsmar track, both riders were excited about the new facility and were looking forward to another great weekend of BMX racing and hoping to make their way onto the podium each day.

On Friday, they were both able to achieve that. Both riders made their way easily through the qualifiers and into the Friday night main event.

When the gate dropped, both had a good start, but were slightly edged out by Sylvan Andre, as he took the holeshot. Connor and Joris would battle it out, as Connor passed Joris on the 2nd straightway, and pulled up to Sylvan, but was unable to pass him for the win.

Connor would finish 2nd with Joris just behind in 3rd, for another great finish by the Chase BMX Pro team riders on the USA tour!
On Saturday, the guys once again rode strong all day. Once again they both made their way into the main event.

As the gate dropped on Saturday night, it was Sam Willoughby with the lead, with Joris and Connor all over him. Down the 2nd straightaway, Joris made the pass on Sam and they entered the 2nd turn and drifted slightly high.

This was just enough for Connor to try to make the move on the inside, and he was able to pass both riders, taking over the lead.

Joris would pressure Connor the rest of the lap, but Connor would hold off Joris and take the win! That makes 7 wins for both Connor and Joris this season, and making Chase the most dominate Pro team on the USA BMX tour in 2015!

What a great weekend for the Chase BMX Pro's as they now go into the Grands, with both looking at winning their first USA BMX #1 Pro title.

It will all come down to the Saturday night Pro main event at the Grands, and we are so excited to see both of the Chase BMX pros going for this great title!
The riders now have a little over a month to prepare for the USA BMX Grand Nationals, where both Joris and Connor will be up for the USA BMX #1 Pro title.

Sam Willoughby will be the rider that wants to upset both of them for the overall title, so it will be an exciting weekend of BMX racing, come Thanksgiving time in Tulsa!
---
BMX Racing News - WEekend update - October 16-18, 2015
Sunday Evening Update: UH OH! Internet connection troubles! It was a tough weekend for BMX Mania online, but we've got our trubs sorted out and are back online. We'll be posting the weekend's photos early this week, so please check back. In the meantime, we've got Friday's BMX Race Action Photos posted and dialed in, so if you need some good stuff, you can visit the Oldsmar Race Report Page from USABMX Oldsmar, by clicking here!
---
alise post & sylvain André
win big in Oldsmar!


| | |
| --- | --- |
| ELITE MEN PODIUM | ELITE WOMEN PODIUM |
| | |
| 1-Sylvain Andre (FRA) | 1-Alise Post (USA) |
| 2-Connor Fields (USA) | 2-Mariana Pajon (COL) |
| 3-Joris Daudet (FRA) | 3-Melinda McLeod (AUS) |
BMX Mania's On The Road To Oldsmar!!!!!

Yes sir! It's the Series Ending race in the USABMX Supercross Series and the destination is the Brand New AWESOME Supercross track in Oldsmar, Florida!

Oldsmar has been the destination for lots of USABMX nationals but the City of Oldsmar and the Florida Sport Commission are all excited about the hot new track that has been totally renovated and includes BOTH a 5 meter amateur AND 8 meter elite starting hill!

Keep it tuned here over the weekend for some hot BMX Race Action photos from the USABMX Gator Nationals in Oldsmar, Florida!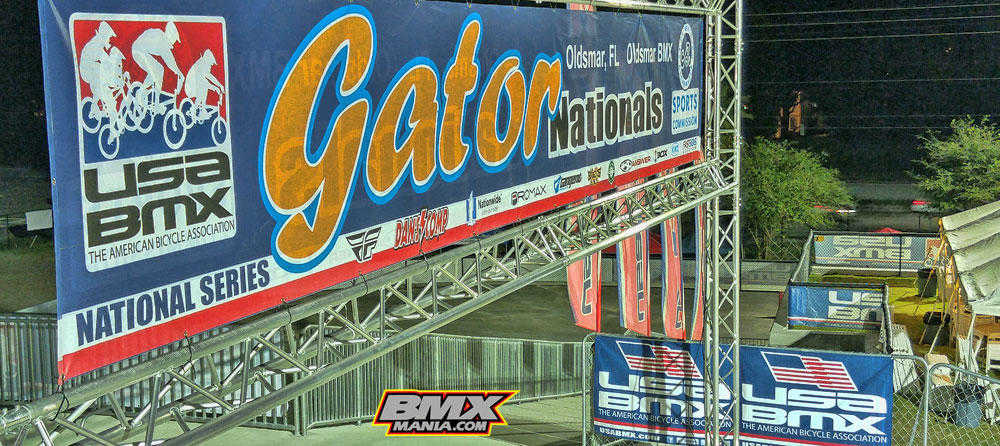 ---
BMX Racing News - WEDNESDAY/Thursday - October 14-15, 2015
Speedco Velox carbon frame Photos Unleashed!

The speedco bicycles website was recently launched and they've got some studio photographs of their new Velox carbon frame slated for a December release.

The Velox is the lightest frame on the market of its size, weighing in at 2.65oz in the Pro XL size, and will be available in 3 pro sizes as well as 3 sizes for the smaller rider.

Check out the website to learn more www.speedcobicycles.com
---
BMX Racing News - Monday/Tuesday - October 12, 2015
LOCAL RACE ACTION!
BMX MANIA'S HOME TRACK END OF THE SEASON PHOTO BLOWOUT!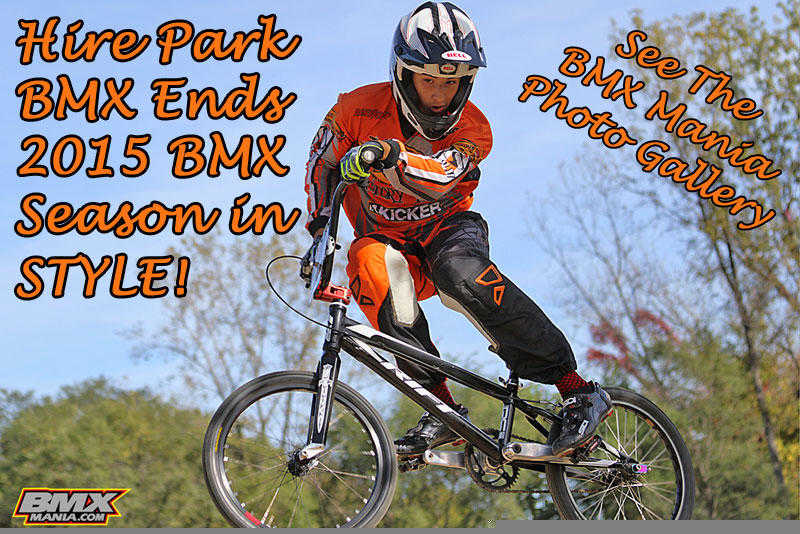 Strange Motion/Kicker BMX Team 'High Flyer', Caden Bowers, Hire Park Local Hero, throws down a little style to celebrate the end of the 2015 BMX Season at the track's end of the season 'Chili Cook-off' race. BMX Mania has been involved with BMXing at Hire Park for 30 years, and so we trucked on over to the track on Saturday to check things out and snap a few action shots at the race. Check out the fun, Monday afternoon as hit up some BMX Mania Local Action!!!!!
---
BMX Racing News - thursday/friday - October 8-9, 2015
Sidi Stands up for Breast Cancer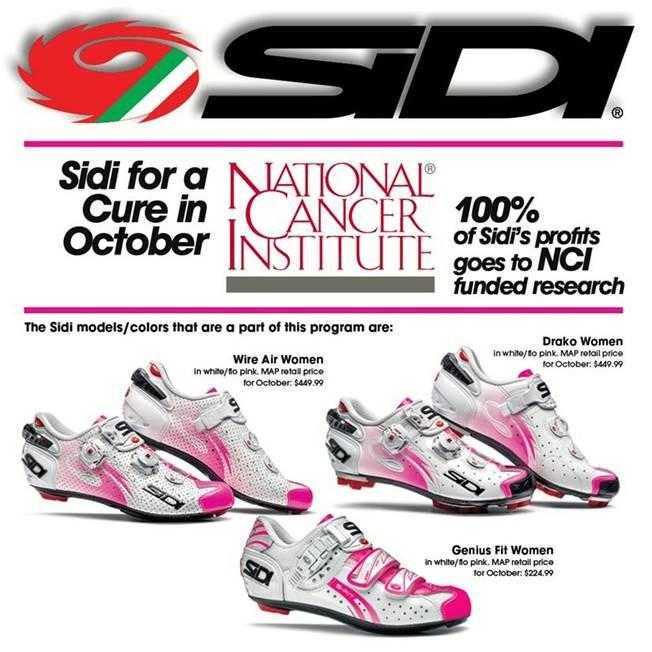 Breast cancer is something that invades many peoples lives at some time or another. October being Breast Cancer Awareness Month, Ciclista America thought we should participate. That said, we think that most of us are very "aware" of breast cancer, so Ciclista America's direction, and contribution, will focus more on supporting a cure.

The National Cancer Institute (NCI) is our Federal government's agency that helps coordinate the training that physicians receive to learn new techniques and treatments and more significantly conducts research towards a cure. It also plays a role in identifying fraudulent research organizations. The NCI already have their basic operating and administrative costs covered by an appropriation from Congress, therefore donations to the NCI are used entirely to fund additional research towards a cure.

Ciclista America's program will allow retailers to advertise and promote select models/colors of the Sidi's ladies shoe line at 10% off retail for the month of October only. Ciclista America will then donate 100% of our profits from the sale of these shoes in October to the NCI.

The Sidi models/colors that are a part of this program are:

Wire Air Women in white/flo pink. New for 2016 Retail price for October: $449.99

Genius Fit Women in white/flo pink. Retail price for October: $224.99

Drako Women in white/flo pink. New for 2016 Retail price for October: $449.
---
BMX Racing News - Tuesday/Wednesday - October 6-7, 2015
TICKETS FOR 2016 UCI BMX SUPERCROSS WORLD CUP MANCHESTER GO ON SALE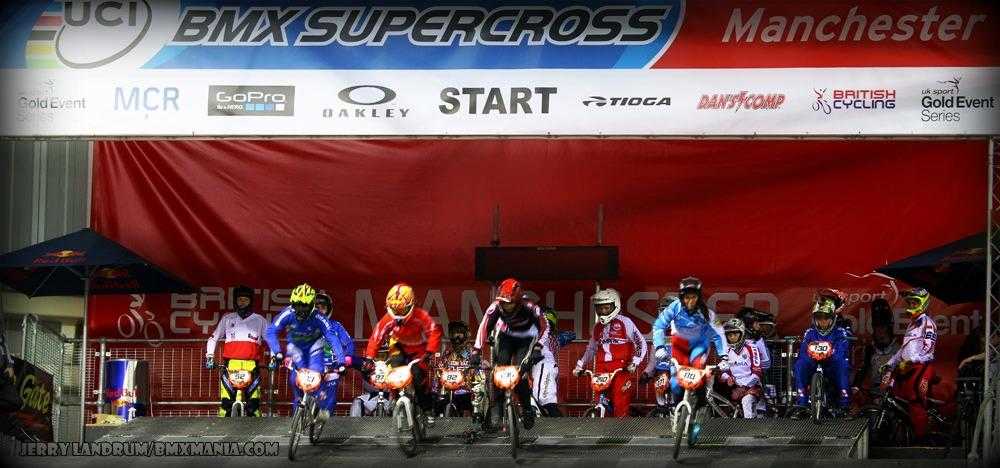 Tickets for the 2016 UCI BMX Supercross World Cup in Manchester will go on sale exclusively to British Cycling members with 20% discount today (Tuesday 6 October).

The UCI BMX Supercross World Cup is returning to Manchester's National Cycling Centre from 9-10 April 2016 when Great Britain's 2015 world cup series champion, Liam Phillips, will be looking for his fourth consecutive win at the event.

Racing will begin on Saturday 9 April with three rounds of qualification motos for Sunday's supercross finals before the top ranked 16 men and 8 women in the world race against the clock in the time trials. The action will continue on Sunday 10 April when Saturday's qualifiers will meet the world's top 64 men and 32 women in the supercross racing, each battling for a place in the elite finals. An autograph session will open both days of the competition, offering fans the chance to meet with some of the best athletes in the sport.

The Manchester round is the second event in a five-stop global series which will also see rounds held in Santiago del Estero (Argentina), Papendal (Netherlands), Rock Hill, South Carolina (USA) and Sarasota, Florida (USA). The competition is set to be fierce as the best riders on the planet battle for series points as well as some of the last qualification points on offer for the 2016 Rio Olympic Games.

How to get tickets ..... Tickets will be available exclusively to British Cycling members with 20% off from 2pm on Tuesday 6 October until 11:58pm on Sunday 11 October.

Anyone wishing to take advantage of this and other exclusive ticket offers can join British Cycling from just £20 during this period.

Tickets will go on general sale on Tuesday 20 October via Ticketmaster.

More information about the event, including the racing schedule and full list of ticket prices, can be found on the event website www.bmxsuperx.com.

---
BMX Racing News - weekend update - October 2-4, 2015
2016 Chase Bicycles Edge & element range announced and available now!
Chase Bicycles is proud to announce the launch of the 2016 Edge complete BMX Race bikes.

Pete Dylewski gives you a brief overview of the new bikes for the line.

For the full info on the Edge and Element Complete bikes, please check out www.ChaseBicycles.com

Chase Bicycles is proud to launch the 2016 line of Element complete BMX Race bikes.

Pete Dylewski gives you a brief overview of the new bikes for the 2016 line.

For full info on the line, check out www.ChaseBicycles.com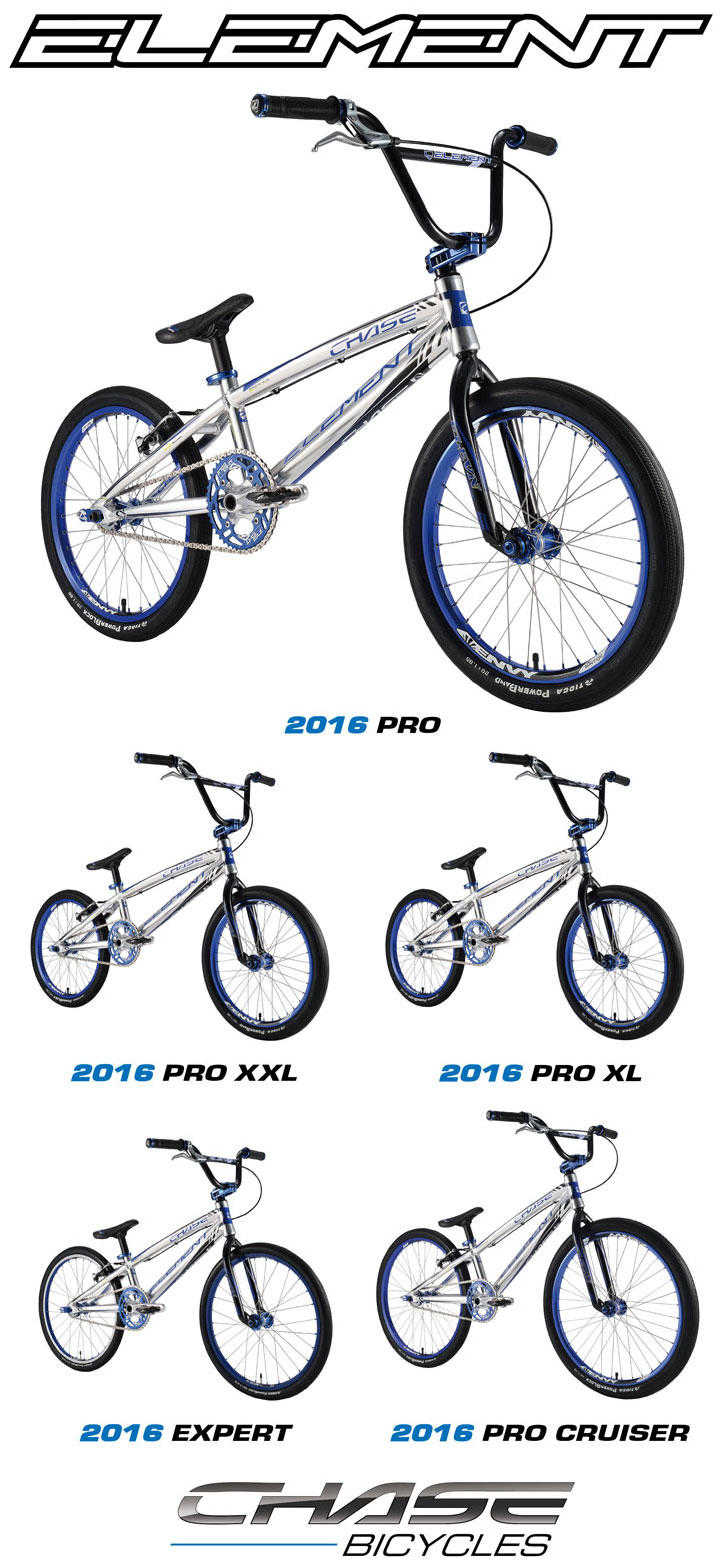 We are excited and proud to show you the line of new bikes from Chase Bicycles.

From our race team, to our dedicated staff of employees world wide, we are sure you will agree that the 2016 Chase BMX Bikes are the best bike in BMX racing today!

From Christophe Leveque and myself, Pete Dylewski, thanks so much for going on this ride with us!
---