BMX Racing News - Tuesday - January 24, 2017
USA CYCLING LAUNCHES U.S. JUNIOR
BMX DEVELOPMENT TEAM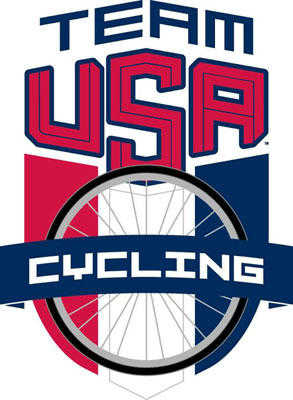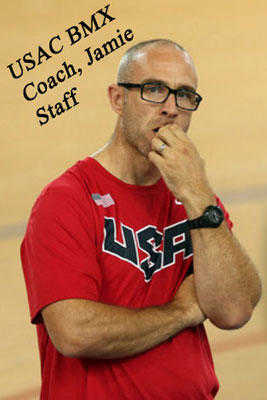 (January 23, 2017) -- USA Cycling today announced the creation of the U.S. Junior BMX Development Team.
The team, which will serve as the premiere BMX development team in the United States, will focus on developing athletes who will be targeted to win medals at the 2020 and 2024 Summer Olympic Games.
USA Cycling and Director of BMX, Jamie Staff have teamed up with Dale Holmes Racing to improve the development of young American riders. Both Staff and Holmes are passionate about youth development in the sport and hope their combined 60 years of experience will help to develop the United States' next, great BMX athletes.
The team, which will compete in both domestic and international events, will work alongside USA Cycling's current Olympic medal winning athletes at the training center in Chula Vista, California and have access to top facilities and sports performance staff.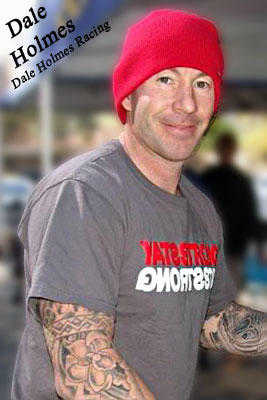 "With this team, we will be able to make sure that our athletes get experience competing alongside the best riders in the world at all major events, which will be key to their development as athletes," USA Director of BMX Jamie Staff said.
The team, which is made up of junior riders who have shown interest in Supercross style racing and who have proven themselves domestically, has four riders:, Kamren Larsen (Junior Men, Bakersfield, California), Noah Ramos (15 Men, Meadow Vista, California), Payton Ridenour (15 Girls, Pottstown, Pennsylvania) and Colin Whittington (Junior Men, Riverside, California).
The team will compete at a majority of the USABMX national events with possibility of earning places to the UCI World Cup series and other UCI International events during the course of the season.
About USA Cycling: Recognized by the United States Olympic Committee and the Union Cycliste Internationale, USA Cycling is the official governing body for all disciplines of competitive cycling in the United States, including BMX, cyclo-cross, mountain bike, road, and track. As a membership-based organization, USA Cycling comprises 64,000 members; 2,700+ clubs and teams; and 34 local associations. The national governing body sanctions over 3,100 competitive and non-competitive events throughout the U.S. each year and is responsible for the identification, development, and support of American cyclists. To learn more about USA Cycling, visit www.usacycling.org.
BMX Racing News - Tuesday/Wednesday - January 17-18, 2017

Jamie Lilly to Ride for FTB BMX and Dialled Bikes for the 2017 Season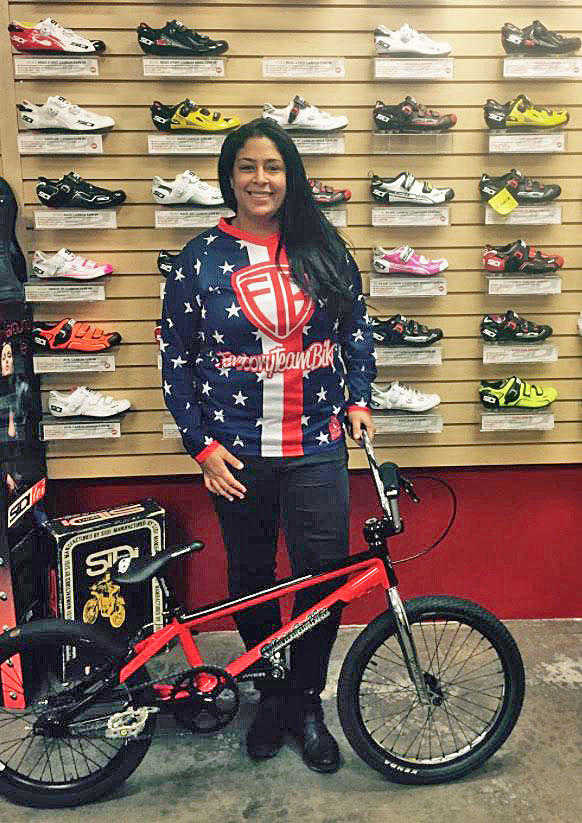 FTB Dialled Bikes LLC is pleased to announce that multiple time USA No.1 Pro, World Champion and Grand National Champion, Jamie Lilly, will be racing for the FTB BMX and Dialled Bikes mountain bike brands in 2017.
Lilly will compete in the USA BMX national series, Grand Nationals and attempt to qualify for Team USA at the 2017 UCI world BMX championships on her FTB Revolution BMX bike. She will also compete at the annual Sea Otter Classic and other select mountain bike races on her prototype Dialled Bikes slalom/4X bike.
Mike Wong, Founder & CEO of FTB Dialled Bikes LLC: "Jamie Lilly is a rider whose place in BMX history is already secured due to being one of the most winning female racers of all time. When the opportunity arose to work with someone with Jamie's pedigree, professionalism and wealth of experience, it seemed like a great collaboration. Hopefully, our partnership with Jamie will help Jamie add to her already impressive legacy in cycle sport, help the FTB BMX and Dialled Bikes' brands gain recognition in the US after recently relocating here from the UK, and give our younger team riders an opportunity to learn from someone who has been there, done that, and won many major titles."
Jamie Lilly: After getting a taste of racing again at the Grands in November, I got the bug and decided to do a full season in 2017. I was approached by Mike to ride for FTB and Dialled Bikes, and I am so excited about this opportunity and appreciate Mike's faith in me. After building the bikes and having a chance to ride them, I was really impressed not only by the way they rode, but also their quality. I couldn't be more stoked for the season to come.
The Dialled Bikes and FTB BMX bicycle brands were originally created in, and operated out of, the United Kingdom. In August 2016, they moved their HQ to Winston-Salem, NC.
Retail customers can purchase FTB and Dialled Bikes products directly from www.ftbbmx.com and www.dialledbikes.com. Dealer enquiries and international distribution enquiries should be sent to info@dialledbikes.com.
FTB BMX will shortly announce its full BMX team roster for the 2017 race season.
BMX Racing News - Thursday - January 12, 2017
Crupi.....Racing BMX Since 1982!
Tour the USA BMX circuit with
Jason Carnes' Berm Academy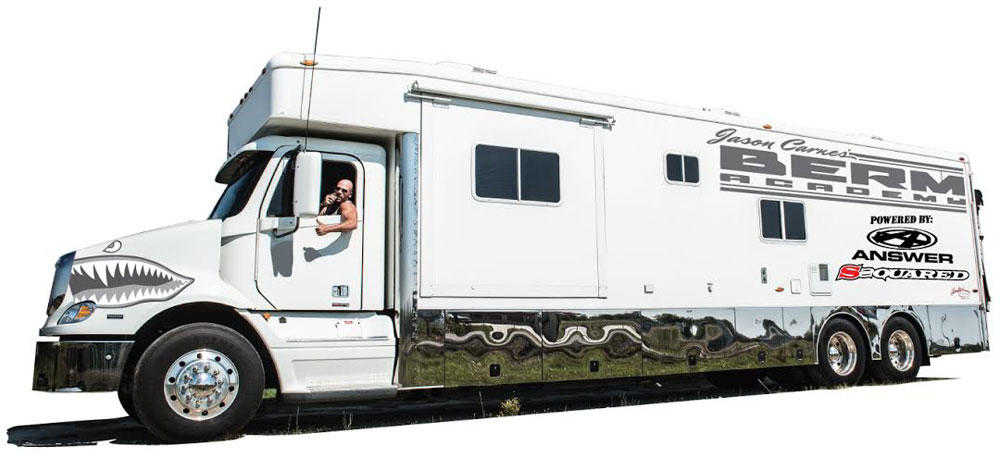 After 17 years driving the Factory Redline rig to races across the US, Team Manager Jason Carnes is ready to show you the time of your life touring the USA, seeing all the sights, riding hot spots only insiders know about, and hitting key USA BMX national events along the way.
Jason Carnes' Berm Academy offers tours from one to six weeks in length, throughout the 2017 season. "The Ultimate Summer Tour" is one of the early favorites, and includes the UCI BMX Worlds in Rock Hill, SC and an incredible coast to coast tour of the USA (hitting the Worlds, plus three USA BMX nationals).
You'll ride like royalty and pit like a pro, all under the guidance of a racer and factory team manager with over one million miles of tour experience under his belt ...... Jason Carnes!
Here's what Sam Willoughby says about touring with Jason:
"I have had the privilege of staying and traveling with Jason Carnes for the past seven years. Jason is the most caring guy I know! His specialty is traveling the country and stopping at every BMX fun spot along the way. Jason has been doing this for longer than most of us have been alive and is therefore very diligent when it comes to organization and safety. You will laugh more than ever and learn more than you would believe. I cant wait to jump on board the Berm Academy bus soon."
Check us out at www.bermacademy.com for full details.
Sign up for a tour by January 31st and get 10% off with coupon code "Earlybird10."
BMX Racing News - Weekend Update - January 6-8, 2017
CHECK OUT THE 'MAIN EVENT' PRO FROM TRUTH BMX!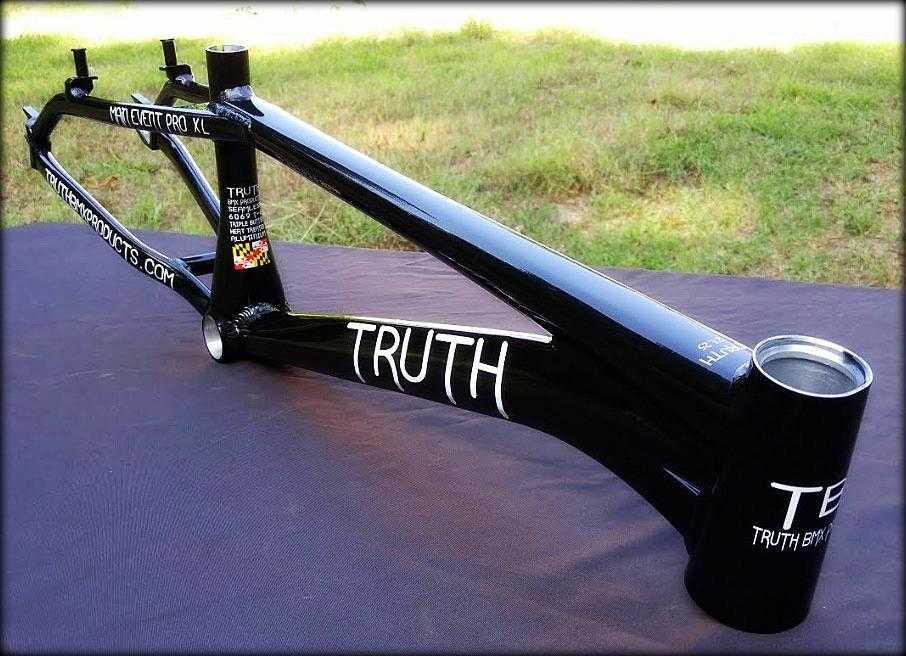 6069 triple butted aluminum. ..... Lighter and stronger then 6061 ..... Hydroformed top and down tube
Double heat treated T4-T6 ..... 20mm dropouts with 10 & 15mm adapters ..... Tapered headtube
Full CNC dropouts ..... Tapered seatpost tube ..... Weight: Pro XL 3 pounds 5 oz
Check out all the Truth BMX Good Stuff at
www.truthbmxproducts.com
BMX RACING NEWS - Thursday - January 5, 2017

Hot New Stay Strong / Stephen Murray Vans!
Stay Strong / Steven Murray are honored to announce a Limited Edition collaboration from longtime sponsor @vans .

A huge thank you to @vansjerry and @stevevandoren for making this happen!

Available exclusively at www.stysrg.com only 100 pairs across all sizes!

Worldwide shipping available.

Enter VANS at checkout to get 20% off softgoods when purchased with these shoes!
BMX RACING NEWS-TUESDAY/Wednesday-December 27/28, 2016
BMX Mania Featured On Rail The Berm BMX Podcast,
Web Dude, Jerry Drinks Too Much Christmas Nog
And FORGETS WHERE HE IS!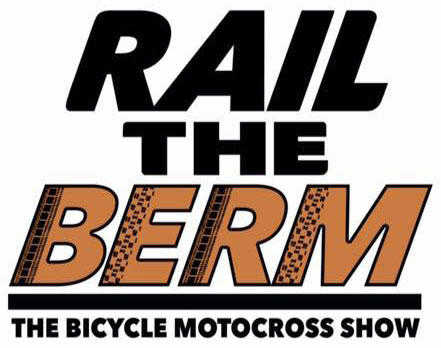 BMX Mania Dot Com Web and media dude, Jerry Landrum is featured in this week's version of the BMX Web Podcast, Rail The Berm, The Bicycle Motocross Show.
Unfortunately for Jerry, he must have had too much Christmas Nog and forgot which BMX Podcast he was on, insisting that Rail The Berm had just interviewed Swiss Cycling Pro BMXer, David Graf when in reality Jerry Mania has envisioned that interview on Dale "BMX Legend" Holmes, podcast, High/Low, The BMX Podcast of December 20.
Despite having a BMX Flashback, Mr. Mania did manage to contribute to the Rail The Berm, "Nails Award" by submitting David Graf as on of the toughest BMXers of the year for his gritty performance in the 2106 Rio Olympics. Landrum also nominated one of the greatest BMXers of all time, Sam Willoughby for his ongoing performance in rehabilitating himself after his life changing accident this past Fall.
Check out Rail The Berm for a fun two hours of BMX grooviness as well as some serious discussions on BMX Racing, Life, Liberty and the Pursuit Of Happiness.
For sure, it is BMX Mania Approved!
Thank You For Listening In 2016 Episode: On this episode of Rail The Berm, George Vick of USABMX answers some Main Frame questions with the crew.
Mike Carruth of BMXnews.com goes in to the podcast biz.
Jerry Landrum (BMXmania.com) is confused about what podcast he is on.
Triston Judd challenges Bobby Motomag to a guitar battle.
Lastly, a caller fails to play Know A Brand.
Rail The Berm Sponsors: supercrossbmx.com, pedalinginnovations.com and bmxspeedsenubars.com.
Article Submitted By: Jerry Landrum - BMXmania.com
BMX RACING NEWS - Thursday - December 22, 2016
Who Is The BMX GOAT!?
CHECK OUT "HIGH LOW the BMX PODCAST"
WITH Dale Holmes and Dr. Jrich To Find out Who!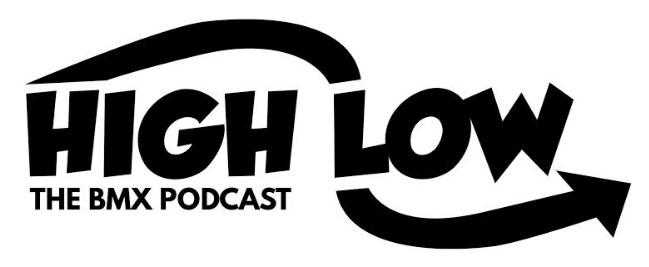 New Dale Holmes BMX Show on the High Low BMX Podcast - The Greatest Of All Time, GOAT episode with Dr J.

We go into debate mode on this and who really is the Greatest Racer Of All Time both in men and women? Stu Thompson, Gary Ellis, Sam Willoughby, Maris Strombergs, Mariana Pajon, Cheri Elliott, David Clinton, Pistol Pete, Greg Hill and the list goes on.

We look at all of the big names from each decade alongside everyone's feedback and views on the subject from our Facebook post.
Check it out, at......
itunes.apple.com/us/podcast/high-low-the-bmxpodcast
Instagram @highlowbmxpodcast
BMX RACING NEWS - Tuesday - December 20, 2016
Jesse Welch Joins
Throdwn Factory Team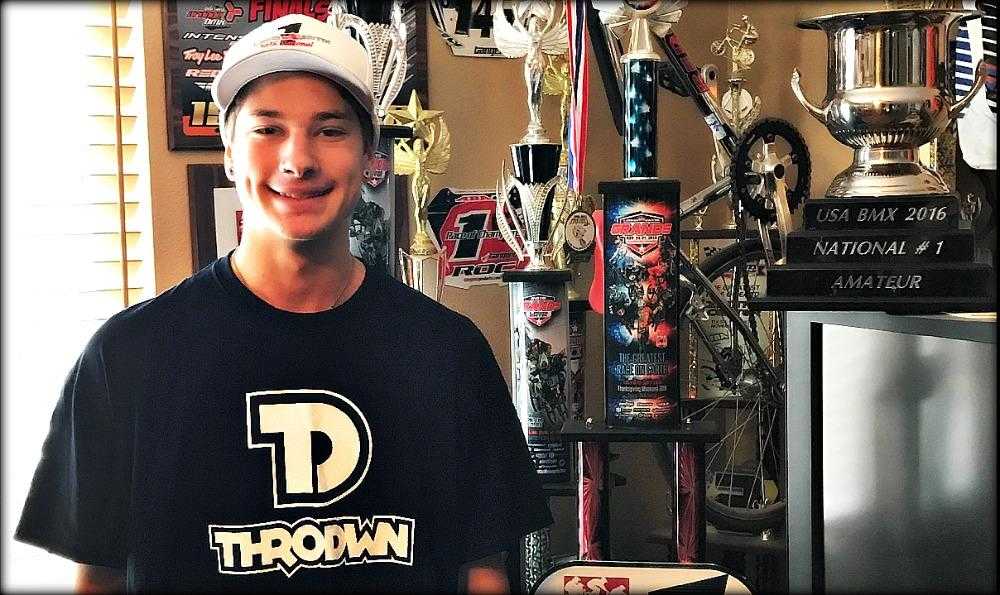 Fresh off the championship stage at the USA BMX Grand National is 2016 USA BMX National #1 Amateur, Jesse Welch. The big news recently is that Jesse will be zip-tying his new #1 plate to a new bike for 2017, and suiting-up for Factory Throdwn.

As one of the fastest in his age class, Jesse is a major pickup for any team, even without the silver cup and black number plate, but joining an established team like Jim Buchanan is fielding, with a new bike sponsor, will add some extra-special mojo to their efforts.

Jim told Mania, in a statement: "We are all are super-excited to welcome Jesse Welch to the team. We can't wait to get the season started. I'm looking forward to helping Jesse and all his new teammates reach their goals in the 2017."

Throdwn owner, Charlie Jahnke was eager to welcome Jesse as well, and share his vision for what's ahead:

"As we push for the Factory Team title, we were looking for the best riders and families in the sport to represent our brand. We are very excited to add Jesse to our roster. Jim Buchanan has a knack for attracting top talent. With Jesse being National #1 Amateur, Jim and I knew it was a no-brainer to add him to the team."

For his part, Jesse is just-as-jazzed as Jim and Charlie, adding: "I'm stoked to build up the bike and hit the track for 2017. I guess you could say 'I'm ready to Throdwn!'."

Watch for Jesse and his Throdwn teammates at the 2017 USA BMX Silver Dollar Nationals in Las Vegas—just four short weeks away.
BMX RACING NEWS - Thursday - December 8, 2016
Throdwn BMX Adds Aluminum Frames and a Heavy-Hitter Team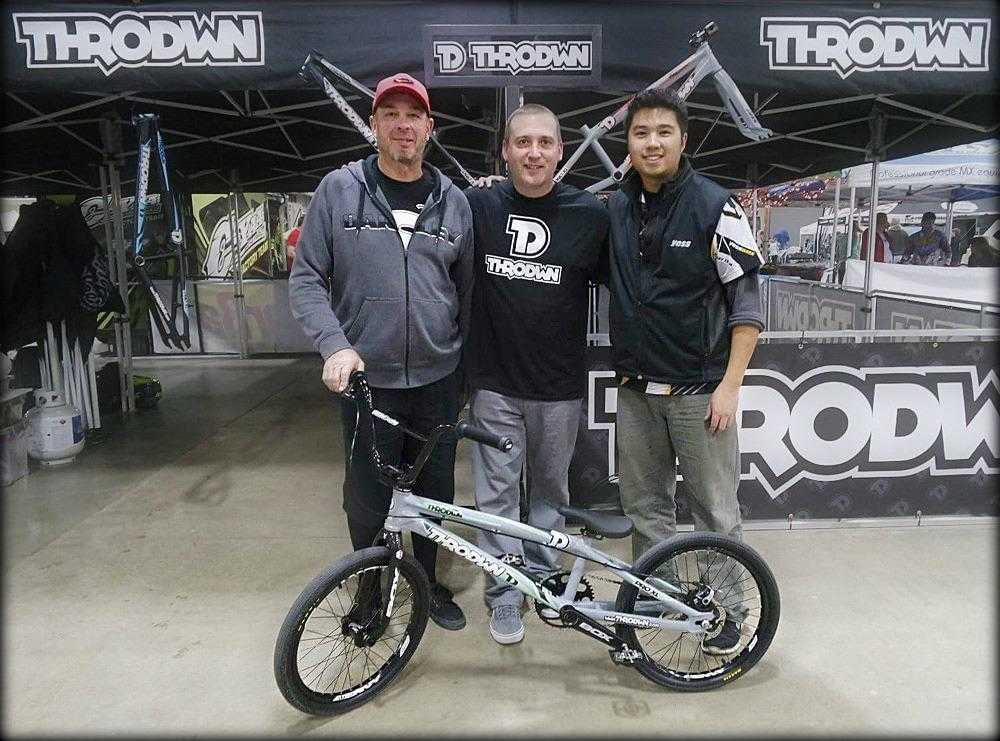 Pictured (L to R): Jim Buchanan and Charlie Jahnke of Throdwn, and Renny Husada of Yess BMX
Earlier this year, Wisconsin-based BMX startup, Throdwn BMX, launched a fresh line of titanium BMX Racing frames and cranks. The line sold-through Dan's Comp, and if you were walking the pits at the USA BMX Grands, you would have seen more than a few heading to staging..

Throughout Grands weekend, visitors to the Throdwn pit got a first-look at our new aluminum frame. Now, we're stoked to show it off to BMX Mania readers.

Available in 13 sizes (listed below), Throdwn's proprietary tubing set is meticulously prepared, fabricated and finished by Yess BMX in Canada, a shop known the world-over for quality and consistency.

Our aluminum line is offered in three matte finishes, black, white and grey, with eight color-complimenting decal choices to set the vibe just the way you like it.

Available in January through Dan's Comp, Throdwn will be THE frame to beat in 2017. And that ain't just talk.....

FACTORY THRODWN 2017

A legit product needs a legit team backing up on raceday what the marketing guys say during the week. Throdwn is honored to announce that Jim Buchanan and his team of 21 stars will be the brand-new Throdwn Factory Team.
| | | | |
| --- | --- | --- | --- |
| Nolan Colborn 11x | Lucas Zimmermann 11x | Tommy Jahnke 12x | Brody Cole 13x |
| Dylan Wood 14x | Mckenzie Gayheart 15-16g | Carson Leet 15x | Hayden Robinson 16x |
| Kate Deters 17-20g | Bryce Batten 17-18x | Reece Rankins 17-18x | Nick Deters 19-27x |
| Justin Richmond 19-27x | Ryan Zinzow 19-27x | Adrian Sanders 17-20g | Matt Wilcox 28-35x |
| Tina Gillis 46-50g | Hayden Fletcher A-Pro | Jamie Windholz Elite Women | Tyler Whitfield Elite Men |
| Cristian Becerine Vet Pro | Thor Buchanan Assistant Team Manager | Jim Buchanan Team Manager | |
Watch for the team to make its debut at the 2017 USA BMX Silver Dollar Nationals in Las Vegas, January 13-15.
The full geometry table for the aluminum frames will be posted on www.throdwn.com within a few weeks, so check back often. All specs for our titanium frames and cranks are posted now.
Throdwn Aluminum Frame Sizes Micro, Mini, Junior, Expert, Expert XL, Pro, Pro XL, Pro XXL, Pro XXXL, Mini 24, Expert 24, Pro 24, Pro XL 24
BMX RACING NEWS - Saturday - November 26, 2016
BMX RACING NEWS - Monday - November 21, 2016
Celebrating "BMX Day" on the Streets of L.A. with SE Racing!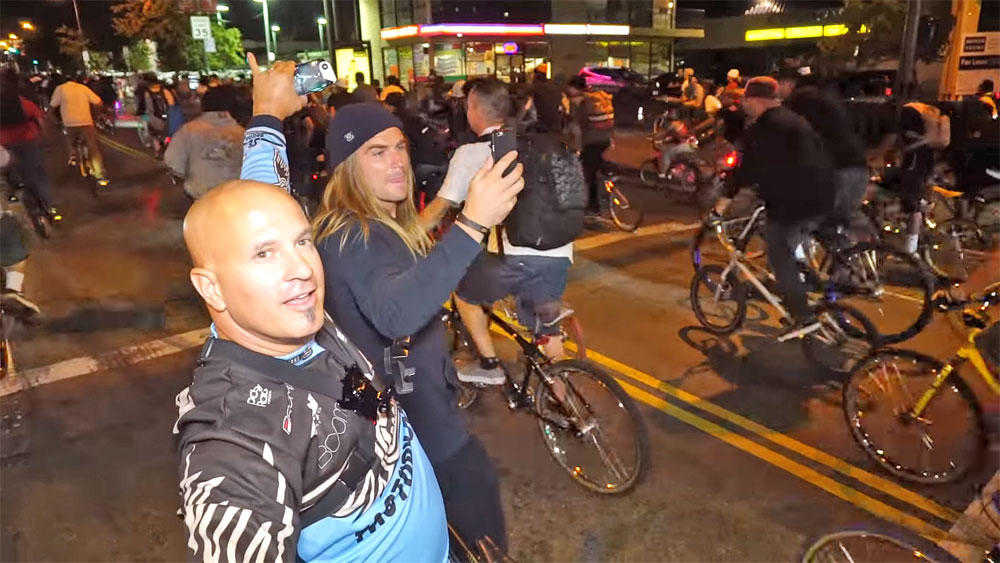 SE's, Todd Lyons & Kris Fox, rockn' BMX Day in L.A.
Film/Edit: Ryan Guettler
On Nov. 14, 1970, the first-ever competitive BMX race was held by Scot Breithaupt in Long Beach, California.

Six years ago in November, 2010, Los Angeles County proclaimed an official "BMX Day" to commemorate the sport's 40th anniversary.

This year nearly 400 BMXers joined together as one on the streets of Hollywood and LA to celebrate BMX's 46th anniversary.

It was definitely a wild scene at times! But of course that's to be expected when you get 100's of BMXers riding together in the name of BMX.
BMX RACING NEWS - Weekend Edition - November 12-13, 2016
High/Low The BMX Podcast
Latest news in the
race world with
dale Holmes and Dr. J.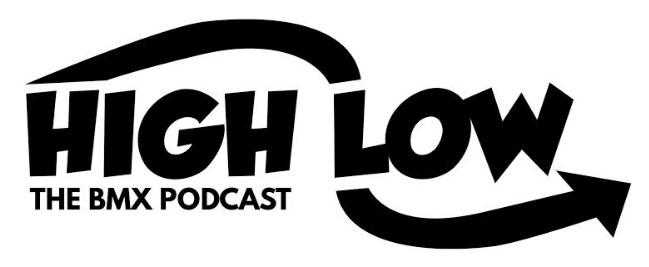 You'll want to check out the NEW Podcast posted with BMX Legend and UCI World Champion, Dale Holmes along with AA Dr. Jason Richardson. Along with the new show, Dale is excited to announce that NOW they're available on I-tunes under the new name, High-Low, The BMX Podcast.
The BMXPodcast @highlowbmxpodcast subscribe and give us a follow on Instagram for all things BMX Racing related.
In this episode we've got news and views on the race world with Dale Holmes & Dr. Jason Richardson heading into the USA BMX Grand Nationals in a few weeks.
We wrap-up the last few rounds of the UCI World Cup, the USABMX Fall Nationals in Lake Perris and cover the latest, as we enter the "silly season" in the race industry.
Logo by Bryce Betts Designs
i-tunes link https://itunes.apple.com/us/podcast/high-low-the-bmxpodcast/id1175215908?mt=2
instagram link @highlowbmxpodcast https://www.instagram.com/highlowbmxpodcast/
BMX RACING NEWS - Tuesday - November 8, 2016
Rebel Run Sports Camp BMX
Launches Expansion Program!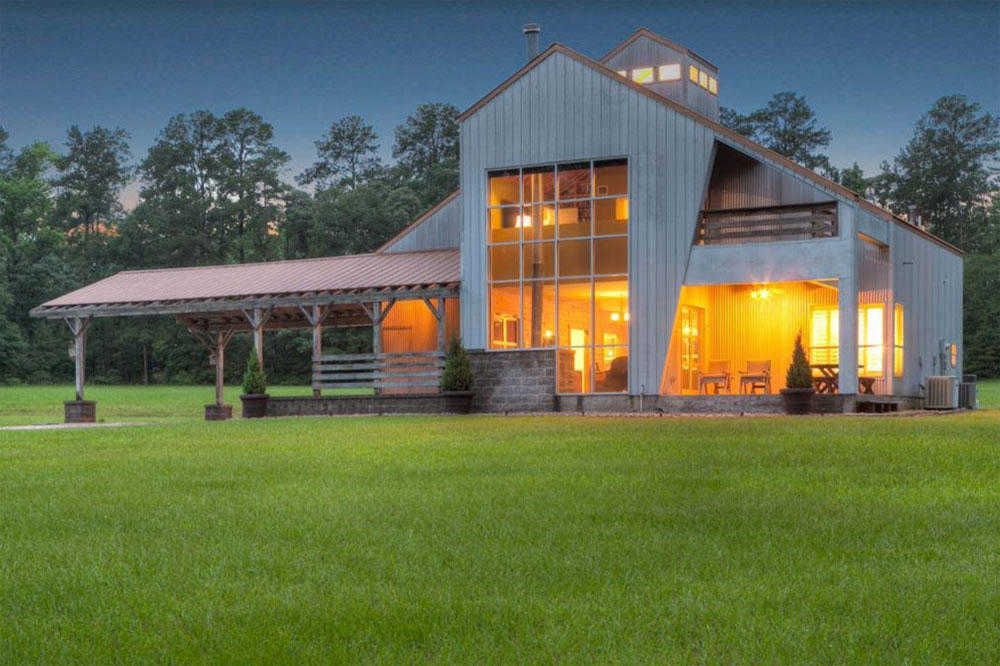 From Travis Postany, Owner and Founder of Rebel Run Sports Camp - You might not have heard much from us in the past few months, but I can assure you it's not because we haven't been busy. In fact, we've been busier than ever. Our goal from the beginning has always been to not just serve the BMX community, but to serve them well and to bring them a one of a kind experience you can't find anywhere else.
Those who have not been to our camp might be surprised to know that Rebel Run is literally in my backyard. While this was a perfect way to start, challenges come with it, the main challenge being the ability to grow and expand. I consider myself extremely blessed to be able to work with such a talented team, who has so many great ideas and visions, and we want to be able to bring these to life and share them with you. With that being said, we are extremely excited to announce there will be a new and improved Rebel Run Sports Camp opening in the summer of 2017.
This project will be done in 3 phases. Phase 1, to be completed by next summer, will consist of the lake, the BMX track and all that goes with that, a straight rhythm pump track, BMX trails, and the pro house. The pro house will be used as lodging for our camps until the completion of Phase 2 and will then open up for pros and top amateurs to live and train on site. Phase 2 will bring the tree house cabins, gym, ropes course, zip lines, and giant swing. Once phase two is complete we will also be operating as a youth camp for churches and organizations all around and in doing so will instantly introduce thousands of kids a year to the sport of BMX.
Phase 3 will bring a 20,000 sq ft indoor skate park and will also update some of the infrastructure such as paving the gravel roads and parking lot. Of course we will never be done building and dreaming up new stuff, but this is what's on the radar right now and what we have to look forward to. There's more good news. It's no secret that for the last 5 or so years Houston BMX has been in a bit of a rut. We owe the crew at Pearland BMX a huge thank you for keeping the sport going and keeping the kids on a track.
Now with Katy BMX up and going and the new 2020 worlds track in the works it seems Houston is quickly moving toward becoming one of the best BMX cities in the country and we want to be a part of that.
The new Rebel Run WILL BE A USA BMX SANCTIONED TRACK. Being located just off of Highway 105 in the heart of Lake Conroe we plan on offering many different programs to cater to all kids, students, and adults. Our programs and schedule will be posted closer to our opening date.
Although we've been open for almost 3 years we feel this is just the beginning for us. We consider it an absolute privilege to be able to share our dreams and visions and to work with every single one of you. We are looking forward to a great year.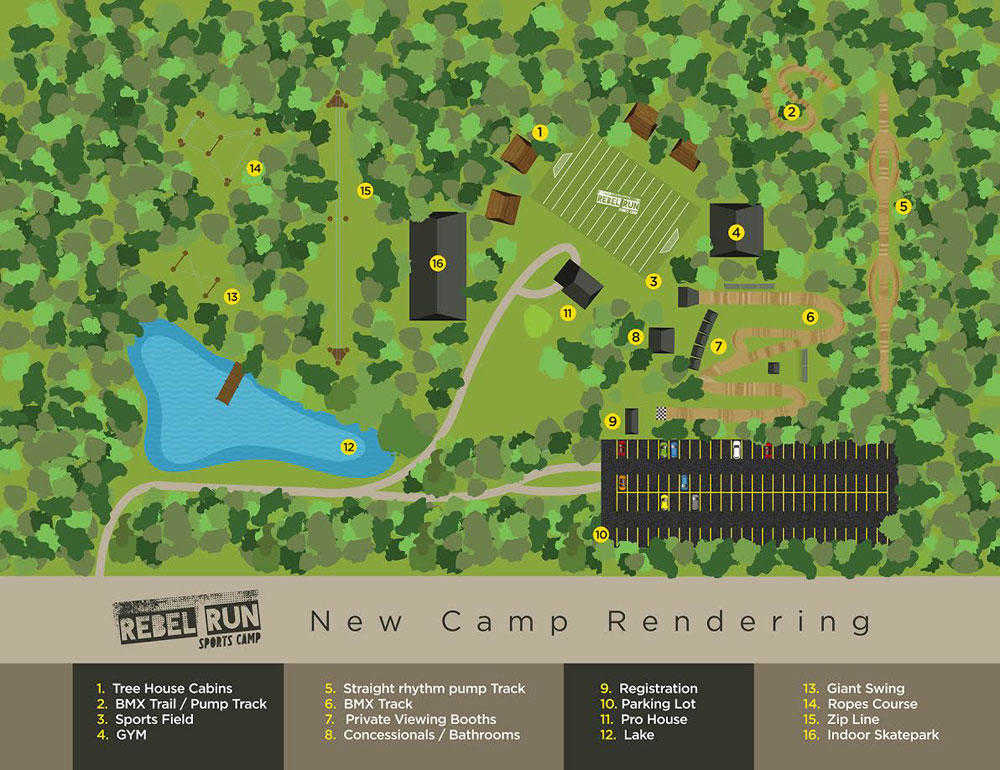 2017 Rebel Run Sports Camp Dates
We now have available weeks to book your private team or friends camps.
June 12-16 - June 26-30 - July 10-14
July 24-28 - August 7-11 - August 21-25
BMX RACING NEWS - Thursday - November 3, 2016
2017 usabmx national schedule released!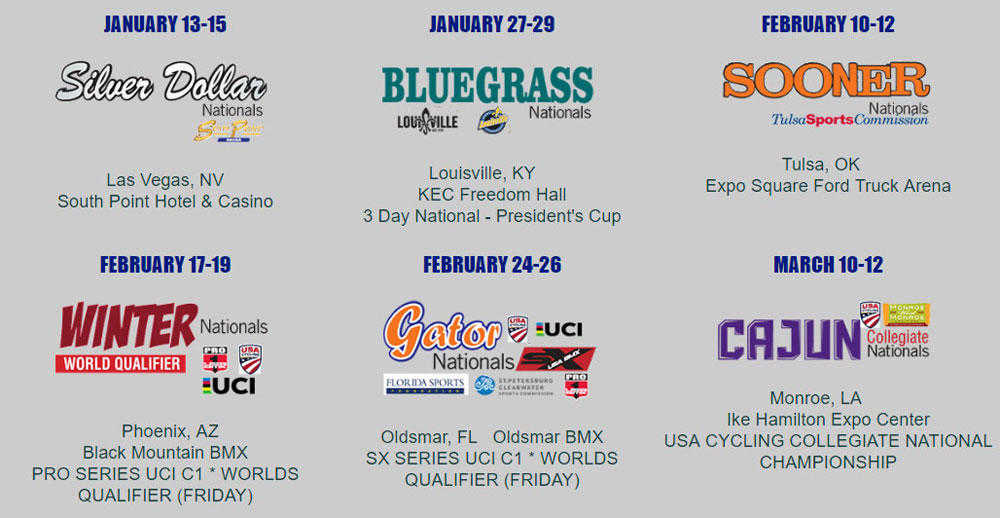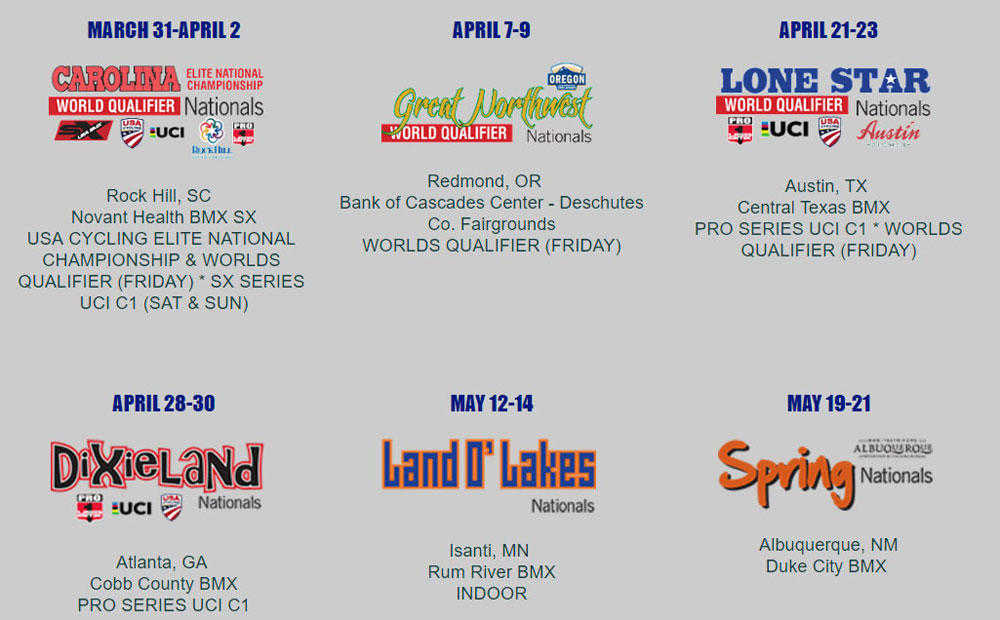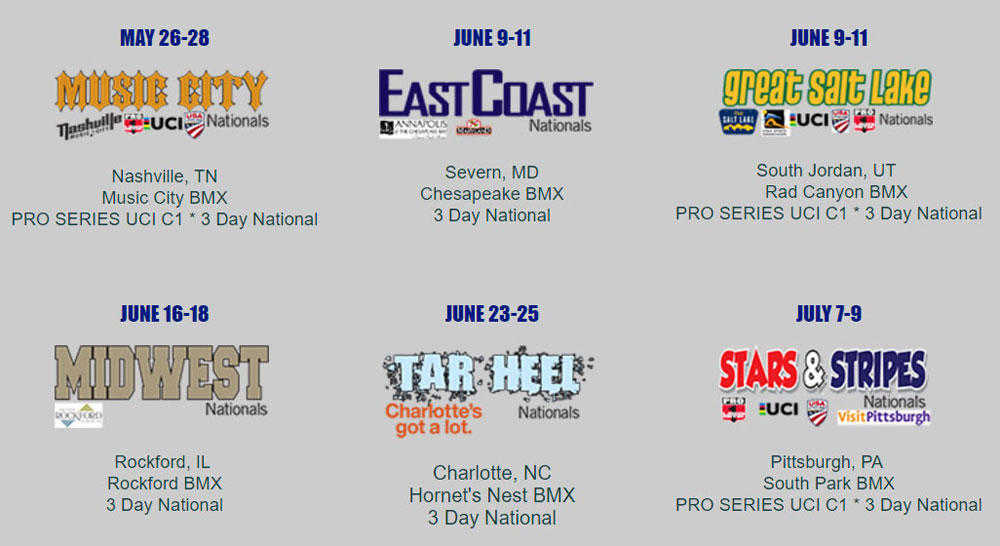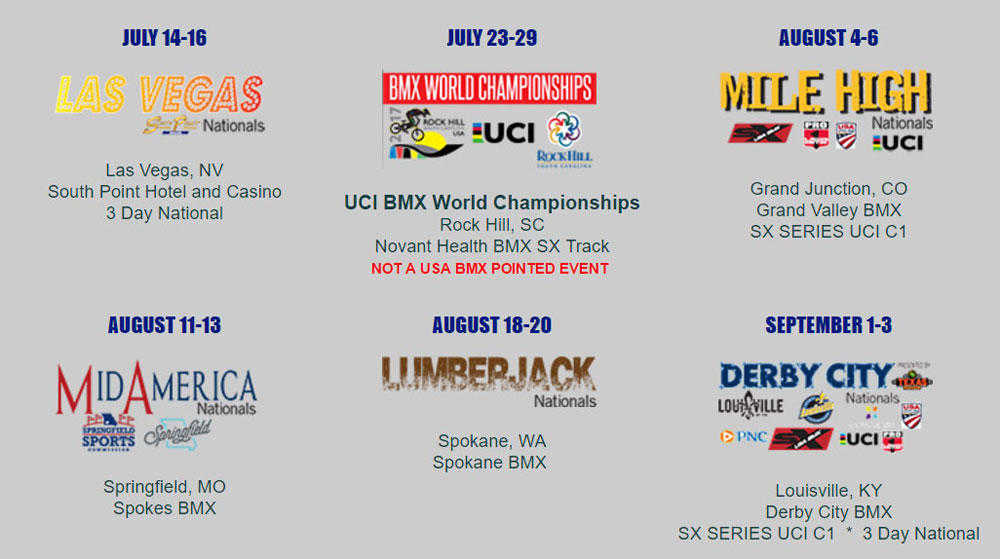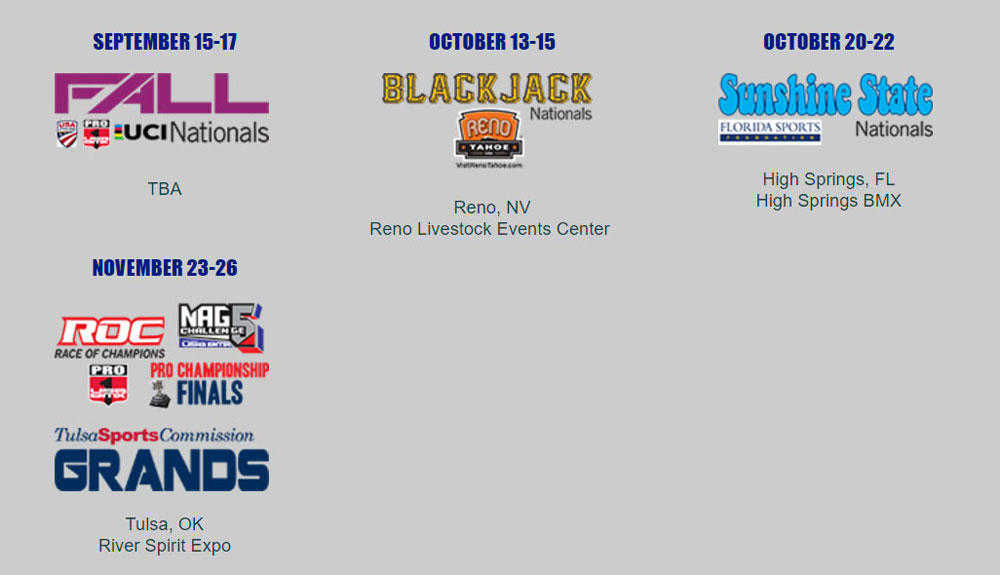 BMX RACING NEWS - Tuesday/Wednesday - November 1&2, 2016
Chase BMX Race Report - USABMX Fall Nationals
Joris Daudet takes the win and is on the podium both days!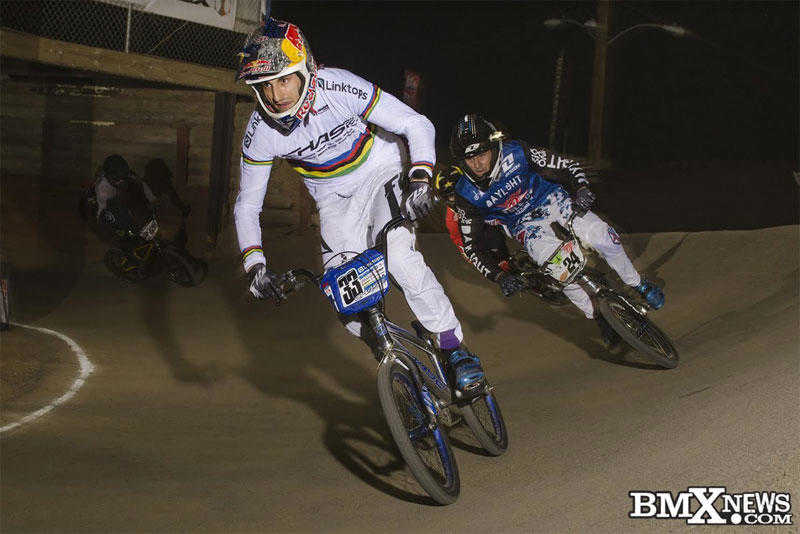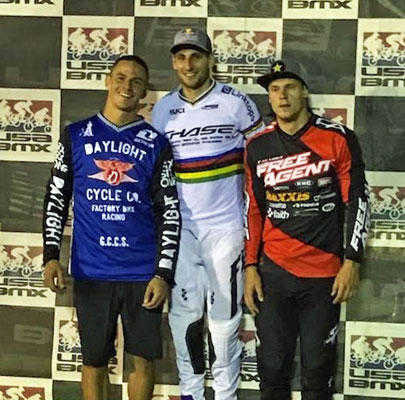 The USA BMX 2016 National series had its last stop before the Grand Nationals, and it was for the Fall Nationals in Perris, CA.

Joris Daudet was ready to return to racing since his break after the Olympics and a small injury. As Perris is his home track, Joris was feeling good about the big weekend of racing and was ready to do battle with the worlds fastest BMX racers.

On Friday night, Joris rode the Perris track flawlessly, all the way into the AA Pro main event.

Lining up, he was looking to gain some valuable points to take over the USA BMX Points lead, that he has held for most of the season.

When the gate dropped, Joris was able to take the hole shot, and held the lead around the entire track, taking home his 6th USA BMX AA Pro National main event win of the season.

This was a huge night for Joris, as the injury he suffered at the Olympics was defiantly a let down, but this, his first race back since then, showed not only his determination to keep his #1 Plate, but also how well his rehab and training has paid off in just a few short weeks.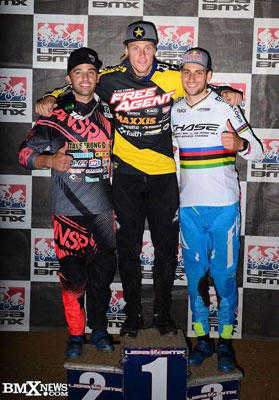 On Saturday, it would be another test of the Pro riders, as the longer format of racing would have them at the BMX track for 10 hours, racing with the full day of the USA BMX National.
After a long dry and dusty day, the Pros once again would line up on the gate for the man event, and Joris was once again one of the favorites to line up.
This time, it would be Maris Strombergs who would take the hole shot, with Joris and Anthony Dean battling it our for the 2nd and 3rd place spots for the day.
Joris would have a great bar to bar battle and would need to settle for 3rd for the day, but this score would give him even more points and the overall lead for the USA BMX #1 Pro title by a rather large margin, with just the Race of Champions and USA BMX Grands left to decide the 2016 #1 overall Pro.
Joris now heads into the USA BMX Grands over thanksgiving week and is looking to take his 2nd USA BMX AA Pro title and make 2016 his best year of BMX racing ever!
Make sure to follow @ChaseBicycles and @JorisDaudet to be on the journey to #winwithchase!
Chase BMX is proud to be supported by Linktops, Shimano, Fly Racing, ODI, Tioga BMX, Vans, KMC, Kicker, G-Form, Elevn, Insight, Excess, and Stealth Hubs.
BMX RACING NEWS - weekend update - October 28, 2016
wanna take a trip around the world of BMX?
Check out worldofbmx.com!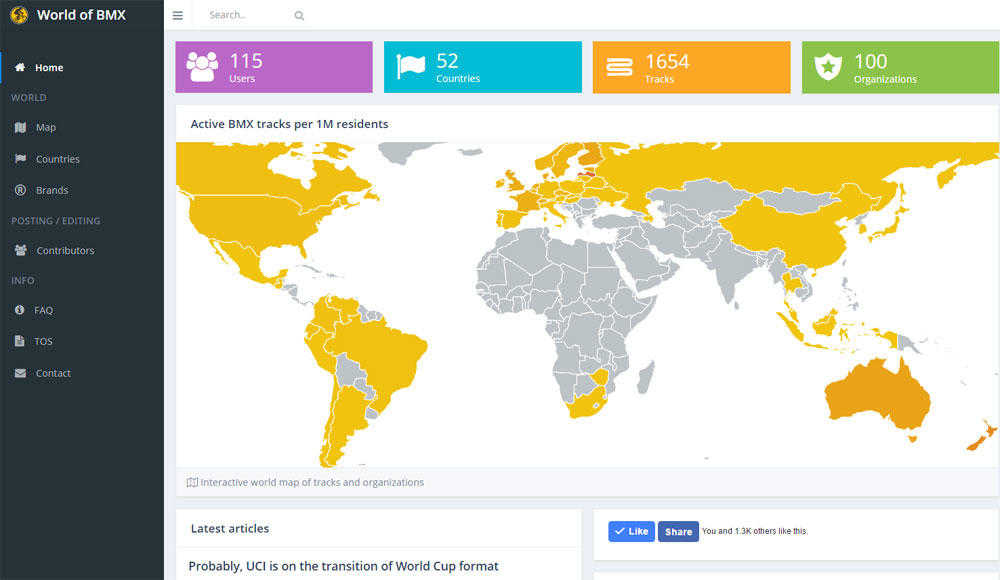 Latvian BMXer, Jānis Grīnvalds invites you to take a trip around the World Of BMX with his awesome web site www.WorldOfBMX.com that he has developed after YEARS of hard work and labor of love.

www.WorldOfBMX.com is THE place where you can find a BMX race track if you are traveling, no matter what part of the world you are in. Select your destination and Voila!, you are off to a BMX track near you travel location.

It's also fun to just kind of fly around the world and check out places that you've always kind of wondered about. Have you ever wondered why the Dutch are so fast when it comes to BMX? Well, maybe it's because for such a small country, they have 48 BMX tracks and have 2.832 Active BMX tracks per One Million people! Ha! Now there's a fun BMX fact for ya! You can search out all of that kind of info on www.WorldOfBMX.com, no problem!

How bout the biggest countries for BMX? Well, the USA may weigh in with the largest total of track on WorldOfBMX.com with 336, but the tiny country of Curacao reigns supreme when it comes to "Track Per Million" with a TPM factor of 20.431 per one million folks! Of course, that's because they have three tracks with a very small island population, but you get the angle, right? Run those numbers on WorldOfBMX.com and see for your self, you might be surprised at the results.

For all the scoop, check out www.WorldOfBMX.com, and you can check in with the author of this cool site on Facebook at World Of BMX or Jānis Grīnvalds
BMX RACING NEWS - Weekend Update - October 21-23, 2016
Dale Holmes Podcast with Eric Carter, Part one!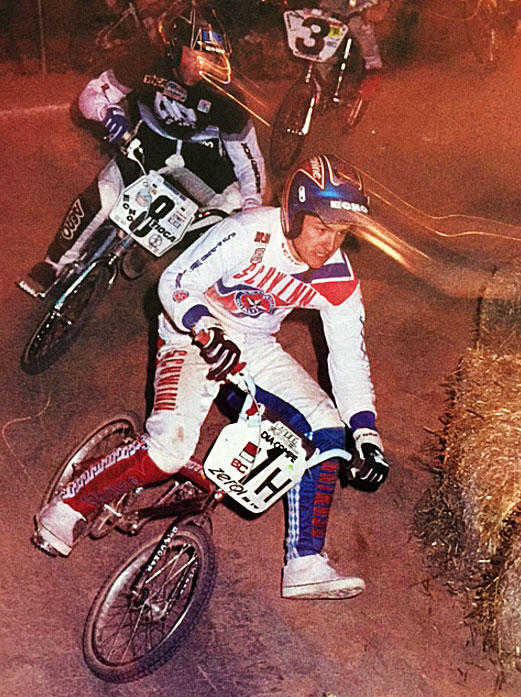 Wow! One of the BEST BMX podcasts EVER!

Dale Holmes checks in with one of the greatest BMXers ever in the likes of Eric Carter, BMX Amateur and Pro Legend who has gone on to participate as one of the most prolific MTB racers as well.

This is quarantined to be entertaining and informative to the MAX for all BMXers, everywhere!

Check it out, HERE!
BMX RACING NEWS - Tuesday - October 18, 2016
F-118 BMX frames and SWAT BMX carbon forks FROM ice fast bmx!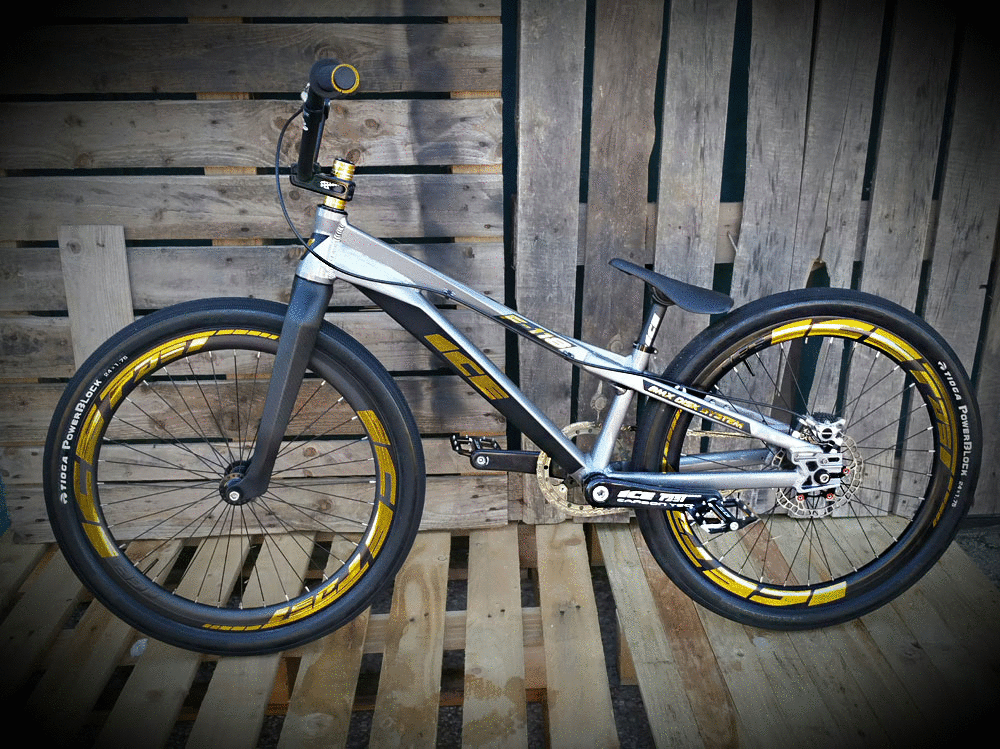 Frames: For availabilities and deliveries please contact us via our website. Available in sizes Pro, Pro XL, Pro XXL, Pro 3XL, Pro 4XL, Cruiser. Also attached, the frames geometries for each size.

Forks: After the first model we presented several weeks ago, which had been tested by our team riders, we were not satisfied concerning stiffness and strength so we decided to build and launch our new approved tapered carbon fork (steering tube in carbon too, 5 mm thick), available for November in 20" (also accepts 1 3/8th wheels) and 24" at a price of 299 Euros (or $338 USD).

These forks were produced for 20mm axles (but delivered with 10mm adaptors to fit any standard)

This fork is delivered with its own specific expander (because of the thickness of the steering carbon tube) Weight: 479 gr for the 20" fork.

For more information concerning our distributors, dealers, team, products, and contact http://ice-element.com/.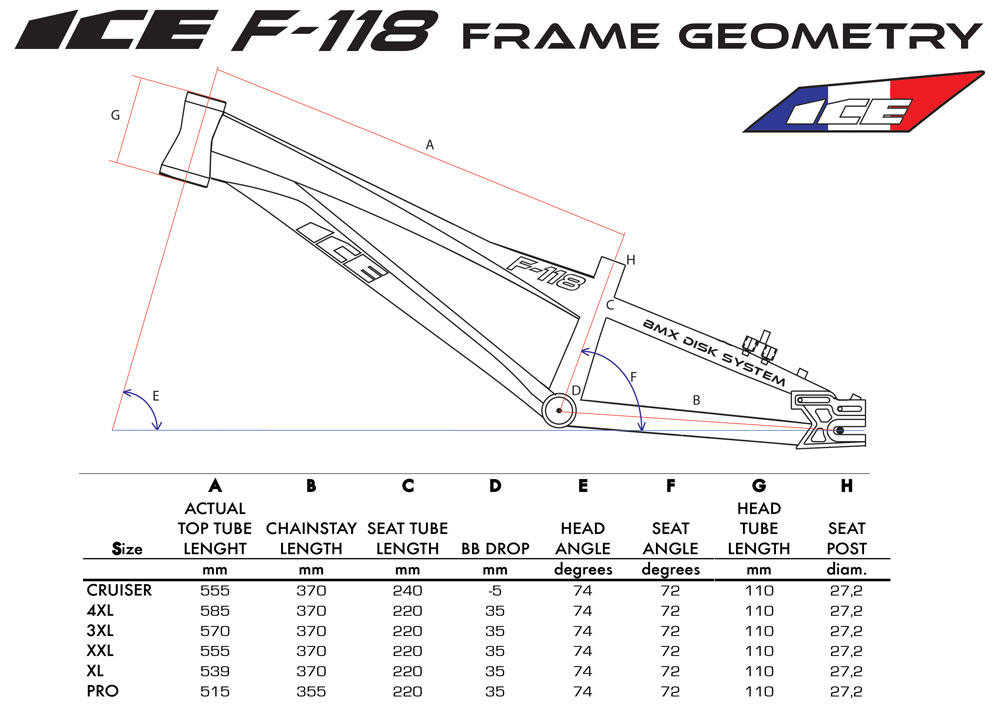 BMX RACING NEWS - friday - October 14, 2016
HOUSTON AWARDED 2020
UCI BMX WORLD CHAMPIONSHIPS!
Event to be hosted at brand-new North Houston Bike Park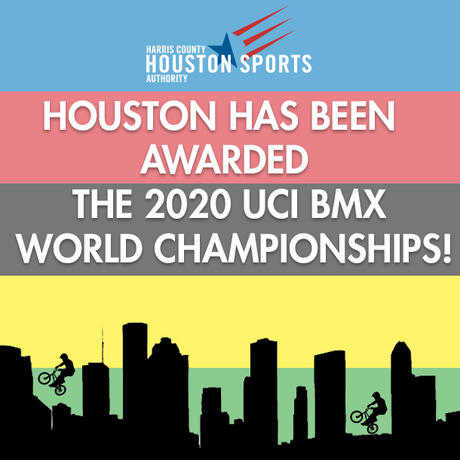 DOHA, Qatar-
Union Cyclist International / UCI
announced today that
Houston, Texas
, has been selected as the site of the
2020 UCI BMX World Championships
. The
Harris County - Houston Sports Authority
worked in conjunction with the
United States Olympic Committee
,
USA Cycling
,
USA BMX
and
Greenspoint Redevelopment Authority
to present the winning bid to the UCI.
The Championship event will take place May 26-May 31, 2020 at North Houston Bike Park. North Houston Bike Park, currently under construction, is part of a 30-acre extreme sports complex including a world-class BMX Race Track, concrete vert features, street course, pump tracks, tot track, bike trails and an outdoor events center that can seat approximately 3,500 guests. Janis Burke, Harris County - Houston Sports Authority, CEO said, "We are incredibly excited to be awarded the UCI BMX World Championships. Houston's brand-new North Houston Bike Park is truly impressive with great offerings and appealing fan fest areas than can be utilized in the green spaces surrounding the park. We are looking forward to building our cycling community with these facilities."
Adjacent to the Bike complex is North Houston Skate Park, the largest skate park in North America, featuring over 78,000 square feet of skateable surface, and Dylan Park, a park designed for children of varying abilities. The skate park had over 120,000 visitors this year, including skaters from 23 different countries. Sally Bradford, Executive Director of the Greenspoint Redevelopment Authority, said, "We are excited to host this incredible event and invite the world to enjoy this wonderful complex."
"I have no doubt that Houston will provide an exquisite route for riders to compete on, as well as provide outstanding hospitality to the athletes and guests," said Derek Bouchard-Hall, President / CEO of USA Cycling.
"USA BMX is absolutely thrilled that the UCI BMX World Championships will once again return to the US," stated USA BMX CEO, Bernard Anderson. "The North Houston Bike Park is going to be revolutionary in action sports and the participants of the World Championships will be treated to both an amazing venue and incredible Texas hospitality. We look forward to welcoming the world's best BMX riders to Houston."
BMX is cycling's newest Olympic discipline and is experiencing outstanding growth. Its popularity is widespread and UCI BMX World Championships have been organized in countries on five different continents. US Olympic Committee CEO, Scott Blackmun, said, "The USOC has worked diligently to be a meaningful partner in the worldwide Olympic Movement and the Harris County - Houston Sports Authority has been a great partner in this effort. I look forward to working with them in the run-up to 2020 UCI BMX World Championships."
The UCI BMX World Championships are held annually to crown a BMX World Cycling Champion and are expected to bring 3,000 amateur participants and 300 professional athletes from over 40 countries. Participants and their families are estimated to stay an average of 10 days in Houston. The UCI BMX World Championships will be the last stop before the 2020 Olympic Games in Tokyo.
BMX RACING NEWS - sunday - October 9, 2016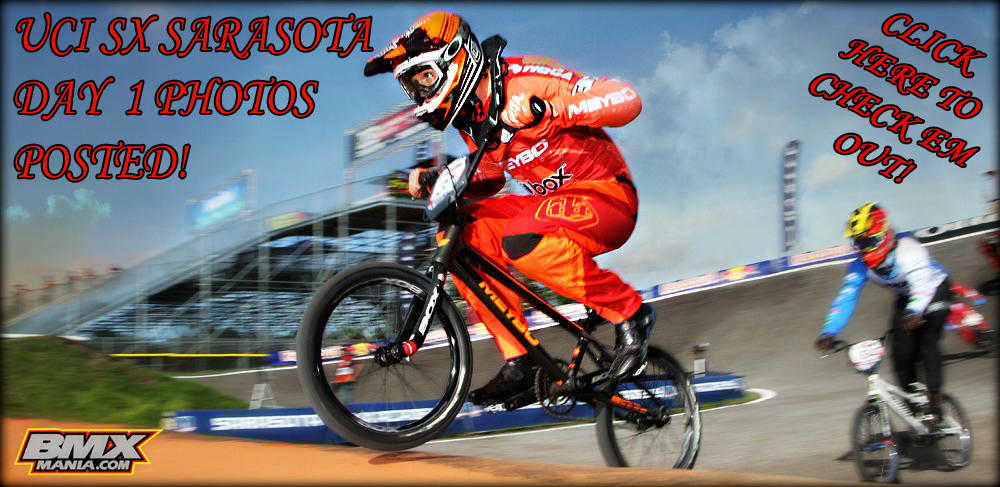 Day One of the UCI BMX Supercross World Cup / Sarasota is in the books and BMX Mania has the Hot Shots you want to see from the 2016 UCI SX Series final race.

Follow Jelle van Gorkum above to the DAY ONE PHOTO GALLERY, you know you want to!
BMX RACING NEWS - tuesday - October 4, 2016