BMX MANIA team CO-SPONSORS
---
BMX Racing News - TUESDAY - May 24, 2016
THE UCI BMX WORLDS RACE REPORT PAGE IS NOW POSTED!

HUNDREDS OF MONDAY PRACTICE PHOTOS ARE POSTED
---
BMX WORLD FEST AT THE UCI WORLDS IN MEDELLIN!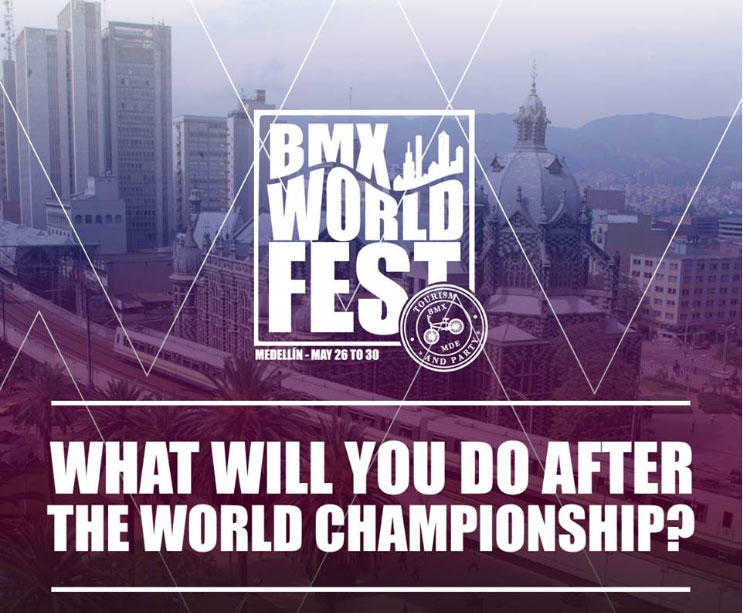 The BMX World Fest is an initiative focused on providing to the visitors of the BMX championship Medellin 2016 a recreation and tourism experience where they can interact with Medellin city from its better angle.

Activities:

1. City tour ..... Tours by the most important places of the city will be carried out aboard a typical transport of the region. The tours will be organized in a way that when the racing finishes, riders and companions be able to have the opportunity of knowing the city that will receive them by that time.

2. Helicopter tour ...... An air travel by the Valle of Aburra is what this activity offers, look Medellin from the air on a special tour designed to know the architecture and modernity of the city where the World championship will be held.

3. Night life ...... It is the opportunity to riders of the older categories and their families to know the famous night life of Medellin city, providing different thematic party choices that will give them the opportunity of living closer the culture of the people from Medellin on a city that never sleeps.

4. Official after party ...... Enjoy the last night of the BMX World championship with an amazing after party to never forget. Celebrating at one of the best disco of the city, the official after party promises to be the perfect goodbye to the riders that after a good experience leave Medellin city.

Check out the BMX World Fest information booth at the 2016 UCI BMX Worlds in Medellin, Colombia!
---
PROFILE RACING IS LOOKING FOR SOME OCCUPATIONAL HELP!

Hey, sports fans......Here's your chance to launch a career in the BMX Racing industry, because, Profile Racing is looking for an experienced CNC machinist!

If you'd like details on this opportunity, you'll want to check the following web site out: https://tampa.craigslist.org/pnl/mnu/5577542485.html.

Profile Racing asks that you indicate your interest by using the CraigsList link above and no phone calls please.
---
BMX Racing News - weekend update - May 7&8, 2016

friday/practice day foto gallery posted to the
BMX MANIA RACE REPORT PAGE FROM UCI PAPENDAL!
BMX Racing News - Wednesday - May 4, 2016
gERMAN wOMEN'S bmxER, Regula Runge on YESSbmx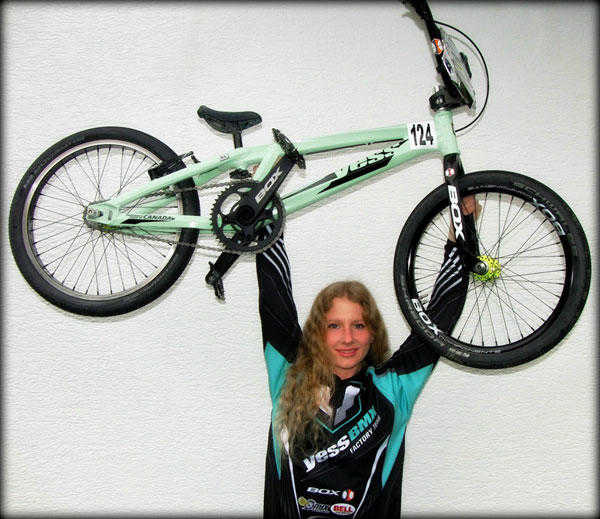 Regula Runge now rides for Yessbmx.
The 14-time German Champion is on board of a Yessbmx Elite Word Cup frame recently and already won the first two Nationals on her mint frame.
Regula sez, "I felt comfortable on the frame from the first minute and just love it. It's very responsive, reacts instantly to every move and everything is just easier – manualing, jumping, gates and pedaling."
The bike is built with the nicest Box Components, Onyx Hubs, Schwalbe Tires and HT Pedals.
All Yessbmx frame types are available in Europe at bmx24seven.com.
---