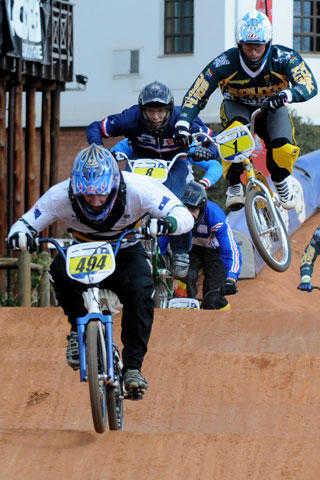 bmxultra.com's Levi Collins wins the 2010 World Championships
bmxultra.com press release
Levi Collins from Shepparton Victoria was crowned the 2010 25-29 Mens World Champion in Pietermaritzburg, South Africa.
Levi has been a long standing member of the bmxultra.com team and is an all round great bloke.
After taking a year off from racing in 2007-2008 Levi returned to the scene to take on the world's best at the 2009 World Championships in Adelaide, Australia. Although he rode well, it didn't pan out quite the way he'd hoped. In 2010 the Australian BMX Championships were at his home track in Shepparton and Levi had moved up a class to the 25-29 Men's bracket. Levi put in a great effort at the championships riding away with a #1 in the 25-29 Cruiser class and #3 in the 25-29 Men's class.
Since then Levi has been training non stop and was able to get assistance from his local community to help him to compete at the 2010 World Championships and fulfill his dream of winning the World Championships.
On behalf of the bmxultra.com team I would like to congratulate Levi, we are all very proud of you. Not only is Levi our first ever World Championship finalist, he's our first World Champion!
You can see Levi's win and other racing at the 2010 World Championships at www.bmx-videos.com
Photo by Mark Squire/Gameplan Media