UCI BMX SUPERCROSS WORLD CUP COMES TO U.S. OLYMPIC CENTER IN CHULA VISTA, CA!
August 25, 2010
U.S. Olympic Training Center, Chula Vista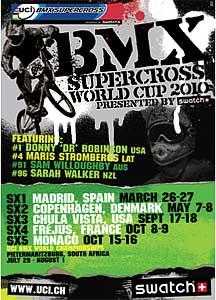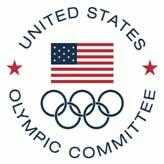 UCI BMX Supercross presented by SWATCH - September 17th and 18th
Chula Vista, CA (August 25, 2010) – The best BMX athletes in the world will be in Chula Vista on September 17 and 18, more than 150 professional men and women Bicycle Motocross (BMX) cyclists are expected to compete in the UCI BMX Supercross World Cup #3. Among the riders are resident female athletes; Alise Post, Ariel Martin and Brooke Crain. The men's field includes Conner Fields, Corbin Sharrah and Joey Bradford. Come out and cheer on USA!
Thousands of spectators from around the globe are expected to attend this international event to take in the excitement that begins at 6:30pm. The event will be contested on the world's most extreme BMX track. "Spectators won't be disappointed and will be treated to phenomenal racing along with great intermission entertainment. The theme this year is Rock and Roll," said Bernard Anderson, Chief Executive Officer of the American Bicycle Association, the promoter of the UCI BMX Supercross World Cup event in Chula Vista.
On Friday, September 17th, beginning at 7 p.m., riders will race against the clock during the time trials in an effort to qualify for Saturday's event. The UCI BMX World Cup #3 event will take place Saturday night, September 18th, beginning at 6:30 p.m. The racetrack features a starting hill almost three stories tall along with one of largest jumps ever constructed for BMX racing measuring 42' (13m) located at the entrance to the first turn. The track is actually two tracks in one, as midway through the course it splits. One way features the amazing women's obstacles, while the other features the men's section, which includes a 35' (10.5m) gap jump launching the men over the women's track.
The event will take place at the beautiful U.S. Olympic Training Center located at 2800 Olympic Parkway, Chula Vista, CA. One of only three Olympic Training Centers in the USA, the mission is to train Olympic and Paralympic athletes in achieving sustained competitive excellence and preserve the Olympic ideals, and thereby inspire all Americans.
Event tickets can be purchase onsite for $25. Each ticket allows admittance into both the Friday night Time Trials as well as the Saturday night UCI Supercross race. For questions and media credentials please contact Janet Francis at 619-482-6148. To better get a feel for the event, check out this link from the event in 2009.
http://www.youtube.com/watch?v=AXRHNYa27v8

---