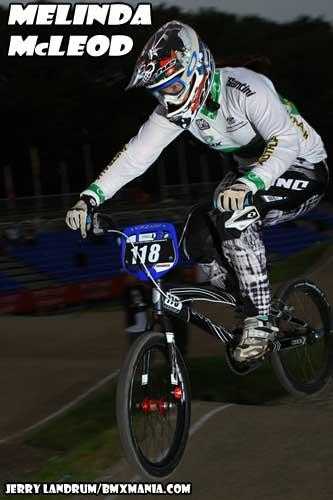 Australia's teenage stars have put the team at the top of the elite racing medal table with Melinda McLeod collecting double gold and Darryn Goodwin the time trial crown at the UCI BMX World Championships in Denmark.
The BMX Cyclones were the only nation to win more than one gold medal and leave Copenhagen with a total of three gold, one silver and one bronze medal from eight Championship Class events.
Queensland's McLeod, 18, opened her campaign on Friday when she won the elite junior women's time trial Superfinal, the first time this has been a medal event at the championships. A day later she fought back from a bad gate draw to win the race crown rainbow jersey.
McLeod launched herself from the gate to hit the front at the first corner (berm). She was challenged at the second corner but a powerful surge over the rhythm section put her back in front. She crossed more than half a second clear of silver medalist Abbie Taylor (GBR) with American Brooke Crain in third place.
"It was just a great race out there today," said McLeod after her win. "I knew it was going to be a tough one so I had a plan A, plan B, plan C, just to make sure I had it covered.
"My third moto (heat) was not that great so (I had a late) lane draw and had lane six. I knew I'd been fast across the track all day and just had to really stay relaxed," she explained. "I didn't expect I'd come into that first corner in first and just had to race my own race for the rest of it and luckily I led the lap."
McLeod's dual success is even more impressive considering the Mackay rider had a run in with moped whilst warming up to race on Friday.
"I got hit while out on the road warming up by a moped about ten minutes before my first time trial on Friday so it was not the smoothest weekend but I'm really glad I could overcome that. Big credit to the guys in the high performance team because they really helped me."
The win comes after McLeod last year placed third and marks the end of her junior career.
"Now elite women and that's no easy class," said McLeod who is eligible for the Olympic Games. " If the Olympics comes up then it comes up but my focus is on trying to make (Supercross) finals and get as fast as I can."
Goodwin, 17, won a third gold for the team when he clocked the fastest time in the elite junior men's time trial Superfinal.
In the elite time trial competition Brian Kirkham collected a bronze medal and Caroline Buchanan was second in the elite women's event.
In Saturday's racing Sam Willoughby and Kirkham both qualified for the elite men's final but narrowly missed out on podium places finishing fourth and fifth respectively.
Australia didn't qualify a starter in the elite women's final but in the elite junior men's final Goodwin and Bodi Turner both qualified. Goodwin placed fourth and 16 year old Turner was sixth.
The BMX High Performance team Cyclones for the World Championships is below for reference with their ranking listed (please note rankings are as at 12 July - prior to championships):
BMX 20" - Elite Men
Joshua CALLAN (Warburton VIC, 08.04.1991| UCI Rank #26)
Brian KIRKHAM (Clapham SA, 01.01.1986 | UCI rank #4)
Luke MADILL (Cranebrook NSW, 28.05.1980 | UCI Rank #21, 2008 Olympian)
Sam WILLOUGHBY (Trott Park SA, 15.08.1991 | UCI Rank #3)
Khalen YOUNG (Kelmscott WA, 20.11.1984 | UCI Rank #17) BMX 20" - Elite Women
Rachel BRACKEN (Mermaid Waters QLD, 30.06.1991 | UCI Rank #11)
Caroline BUCHANAN (Kambah ACT, 24.10.1990 | UCI Rank #3)
Lauren REYNOLDS (Bunbury, WA, 25.06.1991 | UCI Rank #5) BMX 20" - U19 Men
Darryn GOODWIN (Swan View, WA, 02.08.1993 | UCI Jnr Rank #1)
Bodi TURNER (Bayswater North, VIC, 18.09.1994 | UCI Jnr Rank #18) BMX 20" - U19 Women
Melinda McLEOD (Mackay, QLD, 12.02.1993 | UCI Jnr Rank #2)