CHECK WEEKLY FOR BMX MANIA EXCLUSIVE NEWS AND COOL STUFF FROM
JAY, TAMMY & NEVA WARREN AS THEY WORK THEIR WAY ACROSS BMX COUNTRY!
RETURN TO BMX MANIA DOT COM NEWS PAGE!
RIDE THE NATION 'CATCH UP' BLOG TIME! THREE WEEKS FOR THE PRICE OF ONE!
After leaving Ohio Dreams, we headed North and West towards Waterford, MI for the Great Lakes National. Once Ohio flattened out, we found ourselves making better mileage than expected. We took the Waterford Oaks track up on their offer to camp there as early as Wednesday and we arrived just before 8pm in pouring rain. It was only the 3rd time in all of our 3 ½ months of bike travelling that we got caught riding in rain, so we really couldn't complain. As we rounded the corner into the track, we saw a bunch of BMX parents sitting under the Concession Stand pavilion and then we heard a round of applause as they looked toward us. I looked over my shoulder to see who the applause was for and then realized it was for us. What a welcome!
After a torrential night of rainfall that left 2 out of the three of us with wet sleeping bags (I chose to sleep in the middle after reading an article about the "driest spot inside a tent") but pretty good attitudes. On Thursday, the rain came and went, leaving track maintenance a tough task. We spent Thursday taking care of loose ends like replacing the kid's eyeglasses which broke mid-ride, stitching up holes and greasing chains.
By Friday morning, many of the weekend warriors started arriving just as we pedaled to a meet up spot where local BMXers and we led a parade back to the track. Track Director Jennifer West and her team at Waterford Oaks did their homework and 3 newspaper reporters were on hand to cover our story and the news of the upcoming national event. Jennifer West's daughter and my daughter managed to position a 12' banner between their bar ends and lead us back to the Oakland County Parks location.
Even with all the rain, the track was in shape for the pre-race and the national. Campers enjoyed free showers at the nearby waterpark and riders got free passes for either Saturday or Sunday. Since Coco (the dog) was not welcome to join us on the slides, rides and wave pool ... the husband and I took turns dog sitting while our daughter frolicked in the watery fun.
The Waterford Oaks Parents organization also worked hard on making our time at their track memorable. They provided us with free concessions, a family spaghetti dinner and Waterford Oaks souvenirs for the road. I was moved when the County Parks Commissioner presented us with a commemorative plaque honoring our ride and arrival at Waterford. Our time at the Waterford track was truly memory filled and we were sad to leave on Sunday.
Upon leaving Michigan, we ventured back into Ohio and made our first ABA track stop at Toledo Speedway BMX. Track Director Brad Moore was disappointed to tell us that their Monday night practice was rained out; he asked us to stay and relax there any way. We hung out and talked on the bleachers and then we all went out for a bite to eat at the local Bob Evans. Brad is the consummate "laid back" guy, full of great stories and a devilish twinkle in his eye when he talks about his own motocross career. I love his philosophy on BMX: "just let them ride". He has personally built and given bikes (and local memberships, too) to kids who might never have been able to afford the sport we all sometimes take for granted.
He opened up his carpeted (and well padded) registration office for us to sleep in, complete with an oscillating fan. The next day, we all worked on the track, trying to ready it for the Wednesday night race. Unfortunately, Mother Nature wasn't impressed and rained on them once again. We thanked Brad for his hospitality and started riding on Wednesday morning towards Columbus in hopes of a Friday night track visit. Because of a weekend state qualifier in Cleves, the Columbus track let us know they wouldn't be open for their standard Friday night gate practice. We re-routed and started heading southwest in hopes of hearing back from the Dayton area tracks. After several phone calls and emails to the ABA tracks with no response, we called the Dayton NBL track and got an enthusiastic invitation to join them this Thursday evening for a local race. Dayton will be our 24thtrack stop on our way to the Grands, leaving only Cleves, OH and Columbus, IN in our ride towards Louisville. We have now ridden 3,425 miles since leaving Tampa, FL on April 20th. It's hard to believe it's all going to be over in less than a month.
As BMXers around the world readied themselves for the World Championship of BMX racing in Copenhagen, Denmark, our daughter was thrilled to be going to Ohio Dreams, a world class extreme sports training facility in Butler, Ohio. We had all heard great things about Ohio Dreams and had seen video clips of the giant slip 'n slide … but you just can't know Ohio Dreams until you leave the real world and enter the Willy Wonka's Chocolate Factory of extreme sports: Ohio Dreams!
We had a tough 50+ miles to ride from West Canton, Ohio out to the Butler, Ohio facility but we were determined to make it there by 2pm and we did! As we rode in the gravel driveway, past the field of corn and up to the warehouse style main building, I was so hot from riding that I didn't notice much of my surroundings. We leaned our bikes against the wall, took off our helmets and walked into the a/c chilled entry of Ohio Dreams registration area. Two young counselors, with the "hard to put your finger on it" cool factor, launched into action pulling paperwork and asking questions peppered with funny and quirky phrases that only the Beast seemed "to get". She was immediately relaxed and I sensed that she had quickly made the connection to her new home for the week.
Within minutes, fellow campers arrived carrying skateboards, scooters, bmx and freestyle bikes, and skis. Yes, SKIS! No, not water skis …real skis … downhill, carve the mountain, snow skis! I've lived in Florida for the past 2 years and Hawaii before that … I almost forgot what snow skis looked like! Then it hit me: How in the world are they going to ski in Ohio in the summer time? It was too much for my sun scorched brain to handle at that moment, so I let it go. Less than a week later, I had my answer.
We received an invitation to join our daughter and the other campers on their last afternoon of pool time on Friday @ 2pm. Since we were camped out 16 miles down the road, we broke camp, packed up and arrived in time to cool down with this raucous, crazy, loud and fantastically talented group of kids and adults (I use this term "adults" loosely here since every adult I met had more kid in them than any other group of adults I've ever seen).
We reconnected with our daughter who gave us a quick hug and then darted off to put on her swim suit, instructing us not to move until she returned, saying she wanted to see our faces when we saw the slip 'n slide. Hello? Slip 'n Slide? That's been around since I was a kid. My generation invented Slip 'n Slide.
I did as I was told and waited. I even pre-planned my "oh, wow! Look at that!" speech, acting as if I'd never seen a slip 'n slide. With swimsuits on we headed past the awesome indoor skate park and out the side of the main building. The sun immediately made us all squint and look down. My daughter said, "Well?" and I said, "Well, what?" She said, "look at it". I looked up and stood frozen in place as I muttered a series of religious phrases peppered with curse words. She warned me that I'd better keep the curse words in check because that'll cost me a lot of push-ups if I slip up in front of the counselors.
I barely heard what she said because I was in shock. Before me was the most mammoth Slip 'n Slide I'd ever seen! It was the slip 'n slide of my childhood on steroids! It was what you dreamed and pretended your back yard water world was, but knew it could never be. I stumbled towards it, pulling at my husband's arm and pointing up at the slide. I asked him, "are we going to do that?" and without waiting for an answer, I continued, "we're going to die!" He replied, "looks like a hell of a way to go!"
My belly was full of butterflies and I watched as our daughter and the fellow campers jumped into the pool. Some were already headed up the 90 wooden steps that lead to the heavens high platform. I was immediately scared for them and yet wanted to see just what this behemoth of a slide could do. The first one down the slide was an 8 year old camper named Dawson, who's known as "the Boss". He didn't even hesitate at the top, dropped on his belly and flew head long into the air, doing somersaults before splashing into the water below. I was flabbergasted! He popped his smiling face up and swam to the edge of the pool; he promptly began walking back up the steps as one after another flew down the gleaming white, slippery slide.
Justin Travis, the program coordinator at Ohio Dreams, prodded both my husband and me to give it a try. I was frozen in awe at the mid-air gymnastics so many of the campers were doing before landing in the pool. Before I knew it, my husband was halfway up the steps and I started taking practice pix to see if I could catch a good action shot on my less than impressive Blackberry phone camera. I got a great shot of his dismount and was eager to show him. He was more eager to see me go up the staircase and tackle the slide.
It didn't take too much prodding before I squelched my fears and headed to the top. Once there, I realized how very far we were from the people below. They looked tiny from the top. In fact, I couldn't even figure out which one was my husband amongst the crowd waiting to see the 200+ lb,. 47 year old mother come barreling down.
I let a few other campers and counselors pass me and then I decided it was "now or never". I sat down at the top and pep talked myself into shoving off. Within seconds, I was sliding at top speed down the curved slide which launched me up into the air, high above the pool and landed me into a cushion of aerated bubbles. I'd never felt anything as exhilarating in my life as that! It happened so quickly that it was almost too much to wrap my mind around. As I flew down the slide, every thrill of childhood was alive and quirking inside me. I didn't feel any of the aches and pains I've accumulated along the way in our epic bike ride. I was just a kid on a water slide … the biggest, baddest, bestest water slide any kid could ever imagine. Check out this video of my adventure at: http://youtu.be/2HvZ7IT-0T8
I often joke that I don't know what I want to be when I grow up; well, I still don't. But, now, at least I know where I want to grow up: Ohio Dreams. As I watched other campers tackle the slide, I inquired about the two inner lanes that seemed to be designed differently. I was told that those are the ski training lanes. Oooohhh! So that's how you ski in Ohio in the summer time. How cool is that?? In addition, they have a trampoline area where skiers and snowboarders can learn new tricks and hone skills. Awesome!!
While at the top of the slide, I also noticed the BMX track and the trails course, both well designed and well maintained courses that would give any cycling enthusiast reason to ride. My daughter liked practicing her gate starts on the track but absolutely loved the trails course where she learned to manual and jumped 4 of the 5 hills on the course, the 4th being her favorite. They also have a "VW"tabletop you can jump which actually has an older Volkswagen buried in the hill, whose front end you'll see when you build the courage to jump it, (kinda reminds me of stories of the "bus berm" at VMP BMX in Petersburg, VA).
During the Friday night "awards" ceremony inside the skate park, we watched as the campers got "tongue in cheek" awards from the counselors that had sweated alongside them for the past week, pushing them to conquer their fears and realize their potential. It was relaxed and fun and I didn't want it to end. I had only been there one day but felt like I had the summer camp experience of a lifetime. If you haven't considered Ohio Dreams before, go to their website, www.ohiodreams.comand see what the future holds for you and your child. Before we left, our daughter asked Justin Travis if they have a "summer long" camp she can attend next year. He laughed and said he'd get back to her. I just hope they do an "adults"week at Ohio Dreams. If they do, I'm in!
From the July 18th Ride the Nation Blog:

After a few days of rest with friends in Seven Springs, PA, we got back on the road … er, should I say, "Trail"? Instead of returning to South Park to resume our bike ride, we opted to ride the Great Allegheny Passage 60 miles from Connellsville to Pittsburgh, PA. I was completely befuddled by the flat, albeit, even downhill, trail that led back into Pittsburgh. During our prior stops at Johnstown and Westmoreland BMX, we rode nothing but hills there and back. I suppose the GAP is part of the rails to trails movement, but we only rode next to railroad tracks about 40% of the time. For the record, 15% of the time was spent trying to figure out where the trail led when it crossed through towns … poor signage! The other 45% of the time was just plain blissful cruising!
And then there's Pittsburgh. As soon as you come into town, you get dirty. The shoulders of the roads are littered with tire stabbing debris, there is dirt flying up in your face and then there are dirty mouthed drivers who curse you out for being on 2 wheels instead of four. To my surprise, I actually learned a few new dirty phrases! Again, South Park may be the only safe, friendly haven for cyclists in this area.
While in Pittsburgh, we helped a fallen rider with a little first aid and a tire change. As I say in my ridethenation.org blog, I think it paved the way for some good karma in our direction. Once we left PA, (or as I say "Penns-hill-vania") we crossed into a short stint of West Virginia and then immediately into Ohio. I naively believed my friends who all said that Ohio is flat, flat, flat. They were wrong, wrong, wrong! We rode from Pittsburgh to Ohio Dreams in Butler, OH and there was rarely a flat section to be had.
All that said, I still think the ride was worth it. We arrived at Ohio Dreams at 2pm on Sunday, July 17th and were immediately WOW'd by the facility. There's an indoor and outdoor skate park, a bmx track, an aerated swimming pool that you jump into, cool dorms and so, so much more. Justin Travis offered our daughter a free week if she could pedal her bike all the way there from Tampa, FL. After 2900 miles, the kid has made him put his money where his mouth is.
Soon after arriving, the darling girl who has spent every waking hour with us since we left home on April 20th, merely waved goodbye and ran off to check out the cool stuff that awaits her at her dream week. We rode off to find a campground nearby and discovered that the area is "anti-AT&T". At first, we were disappointed and maybe even alarmed not to have cell phone access. Then, it all kind of sunk in. Our parents didn't have cell phones nor did we when we were young. We all just operated under the "don't be stupid, be where you're supposed to be at this set time" kind of plan. And somehow we all survived.
Without the sound of cell phones ringing, dinging and buzzing, we rode the 10 miles from Ohio Dreams to our well-priced campground called Mohican Reservation. We set up camp and discovered (again) that we don't have enough camp fuel for a week's worth of cooking. Yes, yes .. the camp store sells propane, but our tiny Primus cooker uses a smaller can of propane/butane mix … and does not adapt to the propane style connection. Hmm … I think we'll be eating a lot of peanut butter sandwiches this week.
Our tent seemed a bit empty, maybe even I dare say"spacious" without the kid and her gear. About the time I was missing her, I drifted off to sleep just as night fell on us. I've said it before, I really sleep well after a long day of riding. I slept straight through 'til 6am when my bladder alerted me that there was no time to spare. We all, including Coco, headed out of the tent to relieve ourselves. Coco chose a nearby grassy patch; we opted to walk the short distance to the restrooms. So, now starts a week of "off the bike route" down time until our daughter returns to us after a week of BMX camp. We call this our "honeymoon week". Kinda glad we can't get phone calls.
WEEK OF JULY 10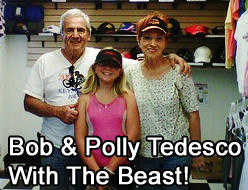 This past week has been a mixed bag of dog racing, drag racing, bike racing and bike pushing. The Johnstown BMX track gave Coco the opportunity to race the final 2 straights while we waited for mains to be posted. Coco's short stature didn't stop her from jumping the doubles as she chased her mom, the Beast, to the finish line. It was a crowd pleaser and made a great memory for us to keep, too.
While staying at the Keystone State Park, Westmoreland's track director, Steve, called and let us know that we were only 5 miles from where Bob Tedesco manages a race car track. Tedesco had been one of the Beast's most supportive fans during her early career and the Beast was thrilled at the thought of seeing him. She promptly instructed Frankenbutt to switch her clip pedals from her road bike to her race bike, fearing that Bob Tedesco might not recognize her without her race bike.
On her single speed Intense Podium, she tackled the Pennsylvania hills like a pro. Tedesco remembered her immediately and welcomed us to his non-BMX race track. The Beast's eyes lit up when she saw the drag strip; she did a quick burn out on her 20" BMX tires and sped down the paved race strip. When she returned, Bob was waiting with a rumbling race car. With her full face helmet on, she climbed in, held on and blasted down the race strip while her old buddy gunned the engine. She returned with a smile you couldn't wipe off her face!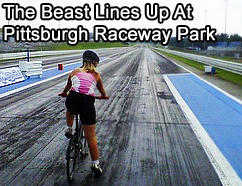 The next evening we arrived at the Westmoreland track for a clinic, where the Beast again worked on her jumping skills. It must have been fun to fly over the doubles, considering the hills into Northmoreland Park forced us to push our bikes up, holding our brakes so that our bikes didn't roll backwards. Ugh!
This past weekend's stay at South Park BMX marked our 19th track visit since starting our bike ride on April 20th from Tampa, FL. After riding over 2600 miles, we arrived on Thursday and I couldn't wait to meet Dee Brain, the track clerk and wife of track director George Brain. Since I first emailed her in March, while we were still planning the ride, she has replied with enthusiasm and support for our project. Her love of BMX came through in her messages and I just knew that she had surrounded herself with good, solid people to make her track the success that it is. As we met each of them, they expressed how glad they were to meet us and that we were visiting their track. Each one offered us food, drinks, and asked us what they could do to make our stay better. I was awed by how much fun they had together, even as they were working hard in the summer heat to prepare for the onslaught of riders that make their annual pilgrimage to South Park.
After a tough ride through Pittsburgh area, where there were no bike lanes, seldom a shoulder and plenty of rude drivers … South Park was the hilltop retreat we needed. Luckily, for the local cycling enthusiasts, South Park is a safe haven in the midst of an industrial city ruled by motorists. I guess South Park's generous spirit was quite infectious. As we passed by the Crit plates booth, the fellow called to us and told us that he'd like to provide the Beast with official Crit plates for racing both NBL and ABA races. Mike R. also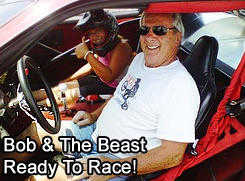 introduced us to an "old school" rider from Massachusetts, Bob J., who told us he appreciated what we were doing and wanted to give us a donation. We told him that we weren't soliciting donations. He said he just wanted to help us in our road expenses and the added race fee expenses since the USA BMX change over; that he'd taken many a bike road trip and wanted to give back for all the times that others helped him on his journeys. We were moved by the generosity of both men and I must admit, their gifts were a welcome addition to our stretched thin budget.
This weekend, I met John David, the Chief Operating Officer of the ABA and now USA BMX. He made himself quite accessible and I witnessed him answering most everyone's questions in a straight forward way. I asked for his business card and told him that I'd like to connect with him about our Ride the Nation tour; that I felt we could be a cohesive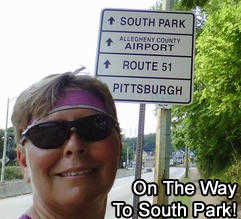 force in the process of merging the two sanctions. He seemed receptive and let me know that he would be quite busy late in the week and recommended I contact him early in the week. I took that as a good sign.
Our week ended at a quiet South Park, post National race clean up, as we waited for Canadian friends to meet us and take us east to Seven Springs (an area we had passed through much earlier in the week). We had pre-arranged to take a few days off midway through our ride, figuring we'd need some "down time" before embarking on our Ohio, Michigan, Indiana and Kentucky stops. Construction prevented them from arriving until after dark but we were more than happy to see them. We loaded our bikes into their truck, stashed their travel bags in their roof rack, and piled into their extended cab for the hour's ride east. We plan to resume our ride either at the South Park track or further east along the Great Allegheny Passage, which is one of the best bike trails we've ever ridden.
Next big stop: Ohio Dreams, where Justin Travis has promised the Beast a free week of BMX training (and other cool camp activities) if she rides her bike all the way from his former track, Tampa BMX to his mega training facility in Butler, Ohio. Justin, you're about to put your money where your mouth is.
Tammy, Jay and Neva Warren - (Butterball, Frankenbutt and the Beast) - www.ridethenation.org
WEEK OF JUNE 27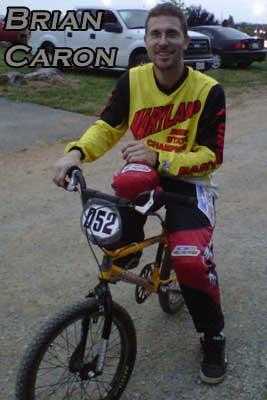 It's been a little over 2 months and more than 2300 miles since we left home on this bike adventure. We are just about half way through our BMX track visits, having stopped at: Tampa, FL, Sarasota, FL, Punta Gorda, FL, West Palm Beach, FL, Palm Bay, FL, Jacksonville, FL, Augusta, GA, Lexington, SC, Clemmons, NC, Petersburg, VA, Richmond, VA, Pottstown, PA, New Paltz, NY and Hagerstown, MD.
This past week, we spent time at the Hagerstown, MD track. It is a track that was built on one man's passion. One guy thought a BMX track would have been awesome to have when he was a child. So, he started to shovel some dirt and talk to some township officials. He got a few bucks to put in a concrete pad at the starting hill and to pave some berms.
For over 12 years, he showed up, did the work, engaged the kids and turned parents into volunteers. Throughout it all, he rode his bike. He stepped down as Track Director, after 12 years, because like all of us, life puts demands on us. I had heard a lot of great stuff about Brian and was glad to see him at Hagerstown track when we arrived on Friday evening. I watched as the man without children of his own, was a magnet for every age rider at the track. He played Foot Down and did cool bike tricks with cool names. He is BMX.
His track is in a park with beautifully manicured baseball fields, soccer fields, basketball courts and more. The city maintains those sports' fields and the parents of the players sit on the sidelines. There aren't many BMX parents who sit on the sidelines of a track. BMX parents get their hands dirty pushing dirt into place, making and selling concessions, mentoring and scoring and staging and clerking and so much more.
Baseball, Soccer, Basketball, Football have all been around so many more years than our sport of BMX. In order to get the respect and financial backing of our townships, we have to work so much harder to make them see our sport as a legitimate family activity that improves the lives of their constituents. Brian took his city council members on a field trip to the Woodbridge, VA track which has paid township employees who maintain it. He showed them the potential of Hagerstown's BMX track. Yeah, maybe he "guilted" them into writing the check … but, hey, he got the money to make his track come to life.
The folks at Petersburg, VA saw opportunities for a BMX track at the awesome Virginia Motorsports Park. They made the calls, they picked up the shovels. Now, kids and adults gather weekly to ride and race and connect with one another. Every track has their shovelers, their announcers, their burger flippers, their clerks, their scorers and stagers. Every track NEEDS their own Public Relations person. This person doesn't need a degree or background in Public Relations. They just need to love the sport and all that it does for our families and kids. They need to talk to local officials, local businesses and reach out to other parents at the track.
We all need to identify the personalities at our home track that have the skills and are willing to help move our sport into the forefront of our local communities. We need local BMX parents willing to write a short news article with the results of their local races; submit them to the sports editor of your local paper. Make a friend at that paper who appreciates your enthusiasm.
As we enter the second half of our journey, please look at the Route Plan on our website (www.ridethenation.org). If you see your track listed, ask your track director what YOU can do to help bring publicity to your track. If you don't see a link to our website from your track website, ask that it be added. We understand that track directors wear many hats and they'd appreciate a local track parent taking on the task. Contact us (ridethenation@yahoo.com) if you'd like a sample email that you can copy, paste and send to your local paper.
Remember, the most successful contact ever is the human contact. Pick up the phone and/or stop by the local paper and tell your BMX story. Don't wait for the call back that may never come. Call until you reach someone who listens to you. If you have to use Brian's "guilting" method, do it. In the end, the life (or death) of our local BMX programs, relies on every track's ability to promote itself.
We are now an Olympic Sport. As we contacted the media, we were surprised how many of them did not know that. IN THE OLYMPICS! THAT'S HUGE! Our sport has gone through changes … AND NOW WE NEED TO CHANGE, TOO. And here's the best part: The changes we make in ourselves and the ways we reach out to our community and the media ARE EXCITING! Our kids are finally going to get some recognition for the skills they've developed. Recognition is just the beginning. Take it from us, you have to make the calls and the repeat calls to the media to make it happen.
Make it happen for your local track's growth.
Tammy, Jay and Neva Warren (Butterball, Frankenbutt and the Beast) www.ridethenation.org
WEEK OF JUNE 13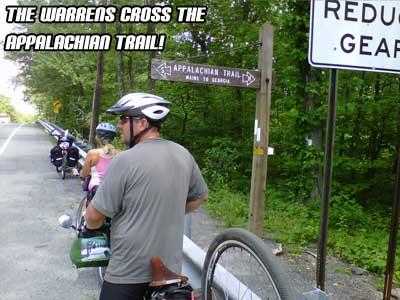 We left behind the sheep of Amish Pennsylvania for the daredevil road darting deer of New York.
New York also has gasp worthy views and big hills but local cyclists guided us to routes that gave us niiiiiiiiiice rolling hill rides. We spent 2 hours climbing one incredible mountain and then realized the magnitude of it once we arrived at the top and read the sign: "Appalachian Trail Crossing". The next sign made all 3 of us smile: "Truckers Reduce Gear, 13% Grade Next 2 ½ Miles". We shot each other "see ya at the bottom of the hill" looks and took off on a white knuckled 40 mph downhill thrill ride that's better than any amusement park could ever offer!
The fun and games were over once we realized we'd arrived in the land of over priced hotels and campgrounds, where even run down, has been motels are clinging to $80 and up nightly rates! YIKES! We just need a clean, dry place to flop our bodies and an outlet to charge up our GPS, phones and mini 'puter, for crying out loud! I'm starting to miss that $45/night hotel in Georgia we got kicked out of!
The three of us have had our share of aches and pains from riding and luckily, our bodies usually only serve up one ailment at a time. I had a groin pull prior to arriving at Pottstown and rested it for over a week. The good news is that the groin pain doesn't really affect me until after I get OFF the bike. Walking and sitting have become painful but manageable. The husband said that he, too, has a groin pain that's totally unrelated to bicycling. HUH?? We've met a lot of unique people on the road and Coco, too, has made some friends. This past week she made friends with a 120 lb. Rotweiler named Greta and the two of them wrestled and chased one another around a local bike shop. Nothing's funnier than watching a 20 lb. French bulldog chase a Rotweiler!
Coco also "hooked up" with her old buddy, Oscar, a weiner dog (truly, a "weiner" dog) and taught the teenage BMXers a thing or two that might not have been covered in health class. For the record, we had to find ways to entertain ourselves through the rain delays at the Empire National in New Paltz, NY. Mother Nature was not too kind to the New Paltz riders. She dumped a slew of rain on the track and cancelled the Thursday evening local race. She gave way on Friday night and the pre-race ran without incident. But Mother Nature was holding back her biggest wallop for Saturday. Rain soaked all of us campers overnight and most of the day Saturday.
Amazingly, the New Paltz crew did what had to be done between the rain drops and got the race done, delays and all. Kudos to the volunteers who braved it all so that our dirt loving kids could go out there and do their thing. The sun slowly made its presence known on Sunday and after a short delay, the race was under way. The Beast made a few impressive moves on the track, made her main but still hasn't "gotten the fire in the belly" back that she once had. Hence is the plight of many a girl at this age in the BMX genre. We were just glad to see her jumping the tough step-ups on the New Paltz track.
We had a few surprises off the track, too! Terri of New Paltz made an awesome, huge birthday cake for Neva. It featured a red, white and blue picture of our nation with a bicycle touching wheels from Florida to Kentucky. The Beast loved it! Another local BMX mom, Lisa, gave Neva an adorable dog tag style necklace with three symbols: a peace sign, a heart and a paw print. Peace, love and Coco is all she needs most days.
This week we will break the 2,000 mile mark and I still don't consider myself a long distance rider. I've listened to other riders and they all seem to love the pain of climbing hills and the deprivation of a comfortable bed. I love many aspects of this ride but I miss my comfy king sized bed where I don't awake with a leg lapped over me from both sides and a dog lying across my neck. Some days, our 7x7 foot tent feels smaller than the spacious tent we bought on clearance at Camping World so many months ago. BUT … I still wouldn't trade this experience for any amount of money.
Thanks! - Tammy, Jay and Neva Warren (Butterball, Frankenbutt and the Beast) www.ridethenation.org
WEEK OF MAY 31
The past week has taught me that the past does not always predict the future. We thought we had earned our "stripes" riding the hills of Georgia, SC and NC but Virginia gave us a wake-up call. As we headed North out of Richmond, we tackled Route 1's tough climbs and thought that Maryland would be a flatter run. We were wrong. We still managed to conquer the hills of Maryland but got smacked by the hills of Amish country Pennsylvania. Because we don't ride busy highways, we follow back road routes which offer less of a "graded" path and more of a "contour of the land" path. We've actually dropped to our lowest gear for some climbs only to find ourselves rolling backwards on some hills. We've had to dismount push our bikes incrementally up pasture lined roads, gripping our brakes to keep from rolling back. It was better than hitting a sheep, which I narrowly missed as it darted across a gravel back road.
Regardless of the hilly challenges, we have thus far met all of our scheduled track arrivals and managed to add two unscheduled but worthwhile stops at Augusta, GA and VMP, Petersburg, VA. Ironically, our overall mileage registered "1776" miles as we arrived in Pottstown on Memorial Day weekend. It was so good to return to our roots of the Jersey/Pennsy area. When we lived in South Jersey, we decided to visit Trilogy Park soon after it opened and we were hooked, for reasons I'll explain below. Our new addiction meant a 90 minute commute each way and it always felt worth it.
Like the "Red Violin" movie which debuted in 1998, many wondered what made the famous red finished violin play such perfect notes and produce rich emotions. The story spans 300 years of history in which it is finally revealed that the original instrument maker stained the violin in the blood of his true love whom he tragically lost. Evidently, her soulful essence came through as talented musicians coaxed its' notes out of it.
This past weekend, as I scored at the Memorial Classic National at the finish line, I heard many along the fence wonder aloud just how the Trilogy Park team got the track to its current condition. I heard one say, "it's as smooth as glass". I overheard another say, "it can't just be SoilTac. They had to have ordered a special soil." I smiled as I shook my head and recalled all the times I witnessed the entire Knapper family adding the special ingredient to their track soil: THEIR SWEAT!
In 2004, when Trilogy Park opened, it had a focused goal: to make the best possible track that any BMXer would love to ride; and to do so in an atmosphere that leaves the political crap behind. That goal has been met year after year for the last 7 years. I know that Glen Knapper has sacrificed his body time and again to keep the track one of the best you'll ever ride in the country. Over the years, he and his family have personally covered and uncovered the track more than Britney Spears has covered and uncovered her "personal track". Vacation days from work became grueling week long building and rebuilding work weeks. Soil Tac application is a science at Trilogy Park and each step in the process is taken as seriously as a NASA Shuttle launch.
This past weekend drew over 1,000 riders and produced over 200 motos. The Concession went through over 100 lbs of taco meat on Saturday alone, serving the famous Trilogy Park Taco salads. After a long, grueling Saturday, Cathy Knapper was up at midnight cooking 40+ lbs. of taco meat and returned to the track on Sunday by 6 am.
The Knappers' kingdom of dirt is a pinnacle in our sport. The best of the best consider Trilogy Park's National to be the event they will not miss annually. In addition, Trilogy has added a unique world class event on their October schedule: the UBEC, Ultimate BMX Elimination Challenge. "The Ultimate BMX Elimination Championship is just what the name implies, it is a different kind of BMX race. It not only includes racing but will test your endurance and of course your smarts. Check out the flier and get your self ready for one of the most interesting BMX races you have attended in a long time." Visit www.trilogypark.org for more info.
Next stop for Ride the Nation is New Paltz, NY after a week of rest and relaxation with family and friends in Jersey. We'll pick up our bikes in Pottstown, PA this Saturday, June 4th and resume our ride. We'll have broken the golden rule of long distance riding by staying off our bikes more than 2 days in a row so we may need your support as we gear back up for our ride to the Grands. Don't' be shy. Go to www.ridethenation.org and leave us a comment. Give us your wisdom, your support … heck, go ahead and give us your sarcasm. We're BMXers; we'll handle it.
WEEK OF MAY 23RD
Day 33 - Miles today: 51 - Miles Overall: 1,593 Camping: - at Quality Inn in Alexandria, VA compliments of our Sponsor Comfort Inns and Suites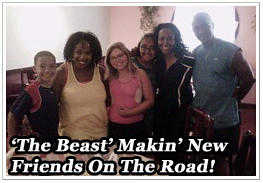 We've now ridden over 1500 miles and this week we'll add Trilogy Park in Pottstown, PA to our list of scheduled track stops. Last week we made an unscheduled stop @ VMP BMX in Petersburg, VA and had a BLAST! Besides a BMX escort back to the track and a fun evening of race announcing, we also got outdoor haircuts. What a cool experience! I'm telling you … there's a market in that!
Richmond welcomed us with a BMX escort through town to one of it's best kept secrets: the Richmond BMX track! Unfortunately for Kelley Lee, I passed him, yes passed him! At Richmond BMX! Learn to ride, Big Boy and you won't have 40 something BMX moms leaving you in the dust! After a quiet night of sleeping in a St. John's Church, we rode with the Mayor for Richmond's Bike to Work Day. The Beast posed for pictures and gave TV and newspaper interviews like she was a pro. The only thing to top that all day was a visit to the Beast's crush: Stonewall Jackson. Yes, that Stonewall Jackson, or at least the tremendous monument of him on his horse.
As we headed North out of Richmond, everything we were warned about the hills of Virginia's Route 1 held true. Some were so steep that we had to dismount and push our bikes up the hill to avoid rolling backwards. Even our "up the hill" songs we sing like "I wanna put on … my my my my my Boogie Shoes, Woo! And Boogie with you! Woo!" couldn't help us. I've also found myself singing "100 Bottles of Beer on the Wall" because nothing's more comforting when you're in a full blown uphill sweat than the thought of cold beers!
Route 1 also has other challenges. Yesterday, Frankenbutt yelled ahead to us in a panicked way which made both the Beast and me veer off the road side into the grass, as a car whizzed frighteningly close to us. Frankenbutt explained that he saw the driver changing lanes via his side view mirror and then saw him run off the edge of the road behind him. He screamed to alert us as he ran into the weeds and we all ended up safe but pretty shaken. The driver didn't stop but for a few seconds my heart did. We took a break and tried to focus on anything but the reality of what could have happened.
We've mastered other techniques with our bikes that we never realized would be a part of this bike trip: how to park 3 bikes (one with a trailer) in a hotel room and still manage to navigate the room by walking over beds and furniture. Sometimes, the Beast has to jump over bikes to the other bed in order to get to the bathroom. Ahhh, privileges of parenthood: we always get the bed closest to the bathroom!
We are more than halfway to the estimated 3,000 miles we said this trip would be and now believe it'll be more like 4,000 miles by the time we finish. We're hearing that the Pottstown, PA's Memorial Classic will have a huge turnout! We're looking forward to seeing all the folks from our prior stops at Jacksonville, Augusta, VMP and Richmond who said they'll see us there! Looks like it'll be a mid-adventure reunion party for us! And you're going to love Trilogy Park! It's the Beast's favorite track. But, she'd like to note that Richmond BMX and Marshall Higgins gave her back her desire to jump again. - For more from the Warren's and the Ride The Nation tour, please check em out at www.ridethenation.org/ride-the-nation-blog.html
WEEK OF MAY 9TH
Day 20 - Miles Ridden Today: 61 - Miles Ridden Overall: 925 - We are at Comfort Suites, Augusta, GA, Compliments of Augusta BMX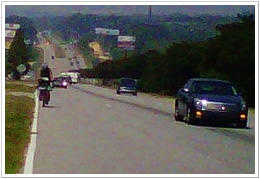 With 2 and a half weeks and over 700 miles of road behind us, we started to think: "piece of cake". We got our roles and routines down: we apply sun block in a circle, change tire tubes at pit crew speed and rode two 90+ mile days in pursuit of a "Century" before leaving the flat lands of Florida.
While following the coast from West Palm Beach to Jacksonville, we got comfortable. We felt like our fellow four wheeled road travelers respected us. THEN, we arrived in Jacksonville, the bicycle riders' spirit crushing city. Besides the absence of Bike Lanes, there was seldom a shoulder and no bike baths to be found. We felt invisible to drivers who passed within inches of us, ignoring the 3' rule: give cyclists a 3' clearance when passing.
The Jacksonville BMX track is a Riders' Only Oasis in the paved desert. Track President Michelle Messing has mastered the art of wrangling the local powers that be to make sure her "empire of dirt" and local riders get the support they need to grow and thrive. She even scored a 2 nights' hotel suite room for us that made us feel spoiled! She and Track Director Donnell Wright have reached out to the community and made partners of local bike shops, gear makers and equipment distributors. They came out en force to gift us with specialty goggles by Cycle Gear, t-shirts, and Hydro Flasks: my new favorite product distributed by
www.stuntlifeinc.com
. This double walled aluminum beverage bottle will keep cold drinks cold for 24 hours!! We tested it in 90 degree riding weather and found ICE CUBES still intact after 8 hours!! WOW! After assuming most products don't live up to their hype, Hydro Flask quietly entered our new 2 wheeled life style and has outperformed every item in our panniers and on our bikes!

Hey, BMX moms and wives,check out Jacksonville BMX Donnell's wife's bmx parts plan: Wanna buy a new part? Sell one first. It's called the Vicki plan. Considering Jax Track Director Donnell Wright has 3 (yes, 3) enclosed trailers outfitted for BMX, the Vicki plan is a "reality check" for those of us in the Vortex of BMX!

With tears in our eyes (or was that rain rolling down our cheeks?), we rolled out of Jacksonville. We crossed a tall draw bridge, half fearing and half wishing it would open as we reached the top and roll us back down to our very posh hotel ... No such luck! We pedaled out of Jax and towards the Georgia border, set on crossing it before we shut it down for the day. We did: "Welcome to Georgia"; now, take the first no name motel you'd like! We officially made it to the new hilly lands of tiny towns, mom and pop stores and lots of churches peppered with the occasional prison. The southern accents have gotten thicker and the Random Fandom (those who beep, wave and cheer us on) has grown larger.

Our Garmin "cycling specific" GPS and Google bicycling maps battled it out as we tried to find the most efficient and safe routes for the ride north. Garmin won and we stayed on Route 301 North, intent on following our original track stop plan. While tracking us on Google Latitude, Michelle Messing informed us that we'd be passing ever so close by Augusta, Georgia's BMX track. Thanks for the tip (Michelle for President!!) and the endless encouragement! After a 2 minute phone call to Augusta's Track Director, Mitch Moon, he put the wheels in motion for our arrival. Today (Monday), we'll arrive by 6pm to meet local riders, talk BMX with the local press and spend the night in a hotel they've lined up for us. Today's lesson: If you want to get something done, start at the grass roots level. The local track directors and BMX parents know how to make things happen and make them happen fast! They don't sit around pondering what to do, they "just do it!".

Following Monday's Augusta arrival, we'll ride on to the Lexington, SC track, arriving on Tuesday and then push on to arrive at the Dixieland National at Clemmons, NC by Friday. Saturday, we'll rest, Sunday we'll race and then pedal on to Virginia. If all goes well, From May 6-13th, we'll have ridden out of Florida, into Georgia, on to South Carolina and arrived in North Carolina. Just another day at the office, right?

What have we learned so far? 1) Just because you can't see it, doesn't mean you won't get calluses in weird places! 2) Hotel life trumps tent life every time 3) if you're enjoying a high speed down hill run, there will be a red light at the bottom of the hill and 4) Never assume your past riding fully prepares you for the ride ahead.

Here's a comment that
www.ridethenation.org
blog reader Hara sent us that we love and hope you will, too:
"The best routes are the ones you haven't ridden. You could pedal the same loops year after year. Many people do, literally or figuratively. But to grow, you need new rides. Risks. Turn down lanes you've long seen but never traveled. Get lost once or twice, then double back to where you started and try again Live like this and you come to see unknown territory not as threatening, but as intriguing." -Mark Remy, Bicycling Magazine 9/01 Now, go out there and RIDE YOUR BIKE!
WEEK OF MAY 1ST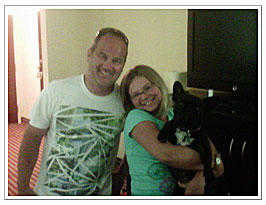 In the past week, we've visited Charlotte BMX in Punta Gorda, Okeeheelee BMX in West Palm Beach, FL and Palm Bay, FL BMX. Our first stop of the week made me realize who I want to be when I grow up: Amanda Carr. She's fast, she's cool and she has a head of hair any 70s girl would have killed for! Not to mention, she drives a JEEP!

We rode across Florida and rode our toughest day yet: 56 miles into HOT headwinds in a desolate area, with no place to buy water let alone an outdoor spigot! Some gusts were so powerful, I think it blew us backwards a few times. We saw more roadkill than we'd ever seen before and for entertainment we debated what species the critters were before they mixed guts with asphalt. During a 97 degree day, we actually saw a dead frog, on it's back with one hand over it's chest. We surmised he died of a heart attack; it didn't give us hope that we'd ever get back into civilization.

The sight of Okeeheelee made us feel human again. A cold drink, fixed by Assistant Track Director Mitch, made us feel especially welcome! We got hugs and high fives and exchanged sweat and road grime with the West Palm Beach team. Although we were tired, we stayed up late into the night exchanging belly convulsing laughter with Pro-Gate team Alex and Jackie.

Justin Travis of Ohio Dreams ran a clinic and afterwards told me that he's training with Kirk from J&R bicycles for long distance riding. That translates to: Justin is crashing @ Kirk's, eating all his food and probably hitting on his girlfriend.

But who are we to judge? We camped for free at the track, ate fried pickles, fried mac 'n cheese and fried green beans as well as pulled pork and the standard burgers, fries and smoothies ... all compliments of Okeeheelee and Smoothie King. Jay and I are too old to hit on anyone and too tired to hit on one another. Such is (tent) life on the road!

We felt OLD and YOUNG again when we saw
www.vintagemongoose.com's
awesome bike display they set up @ Okeeheelee. If you missed it, check their website for a trip down two wheeled memory lane.

We stayed in our first Comfort Inns and Suites room and felt like we crossed over to REAL civilization. None of us wanted to leave the comfy beds, the fluffy pillows, the big screen TVs behind. But they were too heavy so we took the bungy cords off them and left them where they were.

Rode 93 miles in one REALLY long day into Palm Bay where track director Jason Jones bought us dinner at the local steakhouse. Man, he has some awesome ideas! Like pulling our communities together by utilizing all the aspects of track management as a vocational training ground. Unfortunately, planned media bailed on us due to the shuttle launch re-scheduling and the long awaited death of Osama Bin Laden. That didn't deter Mr. Jones. He took his own photos and arranged for his Marketing Manager to write a story that the local papers agreed to run. Now that's BMX! Getting others to move out of your way when you forge ahead.

FYI, we've ridden 450 miles so far and are headed to Jacksonville, FL, Lexington, SC and Clemmons, NC in the week ahead. If you want to track us online, go to the "route plan" tab on our website,
www.ridethenation.org
, and check out the Google Latitude instructions. Time to put rubber to the road!
Week of April 25, 2011
Ride The Nation Mileage Log ..... Day 5, Miles Ridden Today: 15 Miles Ridden Overall: 130 (Check out
www.ridethenation.org
for all the goodies)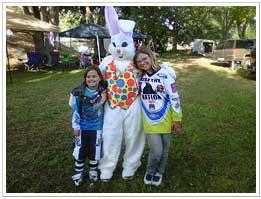 Spent the weekend in sunny Sarasota, FL for the NBL's annual Easter Classic race, where BMXers from the coldest parts of the country come to thaw out and warm up for the Grand National Championship, which is only 4 ½ months away. The Sarasota track was prime and ready with fresh clay. It not only looked pretty … it was pretty awesome! There's no better way to wake up from the winter blahs!
While checking out vendors' row, I ran into Weston Pope. He's the genuine deal on the track with so much talent and a hell of a future. Speaking of the future, he told me he's getting married in July. I congratulated him and asked him if the fiancé is cute, fit and trim. He smiled and nodded. I assured him I was, too, when I first got married. A quick full body once over and he was immediately deflated! Now that's BMX! Knowing how to get inside the other guy's head!
Announcers Al and Kelley kept those of us outside of the full viewing area of the track well informed as the day unfolded. From their perch, they gave colorful commentary with the ever present "turkey" comments: "he carved them up like a Thanksgiving turkey" and "whoa! He just got stuffed like a turkey on Thanksgiving!". As the one known as "Butterball" in my bicycling family, I tried not to take offense. Earlier in the day, Justin Travis and I were discussing how Fiji has only given up "canabalism" in the last 100 years. NOTE TO SELF: No trips to Fiji until this bike ride trims a few pounds off; I don't want the natives thinking bout basting me as I stroll around the island! Of course, it's hard to find anyone that loves the perfect combination of sunblock, bug spray, sweat and dirt these days. Thank God, I'm married!
Here's a quote I overheard and had to share: "If you have one day left to live, go to a BMX race … because they last forever!". You know, it does seem that way sometimes, doesn't it? But let's be real, we live for the weekends where we run away from home, (packing up almost half of it and hauling it to the track) and sit ez-up by ez-up, trading track stories and BMX parts. And this past weekend, we did it in the endless summer that Florida always is. Face it, if you had to drive home any further north than the Carolinas, you're waking up to the slow painful thaw that the north serves up every year.
After 3 days of good weather, great racing and fascinating conversation, we strapped on the helmets and rode out of Sarasota with 115 miles behind us so far. In the week ahead, we'll visit Charlotte BMX in Punta Gorda and Okeeheelee BMX in West Palm Beach. Then it's the dreaded 785 miles in 2 weeks trek to the Clemmons, NC race. Think the 2 fat forty somethings and the moody 12 year old can do it? ..... Call your bookie now … the odds aren't in our favor.
Tammy, Jay and Neva Warren (Butterball, Frankenbutt and the Beast)
www.ridethenation.org