BMX MANIA team CO-SPONSORS
---
BMX Racing News - Wednesday - April 29, 2015
Pro Gate & Amanda Carr Team Up In Thailand!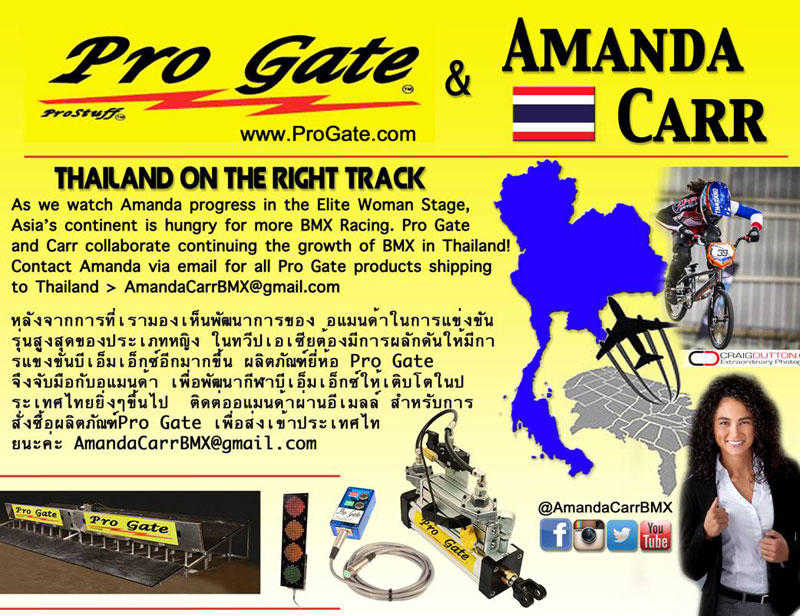 Need the best BMX Starting System in BMX at your new track in Thailand? Get ahold of one of the coolest in all of Thailand, Amanda Carr!

How awesome is that? You get hooked up with a cool new Pro Gate BMX starting system and you get to deal with one of the raddest BMX Elite Women ANYWHERE, Amanda Carr!

Congrats, Pro Gate and A.C. two of the best!
---
BMX Racing News - Sunday - April 26, 2015
Justin Posey & Felicia Stancil Win USA Cycling National BMX Titles!

For complete results and Sunday Photo Gallery, please check back, Monday on BMX Mania Dot Com!!!!!
---
Complete USA Cycling
Collegiate National Championships
Day 1 Results and Big Foto Gallery,
CLICK HERE, NOW!!!!!
Posey & Stancil Take Men & Women's day 1 Wins At USA Cycling Collegiate Nationals!
Complete Day 1 results and big foto gallery, CLICK HERE, NOW!!!!!

---
BMX Racing News - Thursday - April 23, 2015
Natarsha Williams Birk Joins Marian University Cycling Coaching Staff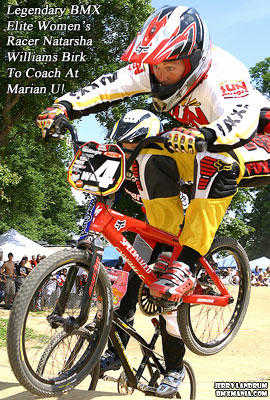 Former world champion cyclist will coach the university's BMX program INDIANAPOLIS – Marian University Cycling Coach, Dean Peterson announced today that Natarsha Birk will be joining the coaching staff of the 28-time National Champion collegiate cycling program at Marian University. Birk will coach all disciplines with a specific focus on the university's BMX and mountain bike programs.

Birk comes to the two-time defending Collegiate BMX National Champions with vast BMX racing success, including two World Championships (1996 and 2000), three World Cup Championships, two European Championships, and a National Championship from her home nation of Australia.

Originally from Innisfail, Queensland, Birk has been racing bikes since age 5. She turned professional in the sport of BMX at 16 and raced internationally, in 17 countries, until 2004. She moved to the United States in 2000 and has remained involved in the BMX industry.

She comes to Marian University Cycling from ANSWER BMX, where she has served as the Sales and Sponsorship Manager since 2009. "BMX has been my life – so to be able to do something in a career that I'm passionate about, makes me happy," said Birk. "When you have a passion, it's easy to pass it along, and this will allow me to actually help athletes along, be hands-on, and make themselves better."

Birk is an accredited level 1 coach and will bring those skills, along with her strength in sports psychology, to help the Knights continue to advance their program, particularly in the off-road disciplines. "We continue to look for ways to develop in the BMX and mountain bike disciplines, as those are the youngest areas in our program's history," explained Peterson. "Natarsha is going to be a huge part of our staff moving forward – I am confident she will help us grow our efforts to create a meaningful experience for our student-athletes, both on and off their bikes."

The Cycling Knights won the Collegiate BMX National Championship in 2013 on their way to the team's first omnium championship. They repeated in 2014 and head to Atlanta, Georgia this weekend to defend that title. BMX became an Olympic sport in 2008.

Birk lives in Westfield with her husband, Ryan, and their son, Ryder, 7, who also races BMX. She is 39 years old.

About Marian University Indianapolis Marian University (www.marian.edu), founded in Indianapolis in 1937, is the only Catholic liberal arts university in central Indiana. It serves a student body of nearly 3,000 through dedication to excellent teaching and learning in the Franciscan and liberal arts traditions. Marian University is one of Indiana's 31 independent colleges and one of 244 Catholic colleges and universities nationwide. Since 2001, Marian University has been led by President Daniel J. Elsener, whose vision and leadership are transforming the university.

In 2013, Marian University opened the Michael A. Evans Center for Health Sciences, home to its College of Osteopathic Medicine. Marian University has amassed 28 national championships in cycling, in 2012 won the NAIA national championship in football, and was a national finalist in football in 2014. About Marian University Cycling The Marian University Cycling Team is a full varsity team at Marian University in Indianapolis. Governed by USA Cycling, the team competes year-round in five cycling disciplines: track, cyclocross, mountain bike, BMX, and road racing.

A team of nearly 60 student-athletes from 28 states and four countries train and race while going to school full-time and serving the local community as well as pursuing their cycling hopes and dreams. As of January 2015, the team has 28 team national championships, in track, road, BMX, and cyclocross, is the reigning Division I Omnium Champion Team, and has been honored as the USA Cycling Collegiate Club of the Year four times, most recently in 2014.

To learn more, "like" the team on Facebook or visit www.muknights.com.
---
BMX Racing News - Tuesday - April 21, 2015
---
ALL SATURDAY UCI SX UK PHOTOS ARE POSTED!
Photos, many, many photos are posted to the UCI BMX SX
UK Race Report Page.....You know you want to see em!
---
BMX Racing News - Weekend Update - April 18-19, 2015
PRINCE LIAM BECOMES KING IN MANCHESTER!
CAROLINE BUCHANAN TAKES ROUND ONE UCI SX WIN
SATURDAY & SUNDAY PIX TO BE POSTED FROM MANCHESTER, RIGHT HERE!

Big News from GSX Events: The 2015 UCI BMX Supercross World Cup kick started with the opening round of the season at the home of British Cycling in Manchester, United Kingdom. With focus on qualifying for the 2016 Rio Olympics in was a full house of over 200 riders ready to get the season underway.

Liam Phillips, GBR, undefeated at his home track over the past 2 seasons got the proceedings started with a win in the Time Trial Super Final over second placed Connor Fields, USA and 3rd placed Twan van Gendt, NED. 2014 UCI BMX World Champion and Olympic Gold Medalist, Mariana Pajon, COL, kept it smooth and fast in the women's Time Trial to edge out Caroline Buchanan, AUS, 2nd and Felicia Stancil, USA in 3rd place.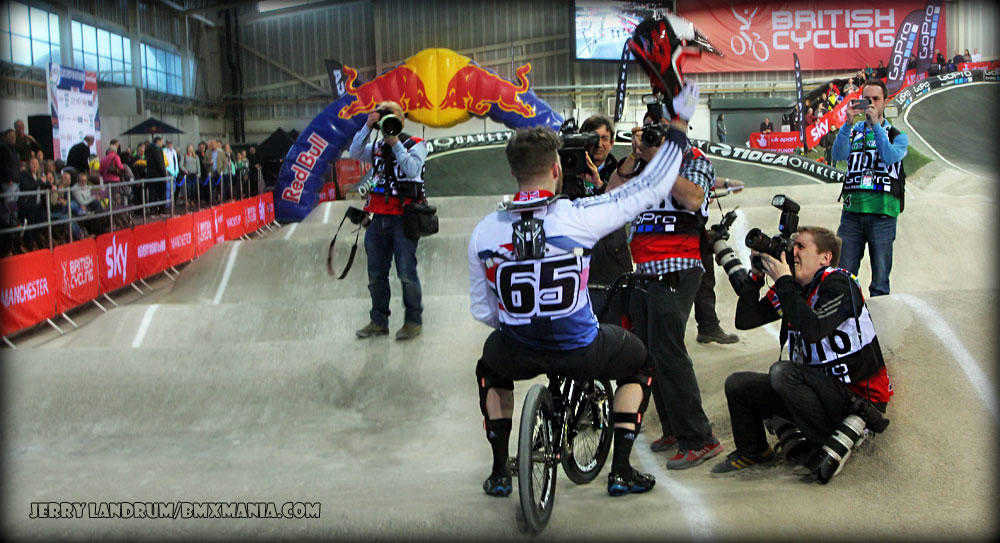 "King" Liam Phillips (GBR) surrounded by a crowd of photographers, chronicling his BIG win at the UCI BMX Supercross World Cup in Manchester, GBR.
The main event of the weekend brought the house to their feet in Manchester, in what can only be described as a showcase event for Bicycle Motorcross, (BMX). WIth action from the start to the finish the crowd was on the edge of their seats as the riders put on a display of speed, energy, power and grace as they battled like warriors in a gladiator arena.
The Elite Women's Final saw 2014 BMX Supercross World Cup Series Winner , Caroline Buchanan, AUS, come out of lane 5, like a scolded cat, taking the hole shot. Mariana Pajon, COL, unclipped off the first jump and lost her momentum while Alice Post, USA tucked in behind Buchanan out of the first turn and that's where she stayed for the rest of the race as Buchanan took charge. Stefany Hernandez, VEN, finished strong in 3rd place.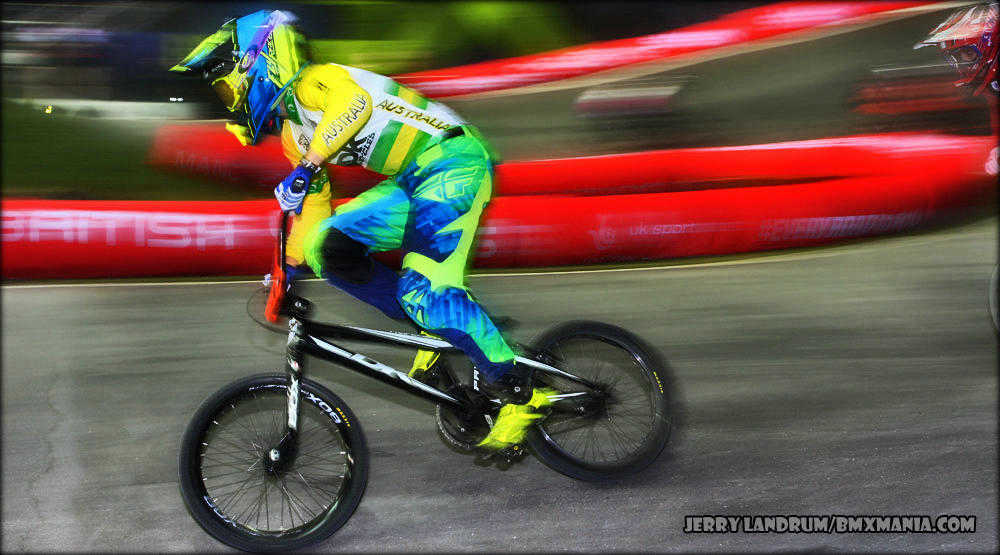 Caroline Buchanan (AUS) leads the pack in the Elite Women's Main Event at the UCI BMX Supercross World Cup in Manchester, GBR.
The Elite Men's Final was a start studded cast with Liam Phillips, GBR, getting first gate choice and taking the all important inside lane. The EliteTrax Double Dice incentive for racing out of gate 8 for the win with the opportunity of doubling your prize money went to the young Frenchman, Amidou Mir. Out of the gate Liam Phillips was pure class, with fellow countryman Tre Whyte, GBR, having a great first straight. Joris Daudet, FRA, did not get the start he wanted, while Twan van Gendt, NED, went down in the first straight.
Whyte went down in the 2nd turn and soon after him, 2nd placed Willoughby went over the front of his bars with a speed wobble as he entered the tricky 3rd rhythm section. Mir, found a second gear and went past Nick Long in 2nd and that's the way it stayed to the finish line with Liam Phillips, large and in charge and way ahead as he crossed the finish line for a hatrick of wins, undefeated on the Manchester track for the 3rd year in a row as the arena erupted with applause at another victory for the King of the track in Manchester.
The UCI BMX Supercross World Cup rocks on to Round Two in Papendal, Netherlands the weekend of May 9-10.
| | |
| --- | --- |
| RESULTS WOMEN | RESULTS MEN |
| 1. Caroline Buchanan (AUS) | 1. Liam Phillips (GBR) |
| 2. Alise Post (USA) | 2. Amidou Mir (FRA) |
| 3. Stefany Hernandez (VEN) | 3. Nic Long (USA) |
| 4. Mariana Pajon (COL) | 4. Edzus Treimanis (LAT) |
| 5. Natalia Suvorova (RUS) | 5. Joris Daudet (FRA) |
| 6. Merle Van Benthem (NED) | 6. Tre Whyte (GBR) |
| 7.Dani George (USA) | 7. Twan Van Gendt (NED) |
| 8. Brooke Crain (USA) | 8. Sam Willoughby (AUS) |
---

Wellllllllllll, if you're looking for photos from the UCI BMX Supercross World Cup, then, like Ryan Pettigrew and Caroline Buchanan, you've come to the right place!
FRIDAY PRACTICE PHOTOS ARE POSTED!!!!!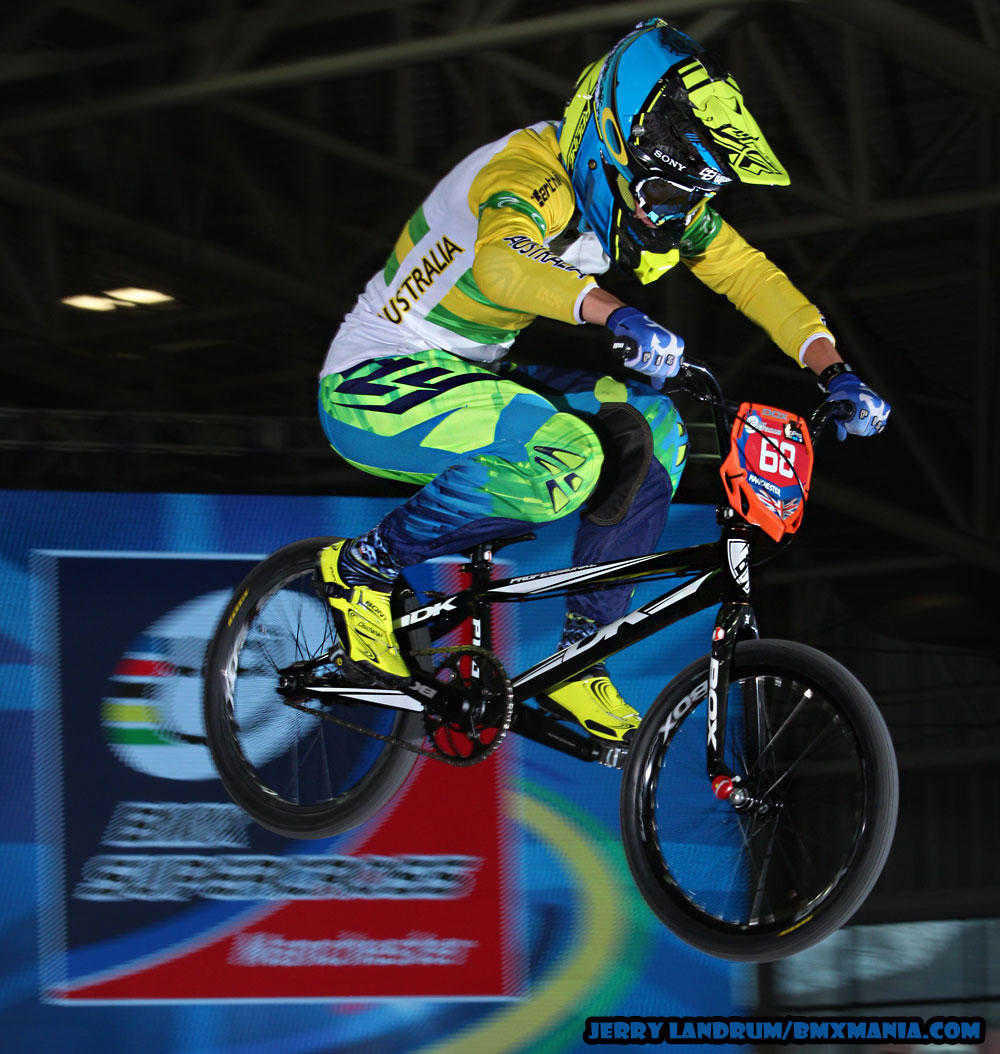 ---
BMX Racing News - Wednesday/Thursday - April 15/16, 2015
BMX MANIA IS ON THE ROAD to uci sx!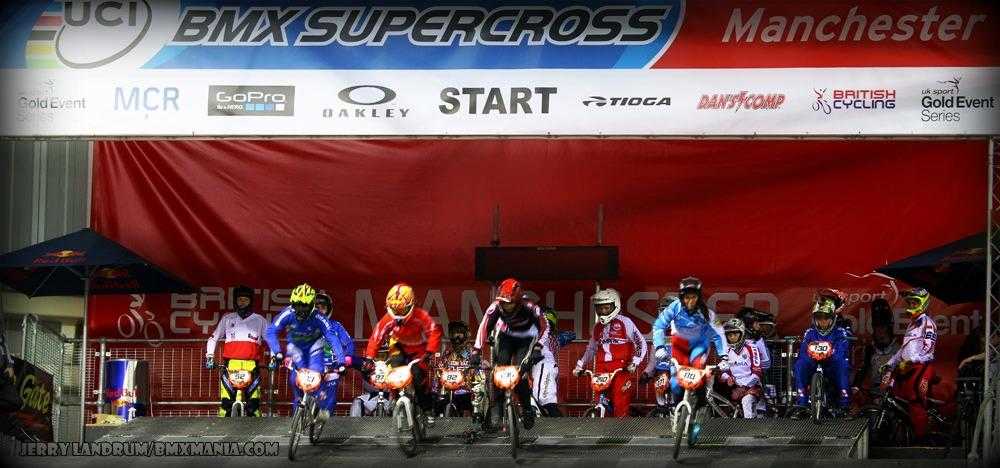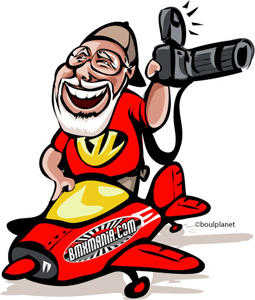 Hey, BMX.....It's UCI BMX Supercross World Cup time!
Yeah buddy, the UCI BMX SX series for 2015 is kickin' off this weekend and BMX Mania Dot Com is on the road to cover all the action and hit YOU up with awesome photo coverage from British Cycling's UNREAL mega indoor BMX SX course in Manchester, England!
This place has got to be the best dedicated indoor Supercross BMX track ever invented. Big, Fast and never a rain date!
All the Fast Kids will be there, getting ready to grab Olympic Qualifying points for 2016's Olympic BMX outing and you will not want to miss the action that we're going to bring you.
So, check in Friday Evening, HERE for awesome photo coverage of your favorite BMX Stars, we will not let you down!
2015 is going to be an awesome year of UCI BMX SX, Manchester, UK; Papendal, Netherlands; Angelholm, Sweden; Santiago del Estero, Argentina; and Chula Vista, CA USA ..... AND BMX Mania will be there for ALL the action!
---
UCI BMX Supercross World Cup and EliteTrax introduce the Lane 8 Double Dice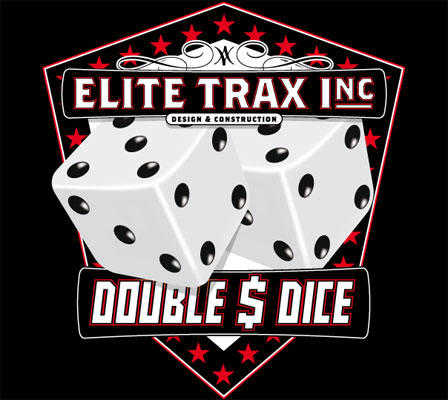 Double prize money for finalists who pick the outside lane and win the race!
(Manchester, Great Britain, 10 April 2015). Instant excitement has been added to the 2015 UCI BMX Supercross World Cup with the introduction of the Lane 8 Double Dice presented by EliteTrax. Riders in the finals in both the Elite Men and Elite Women classes who pick the outside lane (Lane 8) and proceed to win the race, will receive double the prize money when they cross the finish line.
Normally, the outside lane is not considered the most favorable starting position in race. The fact that you cannot protect and control the race in the first turn in the same way as being on in the inside is something riders consider when they pick a gate position. Riders can make their own gate pick in the finals based on their semifinal result. The fastest rider in the semifinal heat gets 'first pick' on the 8-position starting gate.
The inside gates have always been favorite until the EliteTrax Lane 8 Double Dice showed up. The first rider who picks the empty Lane 8 position on the gate is shooting for double prize money that day.
To make it even more interesting, if the same rider in Elite Men and Elite Women manages to win from Lane 8 three times in one season (The Triple Crown), a prize of US$25.000 will be paid out.
Winning from Lane 8 is certainly not an easy one, but not impossible as history has proven. In 2012 at the Papendal BMX Supercross event Maris Strombergs won the last race before the Olympics from lane 8.

Arielle Martin did the same at the UCI BMX SX in Chula Vista in 2011 in the Elite Women class. Shanaze Reade had a terrible semi final on the demanding SX track in London in 2011 and ended up having to choose Lane 8. She got the holeshot in the final and never looked back in front of an ecstatic home crowd.

Perhaps the most famous win from the outside was the 2010 UCI BMX World Championships Elite Men finals where Maris Strombergs took the rainbow jersey title starting from lane 8.
This EliteTrax Lane 8 Double Dice prize money option is completely voluntarily, since the riders choose their own gate position (based on the time in the previous (semi-final) heat). In this way, no one will be forced to take the Lane 8 option. It is there if a rider feels that he has what it takes!
The EliteTrax Lane 8 Double Dice will be introduced at the first round of the UCI BMX Supercross World Cup in Manchester, England. When the Elite Men and Elite Women line up for the final race of the day, all eyes will be on Lane 8.
EliteTrax Inc. is the leading BMX track builder in the world and has been instrumental in developing modern BMX tracks and its design. EliteTrax is a proud partner of the UCI BMX Supercross World Cup. www.elitetraxinc.com
---
BMX Racing News - weekend update - April 11/12, 2015
TNT BMX Is Back And Runnin'!
From Al Cayne at www.SugarCayne.com ...... If you haven't already heard the legendary BMX brand TNT Bicycles is back and better than ever. For the last few months the brand has been posting photos of their new aluminum C-Four race frame, Revolver and Derringer hubs and it's got the industry buzzing!
---
BMX Racing News - Monday - April 6, 2015
PumpTrax To Build World Class Pump Track Layout In South Dakota!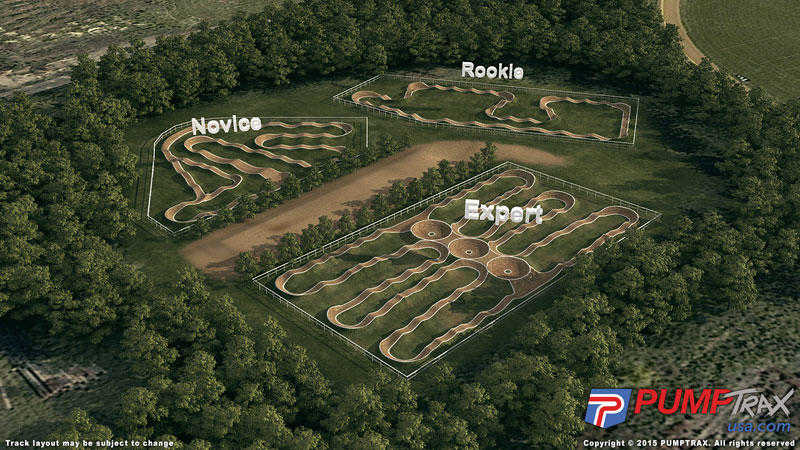 Ritz, Johan and the boys over at GSX have been busy BMXers and here's something VERY cool that they have going on in Brookings, South Dakota.

The Brookings Park and Recreation department has recently applied for 'Bicycle Friendly Status' for the community and they have also contracted with PumpTRAX to apply their BMX track building genius to some of the park's land and the results are going to be stunning! The community is excited and it shows in this bit of promo from KELO-TV.

From KELO-TV/Sioux Falls, SD USA. BROOKINGS, SD - The same company that designs BMX bike tracks for the Olympics is coming to South Dakota to create Brookings' newest park. Each track at the Southbrook Pump Park is designed for bikers of different levels. There is even a strider track for children between the ages of 2 and 5.

Crews will arrive in May. It should take about 10 days to build the clay tracks on the southern edge of town. The park should be ready for bikers by June.

If you are not familiar with a Pump Park, the name comes from the fact that you don't need to use your pedals at all. You should be able to make it all the way around the tracks using just your body weight and your wheels.

Southbrook Park will be just north of the Dakota Nature Park.
---
European BMX Championship Rounds 1&2 Kick Off in Zolder, Belgium!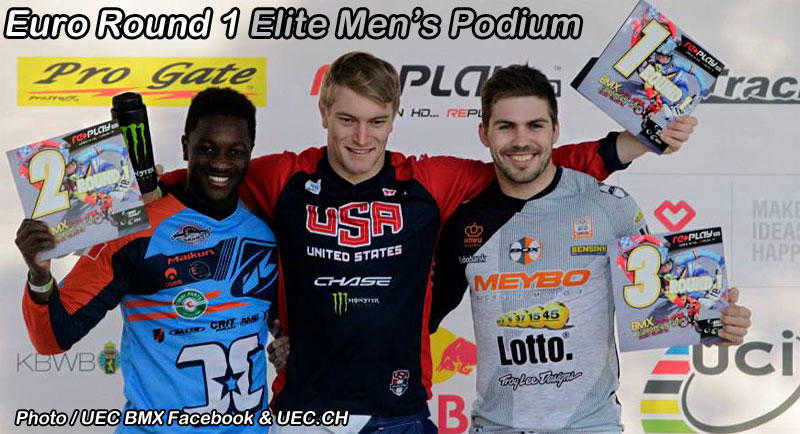 Euro Round 1, Elite Men - 1 Connor Fields/USA ... 2 Amidou Mir/FRA ... 3 Twan Van Gendt/NED ... 4 David Graf/SUI ... 5 Niek Kimmann/NED ... 6 Edzus Treimanis/LAT ... 7 Sylvain Andre/FRA ... 8 Corben Sharrah/USA
Euro Round 1, Elite woMen - 1 Felicia Stancil/USA ... 2 Simone Christensen/DEN ... 3 Magalie Pottier/FRA ... 4 Brooke Crain/USA ... 5 Nadja Pries/GER ... 6 Merle Van Benthem/NED ... 7 Stefany Hernandez/VEN ... 8 Alise Post/USA
---
BMX Racing News - Thursday/Friday - April 2/3, 2015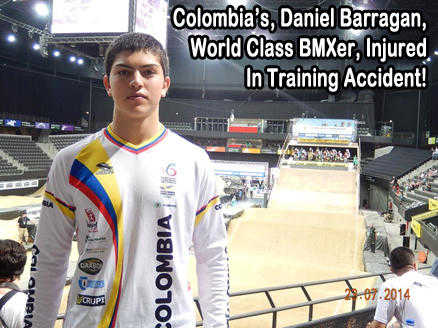 Recently, one of the most promising and world class BMX athletes from Colombia, Daniel Barragan 16X; Top Standing in points of his class; multiple time national Champion & 3 time finalist at UCI World Championships; suffered a hard crash during training.

Daniel landed on his neck that was immobilized and was taken to one of the most outstanding hospitals in the country, Portoazul Clinic for surgery.

Currently, Daniel is in recovery and getting support from parents, family and friends.

Daniel's family ask for the BMX Family worldwide to make & join in prayers for Daniel to be healthy again.

Best wishes & prayers for a speedy return to the track for Daniel!
---
C-YAA scores second Factory Team win of the 2015 season!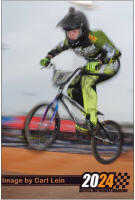 For the first time in what is sure to be a storied history, USA BMX scheduled a national event at the new Rock Hill, SC facility. Rock Hill is a dual SX downhill, and traditional BMX tournament course in one, with state of the art spectator support facilities surrounding the track.

C-YAA Factory rolled into town with a strong squad ready to take on all challengers, and most of all, we were very happy to be out of the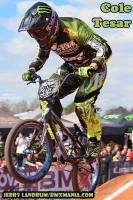 snowy Northeast for the long weekend to be honest.
On the big hill C-YAA's dynamic pro duo of Austin Loebe and Cole Tesar lined up in the SX classes Friday and Saturday, easily spotted in their Fly Racing pants helmets and gloves. While neither made the main events they sure did make us all proud, with strong performances.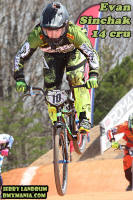 Amateur wise we fared well with eleven total main event wins, and the top slot in Day one's Factory Team competition. Lead by CJ Fisher (19-27x & Cru), who continues to train with Diprete Strength (and it shows), and Evan Sinchak (14x & Cru), who each picked up three main event wins. Not to be outdone our wily veteran, Lance McGuire (28-35x) scored two wins on Sunday, and Wesley Haggstrom (9X & Cru) kept his bikes clean and fast with Finishline Lubes and scored the day one 9x win.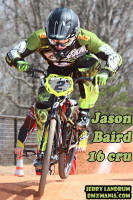 Rock Hill saw the return of Kayla Gaddis, now Kayla Shane, to the tournament course. Saturday was a "get to know your Thomson and ODI equipped bike again" day for Kayla, while Sunday saw the former professional use some of her veteran skills to pick up her first win of the season and helping the team to another score north of two hundred and an impressive fourth place finish.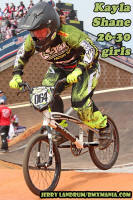 Jason Baird made his 2015 season debut and captured the day two 16 cruiser main event using KMC chains. Teammate Coleman Habib (16x) stayed fueled with PowerBar products and made three of four expert/open main events. Donathan Williams took time away from fixing his vehicle to compete in the 31-35 cruiser class, scoring a pair of deuces. Mason Hayes (6x) continues to progress making all four of his expert and open main events, while Mason Bruns (8x & Cru) also impressed and progressed lining up for three of four mains using his Stealth hubs. Alex Poole (14x) came up short, but has begun the training process needed to continue his work towards being a factor nationally.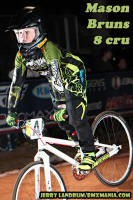 On the injury front Charlie Biggs (11x & Cru) and Jonathan Austin (9x & Cru) were both missing from Sunday's race. Not to fear though fans, nothing too serious with either rider, and both should be back on the track soon.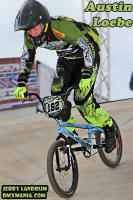 As most of you saw with our display set up on your way to view the first straight action, our 2015 Cruiser and smaller sized twenty inch frame line is just about ready for sale! Special thanks to Jerry Bradford and YESS for the premium race site landscape.
Next up for the team will be USA BMX national in Atlanta, GA.
Don't forget to follow us at www.facebook.com/CYAABMX, the page is stuffed full of exciting photos from the teams exploits all over North America.
C-YAA Factory Team Co-Sponsors (Support those who support us!): AZTEC Brake Cables & Pads (shop.revcycleworks.com/main.sc), Blot Out Graphics (www.bogracing.com), Finish Line (www.finishlineusa.com), FLY Racing (www.flyracingbmx.com), KMC (www.kmcchain.com), ODI (www.odigrips.com), PowerBar (www.powerbar.com), Riderz Ready (www.riderzready.com), Stealth Hubs ( www.trueprecisioncomponents.com ) and Thomson (www.lhthomson.com).
C-YAA Factory is a division of Bizzarro BMX Inc.
---