BMX racing news, Friday - April 29, 2011
CLICK HERE TO RETURN TO BMX MANIA DOT COM
---
---
---
---
BMX racing news, Thursday - April 28, 2011
---
---

Two In A Row From Morphine Industries As They Hit Hotlanta for NBL Georgia Peach Nationals
The NBL Georgia Peach Nationals signifies the start of spring and the push into the full-on race season. Morphine Industries sent a crew to the Peach state to shake it up. Peachtree BMX is a cool tight fast track set in a park just outside Atlanta. What's with the golf carts everywhere?
Elite Men- Mike Kapes hit the track Saturday with finesse and speed as usually. Mike roared through motos and saddled up to the gate at the main event. At the gate drop, Kapes and Kelty battled for the lead with Mike taking the top spot at the white line.
Sunday, Mike was ready to do it again as he once again blasted through motos to line up for the main. This time his speed got the best of him as he overshot a double and bonked the next double causing him to fall back and take a fourth at the line.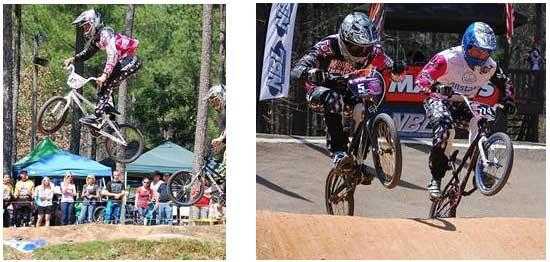 Masters – Tim Dinger, with a freshly healed arm, hit the track for a one day Masters showdown. ..and show he did. Dinger flowed through the track and the field racking up hash marks all the way to the end topping the podium. Unfortunately, Masters did not run on Sunday so, Tim was unable to repeat and line his pockets.
16 Expert - Damian Cherepko came down to join the crew from PA to take his frequent spot on top. Damian, like his teammates rolled over the field in his motos and took his place at the main. After the gate dropped it was over as Damian finished his day with a first place.
Sunday started off in the same manner with Damian horsing the field in motos. However, a close encounter with the asphalt turn stopped Damian short of making his weekend a perfect one.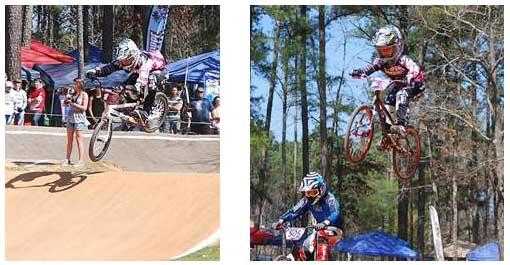 12 Expert – Richie Dey started off the weekend on Saturday working his way through stacked motos. However, he fell short in the semi getting caught on the outside and not making the cut.
Sunday Richie was determined to make up for his absence in the main on Saturday. Once again , he had to bang with the best to get through to the main. This time, he made his way through the pack to take the last spot on the podium, a third place.
The Morphine crew was split this past weekend with riders hitting the NBL Florida State Qualifier in Port Charlotte and another group hitting the ABA Dixieland Nationals in Hotlanta, GA.
Rumor has it that Dixieland will be experiencing the newest member of the Morphine Industries Factory laying down the hammer. Enjoy! Welcome, Charlie.

---
---
BMX racing news, Wednesday - April 27, 2011
---
---
---
BMX racing news, Tuesday - April 26, 2011
---
---
BMX racing news, Monday - April 25, 2011
---
BMX racing news, Friday - April 22, 2011
---
BMX racing news, Thursday - April 21, 2011
---
---
BMX racing news, Wednesday - April 20, 2011
Chula Vista Factory Intense & Factory Speed Team Results
The Factory Intense and Speed Teams both rode great in Chula Vista at the ABA SoCal National and USA Cycling National Championships. Lead by Elite Men Marc Willers (1st Friday and Sunday) and David Herman (2nd Friday and Saturday) Intense finished 2nd and Speed 3rd on Friday and 1st and 2nd on Sunday.
In Saturday's big event on the Chula Vista OTC track, Rusty Nesvig grabbed the gold in Junior Men, Herman the silver and a very-sick Arielle Martin bronze for Factory Intense. Speed's Bryce Hocking finished 6th in Junior Men, while teammates Nick Koehler and Shelby Stacy crashed hard in their motos. Nick was able to take a later run at the semis, but Shelby pulled out after a horrendous crash over the first jump in moto one.
Other new US Champions include Intense's Madison Martinez in 11 Girls, Speed's Felicia Stancil in 13 & 14 Women's Cruiser, Cole Tesar in 15 Boys and newcomer Kevin Pauls in 12 Boys.
Between the two Nationals on Friday and Sunday, the Factory Intense Team picked up 24 total podium spots (12 each day) with five wins on Day 1 and seven on Day 2. The Speed Factory Team grabbed seven podium spots on Day 1, of which five were firsts, followed by eight podium spots and six wins on Day 2. Add to that the podiums and wins grabbed by J&R/Speed riders, the lone Rennen/Speed rider Justin Wike and Dominique Daniels, and Speed had a total of 29 podiums with 19 wins over the weekend.
Besides Marc Willers' domination of the Mens Elite (He was perfect for the weekend.), we also want to mention the dominant riding by Rusty Nesvig in 17-18 X and Junior Elite Men, Madison Martinez (five firsts) and Kevin Pauls who raced his first National in the Speed Factory colors and took three wins in 12 Boys.
Needless to say, we're pretty stoked with how things went in Chula Vista.
---
John Purse's Jackal BMX Compound
For Lease in Spring (Houston), TX 77388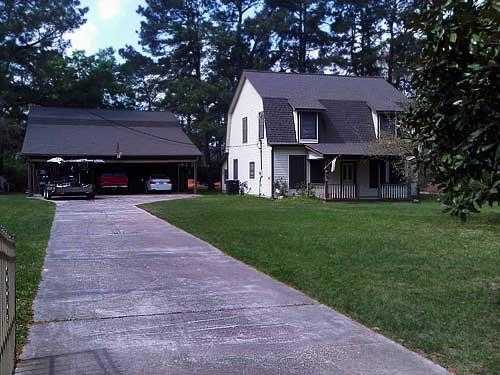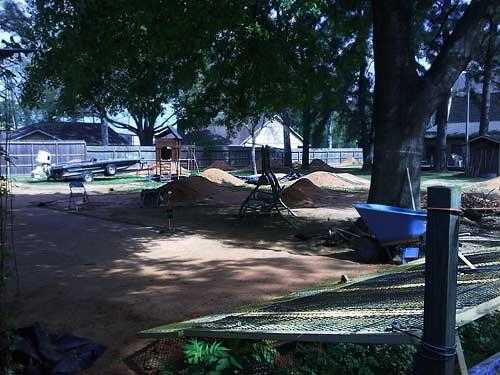 John Purse's "Jackal BMX" is on an acre of land with plenty of shade, has a 2,472 square feet house w/ 3+ bedrooms, 2 1/2 baths, 900 sq ft garage perfect for a gym and work area, 600 sq ft three car carport, 1,200 sq ft of overhead storage.
As well as super cool living space, the compound has a BMX track with a 4 man Get-A-Gate, 700' track, dual lanes, Cartessa Box w/timing system, etc.
This property is perfect for a BMX family or BMX team looking for a training compound!
Contact: Rodrigo Munguia- (281) 989-1970 - rodrigo.muguia@royalgrouprealty.com
---
Speed's, Marc Willers:
It Was a Perfect Weekend in Chula Vista, California

Turning up to racing this weekend in San Diego, CA, I felt I had a point to prove. With that track being at the U.S. Olympic Training Center, I was prepared to have some heat coming from all the local U.S. riders who live on campus.
With the U.S .riders having their National Champs on Saturday, us foreigners were only allowed to race Friday and Sunday. It was pretty much a perfect schedule for me as it gave me a day to eat and refuel in between.
Racing couldn't have gone any better for me. Starting Friday I won all my motos and semi-final comfortably. When the gate dropped in the main I came out solid and had a good battle to the first turn with a rider on my outside. Getting the jump into the first turn perfect I pulled into first and stayed there until the finish getting my fifth ABA win of the season.
Sunday was basically a carbon copy, winning all motos and the semi and getting my favored lane choice for the main. Feeling super relaxed on the gate I felt things were going to go to plan, and that they did. I lead once again from start to finish and had a perfect weekend, not dropping a lap or a holeshot.
That now gives me six wins, a 2nd and a 3rd with two other finishes that I plan on dropping at the next ABA race. It's a weird-but-good feeling knowing that only four months into the year, I have enough points to be up for a Pro Title that isn't up for grabs until November.
Here's a link from ESPN http://espn.go.com/action/bmx/blog/_/post/6382792/2011-aba-socal-nationals-chula-vista
All videos and info can be found on my Twitter and facebook@marcwillers
Thank you to all who are supporting and helping me and thanks to my sponsors, Speed, Sinz Elite, THE, ITS, Swatch, Shimano, Bikenz and Sparc.

---
BMX racing news, Tuesday - April 19, 2011
USA National Championships
W/Free Agent/Rockstar!

So you didn't make the USA Cycling National Championships this past weekend at the U.S. Olympic Training Center in Chula Vista, CA? Neither did we but Dale Holmes was there and you can 'Get A Glimpse' of what was goin' on thru Dale's eyes.
From Free Agent/Rockstar's, Pro T.M., Dale Holmes, featurin', the US National Championships at Chula Vista, CA April 15-17, 2011. Impressions by: Khalen Young, Jason Richardson, Greg Hill, Greg Romero, Rusty Dial and Stephen Larralde. Featuring: Stephen Murray check presentation to Danny Meadows.
---
Jagger Co. Picks Up Top Canadian Rider, Steven Creighton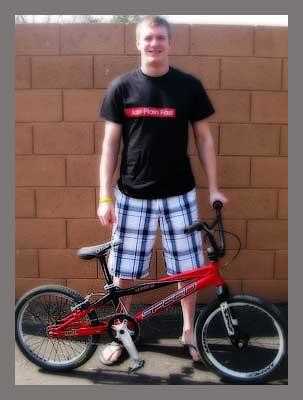 Jagger Co. is pleased to announce that it has signed Canadian Elite Men Steven Creighton to its Speed/THE program for 2011!! Steve will be riding the new M546 Speed Bike equipped with SINZ Elite and ITS parts and wearing THE colors!
Jagger Co. Distribution (who is already running the Intense/Fly National Team) is starting a new program with Speed and THE for 2011. Being the new Speed and THE distributor for Canada we wanted to push those lines across the country and we think that the addition of Steven will really help to achieve this goal.
Steven who lives in Nanaimo, BC is a young and determinate rider who wants to make his mark among the top pros. Steve made his semi-finals at the Youth Olympic games in Singapore last year and took 2nd place in Junior Men at the 2010 UCI Race in Abbotsford. In his first race with the new Speed Machine at the ABA race in Oregon, he took 6th in a deep field of A pro, only a few days after getting his new ride, witch goes to show that both Steven and Speed have what it takes!
We have been watching Steven racing for the last 2 years and are pleased with the work and the effort he is putting in his BMX career, he's showing that he is serious and deserves a chance to reach the top.
Visit our Jagger Co. Website for more info and visual of Steven http://jaggerco.com/anglais/main_ang.htm
Jagger Co. is the Canadian Distributor for: INTENSE BMX / FLY RACING / SINZ ELITE / SINZ / THE / ITS / SPEED BICYCLES / SUPERCROSS BMX / SPEEDLINE / ANSWER PRODUCTS / KRUSHER PROTECTIVE GEAR / COLONY BMX / STOLEN BMX / EYE BIKES / AVENUE BMX / DRIVE and VIGOR HELMETS

---

Morphine Industries Roars into Port Charlotte BMX
Photos courtesy of Rich Snipes.
While the rest of the country is just ramping up their state season racing, the sunny state of Florida is full on and coming down the back side. Port Charlotte BMX was the place for the final stop state qualifier before the state championship race next month.
Elite Men- Mike Kapes hit the track Saturday with a stacked class to flex his speed and skill. Starting off the day with a win in the first moto continued his forward progress to the main event. Starting off the Main with a slamming the gate put mike off the pace. He was forced to take the slower Pro side of the second straight and fought for a sixth place at the finish.
Sunday started with Mike airing it out in practice on the second straight with a heroic triple. The landing proved to be too much for the pedal which bent and left Mike with sore ankle. Shaking off the ankle proved to be easy as the competition heated up and Mike went to the main after rolling through motos. Charging the track from lane eight ain't the easy way to the podium, but Mike railed the first turn and pulled riders through the rest of the track to take the second spot at the white line.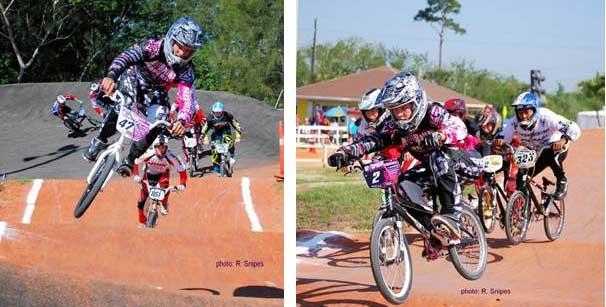 14 Expert – Noah Reeves made his appearance at Charlotte after missing quite a bit of the state racing this season. Needing to make up for lost time, Noah rolled through motos and continued straight on through the main with a perfect 1-1-1-1 for the day.
Noah started off Sunday with the same momentum racking up a 1-1-1 in motos. However, he came up short at the finish line by the width of a tire taking a second ending a great weekend of racing.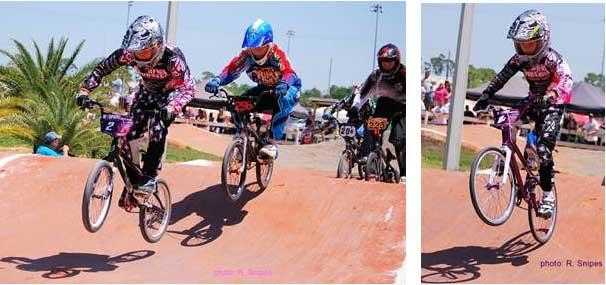 12 Expert – Richie Dey showed up with the best looking ride in the place, showing off his newly pimped out purple and white HARO. He took command of both Class and Cruiser on Saturday putting on a clinic of domination. Richie smoked both groups with an impressive 1-1-1-1 for a perfect day across the board.
On Sunday Richie, continued on flying through motos and taking his usual place at the main gate. However in class he struggled to keep his bike down out of the gate, riding a wheelie all the way down the starting hill. Richie fought back to take a spot on the podium with a three. Determined to not have the same result in Cruiser, Richie torn out of the gate and lead from wire to wire to take the top spot.
Morphine Industries Riders dominated at two other nationals during the weekend racking up a dominating 11 perfects for the weekend. The crew will continued to be split up as we race and represent around the country. Upcoming races in Sarasota, West Palm and Chula Vista are on the near horizon.

---
Factory Felt / SC Actionsports Racin' all around the U.S.

RACE TO VIRGINIA!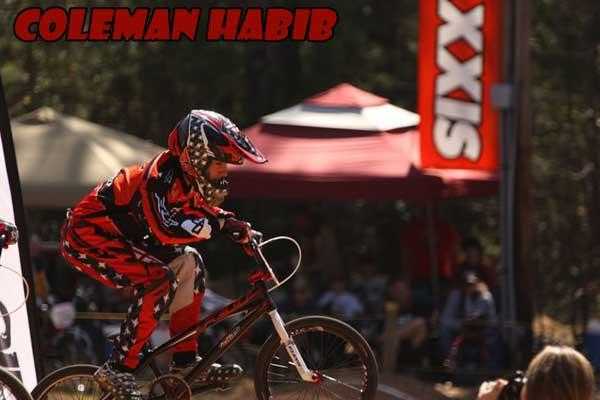 Loaded up the new Felt trailer and off we went to Petersburg VA for the next stop on the NBL race schedule. Upon arriving at the track I immediately noticed the dirt berms something we don't normally see nowadays at most NBL tracks. The front straight was short so whoever had a snap had the advantage.
Did someone say snap cause Dylan Perez 17-18x had it all weekend winning the 16-29 open class both days...I think I might have seen the cobb webs come flying off him down the front straight. Anthony Catlow 13x/cr battled hard with Cameron Moore all weekend and took home two second place finishes and perfected both days on cruiser.
Coleman Habib 12x/cr put on a clinic in 12x and cruiser all weekend taking double perfects. He then took a shot at Cameron Moore in the open and just could not pull it off great riding from both competitors. Gabe "The Flying Chihuahua" Hatem 10x/cr was just that FLYING! There was no second straight smoother than his all weekend. Gabe finished with two seconds in class and a 1st and a 2nd on cruiser.
Marcus Christopher 8x/cr made his debut in the red and black and after some first moto jitters he righted himself and never looked back. Marcus finished with double wins in class and cruiser. The team did great posting a 328 on day#1 for a third place finish overall and then put the pedal down and took home the win on day#2 with a 336.
Congrats to all the riders that attended the race and we'll see you in Florida.
The Factory Felt team was not only killing it in VA but Samantha Brown 15G was at the Powder Springs ABA national on the same weekend and in true Felt fashion she was on fire all weekend taking home wins both days.
So you're thinking OK Felt had a fantastic weekend on the eastcoast....well we were also on the westcoast at the NBL national in Las Cruces NM.
Ricky Castro 10x/cr took his Felt Sector Expert and put on a show in New Mexico! Ricky finished the weekend with perfects in class and two big wins in cruiser. The team was busy busy busy this past weekend and had a very successful weekend at that.
I would like to thank all the sponsors that help make this happen Scotty Cranmer SC Actionsports, Alan Foster at Felt Bikes, Ray Hudson at Fly, Gus at Profile Racing, Pete at BRG, Rob at JohnsonBMX Number Plates, Alex Rims and of course the riders and parents. - Carlos Perez/T.M. Factory Felt / SC Actionsports
---
Factory Felt/ Sc Actionsports Peachtree City & "Alaina Returns" Race Report

Race To Georgia!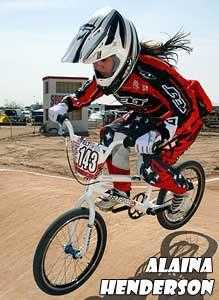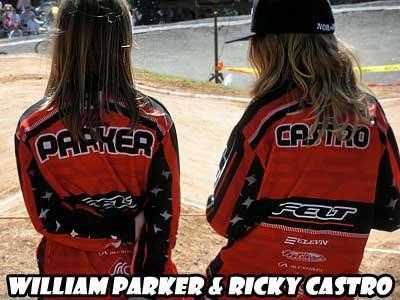 You could not ask for a more perfect setting than Peachtree City BMX and 80 degree weather to start the outdoor NBL national season. We rallied up the Factory Felt / SC Actionsports team and took to the Georgia red clay like ants to jelly.
Right out of the box William Parker 9x/cr was on fire laying it down all weekend with wins in class and cruiser. In the 10x/cr class Ricky Castro and Gabe "The Flying Chihuahua" Hatem put on a tandem synchronized display of jumping which bought oohs and ahhh's from the crowd. Ricky finished on the podium in class and took home the win in cruiser. Gabe battled hard all weekend with 2nd in class and 2nd in cruiser.
Coleman Habib 12x/cr dominated his class with wins both days and took home a 1st and 2nd in cruiser. Coleman has to be one of the most improved riders in his class and is starting to be prove it by winning a stacked 12-13 open on Sunday. Anthony Catlow 13x/cr was flying all weekend taking 2nds in class and winning both days in cruiser.
Dylan Perez 17-18x was still brushing off the northeast snow and made it to his semi's both days. Samantha Brown 15G podiumed on day#1 and dominated on day#2 with a big win. Joey Lynn Henderson 14G rode well on day#1 making the podium and went down hard on day#2 pulling herself from the main.
All in all it was great being able to enjoy some sunshine and warm weather in Georgia. The track was in great shape! The turnout was very impressive with over 200 motos for both days. The National team competition was super strong with 16 National teams and 16 NBL teams competing for the NBL bonus money. The Factory Felt / SC Actionsports team took a fifth on day#1 and a third on day#2 placing in the money both days.
Alaina Returns! ..... On another front Alaina Henderson Elite Women made her comeback from that horrible injury and was at the ABA Winter Nationals in Speedworks BMX Surprise Arizona. Alaina was the Alaina of old shaking off the cobwebs and making her main both days in a very talented field of Elite Women. This girl has to be one of the toughest most determined Elite riders in the country look for her to continue to ride hard and make mains all year long.
I would like to thank our great sponsors Felt Bikes, SC Actionsports, Profile Racing, Vans, BRG, Fly Racing, eFinwear, JohnsonBMX Plates and Alex Rims. Carlos Perez - TM Factory Felt / SC Actionsports
---
UCI Cycling National Championships
Sharrah and Post win Elite Titles as 36 BMX national titles are awarded in Chula Vista
Official USA Cycling News Release: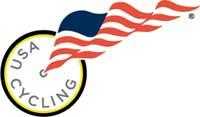 Chula Vista, Calif. (April 16, 2011) — Over 400 athletes vied for national titles at the fifth annual USA Cycling BMX National Championships on the campus of the U.S. Olympic Training Center in Chula Vista, Calif. on Saturday.
Riders of all ages and abilities, from 5-year-old beginners to seasoned pros like defending 2010 USA Cycling BMX National Champion Nic Long (Lakeside, Calif./Haro-Rockstar-Kenda) survived the heat to deliver an action-packed day of BMX racing.
In the elite men's main, Corben Sharrah (Tucson, Ariz./GT Bicycles) continued the momentum he gained with last week's win in the first supercross in Pietermaritzburg, South Africa. With a flawless performance, Sharrah topped silver medalist David Herman (Wheat Ridge, Colo./Intense Bicycles) and Tyler Brown (Chula Vista, Calif./Factory Crupi). "My goal is to be up there in the top three going into mains," Sharrah said. "I was able to do that and I got the win. It feels really good. The year's been going well. The first ABA nationals went well and the first supercross went really well."
Alise Post (St. Cloud, Minn/Redline) rode away from silver and bronze medalists Brooke Crain (Visalia, Calif./Haro/Rockstar) and Arielle Martin (East Spanaway, Wash./Intense BMX) to win the elite women's gold medal. "Went out there for my first moto and had a great lap and it all just snowballed from there," Post said. "It just got better and better on every lap. I live here, so it was just like any practice session. I had fun and it all worked out. It's awesome to win a national championship. It's been a long time coming. I've had some bad luck in the past whether it's a crash or not the best race. I think what the USOC and USA Cycling are doing with putting their national championship on the supercross track is pretty cool, so I'm really happy to have won it."
In the junior men's race, three USA Cycling National Development Program participants took home the hardware. Rusty Nesvig (San Diego, Calif./Factory-Intense) earned the Stars-and-Stripes jersey ahead of Justin Posey (Winston-Salem, N.C./Dan's Competition) and Lain Van Ogle (Auburn, Wash./Redman) in the junior men's race. "I just had a good gate. I was staying focused," Nesvig said. "I knew I had to get a good snap to stay up front. Once I had the hole shot, I just had to keep it smooth and it was all good from there."
With the 2012 Olympic Games on the horizon America's brightest BMX stars shone brilliantly in Southern California on Saturday. "I'm very pleased with how everything went," USA Cycling's BMX Program Director Mike King said. "I wasn't too surprised by the results. Corben's been hot lately and Alise has been a little banged up, but she's showing that she can hang in there. "I'm very excited about how our juniors ran today. They're the future of the program and think they ran great."
In addition to the elite and junior elite fields that highlighted the day, amateur racers provided plenty of action as well. Riders between the ages of five and 50 not only competed for the right to slip into a Stars-and-Stripes jersey on the podium's top step, but also for eligibility to represent the U.S. at the 2011 UCI BMX World Championships from July 27-31, in Copenhagen, Denmark. The top eight athletes in each age group earned invitations to the amateur world championship event.
See below for a list of winners in all categories, or click here for complete results. Click here to check out a PHOTO GALLERY of all the action. Watch video snippets of the action courtesy Go211.com.
2011 USA Cycling BMX National Championships
U.S. Olympic Training Center; Chula Vista, California
Saturday, April 16, 2011
CHAMPIONSHIP LEVEL NATIONAL CHAMPIONS
Elite Men: Corben Sharrah (Tucson, Ariz./GT)
Elite Women: Alise Post (St. Cloud, Minn./Redline)
Junior Men: Rusty Nesvig (San Diego, Calif./Factory Intense)
Junior Women: Brooke Crain (Visalia, Calif./Haro-Rockstar)
Challenge Level National Champions
Girls 8: Madelynn Desantis (Simi Valley, Calif./Sycamore BMX) ... Girls 9: Leyna Jones (Oxnard, Calif./Sycamore BMX) ... Girls 11: Madison Martinez (Santa Clarita, Calif./Factory Intense) ... Girls 12: Anais Hill (Austin, Texas/Young Guns BMX Factory) ... Girls 14: Kelsey Van Ogle (Auburn, Wash./Redman) ... Girls 15: Rachel Mydock (Glendale, Ariz./Jr bicycles.com-speed) ... Girls 17+: Shay Glynn (Norco, Calif./Profile Racing/Monster) ... Boys 5-6: Tyler Grigsby (Rio Linda, Calif./Form-Elite Bicycles) ... Boys 7: Peter Choat (Bakersfield, Calif./Hyper Bicycles) ... Boys 8: Jack Kelly (Kerns, Utah/Factory Extreme-GHP-Fly) ... Boys 9: Patrick Coo (Bellflower, Calif./Bike Alley-Redline-Rocks) ... Boys 10: Anthony Saldivar (Ontario, Calif./Bike Alley-Redline-Rocks) ... Boys 11: Shayne Lewis (Chula Vista, Calif./Factory QSI BMX) ... Boys 12: Kevin Pauls (Simi Valley, Calif./Factory Speed) ... Boys 13: Ryan Pettigrew (Watsonville, Calif./Jr Bicycles.com-Speed) ... Boys 14: Walker Finch (Fort Collins, Colo./Redman) ... Boys 15: Cole Tesar (Huntersville, N.C./Factory Speed) ... Boys 16: Maliek Byndloss (Cape Coral, Fla./Ssquared-TLD-Answer) ... Men 17-24: Kalvin Davis (Albuquerque, N.M./505 Racing) ... Men 25-29: Brandon Panuccio (Phoenix, Ariz./Vendetta-Elite Bicycles) ... Men 30 +: Stephen Larralde (Riverside, Calif./Free Agent-Rockstar) ... Masters Class: Matt Pohlkamp (Cincinnati, Ohio/Dan's Competition)
Cruiser Class (24") National Champions
Boys 12 & Under: Sean McElroy (Palmdale, Calif.) ... Boys 13-14: Ryan Pettigrew (Watsonville, Calif./Jr Bicycles.com-speed) ... Boys 15-16: Maliek Byndloss (Cape Coral, Fla./Ssquared-TLD-Answer) ... Men 17-24: Chase Hines (Summerville, S.C./SE Racing) ... Men 25-29: Brandon Panuccio (Phoenix, Ariz./Vendetta/Elite Bicycles) ... Men 30-34: Stephen Larralde (Riverside, Calif./Free Agent-Rockstar) ... Men 40 – 44: Jason Carnes (Austin, Texas/Redline) .... Men 45+: Eric Rupe (Woodland Hills, Calif./GT-Oakley) ... Women 13-14: Destiny Ford (Rio Linda, Calif./Ssquared-AtomLab) ... Women 17-24: Felicia Stancil (Lake Villa, Ill./Factory Speed)
About USA Cycling - Recognized by the United States Olympic Committee and the Union Cycliste Internationale, USA Cycling is the official governing body for all disciplines of competitive cycling in the United States, including road, track, mountain bike, BMX and cyclo-cross. As a membership-based organization, USA Cycling comprises 70,000 licensees; 2,400 clubs and teams; and 34 local associations. The national governing body sanctions 2,900 competitive and non-competitive events throughout the U.S. each year, manages 17 national championship events and is responsible for fostering the identification, development, and support of American cyclists. To learn more about USA Cycling, visit www.usacycling.org.
---
BMX racing news, Monday - April 16, 2011
JOIN THE WARREN FAMILY AS THEY RIDE 3000+ MILES TO PROMOTE BMX!
BMX Mania Editor's Note - We've signed on to sponsor a cool undertaking that Jim and Tammy Warren and their BMX racin' daughter, Neva are launching this week. Ride The Nation is a 3000+ mile road ride that will see them pedal around the eastern half of the country over a four month period to promote the sport of BMX Racing and visit a LOT of NBL tracks as they make their way. We'll be hosting a weekly blog that you can follow with BMX Mania Specific news from the ride, on a dedicated page where you can read the entire ride. Hats off to the Warrens, it's a HUGE undertaking and ought to be an interesting one! Riders Ready......Pedal For 3000 Miles!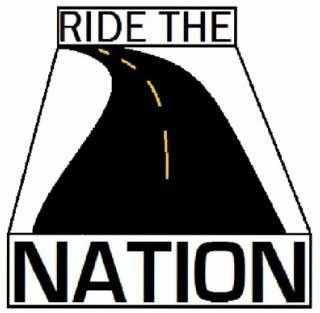 Every seasoned BMX rider knows the importance of a lightweight bike. I've seen some take extreme measures to lighten their bike beyond the latest carbon fiber components. I've seen holes drilled in seats and even number plates, to shave ounces off of the total weight.
So what self- respecting BMX parents would put their 12 year old "veteran rider" on a 70 lb. bike from the 1990's? That would be us: Jay and Tammy Warren.
Together with our daughter, Neva, we are "Ride the Nation", a family of 3 that is bicycling 3000+ miles, leaving this Wednesday, April 2oth and riding until September to promote our beloved sport of BMX, as well as a few other goals.
Our 12 year old daughter's road bike, when loaded with pannier bags and bed rolls, weighs 70 lbs. It is not a high end, advanced road bike but rather an affordable 1990's mountain bike (turned touring bike) with a steel frame and racks to accommodate clothing panniers and camp gear.
If you're thinking we've made our child the "pack mule" for this trip, rest assured, she has the lightest load. I'm the BMX mom and my 1990's L.L. Bean mountain bike weighs 88 lbs. fully loaded with front and rear pannier racks, 4 pannier bags and one front basket.
My husband's 1990's Giant Iguana mountain bike and second hand "BOB" single wheel trailer, together weigh 118 lbs, when fully loaded. Of course, his load includes our daughter's BMX race bike, which is substantially lighter than her road bike. (Do the math: 4 bikes, 3 riders)

---
BMX racing news, Friday - April 15, 2011
Chase BMX Complete Bike Spy Shots!
The complete bike from Chase BMX is out and about, with this spy shot of what's going to be unveiled at the USA Cycling National Championships / ABA SoCal Nationals, this weekend.
If you are going to the those races this weekend in Chula Vista, CA stop by the Shimano booth to check out the first showing of the Chase BMX bike loaded up with parts from BMX Racers Group and their sponsors Tioga, Thomson, ODI, etc.


www.bmxracinggroup.com
---
BMX racing news, Thursday - April 14, 2011
Rich Montalvo Video Genius From Sunshine State Series - Charlotte Qualifier Day One
Elite Men | Day 1
For More, Check Out Rich On Facebook!
---
---
BMX racing news, Wednesday - April 13, 2011
---
---
---
Go211 Presents Live Coverage Of The USAC National Championships!
---
---
BMX racing news, weekend edition - April 8-10, 201
---
---
---
---
---
BMX racing news, Wednesday/Thursday - April 6 & 7, 2011
---