The UCI BMX World Championships got off and running with the Opening Ceremonies. The Lord Mayor of Birmingham, Councillor John Lines gave a welcoming speech, wishing 'Best Wishes' to the thousands of participating racers......Thanks, Mayor John!

Another speech was given by UCI BMX President, Abe Schneider who gave a challenging and welcoming speech to add to his list of Opening Ceremony speeches and Abe has done a lot of them.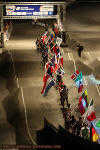 The organizers had a couple of videos played on the 'Jumbo-Tron'. One of them was a time lapse video of the track being built. Nice! This track is super smooth and is running great....It was fun to see it come together real quick on the big screen.
The second video that they played was a rather care free vid of a BMX "Racer" all dressed up in Stay Strong race gear, ripping around Birmingham on his Stay Strong bike, throwing down back flips, wall rides, and tons of other freestyle moves, stop at a store and picked up some Rockstar (Duh!), drank it down right there in the store and motored on down the sidewalk to help launch the UCI Worlds.
And, of course, the highlight of the event was the Parade Of Countries, featuring rider representatives from all over the globe, the march of the flag carriers walking down the last straight and lining up shoulder to shoulder on the third straight made an impressive sight.
All in all, a good show, thanks to the City Of Birmingham, the NIA staff, UCI BMX and the event organizers......LET THE RACES BEGIN!