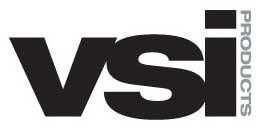 CERRITOS, CA—VSI Products, Inc. is proud to announce that it will launch an ambitious contingency program that could result in payouts of more than $120,000 to professional and junior elite racers who use VSI products and get on the podium at ABA, NBL and UCI races in 2011.
Starting with the ABA Silver Dollar Nationals in Reno, Nevada, January 16, VSI will pay bonuses to racers using Intense, Speed, Sinz Elite, Sinz and THE products who finish in the top three or four at each of the 14 selected UCI/ABA weekends, five NBL National Tour races, UCI Supercross events and the World Championships.
"We can't afford to support every racer we'd like to or every racer who wants to ride our stuff. This is a way for us to give back to the sport and support all the riders who really like and prefer to use our products," said Toby Henderson, VSI's founding partner.
All professional men and women and junior elite men and women qualify for the contingencies, which range from a low of $3 for a junior rider who gets third using a single smaller VSI item like Sinz Elite grips at an ABA or NBL National to $750 for a male professional winning the Worlds on an Intense or Speed frame.
Riders who use all the qualified VSI products and win would get $190 to $1,750, depending on the race and the rider's level. Juniors and A Pros will be eligible for the higher AA Pro payout amounts when they race against them in events like UCI Supercross races or combined ABA races.
"We're following the motocross model for this program. I'm a big fan of motocross. Both sports are similar and we're trying to elevate BMX to that level of professionalism. I see this as a great way to give back to the sport, especially the younger riders, women and A pros who typically aren't funded well, if at all," Henderson said.
All riders must have their bikes inspected by an approved race official before racing to be eligible and must submit reimbursement forms to be paid.
More info regarding the process and procedures will be announced soon.
VSI Products, Inc. designs, develops and sells a wide range of BMX and mountain biking products including bicycles, frames, forks, components, helmets, protective gear, clothing and tires. Intense, Sinz Elite, Sinz and THE are market leaders in BMX racing, while the newly created Speed, EYE and AVE (pronounced Avenue) brands are quickly gaining popularity within the BMX community.
| | | | | | | | | | | | |
| --- | --- | --- | --- | --- | --- | --- | --- | --- | --- | --- | --- |
| AA Pro Men | | | | | | | | | | | |
| | | THE Helmet | Intense/Speed Frame | SINZ Forks | THE Number Plate | SINZ Wheels | ITS Tires | THE Saddle | SINZ Stem | SINZ or THE Grips | Totals |
| ABA/UCI Races | 1st | $100 | $200 | $100 | $50 | $50 | $50 | $50 | $50 | $50 | $700 |
| (14 Races) | 2nd | $50 | $100 | $50 | $25 | $25 | $25 | $25 | $25 | $25 | $350 |
| | 3rd | $25 | $50 | $25 | $10 | $10 | $10 | $10 | $10 | $10 | $160 |
| | 4th | $10 | $25 | $10 | $10 | $10 | $10 | $10 | $10 | $10 | $105 |
| | | | | | | | | | | | |
| NBL Nations Tour | 1st | $100 | $200 | $100 | $50 | $50 | $50 | $50 | $50 | $50 | $700 |
| (4 Races + Grands) | 2nd | $50 | $100 | $50 | $25 | $25 | $25 | $25 | $25 | $25 | $350 |
| | 3rd | $25 | $50 | $25 | $10 | $10 | $10 | $10 | $10 | $10 | $160 |
| | 4th | $10 | $25 | $10 | $10 | $10 | $10 | $10 | $10 | $10 | $105 |
| | | | | | | | | | | | |
| UCI Supercross* | 1st | $200 | $400 | $200 | | $100 | $100 | $100 | $100 | $100 | $1,300 |
| | 2nd | $100 | $200 | $100 | | $50 | $50 | $50 | $50 | $50 | $650 |
| | 3rd | $50 | $100 | $50 | | $25 | $25 | $25 | $25 | $25 | $325 |
| | 4th | $20 | $50 | $20 | | $10 | $10 | $10 | $10 | $10 | $140 |
| | | | | | | | | | | | |
| Worlds | 1st | $250 | $750 | $250 | | $100 | $100 | $100 | $100 | $100 | $1,750 |
| | 2nd | $150 | $300 | $150 | | $50 | $50 | $50 | $50 | $50 | $850 |
| | 3rd | $100 | $200 | $100 | | $25 | $25 | $25 | $25 | $25 | $525 |
| | 4th | $50 | $100 | $50 | | $10 | $10 | $10 | $10 | $10 | $250 |
| *Includes A Pros/Jr. Elite | | | | | | | | | | | |
| | | | | | | | | | | | |
| A Pro Men | | | | | | | | | | | |
| | | THE Helmet | Intense/Speed Frame | SINZ Forks | THE Number plate | SINZ Wheels | ITS Tires | THE Saddle | SINZ Stem | SINZ or THE Grips | Totals |
| ABA/UCI Races | 1st | $50 | $100 | $50 | $25 | $25 | $25 | $25 | $25 | $25 | $350 |
| (14 Races) | 2nd | $25 | $50 | $25 | $15 | $15 | $15 | $15 | $15 | $15 | $190 |
| | 3rd | $15 | $25 | $15 | $10 | $10 | $10 | $10 | $10 | $10 | $115 |
| | | | | | | | | | | | |
| NBL Nations Tour | 1st | $50 | $100 | $50 | $25 | $25 | $25 | $25 | $25 | $25 | $350 |
| (4 Races + Grands) | 2nd | $25 | $50 | $25 | $15 | $15 | $15 | $15 | $15 | $15 | $190 |
| | 3rd | $15 | $25 | $15 | $10 | $10 | $10 | $10 | $10 | $10 | $115 |
| | | | | | | | | | | | |
| Pro Women | | | | | | | | | | | |
| | | THE Helmet | Intense/Speed Frame | SINZ Forks | THE Number plate | SINZ Wheels | ITS Tires | THE Saddle | SINZ Stem | SINZ or THE Grips | Totals |
| ABA/UCI Races | 1st | $50 | $100 | $50 | $25 | $25 | $25 | $25 | $25 | $25 | $350 |
| (14 Races) | 2nd | $25 | $50 | $25 | $15 | $15 | $15 | $15 | $15 | $15 | $190 |
| | 3rd | $15 | $25 | $15 | $10 | $10 | $10 | $10 | $10 | $10 | $115 |
| | | | | | | | | | | | |
| NBL Nations Tour | 1st | $50 | $100 | $50 | $25 | $25 | $25 | $25 | $25 | $25 | $350 |
| (4 Races + Grands) | 2nd | $25 | $50 | $25 | $15 | $15 | $15 | $15 | $15 | $15 | $190 |
| | 3rd | $15 | $25 | $15 | $10 | $10 | $10 | $10 | $10 | $10 | $115 |
| | | | | | | | | | | | |
| UCI Supercross* | 1st | $100 | $200 | $100 | | $50 | $50 | $50 | $50 | $50 | $650 |
| | 2nd | $50 | $100 | $50 | | $25 | $25 | $25 | $25 | $25 | $325 |
| | 3rd | $25 | $50 | $25 | | $15 | $15 | $15 | $15 | $15 | $175 |
| | | | | | | | | | | | |
| Worlds | 1st | $150 | $300 | $150 | | $75 | $75 | $75 | $75 | $75 | $975 |
| | 2nd | $75 | $150 | $75 | | $50 | $50 | $50 | $50 | $50 | $550 |
| | 3rd | $50 | $75 | $50 | | $25 | $25 | $25 | $25 | $25 | $300 |
| *Includes Jr. Elite | | | | | | | | | | | |
| | | | | | | | | | | | |
| Jr. Men/Women | | | | | | | | | | | |
| | | THE Helmet | Intense/Speed Frame | SINZ Forks | THE Number plate | SINZ Wheels | ITS Tires | THE Saddle | SINZ Stem | SINZ or THE Grips | Totals |
| ABA/UCI Races | 1st | $25 | $50 | $25 | $15 | $15 | $15 | $15 | $15 | $15 | $190 |
| (14 Races) | 2nd | $10 | $25 | $10 | $8 | $8 | $8 | $8 | $8 | $8 | $93 |
| | 3rd | $5 | $10 | $5 | $3 | $3 | $3 | $3 | $3 | $3 | $38 |
| | | | | | | | | | | | |
| NBL Nations Tour | 1st | $25 | $50 | $25 | $15 | $15 | $15 | $15 | $15 | $15 | $190 |
| (4 Races + Grands) | 2nd | $10 | $25 | $10 | $8 | $8 | $8 | $8 | $8 | $8 | $93 |
| | 3rd | $5 | $10 | $5 | $3 | $3 | $3 | $3 | $3 | $3 | $38 |
| | | | | | | | | | | | |
| Worlds (Jr. Elite) | 1st | $100 | $200 | $100 | | $50 | $50 | $50 | $50 | $50 | $650 |
| | 2nd | $50 | $75 | $50 | | $25 | $25 | $25 | $25 | $25 | $300 |
| | 3rd | $25 | $35 | $25 | | $10 | $10 | $10 | $10 | $10 | $135 |
VSI Pro-Jr. Elite Contingency Program race schedule

Race Name, Location, Date

Number of Payout Days

Paying Classes

ABA Silver Dollar Nationals, Reno, NV, January 15-16

2

AA Pro, A Pro, Pro Women, Jr. Elite Men, Jr. Elite Women

ABA Sooner Nationals, Guthrie, OK, January 29-30

2

AA Pro, A Pro, Pro Women, Jr. Elite Men, Jr. Elite Women

ABA Gator Nationals, Oldsmar, FL, February 12-13

2

AA Pro, A Pro, Pro Women, Jr. Elite Men, Jr. Elite Women

ABA Super Nationals, Desoto, TX, March 4-6

2

AA Pro, A Pro, Pro Women, Jr. Elite Men, Jr. Elite Women

NBL Nations Tour #1, Primm, NV, March 5

1

Elite Men, Elite Women

UCI BMX Supercross World Cup, Madrid, Spain, March 11-12

1

Elite Men, Elite Women

ABA Winter Nationals, Wittman, AZ, March 19-20

2

AA Pro, A Pro, Pro Women, Jr. Elite Men, Jr. Elite Women

UCI BMX Supercross World Cup, Pietermaritzburg, South Africa, April 8-9

1

Elite Men, Elite Women

ABA USA Cycling National Championships, Chula Vista, CA April 17

2

AA Pro, A Pro, Pro Women, Jr. Elite Men, Jr. Elite Women

NBL Nations Tour #2, Sarasota, FL April 23

1

Elite Men, Elite Women

ABA Music City Nationals, Nashville, TN, May 21-22

2

AA Pro, A Pro, Pro Women, Jr. Elite Men, Jr. Elite Women

UCI BMX Supercross World Cup, Papendal, Netherlands, May 27-28

1

Elite Men, Elite Women

ABA Midwest Nationals, Rockford, IL, June 18-19

2

AA Pro, A Pro, Pro Women, Jr. Elite Men, Jr. Elite Women

UCI Supercross World Cup, TBC, June 24-25

1

Elite Men, Elite Women

NBL Nations Tour #3,TBA, June 25

1

Elite Men, Elite Women

NBL Nations Tour #4, Pittsburgh, PA, July 9

1

Elite Men, Elite Women

ABA Great Salt Lake Nationals, South Jordan, UT, July 2-3

2

AA Pro, A Pro, Pro Women, Jr. Elite Men, Jr. Elite Women

UCI World Championships, Copenhagen, Denmark, July 28-31

1

Elite Men, Elite Women

ABA Land O'Lakes Nationals, St. Cloud, MN, St. Cloud, MN, August 6-7

2

AA Pro, A Pro, Pro Women, Jr. Elite Men, Jr. Elite Women

NBL Grand Nationals, Louisville, KY, September 3-4

1

Elite Men, Elite Women

ABA Black Jack Nationals, Reno, NV, September 3-4

2

AA Pro, A Pro, Pro Women, Jr. Elite Men, Jr. Elite Women

UCI Supercross World Cup, Chula Vista, CA, October 1-2

1

Elite Men, Elite Women

ABA Redline Cup West Finals, Boulder City, NV, October 15-16

2

AA Pro, A Pro, Pro Women, Jr. Elite Men, Jr. Elite Women

ABA Disney Cup Fall Nationals, Orlando, FL October 20-23

3

AA Pro, A Pro, Pro Women, Jr. Elite Men, Jr. Elite Women

ABA Grand Nationals, Tulsa OK, November 24-27

2

AA Pro, A Pro, Pro Women, Jr. Elite Men, Jr. Elite Women

40