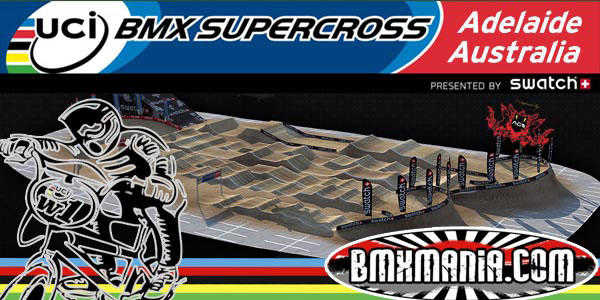 Adelaide Showground - April 11, 12 & 13, 2008
The Adelaide UCI SX Report Page Brought To You By.....Alienation BMX
schedule - Friday/Practice Day - Saturday/Time Trials - Sunday/Race Day
LADIES OF ADELAIDE STARGALLERY - Adelaide Stargallery
It's Sunday In Adelaide.......UCI Supercross Race Day!
Elite Men's Podium

Elite Women's Podium

1st David Herman/USA 2 Maris Strombergs/LAT

3 Kamakazi/AUS 4 Michal Prokop/CZE

5 Raymon van der Beizen/NED 6 Luke Madill/AUS

7 Emilio Falla/ECU 8 Jared Graves/AUS

1 Sarah Walker/NZL 2 Arielle Martin/USA

3 Samantha Cools/CAN 4 Tanya Bailey/AUS

5 Jill Kintner/USA 6 Amanda Geving/USA

7 Nicole Callisto/AUS 8 Gabriela Diaz/ARG
Check it out! Bubba's givin' the BMX Mania Guy the Evil Eye. I can just hear him, "Crap! There's that irritating BMX Mania Jerry Guy! Maybe if I stare at him, he'll go away!" Nah! Bubba'd never say that.....

(We hope!)

'Flying Ladies!' At left, it's Caroline Buchanan and (Right) Tanya Bailey 'airin it out' on the first straight. Tanya made the final along with Nicole Callisto, making a good showing for the host country, Australia.
Michal Prokop had a nasty landing in his semi. Running in fourth after a BIG crash in Turn Two, Michal crashed right on the Finish Line to just barely qualify for the Final! BMX Insanity!
Martijn Scherpen was sidelined for competition due to a recurring shoulder injury that "comes and goes", leaving him incapable of serious racing. Not good, buddy, get that all healed up!
Mike Day, looking quite stylish in the pro section. Mike came up a bit short in the semi, after getting taken out in turn two.
Khalen Young was flyin' a new Swatch sponsorship, and just missed out on a Home Crowd main event appearance when he washed out in Turn Two, in the lead!
With the UCI flag flyin' in their wake, dR, Donny Robinson and Kamakazi make their way around the Adelaide track. Kama made his first UCI SX final and brought home a nice 3rd. dR waits for another day.
Maris Strombergs And Friends, "gettin' some groceries" at the UCI SX Adelaide race. Maris also got a 2nd place, and some Swiss Francs while he was there. Not bragging or anything, but that's a nice photo, by the way! :-)
The "Jumbo Tron" with graphics and timing by Swiss Timing/Swatch tells the story in the Elite Women's class. Sarah Walker takes the win.
LADIES OF ADELAIDE STARGALLERY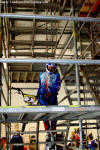 sOME OF THE PIX HAVE LITTLE COMMENTARY INCLUDED, JUST DROP YOUR CURSOR ON THEM FOR MORE.
Men's Final Lineup
Maris Strombergs, Jared Graves, David Herman, Luke Madill, Raymon Van Der Beizen, Emilio Falla, Kamakazi, Michal Prokop
Women's Final Lineup
Samantha Cools, Sarah Walker, Arielle Martin, Nicole Callisto, Amanda Geving, Tanya Bailey, Gabi Diaz, Jill Kintner
Watch, Sunday for big performances from Australia's, Sam Willoughby (Left) and Lauren Reynolds, who had out standing performances, Saturday in the Time Trials.
Saturday/Time Trials
Elite Men's Time Trial Official Results
Elite Women's Time Trial Official Results
1st - Donny Robinson/USA
1st - Jana Horakova/CZE
1-41
42-82
83-DNF
| | | | | | | | |
| --- | --- | --- | --- | --- | --- | --- | --- |
| | | | | | | | |
| We heard that the Adelaide Airport reported a low flying Czech Aircraft in the area, but we're pretty sure they just got confused with Michal Prokop, 'Flyin Low' at the Adelaide Showgrounds. | Renee Junga, '05 Silver Medalist in Paris, and 'hope of the future' for Australia, lost the use of her legs in '06 in a MTB crash. Ck it out. She's parked on the first straight shootin' her former team mates and competitors...NICE! | Jared Graves, mountain bike sponsor, Yeti, made him a SWEET BMX bike frame. We forgot to ask him if it was going up for sale any time soon. It probably will be, and is 'sweet as'. We'll keep you posted. | The Netherland's, Lieke Klaus was 1 of 2 Elite Women to be taken to the hospital, on Friday. Aussie, Elite Woman, Krystal Cranfield broke her collarbone in another accident on the track. | Redline's, Bubba Harris has his eyes fixed on a spot with Team USA to the Olympics. This weekend is critical to his chances for success. | Here's that sweet shot of Ramiro Marino from the front page of Mania. Sweet, Cool and All That Other Jazz that you could imagine to describe BMX Radness. | All Eyes On Sam! Supercross & Canada's finest female, Sammy Cools, in 'mid snap' at the top of a very BIG start hill. Every one was watching the ladies as they worked out the kinks, hit up some BIG dubs and got ready for Sat. | BMX Blur! The French Men were rockin' in Adelaide and Damien Godet did his best to out run the BMX Mania Canon Mark III on his Redline, but it didn't work. For once WE were too fast for him, and that kid IS fast! |

Adelaide Showground, Goodwood Road, Adelaide, 5034, Australia
Friday 11th April
09.00 - 11.30 Registration
11.45 - 11.55 Riders briefing
12.00 - 13.25 Elite Men Practice - Group A
13.30 - 14.55 Elite Men Practice - Group B
15.00 - 16.25 Elite Women Practice - Group C

Saturday 12th April
09.00 - 11.00 Transponder fitting
09.00 - 09.55 Elite Women Practice - Group C
10.00 - 10.55 Elite Men Practice - Group B
11.00 - 11.55 Elite Men Practice - Group A
12.30 - 13.00 Elite Women Time trials qualification #1
13.00 - 14.30 Elite Men Time trials qualification #1
14.30 - 15.00 Elite Women Time trials qualification #2
15.00 - 16.30 Elite Men Time trials qualification #2
16.15 - 16.30 Team Manager meeting

Sunday 13th April
12.00 - 12.25 Warm up Elite Men
12.30 - 12.55 Warm up Elite Women
13.00 -15.00 Elite Men 1/8 Finals 1st round
Elite Women 1/4 Finals 1
Elite Men 1/8 Finals 2
Elite Women 1/4 Final 2
Elite Men 1/8 Finals 3
Elite Women 1/4 Final 3
15.15 - 15.45 Elite Men Quarterfinal
Elite Women Semifinal
Elite Men Semfinal
16.00 - 16.15 Elite Women Final
16.15 - 16.30 Elite Men final
16.45 - 17.00 Awards ceremony
---