Sifiso Nhlapo Picks Up Exclusive Bike Deal with Morewood Bikes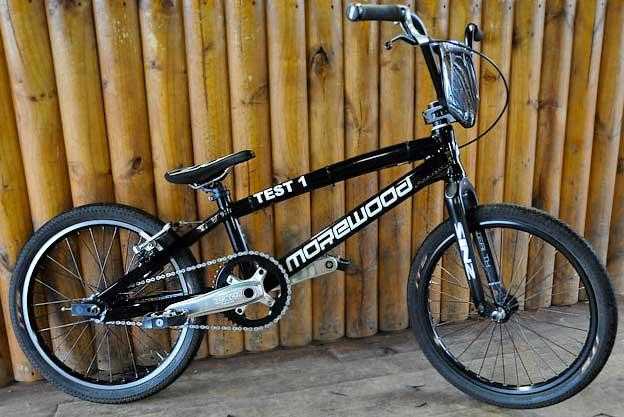 Interview and words by Mark Squire/Team Skizo
Return to BMX Mania, Click Here!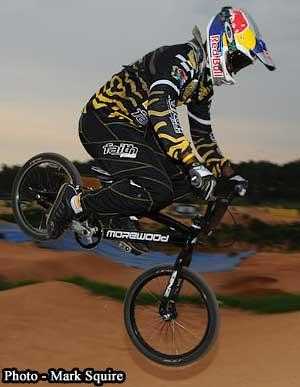 Pietermaritzburg, South Africa; a small little town situated amongst some dense forestry has become a mountain biking heaven for a lot of South Africans and international mountain bikers. They have hosted MTB XC & DH World Cups, which are fixtures on the calendar for 2011 again. This small little town that supports anything with two wheels and rides their dirt has caused it to become very popular on the UCI race fixtures.
In 2009 we saw the first UCI BMX SX round that came to South Africa and was hosted in Pietermaritzburg, with that success South Africa hosted the 2010 UCI BMX World Champs.
Many South Africans had heard the name Skizo 105, but didn't quite understand what he did daily and lives and dies for. Not many understood the thrills and adrenaline that these riders get to experience for 36 seconds, in July 2010 that all changed when they witnessed Sifiso Nhlapo come back from injury and finish second in the UCI BMX World Championships behind BMX Olympic Gold Medalist, Maris Strombergs.
Not only did that wake a nation up and explode on to TV and sport adverts but it raised awareness to a little factory tucked away in the Pietermaritzburg Industrial Area, Morewood Bikes ( morewoodbikes.com ).
Many have heard the name Morewood Bikes from MTB'ing which has become recognizable in the industries in Europe and the US and this little factory that pumps the "Morewood" brand of hand built bikes out to the rest of the world have only two things missing from their line ..... Road and BMX Bikes.
Road Bikes are something I'm not sure they will get into as their catch phrase is "the bikes that downhill built" but they have now decided to partner with Sifiso "Skizo" Nhlapo to build a competitive BMX which they can eventually supply to the rest of the BMX world.
We caught up with Skizo, Patrick Morewood (Founder of Morewood Bikes) and Richard Carter (Partner) to give us the low down and get it straight from the horse's mouth…..
Mark Squire: So Patrick please give us a little bit of info about yourself and your MTB range.
Patrick Morewood: I started building bikes for myself in university and another friend of mine and we had a small DH team that we made bikes for. Not long after that I met my partner in the business Richard Carter. Together we then put a proper company together and over the past 8 years have built from just DH bikes to a full range of MTB bikes. Along the way funny enough I was asked by a few people to make BMX's which I reluctantly did which were only a hand full of them as it was not the right time for us.
Mark Squire: You say you where a little reluctant to build BMX bikes, what has motivated the change now with Skizo?
Patrick Morewood: I have had little to do with BMX Racing since I raced many years ago, but when they brought the show to PMB and I saw how passionate these guys are and how the sport has evolved like DH where we are involved I realized that's were we want to be too. We are passionate about bikes, riding, racing ourselves and to see Sifiso ride with so much heart and how passionately, Proudly South African he is, is just great for sport as a whole in this country.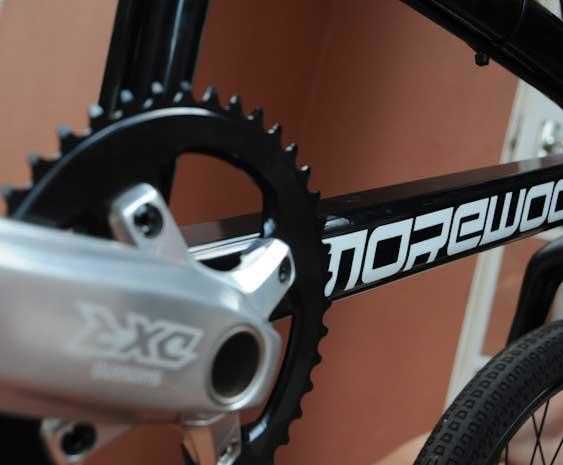 It was really interesting to see that the bikes haven't really changed but the riders and tracks have, the bike fits in with what we do and if we can work with one of the top BMX riders in the world and he comes from South Africa then it can really be a great synergy and build a proudly South African brand to go overseas.
Mark Squire: Give us some of the thought and design that went into the BMX compared to your MTB.
Patrick Morewood: With the BMX we didn't want to really re-invent the wheel, we just wanted to give Sifiso from the brief he gave us a rock solid bike, that handled well, was stiff and felt good. The bike is really stiff which we have been able to do from the tubing we have designed and use through our MTB range, on the test bike the seat tubing is still MTB tubing but that will be changed to the standard BMX size so its easier in the production models to get seat posts etc…
Mark Squire: Anything else before we end off?
Patrick Morewood: We are really excited to be working with Sifiso on this project and making bikes that he can really do well on and enjoy riding. We hope that in the future the production bikes that get sold around the world will allow all riders from all levels to ride a bike and get to feel and experience what he feels every day.
.....After catching up with Patrick we got straight on to Skizo to find out how the first test session went on his new steed….
Mark Squire: Mr. Skizo 105 you have just got your "Test" Morewood BMX tell us your first impressions when you pulled it out the box?
Skizo: It looked pretty cool and I knew it was the geometry I wanted so I was pretty excited to get it built up and take it for a burn. Once it was built it looked pretty mint and I wasn't sure what to expect once I was going to get on it, It's a full black on black bike a few chrome parts here and there pretty much what I like.
Mark Squire: What are the parts that you going to be running on the Morewood next year?
Skizo: Morewood Frame, S&M Bars and Stem, Sinz Forks, Shimano DXR, Alienation Rims, Intense Hustler Tyres, Chris King Hubs, THE seat, its pretty much the set up I have been riding but as we get the frame right we have started to partner with companies that we would like to move forward with. For now I just want to change small things at a time so its not too different all at once if that makes sense.
Mark Squire: Watching you ride for the first time on the 2nd lap you where hitting everything on the track does that mean the first one is that suited for you?
Skizo: You know what it's like when you get something new you're always excited, it was pretty good from the get go and I could go right out there and have fun. It does feel different to what I was used to as I was on my last bike for 4-5years, this one is really stiff and I can definitely feel how that transfers to acceleration.
Mark Squire: What caused the move to the Morewood BMX?
Skizo: I had a great run with the Intense it brought me a lot of victories and great memories like 3rd Worlds 2008, Olympic Final and then 2nd at Worlds in PMB. The relationship has ended great there with Rob (from Intense SA) as he has really looked after me with the US guys over the past couple of years. Moving forward I think there is great synergy with the brand being built and coming out of SA, we have a round of the UCI SX World Cup in Pietermaritzburg again and I think that's going to be a great place to show case the bike in front of all the fans again, nothing like a little bit of added pressure hahah. Its nice to be on a home brand and I look forward to representing the brand for them and I think there is a lot that will happen in the future.
Mark Squire: The future BIG plans there already picking up in your last statement?
Skizo: You know the sport has really been good to me and I would definitely like to give back through it some how. My main sponsor and longest sponsor MTN have partnered with a great initiative so next year the Team will be MTN/Qhubeka go have a look at this youtube link to get more info on it www.youtube.com/watch?v=qt0w7xXO2H0 and through this initiative I would love to be able to get those kids onto Morewood's one day and create some more champions from SA.
For next year though I will just be testing bikes and racing the frame I feel most comfortable with, the idea is to try and start producing them end of 2011 and hopefully have some other Morewood bikes with me at the Olympics.
Mark Squire: I see the Morewood bikes come from a town with a lot of culture with all the tribes there, all their bikes have some Zulu name which has meaning behind it, what is the BMX called?
Skizo: Being a Zulu guy myself we want to have a good name behind the bike, I have a couple of options in mind but for now it's the "Skizo Morewood". Production bikes will get something special….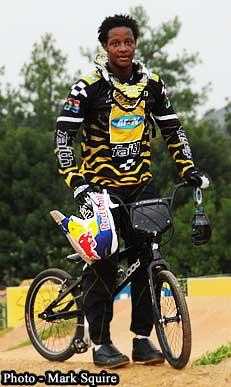 Mark Squire: Anything else?
Skizo: Nope, just looking forward to the season and I'm leaving for the US on the 5th January and hoping to get on that box a little more next year.
.....Last but not least we caught up quickly with Richard Carter who is Patrick's partner and handles the sales and marketing for Morewood.
Mark Squire: Richard what does it feel like firstly to be building a bike with Skizo?
Richard Carter: We are stoked here to have the opportunity, he is a great athlete, very passionate and we like to think we are the same about our brand.
Mark Squire: So when will the public be able to buy these bikes?
Richard Carter: In 2011 we will be focusing with Skizo to get it right, our goal is to start selling by the end of 2011. I think next year it will also give us some good time to market the bike with Skizo as he is a great ambassador for any product and a South African being on a South African built bike I'm sure will create some hype.
Mark Squire: I know I have caught you between flights thanks for the quick chat.
Richard Carter: Thanks, and we look forward to meeting more of the passionate BMX riders in PMB in April.
So there you have it, BMX MANIA first to get the scoop on Skizo's new bike and the first pics to be released