---
BMX Racing News - Weekend Update - September 25, 2014
Willoughby & Pajon Take Top Spots At UCI BMX SX Chula Vista!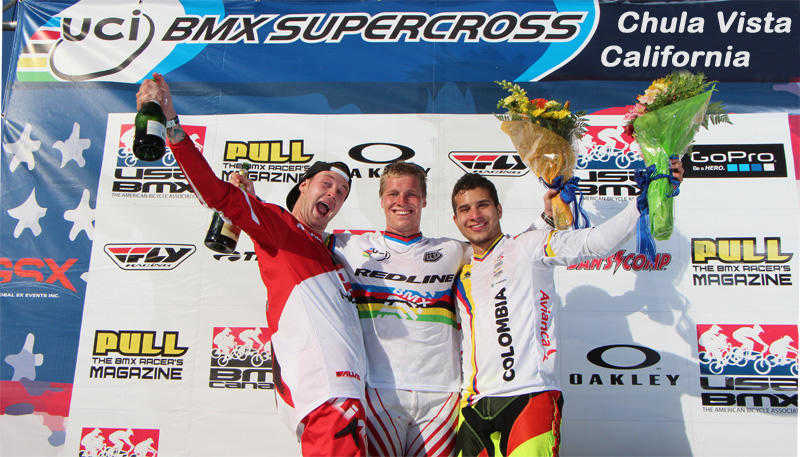 Sorry so slow in getting everything posted, BMX Mania is in transit, please check back for more! In the meantime, check out the CHULA VISTA RACE REPORT PAGE!
---
Connor Fields & Mariana Pajon Win Time Trial Superfinals At UCI BMX SX Chula Vista!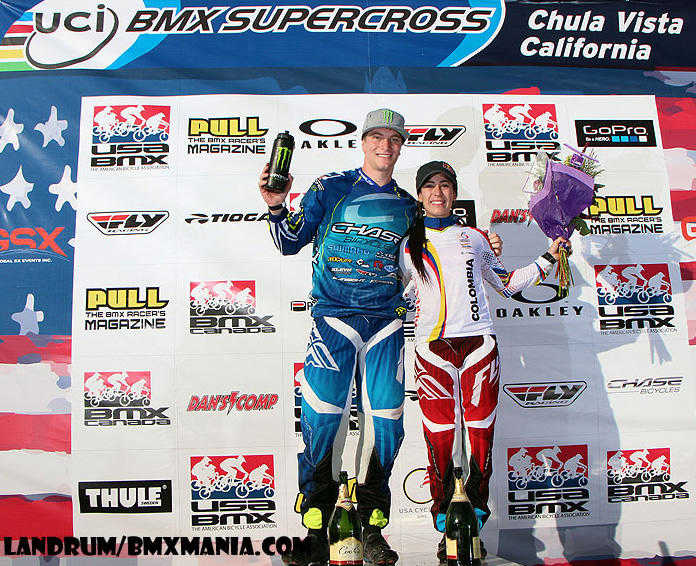 Fields & Pajon win big in the Time Trial Superfinal at the last round of competition for the UCI BMX SX World Cup Series. Racing on his home track, Connor picked up the win over two other Team USA riders, Corben Sharrah and Jared Garcia. Mariana took her win to Felicia Stancil's (USA) 2nd and Laura Smulders (NED) 3rd place finishes. The Superfinal capped an exciting day of racing as Elite Men and Women battled it out in qualification rounds to make it in to Saturday's 64 men and 32 women spots leading to the Finals of the year long and world wide premier BMX racing series.

For complete results and a MASSIVE Photo Gallery from Friday's rock n rollin' action, check out the BMXMANIA.COM CHULA VISTA RACE REPORT PAGE by Clicking Here.
---
Dale Holmes Racing Take The Kids To The BMX Supercross Races!

Chula Vista, CA – Participants from Dale Holmes Racing's, "Ride to End Obesity Program", an interactive program offered as part of the ASES after school programming at Poway Unified School District, where middle school-aged children learn about proper nutrition, the importance of exercise, bike and street safety and the sport of BMX racing with an opportunity to ride bicycles through staged obstacles onsite at schools, will attend the last round of the UCI BMX World Cup Series to witness first-hand the competitive side of the sport.
"I really had fun learning about being healthy and riding the bmx bikes when you visited our school last spring. I am excited about seeing professional bikers this weekend at the Olympic Training Site", said Daniel, a student participant of Ride to End Obesity.
Students will spend the afternoon at the Olympic Training Facility in Chula Vista meeting with professionals of the USA BMX organization, interacting with BMX World Champions, Olympians and other professional riders while watching the final round of the UCI BMX World Cup Series where the title is up for grabs. A Trip to the Track is just one component of the community outreach activities at Dale Holmes Racing. The team offers free instruction/training to underserved children in the community, provides camperships (scholarships) for underserved children to attend its summer day camp at the YMCA and sponsors a number of school visits through its Ride to End Obesity Program to educate young people on the importance of leading a healthful lifestyle.
About Dale Holmes Racing: After 30 years of racing BMX professionally, securing 5 World Championship Titles and being honored with induction into the UK Hall of Fame, Dale Holmes formed his own team, Dale Holmes Racing. The team consists of a professional, international BMX race team, an afterschool program (Ride to End Obesity), a summer camp partnership with the YMCA of San Diego County (BMX Pro for a Week) & a national clinic program.
---
BMX Racing News - Thursday - September 25, 2014
2015 Chase Edge & Element Bikes Hit The Track!

Chase BMX are excited to announce the arrival of the 2015 line of Chase Complete Bicycles. The 2014 bikes went well for us and with a 100% sell thru of the complete bikes, rave reviews, and happy customers. We are excited for the improved 2015 bikes and they will be shipping starting next week with the Edge models and the Element just a week or so after that.
Chase Edge Pro Bike MSRP - $559.99

Frame
Chase Edge Pro 20.5" Top Tube Hydroformed
Fork
Chase Edge Full Cr-mo Fork, Tapered
Head Set
Integrated Sealed Bearing
Chain Ring
Insight 4 Bolt 43 Tooth
Crank
Chase Edge Alloy 175mm
Chain
KMC Z33
Front Hub
32H, Double Contact Seals Bearing
Rear Hub
32H, Double Contact Seals Bearing, 4 Pawl, 96 Points Of Engagement
Rims
Double Wall 32H 1.50"
Tires

Tioga PowerBand Front 1.85" & PowerBlock Rear 1.60"
Brake Lever & Caliber
Tektro
Seat & Seat Post
Pro Pivotal Seat & Post Polished Alloy
Chain Tensioner

Kingstar Twin Hole
---
BMX Racing News - Monday/Tuesday - September 22-23, 2014
Sarah Walker 96 Dreams, Episode 7
BMX Lady Superstar, Sarah Walker takes us through her build up to World Champs 2014 and then gives us the breakdown on how it all went. She then took some time off before getting back into training for the upcoming World Cup events! Check it out here on BMXmania.com, your place to race for World Class BMX Racing.
---
CHASE BMX VIDEO AWESOMENESS FROM UCI SX ARGentina!
Awesome video from the fine folks at Chase BMX reporting in from the UCI BMX Supercross World Cup in Santiago del Estero, Argentina! Follow Connor Fields, Joris Daudet, Anthony Dean, Melinda McLeod, Renato Rezende, and Stefany Hernandez as they race their way through the 4th stop of the 2014 UCI BMX SX World Cup tour.
---
Attention: U.S. Pro Riders.....Time To Pick Your Career Number!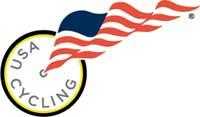 Hey, U.S. riders! YOU STILL HAVE TIME!
.....
USA Cycling Head BMX Coach
,
Jamie Staff
needs to get in touch with Elite riders who need to pick their Career Numbers. Read below for all the details!
It is now time to apply for a 2015 UCI Career number if you have a USA Cycling Elite Men or Women's BMX racing License. License info

Please email Jamie Staff:
jstaff@usacycling.org
your top 3 numbers in order of preference. Confirmation of request will be sent back to original email.
USA Cycling License holder number requests will be sent to the UCI on October 8th, which is one week before the UCI deadline in order to allow time for correspondence.
Please confirm your:
Name
Age
USA Cycling License #
Pick 1
Pick 2
Pick 3
Please get back in touch with Coach Staff as soon as you can!
---
RaymonVdBiezen.com
UCI BMX Supercross Argentina and 3-Nations Cup Belgium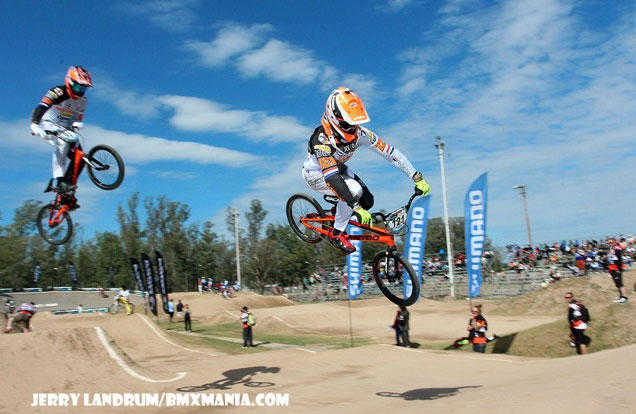 Round 4 of the UCI BMX Supercross (World Cup) in Argentina was fun! Some good race action and great atmosphere with all the fans!

Two weeks ago I flew from Amsterdam to Buenos Aires, and from there to Santiago Del Estero for round 4 of the UCI BMX Supercross series. After the first night we switched to a different hotel, because the hotel we booked was pretty nasty and smelled really bad. The other hotel was brand new, but not finished yet. More teams stayed there and the hotel helped us out nicely!

The first few days we we're all suffering from jetlag, but I felt okay before track practice on Friday. They did a few small changes to the track compared to last year, which was nice in my opinion. Practice felt smooth, but it was really hard to catch the landings of certain jumps, especially the first one coming off the start ramp.

On Saturday I had to race the qualifying heats with a lot of fast riders from South America. I won my first and third heat race. Got 2nd in heat two, so easily qualified for Sunday racing. The top 64 guys split up in 8 groups of 8 racers. My 1/8 finals went pretty good, but I had to race aggressive from the beginning. I won the first race and got 2nd place in the second and third race. During the Quarterfinal I messed up my start, because my reaction was to slow. The other riders closed me in, but I managed to fight back and got 4th by passing 2 guys in the last turn. My semi final was a very strong race and I had the outside start position, which made it even trickier. This time my start was good, but I couldn't get to the inside enough. I was in 5th place behind my teammate Jelle. He didn't make any mistakes, so I couldn't pass him.

To bad I just missed the final by 1 spot, but I'm really happy to be back and race more aggressive! It was another nice experience in Argentina and I really like the fans over there! Congratulations to the podium finishers and my teammate Jelle for taking 4th place, well done!

We flew back home from Argentina on Monday. Stopped for 1 night in Brazil and arrived in Amsterdam on Wednesday. We did some easy training sessions during the week and raced the 3-Nations Cup in Zolder, Belgium (Home to the 2015 UCI BMX World Championships) last Sunday. My jetlag wasn't totally over, but I didn't feel too bad and racing was fun. This race was also important for Olympic country points and we did real well, because we got 1st, 2nd, 3rd and 4th place with the elite men. I wasn't happy to get 4th, because I know I could do better. Anyway, together with my teammates we got maximum points for our country, that's why we raced!

This Saturday I traveled to California for the last UCI BMX Supercross (World Cup) in Chula Vista. Looking forward to race and get more points for the overall ranking.
Jerry Mania Sez! ..... And BMX Mania will be there to catch RVDB on the podium!
---
BMX Racing News - Wednesday/Thursday - September 17-18, 2014
ANSWER BMX and ANSR Motocross Team Up to Bring Race Wear to the BMX Market

ANSWER BMX and ANSR Motocross have teamed up to offer the Syncron line of ANSR race wear and ANSR helmet lines to the global BMX race market.

Over the past 6 years ANSWER BMX has been focused on revamping and increasing its hard parts line of products and had abandoned their prior race wear offerings. Now, with the help of ANSR Motocross, ANSWER BMX will once again be offering high end race wear and helmets to the BMX racing world.

ANSWER BMX President and CEO John Sawyer stated, "The guys at ANSR are the best at what they do in terms of offering stylish, functional, and cost effective motocross race wear. It only makes good business sense to team up with our brother company to bring their expertise to the BMX race market."

ANSWER BMX Vice President, Ryan Birk followed with, "I've personally been wearing the ANSR Motocross Syncron line of race wear since I began working with ANSWER six years ago. The gear is stylish, durable, very lightweight, and affordable. It's a perfect fit for the BMX market. And the designs and fashion have gotten better and better ever year. ANSR is definitely on top of their game and pushing their image forward, just like we are at ANSWER BMX."

ANSWER BMX displayed the new 2015 ANSR Syncron line of race wear and 2015 ANSR helmet line in their booth this past week at the 2014 Interbike Show in Las Vegas. Also, be on the lookout for more exciting news and offerings from both ANSWER BMX and ANSR Motocross in the weeks to come.

For more information on ANSWER BMX, visit www.answerbmx.com . And for more information on ANSR Motocross, visit www.answerracing.com .
---
BMX Racing News - weekend update - September 13-14, 2014
Yess BMX & Europe's Meybo Distro Join Forces!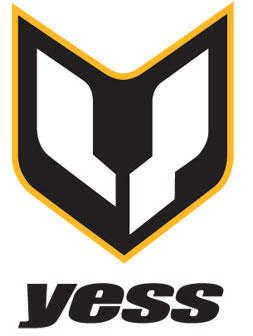 YessBMX adds another international partner for the new season. Meybo Distribution based out of the Netherlands have teamed up with Yess Products (Surrey, Canada) to compliment their assortment of quality BMX Race products.

Here is what Renny Husada, the guy behind the the YessBMX brand had to say, "With Europe having such a large racing community we had to make our presence known and being introduced to the Meybo Distribution group at this year's World Championships, it allowed us to form an alliance with one of Europe's largest BMX race distribution company. I'm very excited moving into the new year having a great partner to take our brand to the next level"

What Meybo Distribution has to say about this agreement: "We are very happy about the future cooperation with YESS BMX. Yess BMX completes our program tremendously well. Soon the Yess products will be available at our dealers."
For more info, check it out at www.yessbmx.com
---
BMX Racing News - Wednesday - September 10, 2014
Awesome Fund Raiser For Old Skool U.K. BMXer,
Damian Myles!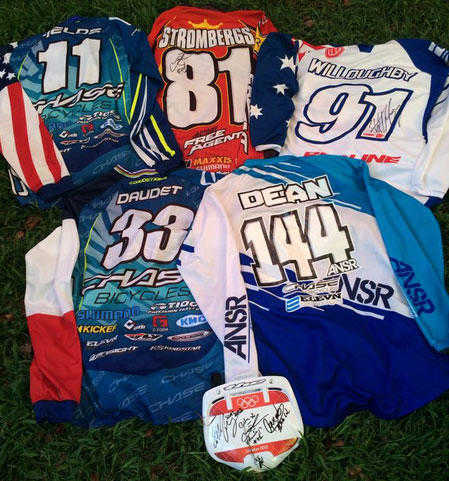 From Dale Holmes at Dale Holmes Racing ..... This weekend at the Manchester U.K. National Uncle Buck, JJ/2024 Mag and the guys will be raffling off top-elite, World Champions and Olympic Medalists race jerseys in support of Damian Myles, who unfortunately has limited days and is trying to leave something in trust for his daughter.

For those that don't know, Damian rode for Hutch and Mongoose in the 80's and was UK National #1.

We have jerseys from former World Champion and Olympian, Connor Fields, 2X Olympic Gold Medalist, Maris Strombergs, Olympic Silver Medalist and current World Champion, Sam Willoughby, French National / European / and former World Champion and Olympian, Joris Daudet and also top-elite rider and current 2nd place holder of World Cup Points, Anthony Dean.

We also have a signed 2012 Olympic Number Plate from all three medalists.

The auction will take place during this weekend's race and please consider giving generously to this worthwhile cause - he is a Manchester local, a good man, great father and former BMX UK#1 - let's rally behind him.

Bidding Note: You can make a bid on some of the goodies at Dale's Facebook page, just search up Dale Holmes Living BMX Legend!
---
BMX Racing News - WEEKEND UPDATE - September 6&7, 2014
Strombergs & Pajon Take Top Spots At UCI BMX SX Argentina
Elite Men
Elite Women
1 Maris Strombergs (LAT)
1 Mariana Pajon (COL)
2 Liam Phillips (GBR)
2 Alise Post (USA)
3 Tory Nyhaug (CAN)
3 Melinda McCleod (AUS)
---
---
Time Trial Saturday At UCI BMX Supercross Argentina!

It's Time Trial Day at the UCI BMX SX in Santiago del Estero in Argentina!

Today will see the first round of racing as Men's & Women's qualifications get underway as well as the Time Trial Superfinal.

Check out the hot racing fotos and cool finishes from Round Four of the UCI BMX Supercross World Cup!
---
BMX Racing News - Friday - September 5, 2014
UCI BMX SX ARGENTINA RACE REPORT POSTED!
CLICK HERE TO FEEL THE POWER!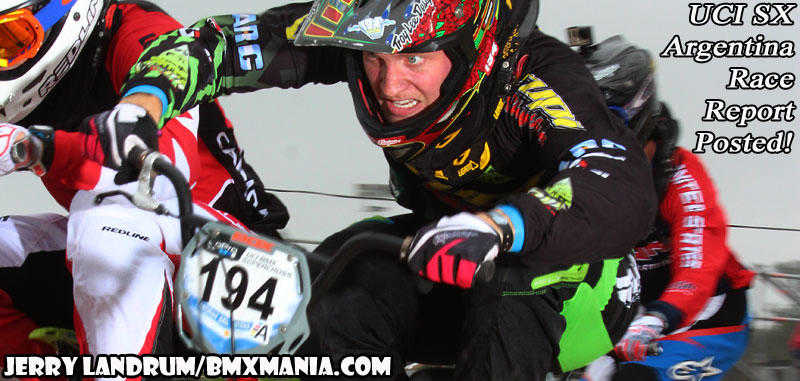 Our coverage of the 2014 UCI BMX SX race in Santiago del Estero, Argentina is underway. We kick off the race coverage with a Big Time Photo Gallery of the Elite Practice on Friday. To check out some HOT BMX Racing Pix, CLICK HERE

and check em out! ONLY at BMX Mania Dot Com!!!!!
---
---
BMX Racing News - Tuesday - September 2, 2014
Behind the scenes of World Class BMX with Caroline Buchanan!
Caroline Buchanan, one of the Best O D Best in High Speed, World Class BMX, has put together an awesome video to give you a behind the scenes look in to the life of Elite Athletes at the 2014 UCI BMX World Championships in Rotterdam, Netherlands.

Step past the security barriers and get a glimpse of what it's like to operate in the top level of Bad To The Bone BMX! Computerized performance analysis, automated recovery gear, traumatic crash recovery, finely tuned nutrition and much more. This video is not to be missed! BMXmania Approved!

From Caroline....."Have you always wanted to know the ins and out of what goes on behind the scenes at a UCI BMX World Championships. Caroline Buchanan brings you a look at the Australian High Performance Team pit area, staff, support, nutrition, recovery and protocols."

Caroline remains in the lead in the UCI BMX Supercross World Cup series with the next stop bringing you all to Santiago del Estero, Argentina.....BMX Mania will be in Argentina this week to bring you hot BMX race action photos and more as Caroline looks to lock up some UCI SX points!
---