ARCHIVED NEWS FOR October 2010
CLICK HERE TO RETURN TO BMX MANIA DOT COM
BMX racing news, Wednesday - October 27, 2010
---
BMX racing news, Tuesday - October 26, 2010
---
BMX racing news, WEEKEND UPDATE - October 23-24, 2010
---
BMX racing news, Friday - October 22, 2010
---
---
---
BMX racing news, Thursday - October 21, 2010
---
BMX racing news, Wednesday - October 20, 2010
---
---
BMX racing news, Tuesday - October 19, 2010
---
BMX racing news, Monday - October 18, 2010
---
---
BMX racing news, Weekend Update - October 16/17, 2010
---
---
New Zealand BMX Track Destroyed In Earthquake!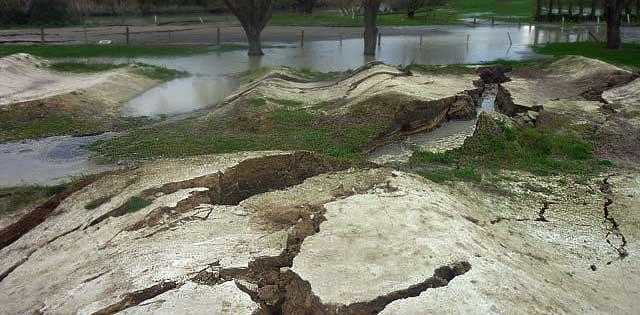 You may or may not have heard that there was a magnitude 7.1 earth quake in Christchurch, New Zealand last month.
Christchurch is situated in the South Island of New Zealand and the quake was massive in that area.
Although there was significant widespread damage, there was not one single fatality, which was a huge relief for everyone.
As the clean up continues, images are coming to light of various damaged buildings and landscape.
Included in those images are some shocking shots of the Kaiapoi BMX Club's facility.
Their track has been completely ruined, so keep the BMXers in Christchurch in your thoughts and prayers as they face the rebuilding process.
More photos can be viewed at facebook.com/pages/Kaiapoi-BMX-Club/112421442128687
---
---
BMX racing news, Thursday - October 14, 2010
---
BMX racing news, Wednesday - October 13, 2010
---
CHECK OUT THE FINE FOLKS AT J&R, YOUR ONE STOP SHOP FOR BMX RACE!
---
LDC Launches New Line-Up of soft goods for the Little Dudes and Their Big Dudes!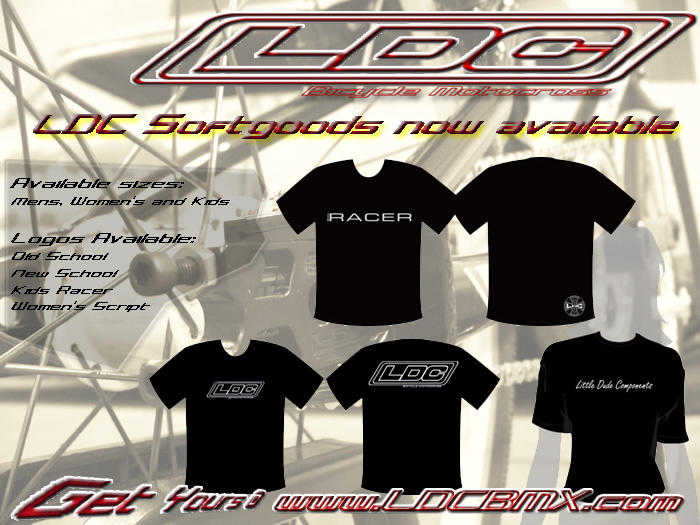 ---
---
BMX racing news, Tuesday - October 12, 2010
NBL Christmas Classic & President's Cup Return To Columbus
Greater Columbus Convention Center To Host Holiday NBL Events
---
---

2010 NBL Grand Nationals Report
Orlando, FL The Cyclecraft BMX Factory Team arrived in Louisville ready to go to work. CycleCraft Elite riders, Ashley Lynch and Ron Vega were set to go at it with the best of the best in Saturday night's NBL Pro Spectacular showdown. Ron was looking fast in the motos and narrowly missed a transfer slot. Though challenged by the great competition, Ashley made it through to the main. Ashley finished 6th in the main and 4th in the overall points for the year. Way to go Ash!
From there it was the amateur riders' opportunity to shine. Patrick "Gumshoe" Deats pulled down a fourth in his 45-49 Cruiser main and finished the season with a national number 3. The latest addition to the team, Kevin Caccavale, utilized his raw power and speed in 19-25 Expert to national number 30. Cody Simson had a stacked class with the 15 Experts. Cody just missed out on a transfer spot to the main; but ended up with a national number 7.
13 Expert Thomas Marchese also just missed out on a transfer spot to the main. Thomas' skill and confidence have improved as the season as gone on. Thomas wrapped up the year with the national number 31 in a tough class. Kate Moore could not catch a break all weekend. She ended up fourth in the 16 Girls main, and finished with a national number 4. Allison Marchese, with motor in high gear all of the time, achieved a national number 9 in a challenging 12 Girls class.
Unfortunately, three CycleCraft factory riders were unable to make the trip due to continuing to recover from injuries sustained while racing. Vinnie Moriera, Elite Masters, fractured ribs and a hip and the World Championships in South Africa. 25-29 Cruiser rider Troy Kasper, fractured his collarbone in five places in a local back in Wisconsin.
Justice Gagnon, CycleCraft's 11 Expert tough guy, sustained head and injuries while racing at the Constitution Classic earlier in the season. The rest of the CycleCraft family really missed these three talented riders as they are critical to team and are great people to have around. Get well guys!
The CycleCraft Bicycle Company is very proud to have this great group of ambassadors representing the brand. We would like to thank all of our riders, families, sponsors and friends that made this a great season for the company. The collective efforts of all associated with Cyclecraft have been integral to our success and very much appreciated. We have a fantastic foundation to continue building upon.
The CycleCraft Factory Team is supported by a great group of co-sponsors, including: Profile Racing (profileracing.com), No Fear (nofear.com), Sinz Racing (sinz-racing.com), Fly Racing (flyracing.com), Intense Tyre Systems (intensetires.com), MCS Bicycles (mcsbicycles.com), Odyssey BMX (odysseybmx.com), CyberHorse Sportswear (chsportswear.com), 24/Seven Graphics (24sevengraphics.com), HRP Designs (hrpdesigns.com), Kovachi Wheels (kovachiwheels.com), Carrollwood Bicycle Emporium (cbebikes.com)
For a full run down of the CycleCraft Co-Factory Team's Grands and national results, or to learn more about CycleCraft Bicycle Company please visit the website at www.cyclecraftBMX.com.
---
---
BMX racing news, Monday - October 11, 2010
---
---
BMX racing news, Friday - October 8, 2010
Sarah Walker Takes the UCI SX pole position in time trials at FRÉJUS
Top 16 Women posted to BMX Mania Race Report Page
THURSDAY PRACTICE PHOTOS POSTED FROM UCI BMX SUPERCROSSS wORLD CUP IN FREJUS, fRANCE

CHECK OUT THE ACTION ON THE UCI BMX FRÉJUS RACE REPORT PAGE!
---
BMX racing news, Thursday - October 7, 2010
BMX Mania's on the road to UCI Supercross France!
UCI BMX FRÉJUS RACE REPORT PAGE POSTED!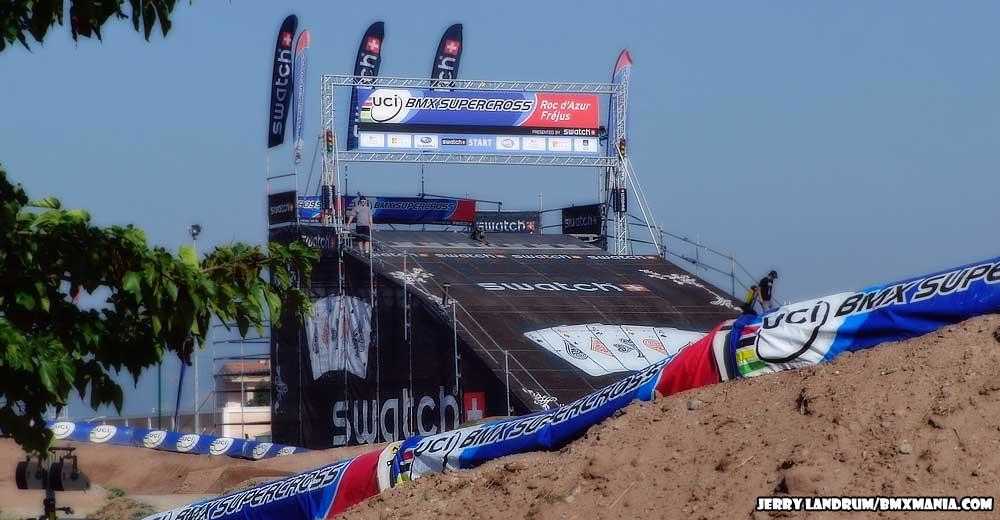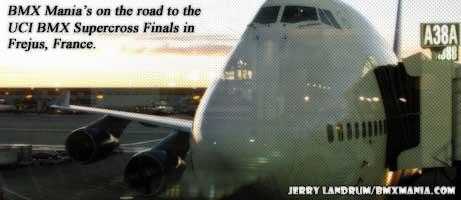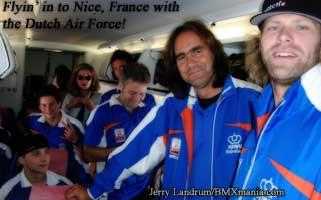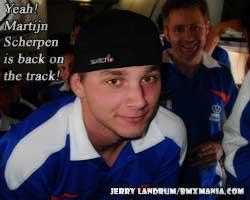 UCI BMX FREJUS RACE REPORT PAGE POSTED!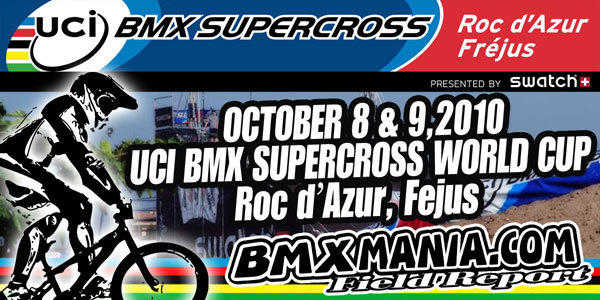 CHECK BACK, WE'RE GOING TO BE GOING CRAZY WITH EXCITING BMX RACE STUFF FROM THE UCI BMX SX FINALS IN FREJUS!!!!!
---
---
---
BMX racing news, Tuesday - October 5, 2010
---
---
BMX racing news, Monday - October 4, 2010
---
---
---
BMX racing news, weekend update - October 2-3, 2010
---
BMX racing news, Friday - October 1, 2010
---