ARCHIVED NEWS FOR November 2010
CLICK HERE TO RETURN TO BMX MANIA DOT COM
BMX racing news, Tuesday - November 30, 2010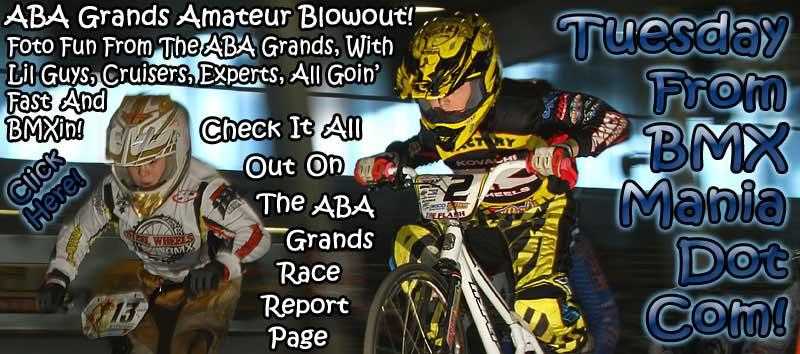 ---
Crupi & Pro Gate partner up in 2011!
Baldwin Park, California – Crupi Parts, Inc is proud to announce the formation of the Factory Crupi/ProGate Team for the 2011 race season. Crupi has long been known as the leader in high end BMX racing components and Pro Gate is also known as the leader in high end gate systems as Pro Gate is the official gate system of the UCI and USA Cycling!

Together, Crupi/ProGate will show the racing world what being the best is all about! Greg Swingrover; President of Crupi Parts, Inc. is really proud of this team partnership as it combines 2 leading BMX racing companies together for a single goal; a show of excellence!

Jesse Vargas; Team Manager of Crupi/Pro Gate says the team is really stoked about this partnership and cannot wait to train on the world's best gate system. Jesse went on to say that the team trains hard all year long but with the addition of a ProGate system to train with, the team's gates will only get better and as we all know, your gate is usually the difference between a podium finish or not!

Pierce Barker; ProGate's main man is really happy with the Crupi connection as he has seen Crupi riders all over the World and feels that this connection with a high profile World Team like Crupi will truly showcase how well a team that trains on a ProGate system can win! Look for the debut of the Crupi/ProGate Team at the ABA Grands later this month in Tulsa, Oklahoma. Crupi will be showcasing a full single rider gate system at the team tent for all to see and possibly even try! Crupi will have literature and all kinds of information on how to get your own gate system to train on.

In celebration of this new team announcement and all the excitement behind it, ProGate is offering 10% discounts on all full single rider ProGate systems through the end of 2010! You can learn more about this and get a quote by emailing ProGate's operations manager; Jay Patch at Info@ProGate.net. Look for ProGate systems at better BMX tracks around the country and all over the World and then look for the Crupi/ProGate Factory Team to dominate the podium this year. Crupi and ProGate; a winning combination!
---
In Episode Three we see Shanaze at her first Samsung photoshoot followed by a trip home to see her family for her 22nd birthday. After being home and being scared by a spider (Wha?), Shanaze travels to France with her team rider Dan McBride where she coaches him at the race and commentates for Freecaster.

CLICK HERE TO WATCH EPISODE THREE

WWW.SHANAZEREADESERIES.COM
---
BMX RACING NEWS, WEEKEND UPDATE - NOVEMBER 27-28, 2010
WILLOUGHBY & DANIELS TAKE ABA NATIONAL PRO CHAMPIONSHIPS!!!!
OTHER NATIONAL CHAMPIONS CROWNED!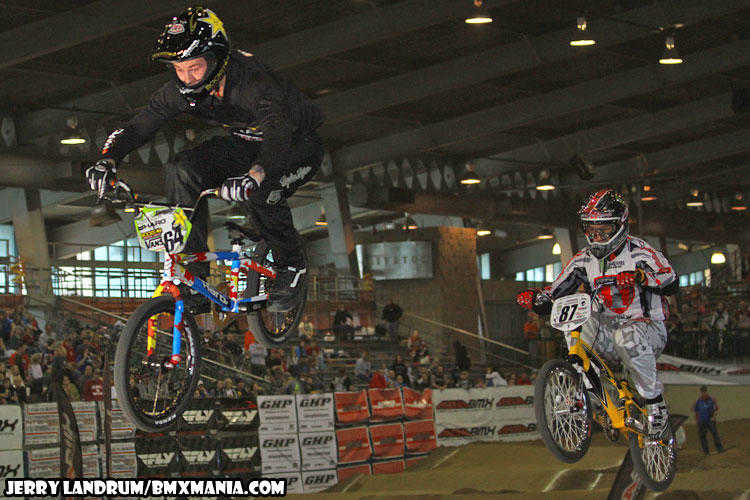 monday update ..... massive aba grands photo galley and report posted!
CHECK IT AT THE ABA GRANDS RACE REPORT PAGE, CLICK HERE!
SATURDAY

CLICK HERE
Joey Bradford Injured During Second Moto Racing, Saturday At The ABA Grands.
FRIDAY - Sam Willoughby Takes ABA Pro Spectacular Elite Men's Win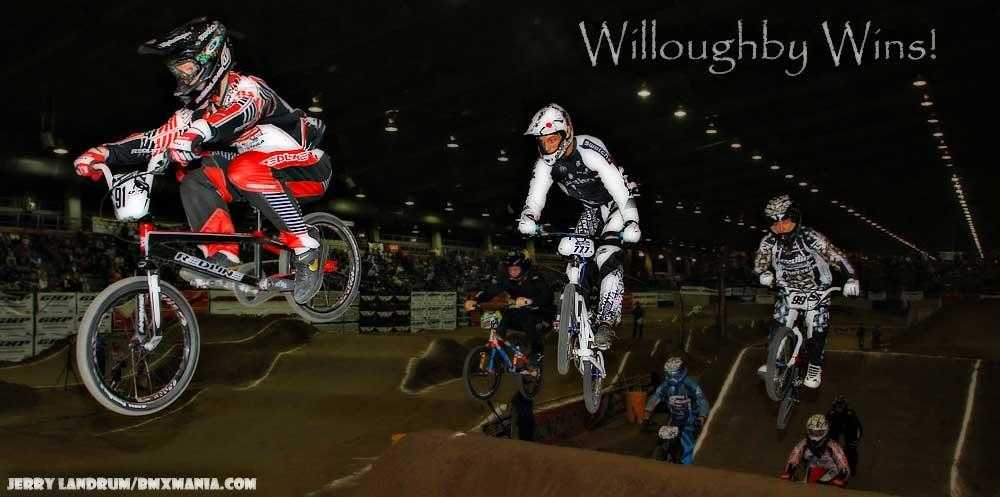 Friday kicked off the competition at the ABA Grand Nationals, the season ending race weekend culminating in crowning the 2010 ABA National Pro Champions. In the top Men's and Women's pro classes, the word of the day that influenced the title chases was INJURY.

Australian BMX super hero, Sam Willoughby scored a BIG win in AA Pro/Elite Men in the absence of Elite Men's rival, Maris Strombergs who went out with a broken wrist in the first round of the day's comp.

In the Elite Women's class, Dominique Daniels all but locked up the year end title while series leader Alise Post watched from the sidelines with a broken ankle.
ABA Pro Spectacular Pro Podium!
Complete Results To Be Posted To The BMX Mania Race Report Page.
Elite Men
Elite Women
Junior Men
Junior Women
A Pro
Vet Pro
USAC Jr Dev. Boys
USAC Jr. Dev. Girls

1 Sam Willoughby

2 Marc Willers

3 Nic Long

1 Dominique Daniels

2 Caroline Buchanan

3 Samantha Cools

1 Rusty Nesvig

2 Jordan Miranda

3 Tanner Sebesta

1 Taylor Wolcott

2 Brooke Crain

3 Dani George

1 Lee Lewis

2 Logan Collins

3 Ronald Vega

1 Paul Caldwell

2 Greg Romero

3 Percy Owens

1 Bailey Olguin

2 Nic Givargis

3 Alden Volle

1 Samantha Brown

2 Shealen Reno

3 Sabrina Bice
---
BMX racing news, Thursday - November 25, 2010
Pistol Pete Is Racin' The ABA Grands!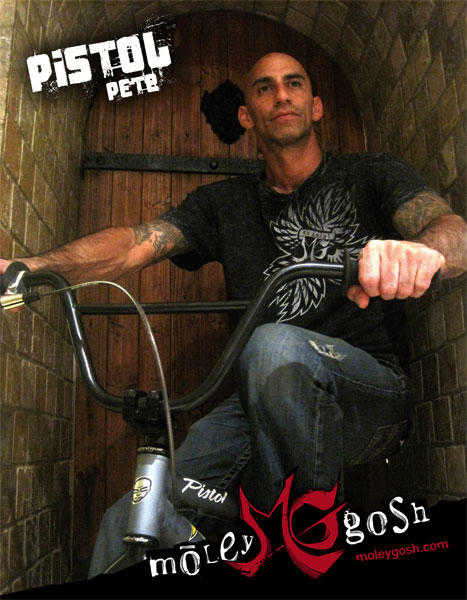 Legendary BMX Pro, Pistol Pete Loncarevich is going to be racing the ABA Grands for Moley Gosh/Fat Man Racing. Pet's no stranger to the ABA Grands having won the National #1 Pro title four times.

If you're at the ABA Grands, make sure and stop by the Moley Gosh/Fat Man Racing pits, where Pistol Pete will be signing his new Moley Gosh poster.

www.moleygosh.com
---
Argentina To Hold National Championships In Cordoba

Official Argentina Bmx Federation News Release

BMX Argentine Championship final. The Argentina Bmx Federation wants to invite all the followers of our sport to the final of the Championship Argentine of BMX which will take place the 26 and 27 November at the BMX track in the San Martin stadium of Córdoba.

The competition will feature such worldwide champions as Gabriela Díaz (multi World title holder), Ramiro Marino (Olympic athlete and amateur world champion), Federico Polo (many Argentine champion), Fabricio Maturano, Lucas Bustos (fourth in the Youth Olympic Games 2010); and the special participation of Javier Colombo who comes to withdraw from the discipline, after competing for ten years in the United States. Javier remains one of the most important Argentine riders being the single latino to win a world title in Brazil 2006.

We wish to thank all who was supporting this BMX year in Argentina.

Fernando Zito press FAB www.bmxargentina.com
---
EQUALIBRYUM WELCOMES TYLER BROWN TO ITS BMX RACE TEAM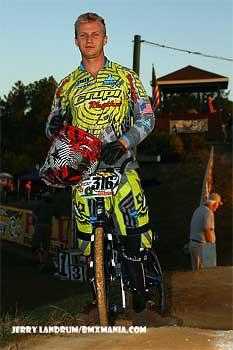 Laguna Beach, California (November, 2010) -- Equalibryum is pleased to announce the sponsorship of top AA Pro BMX racer Tyler Brown.
Equalibryum's proprietary technology combines natural frequencies embedded in our hexagon holograms with titanium infused silicone. Together they work with the body at the cellular level and help regulate your body's natural energy flow, giving you a greater sense of balance, strength and confidence when competing.
"We're very pleased to have Tyler as part of our BMX team. His dedication to the sport over the past 12 years has been extremely impressive and his results speak for themselves" states Brad Barber, Co-founder and President of Equalibryum. He is added to an already impressive list of riders, including Drew Bezanson, Ryan Guetler, and Andy Buckworth.
"Equalibryum has been a great supporter of BMX and I am excited to be added to their team. My confidence and performance level has seen a dramatic increase since wearing Equalibryum's Wristbands. Equalibryum will be with me as I continue to train at the Olympic Training Center in Chula Vista", states Tyler.
In addition to living and training full time at the Olympic Training Center, Tyler will continue to work with Equalibryum and his amateur team while they compete during the ABA season. Tyler also rides for Crupi, Pro Gate, Etnies, Sinz, Sambazon, Tioga, and PowerBar to name a few.
The founders of Equalibryum come from a family history of Kinesiology and working with the body's bioelectric field; along with competitive backgrounds in surfing, snowboarding and motocross.
We fused the hologram technology that react's positively with your body's natural energy field and combined it with Titanium to create what we feel is the most energetic band in the market today.

Equalibryum was created by athletes dedicated to holistic care; Equalibryum is a performance technology that is a favorite among elite athletes, celebrities and every day people. Equalibryum bands aren't only for athletes. Millions of people have been utilizing this technology and are feeling the positive effects on a daily basis.
For more information please contact: Tyler Brown - Tyler@316racingonline.com ..... Brad Barber - Brad@equalibryum.com
---
BMX racing news, Wednesday - November 24, 2010
David Herman and Arielle Martin
Return to Intense for 2011
Intense BMX is pleased to announce that it has reached agreements with David Herman and Arielle Martin who will again race for the Intense Factory Team next season.
"We're really glad we could invite David and Arielle to come back and that both accepted our offers. Both had a bit of bad luck last year with crashes and David was injured at the beginning of the season, but they are each exceptional athletes with the potential to win big," said Toby Henderson, founding partner at VSI, Intense BMX's parent company.
Herman, twice National Number One Amateur, 2007 Rookie Pro of the Year and a two-time Supercross winner, is widely considered to be one of the fastest riders on the circuit. Inopportune crashes while leading semis at UCI Supercross races and a hip injury early in the season kept him off the podium much of the year. He finished 2010 strong, however, with a win at Reno and a third at the Disney Cup. He's currently the ranked 11th going into the Grands.
"Working with Intense the past two years has been a great experience. I'm really excited about being back on the team and I plan to stick with Intense for as long as I can. I know I can do a lot better than I did this year, and with VSI's support I'm confident I will in 2011," Herman said.
Arielle Martin, the 2008 UCI Supercross World Cup Champion and last year's World Championships bronze medalist, has her sights set firmly on the 2012 Olympics. She's currently taking a break from racing before starting an intensive 18-month training program in preparation for the Games in London. She joined the Intense/Monster Team mid-season this year.
"I'm really happy to be staying with Intense for the 2011 season. It has been great working with Toby and Michael and I'm a huge fan of the bikes and product. They are committed to taking BMX to a new level and I'm excited to be a part of that program. 2011 is going to be a great year for us and I can't wait to represent Intense on top of the podium," Martin said.
Herman will race the Grands later this week, while Martin will make her return to the track in January at the Silver Dollar Nationals in Reno, Nevada.
---
BMX racing news, Tuesday - November 23, 2010
Go211.Com Launches Huge ABA Grands Live Video Coverage!
Tulsa, OK – The Greatest Race on Earth is only a few short days away. If you can't make it to Tulsa this weekend don't worry. We will be bringing you live coverage of the entire event from start to finish. The ABA and Go211 have teamed up to provide you with the best BMX racing anywhere on the web. Go211 is the exclusive site to catch the action LIVE. Following each days webcast make sure you check out the on demand highlights.

Make sure to book mark the Grand Nationals microsite now and set your alarm for Friday's coverage of the Race of Champions, followed by the Pro Spectacular Friday night. Then come back on Saturday and Sunday for all of the race action from the Grand Nationals as riders from all over the country battle for NAG Points and the coveted ABA #1 Pro title.
Live Web Cast Schedule
Friday November 26 :
Race of Champions - Live Coverage
7:00 AM CST | 8:00 AM EST
Friday November 26 ::
NAG 5/Pro Spectacular - Live Coverage
6:30 PM CST | 7:30 PM EST
Saturday November 27:
Grand Nationals Round 1 & 2 - Live Coverage
8:00 AM CST | 9:00 AM EST
Sunday November 28:
Grand Nationals Round 3 & Finals - Live Coverage
8:00 AM CST | 9:00 AM EST
---
BMX racing news, Monday - November 22, 2010
NZ BMX HP Coach, Ken Cools, Seriously Injured In Car Crash

In the "Whew, Glad THAT Wasn't Any Worse Than It Was Department, we have New Zealand's High Performance Coach, Ken Cools' close call car crash over the weekend.

While taking his daughter, Avrianna and a friend for some fun 'Dad Time', Ken and the girls were BLASTED by an out of control driver who lost control of his car while rounding a curve and hit them head on.

"Ken's Own Words....."

Yesterday was one of scariest and worst days of my life. I had planned on taking Avrianna and her friend to Chipmunks play center so they could hangout and have some fun. Avrianna's friend lives out in the country and the road leading from their house/driveway goes up a hill and around a tight corner. After securing the girls into their car seats I pulled out of the driveway and started accelerating as I began going up the hill.

Out of nowhere some guy came flying around the corner going way too fast in his WRX STI. Since he was going so fast he couldn't hold the speed just in his lane so his car had swung over into my lane. I saw him at the last minute and reacted by deviating into the open side of the road, which was his lane. Unfortunately he tried to correct himself at the same time and we met head on. He was travelling over 100km so it was a nasty collision.

The girls are OK with some major bruising around the neck from their seat belts. I'm OK but broke a few ribs, fracture in my wrist and my body feels like I got the crap kicked out of me by Mike Tyson. I'm bruised from head to toe and feel like crap, but am so relieved that the girls are ok. I think my biggest injury is the trauma from the whole experience.

Both cars were totaled and the other guy had to be cut out of his car. I'm not sure the extent of his injuries but the paramedics said he had a shattered pelvis. Thanks to everyone for their support thru this as it's been a tough experience, especially since Jenn is due in 2 weeks. Thank God she was not with us.

"Our Own Words....."

Ken Cools, is one of the 'COOLest' Cats in the biz, please keep Ken and his awesome family in your prayers and thoughts as they progress through this tough time. Ken makes it sound like he's super OK and all, but any time you bust up ribs and fracture your wrist, it's serious recovery time. PLUS, having a new baby joining the team in the process is ALWAYS a Job.....Fun and Exciting Job for sure but with the complications of a Daddy, wandering around with a crushed and beat up body, they need prayers and love from the BMX Family.
---
---
RENNEN G-Cog 0 - 20 Sprint Challenge
Rennen/G-Cog Sponsors Cool Contest At The ABA Grands!
Rennen Design Group is pleased to announce that we will be hosting a 0-20mph sprint challenge at our booth the entire weekend of the ABA Grands!

Anyone can enter and participate by coming by our booth and attempt to get the lowest 0-20mph time of the weekend. On Sunday the person with the lowest 0-20 time will win a Coach level G-Cog unit (valued at $1500).

Raffle tickets will be given out to all participants and we will be giving away a brand new complete Intense Team race bike (Thank You Toby Henderson) which we will be using all weekend for the sprint challenge. It will be set up on a trainer and will have flat pedals on it.

Other prizes will be a 12 week Coach G training plan and a Rennen Decimal System Gear pack of your choice. Be sure to stop by and pedal your butt off for a chance at a coach level G-Cog.

There will be a $10 fee to enter for 3 attempts to win you very own G-Cog, you can enter as many times as you like.

Also we will be sponsoring the AA Holeshot award ($500) for the Friday Pro Spectacular race. Last year we saw Kyle Bennet walk away with a cool $500 for being the fastest man to the first turn. Who will it be this year?

As always it is our number one priority to take care of our customers and answer any questions they may have regarding any Rennen Design Group product. Check out www.RennenDesignGroup.com and www.G-Cog.com and let us know what you think.
---
---
Aussie BMX Legend, Tony Harvey Opens HRVfitness Club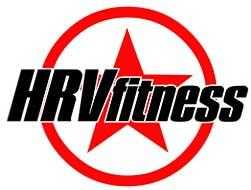 Tony Harvey has been a busy boy in 2010. Not only does he run a very successful personal training business in his home town of Geelong, (Victoria Australia). He is also the Victorian BMX State Coach, Tony looks after around 15 of Victoria's best riders. He also runs his own HRVfitness Race Team of world champions, with the likes of Jaden Rice, Brandon Te Hiko, Oliver Hoarau and Kamakazi. Tony is also organizing one of the biggest event on the BMX calendar this year, The Skin Industries HRV Classic on the 12th of December at Park Orchards BMX Track Victoria.
In between that he has managed to put together a brand new health and fitness club in Geelong. After a yearlong development the HRVfitness Club™ is here; opening Monday 13th December 2010!
HRVfitness Club™ is the perfect intimate boutique training venue for those who don't like to work out in a gym supermarket; with Elite Trainer Personal Training, over 30 pieces of equipment, big screen TVs, showers, change rooms & everything you'll need for your workout - HRVfitness Club™ is the boutique fitness club to workout in & afterwards spend some time to have breakfast and a coffee while reading the paper!
Introducing HRV's Ultimate Fitness™ ½ Hour Workout - an exciting new group training program for busy people. 30 minutes of intensive training combines traditional weights with circuit style training, using shipping ropes, Olympic rings, aqua bags & kettle bells, to ensure you get the Ultimate Fitness™ workout for every muscle in your body. Incorporating 3 lunch-time sessions & 3 outdoor sessions per week; there is NO excuse!
Opening Monday 13th December, HRVfitness Club™ become an Ultimate Fitness Member (for only $10 per week for 12 months and receive 3 free Ultimate Fitness training sessions for free! There are only 50 available so be quick!
Get excited & get ready to enjoy training again at HRVfitness! It's more than a fitness club, it's a lifestyle choice!
Memberships are now available online at www.hrvfitness.com
For more info on events, training or anything HRVfitness related go to www.hrvfitness.com
---
BMX racing news, Weekend Update - November 20-21, 2010
Here We Go, Riverview!!...It's Florida State Series Time.

The local Morphine Industries Florida based crew hit USA BMX at Riverview, FL for the beginning of the highly anticipated Florida State Series. Unfortunately, the crew was down one with 13X Noah Reeves down for the weekend with a back injury. Hey Noah, when you land after doing flips on a trampoline try your feet not your head!!
Elite Men – "Money" Mike Kapes is back baby!! As a longtime fixture and icon in Florida BMX, it was great to have Mike back on the scene and it was reinforced as many cheered as he lined up on the gate. Mike started off the weekend taking 2/1st and a 2nd in motos showing that he was back not only in person but also in performance. Main time brought a battle with Kapes getting the holeshot and leading the pack into the first turn. A slight over clearing of the table into the 1st turn gave the opening that other riders were hoping for. In addition, Mike got tangled with CJ in last turn have him settle for a 3rd at the line.
Sunday was a new day with Mike repeating the same performance in motos. The main event again proved to be a battle. Mike once again got the holeshot a followed suit from Saturday, over clearing the table and bobbling into the first turn. Mike regained his speed and finished with s solid second.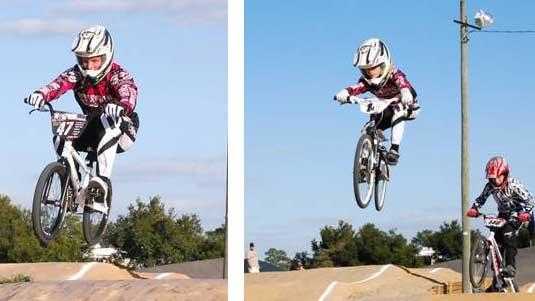 11X – Richie Dey came to Riverview to start off the state series with a statement…and a statement was made. Richie lined up on the gate Saturday on both 20" and cruiser. From the start of the day to the end, Richie took a 1st for a perfect day.
Sunday was déjà vu with Richie's follow riders seeing nothing but the back of his helmet. Richie went wire to wire on both 20" and cruiser ending up in the top spot on the podium.
It was a great weekend of racing a great weekend for the Morphine Industries' riders. The next stop for the Florida State series is St Pete BMX on Dec 3-5. We look forward to having Noah Reeves back and look forward to a lot of the same – top spots on the podium.

Morphine Industries would like to thank its Factory Team Sponsors; HARO BIKES (harobikes.com), Fly Racing (www.flyracingbmx.com), Alienation (www.alienationbmx.com), Sinz Racing (www.sinz-racing.com), Rennen (www.rennendesigngroup.com), Tioga (www.tiogausa.com/bmx), Black Crown (BlackCrownBmx.com) Without you guys we would be sitting in the dirt. Instead, we are rockin' the best looking rigs at the gate and on the podium.
---
JAVIER RECLASSIFIES TO VET PRO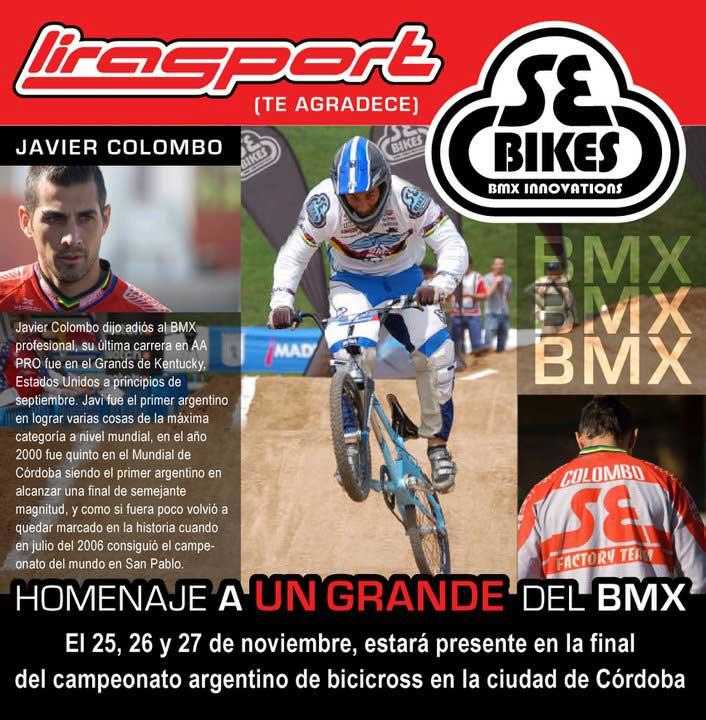 SE Racing News Release
After many years of competing at the AA Pro/Elite level, Javier Colombo has decided to move into the Vet Pro class for the 2011 race season at 32 years of age.
Our Argentinean distributor (www.lirasport.com.ar) says it best in their ad. English translation below:
"

Javier Colombo has said goodbye to the AA/Elite class

. H

is last race as AA/Elite

in the

USA was the NBL Grands in Louisville, Kentucky in the beginning of September. Javi was the first Argentinean to accomplish a few things on the Elite class. In 2000 at the UCI world Championship held in Cordoba, Argentina, he was the first Argentinean ever to

make

a main event

i

n the Elite class and placed 5th

. Si

x years later he

made

history again when he won the UCI world Championship title in Sao Paulo, Brazil becoming not only the first Argentinean

,

but the

ONLY

south American to win the

World Championship

20"

Elite

title.

"
For all

you have accomplished Javier

, we want to say

THANK YOU

and

we

wish you the best

in the Vet Pro class!
---
Grand Canyon's, Dominique Daniels Really Loves Disney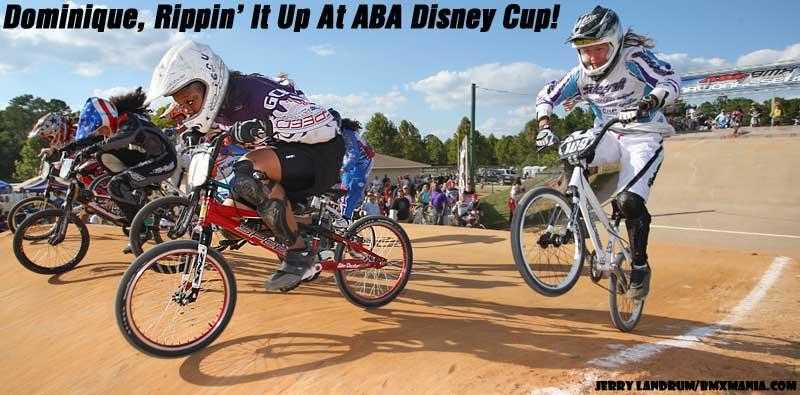 Another year at the ABA Disney Cup another Dominating Performance by 3-D. In her 4 years of racing the ABA final warm up for the Grand's, Dominique Daniels, ABA's current and 2 Time Women's Pro Champion hasn't lost a race and looked to continue her streak for 2010. Friday and Saturday went as usual with 3-D winning both days and it looked like her streak would continue after she won Sunday's final but that all came to an end when race officials put on the brakes with a call that saw 3-D moved from first to last for actions that they ruled illegal on the last straight.
It is a rule that you normally don't see called but when asked Dom said, "I was surprised and upset by the call because I didn't try to block anyone I was just racing as I always do, but I guess if my streak has to come to an end I'm okay with it. It just means that I will have to work harder so it never happens again. I always tell riders to give their all, do their best and leave no doubt as to who you are as a competitor and that's what I did. So congrats to the winner and I will be ready for the ABA Grand's"
Dominique races for Grand Canyon University where she is a 17 year old freshman studying Business. She races on the SPEED frame and wears THE Gear with Stealth Hubs, S&M Bars, LDC Brakes, Custom Plates by Johnson BMX, and that's all maintained by The Bike Doctor at Chandler BMX in Chandler, Arizona.
---
Triple Play From J&R And You're The Winner!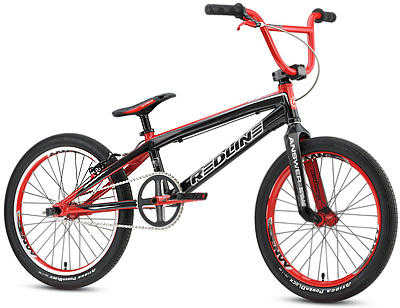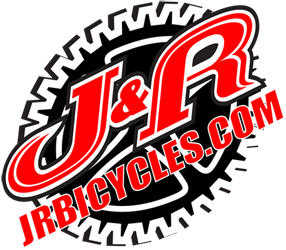 1. We are loading the J&R Bicycles Vending trailer this weekend for the ABA GRAND NATIONALS. We will have a HUGE set up at the race. If there is any special request for product please contact us by 2pm EST, on Monday.
We are now selling Redline Flight complete bikes at the races. If you are interested in a particular size please let us know and we will bring one for you.
2. FREE SHIPPING IS BACK! For a limited time only you will get FREE SHIPPING on all orders over $60 (domestic) and $600 (international). The Holiday season is quickly approaching so don't be left empty handed on Christmas day. We have thousands of items at great prices.
3. SAVE 10% on order over $100.00 plus get FREE SHIPPING. Use coupon code XMAS1210 during checkout.
---
ONE MORE TO GO:

TEAM REDLINE HEADS IN TO GRANDS WITH

FOUR

NO.1 CUPS WITHIN REACH

After a long 11 months of racing all around the country, there is only one
more weekend left
to go
;
kickin' it off with the
Race of Champions on Friday, followed by the "Greatest Race on Earth" - the
ABA Grands
.
H
eld
at the QuikTrip Center in
Tulsa, Oklahoma over Thanksgiving weekend
, this 4 day BMX festival has never failed to bring out the best in every BMX racer who attends.
Not only is th
is th
e final ABA
BMX
National of the
season
; where all
eleven
of the No.1 silver Cups are handed out, but finishes count for double points - so, if you win
the main event
here
in your age class
, it
also
drastically
boosts your point standings
toward a
National Age Group
plate.

This year, TEAM REDLINE is leading three of the eight rider categories - WOMENS ELITE, AA-PRO/ELITE and CRUISER. At the top of the points charts (practically throughout this entire year) are Minnesota's ALISE POST, Aussie sensation SAM WILLOUGHBY and Arizona's GEORGE GOODALL. Not since 2006 has Redline's hot factory squad gone in to Tulsa in three of the eight hot-seats.
But that's not all - Team Redline also has a fourth long shot chance at the Girls Cruiser titles, thanks to reigning Champion CARLY DYAR.
---
ELITE WOMEN: Two girls; each with 2 consecutive years of ABA No.1 titles and seven titles between them both.
Alise Post followed up her 2001 and 2004 No.1 Girl titles with back-to-back No.1 Womens Pro titles in '06 and '07. Similarly, Dominique followed up her 2007 No.1 Girl title with back-to-back No.1 Womens Pro titles the past two years. And after Daniels raced Jr.Womens
"For me and Dom, it will probably go down to the final main," predicts Alise, who is one of USA's top candidates for the 2012 Olympic Games. "For the Grands, ABA will be going with three mains, so that will add excitement since we haven't done 3-mains all year long. Once we get to Tulsa and see what they've created with all that dirt, we'll see who the track favors. If there's a pro section, look out for myself and Brooke Crain. We'll also have some good International competition - such as Caroline Buchanan from Australia; who can also mix things up for the title chase. I'm excited," summed up Alise. "It's going to FUN."
---
ELITE MEN / AA-PRO: With a mere 53 points separating the Aussie points leader from the No.2 seeded Latvian Olympic Gold medalist, the battle for ABA's No.1 Pro plate this year is bound to be insane. Sam has been super consistent this year with 23 mains and 15 podiums this year, compared to Maris' 15 mains and 9 podium finishes - although when it comes to overall wins, "The Machine" from Latvia has tallied up 7 of them to Sam's 4. After these two battled head to head in the UCi Supercross series, BMX history is bound to be made in Tulsa - either way it turns out.
"It's all excitement!," says Sam, who took time out from building up his new 2011 Redline Flight bike for Tulsa, to talk about the long awaited showdown. "It's always been a childhood dream of mine to be up for the ABA pro title. I'm going in to Tulsa as prepared as I can be. All I have to do is do what I can do, and not worry about what you can't control. That's pretty much my game plan. We'll find out on Sunday if it all comes out in my favor."
As a final word or warning to his competition, Sam added, "I did good at the Disney Cup and I felt like I was at 90% there. For Tulsa, I will be at my full 110%."
---
41-45 CRUISER: Check the points. Do you see the common denominator? That's right; it's 41-45 cruiser. With four of the Top-5 in Cruiser points all racing in the same class - and all four of these guys about 99% guaranteed to make the final, this will be one main event on Sunday night that you won't want to blink for at least 35 seconds.

"It'll be crazy," summed up Gorgeous George. "Half of our 8-man gate in the main can literally be up for the No.1 Cruiser championship. And you know that with so much on the line, there's going to be some elbows thrown and it'll be a race to the finish. With so much on the line in the 41-45 year old cruiser class, we'll see who chokes under the pressure and who can handle it."
George is the reigning No.1 Cruiser champ from last year; and hopes to retain his No.1 plate. "It's been great running the No.1 this year, and hopefully I can hold on to it for another year," Goodall summed up.
---
Here is how the BMX-version of the "Chase for the Cup" looks - headin' in to Tulsa:

ABA WOMENS PRO
rank
Rider
Points

Leader)

Sponsor
Hometown
1
ALISE POST
2530
Redline Bicycles
SAINT CLOUD, MN
2
DOMINIQUE DANIELS
2490
-40
Grand Canyon Univ.
GILBERT , AZ
3
BROOKE CRAIN
2237
-293
Clayborn Bikes
VISALIA , CA
4
TAYLOR WOLCOTT
1912
-618
ROSEVILLE , CA
5
ASHLEY VERHAGEN
1897
-633
Crupi Parts
SIMI VALLEY , CA
6
AMANDA GEVING
1536
-994
MCS Bicycles
LARGO , FL
7
COURTNEY TOMEI
1155
-1375
Supercross
MORENO VALLEY , CA
8
STEPHANIE BARRAGAN
1064
-1466
Eazy Money
MONTCLAIR , CA
9
ALAINA HENDERSON
989
-1531
Alltow Wrecking Crew
RUBY , NY
10
ARIELLE MARTIN
900
-1630
Intense
SPANAWAY, WA

ABA ELITE/AA-PRO
rank
Rider
Points

Leader)

Sponsor
Hometown
1
SAM WILLOUGHBY
2483
Redline Bicycles
ADELAIDE, AUSTRALIA
2
MARIS STROMBERGS
2430
-53
Free Agent-Rockstar
MURRIETA , CA (Latvia)
3
MARC WILLERS
1831
-652
Redman-Rockstar
MURRIETA , CA
4
NIC LONG
1690
-793
Haro
LAKESIDE , CA
5
DENZEL STEIN
1485
-998
Redline Bicycles
DESOTO , TX
6
KHALEN YOUNG
1476
-1007
Haro
MURRIETA , CA (Australia)
7
CRISTIAN BECERINE
1447
-1036
Free Agent-Rockstar
COSTA MESA , CA
8
RANDY STUMPFHAUSER
1404
-1079
GHP
SANGER , CA
9
DONNY ROBINSON
1330
-1153
Hyper
NAPA , CA
10
KYLE BENNETT
1301
-1182
Free Agent-Rockstar
CONROE , TX

ABA CRUISER (Amateur 24")
rank
Rider
Points

Leader)

Sponsor
1
GEORGE GOODALL (41-45)
1557
Redline Bicycles
CHANDLER, AZ
2
BRODIE SPOTT (8cru)
1542
-15
Clayborn
VISALIA , CA
3
TODD PARRY (41-45)
1540
-17
SE Racing
AMERICAN FORK , UT
4
DAVID ARCHIBALD (41-45)
1535
-22
Crupi Parts
PUYALLUP , WA
5
JOEL REINOEHL (41-45)
1534
-23
Vendetta-Elite
HENDERSON , NV
6
MICHAEL GONZALES (11cru)
1532
-25
Redman-Rockstar
WATSONVILLE , CA
7
JAMES STARKS (36-40)
1528
-29
Vendetta-Elite
CITRUS HEIGHTS , CA
8
RUSTY DIAL (36-40)
1528
-29
Free Agent-Rockstar
KELLER , TX
9
COLE TESAR (14cru)
1527
-30
Phantom~OnTrac
HUNTERSVILLE , NC
10
LANDON SELLERS (11cru)
1525
-32
Redman-Rockstar
CANYON LAKE, CA
---
GIRLS CRUISER: Last years Girls Cruiser champion - CARLY DYAR, of Chandler, Arizona - is currently sitting in the No.5 spot, only 28 points behind points leader Madison Martinez and No.2 seeded Kelsey vanOgle. In this division, the Chase for the Cup really comes down to how many riders show up for each age class; counting for an extra 2 pts per competitor. So far this year, the younger 11-13 year old Girls Cruiser class has outnumbered Carly's 14-16 class all year long, putting her at a points disadvantage for holding on to her Championship.
"I really wish I had a better shot at the Girls Cruiser title and was closer in points," stated Carly. "It's been great running the No.1 plate this year, and all I can do is give it my best and try to win the Grands main. Rider points is completely out of my control. My focus will be going after the N.A.G. No.1 plate. If a National No.1 happens again, then that'd even sweeter."
Without a doubt, the 2010 BMX season finale is bound to be a great show - with the eleven National No.1 Championships on the line, and multiple Age Group No.1 plates to be decided. And TEAM REDLINE will be out in full force to win what they can - adding to the already long list of past No.1 Champions that adorn the Door of Champions on the Redline trailer. Throughout the weekend, Redline will be handing out Redline bandanas and catalogs, and will hold autograph sessions throughout the day - so be sure to drop on by the Redline pits in between catching all of the great BMX racing action.

REDLINE BICYCLES An Accell Group company
---
ABA Pre Grands Gate Clinic With Mike Redman & 3D!

The ABA is proud to announce a special Pre-Grand's Gate's Clinic with the Master of the Gate, Redman BMX's, Mike Redman. He will be assisted by ABA's #1 Girl Pro, Dominique Daniels and Tim Daniels. The Clinic will be held, Wed, the 24th of November at the Expo Center the day before the Grand's track is open for practice.

Dom and Tim have been doing clinic's at many ABA track's throughout the year and have provided unique gate improvement training techniques that have worked for many riders.

Join Mike to get your last minute 2010 Grand's tune-up at Get-A-Gate in the Expo Center from 3pm-4:30 for 12 and under and 4:30-6pm for 13 and over.

Limited numbers will be allowed so get there early or contact Tim Daniels at 602 575 1650. Email to brightidealearningcenter@hotmail.com Cost will be $25.

COME GET YOUR GATE ON!!!
---
BMX racing news, Thursday - November 18, 2010
INDOOR BMX EXTRAVAGANZA COMING TO BELGIUM!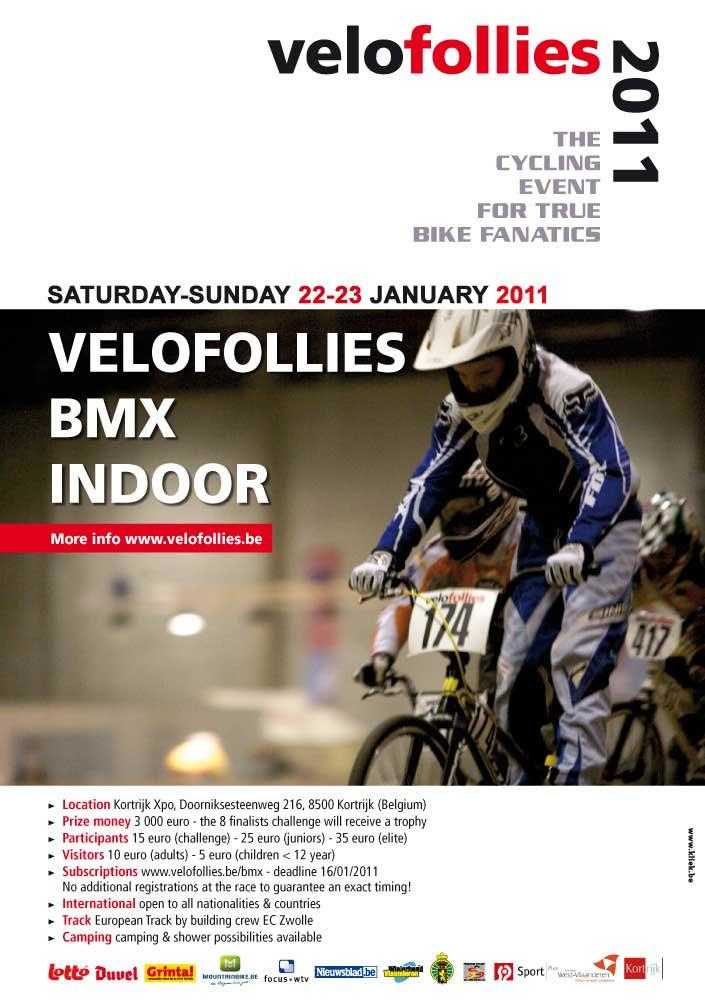 ---
---
BMX racing news, Wednesday - November 17, 2010
Marc Willers Signs on as the Newest Speed Racer

CERRITOS, CA—Speed Bicycles is pleased to announce that it signed New Zealand's Marc Willers today for the 2011 race season.

"Marc caught my eye a couple of years ago and he has been really fast since the summer. I really liked what I saw at Chula Vista and decided there that he was the guy to lead Speed. We're really happy to have him on the team and we look forward to a long relationship," said Toby Henderson, founding partner at VSI, Speed Bicycles' parent company.

Willers, the silver medalist at the UCI Super Cross Finals, in October in Frejus, France, and a consistent ABA podium finisher, will ride a Speed bicycle equipped with SINZ Elite, SINZ, ITS and THE gear as well as THE helmets and Fly clothing next year.

"After having such a bad year last year, I'm pleased to join with Speed and the guys and I'm looking forward to working with them as I try to take the number-one spot in BMX," Willers said.

Willers is a skilled dirt jumper and thrill seeker. He once rode his BMX bike at 100 kilometers per hour downhill and he owns a 1977 Toyota Corolla stuffed with a 500 hp engine.

Willers, who is 25 years old, won his first national title at age of 10 and has only lost it three times since. He left high school in 2001 at the age of 16 to paint cars. After making his first Elite Men's World Final in 2005 he put down the spray gun to race full time.

He moved to Southern California, last year, to chase his goal of becoming the world's best BMX racer. A shoulder injury in March 2009, however, kept him for competing at the top of his game for most of the season. He had surgery in October and returned to racing in May at the UCI Super Cross World Cup in Copenhagen where he placed 4th. Since then, he has been on the podium at seven out of the 10 ABA nationals he raced and took second in Frejus. He got his first win at the Redline Cup Western Finals in Boulder City, Nevada, last month.

Among Willer's other racing palmares are 6th at 2005 BMX World Championships; 2nd at 2006 UCI Oceanic Continental series; 1st at UCI Supercross Frejus, France, and 1st at UCI Oceanic Continental series in 2007; 2nd at UCI Supercross Madrid, Spain, 2nd at UCI Oceanic Continental Series, 5th in UCI World Ranking and Olympic Semi-Finalist in 2008.
---
NOVABMX/ChipndaleBMX.com signs McDow and Downell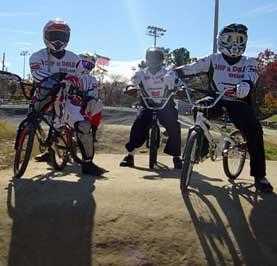 Long time BMX vendor and bike shop owner Andy at Chip N Dale BMX inks deal with single A pro Warren McDow and vet pro 'Fast' Phil Downell to race the 2011 season under the NOVA BMX / ChipnDaleBMX.com banner.
McDow now living in Oakland California, will run a full NBL schedule while Downell will race the entire vet pro season.
The word on the street is this new team is in negotiation with a few heavy hitters with more signings and announcements to come in the following weeks.
Look for Warren and Phil to be dressed in there new Flyear and Haro frames at this year's Thanksgiving National.
We would like to thank Andy at Chip N Dales, Derek at Haro and Mike at Atomlab for all the support they are giving to the team.
---
BMX racing news, Monday/Tuesday - November 15/16, 2010
American Bicycle Association Releases 2011 National Series Schedule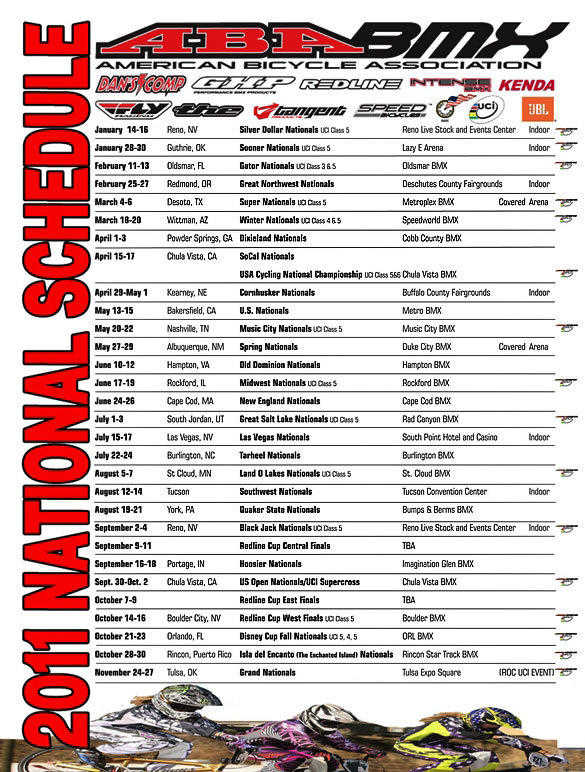 Official From ABA Staff
With just under two weeks remaining before the culmination of the 2010 ABA National Series in Tulsa, Oklahoma, at the ABA Grand National, the 2011 schedule is complete. With a balance of central, east, and west, the ABA 2011 National Series is sure to reach out to the more than 60,000 ABA members and allow everyone young and old to experience the Series. While the Canadian Series is still being pinned down, look for some exciting things regarding the Canadian National Series soon.

Once again for 2011 the American Bicycle Association has partnered with USA Cycling and the International Cycling Union (UCI) to provide a schedule that will feature the USA Cycling National Championships and numerous UCI category 2, 3, 4, and 5 races. Each of the UCI races will figure into the points standings for individual and nation's rankings qualification for the 2012 Olympic Games. The So Cal Nationals and USA Cycling National Championships are set for the Olympic Training Center in Chula Vista, California. This race will have a national on Friday and Sunday with the USA Cycling National Championships on Saturday, featuring Jr. Elite and Elite racing on the Supercross track. With the 2011 World Championships being held in Copenhagen, Denmark, this World qualifying race is sure to have a great turnout. The 2011 series has many familiar stops such as Reno and Rockford, but there are also many new and exciting locations such as Nashville and Cape Cod. One of the most notable changes will be the Winter Nationals, which will be held for the first time at Speedworld BMX which features a standard BMX track along with a Supercross track. ABA will integrate the UCI events for the weekend into the Supercross track which features the second Supercross starting hill ever constructed in North America. Equally as exciting is the return of an ABA national event to Las Vegas. The ABA national tour will once again visit South Point Hotel and Casino, the home of the second largest regular ABA National event ever with 378 motos in 2007.

The last quarter of the 2011 schedule will be action packed with events like the U.S. Open Nationals hosted in conjunction with the BMX Hall of Fame and the UCI Supercross event. The last two stops will be insane with the three day national event in Orlando for the Disney Cup Fall Nationals and the first ABA national event to ever be hosted in the Caribbean for the Isla del Encanto (The Enchanted Island) Nationals in Puerto Rico. Rincon Star BMX Track will host the final national event of the series and it will no doubt be a celebration of an amazing year.

From Reno to Oldsmar, from Cape Cod to Redmond, OR the 2011 ABA National Series will reach new heights in competition, participation and of course fabulous BMX facilities and racetracks. Follow the ABA 18-Wheeler from town to town on the road to Tulsa for the ABA Grand Nationals, "The Greatest Race on Earth!".
---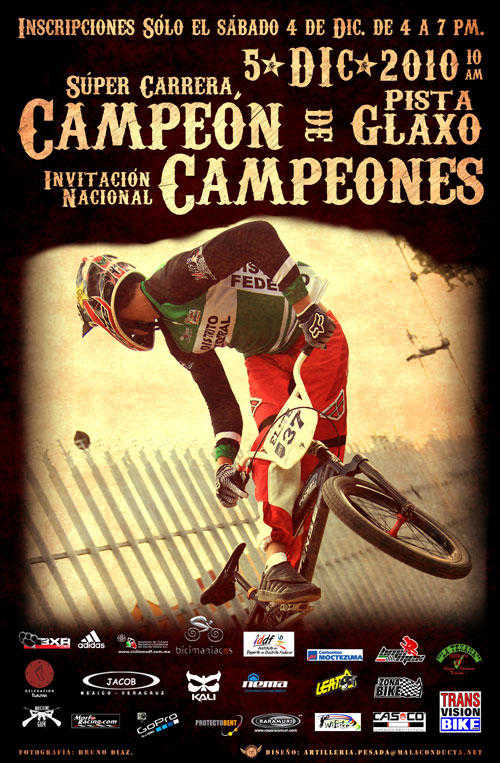 National Registration and Track Practice will be December 4 from 4 to 7PM.
National racing will begin December 5 at 10AM sharp!
---
BMX racing news, Friday - November 12, 2010
2011 FLY RACING TALON II SHOES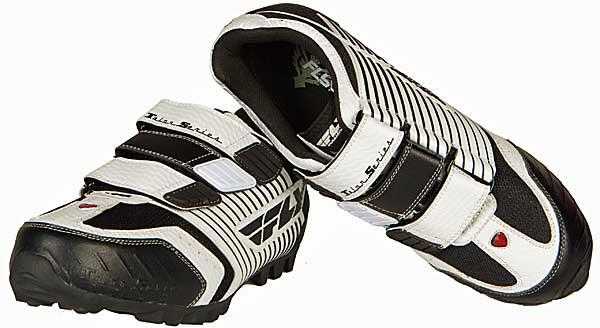 FLY Racing is pleased to announce the arrival of our new 2011 Talon II SPD Race Shoes.
Available in two graphic styles called "Flash" and "Elite" these shoes look great and will continue to offer the great durability, performance, and features you've come to expect from the FLY Talon shoe.
Super stiff sole, mesh ventilation, re-enforced toe and heal, plus many other features make these shoes perfect the rider just clipping in to pro level racers.
Talon shoes are also available in sizes youth 13 to adult 13 so there is a shoe for just about any size BMXer.
You can pick up a pair of these new Talon shoes at your local bike shop or favorite mail-order along with all the other great FLY Racing products.
Check them all out at www.flyracing.com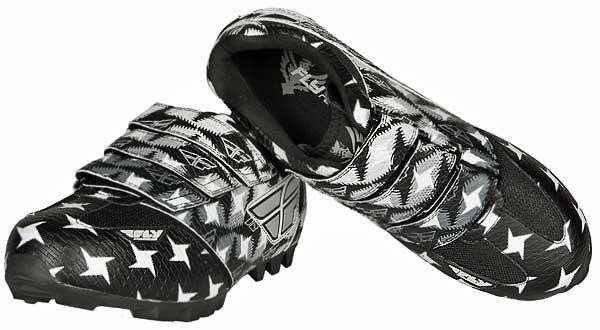 ---
DNA Brands Inc. signs co-sponsorship agreement
with top level BMX elite AA pro Josh Meyers,
vet pro Joey Albright & women's pro Jamie Lilly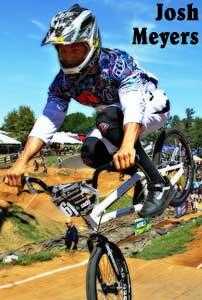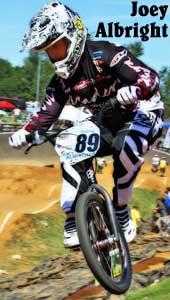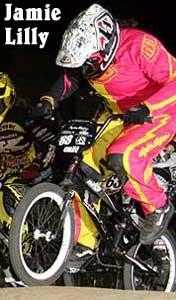 Photos by Jerry Landrum/BMXmania.com
BOCA RATON, Fla., November 9, 2010, -- DNA Brands, Inc., f/k/a Famous Products, Inc., f/k/a DNA Beverage Corporation (OTCBB:FPRD ) makers of the delicious-tasting DNA Energy Drink(R), DNA Beef Jerky(TM), and DNA Shred Stix(TM), favorites of the action sports community and their followers, announced the signing of a co-sponsorship agreement with elite AA BMX pro Josh Meyers, veteran pro BMX rider Joey Albright & women's elite pro Jamie Lilly.
Josh, Joey and Jamie all attended the 33rd annual NBL (National Bicycle League) Grand National in Louisville, Kentucky this past September. This race determined the overall year end ranking in the pro divisions. Josh took home a 2nd overall for the year in AA elite pro. Joey won his first ever vet pro title. Jamie was in 3rd place for the year but due to a last minute injury was unable to compete.
"We at DNA are pumped to have Josh, Joey & Jamie onboard with us. They all bring a great reputation, great work ethic, & competitiveness that we at DNA look for in our athletes," said Erich Kreybig, BMX program manager for DNA Brands Inc. Kreybig adds, "DNA Energy Drink(R) and DNA Shred Stix(TM) are getting a solid foothold in the BMX community and feel the addition of Josh, Joey and Jamie will help us greatly with brand awareness in the industry."
About DNA Products - DNA Beef Jerky, DNA Shred Stix and DNA Energy Drinks are high quality products manufactured to exact standards to achieve superior taste. DNA Energy Drink comes in Citrus, Sugar Free Citrus, and Lemon Lime flavors. DNA Beef Jerky comes in Original and Teriyaki flavors and DNA Shred Stix come in Original, Pizza, and Spicy Jalapeno flavors.
---
BMX racing news, Wednesday - November 10, 2010
---
Australia's, Hunter Academy of Sport
BMX Team Gets TV Airtime!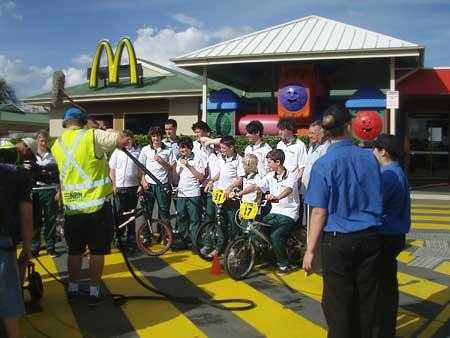 The Hunter Academy of Sport BMX team is now featuring in a TV commercial!
As winners of the McDonalds Junior Sports Team of the Month Award, the HAS BMX team got to shoot their very own TV commercial. The commercial features the entire team going nuts around the oversized novelty cheque they won for $1,000. The team is introduced in the commercial by team captain, and four time Australian champion, Rachel Jones.
The commercial was filmed in front of a McDonald's restaurant, much to the surprise of many passersby. The shooting took about four takes before the film crew decided they had a perfect piece. It is now showing on NBN television to over half a million homes!
The winning of the $1,000 award capped off a huge year for the team which included dozens of podium finishes from a regional level all the way to world championship level.
Photo caption - HAS BMX Team during their TV shoot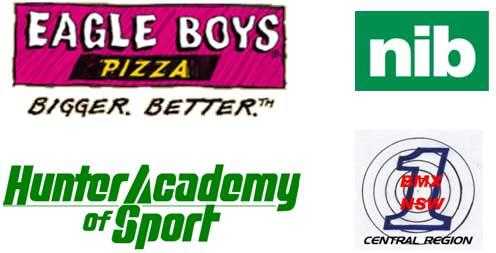 ---
LAUREN REYNOLDS LAUNCHES COOL NEW WEB SITE!

Hi Everyone.

My new Website is now back up and running, www.laurenreynolds.com.

Whenever you want to see where I'm at, race results and of course photos. Check it out!

Hope you like the new look.

Of Course now focusing more on on London 2012 as we get closer!! - Lauren
---
BMX racing news, Monday - November 8, 2010
Formula Europe supported by Bio Essentials
Sportcare & Technology in 2011

The Formula Europe BMX Trade Team and BES&T will continue their collaboration in 2011. The BES&T revolutionary product line will help our riders to enhance their performance during races and recover faster after heavy physical effort.

The Team will have the following products at their disposal:

•

121- NRG BOOSTER GEL

•

321- NO LIMITS GEL

•

421- RECOVERY GEL

All these 100% natural based products improve the performance of the athlete significantly, both on amateur- and professional level! The products have been tested by many highly experienced and successful athletes.

For more information and the findings of the athletes:
www.best-sportscare.com/motor-cross-bmx.html
.

Formula Europe is supported by Formula Bicycles, EUROBMX.be, Shimano, Alienation, Tioga, BES&T, SixSixOne and NAVADA.net.
---
Shanaze Reade Series: Episode 2
from Shanaze Reade Series on Vimeo.
Follow the Olympic BMX Journey of British Cycling's, Shanaze Reade in this exclusive video look in to her life.

From the high of winning the UCI BMX World Title in July to painful wrist surgery in August, the journey is not as easy as it looks.

Also, what's up for Shanaze as she heads toward Olympic Preparation this Winter. A Journey of a different sort, but important nonetheless.

You'll want to follow this BMX racing series on one of the most important riders in the world today.

The Shanaze Reade Series is shot and produced by BBC's, Corinne Walder and distributed on Vimeo.
---
BMX racing news, Friday - November 5, 2010
PROFILE RACING ROCKS ABA DISNEY CUP IN ORLANDO!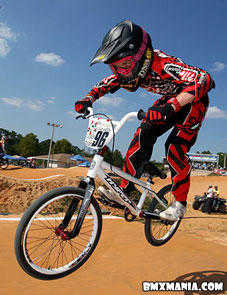 This year the ABA Disney Cup moved to its new home at Orlando BMX in Orlando, FL. The Profile team was geared up for 3 days of racing action and the last chance for points before heading into the ABA Grand Nationals on Thanksgiving weekend.
Profile's 15 girl Shay "sorry to bother you" Glynn flew over from the west coast to join the rest of the team at the race. On Friday Shay didn't show any signs of jet lag as she rode to a second place finish. She looked even better on Saturday edging out the competition for a win in the main on day 2. Like many of her teammates, fatigue from the long race weekend showed, but Shay still hung in there for a third on Sunday. She had an amazing weekend, with podium finishes every day earning her the coveted Disney Cup.
8 Expert Casey Minthorn may not have made the big show any of the three days, but he sure looked good out on the track. He was flying high over all of the big jumps that even some of the older riders were not clearing.
Our newest teammate, 11 Expert Tanner Engel, raced well on Friday and took a 6th in the main. He also looked good in the motos on Saturday but was knocked out before making the finals. He battled back on Sunday and almost made the podium but had to settle for a fourth.
Caleb Minthorn, racing both 14 expert and Junior Boys was making his presence known. On Friday he finished 5th among the 14 experts and took an eighth on Saturday. In the Junior Devo Boys Caleb finished 5th on Saturday and 7th on Sunday.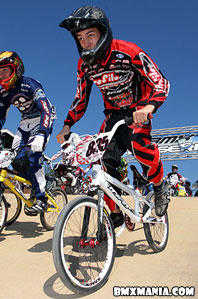 The combined 19-27 Expert Class had three Profile riders, Eli Weiss, Brian Perez and Madera's Nick Lucas, battling it out. This huge class was incredibly tough with the motos as stacked as the mains. None of the guys were able to make the main Friday or Saturday, but a strong rally by Nic and Brian on Sunday had them almost making the podium with a 4th and 5th finish respectively.
Shane Hall, racing the 17-20 Cruiser class, started off the weekend strong with a first place finish. On Saturday he struggled a little but still took a 6th. Shane rebounded on Sunday with a third place spot on the podium. Shane also raced well in class Just missing the Main on Friday and Saturday.
Lauren and Garrett Lanzalotta fought hard in their classes but could not make it into the mains. Still they raced hard every moto and looked good on the track. Lauren fell ill on Saturday night and sat out on Sunday. Lauren said she will be ready for the ABA Grand's and is excited to fly there.
The "Iron Man" John Pringle after flipping the gate on Friday LOL! Raced both 41-45 Cruiser and 41 Expert. On Cruiser, John struggled with a tough class and the ABA gate but managed to make the main on Friday taking a 6. In the expert class, he fared better taking a 6 on Friday, 7th on Saturday and improved to a 5th on Sunday.
After a long 3 days of racing the team packed up and headed home to rest up and get ready for the first Florida State Qualifier and the ABA Grand's in November.
Thanks to our awesome Sponsors. Hyper, Maxxis, MCS, Answer BMX, KMC, THE, Johnson Plates, SIDI Shoes, FLY Racing, Tektro Brakes, ODI Grips, SUN Ringle, Cane Creek, Thomson, EVS and Vaypor Designs
See you at the track!
---
BMX racing news, Thursday - November 4, 2010
FLA Baby…Morphine Industries takes it to Orlando for the ABA Disney Cup
Pics courtesy of Jerry Landrum / BMXMania.com

ABA rolling back into Orlando to flex their dirt muscles in the state of Florida - who are we but to turn out to ride, race and enjoy the show. The gathered a few of the crew and converged on Orlando to see what we could dish out.
The powers that be did a fine job at putting the last minute touches on the famed Orlando track to make it a great template for the weekend.
Elite Men – Mike Kapes showed up for his only ABA race on his comeback tour to run Friday and Sunday. Kapes showed again that he is on his way to back to the top of the field making his way around the track consistently in the top 4 on both days. However there is no room for error in semis causing Mike to bow out on the Mains.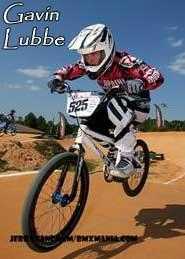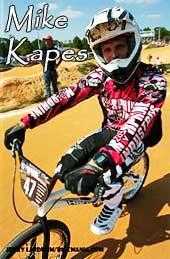 Elite Men – Gavin Lubbe made the trip from SoCal to mix it up on the dirt turns of Orlando. Gavin hit Elite men both Friday and Saturday to give a solid showing but narrowing missing the main both days. Sunday brought a new day with Gavin giving a riding clinic in A PRO class. Gavin rode from the front wire to wire to take the main,
17-18X - Tanner Sebesta Morphine Industries' newest addition showed that he is legit with a solid showing in both Junior Men and 17-18 X. Tanner started off Friday killing it in motos battling for the top spot with the Razzleberry in Junior Men and dominating in class. Main time in both races found Tanner's style to much for the dirt turns to handle sending him to the ground.
Saturday was a different day with Tanner on point. Laying it down in motos to gain a spot at the gate in both mains, Tanner took a 2nd spot on the podium for Junior Men and Class. Sunday was again a display of horses out of the gate securing his familiar spot in the main. He ended up in the dirt on turn one again battling for the lead in Junior Men settling for an 8. However in 17-18X, he went wire to wire to end the weekend with the dominate top spot of the podium. Yo Bro you traded up for sure.
13X - Noah Reeves took command of his motos on Friday and Saturday easily making it into the main events. Noah battled for the top spot on the podium but settled for a third spot on Friday. Saturday, Noah hit the gate and came unclipped going into the table at the bottom of the hill. He made the most of his track time cruising the doubles with turn bars and style that he is known for. If Sunday is a day of rest for the Man upstairs then who is Noah to second guess – he chilled.
11X – Richie Dey came in for Sunday to turn some heads before the weekend was over. Richie hit the 11x class with what else AIR. Rolling to the main event and ending with a solid three for a place on the podium.
Great weekend and a great way to round up the season as we prepare for the Grands next month is Tulsa. Be sure to come check us out if not you can be sure we will be in the mains.

Morphine Industries would like to thank its Factory Team Sponsors; HARO BIKES (harobikes.com), Fly Racing (www.flyracingbmx.com), Alienation (www.alienationbmx.com), Sinz Racing (www.sinz-racing.com), Rennen (www.rennendesigngroup.com), Tioga (www.tiogausa.com/bmx), Black Crown (BlackCrownBmx.com) Without you guys we would be sitting in the dirt. Instead, we are rockin' the best looking rigs at the gate and on the podium.
---
THE and ITS Sign On as Co-Sponsors of S&M Bikes Race Team
CERRITOS, CA—VSI Products, Inc. is proud to announce that it is supplying the S&M Bikes Race Team with THE and ITS products throughout the 2011 race season.
"We were stoked when they approached us about sponsorship and we were happy to lend the team a hand. Everyone at VSI is aware of S&M's history and we're big fans of the company and its products. In fact, I think all of our Intense and Speed riders use S&M bars. Helping out the team felt right," said Michael Gamstetter, VSI's marketing manager.
The team consists of Freddy Chulo, 31-35 cruiser; Armando Chulo, 9 boys; Thomas T. Ingram, 46 cruiser; Sonny Ingram, 14X; Bill McCoy, 46 cruiser; Eric Tipton, 41+X and 46 cruiser; Dave Stevenson, 36-40 cruiser; Maurice Horton, A Pro; Vance Wiesendenger, A Pro; and Mike Brown, 36+.
"It's cool to get support from the guys at THE because they make great race products. We're really excited to run their gear. At the same time, if we can help them test and develop new products, we'd be honored to do that, too," said Freddy Chulo, S&M team manager.
S&M racers will be using the new THE Point 5 helmets, F-1 Storm knee and shin guards, F-1 shorts, gloves and number plates and ITS Hustler and MK2 20- and 24-inch tyres.
---
BMX LATIN AMERICAN CHAMPIONSHIPS 2010 IN CHILE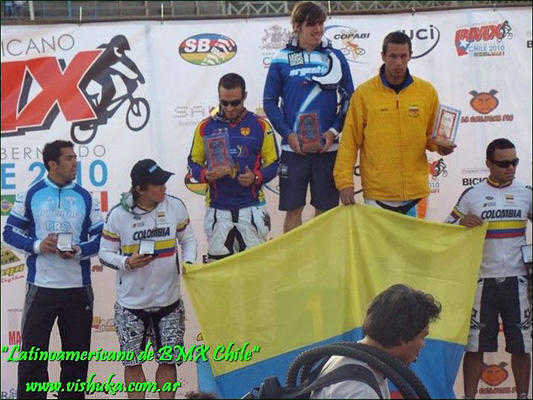 The 2010 BMX LATIN AMERICAN CHAMPIONSHIPS was one of the largest on the continent with more than 400 riders coming out to Santiago, Chile in a city called San Bernardo.
MARINO DOMINATED IN ELITE MEN -The best riders from all over Latin America battled it out in the Elite Men's class, fighting it out for all important Olympic points for world ranking. Ramiro Marino has a special history with this event, he participated in this race three times since he turned pro with two Gold's and one Silver, winning his title for the first time in 2007 in Colombia.
With this result Marino sends a strong message, showing that he is one of the best on the continent, in San Bernardo he came on STRONG by winning both events, on Friday and Saturday for important UCI ranking points. Marino had to fight with really good riders, Andres Jimenez from Colombia and Emilio Falla from Ecuador. Jimenez is doing it really good right now and besides Ramiro may be the fastest in South America. Falla showed that all his injuries are gone and he put some solid laps together with a 2nd on day 1 and 3rd on day 2.

PAJON DOMINATES AGAIN - When you talk about girl BMXers in South America, the reality is that Mariana IS BMX. She was the absolute winner both days and showed some strong traits that she has what it takes to go for Gold in London. When she is on the track everything looks easy.
Second place went to Stefany Hernandez who has been racing on the super tough Lady BMX Battles in Europe and turned some heads, BIG TIME as she is progressing and looks so much better on her bike, which has got to be good for the continent to have an Elite Women's racer racing at such a high level. Bronze went to another Colombian girl, Stefany Gomez, picking up even MORE points for Colombia in the UCI BMX World Rankings.
ELITE MEN
ELITE WOMEN
JUNIOR MEN
JUNIOR WOMEN
MEDAL COUNT

1 RAMIRO MARINO ARG
2 ANDRES JIMENEZ COL
3 EMILIO FALLA ECU
4 FABIAN HERNANDEZ COL
5 CARLOS OQUENDO COL
6 FAUSTO ENDARA ECU
7 FEDERICO POLO ARG
8 JONATHAN SUAREZ VEN

1 MARIANA PAJON COL
2 STEFANY HERNANDEZ VEN
3 ESTFANY GOMEZ COL
4 ANDREA ZULUAGA COL
5 CARLA ORTIZ CHI
6 SEGURA VIVIANA CHI
7 BELEN DUTTO ARG

Hugo Osetti from Brazil was the big winner both days over Argentina's Federico Villegas and Brazilian, Rogerio Dos Reis.
Junior Girl's went all over to Argentina taking Gold by Florencia Soriano.

CHILE = 10 GOLD
ARGENTINA = 10 GOLD
ECUADOR = 3 GOLD
COLOMBIA = 2 GOLD
ARUBA = 1 GOLD
BRAZIL = 2 GOLD
BOLIVIA = 1 GOLD

Impact Performance Of The Weekend: Matias Brizuela from Argentina in 10 boys won his 3rd Latin American title in a row shows us that this kid is going soo fast.
---
BMX racing news, Wednesday - November 3, 2010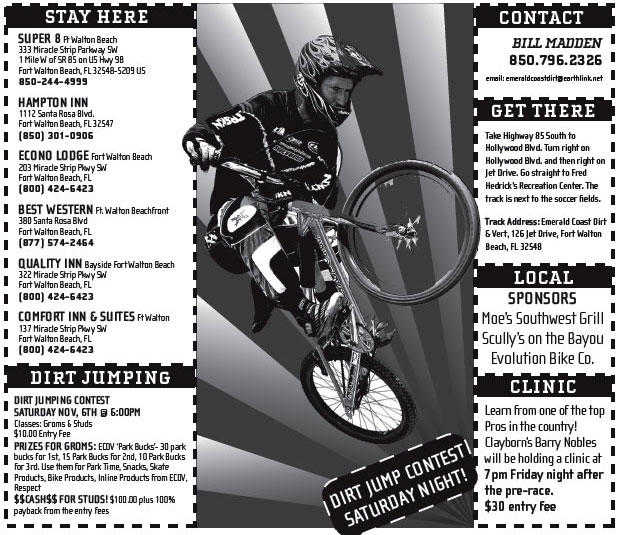 ---
BMX racing news, Tuesday - November 2, 2010

We have had a lot of emails from riders all over the world asking for us to sponsor them as they'd like to represent Stay Strong. This is very flattering for us to hear but unfortunately we are a charity and still a small new brand and as much as we'd love to grow the team and sponsor lots of new riders we can't afford to yet at this point. But with the help of some of our co-sponsors we can offer you a "Limited Edition" co - team package at a discounted price which include:
2011 Stay Strong Frame and headset - built by Freeagent.
2011 Hot Shoppe custom "Team" jersey - (different to the one pictured!)
Rockstar Energy - "Athlete" fitted hat, tee shirt and BMX sticker kit.
United / Stay Strong pivotal seat
ODI / Stay Strong clamp on grips
Stay Strong Tee shirt
Stay Strong beanie (not pictured)
Stay Strong bracelet
Stickers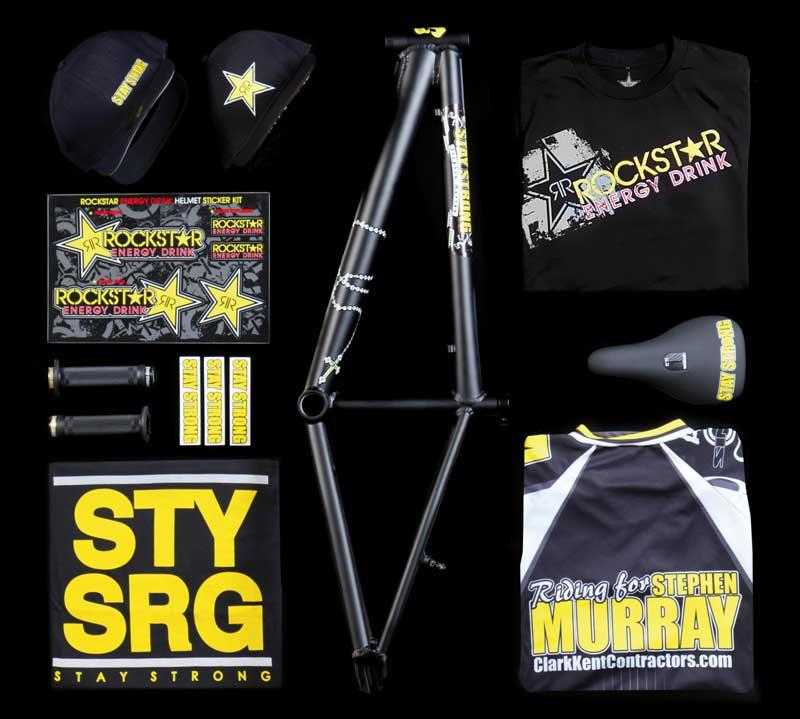 This will be shipped from California and available November 21st. $330 USD + Shipping . Around $30 within the US, $65 to Europe and South America. And $90 to Australia and rest of the World.
This is less than the regular price of the frame on it's own, so you are getting the jersey and all accessories for free and shipped to your door!
Colors are Matt Black or Candy Purple, Pro XL (21"tt) , 24" and Expert - Only 40 total available Worldwide across all sizes and colors so this is VERY LIMITED.
We have sold over half the allocation in one day on Facebook, so if you'd like to reserve a package you need to be quick! Pre orders being taken now for delivery late November.
You can get the full factory look for a discounted price and support Stephen Murrays brand by contacting
marco@staystrong.co.uk
to reserve yours and discuss your sizing and color requirements for frames and accessories. ( We also speak French / Italian and Spanish)
STAY STRONG
would like to thank their 2011 Team Sponsors:
Rockstar Energy, Clark Kent Contractors , 310proshop.com , Alienation, Ogio , Shimano, ODI , THE , Sinz, Oakley ,Vans ,Profile , Answer , Segment, Hot Shoppe Designs

Check out these frame shots and accessories, click on the thumbnails!
---
Emerald Valley Indoor Ready To Rock!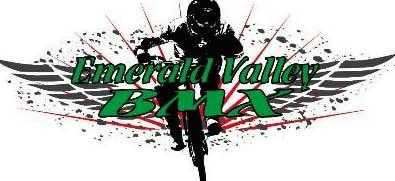 ATTENTION RACE FANS
INDOOR RACING ACTION BEGINS THIS SATURDAY AND SUNDAY
REGISTRATION SAT 330-430 SUN 10-11
$15.00 FIRST BIKE
$12 SECOND BIKE
$10 THIRD BIKE/FAMILY MEMBERS
NOV 6-7
Emerald Valley Indoor BMX - Eugene, OR
ABA District: OR02
Contact Information: Lance Maguire 541-654-2761
---
Eliminator Announces Sponsorship with Michele Patterson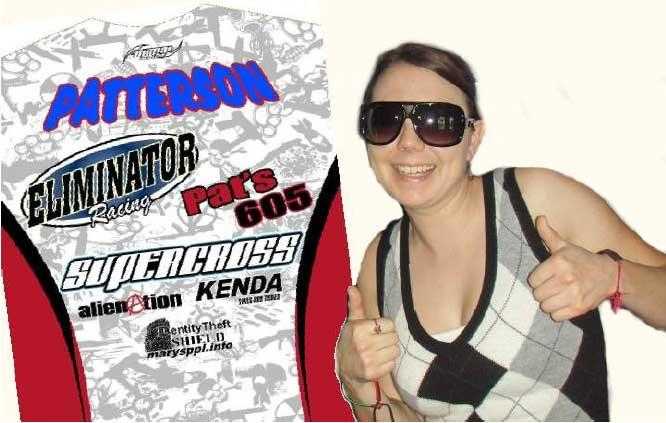 So-Cal racer & Team join forces for their first UCI Elite Rider
Eliminator Racing has signed Michele Patterson to the race team for the 2011 season. Starting prior to this years ABA Grands you can catch Michele flying her new Matte Black Supercross Envy Bicycle and the Eliminator team colors with the support of Pat's 605 Cyclery from Norwalk, CA. Michele has been working hard after some early season injuries and is ready for a healthy return in 2011 with Eliminator.
Michele fits the Eliminator team concept without doubt as you can find her attending Cal State University of Fullerton or out racing all the local tracks in Southern California. She rides downhill mountain bikes, road bikes and anything that goes fast with 2 wheels.
Michele will be racing the National Bicycle League Nations Tour that starts next March in Primm, NV. These races will have the Elite Women fighting for more than $25,000 in prize money during the season. She will also be making stops at the UCI races along with the American Bicycle Association national events.
Michele will be supported by Pat's 605 Cyclery, Eliminator Racing, Supercross Bicycles, PowerBar, ODI Grips, KMC Chains, Flex Power Sports Cream, Gear Up Bike Racks, Squirt Chain Lube, Identity Theft Shield, SixSixOne Protection, Kenda Tires, Leatt Neck Braces, Alienation Wheels, Ice Tools, Sock Guy Custom Socks, No Fear Gear, Brave Soldier Skincare, and Rudy Project Eyewear.
Pat's 605 played a vital role in the partnership with Michele. Pat's is the Norwalk areas best selection of bicycle clothing and accessories, including BMX jerseys and pants, riding shorts, shoes, sunglasses, and more! You can find out more about Pat's at www.pats605cyclery.com. Eliminator is a BMX Team member in the National Bicycle League and in the American Bicycle Association. Our team competes in the state level team competition for the N.B.L. California State Team Series and the ABA Redline Cup, State and National Series. Eliminator competes in nationals, state, and local event races across the United States to represent it's sponsors and promote BMX in a positive way. For more info on Eliminator check out www.eliminatorbmx.com.
---
BMX racing news, Monday - November 1, 2010
Italian BMX Loses One Of It's Own!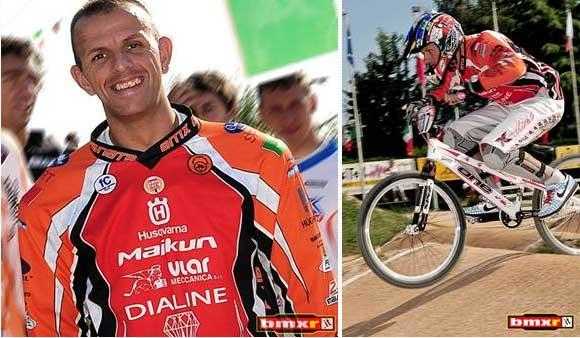 The Italian BMX family mourns the death of rider Alberto "Alby" Martino, he was 36 years old, father of two children.
They have lost a friend, a smart guy, a fighter who always had a smile for everyone.
Our heartfelt condolences go out to his family and Italian BMX racing friends."
R.I.P. Alberto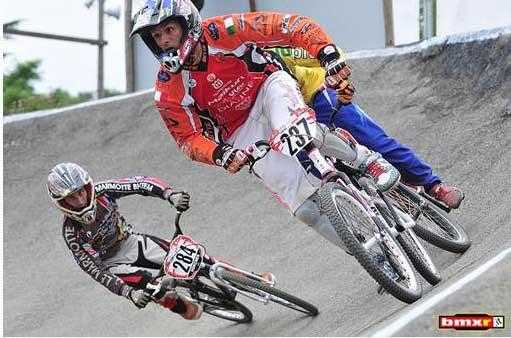 ---