---
May 2008
---
Today's BMX Racing News - Saturday, May 31, 2008
Championship Results From 2008 UCI World Championships
Elite Men - Maris Strombergs/Latvia
Elite Women - Shanaze Reade/Great Britain
Junior Men - Sam Willoughby/AUS
Junior Women - Manon Valentino/FRA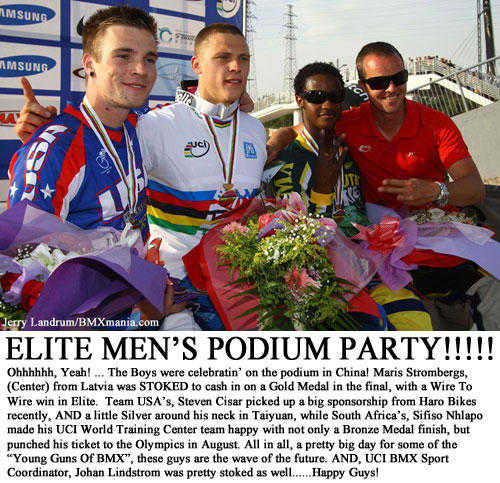 Complete Results posted on the BMx Mania
---
CISAR TAKES SILVER MEDAL FOR TEAM USA AT UCI BMX WORLD CHAMPIONSHIPS
Kintner Top Women's Performer in Sixth, Stein Grabs Bronze in Junior Men's Division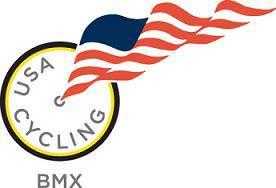 Taiyuan, China (May 31, 2008)--Steven Cisar (Altadena, Calif.) led the United States Cycling Team on Saturday with a silver medal in the elite men's contest at the 2008 UCI BMX World Championships. As one of two Americans to qualify for the final eight-man main, Cisar finished just 0.384 seconds off the pace of winner Maris Strombergs (LAT), while Stifiso Nhlapo (RUS) took the bronze and American Donny Robinson (Napa, Calif.) placed fourth.

For Cisar, it was his second trip to the podium this season in a major international event. In February he captured a bronze medal in the opening round of the 2008 UCI BMX Supercross World Cup series.

Cisar and Robinson were the only two U.S. athletes to advance out of the quarterfinals as other notable Americans such as defending world champion Kyle Bennett (Conroe, Texas), David Herman (Wheat Ridge, Colo.), Randy Stumpfhauser (Sanger, Calif.) and Danny Caluag (Chino, Calif.) all qualified for the round of 32 but failed to advance to the semifinals, leaving only Cisar and Robinson as medal contenders.

In the elite women's event, Jill Kintner (Seattle, Wash.) was the top U.S. finisher in sixth place as the only American to advance to the main. Shanaze Reade (GBR), Ann-Caroline Chausson (FRA) and Sarah Walker (NZL) earned the top three spots respectively.

Entering the world championships, the U.S. was on the fringe of securing a second women's start position for the Olympic Games. Needing a top-four overall nation's ranking following the event, the U.S. entered the world championships ranked fifth - just one point behind New Zealand, seven points behind Argentina and 13 points off the pace of Australia. Entering the event, France had a commanding hold on the number-one spot. Based on its performance in Taiyuan, the U.S. is expected to retain its fifth-place ranking when the UCI issues its official standings next week.

Arielle Martin (Pleasant Grove, Utah) crashed out in her quarterfinal heat, while Kim Hayashi (Chandler, Ariz.) and Stephanie Barragan (Montclair, Calif.) also failed to advance out of the round of 32, leaving Kintner as the only U.S. athlete amongst the final 16 contenders.

Also on Saturday, the U.S. turned in strong performances in the junior championship categories as Denzel Stein (Desoto, Texas) earned a bronze medal in the junior men's event and compatriot Travis Ohrazda (Garden Grove, Calif.) finished sixth.

For the U.S. men's field, the next major competition will be the U.S. Olympic Team Trials on June 14 in Chula Vista, Calif. where the winner will earn an automatic nomination to the 2008 U.S. Olympic Team.
---
Juniors star for Australia at BMX World Championships
team camp optimistic of two places in women's competition in Beijing.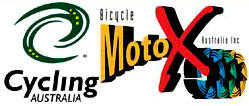 South Australian Sam Willoughby has snared the gold medal in the junior men's final at the UCI BMX World Championships in Taiyuan, China while in the junior women's final Lauren Reynolds scored silver and Rachael Bracken the bronze medal.
In the elite women's competition Tanya Bailey's semi final berth should be enough to give Australia two starting places for women in the BMX at the Olympic Games.
Bailey lined up as Australia's only starter in the elite women's competition after a major knee injury during training put Melissa Mankowski out of the team and out of contention for Olympic selection. Nicole Callisto suffered an elbow fracture in yesterday's training session in Taiyuan and was forced to withdraw.
"We don't know how serious it is yet but the initial doctor's report is that it's not so bad," said Sharples. "We'll get her to a specialist when we get back to Australia and take it from there."
Bailey's sole representative status put added pressure on her with Australia needing points to ensure two starting places for women in Beijing.
"The pressure was on her because we had one rider to earn points and other countries had three to start with," said Sharples. "However her racing was really good and by getting into the semi finals I think she's done enough to give us the two places but we'll have to wait for confirmation from the UCI."
Jared Graves was the best placed of the elite men and the only one to make it through to the final where he finished in seventh place.
"I won my eighth, my quarter and my semi final and was really feeling good for the win," said Graves. "But it pretty much came down to who came over the first jump smoothest and i really didn't do it.
"Then I was annihilated in the first corner by guys going for broke which stopped my run but I'm still pretty happy with that" explained Graves who earned enough points to end the BMX season ranked number two in the world behind American Donny Robinson. "My strength is really good and I'm definitely capable of getting to the front of any race in the world so I'll keep that in mind when I'm training for Beijing."
Graves will now head to Europe to contest the 4Cross at the MTB World Cup round in Fort William, Scotland ahead of the MTB World Championships in Italy in mid June.
"I'll really be training through those races and using them as preparation for the Olympics," he said. But his first stop will be a dentist.
"I'm looking forward to root canal work on a tooth that has been troubling me for the past few weeks," said Graves.
Cycling Australia's National Performance Director for BMX, Scott Sharples says Graves' performance was better than the result shows.
"He had a really good competition but might have spent himself a little too much in the lead in rounds," said Sharples. "The first corner in the final was fierce with so much bombing and diving as riders looked to make up ground and he got hit from both sides at the same time.
"But he shouldn't have been there at that point," said Sharples. "He should have been in front and he knows that and next time he will be."
Kamakazi and Luke Madill made it through to the semi finals but Kamakazi scored a bad lane draw and Madill was pushed off the track when a rival came over the top and knocked his handlebars. Neither qualified for the final.
"The quality of competition was outstanding," said Sharples. "From the quarters (finals) onwards every race could have been the final."
While Beijing might be just around the corner the junior members of the Australian team are already planning their London assault for the 2012 Olympic Games.
"That's my big goal," said Willoughby who even after being presented with his gold medal was still finding it hard to absorb his win.
"It still seems like a bit of a dream," he said. "I still can't believe I'm a World Champion!"
"I won every run and going into the final I just knew I had to do one more and I did it," he said. "My main goal in the final was to nail the first jump and I knew if i got over the first jump smooth I'd win and that's how it worked out."
Cycling Australia's National Performance Director for BMX, Scott Sharples, says Willoughby was impressive throughout the day's competition not just in the way he rode but in how he dealt with the pressure.
"He's only a first year junior but he was poised and in control and that was the best thing about him," said Sharples. "He went into every race cool, calm and collected and knowing what he had to do."
The 16 year old is in Grade 11 at Brighton HIgh School and has been racing BMX since he was six years old. China is his fourth World Championships and the first time he was won gold.
In the junior women's competition Bunbury's Lauren Reynolds claimed silver ahead of team mate Rachael Bracken from Townsville.
"The day wasn't so good leading up to the final because I didn't get a good race in any of my three motos (qualifying rides)," explained Reynolds who already has a gold medal to her credit from the 2003 World Championships in Perth and in Canada last year claimed the bronze medal. "But I was expecting the final to be the race for the day.
"I got out of the gate all right, had a little bit of luck to miss a crash on my inside, rode a good second straight and was leading into the second corner but I made a bit of a wrong move there," she said. "I managed to hold on for second place though."
The Grade 12 student at Bunbury Catholic College turns 17 in June and has been racing BMX since she was eight years old. She her dream is to represent Australia at the Olympic Games in 2012.
"My goal is gold in London for sure," she said. "No other medal - gold."
Bronze medallist Bracken says she's thrilled she made the podium.
"I'm really happy, stoked.," said Bracken. "I only got seventh pick for the start order but I was pretty happy to get an outside lane because I thought it would be best for me so I wouldn't get boxed in and it worked out well."
For complete results visit www.uci.ch (Or BMXmania.com)
The team competing in Taiyuan is listed below for reference

Elite Women - Tanya Bailey (Mariginiup, WA - 15/03/1981)
Elite Men - Jared Graves (Toowoomba, Qld -16/12/1982) - Kamakazi (Jimboomba, QLD -08/03/1981) - Luke Madill (Cranebrook, NSW -28/05/1980) - Khalen Young (St Helens Park, NSW -20/11/1984)
Junior Men - Joshua Callan (Healesville, VIC - 08/04/1991) - Michael Chasteauneuf (Croydon, VIC - 15/01/1991) - Steven Janssen (Nerang, QLD -17/01/1990) - Sam Willoughby (Trott Park, SA - 15/08/1991)
Junior Women - Rachel Bracken (Aitkenvale, QLD - 30/06/1991) - Lauren Reynolds (Clifton Park, WA - 25/06/1991)
---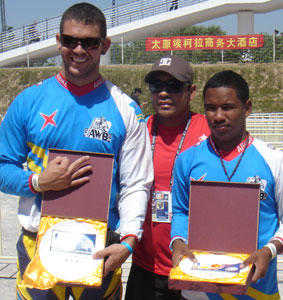 BMX Aruba 100% At UCI Worlds!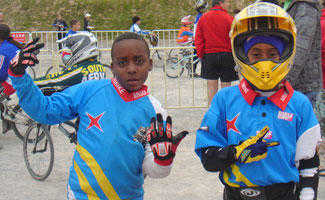 One of the smallest countries represented at the recent UCI Worlds, Aruba brought four riders and had some TREMENDOUS results.
We are proud to announce that BMX Aruba had some good results during the worlds in China.
We traveled to China with 4 athletes and managed to achieve 4 final spots.
As a very small Island with about 100 riders and 2 BMX tracks we are proud of the results our riders have achieved in the last few years.
A special thanks to all that helped us out over the years to achieve this success.
Results:
Men 25-29 Jobert Reyes 3th
Boys 15 Ishwar Martijn 8th
Boys 7 Jay-z Scott 7th
Girls 9 Shanayah Howell 3th
Regards, Joseph Everon - BMX Aruba
---
Today's BMX Racing News - Friday, May 30, 2008
Dale Holmes Wins First Championship level Title of the UCI Worlds Weekend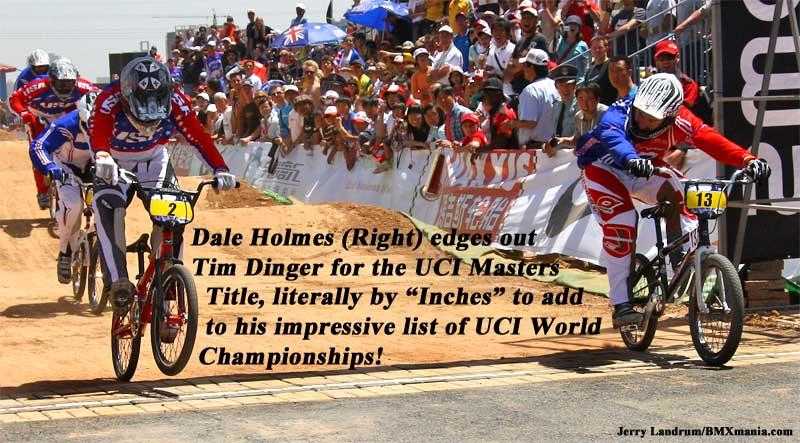 Here're the Top Spot winners from Day Two of Challenge Racing,
along with the Masters Championships class
17-24 Men/Weston Pope/USA - 15 Boys/Connor McCormack/CAN - 16 Boys/Sylvain Andre/FRA - 17 & Over Women/Angelique Van Gemert/NED
25-29 Men/Jonnathan Chislett/RSA - 30 & Over Men/Jean Ducos De Lahitte/FRA - 15 Girls/Melinda McLeod/AUS - 16 Girls/Merle Van Benthem/NED
Look for complete results and insane UCI Worlds Photo Gallery, Friday on the BMX Mania Race Report Page!
---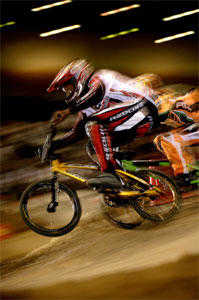 Kosman Launches!
Photo Gunslinger, Justin Kosman has a hot new web site, and if you love BMX photography, or just good photography, you'll want to cruise on over and check it out.
According to an official release, Justin had this to say about his new efforts.....
"The justinkosman.com website launch party went over well last night. It included me taking my car to the dealership to get the valve covers fixed and swatting moths into the wee hours of the night with an old issue of Ride magazine (Mike Parenti cover). "
"With the re-design, I'm most psyched about the news blog section and how easy it will be to post photos of the stray cats I trap in my garage. Right now there is an interview up with the guy who designed my site, Derek Balmer. Check it out and spam me some comments."
All kidding aside, friends and neighbors, you'll drool all over yourself to see Justin's art, he really is an artist, and his photos show it.
justinkosman.com
---
UCI BMX World Championships Gearing up for the Olympics on Freecaster.tv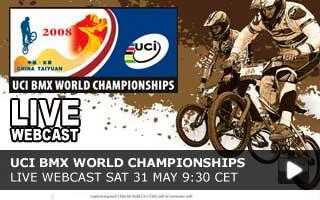 Freecaster, the largest online video media for action sports will webcast live the UCI BMX World Championships from Taiyuan, China.
The sport of BMX is now in the Olympics.That's great news for BMX fans and great news for Freecaster.tv who just this year began covering UCI BMX racing events. The webcasts from Madrid, Adelaide and Copenhagen attracted thousands of viewers from all over the world. Now, in anticipation of the Beijing Olympics in August, riders and fans alike will have the chance to experience the racing in China.
Top riders competing on the men's side include Kyle Bennett (USA), Luke Madill (AUS), Michal Prokop, (CZ), Donny Robinson (USA) and Yvan Lapraz, (CH) and in the women's Sarah Walker (NZ) and Shanaze Reade (UK). The riders who finish with the top 12 scores on the men's side and top eight scores on the women's side will qualify to compete in the Beijing Olympics. The remaining spots will be decided by the International Cycling Union on June 6.
Freecaster.tv was the first on H.264 and now the first to stream live in h.264, what can be called web HD. To get the best from Freecaster make sure you have the latest version of Flash 9 and a minimum ADSL 1.2 mbit/s or cable Internet connection.
The Live stream will begin Saturday, May 31 at 9:30AM (CET) with the 1/8th finals. Go to http://www.freecaster.tv/1000002_1004661 to watch the Live.
---
More good BMX Racing stuff on the "TV"
Well, not really the TV, but they'll be moving pictures, people'll be on bikes and you KNOW that Go211 will be on the gas when it comes to shootin' good BMX Race Footage.


From ABA BMX.....ABA BMX Spring Nationals from Duke City BMX in Albuquerque, NM. Videos are posted up on GO211.com. In case you were one of the few that missed this "Most Excellent Weekend", you can catch up and watch the weekends festivities at: www.go211.com/u/springnationals08
AA Pro video group: http://www.go211.com/u/springnationals08/videos/group/AA%20Pro%20Men
A Pro video group: http://www.go211.com/u/springnationals08/videos/group/A%20Pro%20Men
Women's Pro video group: http://www.go211.com/u/springnationals08/videos/group/Women%20Pro
Vet Pro video group: http://www.go211.com/u/springnationals08/videos/group/Vet%20Pro%20Men
Pro Cru is located in the Cruiser video group: http://www.go211.com/u/springnationals08/videos/group/Cruiser
Class: http://www.go211.com/u/springnationals08/videos/group/Class
Girls: http://www.go211.com/u/springnationals08/videos/group/Girls
Cruiser: http://www.go211.com/u/springnationals08/videos/group/Cruiser
Girls Cruiser: http://www.go211.com/u/springnationals08/videos/group/Girls%20Cruiser
Expert Open: http://www.go211.com/u/springnationals08/videos/group/Expert%20Open
Mixed Open: http://www.go211.com/u/springnationals08/videos/group/Mixed%20Open
All videos are now organized in alphabetic order, at http://www.go211.com/u/springnationals08/videos/ locate your video much easier then before.
---
Today's BMX Racing News - Thursday, May 29, 2008
Racing Is Underway At The UCI Worlds In Taiyuan, China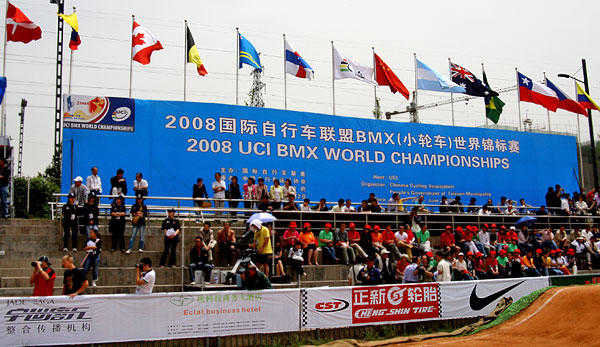 Howdy, Folks! We're jammin' in China and here are the Top Spot Finishers in Thursday's Challenge Class Racing!
BOYS
5&6 Boys/Wyatt Bell/USA - 7 Boys/Ehtan Wolthers/USA - 8 Boys/Quentin Crowley/USA - 9 Boys/Tyler Fuller/USA - 10 Boys/Karlten Wollsey/AUS
11 Boys/Brock Heffrom/USA - 12 Boys/Alden Volle/USA - 13 Boys/Hernan Santillan/ARG - 14 Boys/David Baptiste/FRA
GIRLS
5, 7 & 8 Girls/Kanami Tanno/JPN - 9 Girls/Saya Sakakibara/JPN - 10 Girls/Ruby Huisman/NED
11&12 Girls/Hannah Sarten/NZL - 13 Girls/Shayona Glynn/USA - 14 Girls/Elis Ligtlee/NED
OFFICIAL THURSDAY, CHALLENGE RESULTS AND PHOTOS POSTED ON THE BMX MANIA RACE REPORT PAGE!
---
BMX World Mag Is On The Prowl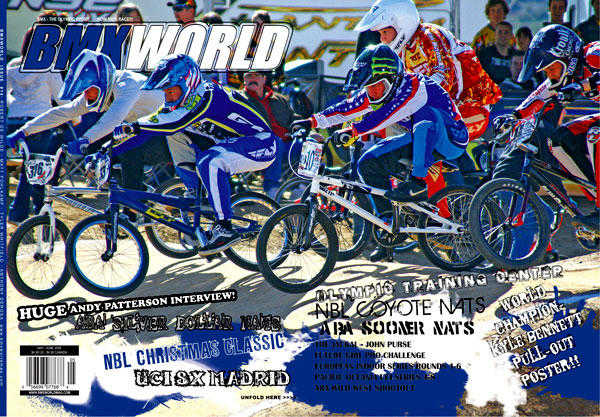 The coolest all BMX Racing mag in the world, BMX World issue 14 is out and available.
In the U.S., it's a Borders and Barnes and Nobles all across the country and for those of you in other countries,
you can get YOUR subscription by clicking here, it's worth the price of admission!
What' You don't get it' Well, you should! DO IT NOW!
Today's BMX Racing News - Tuesday, May 27, 2008
BMX Mania In The Air.....China Bound!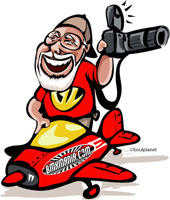 We've been spending more time on the road lately, going to BMX Races than at home.....shame, shame, shame, but that's OK, they're BMX races, SOMEONE has to go to them, might as well be US!
This week, we're off to China for the UCI BMX World Championships.
Fun stuff.
So, if you experience a gap here and there over the next couple weeks in our BMX racing coverage, forgive us, we're watching people race bikes.....One of our FAVORITE things to do!
Don't worry, though, we'll be there for ya, bringin' you all of the BMX racing news we can dig up. Thanks for visiting BMX Mania and Ride Hard!!!!!
Team France/"Europorter" Worlds Report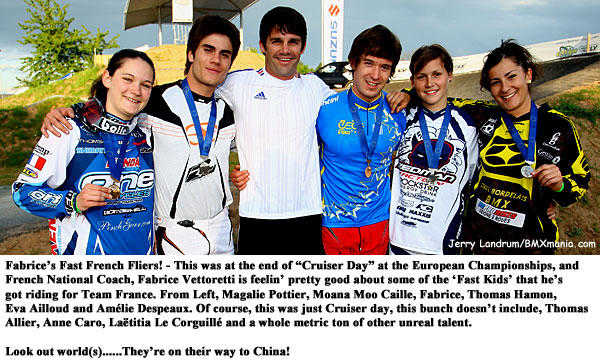 Our "Europorter" Filed this from his secret BMX Spy Station in France, on the powerful French team, as they make their way to the UCI Worlds in China. This year's UCI Worlds has a LOT riding on it due to the upcoming Olympics and the first ever BMX Olympic Event, so how teams/nations do at The Worlds is a BIG deal, and the French team is a Big Deal in it's own right, loaded with superfast talent and sporting the Fastest Women's Team In The World. Read on for the scoopage.
Official Team France :
Elite Men: Thomas Allier, in great shape the past weeks ..... Quentin Caleyron, winner of the Elite French Cup 2008 ..... Damien Godet, 2007 UCI Worlds finalist and SX specialist ..... Pablo Gutierrez, under a new MBK sponsorship ..... Thomas Hamon, often up front in the Euro rounds ..... Moana Moo Caille, coming back from his SX crash

Elite Women: Anne Caroline Chausson, 2008 Euro #2, 2007 Euro #1, 2007 UCI Worlds finalist ..... Amélie Despeaux 2008 Euro# 6, 2007 UCI Worlds finalist ..... Laëtitia Le Corguillé 2008 European champion, 2007 UCI Worlds finalist ..... Magalie Pottier 2008 Euro #3, 2007 UCI Worlds Junior champion 20" + Cruiser

Junior Men : Vincent Pelluard, 2008 Euro# 2 Junior, 2008 #3 at the Elite French Cup while still Junior ..... Joris Daudet ,2008 Euro# 4

Junior Women : Eva Ailloud , 2008 Junior Euro Champion

That's the roster of the Official French National Team coached by Fabrice Vettoretti which is on the plane to Taijuan...
The rest of the french delegation should not be far behind if they keep rowing at a good pace... Keep an eye out for "PH Sauze coached" Aurelia DON and One's Blandine Cottereau in Elite and , as usual, the rest of the ever successful French Junior line up : This year, Manon Valentino, Gaëlle Charpentier, Florian Duhamel who is "PH Sauze coached" again- Emilien Chiron and Jordan Lajmi ...

---
Stu Thomsen Interview On Old Skool UK BMX

oldskoolukbmx.co.uk has posted a cool interview with BMX Racing Legend, "Stompin" Stu Thomsen.
If you don't know who Stu is, take a few and check it out, cuz, BMX would not be the first without the "Awesome One".
He gained fame in the early days of the sport beginning in 1974.
His prime competitive years were from 1976-1985.
He can be rightly called the Babe Ruth of BMX for his prolific and domination of BMX during its early days from the mid 1970's into the mid 1980's.
Even today, many of the current sports superstars are compared to him as a standard of achievement.

Stay Strong Stephen Murray Fund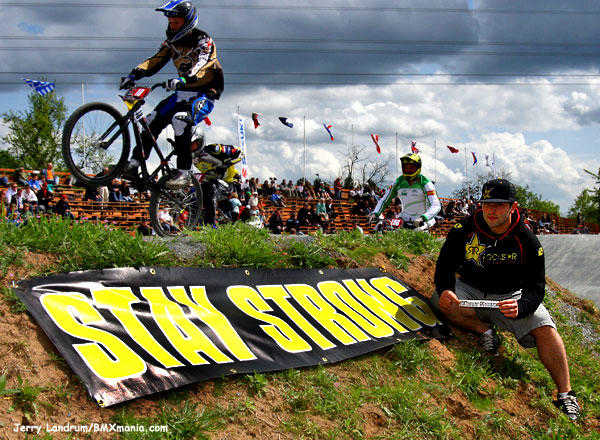 Marco's on a mission for Stephen!
---
REDMAN PIT BIKES ARE IN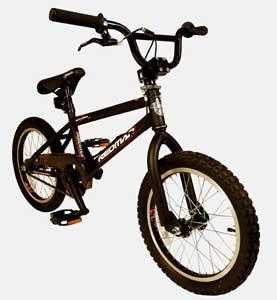 REDMAN is running a special.
$175.00 for the 16 inch MINI PIT WARRIOR.
They won't last long at that price
3 MAIN TUBE CRMO FRAME WITH 6MM DROPOUT
HEAVY DUTY CRMO FORK WITH 1-1/4 BLADES
BLACK ANODIZED ALLOY RIMS WITH MACHINED SIDEWALL
3-PIECE HOLLOW CRMO CRANKS WITH 36T CHAINRING
2.125 DIRT FRONT AND STREET TIRE
INCLUDES ROTOR AND 2 PEGS
3 COLOR TO CHOOSE FROM
ORANGE, BLACK, WHITE
CALL THE OFFICE AT 702-222-0993
Or Email info@redmanbikes.com
Check out our new site
www.redmanbikes.com
---
FREE AGENT ANNOUNCES "PRO PASS" PROGRAM TO GIVE OUT FREE BICYCLES TO UP-AND-COMING RACERS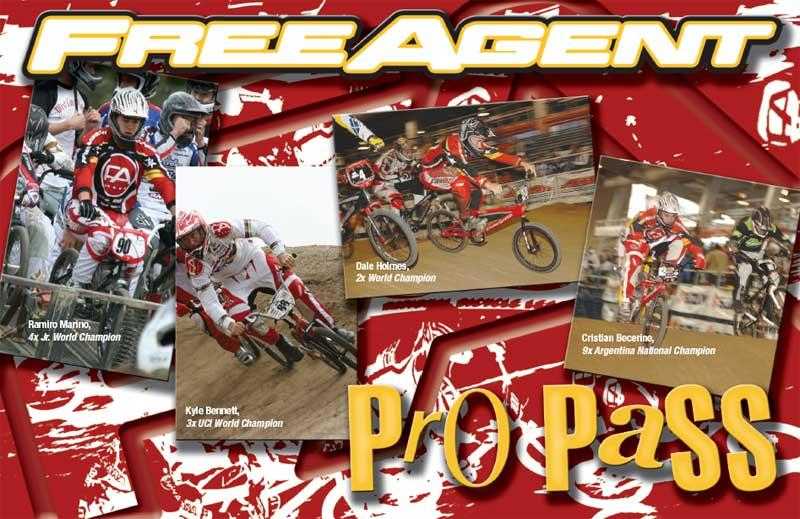 (DOMINGUEZ HILLS, CA) - Free Agent, reigning world champion BMX team and a leading brand of BMX bicycles, announced a new program call "Pro Pass" that will begin this racing season. The program lets World Champions on the Free Agent racing team give away bicycles to young racers they see at local and national events.

"Now Kyle Bennett, Cristian Becerine, and other members of the team will be keeping their eyes open for young racers with a great potential," said Dale Holmes, team manager and former World Champion himself. "When the guys see someone they think has a great future, they'll give them a Pro Pass, which the rider can turn in for a free Free Agent Team BMX bike and official accessories."

The program is designed as a way of fostering interest and excitement in young riders. Rather than just raffle off bikes, though, Free Agent will use the talents of some of the world's top racers to spot the champions of tomorrow. The team will not necessarily be announcing where or when the bikes will be given away. Instead, the team members will be given passes to award as they see fit throughout the season.
---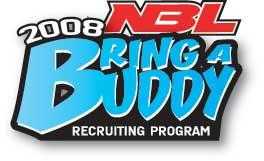 GO211.COM BRINGS YOU "FREE" LIVE WEBCAST COVERAGE OF THE ABA'S SPRING NATIONALS

Albuquerque, New Mexico – GO211.com, in conjunction with the American Bicycle Association, is proud to bring you the LIVE "FREE" webcast of the ABA's SPRING Nationals, a ABA BMX PRO Series event hosted by the Duke City BMX in Albuquerque, New Mexico.
Tune in for all the race action starting Saturday, May 24th, through Sunday, May 25th. This weekend will be another great one for sure!
It all starts on the May, 24th at 10:00am mountain time with a pre-show for the SPRING Nationals. GO211.com will then go right into the "LIVE" action packed event coverage starting at 11:00am mountain time for the duration of the days event.
GO211.com will kick things off again at 7:30 mountain time with another pre-show webcast, followed by the "LIVE" action feed at 8:00am sharp on the May, 25th.
The SPRING National in Albuquerque, New Mexico is always noted as one of the best BMX events of the year, and this year will not be a disappointment.
The facility, the track, the dirt, the PRO Section, the racers, and the fans all seem to come together to make this a can't miss event!
Click here for all this weekends action! - http://www.go211.com/u/springnationals08
Remember, if you can't make it out to this awesome event or you can't get to a computer this weekend and miss all of the race action.
GO211.com will have all the Main Events (plus Pro Quarters, Semis, and Motos), interviews, and shows posted on GO211.com the week following the event.
Be sure to check out www.GO211.com and www.ababmx.com for more details.
About GO211.com: Go211.com is the leading community and video site for lifestyle sports created by and for action sports athletes and enthusiasts.
It's the place to hang with the Pros and friends to get behind-the-scenes video, blogs, photos, webcasts and podcasts from featured contributors along with other action sports fans.
Go211.com offers a broad range of exclusive content submitted directly from the athletes.
The Go211 Pro Team roster includes Danny Kass, Jeremy Jones, CJ Hobgood, Christian Hosoi, Hannah Teter, Ross Powers, Donny Robinson, Alise Post, Kyle Bennett, Randy Stumpfhauser, Mike Losness, Seth Wescott and Kelly Clark, among others.
---
---
---
---
Czech BMX National Championships - Elite Men Final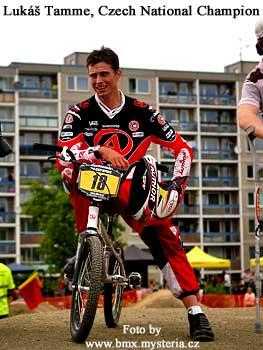 1. Lukáš Tamme - Team Author ... 2. Štěpán Tumpach - Rock Machine ... 3. Michal Přibyl - Haro/Katmar ... 4. Petr Muhlhans - Mariánské Lázně
5. Jiří Holub - Team Olympus ... 6. Jan Švub - Kur Sport ... 7. Tomáš Slavík - Team GT ... 8. Radim Kvaček - Team GT
Photo by www.bmx.mysteria.cz
---
2008 Italian National Championships - Elite Men's Finals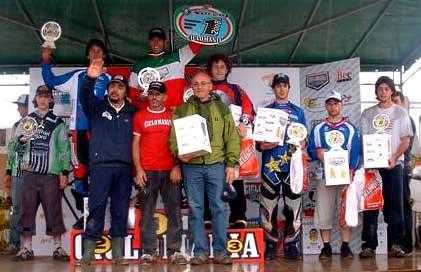 1. Manuel De Vecchi (Ciclomania Racing); 2. Andrea Giovannelli (Team Creazzo); 3. Mauro Paiusco (Team Bmx Verona); 4. Norbert Marazzi (Bmx Ciclistica Olgiatese)
5. Federico Ravizzini (Team Scout); 6. Francesco Gargaglia (G.S. Testi Cicli Asd); 7. Manuel Schiavo (Team Creazzo); 8. Jacopo Giovanni Gianella (Bmx Ciclistica Olgiatese)
---
Pryme Factory team from the ABA Mid-America Nationals



The Pryme team had a great race weekend in Blue Springs. They just keep getting better and better.
Amy McIntyre (USAC Champ) kicked things off with two wins in mixed open. Doc sat out Saturday with a bum wing, but couldn't resist racing and taking the win on Sunday. Welcome back Joel House!! Whatever he did to win
cruiser on Sunday (and a 3rd in class) we hope he does it again at the next race.
Tiva Feltman is back and despite a birthday took two seconds in 15 girls. Kyle McArthur was the man in 10X; a second and third with good rider count went a long way towards the team sheet. Bridget Walter was all-podium all weekend long; including a season's best second in class. Kim Vanderpas finally had her own class and showed that she is one of the best; two thirds. Preston Barley, Cody McArthur, Ryan Macdonald, and Marc McArthur
all made it to some mains in the super stacked expert classes.
The team came away with two fourth places as well as two keeper scores. Look for the Pryme crew next in New Mexico.

Current NAG points look like this: Preston Barley: 12 class ... Kyle McArthur: 8 class & cruiser ... Cody McArthur: 12 class & 8 cruiser ... Joel House: 6 cruiser ... Doc Graham: 1 cruiser ... Amy McIntyre: 2 class & 7 cruiser ... Tiva Feltman: 6 class ... Bridget Walter: 9 class & 5 cruiser ... Kim Vanderpas: 7 cruiser

We are having one of our best years ever!

Thank you for your continued support, Carl Lein/Factory Pryme - www.factorybmx.com

---
---
---
Dutch Elite Men's BMX Championships!
The Dutch BMX Championships went down over the weekend and here're the Elite Men's Final Results.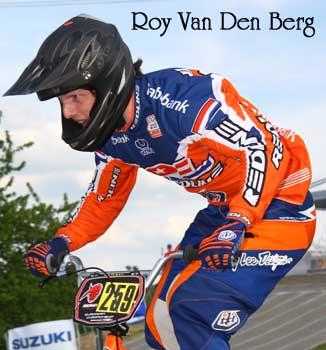 1 Roy Van Den Berg 2 Martijn Scherpen 3 Sander Bisseling 4 Jordy Van Der Heijden 5 Robert De Wilde 6 Raymon Van Der Biezen 7 Rob Van Den Wildenberg 8 Jelle Van Gorkum
---
UCI Supercross Denmark Photo Available for Sale Online!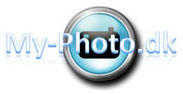 Want some "Hot Shots" from the UCI Denmark Supercross race?
my-photo.dk designed for distributing and selling digital images for instant download from different sports events has the answer.
Last weekend they had their photographer shootin' at the World Cup BMX in Copenhagen and he took some amazing shots from the event. Rates are good/cheap and the selection is 'Super'.
---
FORMULA HAS GONE "BAD"
Formula SA has joined ranks with the all new sponsor from After Market Products, "BAD BOY" racing company.

Back: Robin Mulligan, Tyrone Mulligan, Gary Herbert (Manager) Alan Dodd
Front: Lloyd Dodd, Slade Smith & Kane Herbert
Formula/South Africa is now in it's second year and has welcomed the Mulligan' boys to the team.
We look forward to seeing Tyrone Mulligan back on his Formula after a huge crash breaking his elbow and shoulder.
Thanks to After Market Product, S.A. Distributers of Motorcycle and Marine Accessories for supporting us as a team.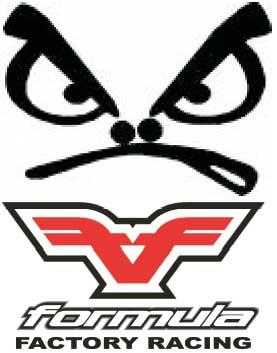 (Dave Gunning) +27 11 392 0770
---
---
---
THE BIGGEST LITTLE BMX RACE, EVER!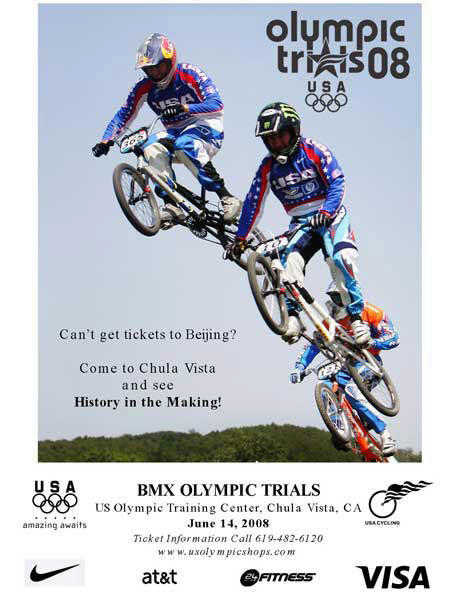 Oh, Yeahhhhhhhhhh! Seems that the US Olympic Committee and USA Cycling are going to put on a race. It's going to be a BIG race. Wait, it's going to be a SMALL race. HUH?
8 Riders - Big Starting Hill - Replica Olympic BMX Track - Elite Men Only - No Pressure - The Winner Goes To The Olympics!
We'll be there, how bout you?
---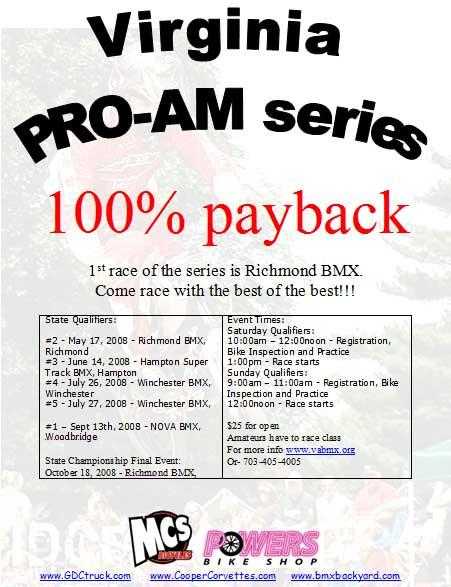 ---
---
---
---
---
---
---
---
ABA Rider Featured In New Gatorade Commercial
BMX Mania Editor's Note.....This came in to use from the ABA, and we wanted to pass it on to the BMX Community. You may have seen it in your wanderings around the BMX Web, but if not, you HAVE GOT to see this. It's one of the funniest commercials ever, and the fact that it featured a little BMX guy just caps it off for us. GREAT exposure for BMX, too! Cool stuff, Matt Chism, YOU'RE AWESOME!!!!!
From the ABA.....

Hello Everyone.....I'm not sure if everyone out there has seen the new Gatorade commercial or not. I just received this e-mail this morning. This should explain who the rider is and a little bit more about the commercial. Good job Matt and family for spreading the word of BMX racing! You can check out the video links to the commercial below!
FROM THE CHISM FAMILY
Hello ABA.....Just thought you all might like to know that one of your own (Matt Chism) is in a new Gatorade commercial. This was filmed during the week after the Redmond Oregon national near Napa California. This is how it plays on You Tube as posted by the production company: http://www.youtube.com/watch?v=ZHSLB_0KcDE
This is the actual Gatorade commercial as being played nationally: http://www.bestads.tv/view/1652/gatorade-tour-de-france/


We were told it was going to begin airing around June prior to the Tour de France, but they have released it early. Friends have told us it's played on NBC during Deal or No Deal, and several have seen it on MTV.
Hope you enjoy. Thanks for everything you all do!!!!!!!!!

We absolutely love this sport! - Jeannie Chism/The Chism family, Jason, Jeannie, Megan (CA14-7317) & Matt (CA14-3565)
---
---
KENDA SIGNS MULTI-YEAR Partnership WITH NBL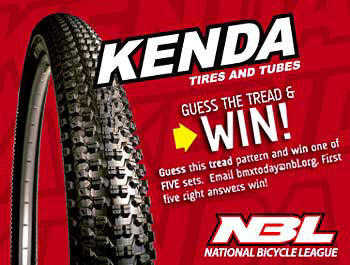 Hilliard, Ohio – The National Bicycle League (NBL) is proud to announce a new multi-year partnership with Kenda Tires and Tubes. Kenda will be recognized as the "Official Tire and Tube" of the NBL National Series and also as a key co-sponsor of the 'Bring-A-Buddy' National Recruiting program.
To differentiate themselves in the competitive market for quality tires with innovative treads, Kenda will be promoted through a mix of national event exposure and traditional media including color advertising in BMX Today Magazine. To connect Kenda directly to thousands of potential customers, NBL will promote the brand through on-site games like the 'Kenda Tire-Toss', at select National events. "We truly believe in the value of 'Experiential' marketing and how it affects consumers in a more positive and organic way" said Kevin O'Brien, NBL Marketing Director, "Kenda is genuinely interested in promoting the sport and this adds great value to our program" O'Brien adds.
Several of Kenda's tires are already popular with NBL members and teams including the Team NBL Champs of 2007 – VBS/Kenda from Ohio. To stay competitive, Kenda is currently developing several new lower-profile treads and a Kevlar folding bead tire to compliment their already-impressive line of rubber. Favorites, such as the Small Block Eight, Kompact and the K-Rad, continue to be the flagships of the Ohio-based brand as they forge new ground in treadnology.
"We're looking forward to a successful venture with the NBL" said Jim Wannamaker, Kenda's North American Marketing Director, "It's a very exciting time for the sport and we trust the NBL to represent our brand to their members around the country" continued Wannamaker.
To kick off the sponsorship, NBL is promoting the 'Guess the Tread' Contest through the NBL website exclusively (www.nbl.org). Win one of five sets now!
Kenda's partnership with the NBL comes at a perfect time as the sport nears its Olympic debut in August. NBL is working hard to attract new riders and bring back those who raced during the sport's formative years through a number of exciting programs and cross-promotions. Visit www.nbl.org to learn more and watch for a Kenda Tire-Toss near you.
Upcoming Kenda Tire-Toss events:
Golden State National – Prunedale, CA, June 21

Stars & Stripes National – South Park, PA, June 28

Music City Nationals – Nashville, TN, July 19

NBL Grand National – Louisville, KY, August 30
About KENDA
Kenda is a leading manufacturer of bicycle, motorcycle, ATV (All Terrain Vehicle), industrial, and trailer tires. Most recently, Kenda has begun producing quality automotive tires and tubes for worldwide distribution. Since the inception of the company in 1962, they have operated on core values of honesty, innovation, quality, and customer service. For the past forty years, Kenda has continued to develop and expand its product selections to meet changing market demands. For more information about the full line Kenda products and teams, visit www.kendausa.com today.
---
E

uropean Championship 2008 in Germany –

ONE

/

Kenda

brings home 3 titles
ONE KENDA press release
Round 11 and 12 of the European Championship for Junior/Elite Men and Women were held in Weiterstadt, Germany. This was the host for the European Championships back in 1986…sweet memories.
Maris Strombergs and Toms Skujins from Latvia and Joyce Seesing from the Netherlands are the new European Champions for ONE/Kenda.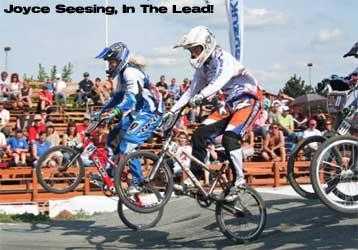 Joyce won the Junior Women Class, Toms won Junior Men and Maris took the title in Elite Men.
Maris had a comfortable lead on the number two in the ranking, before round 12 started.
Magalie Pottier from France got 3rd in Elite Women cruiserclass and Joyce Seeing got 3rd in Junior Women.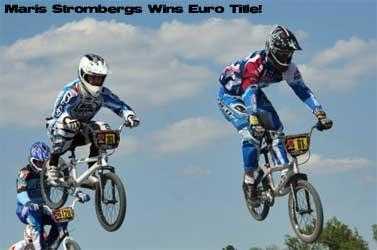 Although the races during the weekend weren't as succesfull as usual for ONE/Kenda, the final result was what we hoped for.
Results:
Elite Men -
Saturday: 5. Arturs Matisons, 7. Maris Strombergs LAT
Elite Women -
Saturday: 7.
Magalie Pottier FR .....
Sunday: 3.
Magalie Pottier FR
Junior Men -
Saturday: 4. Toms Skujins LAT ..... Sunday: 5. Toms Skujins LAT
Junior Women - Saturday: 4. Joyce Seesing NED ..... Sunday: 6. Joyce Seesing NED
We would like to thank all our sponsors for their help in this success and Jerry Landrum (BMX MANIA) and Shane Jenkins (BMX ULTRA) for putting our press releases online.
A special thanks goes out to UFO Plast, NIKE, Bollé and FIZIK for continuing their relationship with us in the future.
Thank you: Kenda, UFO, Snap, WLM Design, Bombshell, The, Shimano, Fizik, NIKE, ODI, Pinch Gear, Bollé, and Thomson
Photos: two-o-nine.com and bmxpix.org
Next race, Supercross World Cup in Copenhagen, Denmark

---
Donny Robinson & Shanaze Reade Take Top Spots
on the podium At UCI SX Copenhagen
---
UCI SX Copenhagen Video Coverage available on Freecaster TV!
Freecaster continues it's coverage of the UCI BMX Supercross World Cup presented by Swatch.
UCI BMX Supercross World Cup presented by Swatch Copenhagen Videos on Freecaster.tv
Final - http://www.freecaster.tv/1000002_1004453
Semi Final 1 - http://www.freecaster.tv/1000002_1004506
Semi Final 2 - http://www.freecaster.tv/1000002_1004510
The third leg of the 2008 UCI BMX Supercross World Cup presented by Swatch took place on Friday and Saturday, 9th and 10th of May. For the first time ever the event was held in Denmark. The capital Copenhagen hosted the final World Cup event before the Olympics in Beijing. More than 120 professional riders from all over the world came to compete for medals and Olympic participation. Re-watch all the action on www.freecaster.tv!!
For future UCI BMX dates, check the Monster Calendar http://www.freecaster.tv/calendar
---
ROBINSON WINS BMX SUPERCROSS WORLD CUP IN COPENHAGEN
Bennett Inches Closer to Olympic Berth, Martin Fifth in Women's Race
Official USA Cycling News Release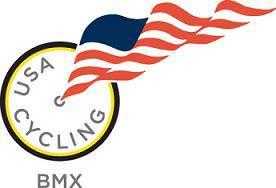 Copenhagen, Denmark (May 10, 2008)—Just three months before Bicycle Motocross (BMX) makes its Olympic debut in Beijing this August, American Donny Robinson (Napa, Calif.) won the third round of the UCI BMX Supercross World Cup series on Saturday.
Along with compatriot Kyle Bennett (Conroe, Texas), Robinson was one of two Americans to qualify for the finals. Bennett finished fourth behind runner-up Jared Graves (AUS) and bronze medalist Maris Strombergs (LAT).
Bennett's fourth-place effort yielded enough points to finish the 2007-08 season as the top American in the international rankings. Provided he's ranked in the top five overall in the UCI rankings following the World Championships later this month, Bennett will have met the criteria to receive an automatic nomination to the 2008 U.S. Olympic Team. Currently, Bennett is ranked third in the world behind Marc Willers (NZL) and Graves.
With his victory on Saturday, Robinson now leads the World Cup standings after three races. Two more remain in Salt Lake City, Sept. 12-13 and Frejus, France, Oct. 10-11.
Also on Saturday, women's U.S. Olympic hopeful Arielle Martin (Pleasant Grove, Utah) finished fifth in the women's race as the only American to qualify for the final. The women's event was won by Shanaze Reade (GBR), while Letitia le Corguille (FRA) and Anne-Caroline Chausson (FRA) were second and third respectively. Sarah Walker (NZL) was fourth.
The final major BMX race before the Olympic Games is the 2008 UCI BMX World Championships, set for May 29 – June 1 in Taiyuan, China.
---
Friday UPDATE POSTED TO THE BMX MANIA RACE REPORT PAGE!
The On again/off again/on again UCI SX Race.....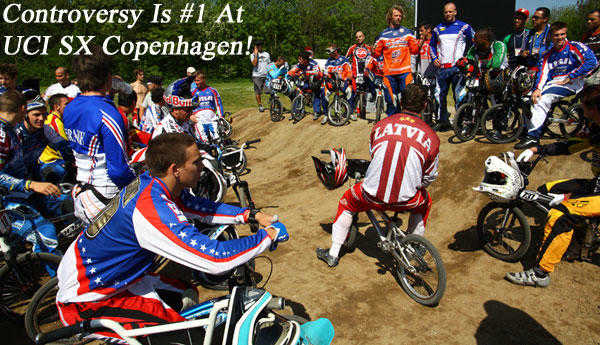 Here's how it went down, Friday In Copenhagen on the SoftTrack.
1 - The Elite Women practiced, but no one made it past the Third Straight...Mariana Pajon crashed hard and went off the track injured.
2 - The 'B Practice' for Elite Men took place, but only about four riders were able to take the VERY difficult Second Straight.
3 - The 'A Practice' started, but soon ended when most of the riders boycotted the practice session.
4 - The Race Organizers and representatives from the riders met and agreed to cancel Men's practice and do it first thing in the morning, before the comp starts.
5 - It was decided that the girls would have a 1/2 hour warm up, the two rounds of time trials, starting at 3PM/Friday.
6 - After about twenty minutes of practice, the Elite Women (except for 8 riders) the girls demanded a similar meeting to what the ladies got.
7 - It was decided at a meeting between race organizers and the lady BMXers that they would not run time trials today, but would go straight to their 3 motos tomorrow.
8 - Everybody went back to the hotel early again!
CHECK OUT THE BMX MANIA UCI SX RACE REPORT PAGE.....CLICK HERE!
OOps! We jumped the gun, the SX Copenhagen track had some wet dirt issues,
practice was cancelled for Thursday and begins 9AM/DK time.....More later!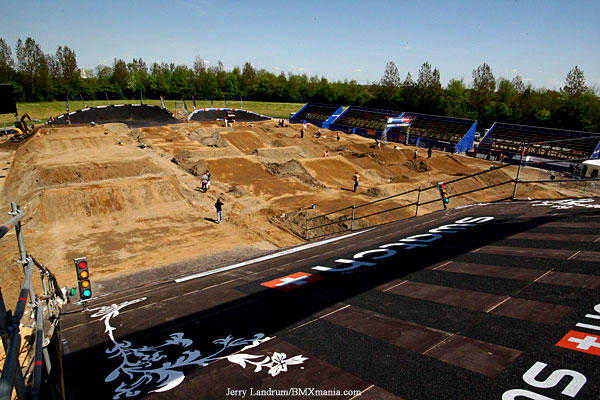 ---
BMX Mania News Flash!!!!!
The roving BMX Mania Media Center just rolled in to Copenhagen, Denmark....
Look for HOT shots from UCI SX Copenhagen Men's & Women's Practice, Thursday Night!!!!!
---
---
BIG SUNDAY EURO REPORT POSTED TO BMX MANIA REPORT PAGE!

SOME OF THE BEST RACING EVER, CHECK IT OUT ON BMX MANIA!
---
Euro Overall Results - Ailloud, Le Corguille, Skujins, Strombergs
Sunday Race Results - Vanhoof, Le Corguille, Willoughby, Lakucs
Euro Titles Action Highlighted by slam Bang Race Action, Euro Style!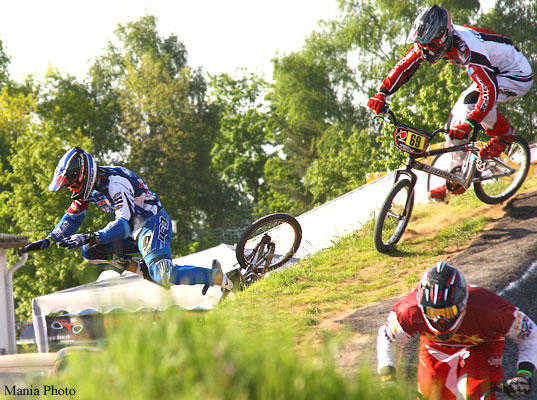 complete results posted to the bmx mania race report page.....click hier for results!
BigHugeLarge Sunday Race Report Coming To You, Monday or Tuesday (Wednesday?) or whenever we get around to it!
Heck, we've got to take some time off somewhere along the line, huh?
Off to Copenhagen for UCI BMX Supercross World Cup Racing Insanity, coming this next weekend!!!!!
---
---
THE RISE AND FALL OF SIFISO NHLAPO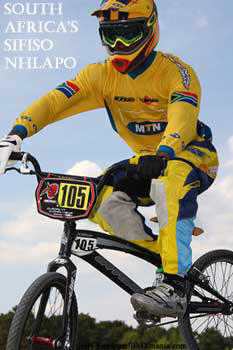 South African BMX star Sifiso Nhlapo spent Saturday night celebrating his victory in Round 11 of the European Champs and then spent Sunday night in a German hospital following a serious crash during Round 12 on Sunday.

Once he'd woken from being comatose for four hours on Sunday night and given the all clear from doctors, Nhlapo was able to appreciate his second place overall in the 2008 European Championships, the most competitive international BMX series in the world.

Latvia's Maris Strombergs, Europe's current No.1 who is widely regarded as one of the favourites for an Olympic medal in Beijing this August, won the European Champs title, but it was the fresh-faced 20-year-old South African that almost upstaged the Latvian's quest for the coveted continental championship crown.

On Saturday, Nhlapo was on fire, blazing his way through the qualification rounds to the final where he lined up against many of Europe's biggest stars, including Strombergs. Clad in his characteristic MTN-yellow strip, Nhlapo burst out of the starting gate and into the lead at the first jump. He then shot out of the first turn with a bike-length lead that he held throughout to claim his third win of the 2008 European Champs Series.

A perfect run through to a final podium place on Sunday could have seen Nhlapo challenging Strombergs for the Championship, but a crash in the quarterfinal ended Nhlapo's series prematurely. Two riders briefly clashed and bumped Nhlapo over the lip of a right-hand berm. His fall was relatively unspectacular, but he landed on a metal table off the track, which rendered him unconscious and had medics rushing him to hospital.

He regained consciousness four hours later and showed no signs of injury or illness and was discharged on Monday morning.

"Round 2 of the Supercross World Cup is in Denmark this weekend and because of his crash, we're not sure yet whether Sifiso will be able to race," said Mark Squire, Nhlapo's manager. "It's a crucial event in terms of preparation for the World Champs later this month, but we'll know later this week what the doctor's recommend."

Nhlapo's top-20 world ranking has put him in a position to be able to qualify for one of just 32 places at the Beijing Olympic Games. He will need to at least make the quarterfinals at the World Championships in China later this month to secure a place for South Africa at the Games.


European Championship Round 11 - Weiterstadt, Germany - Elite men: 1 Sifiso Nhlapo RSA .. 2 Thomas Hamon FRA .. 3 Ivo Lakucs LAT .. 4 Arnaud Dubois BEL .. 5 Arturs Matisons LAT .. 6 Lukas Tamme CZE .. 7 Maris Strombergs LAT .. 8 Robert de Wilde NED

European Championship Round 12 - Weiterstadt, Germany - Elite men: 1 Ivo Lakucs LAT .. 2 Michal Prokop CZE .. 3 Martijn Scherpen NED .. 4 Roy van den Berg NED .. 5 Arnaud Dubois BEL .. 6 Ivo van der Putten NED .. 7 Thomas Hamon FRA .. 8 Quentin Caleyron FRA

Final 2008 European Championship Series rankings 1 Maris Strombergs LAT .. 2 Sifiso Nhlapo RSA .. 3 Ivo Lakucs LAT .. 4 Thomas Hamon FRA .. 5 Arturs Matisons LAT .. 6 Roy van den Berg NED .. 7 Pablo Guitierrez FRA .. 8 Thomas Allier FRA .. 9 Martijn Scherpen NED .. 10 Michal Prokop CZE

Sifiso Nhlapo's 2008 European Championship record: Round 1 – St Etienne, France: 1st .. Round 2 – St Etienne, France: 2nd .. Round 3 – Zwolle, Netherlands: 5th .. Round 4 – Zwolle, Netherlands: Eliminated in semi-final .. Round 5 – Frederica, Denmark: 8th .. Round 6 – Frederica, Denmark: 6th .. Round 7 – Douai, France: 5th .. Round 8 – Douai, France: 8th .. Round 9 – Echichens, Switzerland: 3rd .. Round 10 – Echichens, Switzerland: 1st .. Round 11 – Weiterstadt, Germany: 1st .. Round 12 – Weiterstadt, Germany: Crashed in quarterfinal
---
2008 ABA BMX PRO Standing through East Coast Nationals- Spartanburg, SC.

The American Bicycle Association hosted the East Nationals this past weekend, April, 25-27 in Spartanburg, SC. The racing at the East National event was exciting to say the laest! The Supercross BMX crew really stepped it up and had the facility in tip top shape and ready to race! This was the fourth PRO Series event of the season and the PRO Riders were excited to head out east on the tour.
With the 2008 Olympic debut just around the corner for BMX racing, the buzz and hype is all around. There is getting to be more and more of the media frenzy at each event. Many of the sports top athletes from around the world were on hand to take a shot at getting some much needed points towards the ABA BMX titles. The 2008 season is shifting into high gear and the fans are loving it! Round four continued to be THE YEAR of The Dynamic DUO of BMX! Once again it was the Danny C.and David Herman show. They were spotted all over the top spot of PRO podiums on the weekend. Past 3-time ABA National #1 PRO, Bubba Harris, continued once again to show the fans he's on the comeback trail with his impressive third place finishes both days. This gives Bubba some much needed points towards his ABA PRO title shot! Current ABA National #1 PRO, Danny "Easy Money" Caluag, continued his win streak of at least winning one at each of the ABA BMX PRO series stops. "Easy Money" brought home his fourth AA PRO win of the season on day #2 Danny is proving once again his ABA National #1 PRO tile was no fluke and he plans keeping it! David Herman put in another solid ride taking his first AA PRO win of the season. David looks to be a contender for the ABA PRO title for sure. Another stand out on the weekend was Alabama's favorite son and Clyborn rider Barry Nobles. Since coming off his knee surgery last October, Barry has continued to impress by making AA PRO mains. Barry has just missed the podium at several events but this weekend saw Barry ride to a solid 2nd place in AA PRO on Sunday and a Barry rode his way to a fourth on Saturday. This past weekend shows just how deep the talent pool is on the ABA BMX PRO tour. David Herman makes the fifth different AA PRO winner in four sops. That's pretty impressive!
On the Ladies side we saw the return of ABA National #1 ladies PRO Alise Post. Everyone was excited to see the showdown between Alise and Dominique Daniels. And the ladies didn't disappoint the fans! They battled out all weekend long and the Supercross BMX fans were going crazy! Dominique raced her way to an impressive win on Day #1 Afton Schrimf looked solid with a second place podium and Kayla Gaddis took third. Day #2 was another story, Kayla Gaddis took her first BIG WIN of this season with Dominique and defending ABA National #1 Ladies PRO, Alise Post finishing right behind. Alise had a pretty tough weekend, but being the champ that she is, she'll bounce right back up. The ladies racing has really stepped it up over the last couple of years and the new crop of younger woman is very promissing for more excitement to come.
Pro Cruiser saw another young gun make his mark. This time it was J&R's Michael Kapes out of FLA. showing the boys the fast way around the track on Day #1. This Mikes's first BIG Pro Cruiser win so we're stoked for him. Defending ABA BMX Champ "Easy Money" Danny C. took the two spot with Barry Nobles putting in another solid ride for third. Day #2 saw Danny C. show why he's got the #1 ABA plate on his bike taking the 1st. Kapes was impressive once again with a 2nd. and the "TP" Todd Parry was holding it down for the 40+ crowd by making the PRO Cruiser podium in 3rd. I don't know about you guys but Todd's feat seems pretty impressive to me at 40 years old!
Vet Pro was back in action again. Dale Holmes had been on a little R&R from the race scene but returned with fury. Dale nailed down two more VET PRO wins on the weekend winning by both days. Kenth Fallen has been the man to beat all year and with two solid seconds he's proving to be in the hunt for the ABA VET PRO tile come Grands time. Day # 1 saw Chad Street take the third. Chad's been about as solid as they come as a racer and he's due for a win any day now. Day #2 saw past ABA BMX National #1 PRO,"The Jackal" John Purse taking the three spot. John continues to knock the dust off as he gets back in the mix. "The Jackal" is another I expect to see on top the PRO podium any day now!
The ABA, the city of Spartanburg, SC. and the entire Supercross BMX crew would like to thank all the participants, families, teams, sponsors, and BMX industry for helping make the East Coast National event such a huge success!
Rider ABA BMX PRO wins after East Coast Nationals

AA PRO Danny "Easy Money" Caluag – Intense/BAWLS – 4 ..... David Herman – Intense/BAWLS - 1 ..... Kyle Bennett - Free Agent - 1 ..... Cristian Becerine - Free Agent - 1 ..... Khalen Young - Haro Bicycles - 1
Woman's PRO "Demolition" Dominique Daniel's– Intense/Phantom/On-Trac – 4 ..... Alise "The Beast" Post- Formula - 2 ..... Stephanie Barragan – 1 ..... Kayla Gaddis - Intense/Bizarro/JRA - 1
PRO CRUISER Danny "Easy Money" Caluag – Intense/BAWLS – 3..... Michael Kapes – J&R Bicycles -1 ..... Kenth Fallen - Supercross - 1 ..... Tyler Brown - Supercross - 1 ..... Paul Lange – Redman/Rockstar – 1
VET PRO Kenth Fallen – Supercross - 5 ..... Dale Holmes – Free Agent – 3
2008 Pro Standings through East Coast Nationals
AA PRO 1 DANNY CALUAG 1761 ..... 2 DAVID HERMAN 1521 ..... 3 BUBBA HARRIS 761 ..... 4 KHALEN YOUNG 707 ..... 5 BARRY NOBLES 641 ..... 6 CRISTIAN BECERINE 587 ..... 7 KYLE CUSHMAN 397 ..... 8 DEREK BETCHER 311 ..... 9 RANDY STUMPFHAUSER 297 ..... 10 KYLE BENNETT 290
WOMEN'S PRO 1 DOMINIQUE DANIELS 1621 ..... 2 STEPHANIE BARRAGAN 1105 ..... 3 RACHAEL LUNA 821 ..... 4 ALISE POST 803 ..... 5 TERRA NICHOLS 645 ..... 6 AFTON SCHRIMPF 511 ..... 7 KAYLA GADDIS 416 ..... 8 CASSIE BUSHNELL 385 ..... 9 TONI RUDE 322 ..... 10 AMANDA GEVING 307

VET PRO 1 KENTH FALLEN 1904 ..... 2 DALE HOLMES 1307 ..... 3 CHAD STREET 1224 ..... 4 JOHN PURSE 990 ..... 5 TIM DINGER 464 ..... 6 JASON CARNES 331 ..... 7 MIKE GUL 330 ..... 8 ROBERT HARRIS 273 ..... 9 DAVID BITTNER 194 ..... 10 BILLY ROSS 174
PRO CRUISER 1 DANNY CALUAG 1617 ..... 2 KENTH FALLEN 1157 ..... 3 TYLER BROWN 835 ..... 4 JOE SOWERS 512 ..... 5 PAUL LANGE 462 ..... 6 MICHAEL KAPES 452 ..... 7 JOEY BRADFORD 262 ..... 8 CHRIS KROOSWYK 252 ..... 9 TODD PARRY 234 ..... 10 BILLY ANDERSON 219
A PRO 1 JOSH SMITH 1032 ..... 2 LIAM PHILLIPS 895 ..... 3 KRIS FOX 795 ..... 4 DENZEL STEIN 765 ..... 5 DEREK SIPKOI 745 ..... 6 JASON MORRIS 648 ..... 7 JON MILLER 619 ..... 8 JIM BROWN 526 ..... 9 DEAK BROWN 503 ..... 10 TODD PARRY 492
ABA BMX would like to thank all the 2008 National Series sponsors: American Suzuki-(www.suzukicycles.com ) Jig-A-Loo-(www.jigaloo.com ) BAWLS Guarana (www.bawls.com) Bawlstyle (www.bawlstyle.com )Redline Bicycles-(www.redlinebicycles.com ) FLY Racing-(www.flyracingbmx.com ) Sponsorhouse-(www.sponsorhouse.com ) Tangent-(www.tangentproducts.com ) Intense BMX-(www.intensebmx.com ) T.H.E. (www.bmxthe.com) Fire Magic Premium Grills (www.rhpeterson.com/firemagic/) Disney's Wide World of Sports Complex (www.disneysports.com)
---
Factory Pryme Builds Bikes For Kidz!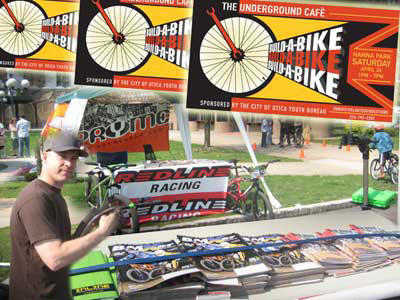 Here's a cool deal from Factory Pryme, Team Manager, Carl Lein.
Carl, who is currently located in New York State serving the U.S. Army and BMX, recently participated in a good will outreach that involved some cool bike fun for some needy kids.
The event was called Build A Bike and it was held in Utica, NY.
An organization called The Underground Café had collected bicycles for months and then local kids and families got to come and pick out a bike and have volunteer mechanics fix them up.

Being sponsored by Redline and a life long member of the ABA, Carl called in support from those two groups and made a nice little BMX outreach and even fixed up some bikes.....NICE!
Check out the canopy setup that Carl worked out of in the parking lot where the stand is.
While the event was goin' on, a big wind came thru and blew over the canopy, but that didn't dampen anyone's spirits, Carl just set stuff back up and had at it.

You can also see in the photo some cones set up to the right, where the kids did a fun bike rodeo.
The ABA chipped in with ABA BMXer magazines, stickers, and New Rider books and Carl sez that there were tons of kids going around with hot looking ABA stickers on their new bikes, and big grins on their faces.
Surprisingly, there were several kids who knew the difference between the Flight series and the Proline series; and several folks wanted to know how to order the cool Inline tools.

Thanks to Redline, Inline, and the ABA for sending items for the event!

Carl Lein - www.factorybmx.com
---
---
Saturday, Round 11 of Euro Championships!
Jr. Women/Eva Ailloud, Elite Women/Laëtitia Le Corguille, Jr. Men/Sam Willoughby, Elite Men/Sifiso Nhlapo
Huge European Championships photoReport posted to BMX Mania! on the bmx mania report page!
Complete Junior and Elite Cruiser Results Posted on the bmx mania race report page!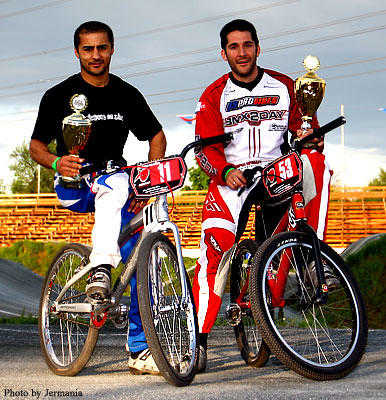 Who Won And Who Lost, And Say Hi To Fred Rello (Right) Makin' The Scene At The Euros!
Click on 'Fred & Friend' to make your way to the Euro Championships Race Report Page!
Cruiser championships from the Euro's!
Seesing takes Junior Women Cruiser, France takes everything else!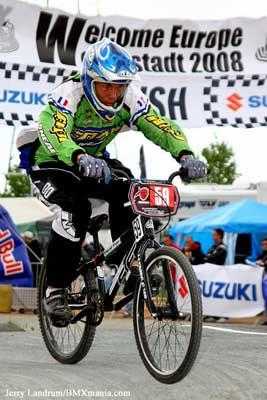 check out the Euro Championships Race Report Page On BMX Mania for Cruiser Podium Finishes!
Delaware Sun Bru Team Makes Team Debut at ABA East Coast National
Delaware Sun Bru made their debut at the ABA East Coast Nationals in Spartanburg, SC.
The young team did well winning 3rd on Saturday and 4th on Sunday.
The individual riders had good finishes all weekend, even with a sloppy track on Sunday.
Sun Bru team members at the SC race were Mason Fry, Cassidy Cox, Taylor Hammond, Melissa Cordle, Alexandria Cordle, George Kershaw, John Cox, Tony Favata and Daniel Wood.
Keep an eye on them as they are all looking to get their names out there.
The team is also looking for co-sponsors.
---
BMX In Weiterstadt, Germany - The European Championships
'The Euros' are underway, Thursday was practice day and Friday begins competition with Cruiser Racing, and continues Saturday/Sunday with Rounds 11 & 12 of European BMX Racing Action!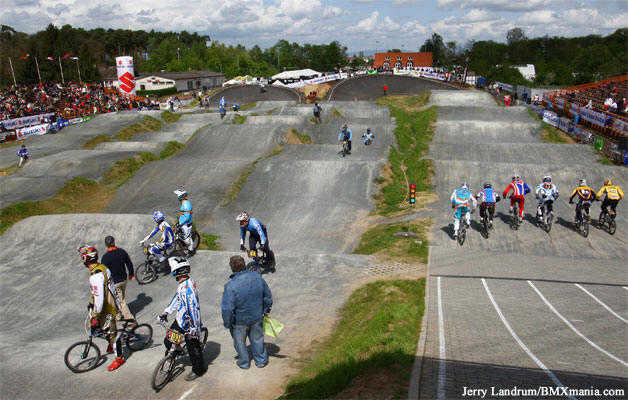 ---