| | | | | | |
| --- | --- | --- | --- | --- | --- |
| | | | | | |
| Sammy Cools had her neck injured in a chiropractor adjustment ten days ago and hasn't raced since. She's bummed. MRI next week for Sam to see what's up. | Shanaze Reade was an early fan of racing, but changed her opinion as she felt that the track got softer and more broken up. Don't look for her to race. | Formula's, Arielle Martin has her game dialed in right now-Looking good for the Olympics, been to train at the UCI Center, made the final at the Euros last weekend. | Colombia's, Mariana Pajon was looking to have a good weekend racing the world's best at the Denmark SX race. | French National Coach, Fabrice Vettoretti is happy cuz he has TWO girls on their way to the Olympics! | While the elite women were having the safety meeting, Tanya Bailey, Nicole Callisto and 6 other girls were out on the track, working on how best to race it. |
| | | | | |
| --- | --- | --- | --- | --- |
| | | | | |
| | British Cycling's, Joey Gough, motorin' down the SX Start Hill with a bunch of Elite Women and coaches up on top checkin' her form out. | After the men's practice was moved to Saturday, the girls were to run two rounds of time trials. After a meeting with UCI's, Johan Lindstrom, time trials were cancelled. | Mariana was soon on the sidelines with medical personel after crashing in the 2nd straight. | New Zealand would go in to mourning if Sarah Walker wrecked and got hurt on this track. No racing for Sarah unless the track miraculously is healed by the track crew. |
Here's how it went down, Friday In Copenhagen on the SoftTrack.
1 - The Elite Women practiced, but no one made it past the Third Straight...Mariana Pajon crashed hard and went off the track injured.
2 - The 'B Practice' for Elite Men took place, but only about four riders were able to take the VERY difficult Second Straight.
3 - The 'A Practice' started, but soon ended when most of the riders boycotted the practice session.
4 - The Race Organizers and representatives from the riders met and agreed to cancel Men's practice and do it first thing in the morning, before the comp starts.
5 - It was decided that the girls would have a 1/2 hour warm up, the two rounds of time trials, starting at 3PM/Friday.
6 - After about twenty minutes of practice, the Elite Women (except for 8 riders) the girls demanded a similar meeting to what the ladies got.
7 - It was decided at a meeting between race organizers and the lady BMXers that they would not run time trials today, but would go straight to their 3 motos tomorrow.
8 - Everybody went back to the hotel early again!
---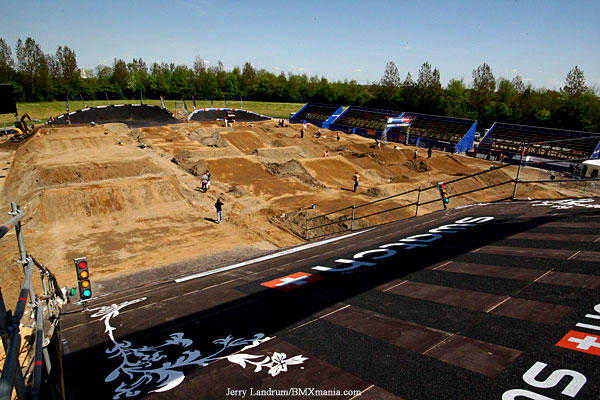 The track is built in a beautiful nature area, right in the middle of Copenhagen, Denmark's capital city.
Pretty amazing to find a piece of land like that in an urban environment that you can build a BMX track on.
| | | | | | | | |
| --- | --- | --- | --- | --- | --- | --- | --- |
| | | | | | | | |
| The Swatch Start Hill is AWESOME! Check out the super cool stair set that's attached to the Start Hill, for the riders to walk up. | Danny Caluag and The Hermanator, sittin' on the Start Hill checkin' out the track. | Tent City - Team tents on the top of the small hill and the Media Center. | Check out the size of that speaker system. The organizers have a real popular banc from the city coming in on Sat. to rock everything! There's another one just out of the photo at left. | The step up/double in to the first turn. | The 2nd straight, where the girls go right and the guys go left. | The 2nd Turn is dialed IN! | Here's where it all starts to go wrong. The dirt became so soft that it was very difficult riding for the ladies. |