BMX Racing News, Wednesday - June 30, 2010
---
BMX Racing News, Tuesday - June 29, 2010
---
Ramiro Marino Rocks Alienation BMX Rims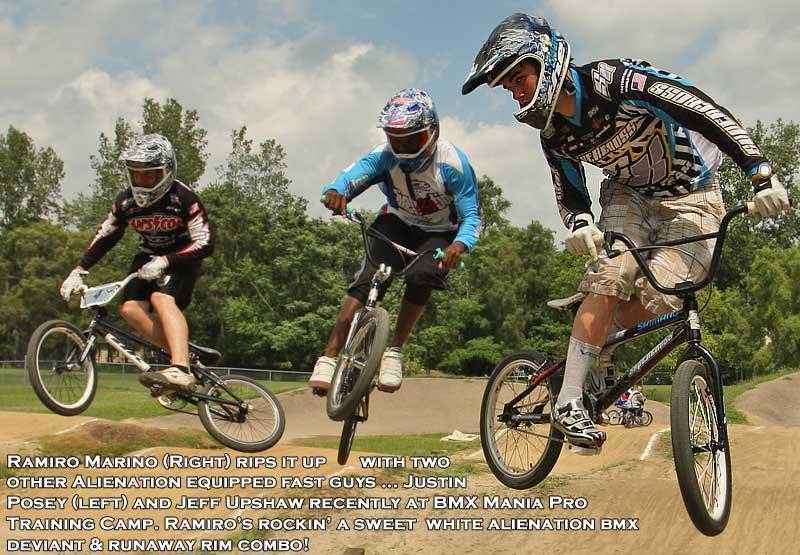 Dateline: June 29, 2010 - Alienation BMX World HQ
Alienation BMX is PSYCHED to announce that they have picked up super fast BMX Olympian and UCI Elite Men's World #3, Ramiro Marino of Buenos Aires, Argentina to run their top of the line race rims.
Ramiro is one of the fastest dudes on the planet right now, having recently doubled on the Elite Men's podium at the NBL's Stars N Stripes national at the legendary South Park BMX track in Pittsburgh, Pennsylvania. The quick Argentinean also made both main events at the super tough ABA Midwest Nationals at the ABA's classic Rockford, Illinois track making for a killer two weekend of racing in the U.S.
Ramiro attended the 2008 BMX OlympicS as a 19 year old Elite and has been tearing it up ever since. His lightning quick first straight and stylish bike hanlding skills will help make it easy for his White Alienation Deviant/Runaway rim combo to roll him to victory.
Alienation BMX makes the fastest BMX rims in the world, check some out now at www.alienationbmx.com and keep an eye out for Ramiro as he heads for South Africa and a run at the UCI Elite Men's World Title, July 31.

---
---
BARRY NOBLES, SOUTH PARK RACE REPORT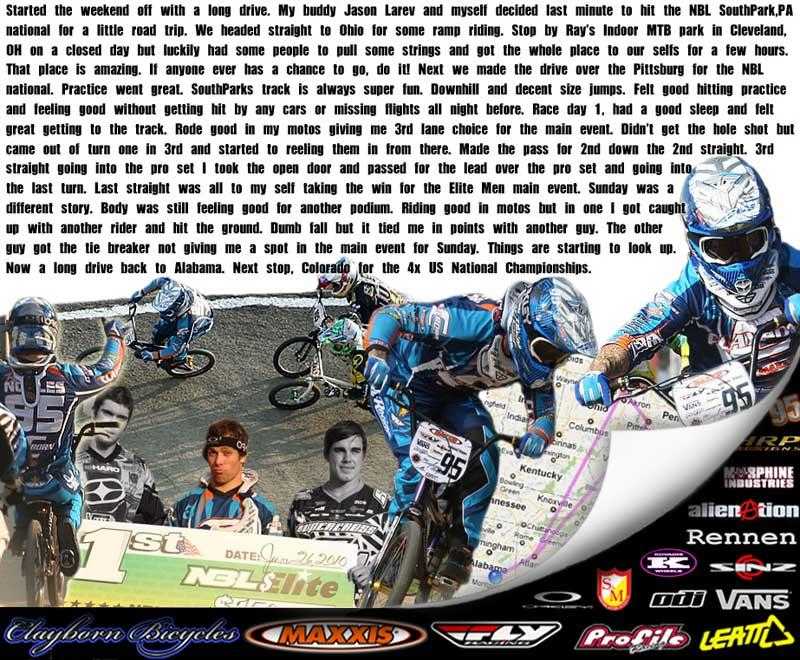 ---
ride BMX RACING COMPANY picks up stefany hernandez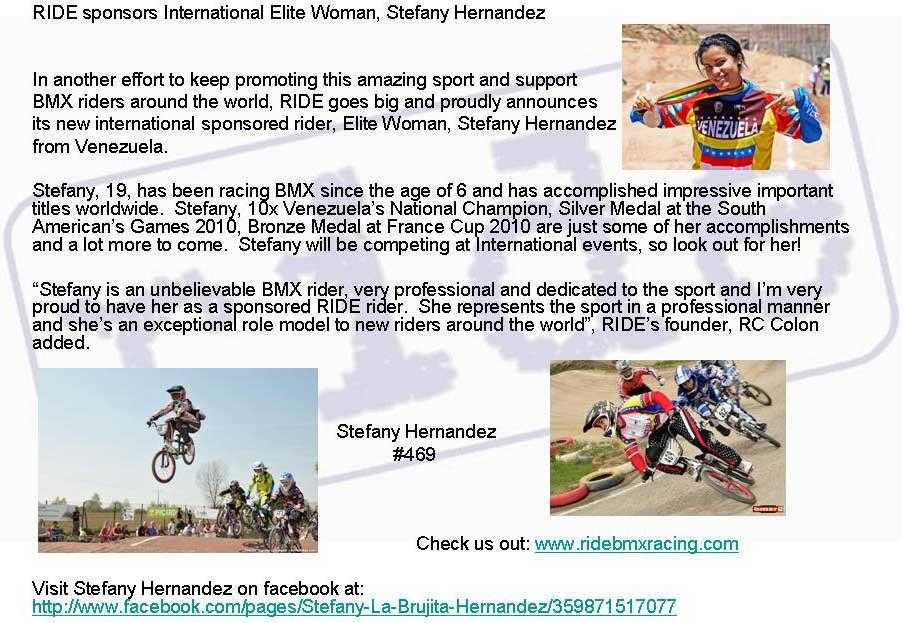 ---
BMX Racing News, Monday - June 28, 2010
SUNDAY PHOTO GALLERY FROM NBL SOUTH PARK POSTED!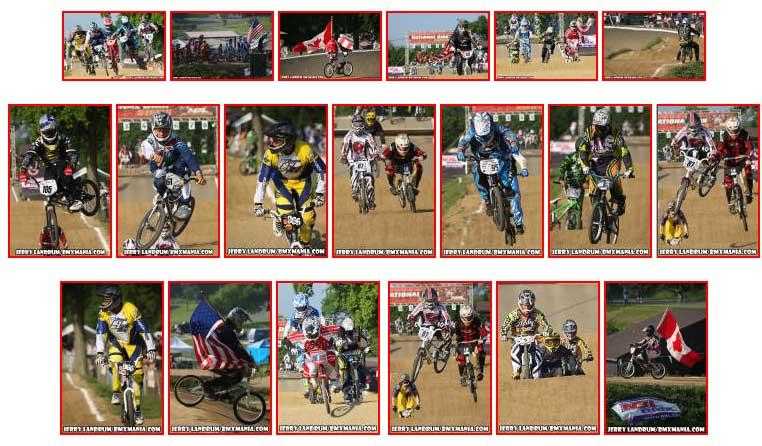 CLICK HERE TO CHECK OUT THE BMX MANIA RACE REPORT PAGE FOR ROCKN' BMX SHOTS!
---
BMX Racing News, Weekend Update - June 25-27, 2010
SUNDAY AT NBL SOUTH PARK, IT'S MEYERS/ELITE MEN ..... DANIELS/ELITE WOMEN
HENDERSON/SUPER EX & OPINCAR/MASTERS
GO HERE FOR COMPLETE OFFICIAL RESULTS POSTED ON THE BMX MANIA SOUTH PARK RACE REPORT PAGE!
---
---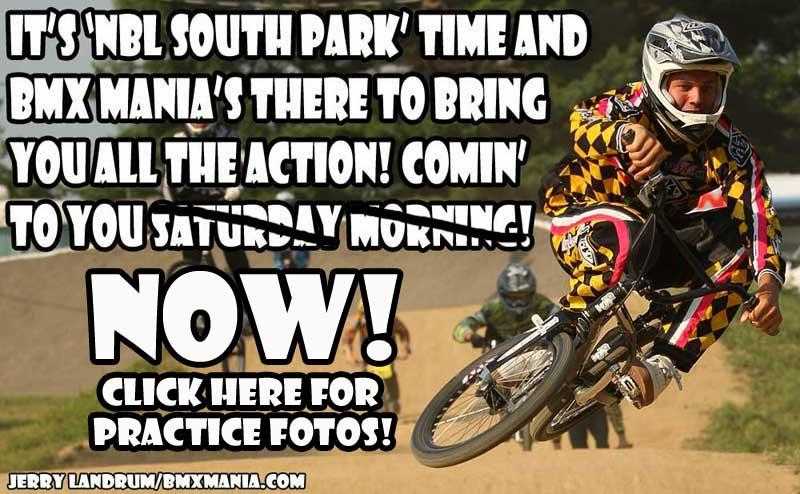 RIDER'S READY? PHOTOS ARE POSTED! GO HERE
NBL SOUTH PARK/FRIDAY PRACTICE!
---
TRILOGY PARK KEYSTONE NATIONAL THANX!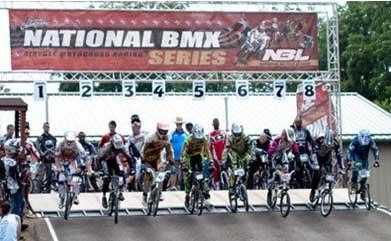 We would like to thank all the riders, parents, volunteers and the NBL for a great weekend of racing at the NBL Keystone Nationals, recently.
Thanks for helping to make it a race to remember . The weather held out for some great racing and for some fun after the races Saturday night.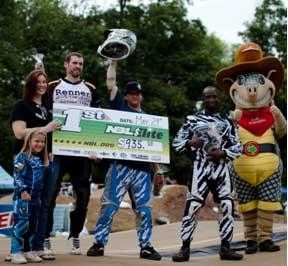 We would like to thank all the Master's riders who participated in the Texas Roadhouse Challenge. We hope you enjoyed coming as much as we enjoyed having you here. Congratulations to Joey Albright for taking home the big check this weekend. We would also like to thank Texas Roadhouse – Royersford for their support and their great hospitality. Everyone walked away with some cool shirts, mugs, gift cards and of course some extra cash…
Once again we would like to thank everyone for a great weekend….
---
Bensink Speed & Style Contest 2010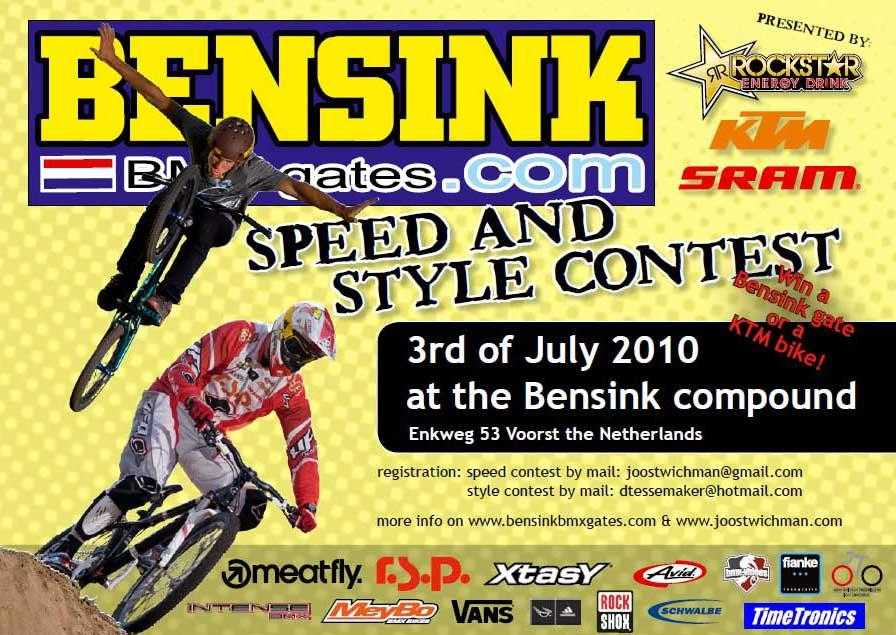 The Bensink Speed & Style Contest 2010 is presented by Rockstar, KTM and SRAM and will take place July the 3th in Voorst, The Netherlands. Don't forget to register!
Bensink Speed & Style Contest 2010 - Presented by Rockstar, KTM and SRAM
General info: The Bensink Speed & Style Contest 2010 is a mixed event for MTB and BMX riders. Venue is the Bensink dirt compound in Voorst, the Netherlands.
Where: Bensink Compound, Enkweg 53, Voorst, The Netherlands
When: 3rd of July 2010
Who: MTB & BMX riders older than 14 years
Registration fee: pre registration € 17,50 (for both events together), on site registration € 20,-
Pre registration: joostwichman@gmail.com This e-mail address is being protected from spam bots, you need JavaScript enabled to view it (speed) / dtessemaker85@hotmail.com This e-mail address is being protected from spam bots, you need JavaScript enabled to view it (style)
Entry fee: FREE

Awards: 1x Bensink 1 man gate or € 1000,- (speed contest) - 1x KTM dirtjump / Four Cross bike or € 1000,- (style contest)

Flyer: print it and share it!
The contests xplained: There are two seperate contests on the same day and at the same place. There's a Speed Contest and a Style Contest, both are open for BMX and MTB riders. So you can decide for yourself on what kind of bike you are the fastest or on which bike you can pull the biggest tricks. There will not be seperate awards for BMX and MTB! The biggest goal of the event is to have fun with your friends!
Speed: The speed contest is a dual slalom contest (mixed MTB and BMX).
Qualification: Every rider (MTB or BMX) has 1 qualification run to set a fast time. The fastest 32 riders will qualify for the finals.
Finals: The finals will be runned by a knockout system. Riders will go head to head. Every round has 2 runs against the same opponent. One run on the RED course and one run on the BLUE course. The times of both runs will count together, the fastest rider after 2 runs will qualify for the next round. Untill there are just 2 riders left for the big final.
Awards: 1st place: Bensink 1 man gate or €1000 - 2nd place: Goody bag - 3rd place: Goody bag
Style: The style contest is a dirtjump contest (mixed BMX and MTB).
Qualification: There will be 3 qualification groups of 15 riders (so 45 in total). Every rider has 3 runs, the best 2 runs will count to qualify for the finales. The 15 best riders will qualify for the finals.
Finals: In the finals all riders have 2 runs, the best runs counts!
Awards: 1st place: KTM dirtjump/ Four Cross bike or €1000 - 2nd place: goody bag - 3rd place: goody bag
This event is brought to you by: Bensink Gates, Rockstar Energy Drink, SRAM, KTM, R.S.P. Bike & Body Care, Meatfly.cz, Xtasy, Meybo BMX Bikes, Intense BMX, Vans, Adidas Eyewear, Schwalbe, BMX-videos.com, Timetronics Sports Timing, Theissen Tweewielers, Rockshox, Avid and Fianke.com
History: In 2009 we organised the first Bensink Speed & Style Jam. It was a small gathering, just for fun. To have a good time with friends and to close the season. The Jam contained two disciplines, speed (set a time) and dirt (the biggest tricks). With the help of some of Joost Wichman's personal sponsors, like Rockstar, SRAM, Adidas eyewear, R.S.P. and Schwalbe, we managed to pull the event together within 2 weeks!

The jam received a lot of positive reaction so we decided to do it again in 2010, but much bigger! To make the event attractive for famous BMX and MTB riders, this year there are some great prices at the end of the day.
---
BMX Racing News, Thursday - June 24, 2010
Morphine Industries Rocks at Rockford
Photos by Erik Gerholdt
If you are one of the few who haven't been to the Rock, be sure to put it on next years list because you are missing out on one of the best overall facilities in BMX. The track is dialed and they seem to step it up every year. The covered staging area is now extended out past the starting gate so you don't have to roast in the sun while your waiting to bang bars on one of the smoothest tracks you will ever ride.
Notable memories of the weekend;
- The legendary drop off is gone.
- Ken Nork was in attendance...definitely good too see him out and about!
- The storm Friday night was crazy....70 mph winds, hail, and a ton of lighting.
- The 50/50 raffle had everyone buying tickets trying to win that 2,800 bucks (that had to have been a record)
- Races between Conner and Corben = epic
- Pat Parker learning why George Andrews is called the Mangler!
- Turn 2 - alot of people got ejected over that berm. My favorite was Derosa getting hit in the 1st turn, then sends the guy over turn 2 as a return favor.
- 4 Morphine Industries riders, 6 podiums - it went like this;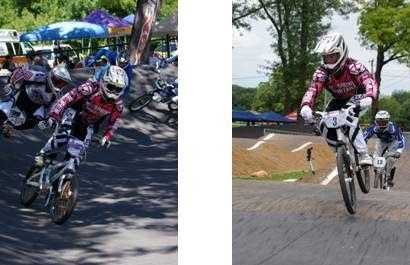 Tim Dinger returned to his old stomping grounds and rode away with a 5th on Saturday and a 2nd on Sunday! Way to get on that box son!
Doran Bradshaw pulled off a 2nd, 4th and a 5th in some crazy races where bodies were flying and people got mad. 36-40 expert and cruiser is no joke....those guys may be old but they go to war when the gate drops!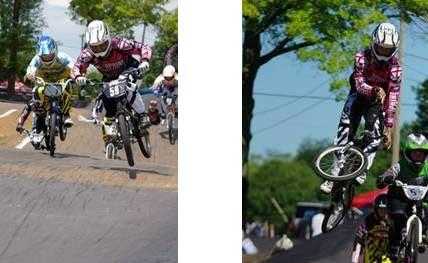 Olijuwon Davis podiumed both days in 19-27X with a 2nd and a 3rd, and took the win on Sunday in 17& over open. He also gave it a go in Elite Men on Saturday to see how he stacked up with the best in the business. After getting the butterflies out in the first moto, he rode well with 3rd and 5th in the following motos but the first moto jitters kept him from advancing any farther in Elite for the day.
Damien Chrepko also got on the podium in 16X with a 3rd on Saturday. Sunday didn't work out as well after getting tangled with another rider but I have a feeling he will be back to his winning ways next week at South Park.
In the next 3 weeks, we'll have riders at South Park and Evansville followed up with most of the team representing at Nashville. C U there!

Morphine Industries would like to thank its Factory Team Sponsors; HARO BIKES (www.harobikes.com), Fly Racing (www.flyracingbmx.com), Alienation (www.alienationbmx.com), Sinz Racing (www.sinz-racing.com), Rennen (www.rennendesigngroup.com), Black Crown (blackcrownbmx.com), Tioga (www.tiogausa.com/bmx)
---
ABA BMX and GO211.com announce long term partnership
June 24, 2010 – Gilbert, Arizona
The American Bicycle Association and GO211.com are pleased to announce an exclusive agreement through 2015. The agreement between GO211.com and the ABA will ensure webcast of ABA National events through 2015. "Through our partnership with GO211.com we are able to bring the most exciting BMX racing events to the masses. We understand that entire families are not always able to travel to every event and that through this service they can still watch their family and friends compete,' said BA Anderson, ABA CEO. "GO211 has been a great partner and we look forward to the next five years and beyond."
The agreement with GO211.com and the ABA continues a partnership that has been in place for the past three years. Through the past and current arrangement, GO211.com will be present at ABA Nationals broadcasting via their website to BMX parents, families, and fans around the globe. "We are thrilled to be covering national events over the next five years and are excited to be partnered with the ABA" said Sean Aruda, GO211.com C.E.O. "GO211 has enjoyed the professionalism by which the ABA manages their events and the tremendous amount of viewers that visit GO211 to watch ABA events."
The American Bicycle Association prides itself on the growth of BMX and providing the best customer service possible. "A lot of changes have occurred to the internet in the last five years and we are confident that GO211 will stay at the forefront and continue to be a valuable partner as we move forward," said Anderson. "GO211.com has allowed friends and family members to be part of many of our National Series events from the comfort of their own home. This is an important service that we are able to provide our members."
As part of the agreement, in addition to providing great streaming broadcast, GO211 will become even more visible for riders and fans attending National Series events. Be on the look out for some of those changes at a National event near you.
For the remainder of the 2010 National Series schedule look for live broadcast of the Blackjack and Disney Cup Nationals in addition to the Redline Cup West and the ABA Race of Champions and the ABA Grand Nationals.
About the American Bicycle Association: ABA (American Bicycle Association), formed in 1977 and headquartered in Chandler, Arizona is "The Sanctioning Body of BMX"©. The ABA organizes BMX racing for boys, girls and adults, nationwide and Canada. With 60,000 active members, 274 racing facilities and a 27 event national race schedule, ABA is the largest promoter of action sports.
About G0211.com: GO211 is an Action Sports community that represents athletes within Snowboarding, Skateboarding, Surfing and Bike. We present LIVE webcasts of major alternative sports events happening around the world. Become a member, connect with friends or the GO211 team and stay up to date on the latest happenings.
---
Hot New Crupi Headsets and spacer kits
Baldwin Park, CA - Just released and now available for sale; Crupi Headsets and spacer kits. Crupi's headsets are built to be both smooth and durable. Our sealed cartridge bearings are press in (not dropped in) so the fit is precise. Our stainless fork race also adds strength where it is needed. Our headsets also come complete with a full set of machined spacers so that when you get this headset, you will have everything you need to set it up! Another quality product from Crupi Parts!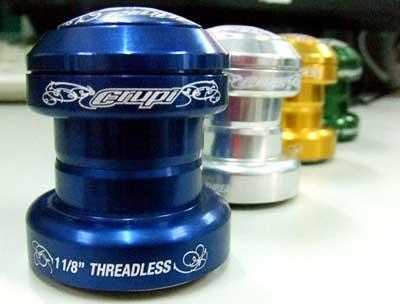 Features:
1. Available now!
2. CNC 6061 T6 Aluminum cups, spacers and top cap
3. Custom laser etched Crupi graphics
4. High quality sealed cartridge bearings
5. Stainless fork race
6. Comes complete with full set of matching color spacers (3mm, 5mm & 10mm)
7. 7 colors to choose from (silver, black, red, gold, blue, white and green)
8. 1" headset just 126grams, 1-1/8" headset just 138grams
9. Suggested list price including the spacer kit is $79.99
Go to crupibmx.com for more details!
---
G-Cog Payment Plan

Rennen Design Group is pleased to announce that it has created an affordable monthly payment plan option for its BMX powermeter product, G-Cog. We realize that the initial upfront cost of a G-Cog powermeter may be out of reach for many in these tough economic times. We have aggressively sought out a solution and have partnered with PaySimple.com, a payment solution company based out of Colorado, to create a secure and reliable payment plan option. Now customers can opt to make an initial down payment (fixed based on the G-Cog package level) and then split the remaining balance over the next 11 months. Funds are automatically deducted from their bank account making the transaction hassle free for the customer.

The following are the monthly payments based on package level: Basic ($37.18), Expert ($74.00), Coach ($110.82)

Allowing customers to have this payment plan option enables them to justify the purchase of the G-Cog BMX powermeter by making their purchase more like what a typical gym membership costs. Considering how much individuals spend traveling to nationals this payment plan allows BMX'ers to know if they're ready instead of guessing and could potentially help them save thousands over the course of a year and truly maximize their performance.

In the coming months we have some really cool things we are doing behind the scenes that the BMX community will benefit from. As always it is our number one priority to take care of our customers and answer any questions they may have regarding any Rennen Design Group product. Check out www.RennenDesignGroup.com and www.G-Cog.com and let us know what you think.
---
British BMX riders prepare World Championships at World Cycling Centre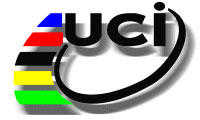 Description: British BMX riders Shanaze Reade and Liam Phillips are currently training on the World Cycling Centre's (WCC) Supercross track in Aigle, Switzerland, to prepare the UCI BMX Supercross World Championships which will take place in Pietermaritzburg, South Africa.
The two athletes are at the WCC from June 15th to 20th and will return two weeks before the Worlds, which take place from July 29th to August 1st.
For Shanaze Reade, back in high level competition this year after a shoulder injury in 2009, the aim is clear: "Get back my world title."
World Champion in 2008 in Taiyuan, China, she was unable to defend her title in Adelaide (AUS) last year due to her injury.
For her return to competition this year, Shanaze took second place in the UCI BMX Supercross in Madrid (ESP) on March 27th but was unable to repeat the performance in Copenhagen (DEN) in May.
"My comeback hasn't gone as I would have liked but I always expect too much of myself," she said. "I had to get back into shape and I made mistakes but now I feel good."
Her compatriot Liam Phillips also has a podium spot under his belt in this season's UCI BMX Supercross: he surprised more than a few with his second place in Copenhagen. Buoyed by his success, he is aiming for a place in the final of the 2010 UCI BMX World Championships in South Africa.
BMX Racing News, Wednesday - June 23, 2010
REDLINE & ROCKFORD; Rockin' the Podium.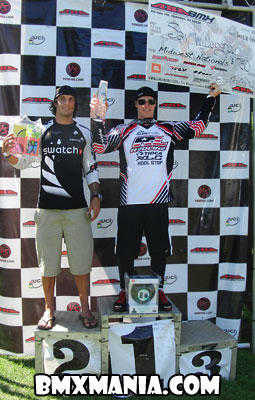 Rockford. It's one of the longest standing ABA nationals with an unmatched reputation. Asphalt turns. A hardpacked and smooth, water-proof surface. The VintageBMX old school gathering. Grassy knolls with shady trees and plenty of room for camping out. That, and more - are what makes the MidWest Nationals one of the most looked-forward to events of the year.

And Team REDLINE loves Rockford.
But this year - something was missing. Rockford's longtime trademark - a gnarly first-jump drop-off (the only left of it's kind), was now a giant set of doubles. Not since Chandler filled in their bonzai, has the sport lost such a classic track obstacle. But all things have their time - and both the riders and fans loved the new set-up. It has now officially switched "The Rock" from a power-track to a full-on skill-track. The starting hill is still pretty short though, and requires killer leg strength to snag a holeshot.
With the slight dogleg to the right, down the first straightaway, this is one of the only tracks where you WANT the outside lane. With the ABA giving the pros lane-choice according to their semi finishes, it was common to see lane-8 being one of the first few picked. The Redline team seemed to prefer lane 6 the most.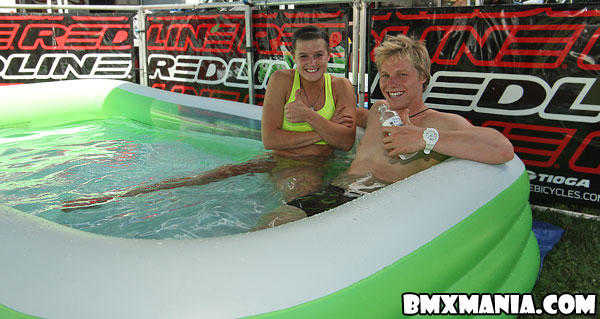 SPLASHDOWN: Knowing that it could become pretty hot and humid, Sam Willoughby was inspired by watching the JGRmx team at the AMA Nationals, and saw that they had an "ice bath" swim pool for their riders to literally cool down in. So, a small purchase of an inflatable pool, 1 1/2 hours of filling time, and plenty of bags of $5 ice later ... Redline Factory Pros were coolin' down after a hot race in their own cold jacuzzi.
And they needed it - as all of red, white & black team pros were on fire. In AA-pro, both DENZEL STEIN and SAM WILLOUGHBY made their way to the big show, where'd they'd meet up with "The Machine" - Olympic gold medalist, Maris Stromberg. Earlier in the semi, Denzel had fired off a warning shot of things that could be, as he took a comfortable win over Maris. And he told us right before the final that he still had one holeshot still left in the chamber.
The gate slammed down, and it was Denzel and Strombergs throttling straight to the front, with the other six in code-3 pursuit.
Denzel and the Olympic Champ were neck to neck down the first straight, and heading in to turn one, Denzel just needed one more pedal to get the lead - but it wasn't there and he hopped in Strombergs draft and waited patiently for his opportunity. Down the rhythm-filled third straight, Stein and his Flight bike were set for a last straightaway showing of power as they cranked out of the final turn. As hard as he tried, though - Denzel would have to settle for a second, as Maris rode another mistake-free lap.
For our DeSoto local, he was pleased with that result - his best so far this year.
Meanwhile, Sam Willoughby was battling in mid-pack and was in a sprint to the line to stay on the podium - but couldn't make it happen today. For Sam, this was the first time he'd been off the top-3 tier all year - but on the bright side, he has not yet missed making a main event this year and should still maintain his points lead for the year-end title.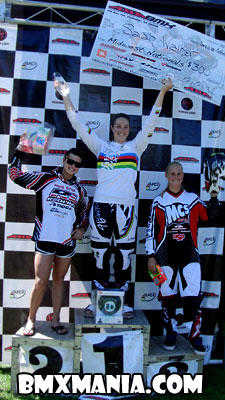 In Elite Women, ALISE POST welcomed New Zealand's reigning UCI World Champion Sarah Walker - who made the trip out to give American racing a try. This was the Olympian main-maker's first U.S. national - ever, and admitted to us that she was a tad nervous. But you'd never know it, as she displayed the power that earned her the rainbow striped jersey throughout her qualifiers.
Simultaneously, the seasoned veteran of ABA racing and title-chases, Post was out to impress her many MidWest fans. As half of the crowd seemed to be from Minnesota (and more than half of them now on Redline bikes), Post had something to live up to and the presence of the World Champ would only make a win more sweeter.
As predicted, it came down to Post -vs.- Walker in the final. Earlier in the day, Walker beat The Beast in their first match-up, and the main would be their second race against each other. Walker chose lane 8, while Alise grabbed lane 6.
The gate slammed down and echoed under the roof Rockford's new covered starting-hill. Alise and Walker were side by side, grip-to-grip, down the first straight. Alise with the inside advantage held the lead going in to the first turn, but smilin' Sarah was buzzin' on her back Tioga Powerblocks and was poised for a pass at any given moment. Alise rode a solid race, and out of the final turn, the crowd was on their feet or edge of their seat, as Walker and Post drag-raced to the finish line - with Alise rippin' down the backstretch like a girl possessed.
To the Minnesota fans' delight and cheers, she beat the World Champ!
For Alise, this win was especially nice - not only beating Walker, but doin' it in front of her MidWest fans and keeping her 5-race winning streak alive.
In Pro Cruiser, JASON CARNE$ continues to keep things alive - despite what BMX Plus thinks. He and his Flight Pro-24 did a Terry Tennette wheelie over the first double and came out on the inside in second place. Carne$ has been slowly creeping back to being the BMX stud he once was before his streak of bad luck and possible career-ending injuries. And so far this year, ProCruiser is where he and his bald head are shining the most.
As he powered out of turn two in the 2-spot, the multi-time No.1 PC Champ, Danny Calaug, rounded the corner in third and had Jason in his sights like a Japanese Zero pilot. Carne$ was giving it all he had, and Danny C kicked it up a notch and flew by Jason in the rhythm section. This is a sight that is becoming too familiar to Carne$ and he's getting pretty tired of seeing it. But he was able to hold off the rest of the charge and remained on the ProCruiser podium with a third place.
Amateur-wise, Redline's GEORGE GOODALL, CARLY DYAR and "Lil Ant" ANTHONY DeROSA were all present - and fought it out with their comp. For all of the older cruiser aces, the big talk of the moment is the return of former Redline-sponsored Vet Pro Todd "TP" Parry. Now re-classed, he'll be dukin' it out with Redline's reigning No.1 Cruiser Camp Gorgeous George. And that they did, with George snappin' TP in the main but getting swooped from underneath and forced to settle for a second. As hard as George tried - the 2-spot was the best he could muster against the BMX linebacker, TP.
Despite leading mains, it seemed that 2nd place was Redline Ams destiny. In one of the most exciting mains of the day, Ant DeRosa put on a great battle in his 15x finale'.
DAY 2:
With rain clouds looming in the morning, the final day of the 2010 MidWest Nationals got off to a quick start. It didn't take long for the skies to clear up, and for the sun to shine, the humidity to get higher, and the racing to boil up for the finals!
In AA-pro, Denzel was still pumped from his 2nd place score on Saturday and was riding midpack in the semi, when he got a nice Argentinean bump and run in turn two and was pushed high enough in the turn to let three riders slide by on the inside. Disappointedly, Denzel's day was done.
In the next "say-mee" (Australian for Semi), Willoughby made it thru and looked like he could be the man to beat. For those who know Sam, his 4th place score the day before may as well have been an 8th place in a 1/8th main. For him, to not stand on the podium puts shame on the Willoughby name and reputation. Knowing his determination, it was no surprise to see him come back on Sunday like a Man on a mission. He was out for podium redemption.
In the 2-American, 6 Foreigner Final, Sam came out with the rear Tioga tire smokin' - and laid down his power on the flat first straight. New Zealand's Willers pulled up in the 2 spot, followed hotly by the Haro twins of Long and KY. Surprisingly, Strombergs was midpack - The Machine must've had one of those rare malfunctions.
By the finish, Sam crossed the stripe with a comfortable lead and punched the sky with a triumphant fist. He's back on TOP, and should still maintain his points lead for the No.1 plate.
In Elite Women, it was again going to be the Continental showdown - World Champion Sarah Walker -vs.- the Queen of Minnesota BMX, ALISE POST. This time, Walker chose an inside lane, and Alise decided to use her lane choice to line up right beside the rainbow striped jersey. Once the gate slammed the ground, all eyes were on the Redline rider and her foreign rival. Bumping a bit down the first straightaway, Post got an edge on the smilin' one and exited turn one at full speed with a slight lead. Walker stuck right to Alise, again - and waited for her chance.
Entering the last corner, Alise quickly ran through her options; knowing that the World Champ was breathin' down her neck. On Saturday, she'd swung low to block Walker from swoopin' the inside, but it forced her to lose a bit of momentum that enabled Sarah to pull up alongside her. This time, The Beast beauty opted for the high-speed rail and picked a middle line. Walker read it perfect (probably something she's learned from her NZ coach Ken Cools), and saw the door wide open. She slipped in low and blasted by Post to take over the lead. Alise gave it all she had left to try catching Walker but would have to settle today for a 2nd.
Weekend total: Alise = 1. Walker = 1. Call it even for now, and wait for the re-match in South Africa.
To sum it up - Rockford, as always, ruled.
And Redline did their best to do the same.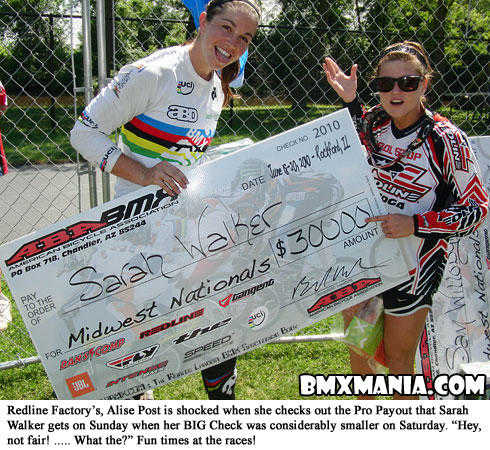 ---
---
GT Hosts 5th Annual ABA Great Salt Lake National Hack-A-Rama Golf Tournament

For those of you rolling into Salt Lake a little early for the ABA national make sure you bring your golf clubs to join in on what has become an annual event... the 5th Annual ABA Great Salt Lake National Hack-A-Rama (Golf Tournament for those with skills) hosted by GT Bicycles.

The tournament, or rather excavation for some of us, will be held on Thursday morning July 1st at the Riverbend Golf Course in Riverton Utah which is a hop, skip and slice away from Rad Canyon BMX, site of the ABA Great Salt Lake National.
Here are a few of the duffers who plan to attend...
Eric "Big Daddy" Rupe
Mike "365" Day
Bernie U
John "ABA Big Wig" David
Dan "The Photo Man" Mooney
plus a host of other racers and ringers!

Interested parties please contact Steve Spencer to confirm your attendance at steve-spencer@hotmail.com

Good times to be had by all!
---
BMX Racing News, Tuesday - June 22, 2010
SA BMX Star Sifiso Nhlapo shakes world's best at US Nationals

Pietermaritzburg – South Africa's BMX ace Sfisio "Skizo" Nhlapo threw down the gauntlet to the world's best riders in a thrilling display in the American Mid West that saw him beat Olympic champ Maris Stromberg en route to making back-to-back finals.

With the UCI BMX World Champs in Pietermaritzburg just five weeks away, Nlhlapo's return to top form has created a ripple of excitement through world BMX ranks, and has fired up Nhlapo's local supporters.
Nhlapo hit his straps at the ABA USA Mid West Nationals in Rockford, Illinois this weekend, winning four heats, or motos, to reach the finals, after the Friday pre-racing was cancelled due to a major storm that swept through the Midwest.

After a rude wake up call in his first moto, Nhlapo bounced back, beating Olympic champ Maris Stromberg of Latvia, Aussie ace Sam Willoughby, Kiwi Marc Willers, Argentinian star Ramiro Marino and a host of the world's best BMX elite racers en route to the final.

In the final Lady Luck deserted the fired up South African as he lost his cleat binding, and finished seventh.
"I had a great pops out the gate the whole day," said Nhlapo. "In the main final I blew a pedal and watched the rest of the field pull away into the first turn. The field was really deep and the racing was hard but I'm looking forward to staying cleated the whole way on the final day."
The final days racing was more intense with little room for error for the elite racers who wanted to progress to the finals. "These Moto's have been like mains and really tough with the line up including Stromberg, Willers, Marino, Harris, Willoughby and company," he added.

"The track was fun with a flat start gate, it kinda has an uphill first straight - just the way I like it!" commented Nhlapo after the first days racing.

Nhlapo started emphatically, winning his first two motos, and then winning his semi-final impressively to set up his place in the main final stacked with elite superstars. However in the final, he was once again undone by bad luck following a clash with another finalist.

Nhlapo caught elbows with Texan Jason Rogers coming out of the gate, effectively ending his chances of contesting a podium place. Willoughby went on to win ahead of Williers and Long, with Nhlapo fighting back to secure fifth place.

"I bombed my gate and bumped elbows straight out the gate with Rogers and lost some momentum," said Nhlapo. "I kept pushing and managed to finish fifth. Overall I felt good and got some good fast laps."

"But I came here to race against the hotties before Worlds in South Africa in a few weeks time and that's fulfilling my trip exactly," he added. "My next race is in South Park, Pittsburgh, where the track looks pretty fast and a good one to race on. I'm looking forward to an even better performance there."
The UCI BMX World Championships takes place at the Royal Showgrounds in Pietermaritzburg from 29 July to 1 August. More information can be found at www.bmxworldchampspmb.co.za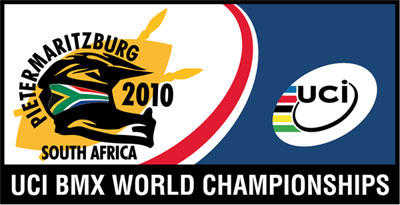 ---
BMX Racing News, Monday - June 21, 2010
BMX MANIA'S ON "CAMP BREAK"

Sorry, BMX Mania Pro Training Camp begins today and the BMX Mania Staff will be involved with all the fun and games associated with that fun project, so not much news today except for one swimmingly AWESOME photo.....Sorry to brag, but it did turn out pretty darn well!.....and the top results from ABA Rockford on Sunday.

Check back for more COOLNESS from BMX Mania as we bring you THE BEST in BMX Racing News from around the world of BMX!

CAMP STAFF INCLUDES

Matt Pohlkamp/Dan's Factory Team

Ryan Birk/Answer Factory

Jeff Upshaw/Alienation BMX

Jamie Lilly/World Champion

Justin Posey/Dan's Factory

Natarsha Williams Birk/ 2 Time UCI World Champ

Ramiro Marino/Current UCI World #3 & BMX Olympian
---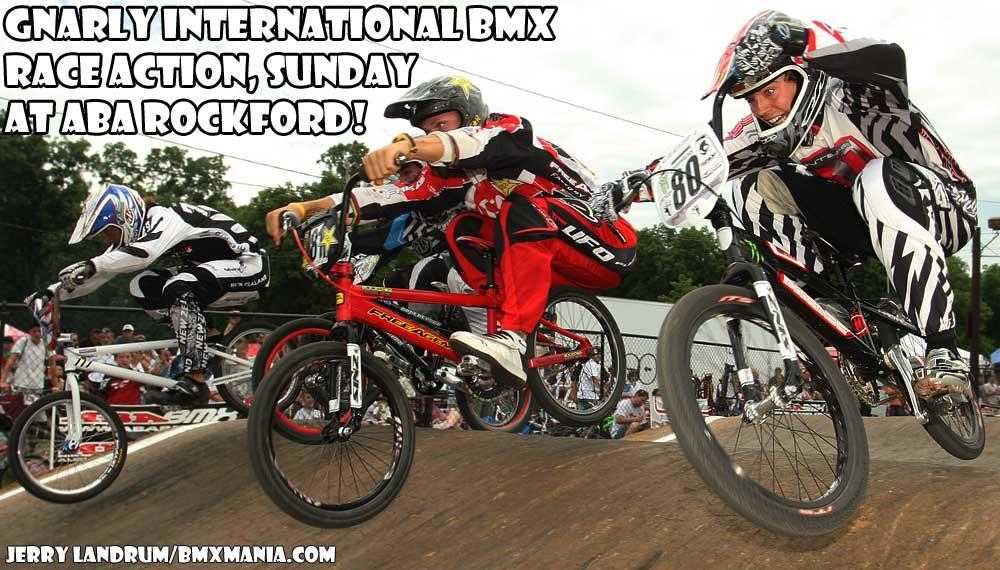 Intense/Monster's, David Herman (Right) goes wheel to wheel with Free Agent/Rockstar's, Maris Strombergs and Redman/Rockstar's, Marc Willers at left in WHITE HOT BMX race action at the ABA's Midwest National, Sunday at Rockford BMX in Rockford, Illinois.
Results From Sunday at the ABA Midwest National/UCI Points Race
Championship Classes - Elite Men - Sam Willoughby ..... Elite/Junior Women - Sarah Walker ..... Jr Men - Connor Fields
ABA Classes - A Pro/Corben Sharrah ... Vet Pro/Andres Holguin ... USAC Jr Devo Boys/Tyler Whitfield ... USAC Jr Devo Girls/Felicia Stancil
Complete and official results to be posted, please check back & check the HUGE Saturday Report on our Rockford Race Report Page!
---
Little BMXers Drool For Alienation's White CNC'd Ankle Biters!
Mighty Mites all over asked so we're delivering at Alienation BMX. In stock now, we've got some of the raddest mini rider race parts in the world, our powder-coated

white Ankle Biter rims

. We have em both in 28 & 36 hole counts. Full white for the front & CNC version for smooth stops in the back.

Lighter than light, these stylistic hoops are just what's going to be needed to get rockin' junior rockets down the first straight and in to Turn One with style and speed.

This white hot rim, designed by our world class rim design engineers, is specified as Elite Mini Race, made from 6061 T6 aluminum, Double Walled, Sleeved Joint and weighs in at 280 grams. The 451 mm diameter sizing will run both 1 1/8 or 1 3/8 tires and comes in both 28 & 36 hole configuration.

Although the White is HOT, the Ankle Biter is also available in Black, Blue, Chrome, Polished and Red.

Need some? Get a hold of your favorite BMX shop or Mail Order outlet. Not available thru your usual sources? Give us an email shout at info2@alienationbmx.com and we'll aim you in the right direction.

For more info on the HOTTEST BMX Race Products on the planet, check it all out at www.alienationbmx.com!
---
BMX Racing News, Weekend Update! - June 19-20, 2010
| | | | | | | | | |
| --- | --- | --- | --- | --- | --- | --- | --- | --- |
| AA Pro/Elite Men | Elite Women | A Pro | Vet Pro | Jr. Men | Jr. Women | Pro Cruiser | USAC Jr Devo Boys | USAC Jr Devo Girls |
| Maris Strombergs | Alise Post | Corben Sharrah | Joey Albright | Corben Sharrah | Dominique Daniels | Barry Nobles | Cole Tesar | Felicia Stancil |
---
FRIDAY AT ABA ROCKFORD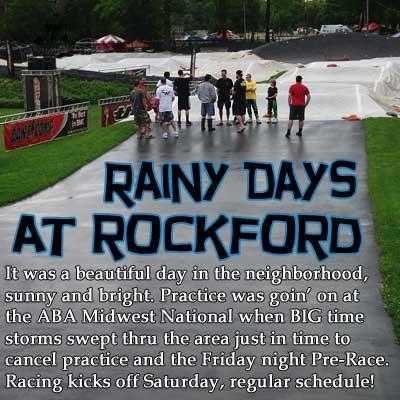 AND, BMX Mania is at The Rock for the ABA Midwest National, and although we got rained out, Friday night for stirrin' up a ton of cool BMX photos, we've got plenty planned for Saturday, so check back for a Rockin' BMX Mania Race Report Page. You KNOW it's the place to check for BMX Race Action!
---
Auckland, New Zealand to host 2013 UCI BMX Worlds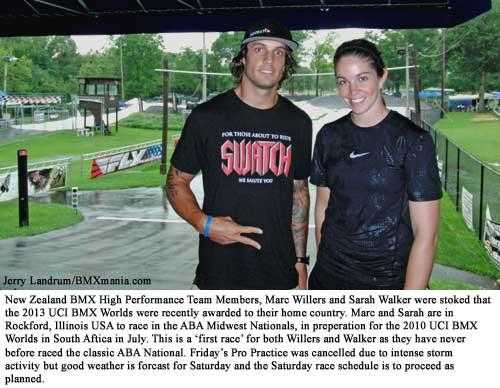 New Zealand has won the rights to host the UCI BMX World Championships in 2013 to be held in Auckland.
The world ruling body, Union Cycliste International (UCI) informed BikeNZ overnight that the joint bid with BMX New Zealand, Auckland City Council and the government has been successful.
The event will be staged at Auckland's Vector Arena in mid-July 2013, where a purpose-built track will be constructed using between 5000-6000 cubic metres of dirt.
The championship is expected to attract 4500 competitors, officials and supporters to the country for one of the world's fastest growing sports that made its Olympic debut in Beijing.
Current BMX double World Champion Sarah Walker said she was thrilled with the news.
"To have the world championships in my own country will be amazing because although BMX has slowly made its way into the kiwi public eye, it will bring so much more attention to the sport," Walker said from California today where she is preparing to defend her world championship.
"Hopefully it will create more excitement about our sport. Being able to show off the sport that I love and compete at the highest level in front of my friends and family that haven't had the chance to watch an international BMX event will be such a buzz."
Auckland Mayor John Banks says the next couple of years will be exciting and certainly busy for Auckland as the city welcomes many major sporting events to its shores.
"Hosting the 2013 UCI BMX World Championships will be another great opportunity to demonstrate Auckland's ability to deliver major events," says Mr Banks.
"Winning the rights to host this fantastic international event was the result of a successful partnership between Auckland City Council, BikeNZ, BMX New Zealand and central government."
The event will generate a number of economic, social and international exposure benefits for the Auckland region and New Zealand. It is expected to generate an estimated $13 million of new income into Auckland during the city's off peak tourism season.
The event will provide an enormous boost for the sport in this country, according to BikeNZ.
"This is another incredible step in the growth of cycling in New Zealand. With the Junior World Track Championships here in 2012, this event for BMX will continue to escalate the growth of our sport and greatly benefit the future champions we will see leading on the world stage through to the Rio Olympics in 2016," said BikeNZ High Performance Director, Mark Elliott.
"We have a strong group of 15 to 17 year old BMX riders who are pushing their way into our High Performance programme. The timing of this world championship will see a number of these athletes pushing to showcase their potential on home soil."
BMX New Zealand president, Bruce Northwood said it is great news for his sport and now his organisation will go about the huge job of organising the event.
"We have some great people in this country in this sport and now we can focus on not only show-piecing this sport at its best to New Zealand but also raise the bar on presenting the BMX World Championship to the world," Northwood said.
"Certainly to stage this indoors right in downtown Auckland in a superb facility like the Vector Arena presents a splendid opportunity."
Mr Northwood said that the organisation will now focus on ensuring the funding required to ensure its success, and hopes to make announcements in the near future.
---
BMX Racing News, Thursday - June 17, 2010
Matt Pohlkamp Is Flexin' Online!

BMX Pro, Mr. Celly Smelly, Dan's Comp Factory Rider, BMX Mania Camp Instructor and Alienation team rider, Matt Pohlkamp had a chance to get online with one of the big bodybuilding sites, Flex Online about his workouts at Gold's Gym. Want to know MP3's secrets for BMX Training? Check it out, sports fans!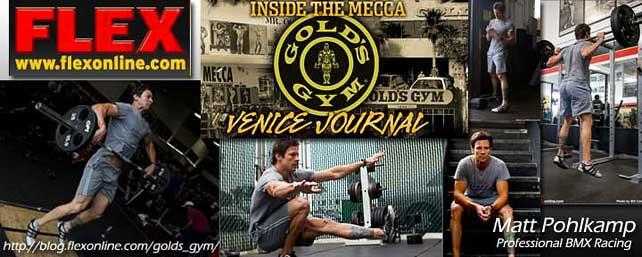 ---
BMX Racing News, Wednesday - June 16, 2010
PRODUCT BLOG–ALIENATION MOTO GRIP
Alienation is just about ready to drop a new race specific lock-on grip into the market. For those of you that haven't considered running lock-ons because of the flex in the tube or the way they feel think again. Our concept uses a window where the tube has a cut out. What does this all mean? Well, you feel bar not a plastic tube, plus the kraton grabs onto the bar per the open area so it does NOT throttle. The feel is thin & sticky. In addition we are using a one piece bar end so it's clean and simple. The Moto Grip will be available in July 2010.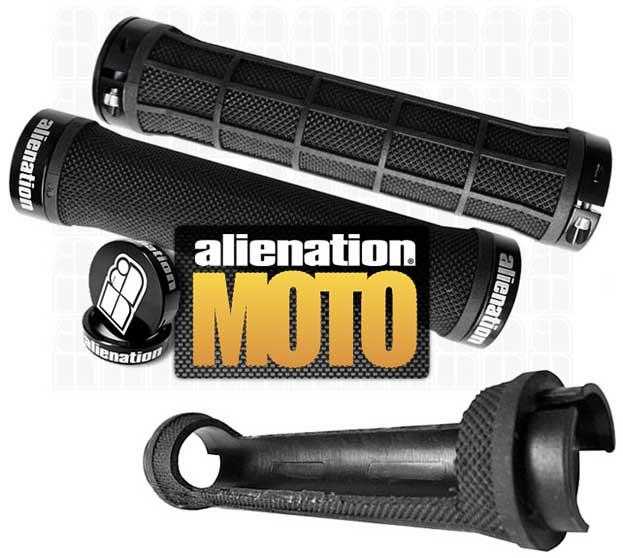 Details: Flangeless lock-on with an ultra thin profile; Propriety window technology for greater comfort; Classic motocross style knurled on the top side with a half waffle pattern below; Features a 1 pc alloy end cap for simplicity and safety.
Material: Super Soft Kraton Single Density Rubber
Length: 135mm
Colors: Black
For more information go to alienationbmx.com
---
NBL Announces J&R Bicycles As A New National Co-Sponsor
J&R Bicycles Is The Official Bike Shop Of The NBL & Title Sponsor Of The Bring-A-Buddy Program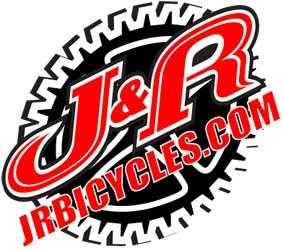 GAHANNA, OH (June 10, 2010) — The National Bicycle League announced today that J&R Bicycles will be a National Series Co-Sponsor for the remainder of the 2010 and 2011 racing seasons. J&R also becomes the title sponsor of the NBL's Bring-A-Buddy program and the Official Bike Shop of the NBL. In addition to discounts on future racing fees, outstanding Bring-A-Buddy recruiters will receive gift certificates redeemable on J&R's website. For complete Bring-A-Buddy program details, please visit the NBL website.
Gary Aragon, NBL CEO, says, "J&R brings a high level of products and customer service to our members both at National events and online. In addition, the Bring-A-Buddy program has been a huge success over the last few years and by bringing J&R on as a program sponsor, we want all our members to see the value in recruiting new members for their local tracks."
J&R Bicycles Owner Kirk Morrison adds, "Working closely with the NBL has been an important part of our success here at J&R. To step up and sponsor the Bring-A-Buddy program and the National Series was a natural fit for us. Most of the staff here, including myself, has grown up racing BMX. It is great to be able to invest back into the sport and the positive programs the NBL is providing while promoting our company at the same time."
About J&R Bicycles
The J&R BMX Superstore carries over 1400 products. Everything you need for your bike and body. Find great deals and low prices. Buy from experience, now celebrating 20 years in BMX. www.jrbicycles.com
About the National Bicycle League
The National Bicycle League (NBL) sanctions exciting local, state, and national levels of BMX (Bicycle Motocross) racing across the country and in Puerto Rico. With more than 30,000 members and more than 150 BMX race tracks, the NBL is the largest not-for-profit BMX racing association in America. NBL is BMX!

For more information, visit:
www.nbl.org
.
---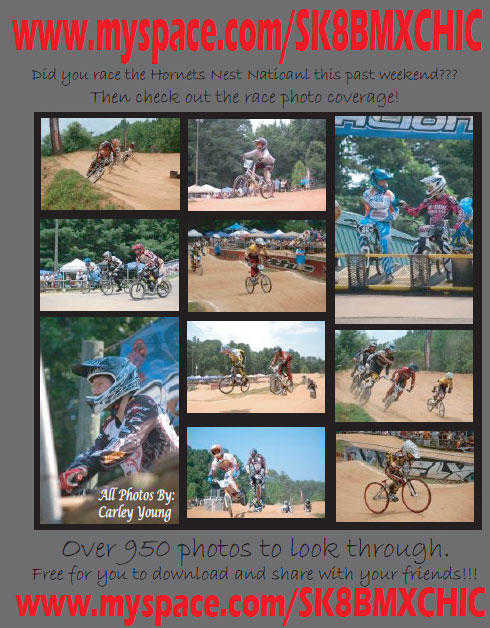 ---
BMX Racing News, Tuesday - June 15, 2010
Matt Kelty Bike Check From Alienation BMX
Spend a few minutes with Alienation BMX rider, Matt Kelty, hittin' up his own personal trails and scopein' out his ride.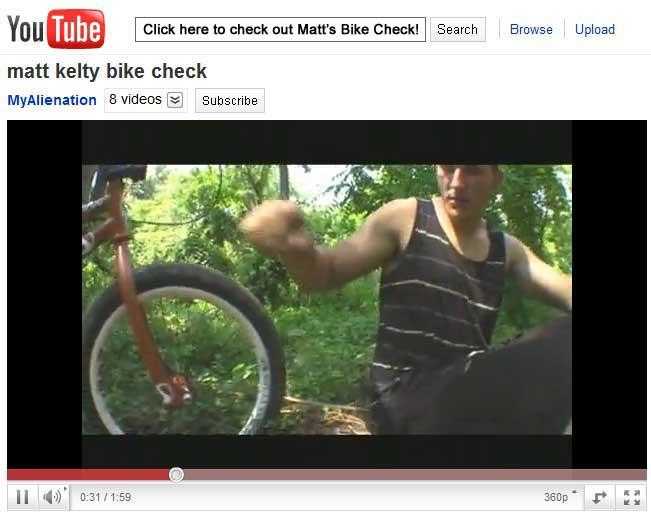 ---
SPEED M Series Frames Are in Stock now at VSI!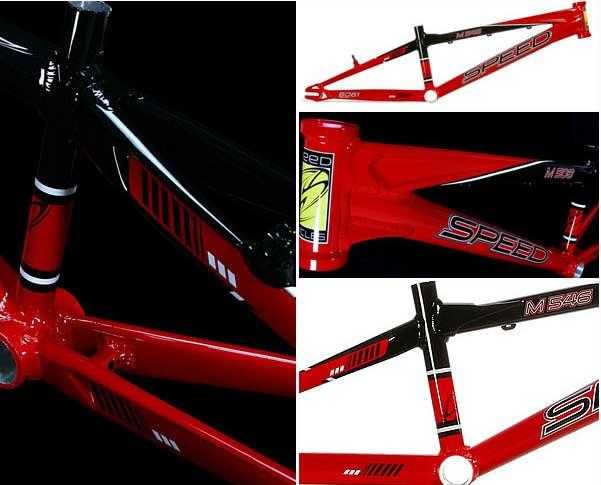 VSI Products is proud to announce the arrival of SPEED M Series BMX Frames. The revolutionary SPEED M Series frames are designed to be the most technologically advanced BMX race machines available at any price.
SPEED BICYCLES, a division of VSI Products, is the definitive BMX Bicycle Race leader and we are inviting you to be an important member of our winning team.
The SPEED M Series frame leverages the best of modern technology and design while remaining true to the traditions of BMX racing to create cutting edge performance.
SPEED frames are constructed from custom designed, hydroformed, triple butted 6061 aluminum alloy tubing, with an integrated head tube. They come complete with a headset and are available in seven sizes. Distinctive design and breathtaking graphics complete the SPEED package. Lightweight, strong and beautiful, SPEED frames are the perfect blend of performance and killer good looks.
Speed Bicycles has already got things moving marketing wise, to help make the Speed Frames in demand and a fast sell:
1- Speed Bicycles has joined as a sponsor of the ABA BMX National Series
2- Speed has a full page each month in the ABA BMX'er Magazine
3- Speed has some of the country's top riders on the frames already. Each rider was hand picked from the current crop of top amateurs in BMX. Nick Koehler, Shelby Stacy, and Jessie Day are all already on the frames, with new additions Mariana Pajon and Logan Collins joining the list of supported athletes.
MSRP $399.99 - Mini XL - Junior XL - Expert XL - Pro - Pro XL - Pro XXL - Pro 24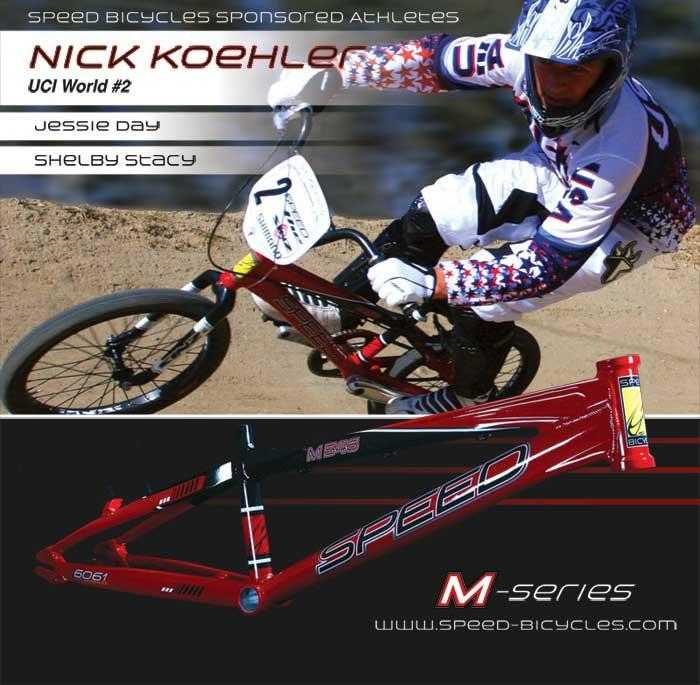 ---
Organizers allay security fears for UCI BMX World Champs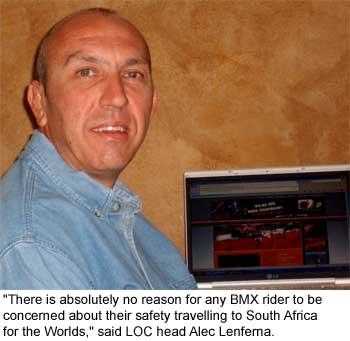 Pietermaritzburg – Organizers of the upcoming UCI BMX World Championships in South Africa have allayed fears about safety and security of the participants, citing the success of Soccer World Cup as evidence to back up their point.

Hundreds of thousands of soccer fans have flocked to South Africa for the FIFA 2010 Soccer World Cup during the past week, with hardly any criminal incidents being reported to the police in that period.

In anticipation of the influx of sporting tourists, security measures in all major centres and at transport hubs such as airports have been substantially reinforced, with a significantly heightened security presence visible across the country.

"There is absolutely no reason for any BMX rider to be concerned about their safety travelling to South Africa for the Worlds," said LOC head Alec Lenferna. "The event is being held in one of the safest areas of the country, and there are more than adequate security measures at the venue and in the city, where over 80% of the riders will be staying."

"Pietermaritzburg was recently voted the second best city in the country to live in in a major online poll, taking factors such as standards of living, safety and security," he added.

"Of course there will be individual incidents where careless tourists become victims of crime, but to be honest that is a blunt reality that could happen anywhere in the world," Lenferna added.

The event organisers were responding to blog comments casting the 2010 UCI World Championships in South Africa in a negative light based on isolated crime reports from World Cup, encouraging riders not to attend the event.

"It's ironic that the one incident that has been the focus of much of the blog activity has not been completely reported," Lenferna added, referring to the robbery of three journalists at a Magaliesberg guesthouse last week.

"It took police less than 24 hours to arrest the scoundrels," said Police Minister Nathi Mthethwa. "It took the justice department no more than 48 hours to sentence them," he added. Two of the three men received fifteen year jail terms, and the thirds, convicted of receiving stolen property was sentenced to four years in jail.

"Security concerns should be put to bed right now," said Ian Wilson co-builder of Giba Gorge, a 62000 rides-a-year MTB course in peri-urban Durban and builder of eNanda Adventures MTB course in African rural area between Pietermaritzburg and Durban.

"This area has to be thought of as offering some of the safest biking in the world, from a security point of view. Just turn on your TV and watch the World Cup football. Not an iota of football violence and hardly a blink of petty crime!", he adds.
The UCI BMX World Championships takes place at the Royal Showgrounds in Pietermaritzburg from 29 July to 1 August. More information can be found at www.bmxworldchampspmb.co.za
---
Skizo Wins Rounds 4 & 5 of MTN SA BMX Championships

14.6.2010

MTN Bmx rider Sifiso "skizo" Nhlapo returned home for a week before heading off to USA for final preparations leading into the BMX World Championships to be held in Pietermaritzburg South Africa 30th/31st July.

The return home coincided perfectly with rounds 4 & 5 of the MTN Bmx Nationals held in Germiston. The local bmx riders where surprised when Skizo pitched up but at the same time all the young riders welcomed their bmx hero.

Skizo had a great day riding with the local Elite riders and didnt drop one lap the whole day showing everyone that he is right on track leadin! g upto World Champs, Skizo commented "I enjoyed racing back at home again and was really surprised as to the turn out both in riders and supporters. There are alot of riders that have really lifted their game leading into World Champs which is great to see as it is at home and we can show off some of the younger talent to SA. This next month for me is crucial with final prep for Worlds so I can get on the podium for the home crowd"

Results for the weekend where 1st Sifiso Nhlapo 2nd Dean Holdstock 3rd Kane Herbert

Sifiso's new schedule till the end of the year will be as follows: June 18-20th Rockford PRO UCI (USA) July 2-4th Great Salt Lake City PRO UCI (USA) July 30-31st BMX World Champs (South Africa) Sept 3-4th Black Jack National PRO UCI (USA) Sept 17-18th Chula Vista UCI SX (USA) Sept 24-26th MTN SA Grand National (South Africa) Oct 8-9th Frejus UCI SX (France) Oct 22-24 Disney Cup PRO UCI (USA) Nov 25-28 Grand Nationals PRO UCI (USA) Dec Train at Potch Facilities
---
---
Formula Europe, European Championships Rounds 7&8, Valkenswaard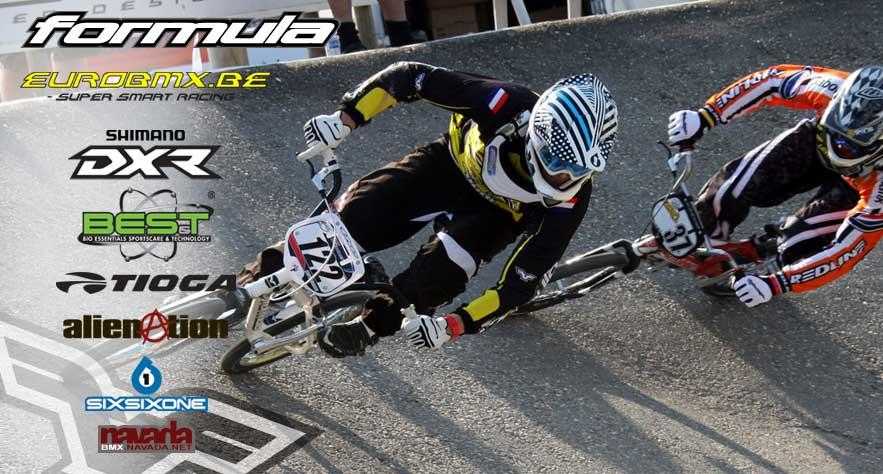 June 5&6, Rounds 7 and 8 of the European Championship were held on the 2004 Worlds Track in Valkenswaard (Holland).

The entire Formula Team was present, but Lucie Meerholz was still out of competition. She will be back on her BMX bike in a few weeks.

In Junior Men, Bastien Merle was representing the French National Team.

Saturday he put in some good laps in the motos, passed 1/8th and 1/4th to find his way to the semis. He didn¹t have a good gate, but managed to fight his way back to the front making a move for 4th and qualifying position when he skid in turn #3 and race this was over.

On Sunday he made it all the way to the main in which he was held up in the first turn by a crash and finished in 7th place.

After 8 rounds, Bastien enters the Top 10 of the European Ranking.

Latvian Elite Women¹s Rookie Sandra Aleksejeva, has some really strong laps on Saturday beating some of the big names in the strong Elite Women Category. She qualified for the main event in which she was battling for a top 4 spot when she unclipped and was pushed back to 6th place.

On Sunday she had an off day and didn¹t make it out of the motos. Sandra is currently ranked #14.

Although Kevin Sprengers was riding with an injury, he was still taking strong gates and making top finishes. Saturday he made it to the semis he missed the gate and didn¹t make the cut. On Sunday he was out in the quarters after he hit the back tire of the leader and lost all speed.

After 8 rounds Kevin is in 10th place of the European Elite Men Ranking.

Our other Elite Men Rider, Edzus Treimanis, made it comfortably to the semis on both days. On Saturday, he was in qualifying position but was passed when he went a bit too wide in the last turns and on Sunday he crashed on the rhythm section while racing in the 3rd spot.

After this weekend, Edzus is ranked 4th.

Nico van Dartel had an off weekend. He was eliminated in the motos on Saturday, but with a little luck in Sunday¹s semi, he qualified for the main in which he had to settle for 8th place.

Next Rounds will be held in Klatovy (Czech Republic) in 2 weeks.

Formula Europe is supported by Formula Bicycles, EuroBmx.be, Shimano, Alienation, Tioga, BES&T, SixSixOne, Royal Racing and Navada.net.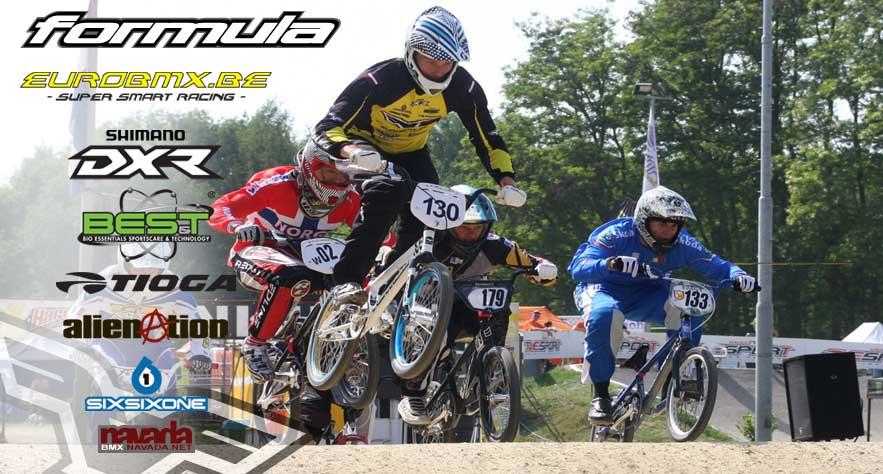 ---
Aussie BMX youngsters relinquish grip on Trans Tasman Trophy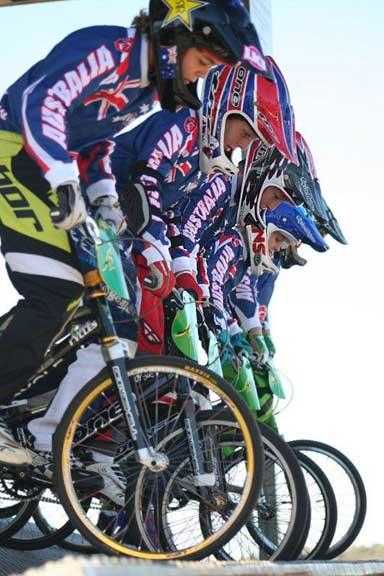 Australian BMX riders relinquished their grip on the Trans Tasman Test Trophy in Casino over the weekend.. New Zealand took out the win with an impressive 125 points to Australia's 70 points reclaiming the trophy for the first time in three years.
With competition held in both countries the event is now in its 22nd year and is commonly referred to as the Mighty 11's. It lays claim to being a breeding ground for future talent such as Beijing Olympians, Sarah Walker (NZ) and Luke Madill (AUS).
According to Australia's event manager, Sonia Buckley, the competition was fierce from start to finish.
"I'm sure the New Zealand riders were told they would not be allowed back in the country without the trophy! They made a strong start and didn't let up," Buckley said. "The parents from New Zealand were so proud they did the Haka during presentations. It was fantastic."
The girls scholarship team win also went to New Zealand with the Australian girls, all from New South Wales, putting up a strong challenge. New Zealand's, Rebecca Petch took the overall Mighty 11 Challenge Trophy for leading rider as well as the best female.
The Australian top riders selected to compete in New Zealand in October will be:
Jacob Griffiths – Pine Rivers QLD
Mitchell Hoad – Cairns QLD
Cooper Pozniak – Lake Macquarie NSW
Justin Beattie – Blue Mountains NSW
Jiye Ellis – Southlake NSW

The girls scholarship was won by:
Saya Sakakibara – Southlake NSW
Chelsea Boylan – Penrith NSW
Holly Cooper - Clarence Valley NSW
These Australian riders who will head to Rotorua, New Zealand for the return match on the 23-24 October as part of the North Island Titles.
---
BMX Racing News, Monday - June 14, 2010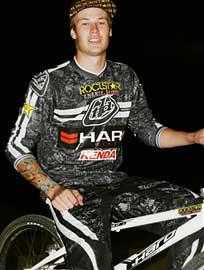 Haro/Rockstar Picks Up Nic Long
Haro/Rockstar is proud to announce the signing of AA Pro Nic Long. Haro is no stranger to winning and neither is Nic as he won back to back ABA National #1 Amateur titles in 2007 and 2008.
In 2008, He won the UCI Supercross that ran in collaboration with the Mt. Dew Action Sports Tour while being the only amateur rider in the main event. In 2009, Nic turned pro and blazed through the A Pro class in a hurry, earning himself the ABA Rookie Pro Of The Year Award.
Wasting no time in his first full season as a AA Pro, Nic has already won two main events in 2010. With 4 rounds remaining in the ABA National Series, Nic currently sits #4 in points, one spot in front of 2009's ABA National #1 Pro, Randy Stumpfhauser.
Watch for Nic to be making his way toward that number one spot he's all too familiar with.
The Haro Bikes / Rockstar Energy Drink Factory Team proudly endorses Kenda Tires, Vans Shoes, and Troy Lee Designs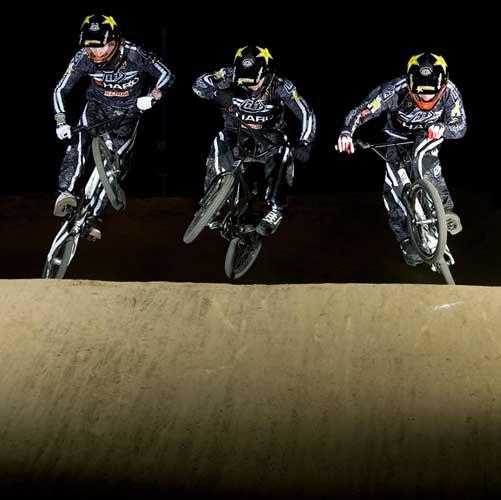 ---
Nic Long Says Goodbye To Intense/Phantom/On-Trac....Hello To Haro/Rockstar!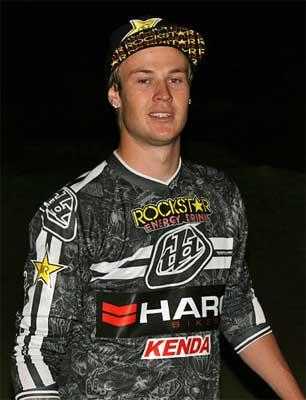 San Diego- Haro Rockstar has signed Elite Men/AA Pro, Nic Long. Nic is a second year pro and has been putting up some of the most consistent results on the ABA circuit this year.
Currently Nic is 4th in points, and with many races to go has a great shot to add a Pro Title to his long list of accomplishments.
Long comes to Haro as a past 2 time Number 1 Amateur, Dew Tour SX Champion, and most recently, USAC National Champion.
Nic will be joining Haro Rockstar teammate, Khalen Young, on the ABA and UCI Supercross tour.
Long had to make a very tough decision in leaving Intense Phantom Ontrac, one of the most successful teams in BMX history. But, due to the rough economy there was no way that Intense could provide Nic with everything that he needs to accomplish his future goals.
He will be leaving Intense on good terms.
Nic would like to thank Chuck Colton (On-Trac doors), Toby Henderson (Intense BMX), Pete Dylewski (VSI Products), Ray Hudson (Fly Racing), and everyone else that has helped him during his 14+ year racing career.
Also, Nic would like to make a special shout-out to his parents/trainers, Donavon and Melissa Long, for supporting him from the first day he picked up a bike.
Look for Nic in his brand new Haro Rockstar gear at the Midwest Nationals in Rockford, IL. There is no doubt that he will have his Haro frame on the podium.
---
---
Bike Alley/Redman/XOWii Mid-Year Team Report


The Bike Alley/Redman/XOWii team has been hitting the ABA Nationals hard this year on the west coast. The team was looking to put in some good team scores to move up in the team standings the past couple of months.

The ABA's 2009 National Number 1 Bike Shop Team, began the year by saying good-bye to 6 riders that moved on to factory teams and so we knew we would have to reload if we wanted to defend our title. However, with Bike Alley celebrating its 30th Anniversary in 2010 we understood sometimes that's how BMX works and were excited for the challenges of the long ABA season. The Bike Alley/Redman/XOWii team, after a slow start, has finished 1st at the last 3 team races they have attended. Consecutive wins at the Great Northwest Nationals, U.S. Nationals & Summer Nationals has put the team in a position to defend its title in 2010.

Jordan "The Warden" Nopens, ABA's 2-time National Number 1 Girl, has led the team with consistent finishes all year and is attempting to tie a record that hasn't been accomplished in 25 years winning 3 consecutive ABA titles. Anthony "AJ" Saldivar has had some great finishes so far and is looking to improve his NAG 2 from last year. Patrick Coo, currently NAG 4, has had a hot start to the season, so hot in fact, with a 102 temperature the week of the Summer Nationals in Roseville, was consistent all week with 2nd place finishes in class & open both days and made all the 8X dads sick worrying about how they are going to keep up for the remainder of the year. Consistent riding from Megan Chism currently NAG 5, Micayla Gaskey currently NAG 8, Ryan Weber currently NAG 7, along with Matt Chism, Beau Gregorios & Kyle Fernandez have helped the team for the first have of the year and we expect big things to come for the reminder of the year.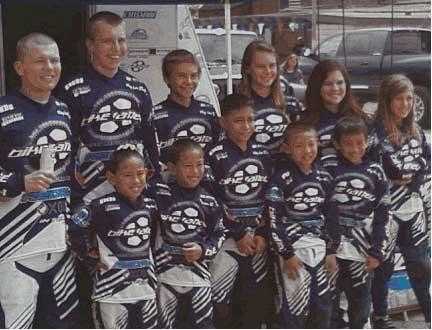 Back Row: Ryan Weber, Beau Gregorios, Matt Chism, Megan Chism,
Jordan Nopens, Micayla Gaskey
Front Row: Kyle Mitchell, Katin Mitchell, AJ Saldivar, Patrick Coo,
Tristan Mitchell
Bike Alley/Redman/XOWii introduced the newest additions to the team "The Mitchell's" this past weekend in Roseville. "The Mitchell's" consisting of Katin, Kyle & Tristan are off to a great start to the 2010 season and all 3 have made an immediate impact to the team. 6 year old twins, Katin & Kyle who are use to making people look twice have been on a tear this year. Katin is currently sitting NAG 1 while Kyle, currently NAG 8, will make a strong 1-2 punch for years to come. Not to be outdone, older brother, Tristan, currently sitting NAG 8 along with Patrick Coo, look to make another strong 1-2 punch the in the 8X class rest of the year.
Again, a big thanks to our BMX sponsors:
Bike Alley
(
www.bikealleybmx.com), Redman
Bikes
(
www.redmanbikesusa.com
) ,
XOWii
(
www.xowiibmx.com
),
Embee Performance
(
www.embeeperformance.com
),
Intense BMX
(
www.intensebmx.com
),
T.H.E.
(
www.the-industries.com
),
Intense Tires
(
intensetires.com
), and
Sinz
(
www.sinz-racing.com
)
,
Troy Lee Designs
(
www.troyleedesigns.com
),
S&M
,
Vapor
,
CHISM Commercial
and
ODI Grips
(
www.odigrips.com
)
---
National Guard Help Build New Arizona Track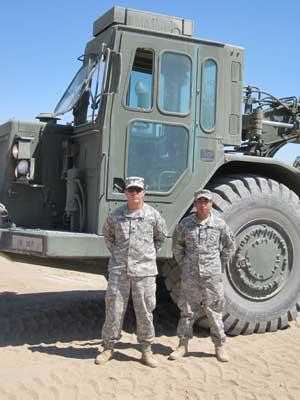 Some members of the Arizona National Guard have stepped up and provided some much needed expertise with building a new track in Safford, Arizona.
Big thanks go out to the Army National Guard and a couple of Americas finest men. Not only do they stand in harms way to protect the Freedoms of Americans, they do the same for many others.
Private William Marengo and Specialist Michael Miranda and the rest of the company involved in the development of the brand new BMX track. Army National Guard was instrumental in the build of this new track, they hauled and moved over 5,000 yards of material, without them the track would still be a drawing.
The track is coming in to shape, and there are so many thanks to go out to all who have donated and given just for this project to start, it is amazing what can happen when everyone works together. It is about riders of all ages, abilities, accessibility to BMX and the community support.
Thanks Guys for all your Sacrifices, Domestic and Foreign.....Be Safe
A big thanks to Empire Caterpillar, and all the local business and individuals who made this track come together. For more information regarding the newest addition to BMX please contact:
Outer Limits BMX
928-792-8366
Outerlimitsbmx@gmail.com
Safford, Arizona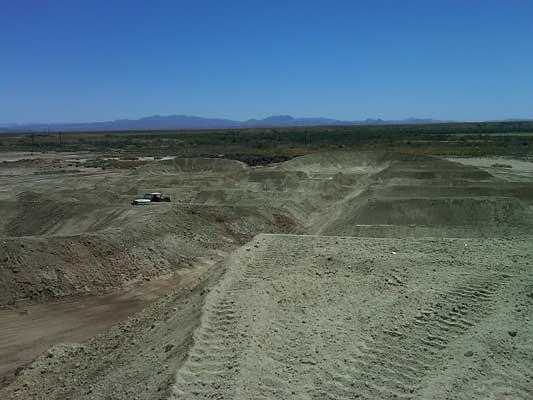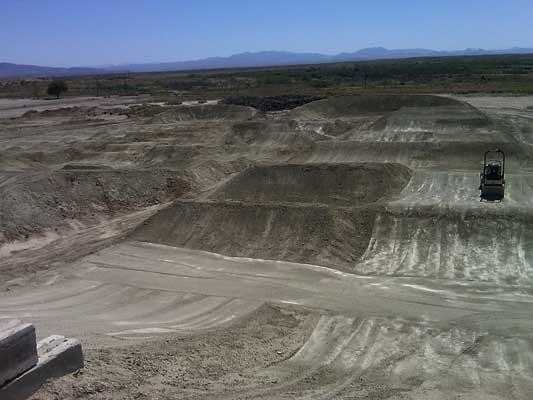 ---
BMX Racing News, Weekend Update - June 12-13, 2010
BIG WEEKEND OF OREGON RACING
JUNE 19 & 20!
JUNE 19 & 20
900 POINT WEEK END
Sat June 19th
STATE RACE - DOUBLE
Chehalem Valley BMX Newburg, OR
Reg: 8:30 - 10:00am - Race ASAP
STATE RACE - DOUBLE
Molalla River BMX Molalla, OR
Reg: 2:00 -3:00pm - Race ASAP
Sun June 2oth
REDLINE CUP - TRIPLE
Cottage Grove BMX Cottage Grove, OR
Reg: 9:00 - 10:00am - Race ASAP
EARNED DOUBLE
Emerald Valley BMX
Reg: 1:30 - 2:30pm - Race ASAP
Go to evbmx.com for more info
---
BMX Racing News, Friday - June 11, 2010
Little BMXers Drool For Alienation's White CNC'd Ankle Biters!
Mighty Mites all over asked so we're delivering at Alienation BMX. In stock now, we've got some of the raddest mini rider race parts in the world, our powder-coated

white Ankle Biter rims

. We have em both in 28 & 36 hole counts. Full white for the front & CNC version for smooth stops in the back.

Lighter than light, these stylistic hoops are just what's going to be needed to get rockin' junior rockets down the first straight and in to Turn One with style and speed.

This white hot rim, designed by our world class rim design engineers, is specified as Elite Mini Race, made from 6061 T6 aluminum, Double Walled, Sleeved Joint and weighs in at 280 grams. The 451 mm diameter sizing will run both 1 1/8 or 1 3/8 tires and comes in both 28 & 36 hole configuration.

Although the White is HOT, the Ankle Biter is also available in Black, Blue, Chrome, Polished and Red.

Need some? Get a hold of your favorite BMX shop or Mail Order outlet. Not available thru your usual sources? Give us an email shout at info2@alienationbmx.com and we'll aim you in the right direction.

For more info on the HOTTEST BMX Race Products on the planet, check it all out at www.alienationbmx.com!
---
RIDE BMX Mentoring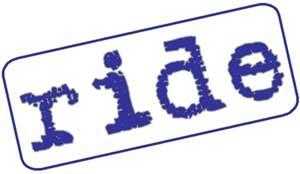 BMX Mentoring group 'ride' has been successfully supporting and assisting new riders in the 2010 season with clinics, equipment and more, and we are still growing!
There is so much talent out there, many riders with and without sponsors, riders with so much potential and we wanna help you get to that top level every athlete dreams of, and 'ride' is looking out for you!
We have also focused on the girl riders since the group began and we will continue doing that, there are definitely tough and competitive girls out there.
More programs and new opportunities for riders of all proficiencies nationwide have emerged as result of our work and passion for the sport!
Be part of our successful team, but best of all, be part of 'ride' and be a role model for BMX riders around the nation!
A few spots left for the 2011 season, so check us out at www.ridebmxracing.com
'ride' is a grassroots program owned/supported by RIDE BMX RACING COMPANY, an apparel co.
ride BMX RACING COMPANY
apparel | grassroots | bmx racing

Address: P.O. Box 230774, Centreville, VA 20120
Website: ridebmxracing.com
Email: ridebmxracing@yahoo.com
---
BMX Racing News, Thursday - June 10, 2010

ONE/Kenda at EC rounds 7-8 in Valkenswaard
ONE KENDA press release
Round 7 and 8 of the Elite and Junior Men/Women European Championship was held in Valkenswaard/Holland, host of the 2004 UCI World Championships.
The weather was great and the event was one of the nicest in the last few years.
ONE/Kenda had a nice set up in the team area were the team riders could watch UCI Supercross
races and play games on the Playstation.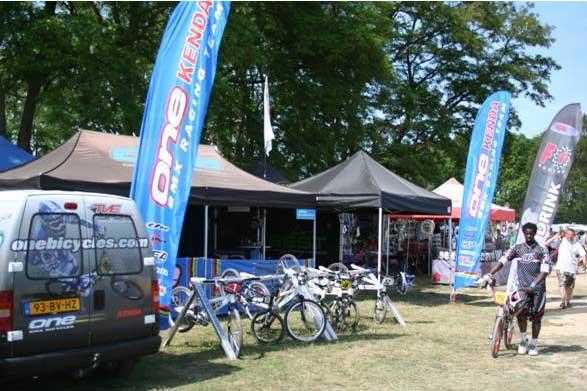 The cooler we got from F1 Energy drinks made sure we had cool drinks in the hot sun for our riders and the sponsors that dropped by to enjoy the races.
ONE/Kenda's Aneta Hladikova from Czech Republic was in shape and her 2nd place in the Championship for Elite Women was never in danger by a 3rd place on both Saturday and Sunday.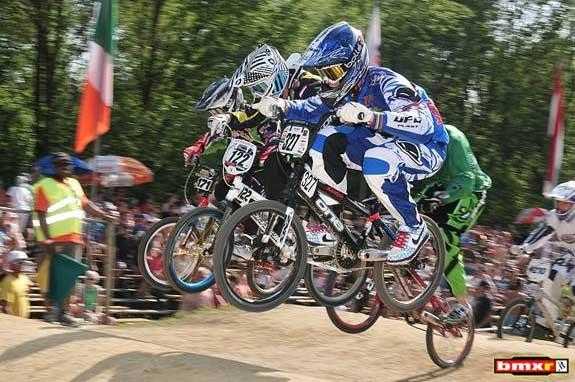 Simone Christensen from Denmark took a 2nd place on Saturday and a 4th place on Sunday in 16 Girls 15/16. Her brother Chris doubled with victories in 13/14 Boys.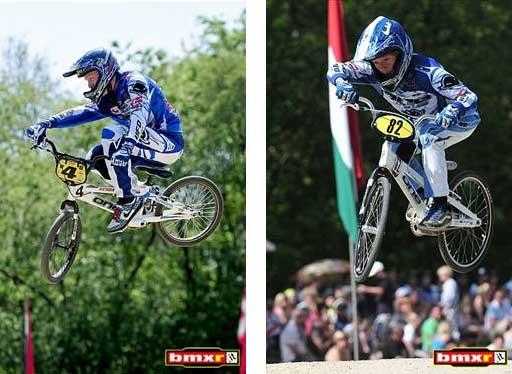 Tommaso Giustacchini from Italy was on fire and came up with a 4th spot in the main in 15/16 Boys.
The ONE Junior riders made mains too. Jill Vakkers from Holland placed 3rd on Saturday and won on Sunday. Jill's son Denzel scored well with a 2nd on both Saturday and Sunday.
Check for the videos here: BMX-VIDEOS.COM
Photos: ONE Bicycles & Bruno Giustacchini
ONE KENDA is sponsored by:
KENDA, PINCH GEAR, KMC, SHIMANO, BOLLÉ, THE Industries, SINZ, TVE SPORT, UFO, THOMSON, ODI, NIKE, SELLE SAN MARCO, BEST and F1 DRINKS
---
---
USA Cycling and ABA announce 2011 BMX Junior Development Series
Colorado Springs, Colo. (June 9, 2010) -- USA Cycling, the national governing body for the sport of cycling in the United States, in conjunction with the American Bicycle Association (ABA), is pleased to announce the 2011 USA Cycling BMX Junior Development Series.
The series will consist of USA Cycling branded events at all ABA sanctioned BMX tracks and ABA National Series events, and will qualify 15- and 16-year-old riders to participate in one of four USA Cycling Junior Development BMX Camps presented by Intense BMX.

The camps provide participants with high performance training at the U.S. Olympic Training Center in Chula Vista, Calif., exposure to the Supercross World Cup track and the experience of a day in the life of a U.S. Olympic athlete. Camp-goers will also receive instruction in nutrition, strength training, and recovery. Each of the four camps has its own unique qualifying period of Junior Development Series events to determine which riders receive automatic invitations.
The first camp will take place Aug. 16-22 with a qualifying period of May 31 – July 18. The qualification events include:
June 4-6: Summer National - Roseville, CA
June 11-13: East Coast National – Charlotte, NC
June 18-20: Mid West National – Rockford, IL
July 2-4: Great Salt Lake National – S. Jordan, UT
July 9-11: New England National – Westfield, MA
July 16-18: Star Spangled National – Severn, MD
The second camp is slated for Nov. 3-9 with a qualifying period of July 19 – Oct. 24. Qualification events for this camp consist of:
July 23-25: Badger National – Wisconsin Rapids, WI
Aug. 6-8: Southwest National – Tucson, AZ
Aug. 13-15: Quaker State National – Clark Summit, PA
Aug. 20-22: Cornhusker National – Lincoln, NE
Sep. 3-5: Blackjack National – Reno, NV
Sep. 17-19: U.S. Open National – Chula Vista, CA
Oct. 22-24: Disney Cup National – Orlando, FL
The third and fourth camps, as well as their qualification events, will be announced later in the summer.
For more information about the USA Cycling BMX Junior Development Series, or USA Cycling Junior Development BMX Camps presented by Intense BMX, please click here.
About USA Cycling - Recognized by the United States Olympic Committee and the Union Cycliste Internationale, USA Cycling is the official governing body for all disciplines of competitive cycling in the United States, including road, track, mountain bike, BMX and cyclo-cross. As a membership-based organization, USA Cycling comprises 66,500+ licensees; 2,200 clubs and teams; and 34 local associations. The national governing body sanctions 2,650 competitive and non-competitive events throughout the U.S. each year and is responsible for the identification, development, and support of American cyclists. To learn more about USA Cycling, visit www.usacycling.org.
About the American Bicycle Association - ABA (American Bicycle Association), formed in 1977 and headquartered in Chandler, Arizona is "The Sanctioning Body of BMX"©. The ABA organizes BMX racing for boys, girls and adults, nationwide and Canada. With 60,000 active members, 274 racing facilities and a 27 event national race schedule, ABA is the largest promoter of action sports.
---
BMX Racing News, Wednesday - June 9, 2010
European BMX Championships
Rounds 7&8 - Valkenswaard, Netherlands
Saturday – Round 5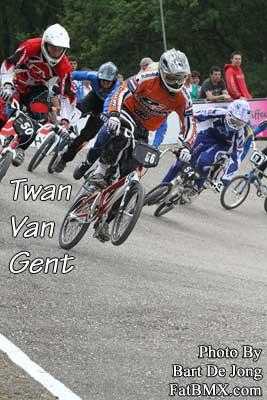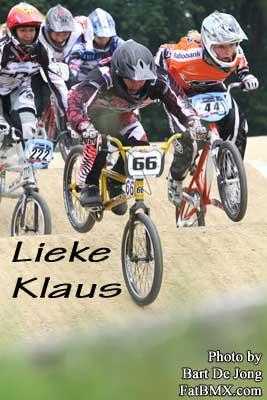 Elite Men (61 Riders) – 1 Raymon Van Der Biezen/NED 2 Thomas Hamon/FRA 3 Arturs Matisons/LAT
4 Moana Moo Caille/FRA 5 Rob Van Den Wildenberg/NED 6 Sander Bisselling/NED 7 Andre Fossa Aguiluz/NOR 8 Frank Heijne/NED
Elite Women (16 Riders) – 1 Lieke Klaus/NED 2 Joyce Seesing/NED 3 Aneta Hladikova/CZE
4 Elke Vanhoof/BEL 5 Eva Ailloud/FRA 6 Sandra Aleksejeva/LAT 7 Laëtitia Le Corguille/FRA 8 Shanaze Reade/ENG
Junior Men (66 Riders) – 1 Andre Sylvain/FRA 2 Lorin Martinez/FRA 3 Alexander Birkeland/NOR
4 Niklas Laustsen/DEN 5 Kristers Lejins/LAT 6 Matus Zmajkovic/SLO 7 Luis Brethauer/GER 8 Twan Van Gent/NED
Junior Women (15 Riders) – 1 Laura Smulders/NED 2 Merle Van Benthem/NED 3 Maartje Hereijgers/NED
4 Enora Le Roux/FRA 5 Pauline Corlobe/FRA 6 Mette Jepsen/DEN 7 Lovisa Annerwall/SWE 8 Tori Van Der Perre/BEL
Sunday – Round 6
Elite Men (60 Riders) - 1 Thomas Hamon/FRA 2 Jells Van Gorkum/NED 3 Arturs Matisons/LAT
4 Moana Moo Caille/FRA 5 Jasper Verkuijl/NED 6 Sander Bisselling/NED 7 Rob Van Den Wildenberg/NED 8 Glen Van De Wetering/NED
Elite Women (16 Riders) – 1 Shanaze Reade/ENG 2 Lieke Klaus/NED 3 Aneta Hladikova/CZE
4 Laëtitia Le Corguille/FRA 5 Joyce Seesing/NED 6 Stefany Hernandez/VEN 7 Elke Vanhoof/BEL 8 Eva Ailloud/FRA
Junior Men (64 Riders) – 1 Andre Sylvain/FRA 2 Twan Van Gent/NED 3 Lorin Martinez/FRA
4 Luis Brethauer/GER 5 Nikolas Schaufelin/GER 6 Alexander Schaufelin/GER 7 Bastien Merle/FRA 8 Jeffrey Hoogland/NED
Junior Women (14 Riders) – 1 Merle Van Benthem/NED 2 Abbie Taylor/ENG 3 Tori Van De Perre/BEL
4 Kristyna Zatloukalova/CZE 5 Mette Jepsen/DEN 6 Maartje Hedreijgers/NED 7 Enora Le Roux/FRA 8 Laura Smulders/NED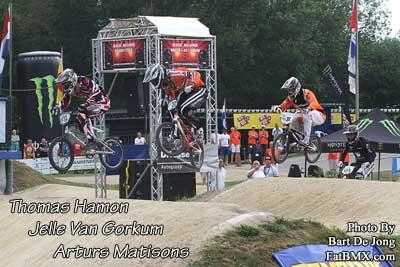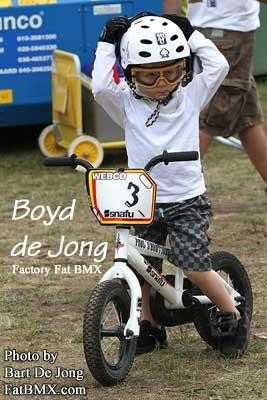 ---
BMX Racing News, Tuesday - June 8, 2010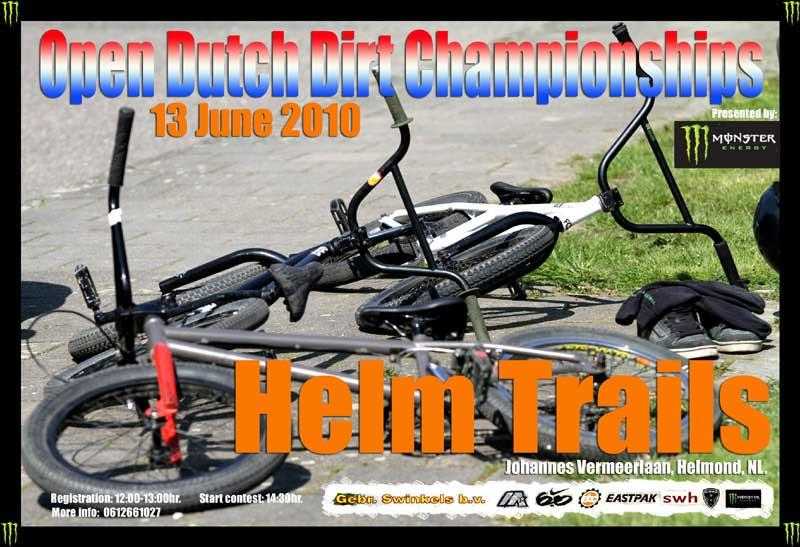 Open Dutch BMX Dirt Jump Championships. Presented by Monster Energy
It doesn't matter where you're from to enter the Open Dutch Dirt championships that are on the calendar for Sunday 13 June 2010. It's an open event for everyone who wants to ride a dirt comp. If you're used to riding one of the jams in the South, prepare for something different. We won't be giving out prizes to random tricks done on the course, this is serious shit. Registration, practice times, judges, single runs, MC, are you getting nervous yet? The top three will be receiving a huge prize package donated by the sponsors, some cash provided by Monster Energy, and trophies by Paul's Boutique BMX. You will have to go out and show what you've got this time.
The Helm Trails have received some new dirt and the locals and friends are working hard on the makeover. It's looking good already. Practice for the event will be possible on a daily basis from 17:00hr - 19:00hr. leading up to the comp so get your tricks dialed before it's time for your run. On the day itself, practice is possible from Noon - 14:15hr. The championships kick off at 14:30hr. We're also throwing in a long distance competition this time. You will have to get those leg muscles spinning to reach the longest distance possible over a little kicker jump with a flat landing. This should get interesting.
Now where is this place? TomTom owners, type in Helmond, Netherlands. Street: Johannes Vermeerlaan. The trails are underneath the cycling bridge in Helmond Noord. Next to the new canal. Follow the signs if you have a hard time finding it, or better, print a routeplanner now and don't get lost.
---
BARRY NOBLES ABA ROSEVILLE DAMAGE REPORT
Die Hard BMXer Hit By Car Battles Thru Pain To Make 3 Out Of 4 Elite Finals!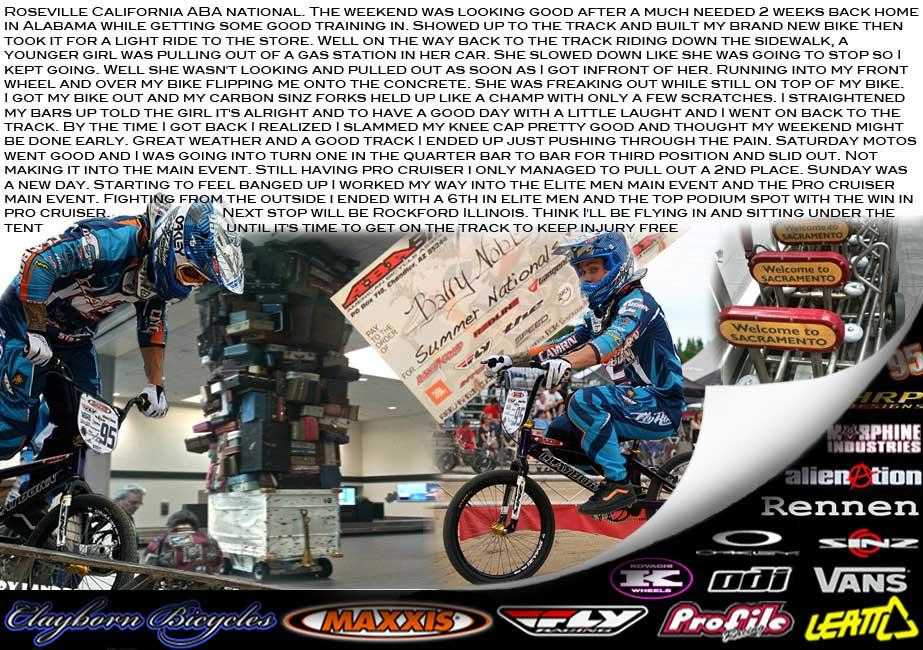 ---
BMX Racing News, Monday - June 7, 2010
SUNDAY FROM ABA SUMMER NATIONALS IN ROSEVILLE!

AA/ELITE MEN = Maris Strombergs
Elite Women = Alise Post Doubles It Up!
A Pro = Corben Sharrah.....Again!
Vet Pro = Kenth Fallen.....Again!
Pro Cruiser = Barry Nobles
Complete official results to be posted on the BMX Mania Race Report Page Along With AWESOME race pix!
---
BMX Racing News, weekend update - June 4-6, 2010
Saturday pro results from ABA Roseville!
Elite Men/AA = Sam Willoughby
Elite Women = Alise Post
A Pro = Corben Sharrah
Vet Pro = kenth Fallen
Jr. Women = Dominique Daniels

MASSIVE SATURDAY FOTO GALLERY BEING POSTED!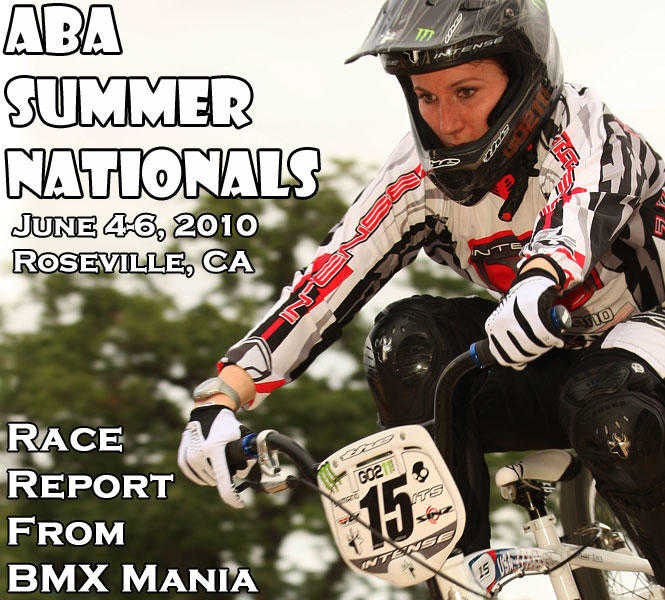 MASSIVE Friday Practice PHOTO GALLERY FROM BMX MANIA!
---
Monaco BMX Supercross cancelled for 2010
Monaco round of UCI BMX Supercross World Cup cancelled for 2010

Aigle, Switzerland, 4 June 2010 - The UCI regrets to inform that the 5th round of the UCI BMX Supercross World Cup, presented by SWATCH, is cancelled. The event was initially planned to take stage in the world famous Monaco harbour for 16 and 17 October 2010. Unlike earlier tentative approval, the authorisation to build the unique BMX Supercross track in Monaco harbour was declined for this year.

The successful Supercross World Cup series however deserve a grand finale in a spectacular venue like Monaco harbour. Therefore the UCI and local organisers are still determined to host a BMX Supercross World Cup in Monaco in 2011, less than one year in advance of the London Olympic Games. At the time of this press release, there are no plans for a replacement venue.

"It's very unfortunate that we had to cancel the final round in Monaco. We put in quite an effort, together with the local promoter, to make it happen. But unfortunately the local authorities did not approve the only location suitable for the BMX Supercross track. I truly believe that Monaco is the perfect setting for a BMX Supercross World Cup, where action sports meets fashion kind-of-a-thing, and we will do our utmost to have the 2011 SX finals in Monaco," says Johan Lindstrom, UCI BMX sports coordinator.

Remaining UCI BMX Supercross World Cup schedule for 2010:
July 29 - Aug 1 - UCI World Championships - Pietermaritzburg, South Africa
Sept 17 -18 Supercross #3 - Chula Vista, CA USA Olympic Training Center
Oct 8 - 9 Supercross #4 - Frejus, France – as part of Roc d'Azur

Please see the latest UCI BMX Supercross World Cup Ranking on www.bmx-results.com
---