---
June 2008
SNEAK PEEK OF FLY RACING'S 09 GEAR ON YOU TUBE

Check out this You Tube link that takes you to a sneak peak video showcasing the 09 FLY Racing Gear and Helmets.
The vid was filmed during the latest MX photo shoot and features West Coast Lites Champ, Jason Lawrence, Andrew Short, and a few other FLY pro and am MX racers.
It's all moto and is fun to watch.
http://www.youtube.com/user/FlyRacing2009
All the 2009 FLY Race Wear and Helmets are coming soon.
"We expect to have 09 gear available sometime mid-to-late August" said FLY's Terry Basiley, "You should see it on all FLY's BMX pros very soon, including our riders going to the Olympics in China."
In addition to the new gear and helmets there is all new casual wear, luggage, and protective wear. "Almost everything for 09 has been re-vamped and it looks awesome" said Baisley.
You can also expect many new BMX specific items in the coming months as well.
Check out all FLY racing product at
www.flyracingbmx.com
or at your local dealer.
---

Rupe Featured in Master's Cycling Magazine
Eric Rupe, GT's, Vet Pro around BMX has been featured in a national publication for master's level cyclists.
The article that has Big Daddy in it was written about the USA Cycling National Championships at the ABA's Metroplex BMX in Desoto, Texas where Eric won the 45 & Over National Championship.
He also scored a pretty tasty looking cover photo along with several good shots in the body of the article and a good write up on Big Daddy's racing exploits.
Brutha Rupe went on to win the 2008 UCI BMX World Championship in Taiyuan, China to add to a long list of BMX achievements in his 34 years of racing BMX.
Check it out, Eric's article is featured on the magazine's at www.masters-athlete.com, along with world famous tennis player, John McEnroe.....Pretty fast company for a BMXer!
---
GHP Factory race report: The Rock and Atlanta Georgia



With the weather threatening one of the most famous tracks in ABA history a few of the GHP factory riders roles into Rockford Illinois hoping to pull off a full weekend of competition at the ABA Mid West National.

In Vet Pro, newly added factory rider Robert Harris (GHP,Icon,Fly) has been on fire. Harris pulled off a second, behind Chad Street, on Saturday. Sunday Robert continued showing his skills and strength repeating Saturdays finish again in second.



Two of GHP A pros made the trip. Michael Mayhem Larson and Todd "40 on a 20" Parry showed up to brave the weather. Larson made Saturdays main finishing just behind his team mate in 5th place. Todd Perry ran good all weekend with a fourth on Saturday and a sixth on Sunday.

On the Amateur side Ted "Pedro" Brown made the trip down from Wisconsin to battle it out with the 31-35 cruiser and 28-35 experts. Ted ran away with his first win of the season in cruiser

Saturday, beating the likes of Jason Lindsay and Troy Krouse. Sunday Ted split the two for a second place finish. Racing the 20 Brown rode away with a sixth and a fourth.

The weather held up for some awesome racing as usual at "The Rock" and a big shot out to the all the Rockford crew.



One week later the ABA boys rolled into Atlanta, GA for the Dixieland Nationals.

For this one Robert Harris gathered up Cody Smart (GHP, Fly) and "The Jackal" John Purse. The Boys from Texas rolled in and put down a hurting on the rest of the Vet pro class. Cody rode to a fifth place on Saturday following it up with a 8th on Sunday.


Robert Harris took his Factory GHP to the mains both days, finishing third on Saturday and a fourth on Sunday.

John The Jackel Purse. All year he's been putting down the power working his way closer to his goal, number one Vet Pro. John has been on the podium in just about every race he's entered. Saturday Purse did what he always comes to do WIN. Taking his first win of the year. John finishes Sunday one spot lower on the podium in second. Congratulations John on your first win of the year.



Robby "The Real Deal" Patterson took a weekend off, skipping Rockford, and heading to Atlanta to continue what he's been doing all year. Racing out front in two of the hardest classes around, 16 expert and 16 cruiser. In the expert ranks Robbie rode to a sixth on Saturday. Sunday he stepped up the deal and finished third. Not having enough riders in 16 cruiser Robbie was bumped up to the 17-20 cruisers both days, and where did he finish, out front both days.

Not to be forgotten, Todd Perry showed up in Atlanta looking to continue putting the hurt on the young guns in A Pro. At the end of last year Todd decided to reclass to A Pro to have some fun and prove to his critics that he could handle the younger riders. So far this year Todd has done just that and much more. On Saturday T.P. put his GHP in third place in A pro and fifth in Pro cruiser. Sunday Todd went down early in the day but continued to race hard. He took a sixth in A pro and a SECOND in Pro cruiser. That's correct SECOND to number one Pro Cruiser Danny Caluag. As significant as it is to run with the current number one AA pro and Pro Cruiser ,Todd did it with what was later discovered as a broken right wrist. That's correct, he rode the rest of the day with a broken wrist......He's one tough and dedicated racer.

All of us at GHP wish Todd and speedy recovery, and I'm sure the rest of the A pro will be wishing him one as well and thanking him for a break from all the butt whooping.

GHP would like to thank all their sponsors for their support: Attomlab, 4L racing, Rockinrunner designs inc.,BMXMANIA.COM, PeterPaulPics, HPR designs, Troylee designs, Ciari, Swiss American bicycles, SIXSIXONE, FLY racing, and bmxactiononline.com
---
Today's BMX Racing News - Saturday/Sunday, June 28/29, 2008
SUNDAY UPDATE - rAIN cancels out nbl sTARS & sTRIPES
Complete Official Results available at the BMX Mania Race Report Page
After several rain fronts blew thru Pittsburgh, making the track unsafe for racing, the NBL pulled the plug on the Stars & Stripes National.
Under NBL rules, the points/positions gained yesterday carried over to today, making all of the riders who did great yesterday happy
and making all of the riders who didn't do so well......Not so happy.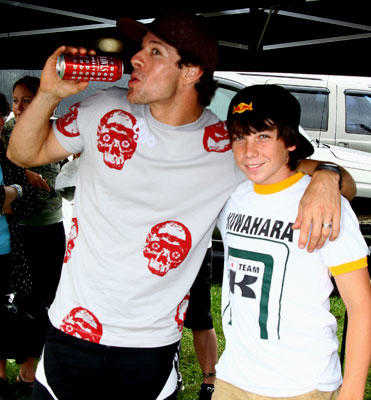 Matt Pohlkamp and Justin Posey looked pretty psyched!
TONS OF FRIDAY PRACTICE PHOTOS POSTED TO THE
BMX MANIA SOUTH PARK RACE REPORT PAGE!
Pohlkamp & Hayashi take big Wins At South Park!
Podium Results
More Official Results And Photos Posted On The BMX Mania Race Report Page!
---
Today's BMX Racing News - Friday, June 27, 2008
---
---
---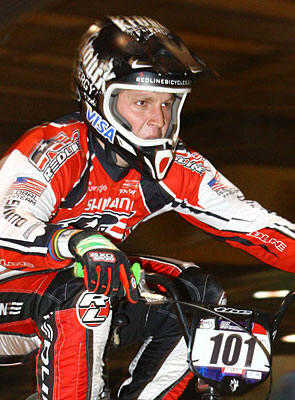 bubba harris has successful surgery
Official Supercamp News - www.probmxsupercamp.com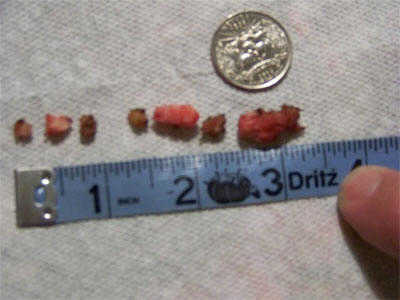 Bubba Harris had surgery last Friday on the foot that he injured in China in August 2007.
He has been suffering a HUGE amount of pain with every step much less pedal he has taken over the last 8 months since he got back on his bike.
Now we know why......Other than the fact that his injury was so very severe that the doctors wanted to amputate his foot in China, the surgeon here at home removed approximately 3" of bone fragments that were inside his ankle joint!
Check out how big some of those pieces are! OUCH!!
He is taking some time out to recover from his surgery and get not only his surgery ankle healed but his newly broken other ankle healed as well all at the same time.
Only true determination, drive, and the love of BMX kept him racing everyday no matter how bad it hurt.
We hope to see him soon back out on the track fully recovered!!
---
Today's BMX Racing News - Wednesday, June 25, 2008
KB Doubles In Prunedale!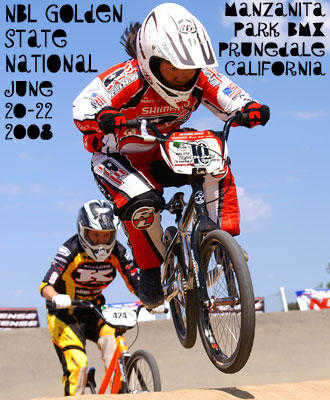 Above, Redline's, Kim Hayashi and Kovahi Wheels', Madison Pitts.
Free Agent's, Kyle Bennett wins both days at the NBL Golden State National

From left, Jrich, Cushman, Colombo and Willers, at Warp Speed in Prunedale.
Check out the BMX Mania Race Report Page For Complete Results, Race Report And Photo Brilliance from BMX Mania's, Derek Novaes.
---
---
---
Let's Send Out Some Love To Alyssa Martin, A BMXer in Need!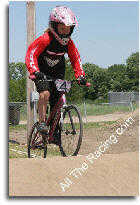 Alyssa Martin, a Lady BMXer from Minnesota ABA's, I-94 BMX track was involved in a tragic accident last weekend that has put her in a battle to save four of her fingers.
During a break between motos, the riders divided up in to two teams for a tug of war with a big rope.
Evidently, Alyssa's fingers got caught in the rope somehow and at least three of them were severed.
She was rushed to the hospital and the battle to save her fingers continues on to the present.
All fingers were re-attached and doctors have been fighting to keep them alive, attached and well.
It's not been an easy struggle and the Martin Family needs your help.
The popular Minnesota BMX Racing site, AllTheRacing.com is running a fund raising effort on their site and people all over the Northern States have joined together and are making a great effort.
Want to help out? Alyssa and her parents have been involved in racing for quite some time, and are ABA Track Operators at the I-94 facility, let's send em some love in this really tough time for the family. (More info available at ALLTHERACING.COM and alltheracing.com/i94/
SEND OUT SOME LOVE TO THE MARTINS!
---
---
Kingston, Ontario To Be site of $30000 Pro/Flats Only BMX Race
The rumors are confirmed!!!!! Jay Miron, one of the greatest names in Freestyle BMX (And a former racer himself) is putting together a BIG MONEY International, Elite Only, Flat Pedal BMX Race in Kingston, Ontario in September......OUTSTANDING, but there's MORE!
Jay is BLOWING THING UP with The Kingston Bike Festival, featuring several events, including the famous Metro Jam the weekend before the race, plus, the weekend of the race, there will be a Flatland Contest with a $5000 purse, and Dirt Jump Comp with $10000 on the line and an unheard of $30000 purse for the BMX Race! Crazy? Unheard Of? Can't Believe It? *Oh, did we mention that Olympic Track Builder, Tom Ritz will be flyin' in to cherry out the track? Yep, he is!
Check it out, Jay's For Real!
From Jay Miron, Kingston Bike Festival organizer and Freestyle Legend
A lot of you have heard rumors that the Kingston Bike Festival <kingstonbikefestival.com> is happening and that Metro Jam is a part of it. There's also a super cool new BMX race but no one knows much more. So here's the rundown.
The whole thing is going down in Kingston, Ontario. Kingston is a city of about 150,000 people. It's located in the middle of eastern Canada's three biggest cities, Toronto, Montreal and Ottawa. It's two to three hours drive from each, and it's an hour north of Syracuse, NY. Most Americans flying in for the events should probably fly into Syracuse. It'll be much cheaper than flying right into Kingston. Racers will know this because Kingston has hosted some pretty big races.

The web sites don't have a lot of info on them right now but check back often. We'll be updating them soon, and regularly. The Kingston Bike Festival website is more for general public to view. Riders should go to the Metro and ERA sites.

The total purse for all of the events is $65,000 Canadian. The Canadian dollar is pretty much on par with the American dollar these days. $35,000 goes to freestylers and $30,000 goes to racers. The break down per event is below.

We've really got our shit together with the parties this year. We're working with Kingston night club owners to make sure that everyone has a good time. Kingston is home to Queens University. It's one of the biggest in Canada. There will be lots of girls for everyone to meet. Riders are reminded to take a shower before going out, and don't complain about having no money. Girls don't like complainers with no money who stink like they've been riding all day.
Aug 30 – 31 Metro
Metrobmxjam.com
$20,000 purse.
Metro will go down in the brand new five thousand-seat K-Rock Center. This year's pro event will be invite only. That sounds shitty and we never, ever wanted to do an invite contest, but we feel as though we were forced to do this. Qualifying used to take six full hours because half of the guys entered weren't actual pros. They were amateur riders who didn't get into the amateur contest. Not only was it unfair to ask the spectators who paid for their seats to watch the amateur riders, it was super dangerous to ask the pro riders to ride practice beside a bunch of riders who had no business being on the course and often got in the way.

We're going to be doing a number of amateur events in several Canadian cities. Out of those contests we're going to qualify twelve riders who go straight into a Metro final held on Saturday night, right after pro qualifying. This should make for a banger night of riding. We'll have all the qualifying cities locked down and we'll announce them in a few days.

Sept. 3 Flatland
$5000 purse
For the first time in years Metro will be holding a flatland contest. It's going to be on Wednesday night at a really cool spot in the city center. It's going to rock. Stay tuned to the Metro site for details.

Sept 5 – 6 ERA BMX Race and Jumping Contest
Erabmx.com
ERA Kingston Cup Race $30,000 purse
ERA Jumping contest $10,000 purse
The ERA (Elite Race Association) race will be Elite riders only. The Kingston track will be totally rebuilt bigger and better. It will be amazing and the riders must race on flat pedals. No one is allowed to race in tap dancing shoes. The dirt contest will be on three sets that run down between the second and third straight with the last set flying over the second corner.
It starts Friday night with time trials for the racers and qualifying for the dirt jumpers. Then on Saturday night the race goes down and the jumping final happens.

Like I said earlier. Watch the websites for more details. Even though there's not a lot of info up on them yet, there will be soon.
Web Sites For Info = EraBMX.com - MetroBMXjam.com - KingstonBikeFestival.com
---
---
---
Argentina Selects Olympic Team

Official News Release/WWW.BMXARGENTINA.COM
Team Argentina is set to be in the effort to make BMX HISTORY.
This summer, BMX will be part of the Olympic Games for first time in history.
The Argentina Team Selection, which is trained by Flavio Vacareza, will go to Beijing with Elite Riders, both men and women.
The men's team will consist of Cristian Becerine and Ramiro Marino, with Javier Colombo as first substitute.
The female team will be Gabriela Diaz and Belen Dutto.
---
NBL South Park Is Next Weekend......With a BIG Track Rebuild!


It's NBL Stars & Stripes National time at Pittsburgh's, South Park BMX and the track's undergone some major revisions.
The track rebuild crew had some crappy weather along the way, the word is that the track is all dialed in and will be Super Smooth for the national.
The track is super fast, always a fun ride, now said to be even "funner", and the pro level skate park that was being built right next to the track is done now, so WATCH OUT, that ought to be interesting.

The Pro Jump is 3 feet longer now, at 35 feet with some quick rhythm right after it.
After the Pro Jump, every jump was fixed, moved, or new and the second straight with 4 jumps is back!
It ought to be a GREAT weekend of racing and BMX Mania will be there to bring you blow by blow coverage of the race happenings.
You can check out some fotos below of the South Park rebuild.
---
LOCATIONS OF ABA BMX REDLINE CUP FINALS ANNOUNCED!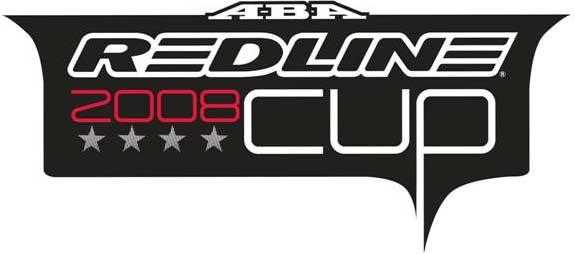 REDLINE CUP EAST - Kettering BMX, Kettering, OH - September 5-7, 2008
REDLINE CUP CENTRAL- St. Peters BMX, St. Peters MO - September 12-14, 2008
REDLINE CUP WEST - McCollum Park BMX, Everett, WA - September 19-21, 2008
There you have 'em - for all of you who have already made your main event at a Redline Cup Qualifier (or those of you who plan on qualifying at the remaining RCQ's), these are the three locations for the Redline Cup Finals - where you can become a REDLINE CUP CHAMPION and earn the Redline Cup No.1 Plate for the next 12 months, the Redline Cup jacket and a photo in the BMXer; just by winning your main event at this event.
The Redline Cup East returns to one of the premiere ABA tracks; the challenging Kettering track in Ohio ran by longtime operators Bob and Anna Bruns. For those in the middle of the U.S., now is the time to make plans for St. Peters, Missouri in mid-September. The Redline Cup Central is traditionally the biggest of the three Finals, and always brings out the best of competition. ABA master track builder, Billy Allen, has just rebuilt St. Peters BMX. And for a big change in venue, the Redline Cup West goes to the Northwest this year, for the very first time in its 14-year history. The location? None other than McCollum Park BMX in Everett, Washington … about 30 minutes north of Seattle.
---
2008 NOR CAL Cup Series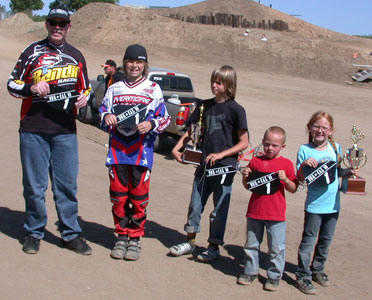 What an awesome series! Livermore BMX, San Ramon BMX, and FBX (Fresno) put together the first annual NOR CAL Cup Series. Brilliant idea Brett, thank you for including us! The NOR CAL Cup Series is sponsored by TB Awards: Thank you TB Awards!!
To qualify for the prestigious awards in the 2008 NOR CAL Cup Series riders needed to compete in a total of six races throughout April, May and June. Each of the three tracks hosted a double race day with a Bob Warnicke Scholarship Fund quadruple points race followed by a local Double Points Race. That's some serious points you can accumulate!
What a great turnout for the first annual NOR CAL Cup Series! 15 riders qualified for the NOR CAL Cup Series Title, Cup and Number Plate by competing in all six of these races. All 15 riders earned their Title and Number Plate and are eager to ride these impressive number plates at Livermore BMX, San Ramon BMX and FBX.
The # 1 rider (highest points) in the 20" Class, Girl and Cruiser received a spectacular Roman Chalice Cup in addition to the # 1 Title and Number Plate.
It looks like the big kids on big wheel bikes are as serious about this title as the younger boys & girls. Our Cruiser Class was the largest by far. Nick Ellison was leading the Cruiser class in the series by a mere 10 points, but big kid himself, Dean Townsend just had to push it to the limits, get those points needed and take the title; by 10 points! Dean Townsend is the # 1 Cruiser in the first annual NOR CAL Cup Series. Dean's smile was as big as the little guys/girls smiles when he received his # 1 Cruiser Cup, Title and Number Plate. Nick Ellison took home the # 2 Cruiser Title and Number Plate. Kyle States is the only rider in the series who raced both 20" and Cruiser and he's only 12! Kyle pulled off the # 3 Cruiser Title and his dad, Scott States took home the # 4 Cruiser Title. Fresno locals Loren Mankin took the # 5 Cruiser Title and Stephen Dee the # 6 Cruiser Title.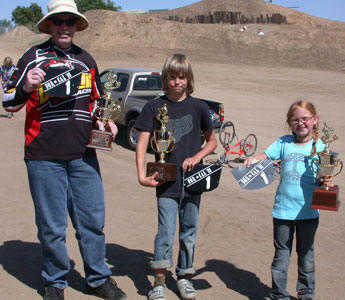 Clark Dee earned the # 1 Title for 20" Class and took home the impressive Roman Chalice Cup in addition to the # 1 Expert Title and Number Plate. Anthony Burgeno was only 50 points behind Clark giving him the # 2 Expert Title and Number Plate. Oliver Terry had some competition at FBX from Fresno local Eutimio Farias and Olympic hopeful Niko Dzapo, but Oliver's dedication to the NOR CAL Cup Series earned him the # 3 Expert Title and Number Plate.
Wyatt Cahill brought home the # 1 Novice Title and Number Plate. Wyatt was on fire at the last race of the series at FBX. He had stiff competition from Fresno local and # 1 Expert, Clark Dee. After the first four races Wyatt was 160 points behind expert Clark Dee for the NOR CAL Cup Series 20" Class Title, Cup and Number Plate. Wyatt placed first in all his motos at FBX in the mixed class earning him a huge amount of quadruple and double points. By the end of the series Wyatt was only 30 points behind Clark!
Kyle States earned the # 2 Novice Title and Number Plate to go with his # 3 Cruiser standing. Great job racing both bikes Kyle!
Girls, girls, girls…where are the girls? Brianna Tyre is the # 1 Girl in the first annual Nor CAL Cup Series! We had several girls race some of these races, but only Brianna competed in all six races. She took home the # 1 Title, Cup and Number Plate! Congratulations Brianna!
The # 1 Rookie Title was snatched up by five year old Ethan Tyre! Ethan raced hard to earn his # 1 Title and Number Plate by competing in main events at both Bob Warnicke quadruple points races in Livermore and San Ramon. Cody Appelhans earned the # 2 Rookie Title & Number Plate and Tyler Mitchell earned the # 3 Rookie Title & Number Plate! Great achievements for first year racing!
Look for an even more exciting NOR CAL Cup Series in 2009!
To see photos from these events visit the photos section at www.LivermoreBMX.com
---
Breaking News - NBL & ABA National Results
Fresh In From Day 1 Of The NBL Prunedale National
Elite Men - 1 Kyle Bennett 2 Joey Bradford 3 Cristian Becerine 4 Marc Willers 5 Randy Stumpfhauser 6 Donny Robinson 7 Derek Betcher 8 Jason Richardson
Elite Women - 1 Kim Hayashi 2 Amanda Geving 3 Danielle Brisson 4 Madison Pitts 5 Stephanie Barragan
Elite Masters - 1 Dale Holmes 2 Kenth Fallen 3 Dave Bittner 4 Tommy Opincar
Super Ex - 1 Jason Morris 2 Sean Storms 3 Gavin Lubbe 4 Kris Fox 5 Kyle Zondervan 6 Logan Collins 7 Ryan Garcia 8 Travis Ohrazda
Day 1 Stuff From ABA Cobb County BMX In HotLanta, Georgia!
AA Pro - 1 Danny Caluag 2 Mike Brabant 3 Mike Kapes 4 Jason Rogers 5 Barry Nobles 6 Denzel Stein 7 Khalen Young 8 Jeff Upshaw
Girls Pro - 1 Kayla Gaddis 2 Dominique Daniels 3 Rachael Luna 4 Kathryn Ecklund 5 Liz Passwaters 6 Alise Post 7 Michelle Guthrie 8 Jessica Lambert
Vet Pro - 1 Chad Street 2 The Jackal 3 Jason Carnes 4 Robert Harris 5 Tim Dinger 6 Kevin Tomko 7 Thomas Harper 8 Cody Smart
A Pro - 1 Tyler Faoro 2 Josh Smith 3 Todd Parry 4 Jason Jewell 5 Jason Larev 6 Matt Beatty 7 Julian Martinez 8 Charles Hunt
Pro Cruiser - 1 Barry Nobles 2 Mike Kapes 3 Jeff Upshaw 4 Jason Carnes 5 Todd Parry 6 Michael Kilpatrick 7 Matt Baisley 8 Danny Caluag
---
Zman All Busted Up!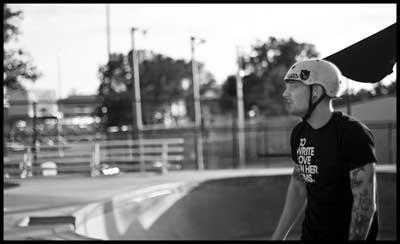 The Zman (Ryan Zielinski) has been training real hard lately to get back into competition after last years broken collar bone in Sarasota.
That and buying a new home this past year kinda put BMX in 2nd place on the podium.
This past Tuesday at his local track, Cape Coral BMX, in Florida, he ended up taking a hard hit into the face of a jump and broke his collar bone AGAIN!
As well as breaking his collar bone, Z also broke off the back off his elbow.....it's just floating around back there. (See attached X Ray)
Zman will undergo reconstructive surgery for both which will involve plates and screws, soon, so his debut back to competition which was scheduled for Christmas, will more likely be as much as 8-10 months.
Our best wishes and prayers for a speedier than expected return to the track for one of the most colorful riders on the track!
Shoulder Elbow
---
KEMCO ENDS FMF BMX DISTRIBUTION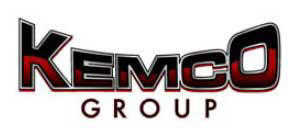 Official Kemco News Release
Effective immediately, Kemco International, Inc. has concluded their license agreement with FMF Racing.

Kemco is currently seeking other product lines for distribution to be introduced at Interbike in Las Vegas September 24-26.

For more information, contact Tom Curran at 253-520-6510, or Kemco10@aol.com

Kemco Group International, 12350 Montague St., Unit L, Pacoima, CA 91331 818-686-3466, FAX 818-686-3468.
In related news, the FMF Factory Team that races the ABA National Circuit out of Washington state will continue to run as formed thru the end of the 2008 Season. They will be looking for a new primary sponsor in the interim.
---
---
GT Clinic At Prunedale, Friday!
Manzanita Park BMX ~ Golden State National ~ Prunedale, California
June 20-22 There will be a GT Clinic Friday, June 20, from 11:00am-1:00pm.
Cost is only $20, and you'll receive a GT goodie bag when you take the clinic.
This is an Amazing opportunity to train with the best!
Featured in the GT Clinic will be Manzanita Park's own Joey Bradford, BMX Olympian, Mikey Day, the "Big Daddy", Eric Rupe and the legendary 'All Pro', Randy Stumpfhauser
---
Orlando Pro-Am!
There is a pro-am coming up at the NBL track in Orlando, Florida this weekend (Friday the 20th and Saturday the 21st).
It will be hosted on one of the most popular tracks in Florida and it is a great chance for Floridians to keep their racing honed during the off-season.
There will be more than a few pros in attendance and some serious money up for grabs.
After the racing, these pros will be found signing autographs around the track.
There is money up for grabs for the amateurs as well with open classes for all ages.
The NBL Florida Competition Congress is being held in Orlando this weekend as well, for those of you that would like to get your Officials License.
---
Yeti/Loop'd.com MTB rider Houseman is Out of commission!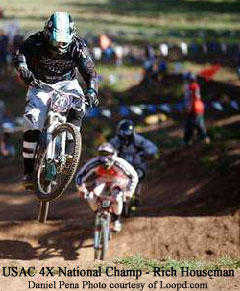 USA Cycling National 4X Champion, Rich Houseman recently broke his patella (Knee Cap) during a training session in Temecula, California and is OUT for the count for the foreseeable future.
Houseman, who is one of the Top Dawgs at the super hot action sports networking site, Loop'd.com crashed while doing the "I'm not going fast enough to wear shin guards" thing and tore things up quite badly.
Rich is one of the early founders of the popular Sponsorhouse.com and the Loop'd Network, and is all over the BMX and MTB internet.
Best wishes and prayers for a speedy healing go out to Rich as he limps around home and office, healing up.
---
BMX Mania Is On The Injured List!

Sorry, but things are going to be little slow around here for a couple days.
Jerry Mania, the Head Chef and Dishwasher at BMX Mania underwent a little corrective surgery to his knee on Tuesday.
AND, while JL/Me had hoped to be able to keep up "the pace", the Doc Tor sez, "No Go, JL!"
So, give me a day or so to get my head clear and I'll be back at the keyboard with tales of BMXdom from Latvia, California and Taiwan, you know you can always get the scoop here at BMX Mania Dot Com!
Sorry for the interruption!
---
Summer race Burnham-On-Sea
What looks like a GREAT opportunity for some hot Euro BMX Racing, Rounds 8 & 9 of the British Cycling National Series ought to make a good chance for Europe to get together and have some BMX Fun!

Organization - Burnham BMX Club
Event place - Burnham BMX Track, Apex Park, Marine Drive, Burnham-On-Sea, Somerset, England, TA8 1NQ
Route - Leave the M5 at Junction 22. Head towards Highbridge/Burnham-On-Sea. After 1.5 miles, turn right into Burnham Road (B3139). After 0.7 miles, turn left into Marine Drive.
Camping - Camping is at King Alfred School on Burnham Road. You will pass the School entrance before turning left into Marine Drive.
Date - Friday July 25th, Saturday July 26th and Sunday June 27th 2008.
Information - www.burnhambmx.co.uk
Blocs - Bloc 1: Cruisers ... Bloc 2: Female 6-15, Male 6-10 ... Bloc 3: Male 11-16 ... Bloc 4: 19+, Masters ... Bloc 5: Junior and Elite
Friday July 25th 2008
17.00 – 21.00 - Free training and gate practice for all riders. Split into Blocs dependent upon the number of riders.
19.00 – 20.00 - Registration all classes
Saturday July 26th 2008
08.00 - 10.30 Riders registration ... 08.15 – 09.00 Free practice for Bloc 1 and Bloc 2 ... 09.00 – 09.45 Free practice for Bloc 3 and Bloc 4 ... 09.45 – 10.05 Gate practice for Bloc 1 ... 10.05 – 10.30 Gate practice for Bloc 2 ... 10.30 – 11.00 Gate practice for Bloc 3 ... 11.00 – 11.30 Gate practice for Bloc 4 ... 12.00 - Racing for Blocs 1 to 4 of the National Series Round 8 ... 15.00 - Qualifiers (1/4, 1/2) ... 16.00 - Finals ... 18.00 – 18.30 Gate practice for Bloc 5 (Junior and Elite) ... 18.45 – 21.00 Racing for Bloc 5 ... 21.00 - Awards-ceremony for Junior and Elite on the campsite
Sunday July 27th 2008
10.00 – 10.30 Open practice for all riders aged 16 and under ... 10.30 – 11.00 Open practice for all riders aged 17 and over ... 11-10 – 13.30 Motos for round 9 of the National Series
Blocs 1 to 4) ... 13.30 – 14.00 Lunch ... 14.00 – 14.15 Open practice for Pro Open (any rider aged 15 and over) ... 14.20 – 15.00 Pro Open (straight knock out, top 4 go through each
round) ... 15.00 – 15.45 Qualifiers (1/4, 1/2) ... 16.00 - Finals ... Awards-ceremony Challenge Classes 15 minutes after racing
Registration - Riders registration has to be done by local representative or by national federation. Registration forms have to be sent by email before the 16th July 2008 to: Roger
Wilbraham bmx@britishcycling.org.uk
Registration Confirmations - Friday 19.00 – 20.00 - Saturday 08.00 – 10.30 Team leaders from each federation will be responsible of registration confirmation for their riders.
Saturday evening Racing - Junior/Elite Women / Junior Men / Elite Men
Challenge classes The challenge class races on Saturday July 26th and Sunday July 27th are listed below. Category: Boys -6, 7, 8, 9, 10, 11/12, 13/14, 15/16, 19+, 30+ (Masters) -
Girls -6, 7-9, 10-12, 13-15, (girls 16 and over choose Junior Female) - Cruisers -12, 13-15, 16-29, 30-39, 40+ (25+ Female 24" or 20")
Registration Fee - € 32.00 Elite Men ... € 26.00 Junior Men & Junior/Elite Women ... € 26.00 Challenge categories per round: 20" 19+, 30+, Cruiser 16-29, 30-39, 40+, (25+ Female) ...
€20.00 Challenge categories per round: Boys -6, 7, 8, 9, 10, 11/12, 13/14, 15/16 ... Girls -6, 7-9, 10-12, 13-15 ... Cruiser -12, 13-15 ... € 7.00 race fee for 2nd entry ... € 15/£10 Pro-
open (Sunday race for riders aged 15 and over, registration on Saturday only). In order to enter the competition, only the national federations are allowed to register the riders.
Awards/Prize money - Challenge Classes ... Trophies for place 1 – 8. 15 minutes after racing has finished.
Junior/Elite Payout will be to the top 8 riders in: Elite Men, Junior Men, Junior/Elite Women as well as prize money for the top 8: 1st Junior Man will receive a Revell MTB Frame.
2ndJunior Man will receive Answer Forks 1st Elite Man will receive a Pro Gate 2nd Elite Man will receive a Crupi frame Total prize money is € 4,400 to € 5,300
Entrance fee: Entrance fee is £1.00 per entrant for the Saturday evening racing.
Number plates - The Organisation won't provide number plates. Racers will use their intl number plates. Front and side plates will be available to purchase at the event.
Campsite - The campsite is based in King Alfred School, 5 minutes walk from the track. It opens on Friday July 25th at 12.00 hours and will close 2 hours after racing has finished.
Showers and toilets are on site - There is no electric hook up. Price: caravan and car, motor home or tent £25.00 or € 30.00 Reservation is not required.
Info about camping or Burnham: Matt Duckering - matt.duckering@live.co.uk - www.burnhambmx.co.uk
Nearest Airport - www.bristolairport.co.uk ... British Cycling Roger Wilbraham +44 (0) 161 274 2022 bmx@britishcycling.org.uk www.britishcycling.org.uk Tourist information: Email: Burnham.tic@sedgemoor.gov.uk Websites: www.burnham-on-sea.com - www.visitsomerset.co.uk - www.iknow-somerset.co.uk - www.enjoyengland.com
Registration - The registration fees must be paid by bank transfer to British Cycling's bank account
Federations with small numbers of entries are permitted to pay in cash at the registration office. Only the federation is permitted to cancel the registrations until July 18th 2008 at 9am. In this case the registration fee does not have to be paid. If a rider does not participate in the race without cancelling before the due date, the registration fee must be paid.
Deadline for your registration: 16th July 2008 Registrations after this deadline can only be taken at the event. Additional charge for each on the day entry is € 3.00
---
GHP ABA Spring National Report



Albuquerque New Mexico, home of Duke City BMX, green chili's, and Vet Pro Kenth Falen.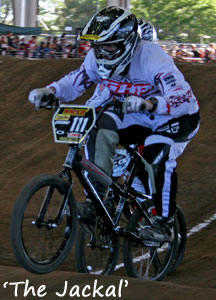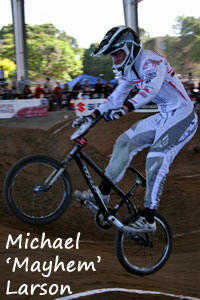 Fallen had the covered track dialed as usual, but so did GHP factory rider John 'The Jackal' Purse (GHP, Powerbar, ABA). John made the trip from Spring TX and put down the horse power to the tune of second place finishes both days.
John brought with him two other Vet pros from Texas. Robert Harris (GHP, ICON, Fly) made both mains during the weekend walking away with two fourth places. Cody Smart (GHP, Fly) also put his GHP in the mains both days. Fought hard and went home with two seventh place finishes.

Staying with the pro class. The Truckee Kid Michael 'Mayhem' Larson made to trip over from California. Showing some serious first straight pull Mike was looking really good but ran into a little bad luck. When the points where added up, Mike was in sixth on Saturday and eight on Sunday. It's only a matter of time before Mike makes his way to the top spot on the pro podium.
To the Alexis Twins. Alexis 'Froggy' Lehman rode hard all weekend in both thirteen girls and girl cruiser class. A Third and Fourth in class went along with two fourths in 11-13 girls cruiser.
Lexis Ortiz made the podium both days. After her third place main finish on Saturday, she decided that it just wasn't good enough. Showing everyone how it's done Ortiz rode to her first national win.
Robbie Patterson came down from Utah looking to keep his hot streak alive. In the ever hard 16 cruiser class Robbie had to contend with KJ Romero both days. KJ might have won these rounds, but Robbie was knocking on the door making KJ earn every inch. In class Robbie walked away with an eight on Sunday.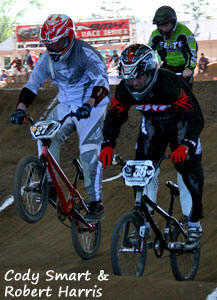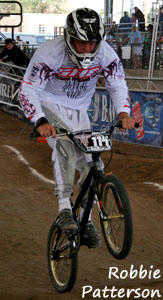 Also from Utah, Christian Martinez rode to two fourth place finishes in 17-20 cruiser. Christian has been working hard and is improving with every race.
Johnny 'Not So' Little had some good racing throughout the weekend. Using his size and power to his advantage, Johnny finishing in fourth place both days.
Donald 'Dead Last' Fisher ran into his usual bad luck in New Mexico and finished sixth and fifth in the 31-35 cruiser class.
Rick 'EZ Money' Lehman laid everything out on the track on Saturday when he went down hard trying to qualify for the 36-40 cruiser class. He was able to make his class main on Saturday. Finishing sixth with a severely swollen knee. Rick decided to sit out Sunday and heal.
Special shout out to Mike Redman for his always awesome announcing.
Next stop for the GHP train is Oak Creek BMX for the Summer Nationals.
GHP would like to thank all their sponsors for their support: Atomlab, 4L racing, Rockinrunner designs inc., BMXMANIA.COM, PeterPaulPics, HPR designs, Troy Lee designs, Ciari and Swiss American Bycles, SIXSIXONE, and FLY racing.

---
Today's BMX Racing News - Sunday, June 15, 2008
Mike Day Wins first ever US Olympic BMX Team Trials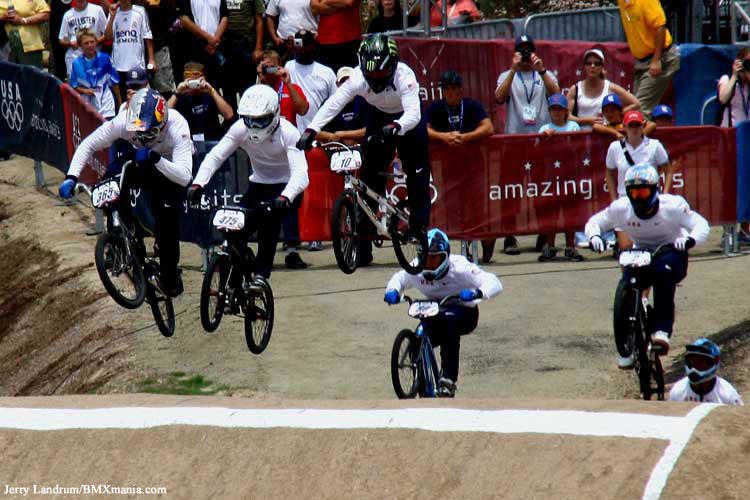 READ ALL ABOUT IT ON THE BMX MANIA RACE REPORT PAGE!
---
YOU KNOW, BMX MANIA'S GONNA BE AT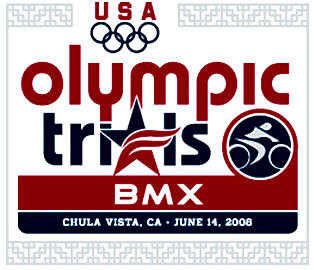 TO BRING YOU PHOTOS, REPORTS, STATS FOR SURE!
CHECK IN SATURDAY NIGHT US/EAST COAST TIME FOR THE BMX MANIA RACE REPORT!
WATCH MSNBC, SUNDAY AT NOON/EST FOR THE BIG SHOW FROM THE OLYMPIC NETWORK!
---
Bubba's Out!
Chula Vista, Calif. (June 13, 2008)-As the result of a recently sustained injury, U.S. Olympic Team hopeful Bubba Harris (Goodyear, Ariz.) has withdrawn from Saturday's 2008 U.S. Olympic Team Trials for Cycling (BMX).

Harris sustained the injury while practicing during a training session on Thursday. On Friday morning, he issued the following statement:

"While preparing for the Olympic Trials on Thursday, I was giving it my all, as usual, when I crashed on the second straightaway. As a result of the injury that was sustained, I've decided to withdraw from Saturday's competition. Although I'm disappointed that I won't be competing tomorrow, I look forward to returning to action as soon as possible and once again putting 100% of my effort into training and racing. I'd like to wish the remaining competitors good luck on Saturday and I'm sorry I won't be joining them in pursuit of a spot on the 2008 U.S. Olympic Team."

Harris will be available to accredited members of the media on Friday at a press conference which begins at 2:00 p.m. PDT.
---
---
---
---
---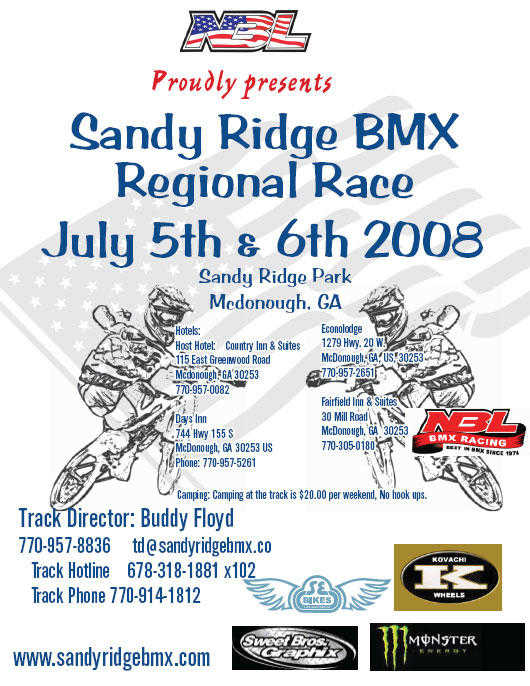 ---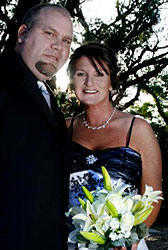 BF Gets Hitched!
Long time MCS Team Manager and "man about BMX", Brian Fell recently got married to his beautiful fiancé, Melanie Hegwood after being A Pro Single for several BMX racing seasons.
The Fell's tied the knot on March 29, the same day as the USAC National Championships in Desoto, Texas.
The deed was done in Davie, Florida in a beautiful outdoor ceremony with over 100 friends, family and......of course, several motos of BMX crazies in attendance.
In even more BMX emphasis, long time Florida NBL State Commissioner, Alice Bixler performed the ceremony while, Bonnie Hutelin (old skool SE Racing "Powder Puff") was Melanie's Maid Of Honor and Mike Viotto stood in as Brian's Best Man.

Good deal, all around, Brian's a die hard BMXer and he hooked up with a pretty lady.....NICE!
BMX Mania Best Wishes to a great couple, and thanks for the dedication to making BMX Great, BF!
---
UCI Announces Qualifying places for BMX Event awarded for the 2008 Beijing Olympic Games
Official UCI News Release
Description: The International Cycling Union (UCI) has given the National Olympic Committees (NOC) confirmation of the number of places each of them has obtained for the BMX events at the 2008 Olympic Games in Beijing.
According to criterion 1 (UCI ranking by nation) which was finalized on June 1st 2008, and criterion 2 (2008 UCI BMX World Championships), 17 nations in the Elite Men category and 11 nations in the Elite Women category will be represented at the Beijing Olympic Games.
A total of 45 places have been awarded: 30 Elite Men and 15 Elite Women.
The UCI is very pleased with the universal participation, demonstrated by the qualification of several countries from the American and African continents.
The NOCs have until June 20th 2008 to confirm their qualification places. The remaining invitation places and vacant places will be awarded by a tripartite commission made up of the IOC, ANOC (Association of National Olympic Committees) and UCI in early July 2008
---
Advance Tickets For U.S. Olympic Trials Race
If you're going to the U.S. Olympic Trials Race in Chula Vista, California, and you don't want to stand in line......You can go to the gift shop at the Olympic Training Center in Chula Vista and pick up your tickets for Saturday ahead of time.
They are expecting very long lines the day of the race.
If you live in the area, it might help you avoid some waiting on the day of the race.
---
Crupi International Racing, is goin' on!

Arcadia, CA (June 9, 2008) – Crupi World Team claims 4 gold and 2 bronze medals at the UCI World Championships in Taiyuan, China. W1 12-year old Hannah Sarten of New Zealand worked hard to keep her title and take her place on the top of the podium. After a slow gate Hannah came into the first turn in 3rd place, but had the gold in sight. She stayed tough through the second straight, held a low line, went for the pass in the second turn taking over and holding the lead to the finish line. Hannah went on to take the gold in cruiser on Saturday for a first in the history of New Zealand!
Merle Van Benthem followed Hannah making sure the Crupi girls would shine. Merle came out of the gate and spent most of the race in second place. Coming in to the third turn she decided it was time to put her riding skills to use jumping the entire technical straight she took the lead and kept it all the way to the gold. She followed with a gold in cruiser where she left the gate in first place and never looked back holding it to the finish line assuring the Crupi girls with two double-doubles for the weekend!
Holland rider Jelle Van Gorkom (Jr. Men) charged his way to a podium finish in Jr. Men's Cruiser on Saturday. Jelle had the first straight pull and went into the first turn in the lead, but a little bobble on the second straight was all it took to get passed leaving him in 5th position and having to make an aggressive pass in the last turn to secure that bronze medal.
Canada's Scott Erwood was feeling lucky to be in China after a much needed win at the 2008 Canadian BMX Championships. Prior to this race Scott had not secured his position on the Canadian World Team and was feeling the pressure. We found that Scott does well under pressure when he won the race by three bike lengths assuring him a plane ticket to China. Scott was a little shy of making 1/4s in China, however it has been unofficially announced that Scott may be representing Canada in Beijing in August!
Christine Miller isn't going to sit back and let Scott do all the work for Crupi Canada. She proved this when she powered her way to the top of the podium in the Canadian BMX Championships. Christine would love her shot at a spot on the Canadian Olympic team, however the ladies only get one spot and that seems to be secured. She will continue to train and push through in case she's needed, and if not will be ready to go for 2012.
Hernan Santillan of Argentina showed up in China looking to be the newest rider on the Crupi Argentina team. Hernan decided he had something to prove when he took the 13 boys class by storm claiming the gold. Hernan may just be showing up in Crupi colors soon, we'll keep you posted.
Other Crupi World Team members showed up in China and gave it 100%. Franco Soriano of Argentina finished with a 5th in the 9 boys class. Reits Elnionis out of Latvia finished with a very respectable 4th place in the 11 year old boys class. Jay Schippers worked hard all weekend finishing with a 7th in class and 6th in cruiser. Older brother, Jordi Schippers gave it his all and brought home a bronze medal in the 13 boy's class. Jordi had his work cut out for him after getting caught up in the pack, but after the dust settled he ended up with a 3rd place. Nick Schippers (oldest of the Schippers brothers), came up a little short of making it out of quarters in the 15 Boys class, however I'm sure he is still feeling that his trip to China was worthwhile! Ignacio Cruz of Chile finished up in the 15 boys class with a 7th place making his trip to China one to remember. Liam Phillips was also there to represent Crupi, but had a little trouble when he got to see the dirt close up. Liam was okay after getting up and will be ready for the next race.
Keep your eyes out for Crupi's Riley Bierbach and his Grandpa Jim. They have travelled from Albuquerque, NM to Pennsylvania in the past two weeks. Riley has been tearing it up making 8 out of his last 8 mains! In Albuquerque Riley finished with a 3rd place in cruiser and a 6th in class on Saturday, followed by a 3rd and 4th on Sunday. He and Grandpa then jumped in the truck and towed their Crupi trailer all the way to Pennsylvania to race in the rain and mud on Saturday. Riley is a Crupi Trooper, not giving up and taking 2nd in class and cruiser on Saturday, then going on Sunday to win class and take another 2nd in cruiser.
USA rider Tyler Brown had to take a break from racing to let an injury heal. While Tyler was training and healing he shot a commercial for NBC for the Olympics. It will be airing on NBC and is called the Olympic Mummy Commercial. Tyler was joined by Matt Pohlkamp, Mikey Brabant and a few others BMX riders so keep your eyes out. Tyler will also be representing Crupi on June 14, 2008 when he takes his spot on the gate with the other 7 USA riders chosen to race for the last spot on the USA Olympic Team.
---
---
Stile Industries Summer Tour Is Underway!
Its that time again to head out for the Stile Industries Summer Tour. I can't believe that this is going to our 10th year on the road teaching riders across the country. This year we are only teaching all day camps in order for us to have to work with the riders. Anybody that has seen the Stile Ind. How to Race DVD knows how informative the camps are. For more information and registration for the camps check with the local tracks. For more information about the How to Race DVD go to www.stileindustries.com. This summers camps are going to be the best yet so don't miss it.

Pedal Hard - Ride Smooth. - Stile Industries
---
help Redline's Anthony Derosa win the Oakley Diorama contest!

Let's help Redline's Anthony Derosa win! Lil' Ant has just entered this COOL creation for the Oakley "diorama" Contest – please check out his sweet section and give him and BMX racing a VOTE!
Redline's ANTHONY DeROSA is the littlest Oakley-supported Amateur in BMX, and since "Lil' Ant" hails from New Jersey, he included all things "Jersey" [from cement barriers to green toxic nuclear waste; which supersized green-glowing Ants that wear Oakley shades , to SNL's "I'm from Jersey" guy. hehehehehe.........
Click to see it : http://www.brickfish.com/Pages/PhotosAlbums/PhotoView.aspx'picid=523365_31497139&=PPIMEMAIL&isep=1&pbapi=745367&pbvi=21459751
And if you dig it – please forward this to all your friends out there to help put Lil' Ant and BMX Racing on top!
---
---
Glenn Codega Update Re: UCI Worlds Injury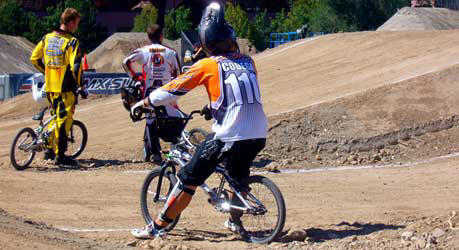 Release from Ian Maclachlan of "The Factory" regarding Team Phirebird Rider/Owner Glenn Codega.

For those who don't know, Australian elite rider Glenn Codega crashed hard at the World Championships in China. During the first moto of the day Glenn was moving fast down the inside of couple of riders when he was squeezed slightly on the lip of one of the pro section jumps. A split second reaction left Glenn with nowhere to go and consequently he missed the whole backside of the pro double. Anyone who witnessed the accident or saw the clean snapped top tube of his bike knew that it was a heavy incident. Glenn was rushed to hospital suffering a punctured lung, dislocated collarbone and other unconfirmed injuries. The true severity may not be known until he is home and seen by local specialists.

U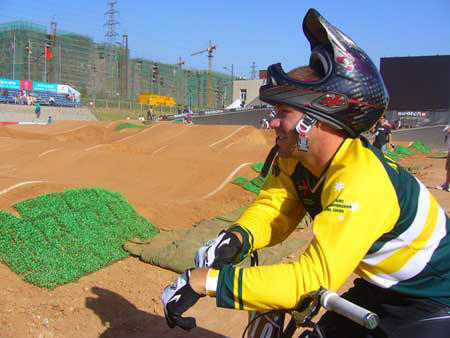 nfortunately due to the severity of the injuries, Glenn to date is still in China unable to fly home. He has been released from hospital and is now waiting it out in Beijing whilst paperwork is arranged for his flight home. Anyone who knows Glenn or has come in contact with him would know that he is truly one of the most generous and likeable elite riders in the field. As an independent team owner, Glenn has been doing it tough in order to give himself the best chance of being selected for the 2008 Beijing Olympic Games. Without any funding or major sponsorship and in-between operating a small business, performing coaching clinics, his duties as President of the Logan City BMX Academy, running a team and being an elite BMX racer, Glenn has never lost sight of why he continues his career in BMX. It's for the genuine love of the sport. As a featured rider in our documentary "Life Behind Bars The Olympic Journey", I can tell you first hand that Glenn is one of the most emotional riders when it comes to talking about BMX. Most elite riders will say that BMX is never a job for Glenn, a question that was put to him on camera not 30 minutes before the incident occurred. Glenn's reply was his usual truthful self, admitting that it has been a struggle at times but being at the Worlds and wearing the green and gold made him feel proud and he wished to produce a result for his country.

Thankfully Glenn's parent's were in China and remain with him at present. Eagerly awaiting his return home is his fiancée Mel and ex racing siblings Jason and Julie Codega. It's been a tough year so far for Team Phirebird with elite rider and then Olympic hopeful Jamie Gray crashing in practice at the Adelaide Supercross event. Jamie also suffered internal injuries that landed him in hospital which consequently ended his own Olympic dream.

For those that would like to send Glenn a message, he is on e-mail at the moment whilst in China. So far the plan is for him to fly home Friday 13th June, if all goes well. I would like to add that this release was issued with consent from Glenn and that although it's being sent from "The Factory", it's a personal show of support for my friend Glenn Codega who I have known since he was a pup. I wish the big fella a speedy recovery and hope that this does not put a dent in his passion for the sport, somehow I don't think it will. - Ian (Macca) Maclachlan

Send well wishes to Glenn via this e-mail; phirebird110@hotmail.com . Also The Factory is seeking anyone who may have been filming when the accident occurred, Glenn does not have complete recollection of the incident and at his request we are attempting to acquire footage. Please contact The Factory on; thefactory47@bigpond.com
---
The Factory continues the journey towards the Olympics.....Adelaide, Australia

Yes, I know that this is way late, no one to blame but Mania. It IS however, RGS......really good stuff, so check it out and be the better for it! Sorry to The Factory for posting it late.

Mixed results in Adelaide for the Australian riders featured in the documentary "Life Behind Bars The Olympic Journey". For the five riders Khalen Young, Jared Graves, Luke Madill, Jamie Gray and Glenn Codega, results were needed to either stay in contention for the Olympic team or to push their way into the all ready tight squad.
The Factory team was with Luke Madill at his backyard Supercross track leading up to the Adelaide events, the benefits were showing, as he displayed awesome track speed at both the Supercross (6th) and Australian National Championships (2nd). Not to be out done was Jared Graves who possesses one of the quickest snaps in the Australian elite field, making the final in the Supercross and winning the National Championships.
Khalen Young showed the crowds why he is rated one of the fastest riders on track in the world, pulling unbelievable moves in the turns. Ironically he was unfortunate to fall in the second turn whilst leading his semi at the Supercross, a fall which not only handed fellow Aussie rider Kamakazi a spot in the final, but also greatly improved his rivals chances of a spot in the Olympic team. Khalen was a non starter for the nationals with a busted thumb.
Jamie Gray who went into the Supercross with a knee injury, fell in practice after over jumping the first double on the second straight then landing awkwardly between the next double. Things went from bad to worse when he took off his knee guard and saw a gaping wound on his knee which required several stitches at the track in the medical tent. Later that night Jamie was driven to hospital and remained in the Royal Adelaide Hospital for the next few days with internal injuries. Jamie was in the crowd later in the week watching the Nationals. This injury has prevented Jamie gaining valuable selection points for the Olympic team.
Glenn Codega's natural trail style was on display, passing riders down the 3rd straight of the Supercross track, admittedly Glenn's start was letting him down and in a stacked quarter against the best in the USA, was always going to find it hard to reel them in. Glenn was unlucky at the nationals, in avoiding Kamakazi's back wheel into the 3rd corner whilst sitting in 3rd in the semi, Glenn gave up a couple of positions to finish 5th.
The adopted 6th rider in the film, Kamakazi had a big week in Adelaide, placing on the podium at the Supercross as well as a final birth in the nationals final. Kamakazi and Luke Madill stood to equal Anthony "Howie" Waye's record (although not consecutive) of 4 national titles.
Jared Graves spoiled the party winning his first National title, a sensational race which featured Kama, Jared and Luke all swapping positions in the second corner. The three boys traveled to Madrid together, all made the final of the Adelaide Supercross, and a week later entertained the crowd in the National final.

The Factory team have cut together new videos of the two events in Adelaide, these videos are dv camera footage that Chantel shoots around the track. It's a bit of fun putting together the videos but not quite what you will see in the actual documentary.

Checkout our latest videos on our revamped page on www.myspace.com/thefactory47 or www.youtube.com/profile'user=TheFactory47. Vote on which rider you think will represent Australia at the 2008 Beijing Olympics, our poll has been reset so have a vote.
The Factory would like to thank all the Australian elite riders who gave their time during the events in Adelaide, Johan and officials from UCI, coaching staff of Cycling Australia, officials from BMX Australia and media liaison Sharon Payne. Most of all our five riders who put up with us pointing a camera at them throughout the events which we secretly think they like. Good luck boys in Denmark.
Ian Maclachlan (Macca) / Director - thefactory47@bigpond.com - www.myspace.com/thefactory47
---
---
---
American Bicycle Association Launches BMX Racer Community on Loop'd Network
Ababmxracers.com becomes the online destination for BMXers to get featured and connect with their sport and other racers.

ABA BMX and the Loop'd Network have joined forces to give racers from around the world a place to connect, commune, and get featured on the web. ABAbmxracers.com is the place for local racers to build a profile, upload photos and videos, track results, post race reports and get sponsored. It is also a place for the BMX Racing industry to find the best, most promising talent across the country and connect with them through sponsorship and loyalty programs.

"We are always looking for ways to give back to our racers and provide them as much value as possible for being a member of the ABA," said Shannon Gillette. "With this new community, we are able to feature racers that might not otherwise get in the magazine or the industry limelight and open new sponsorship opportunities for ABA racers from all over the nation. Partnering with Loop'd makes perfect sense as they continue to be the fastest growing social network for action sports and the premier online destination for BMX racers."
Every month, 10 local racers from all different age ranges, classes and local tracks across the country will be featured on the back cover of the BMXer Magazine, on the homepage of ABAbmxracers.com and in a monthly Newsletter sent to all ABA members, BMX Tracks and BMX Companies. One top expert or A Pro racer will also be featured as the Racer of the Month and their talents will be recognized with premium placement on the BMXer ad and on the Community homepage.

Look for the following featured racers in the June issue of BMXer Magazine and on ababmxracers.com:
| | | | |
| --- | --- | --- | --- |
| Racer Name | Local Track | State | |
| Denzel Stein – Racer of the Month | Metroplex BMX | TX | |
| Luke Dimmitt | Emery Park BMX | KS | |
| Shawn Kullman | Ed Fountain Park BMX | NV | |
| Makenzie Kjaer | Santa Clara Pal BMX | CA | |
| Kyle Nichols | Cedar BMX | PA | |
| Daniel Moore | McCollum Park BMX | WA | |
| Logan Fitzpatrick | Gretna BMX Raceway | LA | |
| Houston Mutchler | Omaha BMX | IA | |
| Kyle Kruysman | Cobb County BMX | GA | |
| Brendon Harris | St. Peters BMX | MO | |
| Tyler Stokes | Cactus Park BMX | CA | |
The community provides tools and applications allowing racers to connect around their passion of BMX racing. Members can upload and share photos, videos, race reports and talk about racing topics including races,, tracks, and gear..

In addition, the community is integrated with the points section of the ABA website (ababmx.com), where visitors and sponsors can look up points standings and instantly link to a racers profile to connect with them.
"The ABA has been a longtime partner of ours since our SponsorHouse site went live in 2001," said Scott Tilton, chief executive officer of Loop'd Network. "The ABA Racers community on the Loop'd Network is the next step in the evolution of our partnership and we are excited about reaching out to the thousands of local racers from across the country. Also, with the addition of BMX in the upcoming Olympics we expect the interest in BMX racing to grow globally and want ababmxracers.com to be the place for people to learn about the sport and interact with the racers first hand. "

To join the ABA Racer community, visit www.ababmxracers.com to sign up and create your profile. This profile will also enable you to join any community on the Loop'd Network and interact with over 300,000 action sports athletes and enthusiasts.

About the ABA - ABA (American Bicycle Association), formed in 1977 and headquartered in Chandler , Arizona , is "The Sanctioning Body of BMX"©. The ABA organizes BMX racing for boys, girls and adults, nationwide and Canada . With 60,000 active members, 274 racing facilities and a 27 event-national race schedule; ABA is the largest promoter of action sports. For additional press information about ABA , the sport of BMX, ABA events or Professional racers, call bonspeedMedia; (714) 666-1999. To find races in your area or view the national event schedule, visit www.ababmx.com.

About Loop'd Network - Loop'd Network is THE social network for action sports. A place for Pros, Am's and Fans to share with friends, discover what's happening in their favorite sports, showcase their talent, and connect with sponsors. Our unique approach to social media and sports marketing provides unprecedented solutions for brands and organizations to personally connect with a highly influential youth demographic in more relevant and authentic ways. For more information, visit www.loopd.com.
---
French BMX Olympic Selections
The French BMX Olympic selections are in and Patrick Cluzaud, BMX National Technical Director, will present the following riders for approval to the National High Level Sport Commission on June 26th.

Men - Thomas Allier and Damien Godet (Alternate/Thomas Hamon)

Women - Anne-Caroline Chausson and Laëtitia Le Corguille (Alternate/Amélie Despeaux or Magalie Pottier)
---
---
UCI Worlds Challenge National Team Champs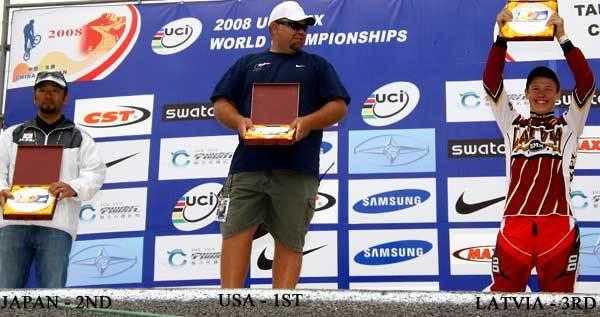 I'm extremely happy to report that USA brought home the Gold again in Taiyuan, China!
In the Challenge National Team competition, USA finished in first place, followed by Japan in 2nd and Latvia, 3rd.
All of the USA riders did really well, both on and off the track.
There were smiles all around while trading jerseys and hats from riders from other countries.
To me that is what makes it such a great race to attend, to see all of the fellow riders that live in all points of the globe coming together for this unique event smiling and having such a good time!
I would like to thank from the USAC Ken Welpdale, Mike King, Dr. Kevin Adams, James Herrera, Kevin Suttmoeller, Katie Kaschub.
As well as, our interpreter Kia and mechanic Mr. Wong.
All of whom played a role in helping me on a daily basis.
I would also like to give a very special thank you to my coaches, Jeff Glynn and Jerry Bradford, these two guys are the best!
They had our kids dialed in and ready to go right from the start. Thanks guys!
I know we all look forward to another successful year, next year in Adelaide, Australia.
Hopefully we see you all there!
Until then keep the rubber side down and have fun!
Brian Fell - USAC Challenge Team Manager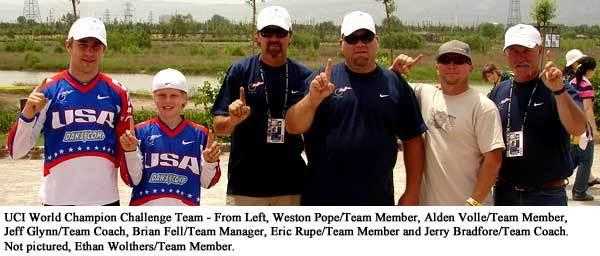 ---
---
PARTICIPANTS FOR 2008 U.S. OLYMPIC BMX TEAM TRIALS ANNOUNCED
Eight Athletes Set to Compete for Spot on 2008 U.S. Olympic Team, Saturday, June 14
Contact: Andy Lee (Tel.) 719.866.4867 (Mobile) 719.231.2041 (E-mail) alee@usacycling.org (Website) www.usacycling.org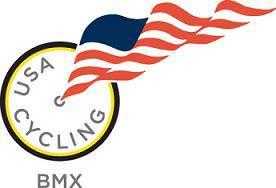 Colorado Springs, Colo. (June 4, 2008)—USA Cycling announced today the eight athletes who will compete at next week's 2008 U.S. Olympic Team Trials for Cycling (BMX).
With the overall winner of the event earning an automatic nomination to the 2008 U.S. Olympic Team, the competitors include: Tyler Brown (San Clemente, Calif.), Danny Calaug (Chino, Calif.), Steven Cisar (Altadena, Calif.), Mike Day (Santa Clarita, Calif.), Kristopher Fox (Phelan, Calif.), Bubba Harris (Goodyear, Ariz.), David Herman (Wheat Ridge, Colo.) and Donny Robinson (Napa, Calif.).
Following the 2008 UCI BMX World Championships last weekend, USA Cycling selected its Long Team – a list of athletes eligible to represent the United States at the 2008 Olympic Games. In addition to the eight aforementioned athletes, Kyle Bennett (Conroe, Texas) and Randy Stumpfhauser (Sanger, Calif.), were also nominated to the Long Team, but neither will compete at the 2008 U.S. Olympic Team Trials. Bennett has already secured an automatic nomination to the Olympic Team as the overall leader of the 2008 USA Cycling BMX Rankings, while Stumpfhauser declined his nomination.
Robinson (2nd), Day (3rd) and Cisar (4th) all earned automatic nominations to the Long Team and invitations to the Olympic Team Trials by virtue of their top five ranking in the final standings of the 2008 USA Cycling BMX Rankings. Since Stumpfhauser (5th) declined his nomination, Calaug (6th) then received an automatic bid as the next athlete in the rankings.
Brown, Fox, Herman and Harris were all discretionary nominations to the Long Team and were extended invitations to the Olympic Team Trials based on various factors, including UCI BMX Supercross World Cup results, USA Cycling BMX Rankings, podium finishes and recent performance trends.
Despite suffering a mid-season injury, Brown is one of only six Americans to qualify for a Supercross final this season and placed fourth at the opening round in Madrid last February.
The youngest invitee at 19 years of age, Fox qualified for the semifinals of the season's third Supercross last month in Copenhagen.
Herman is one of only two Americans to win a Supercross this season with a victory at the second round in Adelaide, Australia last April. He is also one of only two U.S. riders to score points in all three 2008 Supercross events thus far.
A world champion in 2005, Harris has missed much of the last two seasons because of injury but has shown he's consistently returning to form with a pair of top-ten finishes in the time trial qualifiers of Supercross races this season. He also advanced to the semifinals at the Adelaide Supercross.
Per USA Cycling's Olympic Selection Procedures, a women's Long Team was also selected. Five women received automatic nominations to the Long Team based on the final 2008 USA Cycling BMX Rankings – Jill Kintner (Seattle, Wash.), Arielle Martin (Pleasant Grove, Utah), Amanda Geving (Largo, Fla.), Stephanie Barragan (Montclair, Calif.) and Kim Hayashi (Chandler, Ariz.). There were no discretionary nominations to the women's Long Team.
As the top-ranked athlete in the USA Cycling BMX Rankings, Kintner will receive an automatic nomination to the final Olympic Team.
The 2008 U.S. Olympic Team Trials for Cycling (BMX) are set for Saturday, June 14 at the U.S. Olympic Training Center in Chula Vista, Calif.
---
EVENT SCHEDULE FOR 2008 U.S. Olympic Team Trials for Cycling (BMX)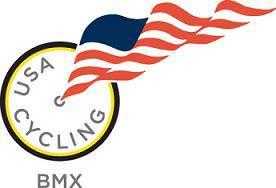 Eight Competitors to Compete for Spot on 2008 U.S. Olympic Team June 14
Colorado Springs, Colo. (May 23, 2008)—USA Cycling and the United States Olympic Committee announced today the schedule of events for next month's 2008 U.S. Olympic Team Trials for the sport of BMX.
Scheduled for Saturday, June 14 at the U.S. Olympic Training Center in Chula Vista, Calif., the U.S. Olympic Team Trials will feature eight riders with the overall winner earning an automatic nomination to the 2008 U.S. Olympic Team. Earlier this week, USA Cycling announced the
five-race competition format
that will be utilized to determine the overall event winner.
2008 U.S. Olympic Team Trials – Cycling (BMX) - U.S. Olympic Training Center - Chula Vista, Calif. - Saturday, June 14
Event Schedule:
FRIDAY, JUNE 13
SATURDAY, JUNE 14
Tickets are now available for purchase by the general public online at
www.usolympicshops.com
, charge-by-phone at 619-482-6120 or in person at the U.S. Olympic Shop at the U.S. Olympic Training Center in Chula Vista, Calif. Adult tickets are $10.00. Children and senior citizen tickets are $5.00. Visa accepted.
For media interested in attending the event, the online accreditation process will remain open at
www.usacycling.org
through Monday, June 9. To apply for a media credential, visit
www.usacycling.org/media/media-BMX.php
.
---
---
South Africa's NHLAPO NOW A REAL OLYMPIC MEDAL CONTENDER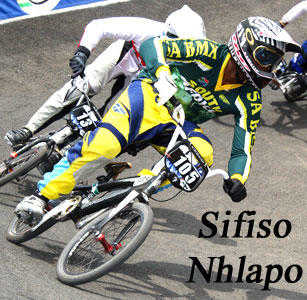 South African BMX racing star, Sifiso Nhlapo's third place at the 2008 World Championships in Taiyuan, China at the weekend didn't only cement his qualification for the upcoming Beijing Olympic Games, but confirmed that the 21-year-old Johannesburg rider is now a genuine Olympic medal contender.

"An Olympic medal is now my only goal," said Nhlapo from China on Sunday, in his characteristic laid-back manner. "At various events in the past year I have beaten all of the world's best riders and here I showed that I can get a medal at a major international event. It's given me the extra confidence I need to go for a medal at the Olympics. But it's also showed my rivals that I am now a real medal threat."

Only 32 men and 16 women will compete in BMX racing in Beijing on a 'super-sized' track that should provide a lot more spectator excitement and global interest than the individual track cycling time trial events that BMX racing is replacing on the Olympic cycling schedule.

Going into the world champs, Nhlapo's world ranking was 12th, but he is likely to move comfortably into the top 10 following his weekend success. The MTN-sponsored Nhlapo won his three qualifying races relatively comfortably. He then finished second in his quarterfinal heat behind two-time world champion, Thomas Allier of France; and in the semi-final was second behind Australian Jared Graves, the world's current No.3-ranked rider.

It's wasn't the smoothest race in the final for Nhlapo, whose lightning quick first-straight power saw him overcome the small disadvantage of starting in Gate 6, one of the outside gates in the eight-rider event. He entered the first corner in second, marginally behind Latvia's Maris Strombergs but the Latvian held a high line through the banking, which forced Nhlapo to stay high and lose a place to Steven Cisar of the USA.

"Maris didn't cut me off, he just held his line, but it wasn't ideal for me to be so high on the banking and I couldn't change it," explained Nhlapo, who went on to maintain third place to the finish. Strombergs, who is Europe's No.1-ranked rider, won the gold ahead of Cisar and Nhlapo respectively. The three were separated by less than a second.

"I've put in a lot of hard work over the past few years and it's paying off," smiled Nhlapo. "I raced this final many, many times in my head before today and that definitely helped me be completely relaxed and not intimidated. All the Olympic Games contenders were here and everyone was at their peak. It feels good to finish with a medal!"

Douglas Ryder, himself a former Olympic cyclist and owner of the MTN professional cycling team of which Nhlapo is a member, said that Nhlapo's success had far-reaching implications.

"It's an amazing result for Sifiso, but also for South African cycling," said an elated Ryder. "He has shown what is possible through a combination of dedication and dreams and will hopefully be an inspiration to many youngsters so that BMX racing, which is really quite small in South Africa, will experience a growth spurt. BMX racing is the key to developing a new generation of cycling talent in this country and Sifiso is the perfect role model.

"Sifiso never takes anything for granted and is an unbelievably honest and ethical young man. We are proud to be involved in his success and wish him well in his build-up for Beijing."

2008 BMX World Championships
Taiyuan, China
Elite Men's Final:
1 Maris Strombergs LAT 36.091sec
2 Steven Cisar USA @ 0.384sec
3 Sifiso Nhlapo (RSA) @ 0.614sec
4 Donny Robinson (USA) @ 0.864sec
5 Damien Goddet (FRA) @ 1.096sec
6 Thomas Hamon (FRA) @ 1.590sec
7 Jared Graves (AUS) @ 1.718sec
8 Jonathan Suarez (VEN) @ 2.609sec
---

UCI World Championships 2008 in China –
ONE
/
Kenda
riders take 2 Elite titles
ONE KENDA press release
It was a great day at the "office" for Maris Strombergs from Latvia.
The Latvian riders have put there country on the map in the last few years.
With Maris' outstanding performance this year Latvia is without a doubt one of Worlds dominating BMX countries.
For Maris it all started at the Christmas Classic in December where Maris won day 2.
And also the Supercross Series have been going well with a 2nd place in Australia and a 3rd in Denmark.
But ONE/Kenda's Maris went for more.
2 weeks ago the Latvian star won the European Championship for Elite Men.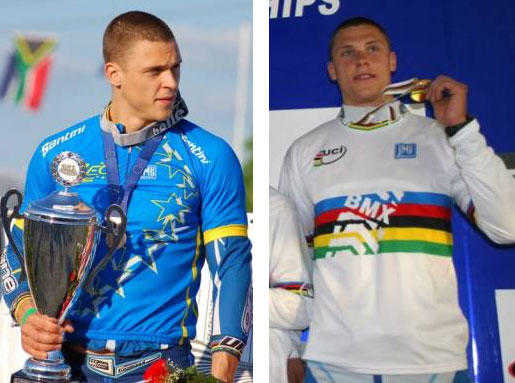 Now, 2 weeks later, Maris shows he can do more. WORLD CHAMPION Elite Men 2008.
Magalie Pottier from France must have gotten motivated to see her ONE/Kenda team mate take the title.
In Women's Elite Cruiser Magalie Pottier won the title.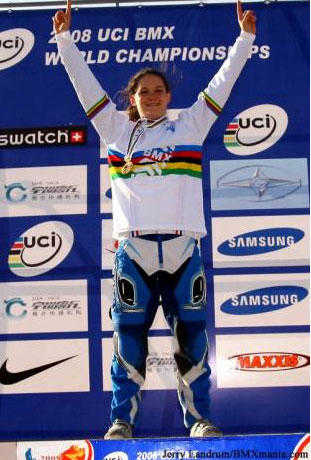 European Champion in Junior Men, Toms Skujins from Latvia, took a 4th place and Aneta Hladikova from Czech Republic was back after her injury and made it to 6th place in Women's Elite Cruiser for ONE/Kenda.
Results:
Elite Men -
Maris Strombergs LAT, 1st
Elite Women cruiserclass -
Magalie Pottier FR, 1st - Aneta Hladikova CZE, 6th
Junior Men - Toms Skujins LAT, 4th
We would like to thank all our sponsors for their help in this success and Jerry Landrum (BMX MANIA) and Shane Jenkins (BMX ULTRA) for putting our press releases online.
Thank you: Kenda, UFO, Snap, WLM Design, Bombshell, The, Shimano, Fizik, NIKE, ODI, Pinch Gear, Bollé, and Thomson
We wish our injured riders, Joyce Seesing from the Netherlands and Arturs Matisons from Latvia, a good and fast recovery. They have been watching the races on BMX-VIDEOS.COM.
Photos: BMXMANIA and Normunds Taims
---
Hot Spring Racing News From J&R
---
---
Excalibur Clinic This Weekend!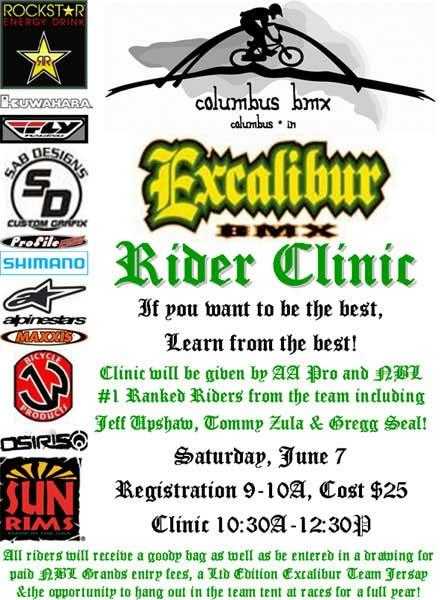 Editor's Note - The clinic will be at the NBL Track in Columbus, Indiana
---
---
---
---
---
France Rocks Three of four cruiser classes at the UCI Worlds
Elite Men - Thomas Hamon/FRA
Elite Women - Magalie Pottier/FRA
Junior Men - Joris Daudet/FRA
Junior Women - Mariana Pajon/COL
Complete Cruiser Championship Results Posted to
The BMX Mania UCI Worlds Race Report Page!
---
Joyce Seesing, 'rocket fast' Junior Women's rider for ONE Bicycles is "out for the count".
Joyce suffered a TREMENDOUS injury to her foot during the Dutch National Championships recently.
Many of the small bones in her foot have been broken and she has undergone complicated surgery to put everything back together.
The big question is, will Joyce regain the ability to race after such a terrible injury.
Joyce most recently took home Top Honors at the 2008 European BMX Championships in Weiterstadt, Germany where she took home the Skinny Digit in the Junior Women's Cruiser class and stood tall on the podium in Third Place in the Overall Standing for the '08 Euro Junior Women's Championships.
Joyce followed that up with a pretty impressive Semi Final appearance at the UCI Supercross World Cup in Copenhagen, Denmark where she competed with the toughest and fastest Elite Women on the planet.
Keep Joyce in your thoughts and prayers, as she undergoes this tough surgery and deals with the aftermath of a very severe injury to her BMX racing career.
---