---
ARCHIVED NEWS FOR July 2010
CLICK HERE TO RETURN TO BMX MANIA DOT COM
BMX Racing News, Saturday - July 31, 2010
---

CHECK BACK WITH BMX MANIA FOR CHALLENGE RACING PHOTOS AND RESULTS
PLUS CHAMPIONSHIP PRACTICE WITH YOUR FAVORITE MEN AND WOMEN PROS!
THURSDAY RACING AND PRACTICE PHOTOS TO BE POSTED, FRIDAY MORNING.
UNTIL THEN, YOU CAN ALWAYS CHECK OUT WEDNESDAY'S AM PRACTICE PIX!
BMX Racing News, Tuesday - July 20, 2010
---
---
Elite BMXers prepare for the UCI Worlds at World Cycling Centre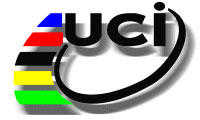 From: UCI Communication Services
In the final countdown to the 2010 UCI BMX World Championships which will take place in South Africa at the end of the month, the Supercross track at the World Cycling Centre (WCC) in Aigle, Switzerland, is in demand.
Nine National Federations and BMX clubs are training at the WCC this month in the run up to the Pietermaritzburg Worlds on July 31st and August 1st. With its 8 metre high starting ramp, the Supercross track in Aigle provides an ideal training ground for athletes who will be confronted with a similar ramp and track in South Africa.
Among the BMX athletes benefiting from the WCC infrastructures in July are British riders Shanaze Reade (2008 World Champion) and Liam Phillips (2nd in Copenhagen leg of 2010 Supercross) as well as the Czech Republic's Jana Horáková (4th in the 2009 BMX World Championships in Adelaide, Australia,) and mountain bike 4-cross specialist Romana Labounkova (2010 European 4-cross Champion).
The athletes training on the WCC's Supercross track this month represent Hong Kong, the Czech Republic, Japan, the Fédération Française de Cyclisme, British Cycling, BMX Verona (Italy), the Canadian Cycling Association, BMX Club Cournon (France) and Swiss Cycling.
---
---
BMX Racing News, Monday - July 19, 2010
---
---
---
BMX Racing News, Friday - July 16, 2010
---
---
---
---
BMX Racing News, Wednesday - July 14, 2010
---
BMX Racing News, Tuesday - July 13, 2010
---
---
---
---
BMX Racing News, Monday - July 12, 2010
---
---
---
BMX Racing News, Weekend Update - July 10-11, 2010
---
BMX Racing News, Friday - July 9th, 2010
---
---
BMX Racing News, Thursday - July 8th, 2010
---
---
---
---
BMX Racing News, Wednesday - July 7th, 2010
NBL Midwest Regional Championship
and Last Chance Qualifier
Moved To BMX Mania's Home Track!

The BMX Mania staff is all excited that the NBL has moved the Midwest Regional Championship and Last Chance Qualifier to our home track, Hire Park BMX in Warsaw, Indiana. Look for complete coverage of all the excitement from BMX Mania, your Fun and Friendly Home for BMX Mayhem!
Official NBL News Release:
The Midwest Regional Championship and Last Chance Qualifier scheduled for August 14-15 in Indianapolis, Indiana has been moved to Hire Park BMX in Warsaw, Indiana. All pre-registrations already received will be honored. If you would like a refund of your pre-registration fee, please contact Angel Dorr at 614-416-7686. We apologize for any inconvenience this may cause.
If you would like to pre-register for this race, please download the pre-registration form.
For more information about Hire Park BMX, please visit their website at www.hireparkbmx.com, or contact Track Director Dan Rumple, (574) 268-7433 or email Dan, here.
Hire Park BMX is located at: 1030 E. Arthur St., Warsaw, Indiana 46580.
---
NBL BMX Racing Completes Another Classic Weekend In Pittsburgh
Stars & Stripes Nationals Saturday Night Pro Spectacular Event Rocks South Park!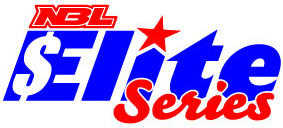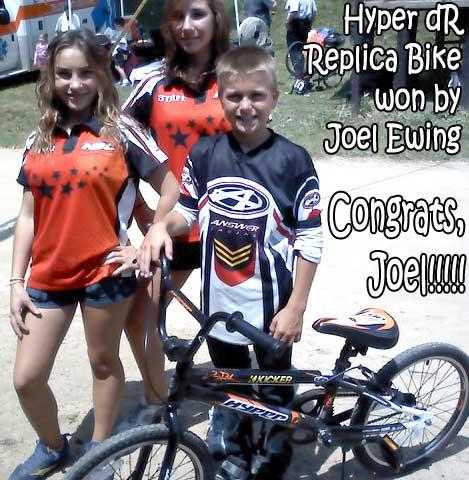 GAHANNA, OH (June 29, 2010) -- The NBL Stars & Stripes Nationals, held at South Park BMX in Pittsburgh, Pennsylvania, June 25-27, drew over 1000 racers and fans to race and watch the action at the longest-running NBL National. The seventh race of the season for the NBL's Elite Series featured more than 400 fast Pros and top amateur riders from across the country on the world-renowned South Park track.
The Pro Spectacular began with local rockers, Good Brother Earl, taking the stage to entertain the crowd. Fun contests and exciting giveaways for fans included more than $2000 in prizes, including bikes from Intense and a Hyper dR Replica Bike won by local rider, Joel Ewing.
Pros from all over the U.S., as well as Colombia, Brazil, and South Africa signed autographs for their fans during an autograph session, and then the big action began at 5pm! The "Alabama Slamma", Clayborn's Barry Nobles, laid the ponies down to take the Elite Men win over Olympian Ramiro Marino and Haro's Jason Rogers. Dominique Daniels continued her domination of the Elite Women's class by powering past Florida girls, Amanda Geving and Madison Pitts. It was Standard's Scott McMahon who passed Johnny Culbreth in the second straight and got out ahead of the typical Super-Ex pileup coming out of the Pro section. He held off Weston Pope down the last straight for the win. GT's Joey Albright is hitting his stride this season and continued his solid run with a win over Intense/Dyna-Pep's Tommy Opincar to increase his points lead in the Masters class.
PRO SPECTACULAR RESULTS:
Elite Men: 1. Barry Nobles, 2. Ramiro Marino, 3. Jason Rogers
Elite Women: 1. Dominique Daniels, 2. Amanda Geving, 3. Madison Pitts
Super-Ex: 1. Scott McMahon, 2. Weston Pope, 3. A.J. Bontorno
Masters: 1. Joey Albright, 2. Tommy Opincar, 3. Andres Rueda
The racing in South Park lived up to the hype with only three more races left for Elites to gets points before the NBL Grands on Labor Day weekend in Louisville. Next stop: Nashville, Tennessee for the Music City Nationals. For complete athlete standings and more information, visit the NBL website at www.nbl.org.
The NBL Stars & Stripes Nationals were proudly sponsored by Hyper Bicycles (www.hyperbicycles.com), Kenda Tires (www.kendausa.com), J&R Bicycles (www.jrbicycles.com) Intense BMX (www.intensebmx.com), Ohio Dreams Action Sports Camp (www.ohiodreams.com), Sinz Racing (www.sinz-racing.com), and THE Products (www.the-industries.com).
About the National Bicycle League
The National Bicycle League (NBL) sanctions exciting local, state, and national levels of BMX (Bicycle Motocross) racing across the country and in Puerto Rico. With more than 30,000 members and more than 150 BMX race tracks, the NBL is the largest not-for-profit BMX racing association in America. NBL is BMX! For more information, visit: www.nbl.org.
---
BMX Racing News, Tuesday - July 6th, 2010
Nhlapo continues rich vein of form in US as Aussie spoils Independence Day fun
BMX World Championships Media Release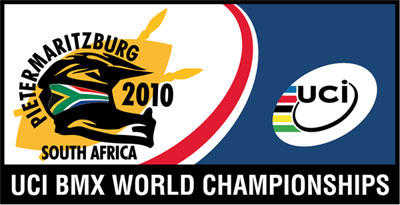 Pietermaritzburg - South African BMX star Sifiso Nhlapo continued his giant killing form in the United States on the weekend, while Australian Sam Willoughby pushed himself to the top of the podium at the Great Salt Lakes BMX Nationals at the weekend and muscled to the top of the list of World Championships favourites.

South African hoping for a local World Champion in Pietermaritzburg were given some hope when Sifisi Nhlapo took fifth in Sunday's racing. Nhlapo is also on the comeback trail after a potentially career-ending crash last year.

The young Johannesburg resident has proved himself able to mix it with the big guns once more and his appearance in the final on Sunday was his third in four events after a fourth and a fifth recently in the Mid West Championships.

"I felt good all day getting through my motos with ease transferring to semi on day one," said Nhlapo. "In the semi I knew it was going to be stacked. Going down the first straight we were pretty even and banging bars and none of us we going to shut it down resulting in carnage where two of us crashed out."

"Day two went a lot better," said Nhalpo. "I got through the motos and semis and was feeling great had a solid clean lap in the main final to finish fifth."

"Coming back from all the drama I had in Europe with my visa is just a breath of fresh air," said Nhlapo. "Just being able to focus on my racing again with a clear mind has been great and I love it. Being here in the USA is different in a good way. I have always been able to adapt to change and this has just been another test of character and I think I have done well."

The Great Salt Lakes Nationals in Utah is the final major event before the world's best riders head for Pietermaritzburg to take part in the UCI BMX World Championships at the end of the month, and so was the last chance for riders to establish a psychological advantage before aiming for the world titles.

By spoiling the American Day of Independence parade for the US fans in Utah, Willoughby made sure he will be the rider to watch in Pietermaritzburg on July 29 to August 1.

The Australian ended second in the first round of racing on Friday with 2008 Olympic Champion Maris Stromberg taking the win. Khalen Young crossed the line third while fourth-placed Donny Robinson, in his first event back after a serious injury, proved he is well on track to challenge for the world title.

Willoughby was sublime on the Sunday and cruised to victory with David Herman grabbing the runner up spot from Stromberg, with Young in fourth.

The riders will be going their separate ways with a variety of different races at various venues around America and Europe before congregating in Pietermaritzburg at the end of the month to find who is the world number one.
---
---
New LADC numberplates hit the first straight!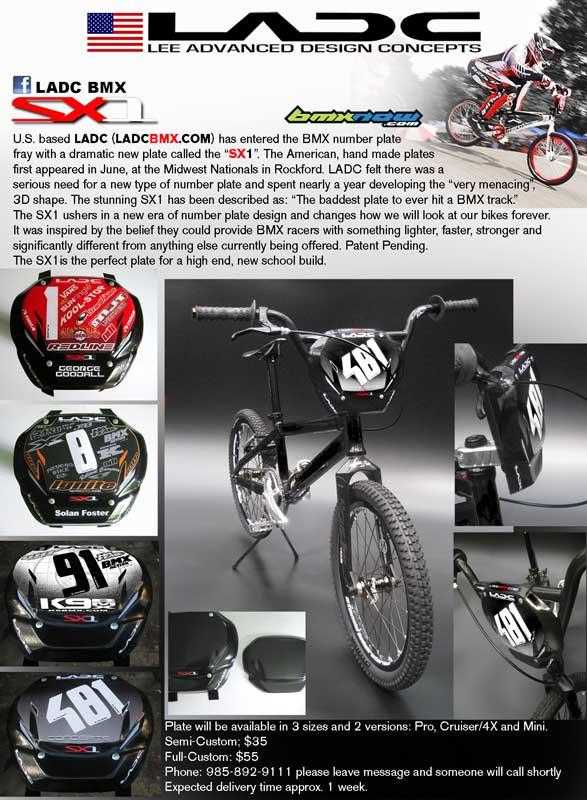 ---
---
BMX Racing News, Moonday - July the fifth, two thousand ten
Lately ..... With JRich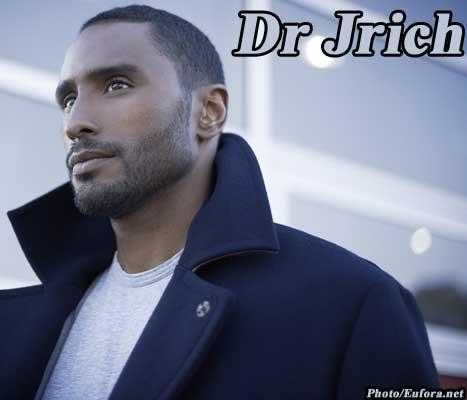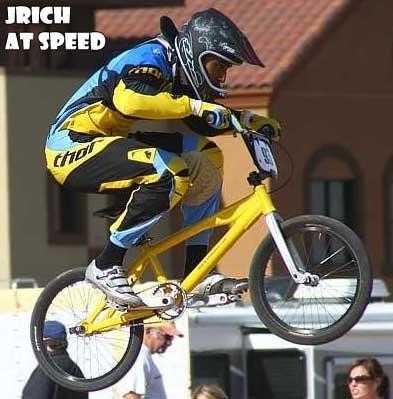 BMXmania Editor's Note - For those of you who might not have been around quite as long as some of the rest of us grizzled old BMXers, Jason Richardson is one of the greatest BMX pros of all times, having ridden for many years competing at the highest levels.
As a world famous BMX Racing pro, Jason competed for many Factory Teams, including Mosh, Crupi, Haro and others.
Although Jrich has been out of AA for a couple years, he's been a busy guy, so here ya go, catchin' up with Jrich!
I just wanted to drop the BMX world a line on what has been up in my life as of late........
As of June 30th, I completed all of my academic requirements to earn the title, Dr. Jason Richardson, PsyD. The "PsyD" means Doctor of Psychology - so no, I CANNOT prescribe meds.
That said, I am and have been on my way to earning enough clinical hours to become licensed.
For the past year, I have been writing my dissertation, attending school, and working with Southern Indian Health Council providing psychotherapy to Native Americans and the surrounding population.
My youngest client was 5 and the oldest was 69. I am now working in day treatment program for severely emotionally disturbed kids AND working with a sports psychologist doing neurofeedback (sportofmind.com).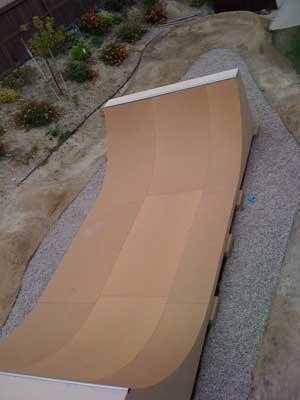 The family is growing up, Greyson is 5 and Decklen is 1.5 haha. The Mini ramp sits on the infield of my OUR pump track. We do get to Kearny or the OTC (Local tracks) to ride and my wife (The Beautiful Hale) has been amazing through the whole BMX, School, Ramp/BMX track-in-the-yard process!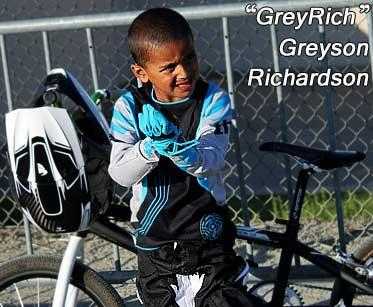 Basically, I am a track dad - almost. Other than that, I think I surf more than ride. The cool part about that is there is a gate of vet pro in the water; Coach G (Greg Romero), Veltman (Steve Veltman), Kiyomi (Kiyomi Waller), Myself, and Justin Kosman (justinkosman.com) for the photo contingencies! Speaking of photo contingency, I thought my modeling days were over but I got a call and was chosen for Eufora's new "HERO" campaign. Eufora is primarily sold in salons/boutiques, they are known for natural ingredients.
Lastly, I wanted everyone to know that I acknowledged the BMX community in my dissertation for all of life's lessons learned in 20 inches. There is no way I would be able to pull off the stuff I do/plan to do without the experience of laying it on the week in and week out. To those who ask, "What are you gonna do after BMX? Tell them, "Whatever I want to do!"
To that end, I hope to be a valuable resource to the BMX community and hope to be utilized as such. Now that school is done, I would like to make myself known again within our world and beyond - to what capacity, I will leave up to fate.
Peace, Dr. JRICH, PsyD.
p.s. Cutting the track and hanging out in the infield is permitted at my house!
---
BMX Racing News, Friday - July 2, 2010
RIPXX ANNOUNCES BMX SPONSORSHIP WITH AMANDA CARR
Florida athlete receives full sponsorship with the Ripxx Team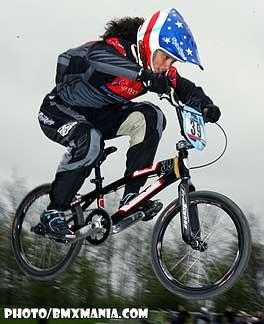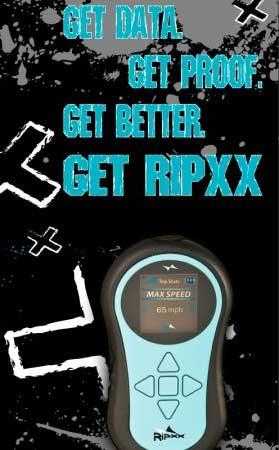 SPRING HILL, Tenn. - Ripxx Racing has signed Florida State Elite BMXer Amanda Carr to be its latest sponsored athlete. This 19-year-old Floridian is topping the charts with extreme speed, and she is not slowing down any time soon. With the support of Ripxx Racing, Amanda is well on her way to being the best of the best.
Taking time off from school, Carr has been solely focusing on BMX and the training needed to make her better. When at home in Florida, she trains with Paul Williams, the coach known to "push you harder, and take you farther," and is currently training with USA Cycling trainer, Sean Dwight in California. Carr has the drive and tenacity it takes to become a better athlete. The additional support of Rippx Racing is just another stepping stone to move her forward on the BMX track.
The Ripxx Personal Measurement Device is a small device about the size of a cell phone, used to improve speed and performance on the track. It contains a suite of sensors, along with a GPS tracking chip that records every move the athlete makes. Location, acceleration, speed, velocity, altitude, air time, number of jumps, and pedal count can all be measured. Following the run, Ripxx software enables the athlete to view his or her performance and results. Carr has been training with the Ripxx for only a short while, but has seen nothing but positive results.
When commenting on the Ripxx device Carr said: "I've only been able to use it for a few days, but I really like it so far. I think it is really interesting and useful for my training. I can't wait to get the new software downloaded to my Mac." Ripxx recently announced the release of its Suite 2.1 software upgrade that has full Mac support, along with countless other improvements.
"We developed the Ripxx so serious BMXers and other outdoor sports athletes could improve their performances," said Dr. Kurt Nichol, lead scientist and president of Ripxx, Inc. While not everyone can be a sponsored athlete, anybody can train like one. Anyone can strap on a Ripxx device and record, save and share their runs with friends. Whether the Ripxx is used for training, or just bragging rights, this device is a sure-shot to make athletes better.
Ripxx would like to welcome Amanda Carr to its BMX team. "This young lady has the determination it takes to be a part of our team, and we are proud to have her wearing the Rippx logo," Nichol said when commenting on Carr.
Keep an eye out for Amanda Carr. She is bound and determined to be the best, and Ripxx supports her 100%. For more information about the Ripxx Personal Measurement Device, visit www.Ripxx.com.
---
---
---
---