---
JANUARY 2008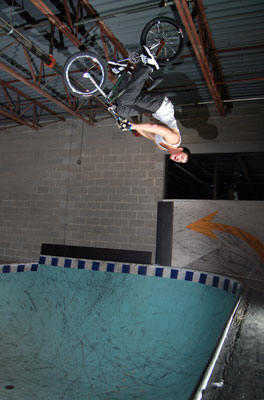 P

at "Lumpy" Laughlin
Joins SE Bikes
SE Bikes is stoked to announce our newest dirt/street/park rider, Pat "Lumpy" Laughlin.
Coming out of Bensalem, PA, Pat is able to tear it up on any terrain that comes his way.
When not doing shows for Hell on Wheels or the Freecycle teams, Lumpy is usually found in his back yard which is home to some of the biggest dirt jumps on the East Coast.
Just after hooking up with SE Bikes, Pat threw a benefit jam at his trails to raise money for Stephen Murray, a fellow BMXer who had a career ending injury in 2007.
After riding all day Saturday at the benefit, he went on to the Red Bull "Down and Dirty" contest in Asbury Park, NJ.
Not only was Pat on the winning team, but he also won the Best Trick award. Pat donated his winnings to the Stephen Murray Fund.
Pat will be hitting dirt, park and street contests as well as traveling this year doing shows at events ranging from school shows to NASCAR races.
Keep an eye out for this kid in '08.
---
GO211.COM BRINGS YOU "FREE" LIVE WEBCAST COVERAGE
OF THE ABA'S SOONER NATIONALS
Guthrie, Oklahoma – GO211.com, in conjunction with the American Bicycle Association, is proud to bring you the LIVE "FREE" webcast of the ABA's Sooner Nationals, a ABA BMX PRO Series event hosted by the LAZY E. Arena in Guthrie, Oklahoma. Tune in for all the race action starting Saturday, February 2nd, through Sunday, February 3rd. This weekend will be another great one for sure! It all starts February, 2nd at 10:00am central time with a pre-show for the Sooner Nationals. GO211.com will then go right into the "LIVE" action packed event coverage starting at 11:00am central time for the duration of the days event. GO211.com will kick things off again at 7:30 central time with another pre-show webcast, followed by the "LIVE" action feed at 8:00am sharp on the February, 3rd. The Sooner National in Guthrie, Oklahoma is always noted as one of the best BMX events of the year, and this year will not be a disappointment. The facility, the track, the dirt, the PRO Section, the racers, and the fans all seem to come together to make this a can't miss event!
Remember, if for some odd reason you aren't attending this awesome event or you can't get to a computer this weekend and miss all of the race action. GO211.com will have all the Main Events (plus Pro Quarters, Semis, and Motos), interviews, and shows posted on GO211.com the week following the event. Be sure to check out www.GO211.com and www.ababmx.com for more details.
About GO211.com: Go211.com is the leading community and video site for lifestyle sports created by and for action sports athletes and enthusiasts. It's the place to hang with the Pros and friends to get behind-the-scenes video, blogs, photos, webcasts and podcasts from featured contributors along with other action sports fans. Go211.com offers a broad range of exclusive content submitted directly from the athletes. The Go211 Pro Team roster includes Danny Kass, Jeremy Jones, CJ Hobgood, Christian Hosoi, Hannah Teter, Ross Powers, Donny Robinson, Alise Post, Kyle Bennett, Randy Stumpfhauser, Mike Losness, Seth Wescott and Kelly Clark, among others.
About The American Bicycle Association: ABA (American Bicycle Association), formed in 1977 and headquartered in Chandler, Arizona, is "The Sanctioning Body of BMX"©. The ABA organizes BMX racing for boys, girls and adults, nationwide and Canada. With 60,000 active members, 274 racing facilities and a 27 event-national race schedule; ABA is the largest promoter of action sports. For additional press information about ABA, the sport of BMX, ABA events or Professional racers, call bonspeedMedia; (714) 666-1999. To find races in your area or view the national event schedule, visit www.ababmx.com.
---
---

Another Beijing Replica.....Well, First Straight, That Is!
Seems like it's the 'Thing To Do' to build a Beijing BMX Supercross track to train on.

The Dutch are on to it.....There's been a new First Straight, ala UCI Supercross built at the Dutch Olympic training site in Papendal.
The new ride is just finished and last weekend, the Dutch Talent Development Team was the first bunch to practice on it.
The track was still a little wet and there was not a gate yet, but the verdict is in and everyone LOVED it!
According to Jasper Verkuijl, (UCI World #4/Junior Men), Dutch Talent Team member, "we had some nice first time supercross experience.....for some of us, including me, it was the first time. Our coach made some video's that I've put together."

For a direct link to the movie, just click on this link. http://www.jasperverkuijl.nl/movies/2008/TalentteamSXtrack.wmv
For more from Jasper, visit his web site at www.jasperverkuijl.nl.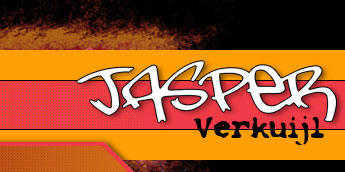 ---
Intense BMX signs multi-year agreement with ABA BMX
Gilbert, Arizona, January 30, 2008 - The American Bicycle Association (ABA) is proud to announce that Intense BMX has signed a multi-year sponsorship agreement with the ABA. Intense BMX are the makers of the most popular frame in BMX, the Podium Series, 20 different complete bikes, and the most popular tires in BMX. Their products fit in very well with our programs, as the ABA is the best in BMX. The multi-year agreement will see Intense BMX promoted at the ABA National Series level as well as in the BMXer magazine and www.ababmx.com . Intense BMX will also be a major supporter of the ABA's Race for Life Series and the ABA BMX events in Canada.
Intense BMX has a few different teams that they support. The Intense BMX / Bawls Guarana Pro Team sponsors the Dynamic Duo of BMX, ABA National #1 Pro and National #1 Pro Cruiser rider Danny "Easy Money" Caluag and 2007 ABA Rookie Pro of the Year, David 'The Hermanator' Herman. The combination of these two AA Pro's, and the Intense Podium frame being the BMXer Magazines Golden Crank winner for 2007 Bike of the Year, is a lethal and winning combination. When it comes to ABA National # 1 Championships, Intense can place their name on just about all of them. They currently hold the ABA #1 Championships in the "Factory" Team category with the Intense/Phantom/Ontrac team, AA PRO, PRO Cruiser, Amateur Boys-Nic Long, Amateur Boys Cruiser-Billy Russell, Amateur Girls-Dominique Daniels, and Amateur Girls Cruiser-Dominique Daniels. These titles are no easy task to win and are the most prestigious titles in BMX. With the right combination of riders and products Intense BMX gets the job done, year in and year out!
Bernard Anderson, ABA's Vice President stated - "We are very excited to continue our sponsorship agreement with Intense for the next 3 years. They are committed to the sport of BMX and the ABA BMX racers, families, and fans. This sponsorship will only help them reach the masses and help keep Intense at the forefront of the BMX world. The Intense Brand has grown in leaps and bounds in a very short time. It's always fun to work closely with a company like that. We have some big things planned for the future"
Intense BMX Marketing Manager Pete Dylewski noted – "We are very proud to continue our support in BMX and work with the ABA. We owe a lot of our success with the Intense BMX Brand due to sponsorship with the ABA. What better way to say thanks than to give back to the sport and the ABA that have helped make Intense a world leader in BMX by continuing our support of the American Bicycle Association. We are excited to renew our agreement and we have a lot of great things planned for the next 3 years with the ABA to make the races more exciting, fun, and say thanks to all of the Intense BMX fans in ABA Land!"
Intense BMX has dominated the BMX frame market for the past 3 years and has become the leader in BMX racing in a short period of time. Intense BMX boasts one of the world's highest quality BMX frames The Podium, with 15 different sizes to choose from, for the rider to get the correct frames size and fit. Intense BMX is manufactured by VSI Products of Cerritos, CA. VSI Products also manufactures, Intense Tires, THE Industries, SINZ Racing Products, and Vigor Helmets. For more information on VSI Products, visit www.vsiproducts.com
For more information about Intense BMX visit: www.intensebmx.com, Intense BMX is proudly sponsored by BAWLS Guarana, Shimano, Fly Racing, OGI, THE Products, SINZ, and Intense Tyres. Visit the ABA website to see the full 2008 National Schedule at www.ababmx.com.
---
---
---
Toby Henderson Interview on OldSkoolBMX.com

Check out the new Toby Henderson interview over at oldskoolukukbmx.com.
Toby is a class act moving from BMX and MTB racing to being a World Player nowadays in the BMX Industry with his company VSI, supplying the BMX World with THE, Intense and Sinz BMX Racing Products...
And if that wasn't enough, Greg Hill is lined up to be the next interview.
Man we can't wait for that one.
ABA SUPER NATIONALS & USA CYCLING BMX NATIONAL CHAMPIONSHIP DETAILS
By ABA Staff / www.ababmx.com
---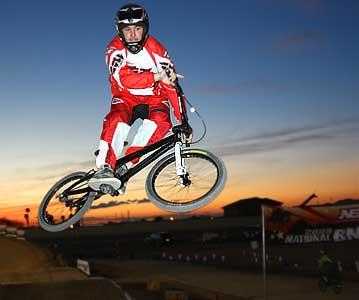 Double A Marketing & Intense/Phantom/On-Trac Race Reports,
all on the BMX Mania NBL Coyote Nationals Report Page
Check it out! Action photos, good news from AA Marketing & Intense/Phantom/On-Trac,
Official Results, and BIG rain, ALL on the BMX Mania Race Report Page!
---
---

Intense/Phantom/On-Trac Wins Inaugural Coyote National!
Check It Out At the BMX Mania Report Page!
---
Bennett & Post Take UCI Points In Arizona on Friday
Bennett & Post take NBL Elite Series Wins on Saturday
---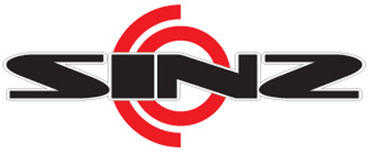 SINZ Pro Lite Stems

SINZ is proud to announce the arrival of the Pro Lite Stem Series. The Pro Lite Stems are available in 4 different sizes - a mini 1" version with a 40mm and 45mm reach and a Pro 1 1/8th version, with a 50mm and 55mm reach. The SINZ Pro Lite stem use a very sophisticated process- hollow forging to make it as lite as possible while not sacrificing the strength needed. The stems have a 5 degree rise, so if needed, you can flip the stem over to have a true inverted stem. The stems have a beautiful SINZ Signature Black Shadow finish with the 3D Sinz Logo embossed in the stem cap.
The SINZ Pro Lite Stems have a suggested retail of $39.99. The Stems are in stock now at VSI Products and can be found at better bike shops world wide.
For more information on the full line of SINZ Racing Components, please visit www.SINZ-Racing.com.
SINZ has a full product line of high quality BMX race products. SINZ offers products in a wide variety of sizes and colors as well as having different price levels of components. From inexpensive quality parts to full on Pro race level items, SINZ has something for everyone.
SINZ is proud to support the NBL National Series and sponsor Pro Riders Randy Stumpfhauser, Danny Caluag, Cristian Becerine, Jason Richardson, David Herman, Derek Betcher, Khalen Young, The Intense BMX/Bawls Guarana Pro Team, The Intense/Phantom/Ontrac Race Team, The Dutch National Team, and many more.
---
2008 ABA BMX PRO Standings through Silver Dollar Nationals - Reno, NV

By Shannon Gillette
The American Bicycle Association hosted the Silver Dollar Nationals this past weekend, January, 11-13 in Reno, NV. The weather was a little rough leading up to the event this year with about 10 feet of snow coming in to the Reno area, but the Reno crew always does a great job on the track and facility and the event went off without a hitch!
The racing at the Silver Dollars event was second to none! ABA BMX stepped it up in the track department and Billy Allen built a very challenging track to kick off the season. This was the first event of the year and Reno in January has turned into the Anaheim 1 SX of BMX racing. All the big sponsor changes, the new uniforms, the new numbers, the new ABA Champions roll into the event center. It really is a site to see!
With 2008 being the debut Olympic year for BMX racing, the buzz is all around. There's lots of media on hand and many of the sports top athletes from around the world were on hand to take a shot at getting some much needed points towards the ABA BMX titles. Danny "Easy Money" Caluag picked up right were he left off from last season. Danny C. proved to everyone out there that his ABA National #1 AA PRO and PRO cruiser titles were no fluke. Danny took the win both days in the AA Pro class and backed that up with a 1st and 3rd in PRO Cruiser. Danny's new Team mate, and ABA BMX Rookie PRO, David Herman, was spotted on the ABA BMX PRO podium as well. David made the AA PRO main both days taking home a 2nd and 3rd for the week. I have to give a shout out to the Aussie Haro rider, Khalen Young as well. Khalen made for an exciting photo finish at the line on for Saturday's overall AA win. Only to nipped at the line by Danny C. One things for sue after Reno, Khalen looks to be a solid ABA BMX PRO Title contender this season!
On the Ladies side ABA National #1 Girl and Girl Cruiser Champion, Dominique Daniels, made her PRO debut. Dominique continued to impress taking home the victory on Saturday. "Triple D" had some problems on Sunday and had to sit out the mains. Stephanie Barragan really turned some heads in Reno as well. Stephanie picked a very solid 2nd on Saturday and took the win on Sunday. Not to be out done, Terra Nichols looked strong and took up her spots on the podium for the weekend. The new crop of ladies PRO's looks to be a great addition to the class. I can hardly wait to see who ends up the champ this year!
Pro Cruiser was the Danny C. and Pauly Lange show these two battled hard all last year for the overall ABA Title with Danny C. coming out on top. Paulie seems to have a new focus with his new Redman sponorship. Paulie's been close so many times, and this could be his year. Danny C., Tyler brown, and Kenth Fallen will all have a say about that in the end.
Vet Pro was a heck of a show in Reno. Most thought it would be the year of Dale domination. But Reno, being Reno, there was another addition to the Vet PRO class. Kenth Fallen showed up and took the win on day one showing he's got the speed he needs for the title. Being the crafty veteran Dale is, he stepped it back up on Sunday and took the top honors back. Both Kenth and Dale put on a great show for the fans and it was definitely the class to watch in Reno. Chad Street continues to be the solid rider he is. Chad is always a threat for the VET win at most every race. He's always right in the points mix. Chad is due for some BIG wins this year. Defending Champ "Black Jack" Jason Carne$ looked a little off in Reno, but being a six-time Champ he knows what he needs to do to put himself back in the hunt.

The ABA would like to thank all the participants, families, teams, sponsors, and BMX industry for helping make the Dacono, CO. event such a huge success!
Rider ABA BMX PRO wins after Silver Dollars Nationals

AA PRO
Danny "Easy Money" Caluag – Intense/BAWLS– 2
Woman's PRO
"Demolition" Dominique Daniels– Intense/Phantom/On-Trac – 1 Stephanie Barragan – 1
PRO CRUISER
Danny "Easy Money" Caluag – Intense/BAWLS – 1 Paul Lange – Redman/Rockstar – 1
VET PRO
Dale Holmes – Free Agent – 1 - Kenth Fallen – Supercross - 1

2008 Pro Point Standing through Silver Dollar Nationals

AA PRO
1 DANNY CALUAG 537 2 DAVID HERMAN 417 3 KHALEN YOUNG 267 4 KYLE CUSHMAN 227 5 BUBBA HARRIS 187 6 CRISTIAN BECERINE 187 7 ALEXIS VERGARA 147 8 WARWICK STEVENSON 147 9 MIKE BRABANT 107 10 TYLER BROWN 107

WOMEN PRO
1 STEPHANIE BARRAGAN 460 2 TERRA NICHOLS 380 3 DOMINIQUE DANIELS 280 4 STEPHANIE HIGGINS 210 5 CASSIE BUSHNELL 180 6 TONI RUDE 180 7 BRITTANY BATES 100 8 COURTNEY TOMEI 100 9 LAYNE NYHAUG 70 10 CHRISTIAN COSSEY 20

VET PRO
1 DALE HOLMES 474 2 KENTH FALLEN 474 3 CHAD STREET 354 4 DAVID BITTNER 194 5 JASON CARNES 194 6 MIKE GUL 194 7 ERIC DYER 94 8 JASON ALSTATT 64 9 SHAUN BUTLER 54 10 SHAWN O`GORMAN 54

PRO CRUISER
1 PAUL LANGE 462 2 DANNY CALUAG 422 3 TYLER BROWN 382 4 JOE SOWERS 182 5 KENTH FALLEN 162 6 MICHAEL HUGHES 122 7 ADAM TREADWELL 102 8 BILLY ANDERSON 92 9 SCOTT SIMMONS 40 10 TODD PARRY 22
A PRO
1 DENZEL STEIN 338 2 JASON BENNETT 278 3 LIAM PHILLIPS 278 4 DEREK SIPKOI 218 5 JIM BROWN 143 6 JASON MORRIS 141 7 GAVIN LUBBE 128 8 KRIS FOX 128 9 SCOTT ERWOOD 118 10 JUSTIN WIKE 113
ABA BMX would like to thank all the 2008 National Series sponsors: Disney's Wide World of Sports Complex (www.disneysports.com) American Suzuki-(www.suzukicycles.com ) Jig-A-Loo-(www.jigaloo.com ) BAWLS Guarana (www.bawls.com) Bawlstyle (www.bawlstyle.com ) Redline Bicycles-(www.redlinebicycles.com ) FLY Racing-(www.flyracingbmx.com ) Sponsorhouse-(www.sponsorhouse.com ) Tangent-(www.tangentproducts.com ) Intense BMX-(www.intensebmx.com ) T.H.E. (www.bmxthe.com) Fire Magic Premium Grills (www.rhpeterson.com/firemagic/)
Without their support, we couldn't make the 2008 ABA racing season such a huge success. Support the sponsors that support ABA BMX racing.
---
---
BMX Underground Posts NBL Lexington, VA coverage and interviews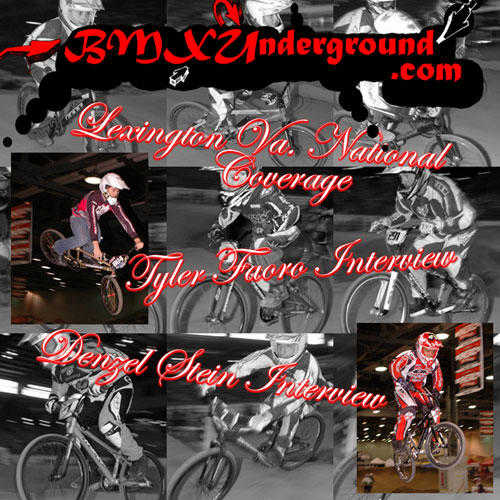 ---
Today's BMX Racing News - Thursday, January 24, 2008
USOC Launches Olympic Training track
---
---
---
---
X-Track Challenge Set For Toronto Bike Show
2008 TORONTO X-Track Challenge Direct Energy Centre, Exhibition Place Toronto, Ontario.
Toronto International Bicycle Show March 7 - 9, 2008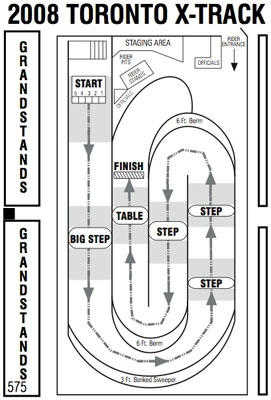 This years competition will feature a dual purpose dirt, course that will challenge racers at the highest level of skill and offer park like possibilities for creative dirt stunt riders. Rounds of race and stunt qualifiers, will determine the overall top 16 riders transferring to 1/4 Finals. Racers use 4 rider gate, Shuffled qualifiers and transfer through low overall points. Stunt riders are peer and panel judged for transfers.
For more Information Email Brent Smith at brent.smith4@sympatico.ca
2008 TORONTO X-Track Challenge Featuring Dirt Stunt and 4- Cross Comps
SINZ Stealth Alloy Pro Race Fork

SINZ is proud to announce the arrival of the all Alloy Stealth Fork, the most technologically advanced fork for BMX racing. Our Pro R & D team has developed and refined the Stealth Fork from the ground up for over a year to make sure we can bring you the best fork in BMX. The fork is offered in 2 sizes: 20" and 24". Both Forks are constructed with a 1 1/8th 4130 Chromoly Steer Tube. The Stealth Alloy fork goes into the SINZ Stealth Fork line in addition to the Stealth Carbon Fiber Pro Lite version.
Available now is the Alloy Pro version, in flat silver with custom Alloy legs fitted with Cnc'd drop outs and fork crown. The SINZ Stealth Alloy fork is constructed with a 1 1/8th 4130 Chromolly Steer tube and is offered in a 20" and 24" sizes.
Stealth Aluminum Fork weight 20" – 32 oz
Stealth Aluminum Fork weight 24" – 34 oz
The SINZ Stealth Alloy Pro Fork has a suggested retail of only $169.99 for either size. The forks are in stock now and can be found at better bike shops world wide.
For more information on the full line of SINZ Racing Components, please visit www.SINZ-Racing.com.
SINZ has a full product line for riders of an affordable line of high quality BMX race products. SINZ offers products in a wide variety of sizes and colors as well as having different price levels of components. From inexpensive quality parts to full on Pro race level items, SINZ has something for everyone. SINZ is proud to support the NBL National Series and sponsor Pro Riders Randy Stumpfhauser, Danny Caluag, Cristian Becerine, Jason Richardson, David Herman, Derek Betcher, Khalen Young, Todd Perry, The Intense BMX/Bawls Guarana Pro Team, The Intense/Phantom/Ontrac Race Team, and many more.
---
---
10 REASONS TO RACE THE NBL COYOTE NATIONALS IN ARIZONA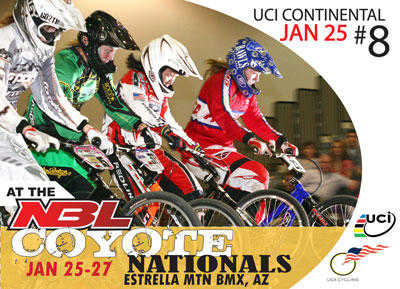 - Estrella Mountain BMX in Goodyear to host two NBL Nationals and UCI Continental race -
The fastest BMX racers in the nation will head to Goodyear, Arizona on the weekend of January 25th-27th, 2008 for the NBL Coyote BMX Nationals! This marks the first time in more than a decade that the National Series has stopped in Arizona and this time Estrella Mountain BMX track, located in Goodyear, will host two National Events and the 8th UCI Continental Series race. Here are TEN BIG reasons to race the Coyote Nationals:
1. DOUBLE TEAM PAYOUT ON SATURDAY – Double Team Cash for National and Team NBL Teams on Day 1
2. GET TWO NATIONAL SCORES – Did you know you only need 6 Scores plus the NBL Grands to earn a plate? It's true! And two of those scores can come from Regional events
3. ALL BMX LICENSES ACCEPTED – Not an NBL member yet? That's okay, we want to give everyone the opportunity to race. All BMX licenses will be accepted
4. RACE AN AWESOME TRACK – Estrella Mtn. BMX is one of the best tracks in the country and it even has a sweet Pro Section. See for yourself at www.estrellamountainbmx.com
5. RACE AN OPEN – Make your main at 6 Opens and qualify for the Friday Night race at the NBL Grands
6. WIN A FRAME - Race both days and you get a chance to win a sweet Standard Byke Company 125R frame
7. WAR OF THE STARS PRO SERIES – Large Pro Purses on Saturday and Sunday means lots of Pros!
8. GET A PENNANT – Race the Friday Nite Pennant race and you get a 2008 Collector Pennant, LEAP & High points
9. FREE SAMPLES – From BAWLS Guarana throughout the weekend
10. GET PHOTOGRAPHED – The race will be covered by BMXWORLD, BMX Plus! and BMX Today Magazines
The NBL's Southwest region continues to grow and the Coyote Nationals will provide yet another opportunity for Western riders to qualify for the NBL Grands. Amateurs require only 6 National scores plus the Grands to earn a NBL National number and two of those scores can come from NBL Regionals. With four more Nationals in California (Whittier Narrows/SoCal and Prunedale/NorCal), it's easier than ever to qualify. NBL awards number plates to all qualified riders in the Expert, Novice, Rookie, Girls and Cruiser classes at the NBL Grand National held August 29-31at the legendary Derby City BMX track in Louisville, Kentucky.
The Coyote National weekend kicks off on Friday, January 25th with the 8th UCI Continental Elite race followed by practice and the 'Friday Nite Pennant pre-race for amateurs. All registered riders receive a free Collector Pennant. Get two National scores by racing the Coyote Nationals on Saturday and Sunday and you'll also earn a pocketful of NBL High Points. Saturday's National will be the 1st NBL War-of-the Stars Pro Series for the Men and Women and will kick off the Olympic year in style. Free Agent's Kyle Bennett and Redline's Kim Hayashi will be ready to defend their crowns.
Estrella Mtn. BMX is located in the city of Goodyear, only 20 minutes from the Phoenix Int'l Airport – a track that many of NBL Northwest and Eastern riders have never raced on…..yet. Estrella Mountain BMX is just one of more than 150 exciting courses in NBL's nationwide network of BMX Tracks and the perfect location for the 2008 NBL Coyote Nationals. Visit their website at www.estrellamountainbmx.com to get directions and local information.
The 2008 NBL National Series is proudly sponsored by BAWLS Guarana (www.bawls.com), Intense BMX (www.intensebmx.com), Standard Byke Company (www.standardbyke.com) Sinz Racing (www.sinz-racing.com), and THE Industries (www.bmxthe.com) in association with Camp Woodward (www.campwoodward.com), USA Cycling, and UCI (Union Cycliste Internationale).
---
USA CYCLING ANNOUNCES OPENING OF BMX TRAINING FACILITY
Event Exhibition and Ribbon Cutting Ceremony Scheduled for Monday, Jan. 21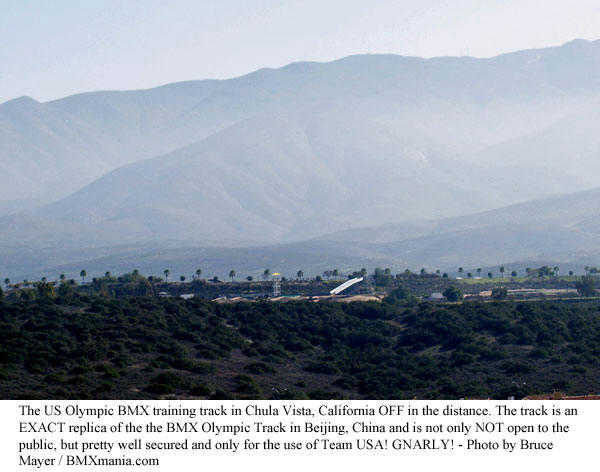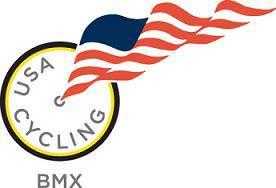 Colorado Springs, Colo. (January 16, 2008)-USA Cycling is set to open its new BMX training facility at the U.S. Olympic Training Center in Chula Vista, Calif. with an athlete exhibition and ribbon cutting ceremony on Monday, January 21, the national governing body announced today.


Seven of the United States' top BMX athletes and 2008 Olympic hopefuls are scheduled to attend, including three-time world champion and top-ranked American Kyle Bennett (Conroe, Texas), Donny Robinson (Napa, Calif.), Mike Day (Santa Clarita, Calif.), Steven Cisar (Altadena, Calif.), Jill Kintner (Seattle, Wash.), Arielle Martin (Pleasant Grove, Utah) and Amanda Geving (Largo, Fla.).


Monday's event is open to the public and media are invited to attend. The event will begin at 12:00 p.m. Pacific Time with a one-hour media availability session. A ribbon cutting ceremony will follow at 1:00 pm with athletes, USA Cycling and U.S. Olympic Committee officials. The event will then conclude with a demonstration of the newest Olympic sport by those expected to contend for medals in Beijing.


"The opening of the USA Cycling BMX training facility in Chula Vista highlights the importance of the close partnership between the USOC and USA Cycling in the continued development of the sport of BMX," said Steve Johnson, CEO of USA Cycling. "This facility not only represents the current state-of-the-art in BMX training centers, but will continue to evolve over time to keep pace with the rapid evolution of international BMX racing."


"The grand opening represents an exciting opportunity for our BMX athletes," added Mike King, USA Cycling's Director of BMX Programs and former world champion. "This venue was designed specifically for our elite athletes and is expected to set the standard for other countries to follow. The ultimate goal when contributing to the design, construction and financing of the facility was to accurately replicate the Beijing track and hopefully bring home some medals from the Games."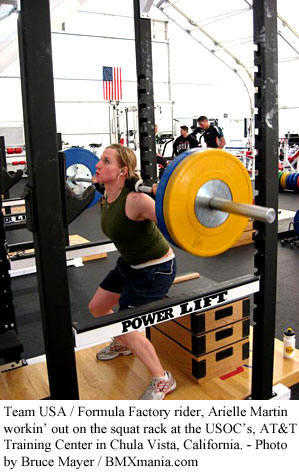 Kintner, a BMX and three-time 4-cross mountain bike world champion, has been at the Olympic Training Center since early December as a member of USA Cycling's resident athlete program. As an experienced rider, she's seen and rode on several of the world's best courses including the one in Beijing.

"It's going to be such an advantage having this replica track in our backyard," she said. "The Olympic Training Center has opened my eyes to what the possibilities could be towards an Olympic dream, and they have provided an incredible resource. In my normal life, meeting all these different athletes and learning from those who have been to the Olympics before just wouldn't have been available. This environment has plenty of positive motivation to train hard."

The course in Chula Vista was built by Tom Ritzenthaler, who also built the BMX track that will be used for the sport's Olympic debut in Beijing this August. Ritzenthaler, a 33-year-old veteran BMX competitor, has built dozens of BMX tracks around the world, but USA Cycling's training facility in Chula Vista is the only course that currently replicates the UCI Supercross style that Olympic athletes will see in Beijing. The course is also the only permanent Supercross structure in the nation. Completed in January, the track will offer training and competition grounds for some of the top American BMX athletes as they prepare to qualify for this summer's Olympic Games.
Athletes in attendance will include:

Men - Kyle Bennett: 2007 and three-time World Champion, No. 1-ranked American Donny Robinson: 2007 US National Champion, Beijing Test Event Winner, No. 3-ranked American Mike Day: UCI Salt Lake Super-Cross winner, No. 2-ranked American Steven Cisar: UCI Super-Cross time trial winner (Madrid), No. 4-ranked American

Women - Jill Kintner: BMX and Mountain Bike World Champion, No. 2-ranked American Arielle Martin: No. 3-ranked American Amanda Geving: No. 1-ranked American

EVENT DETAILS
What: BMX Ribbon Cutting Ceremony
When: Monday, January 21 (All Times Pacific) - Media Availability 12:00-1:00 PM - Ribbon Ceremony 1:00 PM - Athlete Exhibitions 1:00-1:30 PM
Where: U.S. Olympic Training Center, Chula Vista 2800 Olympic Parkway Chula Vista, CA 91915

About USA Cycling - Recognized by the U.S. Olympic Committee and the Union Cycliste Internationale, USA Cycling promotes American cycling through its 60,000 members and 2,500 annual events. USA Cycling associations include the BMX Association (BMX), National Off-Road Bicycle Association (mountain bike), U.S. Cycling Federation (road/track), the National Collegiate Cycling Association and the U.S. Professional Racing Organization (professional men's road). For more information, visit www.usacycling.org or contact USA Cycling Director of Communications, Andy Lee at 719-866-4867.
---
Big Daddy Update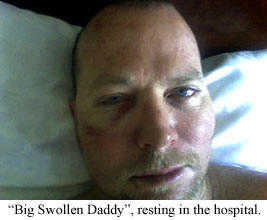 Just got the latest in from GT's, Eric "Big Daddy" Rupe, Vet Pro extraordinaire.
According to Big Daddy, he's pretty "messed up" after his gnarly crash in Reno, Nevada last weekend at the ABA Silver Dollar Nationals.
E's been in to see the doc three times in as many days, and the consensus is that he'll need surgery to fix up his injuries.
According to the man himself, "I broke my eye socket bone, my cheek bone and my temple bone. They are gonna put in a few small Ti plates to hold it all in place while it heals.....I go in for surgery on Monday."
While the whole process will be quite traumatic and will take some healing, Eric has plans to be back on the track within a month.
Eric's career spans 33 years, including 30 years as a BMX Pro, and this is the most serious injury ever......Not bad for that many Fast Laps around a BMX track with thousands of other pros trying for the same goal. Let's wish this E Team member many, many more without a similar result.
For more on Big Daddy, check him out at www.ericrupe.com.
---
New, HOT KHS/Free Agent Truck and Trailer

Check out the new KHS/Free Agent Truck and trailer that's all tricked out ready to hit up some of the big events in 08.
One side is KHS the other side Free Agent.
According to Dale Holmes, Free Agent BMX World Team Manager, you can look out for Free Agent to make some BIG noise in 2008.
---
FLY'S MOSES JOINS SUPER X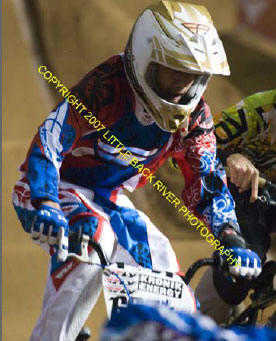 This past weekend at the NBL's Blue Ridge National race in Lexington VA, FlyRacingbmx.com's Leroy Moses made his pro debut in Elite open. He finished 2-2-4 in the motto's and third in the semi to make his first pro main finishing third. Sunday came and Leroy could not avoid the carnage in the semi and did not transfer out but on a positive note, he did win his first pro moto.
Leroy would like to congratulate his former trackstarsbmx.com teammate Travis Jurrell for his first pro win Saturday, Travis is also in his rookie season. Thanks to all that have supported him thru out his 9 year quest to turn pro.This only goes to show that when you set goals (as a 8 year old rookie) and you work hard at it they can be achieved.
Leroy would like to thank a few folks that helped along the way from rookie to pro with all the move up points in between. Ray at flyracingbmx.com, Kronik energy drink, Little back river photography,VABMX.ORG, Todd Hines@ HBR, Joe at trackstarsbmx.com, the Kincheloe family,Chad@powers bike shop, Cliff Santiago,Tino Morris, Joel Clark (undercover trainer) Bob T and everyone at the NBL.
---
---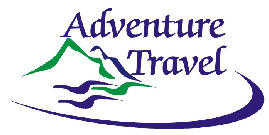 U.S. Based Travel Package To 2008 WORLD BMX CHAMPIONSHIPS
MAY 28 - JUNE 1 2008 IN TAIYUAN, CHINA
AIRLINE TICKETS THROUGH AIR CHINA
Travel Schedule IN - LEAVE LOS ANGELES MAY 25 AT 1:40 AM, ARRIVE BEIJING 5:20AM-MAY 26, LEAVE BEIJING 7:20 AM –MAY 26, ARRIVE TAIYUAN 8:30 AM
Travel Schedule OUT - LEAVE TAIYUAN JUNE 2 AT 930AM ARRIVING BEIJING 10:40AM LEAVE BEIJING 9:00PM ARRIVE LOS ANGELES 6:00PM SAME DAY
(We do have a LONG layover in Beijing on the way out. We are looking for a city tour you can purchase, if you wish.)
Air Pricing - Price for each airline ticket is only $1472 each.
Land Pricing - The price for each person is only $940 (Two persons in each room). Includes hotel, meals and bus transfers. the USA host hotel is Shanxi Yingze Hotel. Each room has two twin beds, in room safe and a mini bar. the hotel has a shopping center, a sauna, a beauty shop, dance hall, medical treatment and health center, and a swimming pool. The hotel has several Chinese and Western restaurants, serving Yue, Chaozhou, Huaiyang, Jing and Shanxi cuisine as well as western and German food. Pricing includes meals, 7 nights accommodation, airport pick up and transfers between the hotel and the venue.
Deposits and Payments - A $200 deposit is due before Feb. 10th. Your deposit is fully refundable until Feb. 10th. The balance is due MARCH 31. Trip cancellation insurance is highly recommended.
Passports and visa's are required, we recommend CIBT Visa Service, @ www.cibt.com
Adventure Travel - 253-531-1757 - Email gellis@advtvl.webmail.com
---
---
Today's BMX Racing News - Wednesday, January 16, 2008

Round 3 and 4 of the European Championship 2008
ONE KENDA press release
Round 3 and 4 of the European Championship for Junior/Elite Men and Women were held in Zwolle, the Netherlands.
A new year, new rounds, new chances.
Again these rounds were indoor races.
For riders of team ONE/Kenda it turned out to be a weekend with ups and downs.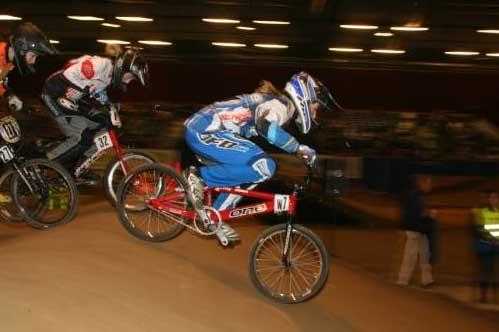 In Junior Women, Joyce Seesing from Holland was looking fast and very promising for the main, just like Toms Skujins from Latvia in Junior Men.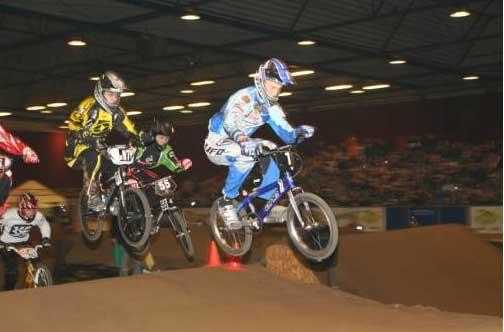 In Elite Women all looked well in the motos, but no main for the ONE/Kenda girls on both days.
In Elite Men, Arturs Matisons and Maris Strombergs dominated all weekend. Emilio Falla from Ecuador was on his way to south America for races there.
A bad start in the semi on sunday, left both Maris and Arturs out of the main.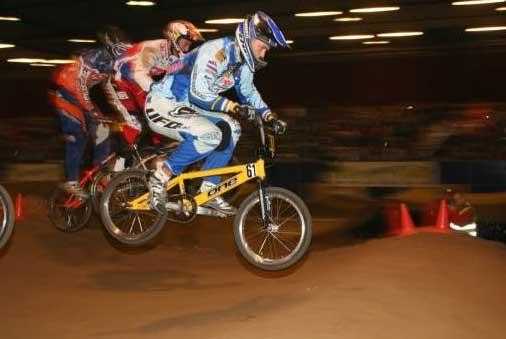 What caught peoples attention – once again….the domination of ONE's Latvian riders in Junior and Elite Men, with a super strong Maris Strombergs, the new bike of Joyce Seesing painted in Ducati red, and ONE's new UFO race gear.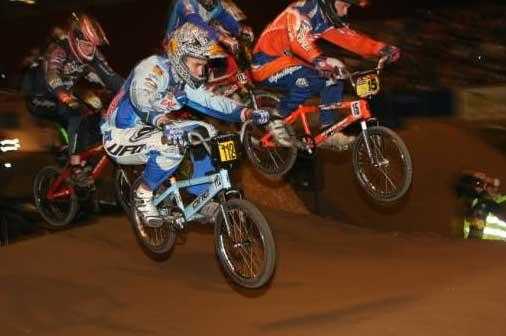 Results:
Elite Men
Saturday: 1. Maris Strombergs LAT 2. Arturs Matisons LAT
Junior Men
Saturday: 3. Toms Skujins LAT
Sunday: 2. Toms Skujins LAT
Junior Women
Saturday: 3. Joyce Seesing NED
Sunday: 8. Joyce Seesing NED
Click here to view the RANKING of 2008 and here to see how Maris and Arturs did at the Christmas Classic: Day 1 and Day 2 .
Photos: Cyrille Olive
Next race, round 5 and 6 in Denmark (Feb. 2/3)
ONE KENDA is sponsored by:
Pinch Gear, BOMBSHELL, SHIMANO, BOLLÉ, SNAP, THE Industries, WLM DESIGN, UFO, THOMSON, FIZIK, ODI, KENDA, NIKE and BMXPIX
---
World Cycling Centre BMX trainee takes UCI points lead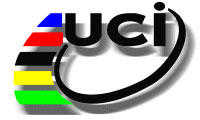 UCI News Release
UCI World Cycling Centre (WCC) trainee Samantha Cools has taken the provisional lead in the overall UCI BMX ranking following two victories in the United States.
The 21-year-old Canadian pilot won these races at the NBL Christmas Classic in Columbus, Ohio, on December 27th and 28th. In doing so, she overtakes the New Zealander Sarah Walker in the overall ranking and conserves her lead in the North American ranking.
The Christmas Classic is a UCI race that forms part of the North American Championships. The UCI points won by Samantha also help her in her bid to qualify for the Olympic Games in Beijing.
Samantha, who has been training at the UCI's WCC in Aigle, Switzerland, since October 2007, won the North American ranking in 2007 and finished the season 6th in the international standings.
Her next main goal will be the two rounds of the North American Championships that take place in Florida, in March.
---
Coming soon for 2008...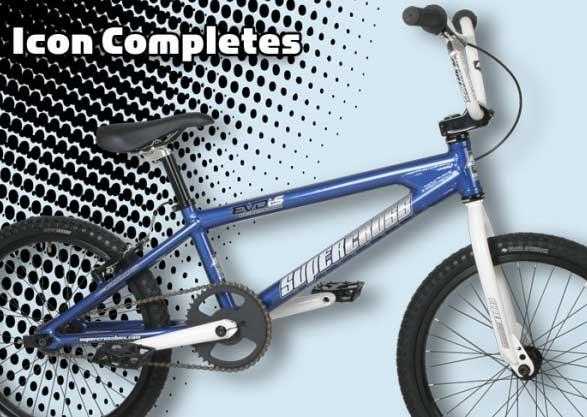 European championships/Rounds 3 & 4 - Zwolle, Netherlands
Jr./Elite Results For Sunday's race
Elite Men (84 Riders) - 1 Michal Prokop/CZE 2 Ivo Lakucs/LAT 3 Martijn Scherpen 4 Thomas Allier/FRA
5 Sebastian Kartfjord/NOR 6 Thomas Hamon/FRA 7 Pablo Gutierrez/FRA 8 Rob Van Den Wildenberg/NED
Elite Women (25 Riders) - 1 Shanaze Reade 2 Laëtitia Le Corguille/FRA 3 Anne Caro Chausson/FRA 4 Jana Horakova/CZE
5 Romana Labounkova/CZE 6 Lieke Klaus/NED 7 Cyrielle Convert/FRA 8 Aurélia Don
Junior Men (66 Riders) - 1 Vincent Pelluard/FRA 2 Toms Skujins/LAT 3 Andre Aquiluz/NOR 4 Jan Svub/CZE
5 Jordan Lajmi/FRA 6 Jelle Van Gorkom/NED 7 Kenny Smulders/NED 8 Joris Daudet/FRA
Junior Women (19 Riders) - 1 Eva Ailloud/FRA 2 Gaëlle Charpentier/FRA 3 Elke Vanhoof/BEL 4 Dana Sprengers/NED
5 Manon Valentino/FRA 6 Armonie Sailly/FRA 7 Esther Leroy/FRA 8 Joyce Seesing/NED
Jr./Elite Results For Saturday's race
Junior Women - 1 Eva Ailloud/FRA 2 Manon Valentino/FRA 3 Joyce Seesing/NED 4 Dana Sprengers/NED
5 Gaelle Charpentier/FRA 6 Karine Chantelot/FRA 7 Armonie Sailly/FRA 8 Magalie Arnoix/FRA
Junior Men - 1 Vincent Pelluard/FRA 2 Andre Fossa/NOR 3 Toms Skujins/LAT 4 Jan Svub/CZE
5 Jordan Lajmi/FRA 6 Robiin VD Kolk/NED 7 Simon Marchal/FRA 8 T. Biknius/LTU
Elite Women - 1 Shanaze Reade/ENG 2 Aurelia Don/FRA 3 Laëtitia Le Corguille/FRA 4 Sam Cools/CAN
5 Amelie Despeaux/FRA 6 Anne Caroline Chausson/FRA 7 Vilma Rimsaite/LTU 8 Romana Labounkova/CZE
Elite Men - 1 Maris Strombergs/LAT 2 Arturs Matisons/LAT 3 Moana Moo Caille/FRA 4 Michal Prokop/CZE
5 Sifiso Nhlapo/RSA 6 Martijn Scherpen/NED 7 Ivo VD Putten/NED 8 Arnaud Dubois/BEL
For details and photos, please visit the UEC Web Site at http://www.uecbmx.com
---
ABA Silver Dollar National - Reno, Nevada - Day One

AA Pro (29 Riders) - 1 Danny Caluag 2 Khalen Young 3 The Hermanator 4 Bubba 5 Warwick 6 Tyler Brown 7 Josh Oie 8 Joe Szurek
Girls Pro (10 Riders) - 1 Dominique Daniels 2 Stephanie Barragan 3 Terra Nichols 4 Toni Rude 5 Courtney Tomei 6 Cassie Bushnell 7 Stephanie Higgins 8 Layne Nyhaug
Vet Pro (17 Riders) - 1 Kenth Fallen 2 Dale Holmes 3 Chad Street 4 Jason Carnes 5 The Maniac 6 Dave Bittner 7 Eric Dyer 8 Terry Tennette
A Pro (52 Riders) - 1 Denzel Stein 2 Jason Bennett 3 Liam Phillips 4 Derek Sipkoi 5 Jason Morris 6 Scott Erwood 7 Kris Fox 8 Gavin Lubbe
Pro Cruiser (12 Riders) - 1 Paul Lange (New Redman Ride for Paulie) 2 Tyler Brown 3 Danny Caluag 4 Kenth Fallen 5 Adam Treadwell 6 Joe Sowers 7 Billy Anderson 8 Michael Hughes
---
Thanks in advance for your help !!! GEAR board , parents and kids of EPBMX!
---
Announcing the formation of the new team TWENTYH.COM/MOTOFILLER/CLAYBORN

The Gator Nationals in Oldsmar, Florida will be the debut of this new team. Although we must walk before we can run, the team has aspirations of growing into one of the strongest ABA bike shop team over the next five years, but we are starting off small to begin with.
This team will also promote the twentyH.com brand (a spin-off of HRPdesigns) as it enters the BMX marketplace. However, the team is mainly about friends having fun and racing BMX with all of our other friends from across the country. Please look for us under the black tent with Team Moto Filler on the upper skirt and stop by and say hello. Who knows, we might have a sticker or two that needs a new home.
The first generation of this team will include the following riders as most of us make the move to the ABA side of racing. Our schedule of events will be mostly in the southeast with stops in Oldsmar, Desoto, Spartanburg, Atlanta, and Orlando. You might see a 20H jersey in Tulare and Reno in the fall, if things work out. We plan to add other riders as the season goes on, but for now it is as follows:
David Loftin (8 expert)
William Hill (12 expert)
Wellington Cannon (28-35 intermediate)
Andy Uptain (36+ intermediate, and 36-41 Cruiser)
Stuart Harrison (36+ intermediate, and 36-41 Cruiser)
Taylor White (36+ Expert)
Ken Spring (Vet Pro)
This team could never have become a reality without the help and support of some wonderful sponsors and co-sponsors. Much respect and appreciation go out to the following: all the riders of Team Moto Filler, BDS Architects, Richard at Clayborn bikes, Ray at FLY, Ryan at Sunringle, Jon and Greg at SNAP, John at Kovachi Wheels, Mike and Greg with Atomlab, Randy at GroupD, Maxxis Tires, HRPdesigns, and last but not least the family's of our riders.
---
---
---

Factory Redman and Amanda Geving join forces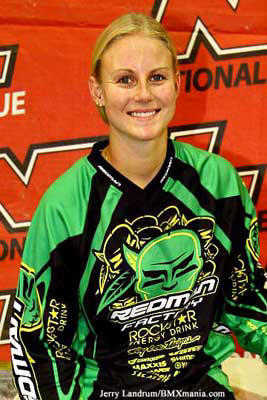 Amanda Geving, a three year lady pro and Olympic hopeful has joined forces with one of the most impressive Bike manufacturers and championship caliber race teams in BMX history….Factory Redman.
Amanda brings a very impressive amateur resume from winning many ABA, NBL and World championships and titles.
Since turning pro Amanda has won the ABA PRO WOMEN'S WORLDS TITLE, the UCI'S JR WOMEN's CRUISER TITLE and three times runner-up NBL champ.
Amanda is also in pursuit of the OLYMPIC DREAM trying to make it as the youngest male or female on the USA BMX OLYMPIC TEAM.
At this point after (10) qualifying races for the two women's OLYMPIC SPOTS Amanda is currently leading the USAC points chase by (6) points over the second place rider.
Along with the points lead for American women going to the Olympics,
Amanda leads first place team USA women in the nations points, for the right to send two women to the Olympics. Both the women and men are in first place at this point in the race schedule for the right to send five riders total to the Olympics.
Amanda's first race under the Redman colors was the UCI/Christmas Classic. And, while it wasn't the finish Amanda was looking for, having just come off an ankle fracture and sprain...she won't complain either.
Defiantly look for Amanda and her new Redman pro frame in Arizona at the upcoming UCI Points race
Factory Redman and Amanda have many fantastic sponsors that have taken care of the riders needs. Amanda would like to take this opportunity to thank all of the sponsors that have stood by her in a very rough time in her career.
ROCKSTAR, FIRE MAGIC, TLD, ODI, AC, MAXXIS, SUN RINGLE, TEKTRO and TANGENT
---
Canadian Bike Supply is gearing up for an exciting 08 season

Going green is the theme as Canadian Bike Supply is recycling a few names from Canadian BMX of the past.
Coming back to the sport is former Kuwahara and Free Agent Rider and a former seven time #1 Canadian Pro 'Black Jack' Hutton, Former Factory Norco and GT Pro Pete Zablotny, Former Factory Norco Freestyler Terry Lipovski and Former Hutch rider Jeff Ingram.
A big pick-up after the ABA Canadian Grands was top expert and local legend Leonard 'Sarge' Kilgour.
"We're so excited to finally get things rolling this season. There's so much history in Canadian BMX and to get these guys back into the sport is simply great for the sport of BMX."
Says Ron Forbes. " We really couldn't have got this going without the support of FLY Racing and Formula Bicycles.
They've both come up huge to support the team this season. Its great to be associated with companies who care so much about the sport.
We're really excited to be riding the 08 Formula Nucleus frames and the new Formco forks are amazing. We really want to thank Ray at Fly and Lee at Formula for the huge support."
Canadian Bike Supply is your Canadian FLY dealer and is really excited to be able to add Formula Bicycles and Formco Forks to their line-up this season.
http://www.canadianbikesupply.com/
---
Redman Factory/South Africa

Redman Factory team has hit the shores of South Africa, offering 4 of SA's top riders an offer they could not refuse.
Dylan Eggar (W #4) 8 year Boys. - First time Dylan attended a World Championships was in Sao Paulo Brazil 2006 where he achieved a W #4 plate, in the 7 year boys class. He then went on to achieve a number in Canada 2007, W #6 plate in 8 year boys class. Dylan has been SA #1 for the past 3 years.
Kayla Eggar (W #6) 10 year Girls. - First time Kayla attended a World Championships was in Sao Paulo Brazil 2006 where she achieved a W #2 plate, in the 9 year girls class. She then went on to achieve two numbers in Canada 2007, W #4 plate in 10 year girls class and a W #6 plate in the 12 and under girls cruiser class. Kayla is currently ranked #2 in South Africa, racing against the boys.
Eugene Eggar (SA #1) 30 to 39 Cruiser. - The manager, father and JUST loves BMX.
Jonnathan Chiselett (SA Elite #1). - Jonnathan's BMX career stretches back some 20 years or so. His first Momentous achievement was in 1998 when he achieved his W #6, as a 15 year boy in Australia.
His next in 2004 when he was ranked SA's Elite #1. Jonnathan has been employed by SABMXC as our active National coach. He is currently ranked SA Elite #1.
<![if !vml]>

<![endif]>
We (Dylan, Kayla, Eugene and Jonnathan) would like to thank everyone who has made it possible for us to be a part of such an awesome team.
---
Fire Magic Premium Grills named "Official Outdoor Grill" of the 2008 ABA National BMX Series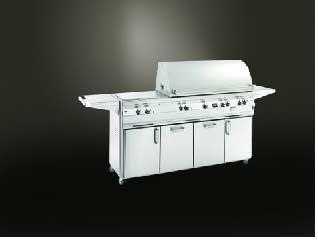 Gilbert, Arizona —December 8, 2008— The American Bicycle Association (ABA) is proud to announce an exclusive association with Fire Magic Premium Grills to be named as the "Official Outdoor Grill" of the American Bicycle Association. The association will begin with the ABA Silver Dollar Nationals of BMX (Bicycle Motocross) held annually in Reno, Nevada. This year's event will draw thousands of riders from around the world to compete for national standings. Fire Magic will launch its new affiliation by promoting the "Fire Magic Cook-Off Series" at selected ABA National events.
American designed and manufactured, Fire Magic grills have set the gold standard for outdoor cooking for more than 70 years now. An outdoor grill from its inception rather than an indoor appliance simply remade into a grill, Fire Magic grills are built to perform season after season and as such carry a lifetime warranty on many key components and a 15-year warranty on almost every other part. Truly, these are the finest grills in the world, combining sublime craftsmanship, superior technology and the very latest innovations in outdoor cooking technology. "A Fire Magic grill, however, creates more than great food", explained Jerry Scott, Vice President of Marketing for The Robert H. Peterson Company, Fire Magic's parent company. "As the essential centerpiece of a family's outdoor lifestyle, Fire Magic creates great moments together. We call it The Magic Hour and it's why we saw such a tremendous opportunity in teaming with the American Bicycle Association and the great family sport that is BMX racing."
The sport of BMX is growing and building a great deal of interest as it prepares for a worldwide coming-out party of sorts with inclusion at the 2008 Summer Olympic Games. "Fire Magic is an exciting new sponsor for the ABA and our National Event Series in 2008," said BA Anderson, Vice President of the ABA. "We are very proud that Fire Magic Premium Grills has chosen to promote its products with the ABA members and the sport of BMX."
The Fire Magic association means greater rewards for all the ABA older cruiser and expert classes. Riders in the selected classes will now not only be racing for National Rankings, they will also be competing for a Fire Magic Premium Grill. Top riders in each class will win a Fire Magic grill, details of the promotion will be listed in the next BMXer magazine. In addition to the top riders in each class winning a Fire Magic grill, Fire Magic will also be promoting the "Fire Magic Cook-Off Series" at selected ABA National events with the winner of that contest also receiving a Fire Magic Grill.
The ABA has made recent strides in adding both new sponsors to the sport of BMX, but also in establishing new marketing objectives that will increase awareness of the sport. New sponsors have become marketing partners that reach beyond the confines of previous affiliations. With BMX emerging as the newest of Olympic action sports in 2008, the ABA is poised for tremendous growth.
About The Robert H. Peterson Company - The Robert H. Peterson Company is committed to enhancing the quality of life through the manufacture, assembly and distribution of high quality barbecue grill products for the home. In support of this commitment, the company is committed to constantly improving the quality of its products, dedicating significant resources to the research and development of new products, and offering products that are safe and environmentally friendly. For additional press information about The Robert H. Peterson Company, Fire Magic Premium Grills or any of the Company's other quality family of products, or to find a dealer in your area, call (626) 369-5085 or visit www.rhpeterson.com.
About the American Bicycle Association - ABA (American Bicycle Association), formed in 1977 and headquartered in Chandler, Arizona is "The Sanctioning Body of BMX"©. The ABA organizes BMX racing for boys, girls and adults, nationwide and Canada. With 60,000 active members, 274 racing facilities and a 27 event-national race schedule; ABA is the largest promoter of action sports. For additional press information about ABA, the sport of BMX, ABA events or Professional racers, call bonspeedMedia; (714) 666-1999. To find races in your area or view the national event schedule, visit www.ababmx.com
---
---
Grant White Hired As National Coach For British Cycling BMX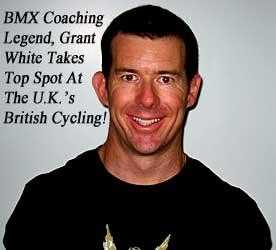 Grant White, former highly successful coach for BMX Australia and the national coach during New Zealand's 2007 outburst that saw both Sarah Walker and Mark Willers take BIG wins on the UCI International Circuit, is leaving the Kiwi Kamp and heading over to one of the most professional cycling organizations in the Wide Wide World Of Sports.......British Cycling. Nuff from us, Herrrrrrrre's GRANT WHITE, one of the world's greatest BMX coaches! - BMX Mania
BMX Mania - You are leaving your position as National Coach for New Zealand, correct?
Grant - Yes I officially resigned from the NZ National Coaching position in November 2007, and finished up everything with BikeNZ on December 31st 2007. I felt it was time for a fresh challenge in life for myself. I had three great years with the New Zealand athletes and association......and together I feel we accomplished quite an amount.
New Zealand is currently in healthy positions in the Nations Rankings for the Olympics, and one would assume that they'll qualify athletes for the Olympics in both the male and female classes. I've wished the NZ program and athletes all the best for the future, and would love to see the progression in NZ BMX continue.
BMX Mania - Will you be continuing to coach individual riders?
Grant - The only individual athletes which I'll be coaching in the future will be from Great Britain. In the initial stages I'll be working closely with the five key British BMX athletes only, which are; Shanaze Reade, Joey Gough, Kelvin Batey, Marcus Bloomfield and Liam Phillips.
BMX Mania - Does this take effect immediately?
Grant - Yes I am currently working as part of the Great Britain team, however up until the end of January I am doing this from Australia whilst my visa for the UK is taken care of. I should land in the UK before January is out, and then it'll be full steam ahead!
BMX Mania - Any comments on this transition?
Grant - It's well known that Great Britain has one of the most professional cycling programmes in the world, with an amazing amount of talented individuals throughout the team. I am very excited about getting the opportunity to work within this programme, and look forward to building both internationally successful individual BMX athletes, and a sound British BMX development programme. My passion in life is BMX coaching and training, and I feel very privileged that I have received the opportunities that I have in this field. Looking forward to a massive 2008 for BMX!
---
News Release From British Cycling: New BMX Coach For GB Team

Australian Coach Grant White is to join the Great Britain Cycling Team to provide coaching for BMX riders in the crucial period running up to the Beijing 2008 Olympic Games.
Grant will arrive in the UK at the end of January to formally begin his work with Shanaze Reade, Joey Gough, Kelvin Batey, Marcus Bloomfield and Liam Phillips. He will be working closely with the BMX programme manager, Keith Reynolds, as well as the GB Team's specialist sprint coaches and English Institute of Sport (EIS) support staff.
Grant, 35, brings to the role 18 years experience of coaching in BMX and 4-Cross. He has worked extensively with both the Australian and New Zealand national BMX teams and has coached a number of World Championship medalists. As well as a strong coaching background, Grant was a successful professional BMX rider in his own right, spending much of his career racing in America. He is qualified under the Australian Institute of Sport system as a Level 3 BMX coach and Level 1 strength and conditioning coach.
The GB Team's Performance Director, Dave Brailsford, explained the background to Grant's appointment: "We have been looking for somebody with the skills and experience to pull together and co-ordinate all the available resources and expertise within British Cycling and the EIS to not only further our BMX performances at elite level, but also to push forward further development of our broader BMX programme. I have watched Grant White's work closely over a period of time and have been very impressed with his ability and his willingness to take on an innovative coaching approach which fits closely with the coaching ethos in the GB Team."
Grant White says: "I am very excited about coming aboard one of the leading cycling programmes in the world and really looking forward to building some great British BMX performances in a world class environment."
---
Crupi-Fly-Europe Hits The Track With HOT New Web Site!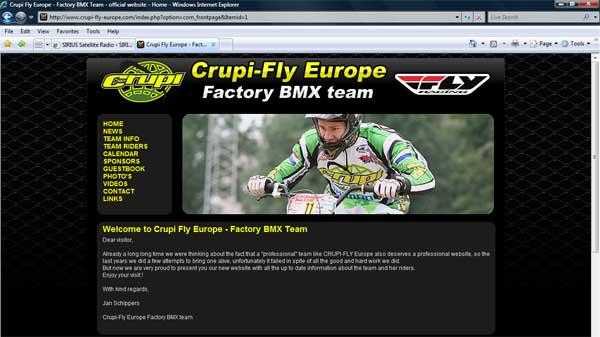 Whaaaaaaa? - Check it OUT, sports fans! One of the HOTTEST teams in Europe, who knows.....Maybe the world, has launched a super cool web site (www.crupi-fly-europe.com) where you can get your fill of what's happenin' with the Crupi Kidz and their European Exploits.
HOT NEWS! - Right now, the big news for Crupi-Fly-Europe is the Injury Status of two of their hottest riders, Elite Men's Rider, Jelle Van Gorkum (REALLY messed up shoulder) and 13 Boys, Jordy Schippers (Broken wrist) and Liam Phillips/Very Elite Man, makin' his way to Monterey, California to live/train with JoeyBradford.com for most of the 2008 season. Nice! Monterey and the Bradford's has got to be one of the bestest places to be to get your BMX game on.
The Last Word - Anyway, it's an awesome site, check it out, and watch out for Crupi-Fly-Europe, they are makin' WAVES in BMX!
---
Redman Junior Development Program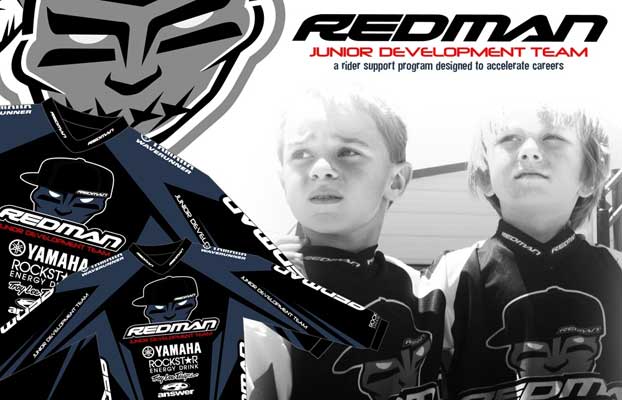 After many requests, Redman has started a JR. Development Program - JOIN NOW
LOOKING TO JUMP START YOUR CAREER AS A SPONSORED RIDER?
The Redman Junior Development Team is designed to initiate upcoming riders into the world of being a sponsored athlete. By joining our program you will become part of the biggest program in BMX and will have access to knowledge, status, and confidence that normally takes riders years to achieve. From team meetings to hanging with the "factory" guys, the riders will be placing themselves in an environment that has been developing national titles for the last ten years. Our program is proven and there is no better place than with the Redman Junior Development Team to jump start your sponsored career and improve as a racer.
BENEFITS & FEATURES
* Rider becomes part of a nationally recognized BMX program
* Increased chance of being recognized by high profile factory teams
* Confidence by being part of something established and respected
* Team meetings at all major events to discuss tactics and strategies
* Pit area for team members and families to relax at all major events
PROGRAM OPTIONS AND PRICING
OPTION 1 - WARRIOR – Call for pricing
Rider receives custom designed Redman Jr. Development Team jersey, Troy Lee Designs pants, pair of Troy Lee Designs gloves, a Redman t-shirt, and 15% of all Redman gear and clinics.
OPTION 2 - CHIEF – Call for pricing
Rider receives Redman frame, custom designed Redman Junior Development Team jersey, Troy Lee Designs pants, pair of Troy Lee Designs gloves, a Redman t-shirt, Redman hat, and 15% of all Redman gear and clinics.
ABOUT REDMAN BIKES
Redman bike's is all about the Mike Redman Experience, combining his knowledge of the industry with a vision for the future. For years he has been developing national champions and is still recognized as the best trainer in our sport. Mike is also the "voice of BMX", announcing at ABA and UCI events across the globe acting as an ambassador for his riders, company, and sport. Redman knows what it takes to make it to the top, let him take you there…
Contact - REDMAN MOTO GROUP - 702-222-0993 - craig@redmanbikes.com
---
---
DaleHolmesDotCom Gets Major Re-Work

One of the greatest BMXers of all times, Dale Holmes, has one of the coolest BMX web sites of all time, and his site as had a BIG TIME overhaul.
New Layout! Daily updating on all BMX stuff all around the world! Cool BMX photos! AWESOME Old Skool BMX Videos!
Check out the BMX craziness from DaleHolmes.Com!!!!!
---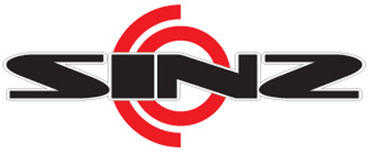 SINZ Alloy CNC Lite and Chromo Lite Rear Cogs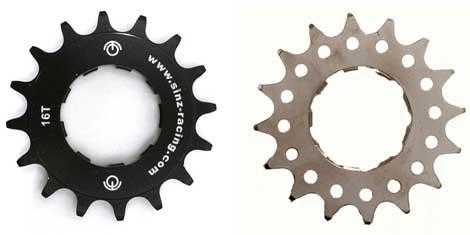 SINZ is proud to announce the arrival of the all Alloy CNC Lite and Chromo Lite Rear Cogs. The Alloy CNC Lite cog is an ultra lightweight cog for the younger crowd and is available 14-18 tooth sizes. Each cog has a beautiful black anodized finish with laser etched logos.
The CNC Lite cogs have a built in spacer that helps make gear changes a cinch and gets your gear spaced correctly without needing any additional spacers. The detailed Cnc'd work on the cogs makes them look trick. The CNC cogs are up to 2 ounces lighter than a standard rear cog. Weights -14 Cog- .06 OZ, 15 Cog- .07 OZ, 16 Cog- .08 OZ, 17 Cog- .09 OZ, 18 Cog- 1.0 OZ The Chromo Lite cogs are a HI end version of our original chromolly cogs.
A super lightweight Chromolly cog, with a built on shoulder lets you forget about needing a cog spacer. Cogs are sold in individual sizes 13-18. The Chromo Lite cogs are up to 1 ounce lighter than a standard rear cog. Weights- 13 Cog- .07 OZ, 14 Cog- .09 OZ, 15 Cog- 1.0 OZ, 16 Cog- 1.1 OZ, 17 Cog- 1.3 OZ, 18 Cog- 1.5 OZ
Both versions of the SINZ cogs are in stock now and available at better bike shops world wide. Each size rear cog is sold separately. The Alloy CNC cogs come in Anodized Black in every size from 14-18 with a suggested retail of $39.99 each. The Chromolly lite cogs come in a natural finish, sizes 13-18 with a suggested retail of only $14.99 each.
For more information on the full line of SINZ Racing Components, please visit www.SINZ-Racing.com. SINZ has a full product line for riders of an affordable line of high quality BMX race products. SINZ offers products in a wide variety of sizes and colors as well as having different price levels of components. From inexpensive quality parts to full on Pro race level items, SINZ has something for everyone.
---
Steels Wheels Supercamp!
Supercamp in coming to the Steel Wheels Indoor BMX Track!
Bubba Harris And The Gang are makin' the scene at one of the hottest indoor tracks in the midwest, and you WILL want to be there.
The Supercamp Weekend is the weekend of January 19 & 20th, 10-3pm each day.
$100/rider covers clinic and lunch both days.
Participants can sign up for just one day too.
For more info, please email, Jackie Althizer, at indianabmx@comcast.net .
---
Factory Felt NBL Christmas Classic Race Report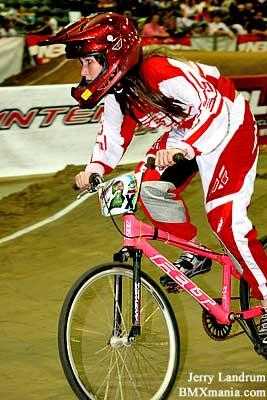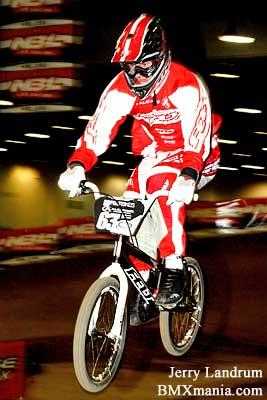 The Christmas Classic is definitely one of the most anticipated and exciting races of the year and this year was no exception. With the recent signing of AA Pro Phil Delizia and the turning of Super X Pro Matt Kelty this race had added meaning.

I spoke with Philly D just before he went up for his first moto as a AA Pro and he was full of energy and excitement. This is what he worked so hard to achieve and now he was about to line up in the gate with his childhood idols. When the gate dropped Phil seemed to be gliding on air, he was so pumped I don't think he even remembers how he got to the finish line in first place....ha. Not a bad start to a AA Pro career. The rest of the weekend went well but unfortunately the mains were not in the cards this time around. I'm sure it won't be long before we see Phil on the podium.

Matt Kelty thought long and hard on the off season on whether to turn pro for the Christmas Classic he obviously made the right choice. On day#1 the who's who of Super x's were on hand and Matt made his presence felt by winning his motos and making the main. The gate dropped on his first pro main and he found himself in the middle of the pack coming out of turn one. The track was narrow and made for difficult passing. Matt finished respectable fourth and walked away knowing he was the fastest rider on the track. Day#2 saw Matt matched against some tough competition and he was up for the task taking 2 of 3 moto wins and launching him into the main once again. This time it was a little different with Matt holeshotting the field and never looking back. Congrats Matt on your first pro win!

Joey Albright Super X was also on hand this week and looked really fast in his qualifiers until he met the face of one of the Tom Ritz rollers. Joey took and bad hit to his ribs and was having a hard time breathing so he pulled himself out of the competition for the weekend. I'm sure it's gonna take more than a couple of bruised ribs to keep Joey out for long. Get well soon !

The Felt amateurs were on hand this week and they had their hands full with the injection of talent coming in from the westcoast and abroad. Brandon Murphy 15x/cr was flying on his Sector XXL all week and was able to come away with main finishes on both bikes. Newly acquired Austin Loebe 14X/Cr also looked fast and had his hands full with Lucas Bustos and Jordan Ryan. Austin podiums both days on both bikes no easy feat with the stacked 14X crowd on hand. Dylan Perez 14X/Cr looked great on his newly built Sector Pro and was shaking off the winter cobb webs and had some exciting laps. Dalton Simons 13X looked good all week making mains both days. Cody Lynn 12X made his main on day#1 and looked fast in motos on day#2. Recently signed Andrew Townsend 12X/Cr was also flying all weekend taking thirds on both days. Jeremy Smith 10x/cr was unstoppable all weekend with perfects in his class and in cruiser he was matched with Moore and Blevins and placed 2nd on day#1 and ran away with! it on day#2. TJ Albright 8X took thirds all week in his 20' and is just starting to shake off the rust for the upcoming season.

The lovely ladies of Felt fared well this week with some impressive wins starting with Carly Veeder 15G winning day#1 and unfortunately crashing on day#2. Alaina Henderson 15G picked up where Carly left off by winning day#2. Tiffany Bontorno 13G was impressive all week with a perfect on day#1 and a come from behind squeaker on day#2.

All in all it was a good Christmas Classic with outstanding talent from both coasts. As a team we didn't fare well on day#1 with a 83pt day and fifth place. But day#2 went great and everyone pulled it together for a 92pt day and third place.

We are excited to welcome some new sponsors for the 2008 season and would like to thank Felt Bicycles, Alex Rims, SC Actionsports, Snap Products and go checkout the new line of Fly Wear for 2008! See you guys down the road.

Carlos Perez - TM Factory Felt
---
Cools takes the top spot on the UCI Charts again!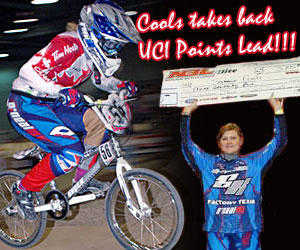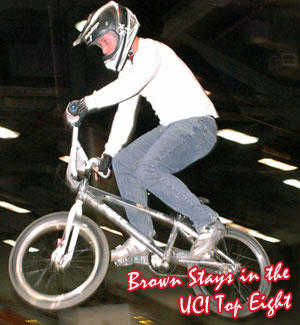 The NBL Christmas Classic is a great race that everybody should get to go to.

This year it was extra special for us here at Supercross as Sammy made a quick trip home from Switzerland to have Christmas as home and then made the quick flight to Columbus and proceeded to dominate the Womens Elite Class once again by taking the wins both days in the UCI Elite competition.
Sam who was only 1 point behind New Zealand's Sarah Walker going into this race came out with a significant lead and is not only the North American UCI Points Leader but now has the UCI Overall points lead as well. This is an important year for UCI point qualifications as it leads up to the Olympics and as her performance shows, Sammy is quite comfortable on her Supercross EVO S7 signature model frame and Pro LT forks and is looking forward to the rest of the season as she heads towards the Olympic dream.

Also at the Christmas Classic was the talk of the weekend, 'Downtown' Tyler Brown. While not an official part of the Supercross family, Tyler showed up repping his new sponsor Hurley by wearing Hurley jeans and T-shirt while racing the UCI events and was looking faster than he has in years. Some said it was the sponsorship search psyche, while Tyler said it was the confidence he had in his new Supercross EVO iS Frame and Supercross Pro Fork.
Tyler caused quite the controversy this weekend by wearing the uniform of privateers world round with his Hurley jeans and T-shirt, but was looking seriously Factory fast making it into the Semi's both days and managing to add a few more points to his tally to keep him in the top 8 of North American UCI points to try to get a shot at a chance at the Olympic Games.

For more information on all our Supercross BMX riders, frames, parts and bikes, cruise on over to supercrossbmx.com for the latest rider news and product updates.

---
---
One hundred and forty elite riders from all over Australia, New Zealand, Hong Kong and Canada will compete in Rounds 4 on Friday night and Round 5 on Saturday morning on the infamous Nerang BMX track.
New Zealand and Australia are aiming to gain valuable national points towards their UCI National ranking to gain more riders in their Olympic teams.
National BMX Champion, Tanya Bailey (Maudsland) heads the women's field while Melissa Mankowski (Moranbah) will see how she has recoveree after injuring her hip at the Beijing test event last August. New Zealand's top rider, currently ranked number three in the world, Sarah Walker will make for tough racing. Previous National Champion, Krystal Cranfield (Gladstone) will he aiming to impress selectors.
The elite men's field see current Oceania series leader, Marc Willers from New Zealand out to secure more UCI points while another top ranked Australian, Luke Madill (Penrith) returns to check his training form. Mountain bike athlete, Jared Graves (Toowoomba) sees this as the start of his progress towards selection and hopes to repeat or better his bronze medal at the Beijing test event if he is selected in the Australian team. Kamakazi (Jimboomba) and Michael "Tiger" Robinson are also expected to make the finals on their home track.
Racing in the junior and Champbikx events will also be conducted as the younger riders prepare for their opportunity at the 2012 London Olympics.
Racing is expected to start as scheduled despite heavy rain on the Gold Coast over the past week. Officials have decided however not the use the pro section of the men's track due to the conditions.
---
Today's BMX Racing News - Thursday, January 3, 2008
CANADA'S TORY NYHAUG RETURNS TO TEAM REDLINE


Back in 2003-2004, TORY NYHAUG made headlines with Redline Bicycles by doubling at the Grands on a bonestock Flight bike – which earned him his first NAG No.1 plate in the ABA. And now after being away for a few years, Canada's fastest amateur and 2012 Olympic hopeful, is back in the red, white and black aboard a 2008 Flight bike.
Redline's Canadian distributor, Ten Pack Distribution, secured the deal after JAY MIRON saw his fellow countryman kick ass at the UCI World Championships.

Talks began right after Victoria, Jay and Tory's father, Greg, are rumored to have struck an agreement while sitting in the penalty box at a local hockey game.

"We are stoked to have Tory back on a Redline," commented Jay Miron. " Tory's One amazing rider and a totally cool guy. We're excited to have the opportunity to support him in his quest for an Olympic medal in 2012"

Tory and his family are happier than ever to return to the team that helped him out in the early days. "I am looking forward to my return to Redline. Hanging out in the Redline pits, with Jason, Bubba and Kim was always a fun time. And I always did well racing a Redline," said Tory.

Nyahug's Redline debut will be Janaury 12 & 13th at ABA's Silver Dollar Nationals in Reno, NV.

REDLINE BICYCLES
www.redlinebicycles.com

TEAM REDLINE is proudly supported by SHIMANO, SUN RIMS, TIOGA TIRES, KOOLSTOP BRAKESHOES and PRYME Safety Gear.
---
Shane Vincent Makes An "Appearance" in Iraq

OK, BMX Superstar (Long time Factory Powerlite, Clayborn & Revtec super fast type racer!) Shane Vincent isn't REALLY back in Iraq, fightin' the Bad Guys, but his presence is FOR SURE there.
Just check out the photo of 40 Something Cruiser Bad Boy, Marine Capt. Stan Horton, and his jacked up, badazz Humvee, with the SHANE VINCENT NUMBER PLATE in the window! (Plate design by BMX Mania Factory Team Member, Kris Lundgren, plate by BMX Mania Plate Sponsor, Johnson BMX Plates! Proud to serve!)
Stan is currently stationed at "Location X" somewhere in Iraq and is proudly flying Shane's plate in honor of his fallen comrade who is currently at home in Oklahoma recovering from SEVERE injuries incurred when he took what should have been a life ending hit from a roadside bomb while serving with the U.S. Army in Iraq.
Shane was preparing at that time to begin entry in to the Army's High Level Athletic Training Program in an effort to take on the challenge of trying out for the U.S. Olympic BMX Team.
Look for Stan AND Shane to hit the track again, somewhere down the road to recovery.
Get Well, Shane! Come on out and Hole Shot some gates with us!
Best wishes to both of you! - BMX Mania
---

ONE/Kenda Christmas Classic Ohio, US
ONE KENDA press release
The Christmas Classic was held in Columbus Ohio, USA.
The Latvians on the ONE/Kenda team made the trip to the US.
Joining Florida's Maliek Byndloss they had great time and even better results.
With the Olympics coming up it is a difficult season to plan your training. So far all goes well as the results show.
The competition in the US is one of the toughest in the world, so a great way for other competitors to see where they are compared to their opponents.
ONE's main sponsor Kenda was present at the event and proud to see their riders do so well.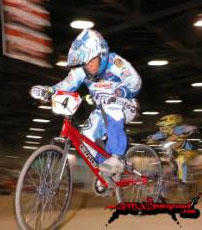 Maliek won all mains in 20 and 24 inch on both days.
Arturs Matisons took 2nd in the UCI Elite Men's race, while Maris Strombergs took 6th.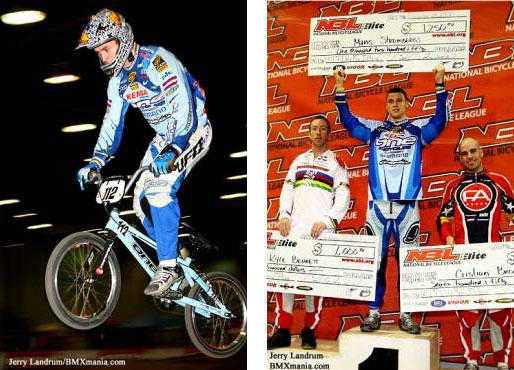 Sunday Maris showed what he is capable of.
Maris took 1st place on the 2nd day in Elite Men for the UCI points.
Photos: BMX Mania and BMX Underground
Next race, Euro Rounds 3 and 4 in Holland (Jan. 12/13)
ONE KENDA is sponsored by:
Pinch Gear, BOMBSHELL, SHIMANO, BOLLÉ, THE Industries, WLM DESIGN, UFO, THOMSON, FIZIK, ODI, KENDA, NIKE and BMXPIX
---
NBL Christmas Classic Race Coverage On BMXunderground.com
Race coverage is being posted on bmxunderground.com from the NBL's President's Cup, Christmas Classic and the UCI Continental Races in Columbus, OH.
Check back as we finish posting the last of the photos.
Today's BMX Racing News - Tuesday, January 1, 2008
HAPPY BMXIN' NEW YEAR
FROM BMXMANIA.COM
Fresh from the fertile imagination of BMX Mania Factory Guy, Christophe Boul, we wish you a
Happy New Year with tons of groovy BMX and may all your gate starts be Hole Shots!
As we enter 2008, BMX Mania rocks in to it's 13th year of existence, and it's been very cool to help bring lots of fun BMX news to the good girls and boys.
2008 IS going to be a little different, with all eyes on the prize, the two Gold Medals at the Olympic Games in Beijing, China in August. So......
Strap on your SPD's and hang on to your helmets all you awesome riders, and we'll be rockin' you with lots more cool BMX stuff leading up to Beijing.
It's going to be a good one, so let's get it started.....Welcome, 2008!
Christophe Boul, 2007 European Cruiser Champion
Just a note to send out some props to the man who did up our "Happy BMXin' New Year" illustration above, BMX Mania Factory Rider, Christophe Boul.
2007 was a BIG year for Christophe as he won his Cruiser Class (He's 40) at the 2007 European BMX Championships in Roman, France.
Christophe had a 'not so good' start and came from way back in the pack to pass one rider at a time and took the win with a near perfect charge down the last straight rhythm section to take the BIG emotional win with the entire crowd going absolutely NUTS!!!!
So, there ya have it sports fans, the man can draw his fool head off AND he can moto a BMX track as well, he's a BMX Legend, for SURE! - BMX Mania
---