NBL COYOTE NATIONAL
GOODYEAR, ARIZONA
JANUARY 25, 26 & 27 2008
This Race Report Page Sponsored By

FRIDAY/UCI POINTS RACE - SATURDAY/NBL WAR OF THE STARS 1 - SUNDAY/NBL WAR OF THE STARS 2
Coyote National Photo Gallery - Double A Marketing NBL Coyote National and UCI North American Event Race Report
Intense/Phantom/On-Trac Wins Inaugural Coyote National!
SUNDAY - NBL WAR OF THE STARS/RACE 2
Racing

Is Cancelled!

Rain Rain Rain!
The NBL rolled in to the the Phoenix, Arizona area for three big races this weekend, and hit on two out of three. Unfortunately for race fans and riders, Sunday's, Day Three ended up as a rain out, with a wet muddy track and a Sunday Forecast that called for rain all day long. The race is cancelled and under NBL Rainout Rules, Sunday's points are determined by the results from Saturday's, War Of The Stars racing action.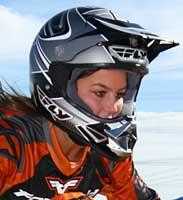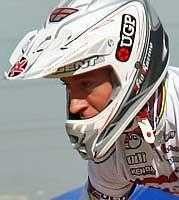 That result was good news for Elite Men's and Women's winners, Kyle Bennett and Alise 'The Beast' Post, who pick up valuable NBL Elite Series National Points automatically. The rule is one of those things that are GREAT if you got the good results on Saturday, and 'not so good' if you're further down the list on the results end of things. The track at Estrella Mountain BMX turned out to be a REAL TREAT! Although it's a relatively new track, the layout and amenities were pretty decent and the track itself was well groomed and pretty tasty. Congrats to the fine staff there, here's to wishing them all the best and thanks for a GREAT national!
And, in an injury update, the following folks had some trubs over the weekend. Dave Miller, the NBL's National Referee, was off to the hospital before the race began with respritory problems, causing him to have chronic shortage of breath, and keeping him in the hostpital all weekend. Get well soon, Big Dave, we miss your smiling face and friendly comments on the track. Matt Pohlkamp tweaked his ankle, and Jason Carnes went down HARD in class action on saturday, resulting in extended hospital time.....NOT good! Get Well Wishes go out to both of those guys as well.
Speaking of Intense Bicycles, here's Promo Guy, Pete Dylewski, who's a moto monster in his old guy class, taking the BIG win, along with some strong moto finishes.

Pete's lookin' good on the track.

"The People's Champ", Denzel Stein made Redline proud with his first NBL pro win on Saturday, AND he took home the money in Jr. Men on Friday. We're givin' him a new nickname, "The Real Deal", and that's the TRUTH!
'What up, Jrich?" Jason Richardson is on the far end of the age curve in Elite, but he's workin' it like a CHAMP! Right now, Jrich is one of the MOST consistant pros in the sport. ABA? NBL? UCI? Jrich IS a playah!
Warwick Stevenson showed up in Arizona in his new Formula uniform. Podge was showin' some good first straight pull, but didn't make the final either day in a TOUGH class of Elite Men.
KOB...Kevin O'Brien, the NBL Marketing & Communications Director. KOB is the man behind all of the cool new promotions that are going on at the NBL. Keep up the good work, Kevin!
Another of the NBL 'New Skoolers', Justin Travis, 1 of 2 National Field Directors, and just like Kevin, is an active rider who still hits the track on a regular basis. This is the Pro Section in AZ.
They call Kyle Bennett, "Butter" cuz he's SO smooth, but they ought to call him "High Explosives" cuz, right now, he is Dy No Mite! KB RULED the 2nd straight rhythm!
Redline's BMX Superstar, Bubba Harris was in attendance, but didn't make the finals. Bubba's comin' back from a REALLY bad injury suffered in Beijing at the UCI SX race, so look out when he's all healed up and back to form!
'Coach Greg', better known as Greg Romero, Elite Master's rider extrordinaire, makin' his way thru the course. Greg brought home a 5th in a STACKED group of 'experienced' BMXers!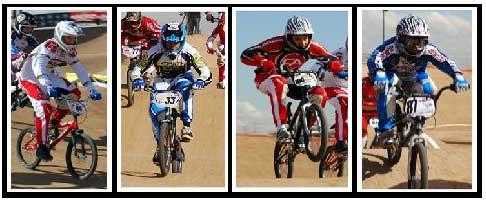 The 2008 NBL season kicked off this past weekend in Goodyear, Arizona. What may now be the premier NBL Track, the Estrella Mountain Track, was a pure test of speed and skill. This track features some of the best berms and rhythm sections that the Pros have raced upon in many years. Things kicked off for the Elite men on Friday with round #8 of the UCI North American Series and then moved on to the first NBL Pro Series event, The NBL War of the Stars, on Saturday. Due to rain the race was canceled on Sunday and NBL rules call for Saturdays results to be doubled. Great news for the Double A Marketing Pros as they finished 1st, 2nd, 3rd, and 6th! Here is how each rider finished up:
Kyle Bennett has had an incredible past season and it looks like he has no signs of slowing down anytime soon. The leader of the USA UCI points will be the only automatic pick to be named to Team USA and get to race at the Olympics. Kyle knows the easiest way to get to the Olympics is to be that rider. Since winning the Worlds, Kyle has been an unstoppable force in the UCI events and currently has a huge lead. On Friday, Kyle added an another important win at the UCI event and has stretched his UCI North American points lead event further. Kyle didn't stop there, as he also won the NBL Elite Main event on Saturday. Chalk up 3 wins for Kyle and a the start of what could be another NBL #1 title and a shot at the 2008 Olympic Games.
Kyle's Sponsors include Free Agent, FLY Racing, UGP, Shimano, GO211.com, Bombshell, Sun Ringle, Kenda, Thomson, KHS, S & M bars, Cyto Sport, ORP, Powerbar, and BMXpros.com
Randy Stumpfhauser looked to be the one rider who was going to dethrone Kyle in Goodyear, as his incredible first strait away power had the fans on their toes watching the race action come main event time. On Friday, Randy lead the main event until a small bobble in the rhythm section cost him dearly. Randy went from 1st to 4th in the blink of an eye. That is how tough Elite/AA Pro racing is. Randy came back to take 2nd on Saturday, giving him 2 2nd places in the NBL record books.
Randy's sponsors include GT Bicycles, Bombshell, ODI, Tangent, Fly Racing, Sinz, Shimano, GO211.com, OGIO, Cyto Sport, Power Bar, SDG, and BMXPros.com
Cristian Becerine is one of the most consistent riders on the Pro circuit and Goodyear was another prime example. On Friday, Cristian was in the UCI Elite Men's main event but placed an uncharacteristic 7th overall. Cristian came back strong on Saturday and wound up 3rd in the main event. 3 great main event scores and another weekend of fun and keeping the fans pumped keeps Cristian as one of the top riders on the Free Agent World Team.
Cristian's sponsors include Free Agent, KHS, Fly Racing, SINZ, Kenda, THE Products, ODI, Sun Ringle, Shimano, Powerbar, Cyto Sport, S & M bars, OGIO, Thomson, and BMXpros.com
Danny Caluag, the 2007 ABA #1 AA and Pro Cruiser rider, joined the Double A Marketing squad just days before Goodyear and to celebrate, he wanted to go out and get another great result. On Saturday, Danny was in the Elite Men's main event and he finished 6th place. Danny was looking for more wins, like the 2 AA Pro wins he took at the ABA Season opener just 2 weeks ago. Danny's next chance will be at the ABA Guthrie, Oklahoma National at the end of this week.
Danny's sponsors include Intense BMX, Bawls Gurana, FLY Racing, Shimano, THE Products, OGIO, SINZ, Go211.com, Group D, Oakley, Thomson, Intense Tyre Systems, Cyto Sport, and BMXpros.com
We all at Double A Marketing want to send out a get well soon to Jason Carnes and Dave Miller.
Double A Marketing is the original and premier BMX Racing Sports Marketing agency in the world. We proudly represent Cristian Becerine, Kyle Bennett, Danny Caluag, and Randy Stumpfhauser. For more information on any of the BMX Pro riders or on Double A Marketing and our services, please visit
www.BMXpros.com
or
e-mail us.

All Photos by BMXpros.com, please contact us to use or purchase hi-res photos
Wins Inaugural Coyote National!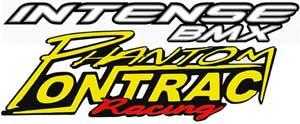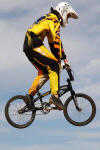 A collection of Intense/Phantom/On-Trac's West Coasters cruised into Goodyear, Arizona this weekend to hit up one of the USA's best tracks, to support Nic Long's UCI efforts and to notch up a couple of team scores. As expected, the Estrella Mountain track was in incredible shape and new manager Justin Hill pulled off some amazing magic in the past few weeks building an announcing tower, scorer's area and even a covered gate starter hut. The track was immaculately groomed, smooth as glass, the turns bowled out beautifully and the Pro section a gnarly treat! If ever you were trapped on a desert island, you'd want Justin on your team!
Saturday morning was chilly with a strong, cold wind that eventually subsided leaving us with a warm, beautiful day for racing. Our ladies led the way with local Arizonan Dominique Daniels muscling her way to easy victories all day to run perfect for the day winning 15 Girls. Shelbi Long also had a dominating performance putting together her own perfect and winning 16 Girls.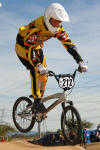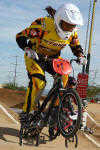 Our little 7X, with the big brown eyes, Shayne Lewis made the trip to Arizona made it worthwhile pulling a win in 7X. Shayne was joined by his teammate the seemingly unstoppable Christopher Blevins who also had a dominant weekend putting together a pair of perfects and victories in both 9X and 9-10 Cruiser. UCI World # 1 Rusty "Razzleberry" Nesvig was relentlessly harassed all weekend by A.J. Hiatt, but in typical "Rusty-style" he does just enough to hold off the competition and pulls off the perfect weekend and the win in 13X class.
"Conman" Connor Fields rolled in from Vegas in the 15X class and rolled his way to a perfect day as well winning the 15X class handily. Nic Long, after a strong showing in the UCI Elite races making semis both days, finished the job winning the competitive 17-18X class, compiling a perfect of his own along the way. Teammate Dale Cushman had a phenomenal weekend of his own competing mostly against his own teammate Nic, taking 2nd in the 17-18X class. And last, but by no means least, one of our newest riders – Matt Tischler put everything together when it counts and wins one of the most competitive classes of the day, the 19-25X class.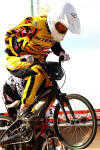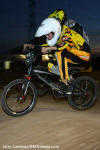 Saturday evening found the Intense/Phantom/On-Trac team winning the double-purse team race with a score of 89, strong for a West Coast race. When Sunday morning came around, even ducks were taking cover as it was the kind of day like Noah warned of. Thankfully, the NBL wasted no time making a safe decision to call off the race before the track was destroyed giving TM Donavon a chance to get the team's awesome trailer out of the mud and on the road. It also means another good day for the team and our great riders, doubling scores for one and all.
Our thoughts, prayers and best wishes go out to several friends who were injured or fell ill this weekend including the NBL's own Dave Miller, Moose Racing's namesake Eric from Nellis BMX and one of our favorite rider's of all time, Redline's Jason "C-Money" Carnes. Get well soon guys and we'll see you and all our friends at another race soon!
The team's efforts couldn't be done without our great sponsors who include Intense BMX (www.intensebmx.com), On-Trac Garage Doors (www.ontracdoors.com), Phantom BMX Products, Fly Racing www.flyracingbmx.com, Bombshell (www.bombshellparts.com), FSA (www.fullspeedahead.com), THE Products (www.the- industries.com), SINZ Racing (www.sinz-racing.com), Intense Tire Systems, (www.intensetires.com ), BMX Jerseys (www.groupdmfg.com), and Scott goggles (www.scottusa.com).
---
SATURDAY - NBL WAR OF THE STARS/RACE 1
Elite Men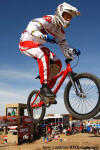 1 Kyle Bennett
2 Randy Stumpfhauser 3 Cristian Becerine 4 Donny Robinson 5 Tyler Brown 6 Daniel Caluag 7 Jason Richardson 8 David Herman
Elite Women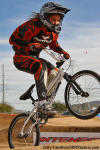 1 Alise Post
2 Stephanie Barragan 3 Rachel Smith 4 Danielle Brisson 5 Toni Rude 6 Christine Miller 7 Kaila Sweeney
Elite Masters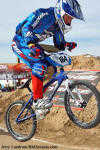 1 Kenth Fallen
2 Dale Holmes 3 Tim Dinger 4 Mike Gul 5 Greg Romero 6 Dave Bittner 7 Tommy Opincar 8 Philip Potosnak
Super Ex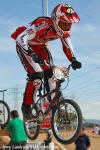 1 Denzel Stein
2 Logan Collins 3 Derek Sipkoi 4 Patrick Lebel 5 Vance Weisendanger 6 Jason Morris 7 Scott Erwood 8 Warren McDow
---
FRIDAY - UCI NORTH AMERICAN CONTINENTAL RACE #8
Elite Men

1 Kyle Bennett 2 Donny Robinson 3 Tyler Brown
4 Randy Stumpfhauser 5 Mike Brabant 6 David Herman 7 Cristian Becerine 8 Mike Day
Semis - 5th Kyle Cushman, Robert de Wilde 6th Kelvin Batey, Nick Long 7th Kris Fox, Jason Richardson 8th James Brown, Liam Philips
Elite Women

1 Alise Post 2 Stephanie Barragan 3 Arielle Martin
4 Jill Kintner 5 Shelbi Long 6 Danielle Brisson 7 Rachel Smith 8 Kim Hayashi
Junior Men - 1 Denzel Stein 2 Logan Collins 3 Jake Peebles 4 Gavin Lubbe 5 Nathan Miller 6 Dale Cushman 7 Jacob Trevino
---