---
---
BMX Racing News - Thursday - February 26, 2015

World Champion and Olympian Sam Willoughby Joins the Lizard Skins Team!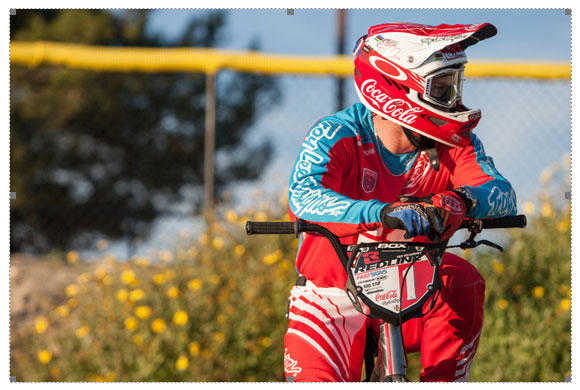 With our roots in BMX racing we couldn't be happier to announce the next chapter of Lizard Skins BMX by signing World Champion and BMX Olympian Sam Willoughby. We're excited to work with Sam to elevate our BMX presence and product range.
"I am very excited to have my name associated with such a long lasting and solid company in the bike industry like Lizard Skins. The product is top notch I plan to assist in keeping their grip at the forefront of BMX racing." - Sam Willoughby
SAM'S CAREER HIGHLIGHTS:
2014· UCI elite men's World Champion

2013· Nora Cup racer of the year
· USABMX national #1 Pro
· Winner of 17 pro races to date USABMX national series
· Winner of Chula Vista World Cup round 4

2012· Olympic Silver medalist
· elite men's world champion
· USABMX national #1 Pro
· elite men's World Cup champion
· NORA Cup racer of the year

2011· Australian National Champion
· 2nd over all AA pro USABMX series

2010· ABA BMX national number 1 pro

2009· junior elite world champion
· elite men's World Cup champion

2008 · junior elite World champion
---
BMX Racing News - Monday - February 23, 2015
2015 USA BMX Pro Series Season Opener And Connor Fields kicks off the season with a win!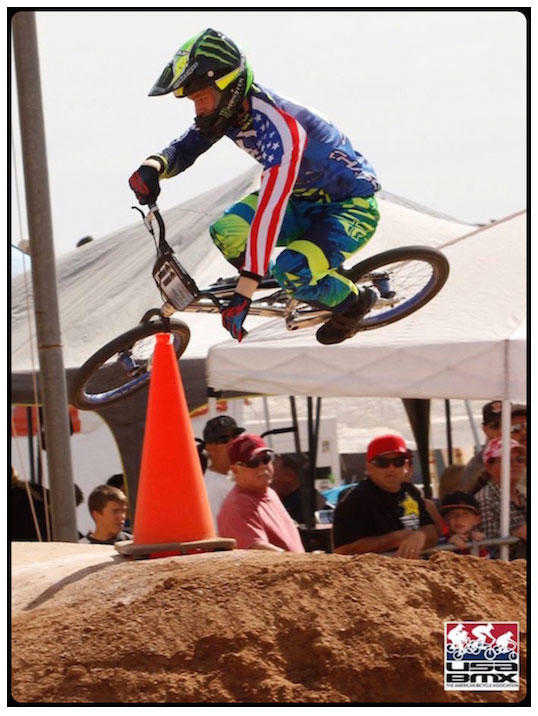 Phoenix, Arizona is one of the premiere USA BMX tracks on the race schedule and it was a fitting location for the first stop of the 2015 USA BMX Pro Series tour. What more can you ask for in a BMX weekend: A beautifully groomed outdoor track, picture perfect weather, and a great crowd of some of the best BMX fans on hand to watch the best Pros race head to head, is an excellent way to start off the season.

Chase BMX Factory Pro team riders Connor Fields and Joris Daudet were looking forward to the season opener, after their great performance at last season USA BMX Grand Nationals.

Both riders have had a great off season training program and were ready for the season opener. 53 Elite men were signed up to race the new USA BMX race format, with the 1st National event for the Pros on Friday night and the 2nd on Saturday. With Pro racing under the lights, it was time for the season to kick off and kick it up a notch.

Here is how Connor and Joris finished up: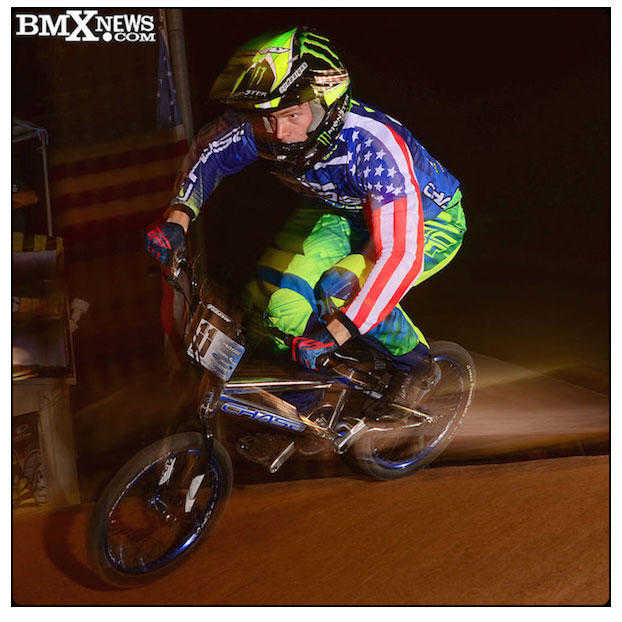 Connor Fields has had a strong off season training regimen and Phoenix was a direct result of his continued effort of striving for excellence on the BMX track.

On Friday, Connor rode perfect on the track, with taking wins in each and every one of the laps he did, all the way up to the main event. When the gate dropped for the main, Connor carried on with his winning ways, took the lead and never looked back, taking the first main event win of 2015 on the USA BMX tour.

On Saturday, Connor once again rode strong all day, but a bump down the first straight-away in the main event would keep him from being on the podium in day 2, where he would finish up 7th overall.

What a great way to kick off the 2015 USA BMX season and Connor will now put his focus to retaining his USA Cycling Elite National Championship, as that is the next event up for the Pro riders, along with the Rock Hill National at the end of March.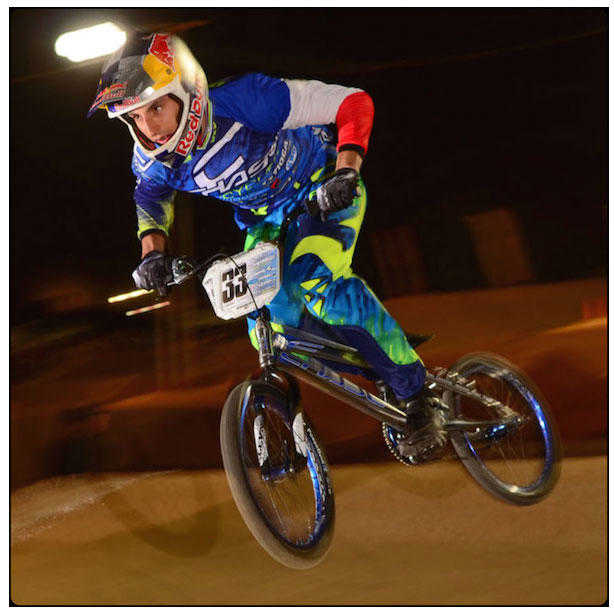 Joris Daudet was riding well all day on Friday, but was just edged out of the main event on the night program.
On Saturday, he was not to be denied, as he once again rode smart and strong throughout the day and made his way into the main event.
Joris and Connor were next to each other on the gate, and as fate would have it, they were forced into each other, by another rider, and it took the chance of a 1-2 Chase BMX finish away.
Joris would salvage a 5th for the night, but cap off a good weekend of racing in the main event.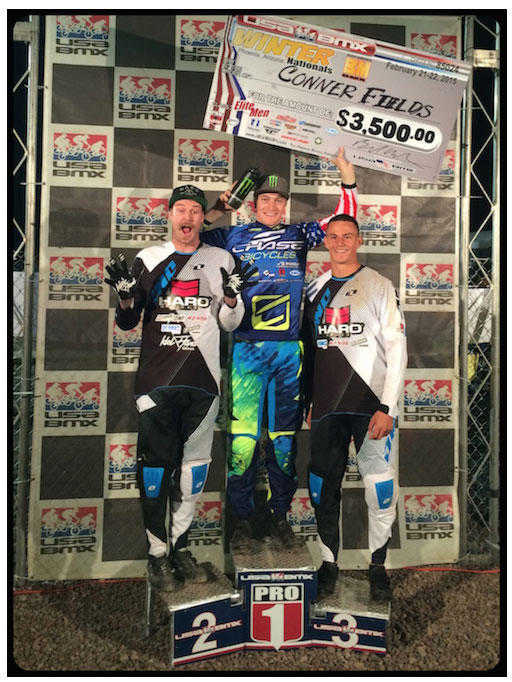 The riders now have a few weeks off before the 2nd stop of the USA BMX Pro Series, as well as the USA Cycling National Championship race on the Supercross track at the great Rock Hill BMX Facility in South Carolina on March 20-22. For more info on the event, visit the USA BMX website.
Thanks to all of the great sponsors of the Chase Bicycles Pro team : Shimano, Tioga, Fly Racing, Kicker, ODI, G-Form, KMC, Vans, Stealth, Elevn, Excess, Insight, Kingstar, and Thomson.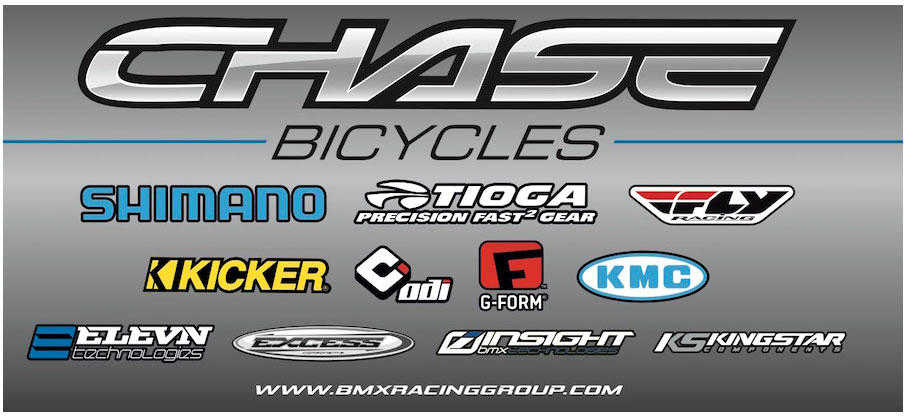 Thanks to USA BMX and BMX News for the photos: For more info on Chase Bicycles, please visit www.BMXracingGroup.com
---
BMX Racing News - friday - February 20, 2015
Caroline Buchanan, Harley Davidson Ambassador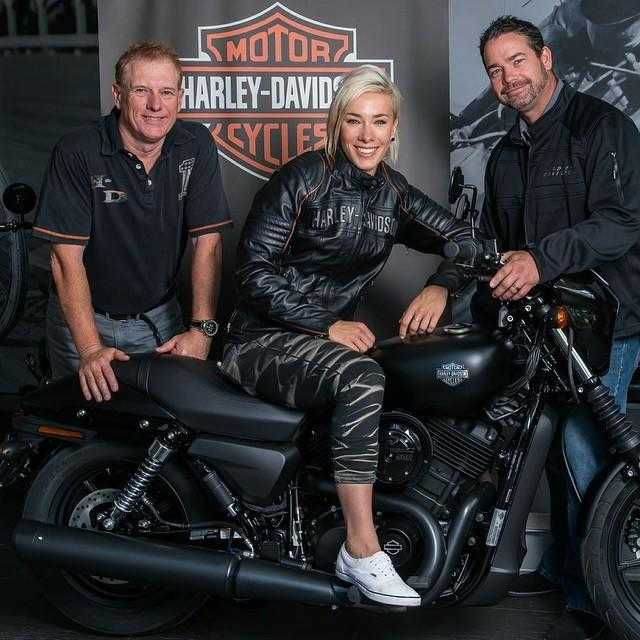 I'm honored to announce that I am the newest Harley Davidson Australia ambassador.
This partnership, riding Harley's newest edition learner legal Street 500 motorbike is an exciting time taking my love for riding 2 wheels from the dirt onto the great open road.
Harley-Davidson is celebrating the launch of Street 500 tomorrow, with dealerships across the country hosting a one-off special 'Street Party'.
All events are free to attend for the public and are calling upon local riders and enthusiasts to come along and experience the Street 500 firsthand.
---
Look out for 'Haz"!
Hey, I'm Haz, and 2015 is my first year in Elite Women and I'm raising funds and awareness for my entrance in to the UCI SX Series.

Check out my intro video that'll help for The Fans out there to see what I can do and what I love! ..... Haz / www.haz.bike
---
BMX Racing News - Weekend Update - February 13-15, 2015
BMX Around The World from YESSBMX
Yess BMX, makin' waves around the world of BMX!
---
BMX Racing News - Tuesday - February 10, 2015
Promax Releases Pro-Level BMX Race Hubset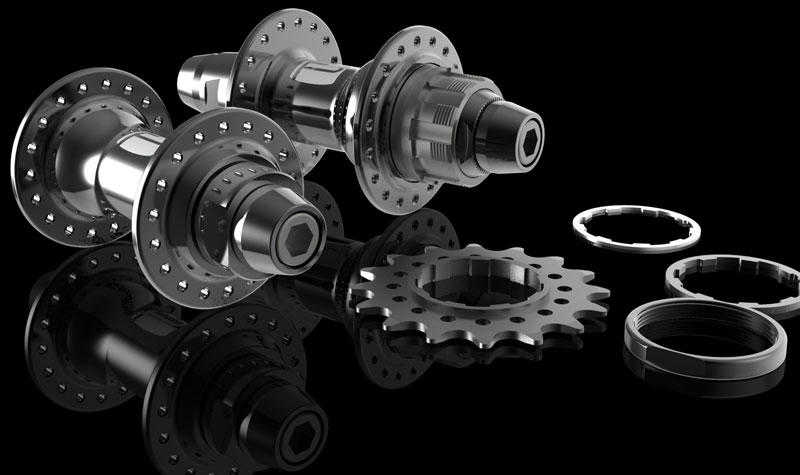 ANAHEIM, CA—Promax, the makers of high-quality bicycle components, now offers a professional-level cassette BMX hubset. Called HB-1P, the hubs are designed to meet the rigorous needs of BMX racing, but with a price of $299.99 they are more affordable than comparable hubs on the market.

HB-1P hub shells are cold forged from 6061-T6-aluminum alloy ensuring the maximum strength-to-weight-ratio. They come equipped with a wide Shimano-compatible cassette body for easy chainline adjustments. The cassette has 120 points of engagement for fast and precise forward drive. Available in black with laser-etched logos and 36 spoke holes, each hubset includes front and rear hubs with chromoly 10-mil (3/8") male/female axles, 16T cog, 10-mil cog spacer and lock-ring.

The complete hubset including cog, spacer and lock-ring weighs 782 grams/27.8 ounces per pair. The hubs complete the Promax line of BMX race hubs. Promax also sell a mini hub called HB-1M, which is available in a 24-hole model in black and a 28-hole model in anodized red, blue, gold and black. HB-1P hubs will be widely available in February with a suggested retail price of $299.99

Front hub: 290 gr/10.2 oz. - Rear hub: 438 gr/15.45 oz.

About Cycle Group, Inc.: CGI designs, manufactures and distributes BMX, mountain bike and road bicycle components under the BOX Components and Promax brand names. Its founder, Toby Henderson, is a BMX racing pioneer, member of the BMX Hall of Fame, U.S. Bicycle Hall of Fame, X-Games medalist, founder of T.H.E. Industries and co-founder of VSI Products.
---
BMX Racing News - Thursday/friday - February 5/6, 2015
BMX Mania Team Member, Shannon Taylor Signs To Ride For Marian University!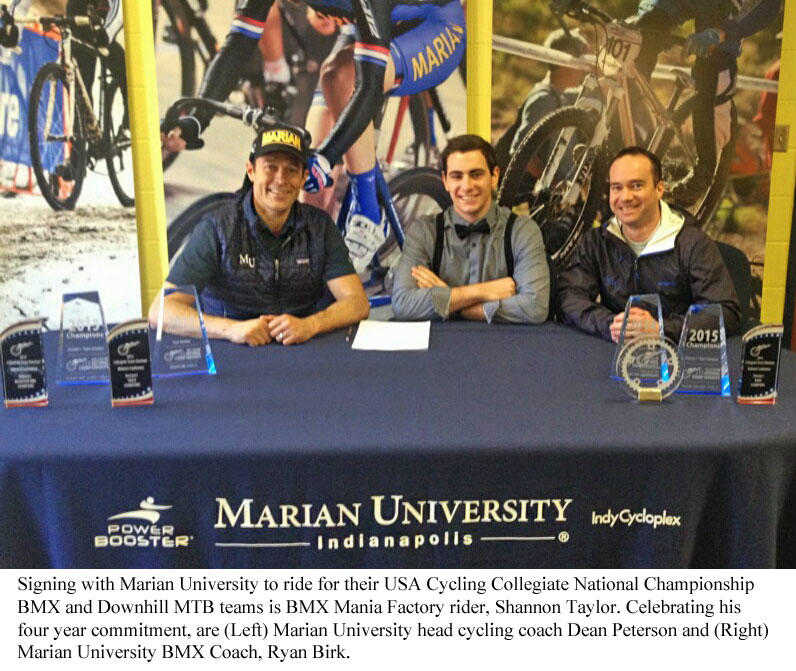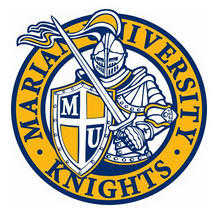 INDIANAPOLIS - Marian University head cycling coach Dean Peterson is proud to announce the commitment of Shannon Taylor for the 2015-16 season of MU cycling.

Taylor will bring 12 years of BMX racing experience to the two-time defending collegiate BMX national champions and will also compete as a gravity mountain bike rider for the Knights.

"Shannon is a very bright student who has worked hard both in the classroom and on the bike," said Peterson. "We expect he will develop nicely in our program over the next four years."

Set to graduate from Warsaw Community High School, Taylor intends to study chemistry and exercise science. He currently holds the top BMX ranking for 17-18 men in the state of Indiana in his first year racing that category. He races for the BMX Mania/Dan's Comp squad and outside of racing, enjoys fishing and motocross, as well as volunteering at a local animal shelter.

According to BMX Mania Team Owner, Jerry Landrum, "I am SO excited for Shannon, with this commitment to attend and ride for Marian University. Shannon has pretty much been my team for the past several years and has grown tremendously each year......Riding for the most successful Collegiate Cycling Program in the country can only expand his BMX horizons, I couldn't be happier for him! Hats off to Coach, Ryan Birk and the cycling Marian Knights, you've got a winner on wheels!"
The BMX Mania Factory Team is powered by ALIENATION BMX, DANS COMP, FLY RACING, HOT SHOPPE DESIGNS, HRP DESIGNS, REDLINE BICYCLES, and TIOGA BMX.
---
BMX Racing News - Tuesday/Wednesday - February 3/4, 2015
BMX Mania Team Picks Up The Robinsons!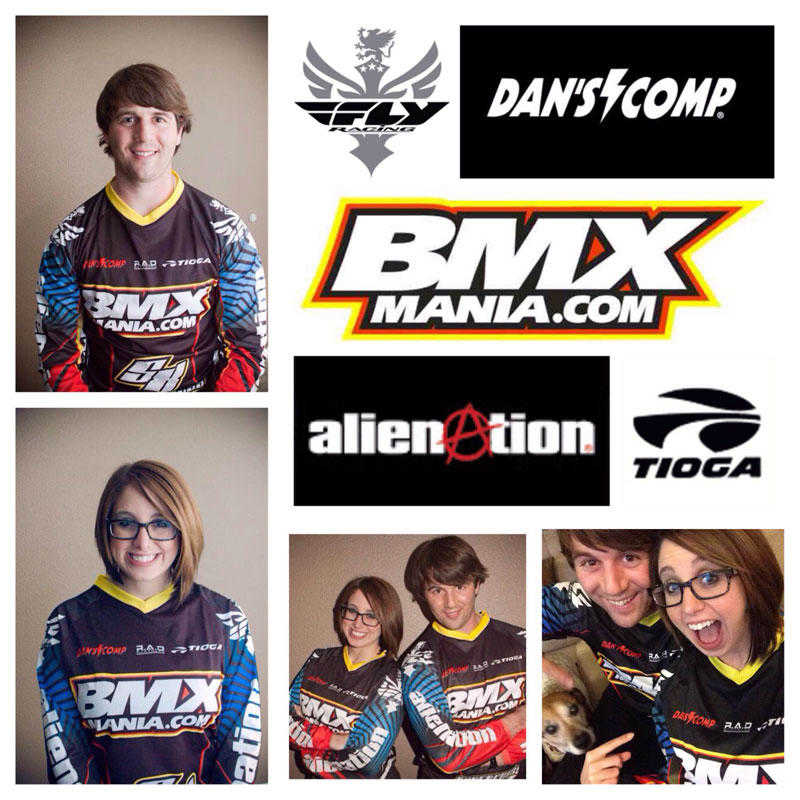 BMXmania.com Web Dude, Jerry Landrum is proud to announce the signing of Kyle & Krystal Robinson to the BMX Mania Factory Team, debuting this weekend at the USABMX BLUEGRASS NATIONALS, held at Freedom Hall in Louisville, Kentucky.

Kyle or Krystal are seasoned performers on the BMX track and are hard chargers in their respective classes. The Robinsons hail from Pendleton, Indiana and met as BMXers and raced throughout their pre-marriage years......A real BMX family.

According to Jerry Mania, "I'm VERY excited about having Krystal and Kyle join our team. They are hard core BMX racers and have a real love for the sport, which is the main criteria for team membership as far as I'm concerned. I welcome them to the team and look forward to a great 2015 BMX Racing Season for them!"

2014 Accomplishments/Krystal: 6th Place National Age Group Ranking in the 26-30 Women's Class ..... 5th Place National Age Group Ranking in the 26-30 Women's Cruiser Class ..... 3rd place Cruiser Main Event Finish at the Grand National ..... 4th place 20" Main Event Finish at the Grand National

2014 Accomplishments/Kyle: 2014 National Age Group (NAG) Series Champion – 26-30 Men's Cruiser ..... 2014 Eastern Division Champion, 26-30 Men's Cruiser ..... "Perfect" Weekend at the Great Lakes National ..... Taught multiple clinics at Indy Action BMX ..... Warsaw BMX Pro-Am Winner, August 2014.

Kyle Race Finishes in 2014 ..... Music City Nationals 1st & 2nd ..... Midwest Nationals 2nd & 1st ..... Stars and Stripes National 2nd & 2nd ..... Great Lakes National 1st & 1st ..... Derby City Nationals/Eastern Division Finals 2nd & 1st ..... Eastern Division Champion 1st Overall ..... Grand National Finish 1st
---
BMX Racing News - Monday - February 2, 2015
THIS HAS GOT NOTHING TO DO WITH BMX!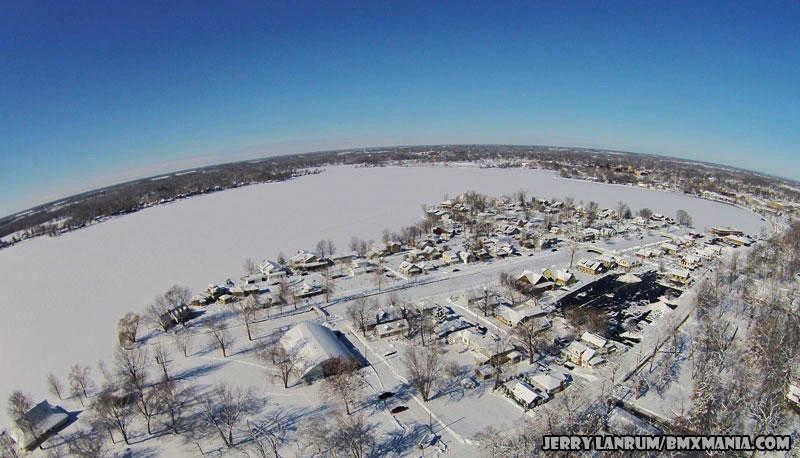 Nope, no BMX going on in this shot, but we did get a bunch of snow this past weekend at BMX Mania World HQ in the beautiful Northern Indiana Lakes Area.

About a foot of snow blanketed the landscape and since Jerry Mania got a Quad Copter with a high resolution camera on it for Christmas, I had to get a little aerial joy of the surrounding countryside. Here's a shot of the snow covered downtown of the little Village By The Lake (www.villageatwinona.com) that we call home.

OK, nuff said.......gotta go dust of the snow blower and get to work!

Big BMX Mania Team News Coming, Tuesday!!!!! Well.....Big news from a small team! :-)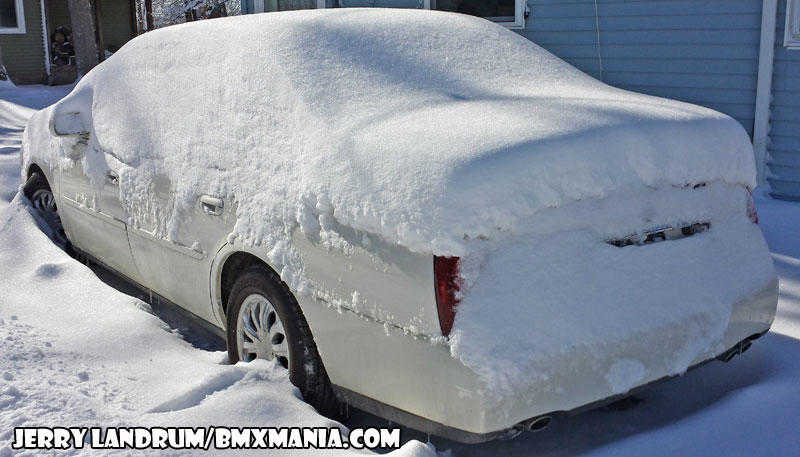 The BMX Mania Mobile, at rest under a fluffy blanket of snow!
---
BUCHANAN NEXT GEN GIRLS BMX TEAM.....big plans ready for 2015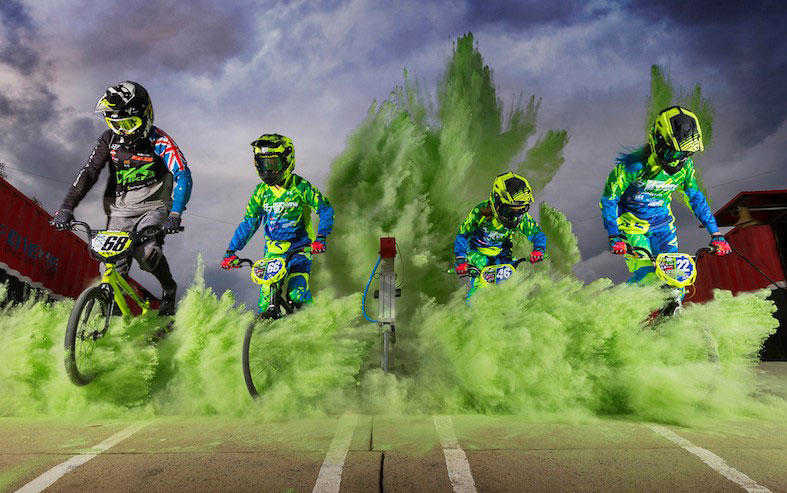 1st February, 2015 - In a global first, Caroline Buchanan, the current world number one BMX rider created a young women's team.

The Buchanan Next Gen team currently consists of three Australian BMX riders. Mikayla Rose (ACT) is the eldest at 14 has her sights set on the 2020 Tokyo Olympics.

From western Sydney (NSW) is Paige Harding at just 11 years of age. Harding claimed fifth place at the 2014 UCI World Championships and aims to improve on that this year in Belgium in July.

The youngest and newest member to the team is 8 yr old Tayla Robertson from Shepparton (VIC). Robertson is a current national champion in her age group and is aiming for a podium at this year's world championship.

The Next Gen team will all head to the upcoming UCI BMX World Championships in Belgium in July. Last year team members Rose and Harding each finished in the top 10.

The Buchanan Next Gen team initiative is mentored by two time BMX World Champion and current winner of the BMX World Cup series. Buchanan also has three Mountain Bike World titles. Buchanan is aiming to compete in the Rio de Janeiro Olympics in 2016.

New sponsors supporting the program, Jayco and On The Go have made it possible to expand the team and continue the initiative.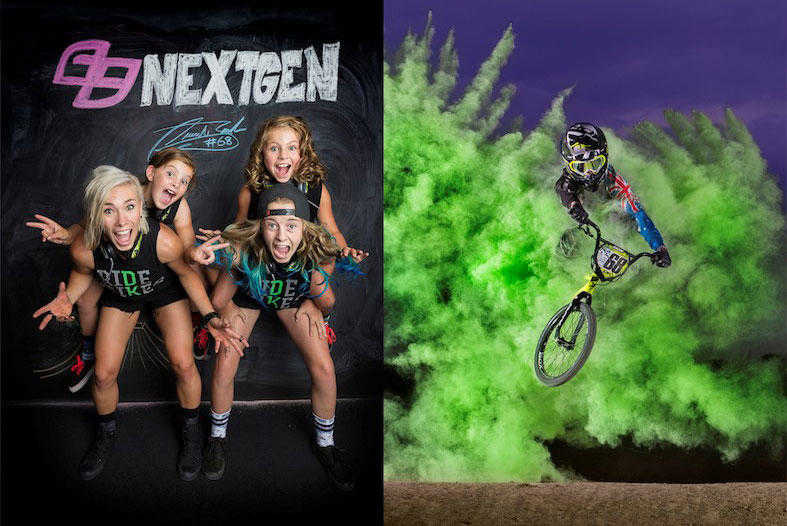 CHECK OUT THE RAD VIDEO FROM CAROLINE & THE NEXT GEN TEAM!
---