---
February 2009
---
---
new Sharp race 20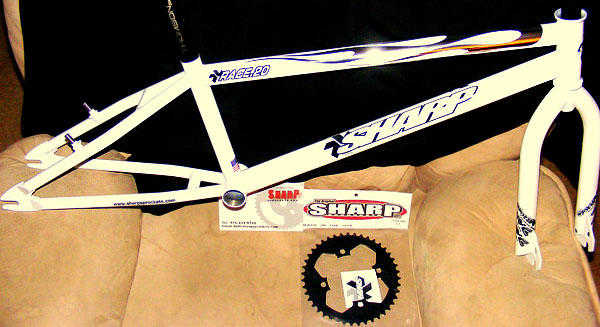 There's a new bike on the track, it's the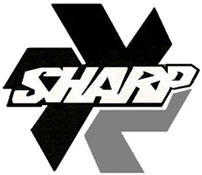 new Sharp race 20
The specs are.....
21.25 top tube,
14 - 14.25 chain stay
Weight is 4 pounds
Made In The USA out of Chromoly,
Cost is 400.00 and colors are in black, white, and red.
For more info, please contact George 'Mangler' Andrews ( prokappabmx@sbcglobal.net ) or Bill Sharp / ( bill@sharpsprockets.com )
---
The Pearland, Texas Speedway Track Crue Has Some Weekend Newz 4 U!!!
Come on out and thanks to all! - Ed Dorrian & The Pearland Speedway Track Crue!!!
---
Vinnie Purcell of Factory ELF fame dead at age 33
One of the greats of Northwestern U.S. BMX, Vince Purcell has passed away.
Vince died Feb 9th of heart failure he was only 33.
Better known as 'Vinnie', you could count on Vinnie to be on the bottom two tiers of the podium and always in the mains.
He was a multi-time winner of the Oregon Governors Cup and was the star of the Oregon-Elf team, and then later moved up to the full Factory Elf team.
Vince leaves behind an 8 year old son Tyler, plus his parents, Ray and Becky, and sister Brenda.
---

World's top BMX Riders Will Check-in to Copenhagen at the
UCI BMX Supercross 2009, and The Ladies Are racing, Too!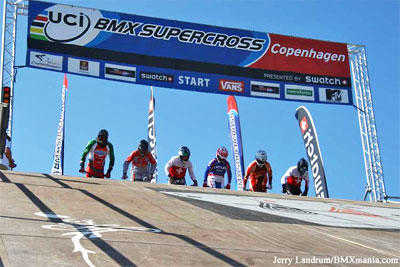 On Saturday 9 May the finals of the 2009 World Cup BMX Supercross will be GOING OFF in Copenhagen!
The medal winners from the Beijing Olympics, most of the top BMX racers in the world AND the Danish national team are among the 120 riders on the starting list at the BMX track in Copenhagen, which is said to be one of the world's best tracks.
An afternoon full of action awaits the spectators, who are offered exciting top sport, rock concert, dj, events and various happenings both at the track and in the "spectator city", established especially for the BMX event.
The national team of Denmark is looking forward to the Copenhagen World Cup, which is the largest Supercross-event in the Northern Europe.
"Of course our team will embrace the strongest Danish riders. The event is given top priority, and it is part of our focused efforts towards the Olympic Games 2012 in London. The World Cup event is, indeed, contributing to the development of the sport in Denmark, and I do think that our top riders stand a good chance of winning important World Cup points. If the spectators are as enthusiastic as in 2008 a ranking in the final is within reach," says Christian Poulsen, Head Coach of the Danish team.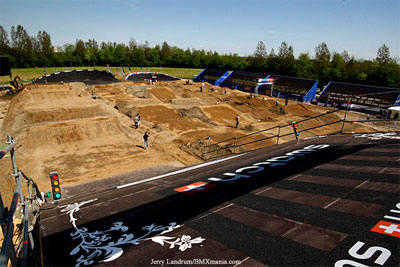 In heats with 8 participants shoulder by shoulder the riders will reach a top speed of 60 km/hour down an 8 metres high ramp. The best riders will manage to get through the well over 300 metres long track in 30 to 35 seconds. A track that offers a large number of jumps of different complexity as well as 3 big asphalted curves. The International Cycling Federation, UCI, constructed the track last year in close cooperation with among others Københavns BMX Klub, Bike City Copenhagen, the City of Copenhagen and RGS90.
"With the experience from the World Cup 2008 in mind we have a much stronger starting point this year. The track is there, it needs only to be adjusted to the circumstances and we now build on top of our 2008 experience. And again we focus on a large number of events on the day of the finals, 9 May. Just to mention a few: rock concert, international dj and various happenings, which go very well along with the image of the BMX Supercross; an event full of character and courage," says Martin S. Persson, senior project manager of Wonderful Copenhagen.
Bike City Copenhagen – and bidding for Worlds BMX 2012 The UCI BMX Supercross World Cup is part of Bike City Copenhagen, which Crown Prince Frederik is protector for. Copenhagen is the only city in the world, which has been appointed as Bike City by the UCI by now and between 2008 and 2011 Copenhagen is host of 6 major international cycling events. Beyond the UCI BMX Supercross World Cup it is among others the prestigious World Road Championship 2011. Moreover, Copenhagen is bidding for the Worlds BMX in 2012.
Behind Bike City Copenhagen stand as strong partners as the Danish Motor Sport Union (BMX Union in Denmark), the Danish Cycling Federation, Sport Event Denmark, The City of Copenhagen and Wonderful Copenhagen. For more information please visit www.bikecitycopenhagen.com.
---
---
Australian Elite Development BMX Squad Training Camp
A look into the cutting edge Australian Elite Development BMX Training Camp from Elite Women's member, Caroline Buchanan!
The Australian Elite Development training squad consists of Sam Willoughby, Josh Callan, Lauren Reynolds, Rachel Bracken and myself Caroline Buchanan. Brian Kirkham also joined us for a week leading up to Adelaide. The 2 month training camp based on the Gold Coast QLD at the Runaway Bay Sports Super Centre was a huge success. Having Wade Bootes the head coach living with us on campus 24/7 was ideal, he was always pushing, inspiring and opening our eyes to get us to the next level and be the best BMX racers in the world.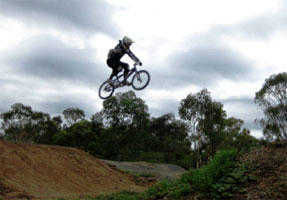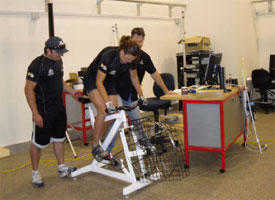 Racing results: QLD Pro Bikx double round Result: Sam Willoughby semis + #1st jnr elite, Josh Callan #1st and 3rdjnr elite, Lauren Reynolds #1 jnr elite women both days, Rachel Bracken #3rd + #2nd jnr elite, Caroline Buchanan #1st elite women both days. Ashmore QLD Open event Result: Lauren #1st, Caroline #2nd, Rachel #3rd, Sam #2nd and Josh Callan #3rd 4x Mountain Bike National Championships Stromlo Canberra Result: Sam #2nd, Josh 8th, Caroline #1st, Lauren #2nd and Rachel #4th Adelaide SA Pro Bikx round Result: Josh #2nd, Caroline #2nd, Lauren #1st and Rachel #3rd.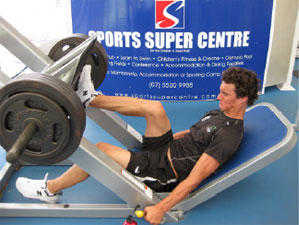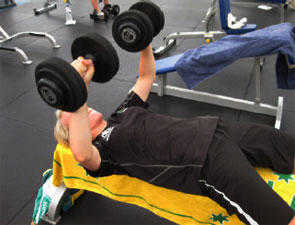 GYM As a group many of us were reaching our personal bests each gym session. When we are all at home our individual sporting academies QAS, ACTAS, WAIS, SASI and VIS monitor and guide our progress in the gym. It was really good having Wade with us 24/7 at the Sports Super Center gym as we all saw many improvements and were pushed to new levels.
Nutrition/Hydration Kelly and Mark from the Queensland Academy of Sport helped us out with our nutrition, hydration, cooling and supplements. They really put an emphasis on the importance of eating correctly and hydrating fully. We cooked our lunches and dinners, had a tour of a shopping center, learnt to read food labels and what to look for, cooking with the bare essentials when traveling, how to make our own sports supplements for half the price from our local supermarket and measured fluid losses during sessions.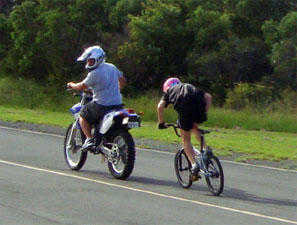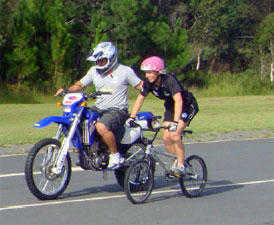 Gates and sprints During our gate start sessions each week we worked as a team by learning off one another to improve our times. Our gate start sessions were short efforts at 100% effort. During the sessions we were focusing on quality, technique and times rather than quantity. Our sprint sessions varied over the 7 weeks of the camp depending on what phase we were in. We did sprint sessions on clips, flat pedals, rolling starts, standing starts, left and right foot starts, race gearing/ hard gearing and speed sprints behind the motorbike.
Recovery plays a major role in BMX as we need to repeat maximal efforts after one another and back it up again the next day quite often. During the camp we had ice baths, spa baths, monitored our resting heart rates, stretched, had yoga classes and swimming. (Spa)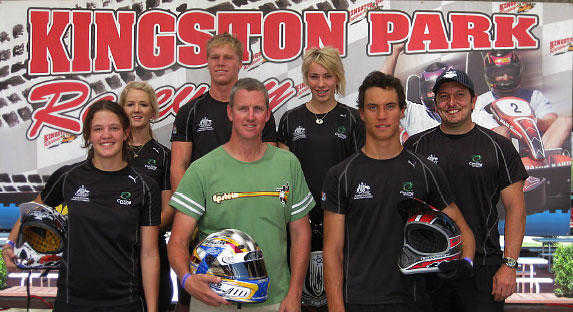 SOCIAL We did many social activities: went and watched the Supercross racing (motorbikes) talked to Steve Johnson, met Troy Bayliss 3 time World Superbike Champion at the Leatt Brace grand opening, had a tour of Dick Johnson Racing, a tour of Ant Man Helmet designs, cooked lunch and dinners and did lots of cross training like motorbike riding, tubing on the jet ski, mountain bike riding, dirt jumping, Go-Karts with Steven Johnson (Fords v8 supercar driver) and rode some skate parks.
Skills The majority of our skill development during the camp was on our BMX bikes. We focused mainly on our mountain bike skills in the lead up to the Australian Championships where we all competed in the elite 4x category. We tried to spend as much time as we could on our BMX bikes but also incorporating the cross training and had a skill acquisition talk from Megan at the QAS to increase our skill development taking us to the next level.
Media We were able to get quite a bit of media over the camp with the local Channel 9 News, various news papers around Australia, ABC TV, Cycling Central, Scope and WIN TV.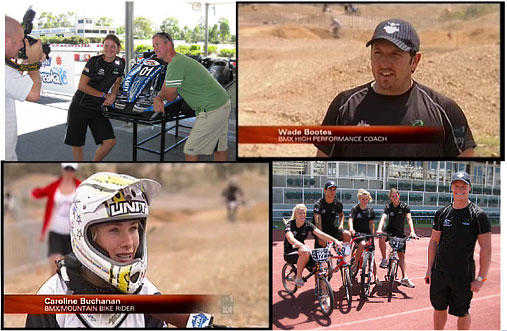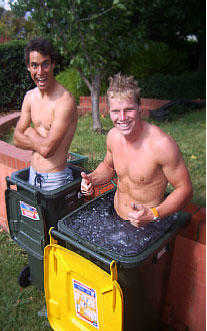 Myself and the rest of the EDS team thoroughly enjoyed the camp, we loved purely being full time athletes and we have all benefited greatly from it in every aspect physical, mental, technical and tactical preparation.
Quotes: Caroline: "The camp was extremely beneficial for me I was able to learn why and understand the reasoning behind sports science and the training methods and cycles. I love living, breathing and being a full a time athlete."
Lauren: "The past 2 months has been the best opportunity to train in a small group of riders all chasing the one dream, under full guidance of Wade Bootes and support from Cycling Australia and our state institutes. One step closer every day!"
Rachel: "It's been really useful having our coach around 24/7 to make sure I'm doing all the right things."
Brian: "I only got to ride a part of the camp, but it was great to be in a training environment with 5 other good riders and to have input from Wade with everything we did."
Josh: "I really enjoyed just focusing on my training over the past 2 months, not having to worry about school work and my busy life. So it has been a great opportunity to get some great training in and work hard!"
Sam: "It has been great to be around 5 other athletes who share the same passion, vision and goal as I do. Working with Wade and the team has been another great stepping stone for us all working towards DOMINATING THE WORLD!!!"
---
Crupi introduces new Handle Bars!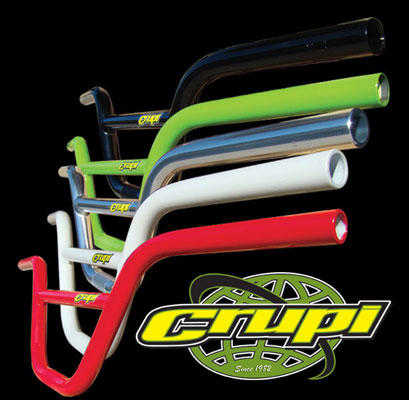 Arcadia, California - Crupi Parts, Inc has just received its new line of aluminum race bars!
Same great Crupi bar geometry everyone has come to love but new colors and graphics and a completely new line of butted chromoly bars!
Butted chromoly bars are just as strong as any standard chromoly bar but are much lighter in weight.
Crupi is also the first to introduce a butted chromoly cruiser bar!
New Crupi aluminum bars sizes include our Moto 4X (4" rise), Moto 5X (5" rise), Moto 5.5 (5.5" rise) and Moto 6.5 (6.5" rise).
The new butted chromoly bars feature our 2020 butted Chromoly Pro bar w/8" rise and our 6" rise Pro Cruiser bar.
Please visit the Crupi website at www.crupibmx.com to see all our new bars.
---
Race Results for Vendetta/Elite Bikes - Lake Perris

Well, as you know the racing at the ABA Socal National went on Rain or Shine. Lake Perris will sure be one of those memorable races! Let's start off with one of our little guys, Coby "BoBo" Witten. He placed 2nd in 5X - both days! Way to go Bo-Bo! He also placed in his Open class, too!
"Quick Nick" Adams made the trip down on Sunday and got 6th place in class (6X) and placed in the Open as well.. We then will move over to the ladies of Vendetta/Elite Bikes - Alyssa Canevari took an impressive 2nd of Saturday and a 3rd on Sunday. This girl had 3 racks of little ladies to battle against! Well done.. That takes us to Patty Metzger - this she took 1st both days in 36-40 cruiser. Patty - you are doing great this year!
Let's give it up to Keegan O'Connor, after his 8th place on Saturday he came back on Sunday and won his class (1st place) 14 Inter. Keep up the good job, Keegan! Next, is Cody Dyer - this guy started the weekend with a 5th place on Saturday in 16 Cruiser and came back to obtain FIRST place on Sunday! That was a great race to watch!
Anthony Graziano did well, too! Mr. Graziano took a 4th place in his Open and followed up with an 8th place on Sunday in talent packed 14 x class. Jerry Pricer placed 3rd in 36-40 Cruiser and 1st in Class on Saturday - Returned on Sunday for a 2nd in Cruiser and 3rd in class! James Starks placed 4th in 36-40 Cruiser and 2nd in class. On Sunday he crashed and took 7th in Cruiser and followed up with a 2nd in class....
Vendetta/Elite Bikes placed 3rd for Bike Shop on both days! Well done guys/gals!
www.vendettabmx.com - www.formbikes.net - www.elitebikeshop.com
---
NBL & Crabtree BMX Sponsorship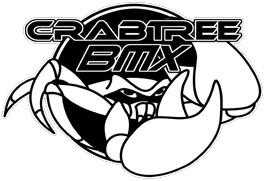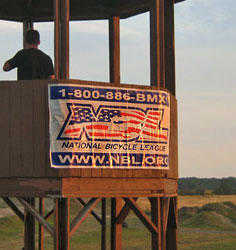 The legendary track of Crabtree BMX in East Canada, host of the famous Extreme Byke Fest (EBF) and successive UCI International events in 2005-06-07, as well as many National events, is proud to announce the signing of the National Bicycle League as a new sponsor for the 2009 season and years to come.
Top International riders attended some of the Crabtree BMX events threw the years. Founded in 1992, the organization saw the legendary John Purse, Robert Dewilde and Warwick Stevenson flow threw its track as well as young pros such as Derek Betcher, Lance McGuire, Mike Gonzales, Bob Rowley, Kim Hayashi, Samantha Cools, Amanda Geving, Rachel Smith and local cult hero Jill Botchler and Chris Keller.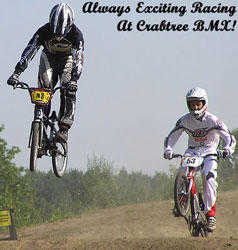 Crabtree BMX and its staff have been involved in a long time relation with the NBL and with the constant progression of the sport and the new International standard, it was important to secure this partnership and work with the National Bicycle League on an official base.
The NBL will play an important role as a consultant for the Crabtree BMX organization, witch hope to produce additional high quality International races in the coming years.
In addition to its consultant services, the NBL will offer technical support and logistic to the Crabtree BMX organization, witch will give them in return exposure in all of its events.
In addition, the Club will act as a NBL information center for Canadian riders in the East.
This partnership will help the NBL to promote and cater more closely to its Canadian members.
The Crabtree BMX Club, will not be NBL sanction as per UCI rules, it is sanctioned by the Canadian Cycling Association and its Provincial Federation.
---
---
---
Personal Starting Gate System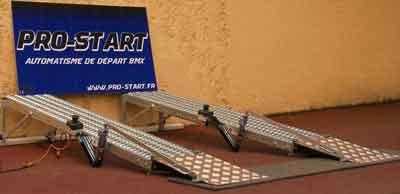 Pro-Start is a factory selling BMX personal starting gates. The big news from them is a single portable gate, a gate made of aluminum that allows the rider to train anytime and anywhere thanks to it's small size and easy Direct Current power.
The portable gate Pro-Start uses the Random Start cadence, and also allows the rider to choose which lights are used in the start cadence, as in red, first yellow, second yellow or green.
Our personal BMX start gate give each rider a great liberty for a complex and daily training ...
For more info, don't hesitate to contact the Pro-Start society trough our website that has other products that you might like to check out.
In French = www.PRO-START.fr ..... In English = www.pro-start.fr/uk/index.html
---
Team Oregon Is Rampin' Up For The ABA Northwest Nationals
WOW - can you believe we are less than 6 weeks away from the ABA Great Northwest Nationals and a return trip to Redmond Oregon. We can't wait to welcome everyone back and plan an having an awesome racing weekend. If you were here, you know this race was one of the best of the year, and if you weren't , you won't want to miss the 2009 event.
ABA Great Northwest Nationals - April 3-5, 2009 Deschutes Fairgrounds and Expo - Hooker Creek Event Center
NO CHARGE FOR PARKING!!! PLEASE BRING YOUR BIKE LOCKS - there will be no bikes in the grandstand area and they may be kept in the bike corral that will be located by staging.
Rooms are already going fast so if you haven't made your reservation, here's some links for you for some of our community partners.
Questions? Need more info - call Tracy 541-815-5302 - See you at the races!
Tracy Stephens on behalf of Team OREGON BMX ..... Smith Rock BMX, High Desert BMX, Emerald Valley BMX (Indoor & Outdoor), Cottage Grove BMX, River City BMX, Molalla River BMX, Chehalem Valley BMX, Medford BMX, and Roseburg BMX
PREFER TO CAMP?? - DESCHUTES EXPO ON SITE CAMPGROUND: 106 FULL SERVICE SITES and 10 TENT SITES, call 541.548.2711 EXT 4749
---
Rennen G-Cog Certifies Coaches In Training Techniques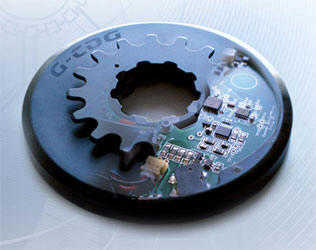 Rennen Design Group, developers of G-Cog, the ultimate BMX training tool, are pleased to announce that "Coach G" Greg Romero is the first BMX coach to pass our certification course and to receive his G-Cog. Since receiving his device he has been busy testing away, validating some of his theories that helped capture an Olympic Silver and Bronze for the Red Bull BMX team in the Summer Games. In addition, he plans on integrating BMX powermeter testing into his High Performance Camps throughout the year. Look out for these camps at a track near you!
Others who have passed the course and are now awaiting their devices are former NBL National #1 Thomas Allier and Colombian national coach German Medina.

We created a course for coaches to take to ensure that they are familiar with the functions and operation of G-Cog. Athletes who are considering hiring a trainer/coach and would like to use a G-Cog to help structure their program can be rest assured that all Certified G-Cog Coaches know the device inside and out. If you think you have what it takes to become a Certified G-Cog Coach send an email and your coaching resume to Info@G-Cog.com

G-Cog is a revolutionary BMX training tool that enables you to measure Power, Torque, Speed, Acceleration, Distance, and Reaction Time (Integrated speaker plays ABA, NBL/UCI cadence). G-Cog will help you validate your training and give you confidence that you've put the work in. Now it's time to let your results speak for themselves.

The Future of Training is Here! - George Costa/Owner - Rennen Design Group - 781-632-5480 - www.G-Cog.com - www.RennenDesignGroup.com
---
---
The Medalla Light Ultimate Dirt Challenge- Sunday, March 29, 2009

Location: Rincon, Puerto Rico *Flights into San Juan, PR
BMX Dual Slalom Trails Racing: 18 & Over Open BMXR Classification
PRO PURSE: $5,000
Mtn. Bike Cross Country: 12- UCI Pointed Classifications
Mtn. Bike Downhill: 4- Individual Classifications
BMX Trails Racing consists of a 2 rider format utilizing a 12-15 foot roll-in with a traditional starting gate connected to the 2-man timing system, dropping onto a shortened, more extreme version of a race track with the 2 riders going head to head on opposite tracks. Qualifying will involve each rider racing one side of the 2 man track, one time. The first heats will be seeded according to the rider lap times. The top 32 fastest times transfer to the next round. Qualifying includes one on one competition transferring from the Round of 32, 16, 8, & 4. The top 2 fastest times from the round of 4 transfer to the finals. The remaining 2 riders from the round of 4 will race for 3rd place overall. The final two riders will be racing head to head to determine the winner.
* BMX Dual Slalom Trails Racing Course designed and constructed by John Purse, Inc.
Medalla Light Ultimate Dirt Challenge- BMX Trails Racing Pro Purse: $5,000
| | |
| --- | --- |
| FINISH | 5,000 |
| | |
| Fastest Lap | 250 |
| | |
| 1 | 2,000 |
| 2 | 1,000 |
| 3 | 600 |
| 4 | 400 |
| 5 | 300 |
| 6 | 200 |
| 7 | 150 |
| 8 | 100 |
| | |
| TOTAL | 5,000 |
---
THE INTERNATIONAL OLD SKOOL of BMX Reunion 2009
ATTRACTIEPARK SLAGHAREN - HOLLAND.

It is my pleasure to inform you all, that last year's cancelled Old Skool of BMX Reunion (cancelled due to me being ill) will be held at the ATTRACTIEPARK SLAGHAREN in Holland, this year.
The INTERNATIONAL OLD SKOOL of BMX is scheduled to take place in the following weekend: OCTOBER 2nd, 3rd and 4th.2009.
Details will be announced within 4 to 6 weeks.
Main goal is to bring Old Skool BMX racers, possibly with their families together at the location were among others, the 1983 I.BMX.F. Worlds took place as well as 10 European Challenge Cup events.
We hope to welcome many Europeans and probably some USA Old Skool BMX racers, talk history, show DVD's, visiting the BMX Museum at the park, have a party on Saturday evening celebrating 30+ years of BMX in Europe and represent to you all those present, who are inducted in the European BMX Hall of Fame (see www.univofbmx.com ).
Special activities for the children of the Old Skool BMX'ers such as a KIDS BMX CLINIC (3-5 year olds) and a JUNIOR BMX CLINIC (6 years and over), conducted by former BMX World Champions.
Again, more details later. Check out at a regular base our site www.univofbmx.com - Gerrit Does/University Of BMX
---
UEC/Euro BMX Commission Official Series Race Dates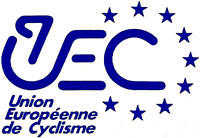 Zwolle, Holland ..... 1

st and 2nd Round 4th and 5th of April 2009

Klatovy, Czech Rep. ..... " 3

rd and 4th Round 25th and 26th of April 2009

Creazzo, Italy ..... " 5

th and 6th Round 2nd and 3rd of May 2009

Sopron, Hungary ..... " 7

th and 8th Round 16th and 17th of May 2009

Dessel, Belgium ..... " 9

th and 10th Round 30th and 31st of May 2009

Sandnes, Norway ..... " 11

th and 12th Round 13th any 14th of June 2009

Cheddar, England ..... " 13

th and 14th Round 27th and 28th of June 2009

Fredericia, Danmark ..... Finals 15

th and 16th Round 10th till 12th of July 2009
---

PICKS UP VANCE WIESENDANGER
FOR THE BMX MANIA FACTORY TEAM!
First races up for Vance will be the UCI points race at the ABA Winternationals, then the NBL Nellis National in Las Vegas followed by the UCI Supercross race in Copenhagen, Denmark.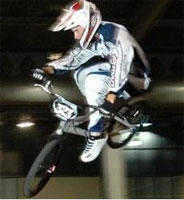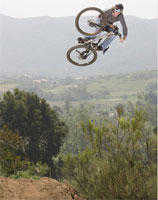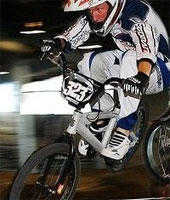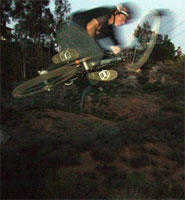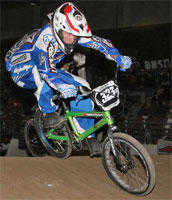 ---
Laëtitia Le Corguillé – KUWAHARA
BOMBSHELL, TIOGA, FUNN, TROYLEEDESIGNS
Laëtitia Le Corguillé, the French Olympic athlete who won the silver medal in BMX at the 2008 Beijing Olympics
is 'After It' this year and she's getting some big time help from some awesome sponsors. Most notably, she'll be jammin'
on a Kuwahara this season, stylin' Troy Lee Designs threads and stickin' to the turns on her Tioga Powerblock Tires.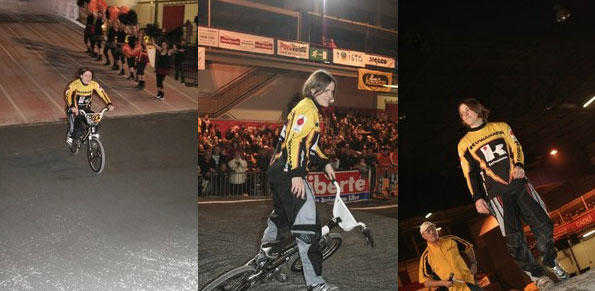 ---
TIOGA LAUNCHES HOT NEW WEB SITE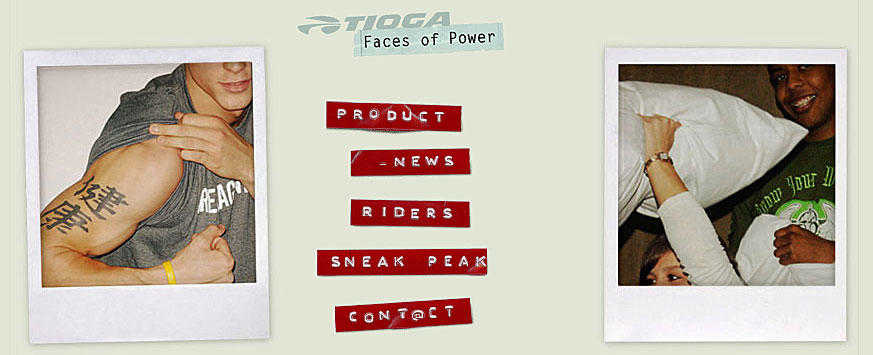 ---
---
2009 Sharp Sprockets Factory Team

Bill Sharp at Sharp Sprockets is sending some BMX Warriors out to do battle on the ABA National Circuit all lined up as the 2009 Sharp Factory Team.
The team will have a decidedly "Midwest Flavor" as it's made up of George "The Mangler" Andrews, Jordan "Flash" Seward and Levi "Crash" Connor.
Look for the boys to be on the track soon, and when you see them, they'll be looking...........Well, SHARP, of course!
---
---
Team BMX Mania Crushes The Comp At NBL Buckeye National!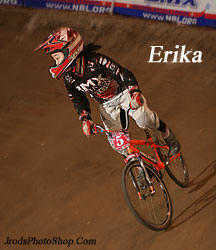 The crowd was hot at the NBL's recent Buckeye National, and the indoor track was SMOKIN' with lots of hot BMX racing action.
The NBL and the volunteers did great job with the facility and the track and the race was another great NBL event.
The BMXmania.com Factory Team was In The House, representin' and blastin' the comp.
On Saturday and Sunday, Ashley Cooley and Erika Takamasa, who are both 10 girls duke it out with a 1-2 punch finish. On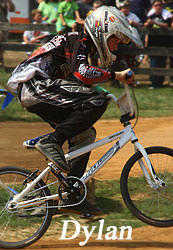 both days, the girls class had two racks with Erika going in to the main with perfect came up short of her perfect. Ashley took 1st and Erika took 2nd both days. These two girls are also local favorites on the ABA and NBL Ohio tracks and they push each other every race. They are both a great combination on the track and best of friends off the track.
Dylan Cooley, 13 Expert, came back strong with PERFECT finish on Sunday after falling short on Saturday with second. Dylan snapped out of the gate like a rocket from lane 8 and never looked back. He was flawless, taking pulling away on the second straight with his strong manualing skills.
Naoki Takamasa, 12 Expert, was smokin' this weekend with PERFECT for both days this weekend. Looked like he had his NOS recharged with injury free season (knock on wood) and he will be challenged by the 13 Expert class next month.
Koh Takamasa made his debut in his 8 expert class with a 3rd on Saturday. Sunday was his off day with a crash in the second heat, but he still managed to make the mains. During the main, while battling for his position, several of his spokes got broken. He still managed to cross the finish line, but those wheels will need some lovin' from John at Kovachi Wheels this week. Look for his return next month at Morristown.
Overall, I think Team Mania is coming along great. The team is small but we have a lot of heart. Thanks for all of your support, Adventure Travel, Alienation, Dans Competition, Diamondback, Fly Racing, Formula BMX, Hot Shoppe, Intense BMX, Intense BMX Tyres, Kovachi Wheels, Nike 6.0, Powerbar and Tektro Brake Systems. - Naoya Takamasa/Team Daddy and Communicator
---
---
BMX Olympians PREPARE you FOR THE USAC NATIONAL CHAMPIONSHIPS

Coach of Olympic Medalists, Greg Romero, and Olympic Medalist, Donny Robinson are teaming up to conduct a "High Performance Preparation Camp" for the ABA/USAC National Championship, March 14th & 15th. This is a 2 day camp to be held at the Metroplex Desoto BMX Track where the USAC National Championships will be hosted! This track will be getting rebuilt a week prior and you will be one of the first to train on this course.
"I am excited to team up with Donny Robinson on this camp as I am familiar with his preparation & techniques having spent a lot of time together at the Olympic Training Center. I know his work ethic and his ability to inspire athletes to work hard is top notch. I am also excited to announce that the developer and founder of G-Cog, George Costa will be on hand to help Donny and I test all the riders power by installing G-Cog power meters on the camp participants bikes! This is something that has never been offered before in a camp!" - Coach Greg Romero
We will also be doing power testing for every athlete by using the latest G-Cog power meter technology! A camp first!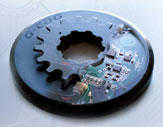 We can analyze your acceleration, power, speed, torque, and much more! George Costa of Rennen Design will be here with several G-Cogs to test and evaluate every athlete participating. Coach G and George will help you analyze your power files, and send you home with G-Cog software so you can take a hard look at your data file!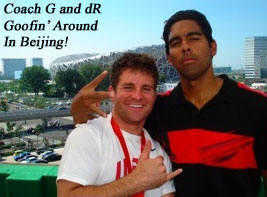 STAFF - Head Coach GREG ROMERO ..... Athlete Mentor/Coach DONNY ROBINSON ..... Assistant Coach DENZEL STEIN ..... Power Testing GEORGE COSTA (of G-Cog/Rennen Design)
CAMP CURRICULUM - The staff will educate, demonstrate, coach and assess the following components to be included in this camp: Power Testing, Random Gate Technique, Jumping, How to Turn, Sprint Training, Warming up, Plyometric Power Training, Performance Nutrition & Goal Setting.
COST is $250, includes instruction, lunch, performance nutrition and power testing.
To make a reservation contact Greg Romero by Email at bmxcoach@gmail.com .
For more information on this camp visit http://www.bmxtraining.com/camp.html
---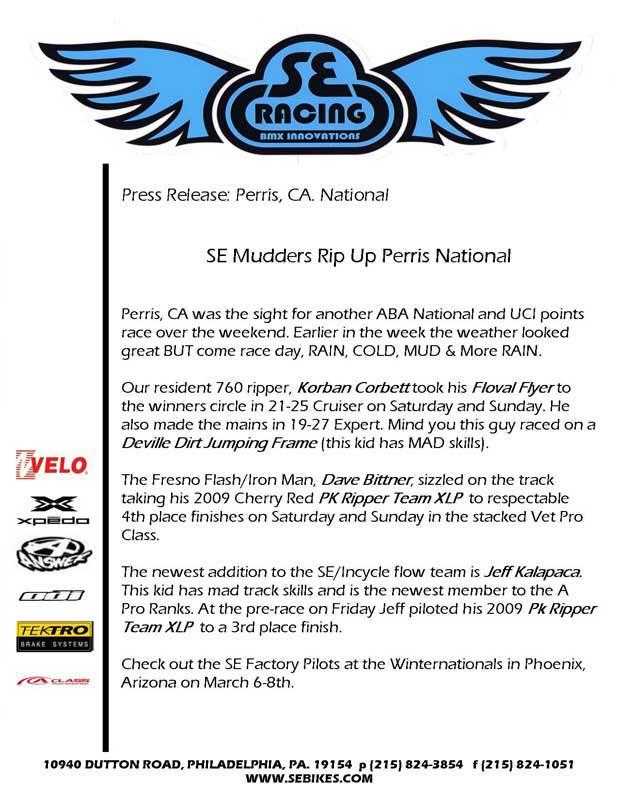 ---
---
LOST RACING BMX CLINIC
WITH Johnny "The Rocket" Woodmansee
Estrella Mountain BMX - Goodyear, Arizona
Saturday, February 28, 2009
3:30 - 5:30 p.m.

Cost is only $20.00 per rider
Discounts for teams or families with multiple riders

for more info go to www.lostbmxracing.com or contact Weasel at (480) 247-6953.



Estrella Mtn Bmx is located at 15660 W Roser Rd.

Take I-10 and exit off Estrella Parkway. Go
south approx. 4.3 miles (you will pass
MC-85). The track is located on the west side
of the road directly behind the Goodyear Dog Park.
---
Mosquito now on Crupi!

Arcadia, California - Crupi Parts, Inc is proud to announce the signing of Jonathan "Mosquito" Suarez. Jonathan has a long list of accomplishments which include most recently a trip to Beijing for the Olympics!

"We have been speaking with Jonathan for years about coming over to Crupi", says Crupi's President, Greg Swingrover. "Now that the Olympics are over it seems that many other companies out there are letting their team rosters go but we feel this is the time to promote like crazy and adding Mosquito to our family of riders is a great move for Crupi", Swingrover added.

Crupi prides itself with not only the sponsoring the fastest riders on the planet but the best people as well. Jonathan certainly fits Crupi's mold in both aspects!

Mosquito is no stranger to Crupi as he was crowned Elite Men Cruiser World Champion in Canada in 2007 and he won that race on a pink Crupi cruiser!

Jonathan will continue living in his home country of Venezuela and race a full schedule of Latin America races but there will be Mosquito sightings here in the US and around the globe at all Supercross events. Welcome to the team Jonathan!
---
Morphine Industries leaves their mark on the NBL Southern Charm National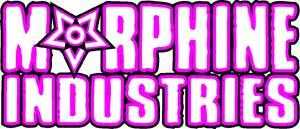 The Morphine Crew gathered in McDonough, Ga. over the weekend at the NBL Southern Charm Nationals.

Risking the chance of freezing cold race weather we headed toward Atlanta. McDonough had redone their track and the lure of great racing made the trip and the weather a secondary thought.

We rolled into Marietta Thursday night. It was the longest, shortest trip ever. You ever feel like you are on a treadmill and going no where – it took for ever. We crashed a JRev's house – Yo dude thanks for the floor space.

We headed back down south about an hour to McDonough and Sandy Ridge BMX. We got there and proceed to set up the pit area. We had to back up the rig through a small gate that a car could barely fit through. I don't know how it fit but we made it and got the joint set up for the weekend.

The small turn out on Friday made for a lot of practice. It was open practice all night until the pre-race. The track was smooth and fast with tight turns.

Super X - Tyler Faoro battled with Logan Collins on Saturday and Sunday taking 2nd in Pro Open mains both days.

Super X - Jason LaRev rode solid both days. However a bobble in the main on Saturday forced Jason to settle for 8th. Getting pinched on Sunday narrowly put him out of the main.

Elite Women - Kyla Reed hit the track with park style as usual and took home 4th in the main on both days.

41+ N – Jonathan Reeves held his own on Saturday racking up a 1st in the main, but got taken out in the first turn on Sunday and rolled to an 8th in main.

35-39 Cr – Doran Bradshaw put on a riding clinic both days cleaning up his motos. However, an over site on Saturday caused Doran to miss the semi gate drop, ending his day. Sunday, Doran had similar luck getting hung up on the track and settled for 8th.

17-18 X – Travis Woodruff missed racing on Saturday but joined the crew on Sunday. Riding cold and no track practice, Travis made it to his main but got pinched out going into first turn and settled for 7th.

15 X – Ace Savarese getting back into the BMX swing after some time off had a good weekend with a 4th on Saturday and a 5th on Sunday.

12 X & 11-12 Cr – Noah Reeves had a busy weekend with solid performances in both bikes, taking 5th in both mains on Saturday. Riding only the 20" on Sunday repeated with another 5th in the main.

Overall Morphine Industries had a solid weekend with a few mishaps here and there. Sometimes it's a dog eat dog world and you're wearing milk bone underwear.

That's Racing!

Morphine Industries would like to thank its Factory Team Sponsors; Staats Motocross Bicycles (www.staatsbikes.com), Alienation (www.alienationbmx.com), Fly Racing (www.flyracingbmx.com), Lost Energy Drink (www.lostenterprises.com), Sinz Racing (www.sinz-racing.com), Rennen (www.rennendesigngroup.com)
---
---

8th Annual Midwest Oldschool BMX Show
Saturday February 21st. 2009
8:00 am - 3:00 pm
MACHINIST UNION HALL
369 East US Highway 30
Valparaiso , Indiana
~~ OPEN TO THE PUBLIC ~~
$1.00 Donation to view the show.
Show Participants information:
$1.00 per bike entered into the show.
The first 30 people registered will receive a goody bag.

CLASSES FOR THE SHOW: 1970's 20" ..... 80-84 20" ..... 85-90 20" ..... 1991 and up 20"
Cruisers all years ..... Free Style all years ..... Best Of Show all years all models
There will be a first , second and third place trophy for each class EXCEPT best of show will receive only one.
---
---
Today's BMX Racing News - Monday, February 16, 2009
---
HOT LOOKIN' STEM BOLTS NOW AVAILABLE AT WWW.FORTUNEBMX.COM!
Hello everyone, and welcome to our new site at www.fortunebmx.com!
We offer the baddest/raddest combination of stem bolts in many colors to dress you bike up JUST the way YOU want it!
All of our stem bolts are now in stock so check them out in the products section at www.fortunebmx.com .
Also look for more info on our team and ever expanding product line coming soon to our web site at www.fortunebmx.com .
Thanks for visiting and we wish you a life filled with "Wealth & Satisfaction".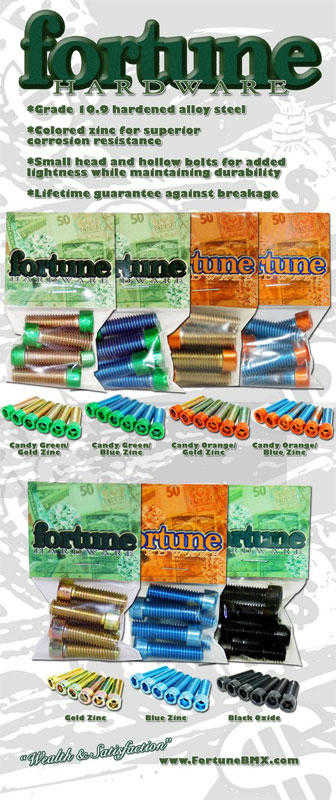 ---
J&R's Got Free Shipping For President's Day!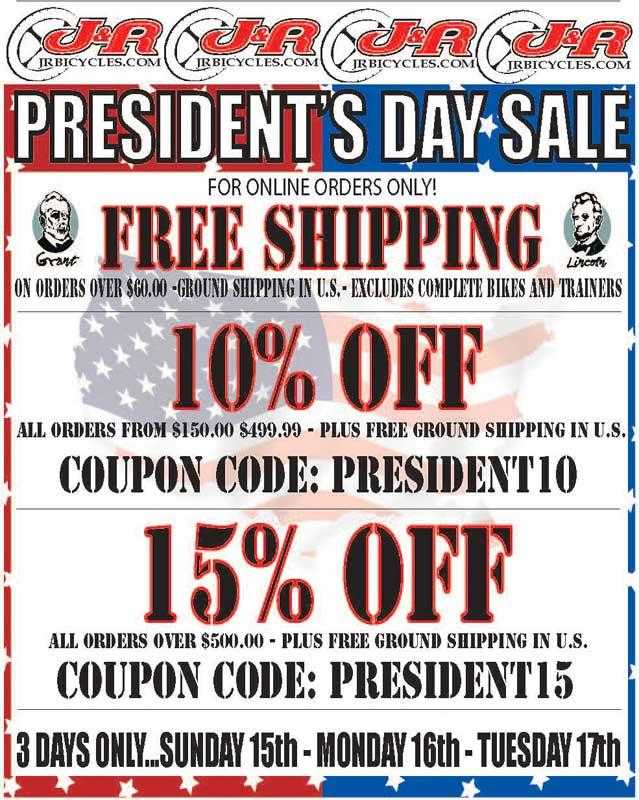 ---
---
DK GOES BIG AT NBL BUCKEYE NATIONALS!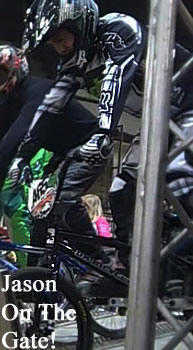 The DK RACE TEAM did it big this past weekend at the NBL Buckeye Nationals in Columbus, OH.
Almost the whole team was in attendance with A Pro Jason Jewell, AA Pro Josh Smith, 13x Jarred Johnson, and 14x Jeremy Smith all making the short trip to Ohio's capital to do battle for the weekend.
Saturday's Elite Open main event saw Jason Jewell take the lead over in the last turn and hold it down for the big WIN.
Unfortunately a crash put him on the sidelines for Sunday's main.
Josh Smith didn't have the best of luck, taking home a 6th place finish for the weekend, but was stoked to see his brother, Jeremy Smith come off with a 3rd on saturday, then steal the WIN from Damian Cherepko to make it a perfect day on Sunday.
Last but not least was the youngest guy on the team. Jarred Johnson won every single lap on Saturday, and took a 2nd in Sunday's Main.

check out DK's line up and all there products at www.dkbicycles.com.
Also, DK Flight bags are in stock!
Check them out as I know they will be going fast!
---
---
UCI Pan-American Points Race Mendoza, Argentina
Official Argentina BMX News Release:
Rounds 1 and 2 of the UCI Pan-American Ranking Competitions were run recently in Mendoza, Argentina.
The race saw over 200 riders from Argentina, Chile, Brazil, Bolivia, Ecuador and Venezuela in attendance.

Junior Men's titles were taken by Dalfarro from Brazil and Leandro Renato Rezende both demonstrating some technical skill on their bikes.

Junior Ladies victors included Mayara from Brazil and Perez Squel Stein and the only Argentinean in the event Mariana Diaz.

In Elite Women's competition, Argentina's, Maria Belen Dutta and Venezuela's, Kimmy Diquez took the top spots.

The Elite Men's winner of the weekend was the Olympic participant, Ramiro Marino (Free Agent/Vans). Also in the top spots were Gonzalo Ureta of Chile and Fabricio Maturano of Argentina.
In the remaining categories were Alvaro Gaetan, Joaquin Jusid, Matias Brizuela, Tomas Cordova, Federico Montes, Agustin Lopez, Nicolas Santolini, Lucas Bustos (Dans) and Florence Soriano.
Fernando Zito - www.bmxargentina.com - prensabmxargentina@hotmail.com
---
Dreamteam-Gordijnhuis European factory team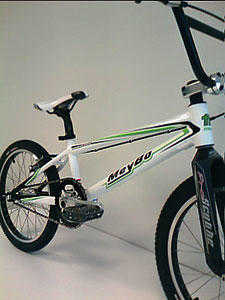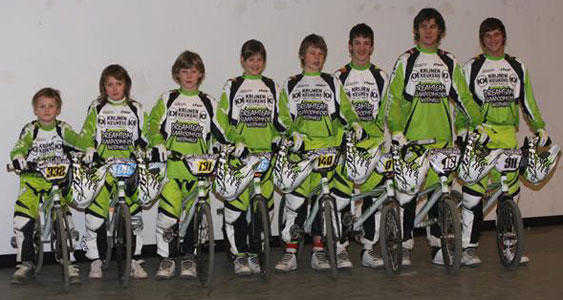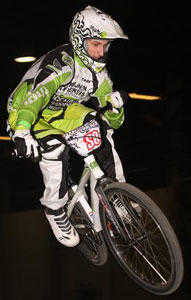 Introducing a brand new European factory team.
There is a new pro rider from Belgium Toon Jacobs ,next to him at the team a first year junior ,3 times European champ, Kristers Taims 6th place at the E.C. last year.
Yorben Van Tichelt rides the class boys 15 ,at the European championship he end up at 4th place cruisers and 5the place 20" ,at the worlds he gets a 7th place.
His sister Ynske ,girls 13, finished on a 6the place at the worlds after being long time be sick.
Also the youngest european rider off the team Karo Vertessen girls 11 ,finish at a 6th place the E.C.
Tree local riders are support also by the team these are Kyle,Joran and Mats De Proost.
At these times we hope to be help a lot this riders to do there favorite sports BMX.
For tis we thanks our sponsors ,Gordijnhuis ,Dreamteam factory off bed's ,Kitchen designer Krijnen Keukens , Honda Vermeeren for the Thor clothes ,and MEYBO BIKES.
---
---
FACTORY FORMULA / PROFILE / MAXXIS OFF TO A FAST START IN '09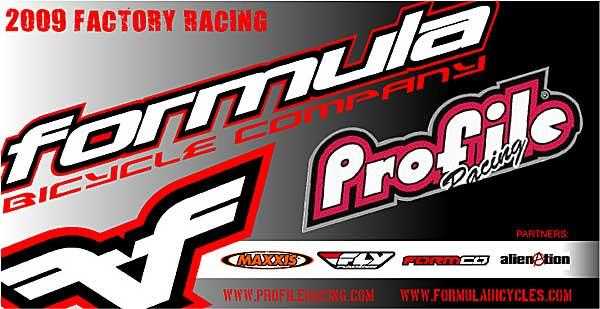 San Diego, California – Formula Bicycle Company has really stepped it up in 2009, fielding a complete factory team to complement the growing success of it's brand. There are several new amateur riders on the team, all stoked to be flying the new team colors and ready to make Formula's new team partners – Profile Racing and Maxxis Tires – proud.
2009 Roster:
USA Amateur Team - Trey Maeker - Vaughn Herrick - Lexa Jones - Carlie Ferree - Anthony Bucardo - Cameron Moore - Walker Finch - Andre Norles - Shelby Stacy - Kristen Hokit - Trevor Morley - Jake Sherbno - Lee Lewis - Zach Rehder
USA Pro Team - Tim Dinger - Deak Brown
World Team - Krystal Cranfield/AUS - Yvan Lapraz/SUI - Sam Willoughby/AUS - Jonathan Suarez/VEN
ABA Silver Dollar Nationals – Reno, Nevada ..... The team got together at the ABA's season opener, and it was the first time that a lot of the riders got to meet each other. The team finished with a 5th on Saturday and a nice 2nd on Sunday in Factory Team competition, behind some nice performances from Lee Lewis (1st on Sunday in 19-27 Expert), Walker Finch (Double in 11 Expert), Kristin Hokit (Double in 16 Girls), Cameron Moore (two 2nds in 11 Expert), Shelby Stacy (14 Girls) and Carlie Ferree (12 Girls).
ABA Sooner Nationals – Guthrie, Oklahoma ..... Formula sent a small team to Oklahoma and they picked up a third place on Sunday after a teamsheet mishap on Saturday kept the team out of the Factory Comp. Walker Finch nabs another double in 11 Expert, Lee Lewis gets his second win of the season on Sunday in 19-27 Expert, Lexa Jones pulls in a huge double-double in 10 Girls and 10 and under Girls Cruiser, and Trey Maeker and Shelby Stacy were also consistent in their mains all weekend.
ABOUT Formula ..... Formula Bicycle Company manufactures the finest BMX racing equipment in the industry. With 30 alloy frame sizes, there is certain to be a Formula frame to fit just about every size and style rider out there.
Formula's Solution Complete Bikes offers top quality racing equipment at less than half the price.
For more info: Check out www.formulabicycles.com, call 619-291-3015, or email info@formulabicycles.com.
Formula Bicycle Company is proudly supported by the following companies: Profile Racing (www.profileracing.com), Maxxis Tires (www.maxxis.com), Alienation Rims (www.alienationbmx.com), FormCo Products (www.formcoparts.com), and, last but not least, Fly Racing (www.flyracingbmx.com)
---
---
Speaking of RacePlaceBMX Bike Shop Team!!!!!
BMX Mania Editor's Note - We owe the fine folks at RacePlaceBMX.com Bike Shop Team a BIG apology. We have gotten behind on some of the news stories submitted in January and left one of theirs out. Check it out here, cuz, it's GOOD stuff and you'll want to know!
---

GHP Factory Team Swims Over To 'Lake Perris'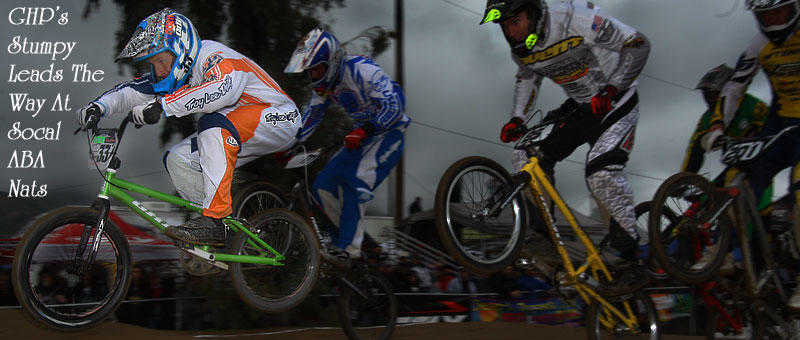 As everyone knows by now, Lake Perris lived up to it's name and everyone was racing in the mud. The ABA switched to a 1 moto transfer and put the UCI race off until Sunday. The racing was as great as ever with the GHP pros showing that they are mudders.
John Purse took the win in Vet Pro on Saturday and showed once again how focused he is to win the title this year. The fist moto of the day, he pulled the holeshot and jumped everything possible from there on out. He was dialed and followed up his victory with a 2nd on Sunday.
"TP" Todd Parry came out swinging and showed that his football training has put him back on top. He finished 3rd on Saturday and 5th on Sunday. This is his first race of the year, and by the looks of things, he will be joining Purse on the top of the podium. We may have a close race for the title with these two Vets. Rob Harris struggled through the weekend, but made the main on Sunday and finished 8th. I believe that he was struggling with the color of his grips.
"The Businessman" came down from Fresno to make both mains with an 8th on Saturday and a 3rd for the UCI program in AA Pro Sunday. Stumpy had some amazing rides over the weekend with many moto wins and an incredible shot down the side of the track almost hitting the fence next to the second straight. Sunday he came out of the first turn in 5th to jump over KY's carnage putting him up to 4th and powering through the rhythm section for a 3rd overall. We were all excited about Randy's performance and the fact that he got a hair cut so he looked good on the podium in front of the TV cameras.
Our older amateurs fared well with Johnny Little making 3 of 4 mains in the 28 year old classes with a top finish of 3rd. Don Fisher came back strong Sunday to make his cruiser main and finished a strong 4th. That leaves us with Robbie and Christian making 5 out of 8 mains. Robbie gets faster every race and made both cruiser mains with a couple of seconds and made 17-18 x main Sunday. He ran up front until he got zapped of his speed in turn 2 which he was unable to recover from. Christian took home two 4ths in 17-20 cruiser, suffering from bad starts he forced his way up to the front and looked strong as always.
Stephanie Baldwin took a 4th and a 5th in 8g over the weekend, she looked strong and back on her game. I think that she will be getting a few wins this summer. Dakoda Baca is a true soldier and is always battling. He made 12 cruiser on Saturday finishing 5th and 12x on Sunday. Baca had a ruff weekend at Silver Dollars and showed what he is made of. I am always calling him a momma's boy, but he is all heart and makes things happen.
Other riders representing GHP were Alexis Lehman, Mike Larson, Zach Zito and new grass roots riders Stephanie Shovelton and Doug King who made his cruiser mains and ended up breaking his collar bone on Sundays main.
We would like to thank Ryan Smith from Troy Lee Designs. He is our account manager and was on hand to race and pass out some plates at the clinic.
GHP would like to thank our great sponsors Troy Lee Designs, HRP, Tioga, Capital Cleaning, ODI, and Rhythm/Crupi.
---
Team Kaos Is Looking For Some Fast Riders.....Interested?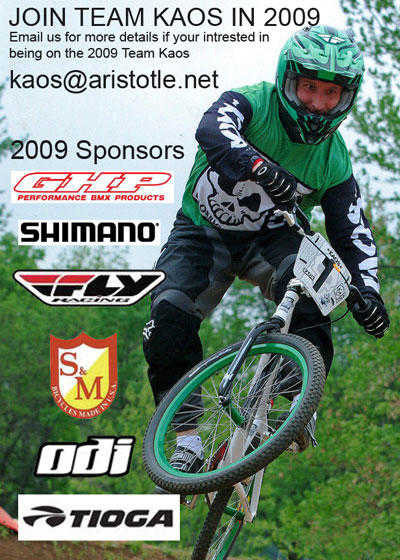 ---
Haro Team Issue RACE frames in stock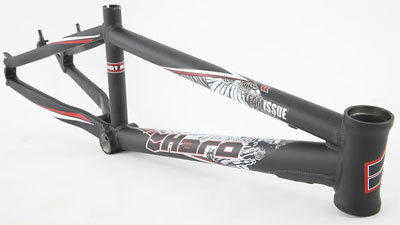 Haro BMX has some HOT new race frames ready to rip up the track.
With input straight from Haro's three factory Speed N Style crew, ABA #1 AA/Khalen Young, SX Specialist/Steven Cisar and the always
lightning fast/Derek Betcher you'll be able to point this Haro down the track and rock it big time to the Finish Line!
The Team Issue Race frames are in stock NOW!

Here is the run down:
6061 Aluminum

21" top tube

74 degree head tube angle

11.5 bottom bracket height

14.75 rear center

27.2 seat tube

3lbs 11oz frame only.

Comes with headset and seat clamp included.

MSRP $150!
WHAT? Manufacturer's Suggested Retail Price of $150? How can THAT be?
It's the Haro Stimulus Package, delivered straight to your door.......Man, THAT's Change You Can Believe In!
Check out www.harobikes.com/bmx for all the photos get you lusting after one of these frames.
---
J&R's Got Hot Stuff For Race & Street!
---
NBL COYOTE NATIONALS ROCK ARIZONA.....AGAIN
OLYMPIC MEDALISTS CLASH WITH NATIONAL CHAMPIONS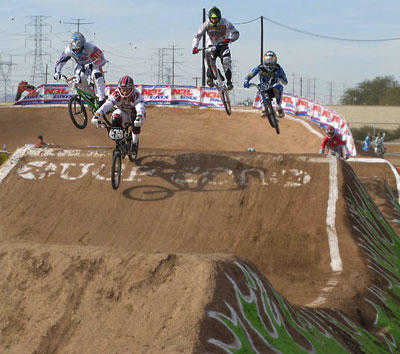 The NBL Coyote Nationals, held at the popular Estrella Mountain BMX track in Goodyear, Arizona, continues to grow and has become a must-race event on the West coast NBL circuit. It was also the season opener for the NBL Elite Series and a larger-than-expected turnout that included Olympic medalists, National stars and fast amateurs, raced their way around the smooth and fast course.
Under sunny skies west of Phoenix Arizona, the Coyote National featured more than 80 motos of great racing action to kick off the 2009 'League of Champions' Elite Series. Free Agent's Maris Strombergs, the Olympic Gold Medalist from Latvia, quickly proved that he is the man to beat, edging out GHP's Randy Stumpfhauser for the wins in Elite Men both days. Dominique Daniels of Arizona made her NB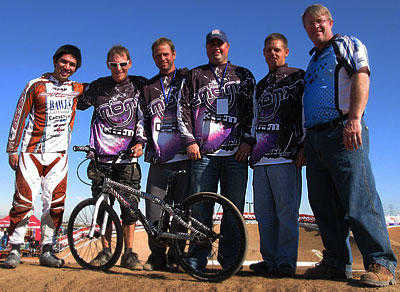 L debut a successful one as well - She beat out Raceplace BMX/Intense's Stephanie Barragan and BMXTruth/GHP/Fly's Madison Pitts for the double. Free Agent's Dale Holmes kicked off his NBL Masters campaign winning both days while his team mate from Ecuador, Fausto Endara and Excalibur/TLD's Josh Meyers split wins in Super-Ex.
Once again a group of riders took to the track after Saturday's national and continued to ride until sundown. They all echoed the same feeling about the Estrella Mtn. Track. "Somehow, it's even better than last year. I love the flames on the Pro section… that's the coolest thing I've seen on a track in a long time!" said one of the riders. NBL continues to elevate their presence in the West and the Coyote National provided a golden opportunity for western-based riders and teams to earn valuable national points and qualify for the 2009 NBL Grand National. Amateurs require only six National scores plus the Grands to earn a NBL National number and two of those scores can come from NBL Regionals. Best of all there's three more big NBL weekends coming up in the West - The Jackpot Nationals, March 14-15 in Las Vegas (Nellis BMX), the All American Nationals, May 16-17 in NorCal (Fresno BMX) and the Golden State Nationals, August 1-2 also in Norcal (Manzanita Park BMX, Prunedale).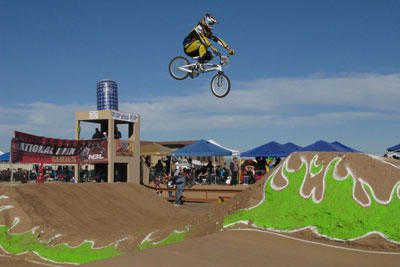 Excalibur BMX took top honors in the National Team division with back-to-back wins and pocketed a handful of valuable team points with the double-victory. They are ranked just behind Factory Felt/SC Action Sports and with their full time commitment to the National series, they will be challenging for the #1 Title come September. The Team NBL title will once again come down to the Grands - RaceplaceBMX/Intense scored back-to-back wins ahead of Lost Racing and BMX Bombers who each earned a 2nd and 3rd place result. They have a ways to go but expect this Las Vegas-based team to in the running this year too.
A huge thank-you goes out to all of the staff and volunteers from Estrella Mtn BMX who truly made this an amazing event. A custom painted pro section…. Wow. A job well done! Check out the full story in the March issue of BMX Today Magazine. Visit the NBL website at www.nbl.org for full results and view more details on the series and the full schedule.
The 2009 NBL National Series is proudly sponsored by BAWLS Guarana (www.bawls.com), Intense BMX (www.intensebmx.com), Kenda Tires (www.kendausa.com), UGP (www.undergroundproducts.com) Sinz Racing (www.sinz-racing.com), THE Industries (www.bmxthe.com), in association with GO211 (www.go211.com) and Camp Woodward (www.campwoodward.com).
---
---
---
Sunday - February 8, 2009
Bradford, Daniels, Stein Take The Gold At UCI Lake Perris!
Check Out The Official Results On The BMX Mania Race Report Page!
---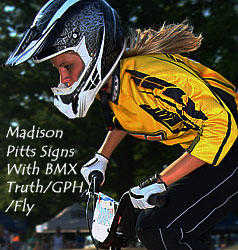 We are pleased to announce the addition of the NBL's Current National Number 2 Elite Women's rider, Madison Pitts to the BMXTruth/GHP/Fly racing team.
Madison is a well accomplished rider, whose resume includes a National Number 1 Junior Title, UCI World finishes and most recently, finishing as the NBL's National number 2 Elite Women's rider.
Madison is a great addition to our team.
We hope to be able to help support her in an attempt to win the coveted Elite Women's title this year.
Madison will certainly help our team make a run at the NBL Team title.
Look for Madison to be wearing the BMXTruth/GHP/Fly colors beginning at the Southern Charm Nationals in McDonough GA this weekend."
---
Hrvfitness Dominates Track Attack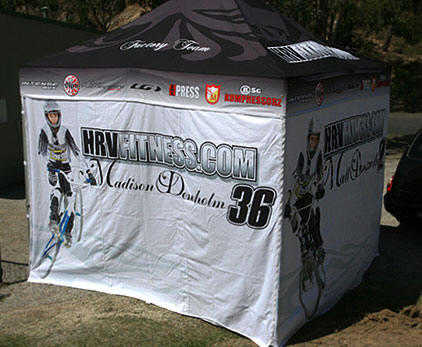 After a long month of racing the HRVfitness team is enjoying a few weeks off. The boys did a fantastic job in January; Olivier Hoarau finished 3rd over all at the summer series in NSW, Matt Dunsworth and Madison Denholm also made a bunch of finals up north. But when the boys returned to Victoria to compete in the 2009 Track Attack Series, that's when they shined. The boys didn't qualify for the over all series because they missed the first race, due to the summer series being on the same weekend. But never the less they managed to put together some impressive races.
Madison Denholm is tearing up the competition in A pro, the little guys has just turned 15 and missing about 15 kilos of body weight but he makes up for it as he flies past the competition around the track. Madison made a bunch of finals and put together some awesome podium finishes.
Olivier Hoarau battled head to head with fellow team mate Matt Dunsworth; these two smashed the competition and between them took out 4 of the 6 finals, even after missing the first round. Heavy hitter Brian Kirkham turned up on the last weekend of the series, fresh of his win in Queensland and a very successful tour in the USA. Even he was no match for Dunsworth on his home track, as the local boy took Brian to school on the last turn with an awesome high low move to take the win.
Altegra has jumped on board the HRVfitness band wagon and supplied the team with the next level in pop up tents. This thing puts the competition to shame with 3 fully digital printed sides and custom top, this thing is indestructible and strong enough that the team can to chin ups off the struts between motos.
For more info on these tents and other products, go to www.altegra.com.au
HRVfitness is sponsored by: Intense Bikes, BMXPress Mag, Skin Industries, Phirebird, Altegra, S&M, Louis Garneau, Kompressorz and BSC
---
Olympians Are Coming To Oldsmar!
ABA BMX Gator National to Host World Class Athletes
Oldsmar, FL, February 3, 2009 —Oldsmar BMX, Florida's premier ABA-sanctioned bicycle motocross (BMX) facility, is excited to announce the return its major annual event the ABA (American Bicycle Association) Gator Nationals. This thrilling event spans three days February 20-22, 2009, the highlights of which will be Saturday's UCI (Union Cycliste Internationale) and Sunday's ABA Pro races. This competition is expected draw over 600 riders and feature some of the best in the world including last year's Olympians and have hours of racing each day. This is a qualifying event during an Olympic year. Some of these riders are training for 2012 now.
This exciting sport is one where the entire family is involved. With both male and female competitors, ages will range from "barely-off-training-wheels" 5 & under to the "old men" of the 56 & over cruiser class. Oldsmar's youngest rider is 3 years-old and expected to compete.
The dirt course measures over 1,000 feet long scattered with massive jumps of all shapes and sizes. Come out and enjoy the thrills, spills, and competition of the ABA Gator Nationals. Admission to this event is always "FREE" to the Public! (There will be a $5 per day parking charge for cars, $15 for RV's)
FRIDAY registration and practice starts at 2:00 p.m. and racing at 6:00 p.m.
SATURDAY registration and practice starts at 7:30 a.m. and racing at 11:30 a.m.
SUNDAY racing begins at 8:00 a.m. sharp until approximately 2:00pm with all awards presented.
Get introduced to a sport where anyone can participate at any age or return to the sport of your youth. Oldsmar BMX is open weekly for practice and racing.
We extend an invitation to you to check out the ABA BMX Gator Nationals. FOR MORE INFO regarding BMX racing or interviews, please contact Oldsmar BMX @ (727) 786 – 7433 or ababmxoldsmar@yahoo.com
About Oldsmar BMX - Oldsmar BMX is located in Canal Park in Oldsmar, Florida and is sanctioned by the ABA (American Bicycle Association). Oldsmar BMX is a non-profit organization operated and maintained entirely by volunteers and supported by the City of Oldsmar. The track was established in 2001 and updated in 2007 and 2008. The track sanctioned over 270 local riders in 2008. For more information, please visit www.oldsmarbmx.org or call (727) 786-RIDE (7433).
---
VBS-Kenda Launches 2009 Team Racing Efforts

February 5, 2009. Hilliard, Ohio. I am very happy to announce that the VBS-Kenda racing team will be riding Hyper BMX frames for the 2009 racing season. Along with the exciting line of Hyper Bicycles, the team will also look sharp with pants, gloves, shoes, and practice jerseys from Sixsixone and Royal. This year the team will be protecting their noggins with safe and stylish new lids from Thh Helmets. Our new VBS produced jerseys will be ready for the next National (a 2-week turn-around for VBS jersey maker Peter Xue). So be sure to stop by the Kenda display in the Midwest to check out Kenda's revamped tire line and these great products starting in Columbus February 13-15.

Our 2009 roster is locked & loaded with 15 riders from Ohio, Pennsylvania, Missouri, and Arkansas. The ladies are, Kenda's Elite Woman Rachel "THUNDER" Smith – Erin "TOO SWEET" Moore – Emily Tallmedge – Jesi Bercik – Shyla Shirkey – Katie Deters. Now for the gentlemen of the team, Larry "RED" Bivens – Tom "HILLBILLY" Wagner – Kyle Brown – Kyle Jacks – Matt Hardy – PJ Gentile – Nick Deters – River Allbaugh – Reece Allbaugh.
Congratulations to Extreme Sports for their 2008 Team NBLChampionship!
I thank Kenda USA for sponsoring the VBS-Kenda Team, Mark Hardy for his assistance, and the following supporters for helping our fine group of riders to cross the finish line up front. Joe Pittenger, Team Manager

Village Bike Supply www.vbsbmx.com, Kenda www.kendausa.com, Hyper Bicycles www.hyperbicycles.com, ODI www.odigrips.com, Sixsixone / Royal www.sixsixone.com, Thh Helmets www.thh-helmet.com,
Snap www.snapbmxproducts.com, JW Bicycle Products www.jwbmx.com, Crankbrothers www.crankbrothers.com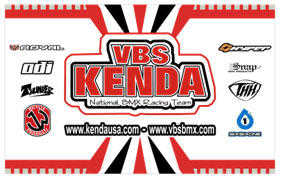 ---
---
The AllTheRacing.com Torch Is Passed!

One of the hottest 'Track Powered' web sites in the U.S., AllTheRacing.Com has seen a change of leadership and if the current excitement level is any indication, we ought to continue to see some outstanding activity out of ATR! So, if you want to know about what's happenin' in the Midwest, check out what's happening at AllTheRacing.Com, it's where the action is!
Official AllTheAction.Com News Release ..... Those of you who have gone on and check out AllTheRacing.com have seen how excited we are to be working with Mark Conley to continue the growth and spirit of ATR and BMX!
Check out the news and you will find links to brand new tracks who have very excitedly come on board to share in the exciting BMX world of the Midwest. We've also added some great new sponsors to the site, and the classified section is also up and running.
We also have things moving with some great tracks on putting together some, at least, $1000 purse Pro events. My personal project I am very pumped about is in the works. A non profit program for kids less fortunate , or families struggling, to be able to get some help getting started racing. You will be hearing about this soon and anyone interested in helping to get this going would be appreciated. Whoo Whoo!
Thanks to all the who have shown us there support on the handing over the torch for ATR. Mark has done a superb job of building a wonderful site(organization) to help grow and share the BMX world. We will continue his commitment and keep our wheels turning with more new ideas.
The sport of BMX has done absolute wonders for our family. All three kids racing along with Trevor have brought us so close and opened new lines of communication. We have met some terrific people who have not only become friends but a part of our family!!!!! For this, our passion for spreading the word about this sport is never ending.
We appreciate the people who keep the competition on the track only and the sweet harmony off! Check out www.alltheracing.com and you will see ATR has not gone AWOL but is alive and present with many wheels turning!!!! Thanks for your support!!!!!!!~ Mindy and Trevor Dailey
---
Tioga supports bmxultra.com for 2009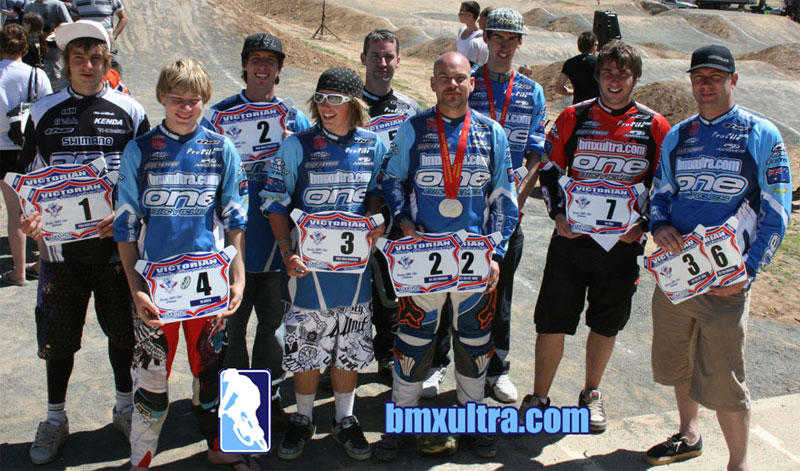 bmxultra.com press release
The legendary BMX tire manufacturer Tioga have committed to supporting bmxultra.com and the bmxultra.com/One bicycles race team for 2009.
bmxultra.com owner and bmxultra.com/One Bicycles team manager Shane Jenkins is very excited about the hook up. "I have personally used Tioga tires for most of my 27 years of racing, Comp III's to be exact, as the tracks have changed over the years so have the rider's needs.
Tioga has addressed those needs and the Power Block tire is about to change the way BMXers think about tread patterns, pushing tire technology to a new level, just as the Comp III tread did over 25 years ago." said Jenkins "Tioga is built on serving dedicated individuals such as Shane and the bmxultra.com squad so the opportunity to work with them is too good to pass up" said Kai Cheng of Tioga USA. "We will also count on Shane and his crew to provide Tioga with valuable feedback so we may continue to improve on the products." added Cheng.
When asked how Tioga will support the race team Jenkins replied "Many of the riders on our race team have already started using the Power Block tires and they love them, the remainder of the 10 man squad should have them very soon.
They will be the ideal tire for the remainder of the 2008-2009 Australian summer season and the upcoming Australian Championships and UCI World Championships to be hosted right here in Australia, both events being held indoor. The team is armed with Tioga Comp X tires for the wetter conditions. Team member Jamie Bullows and I have already used the Comp X tires before and found them a very reliable all round tire, exactly what our team is after."
"When it comes to the website, it's the support from leading edge companies like Tioga and our other partners that enable us to bring you great news and regular product reviews. We are very proud to have Tioga on board." Jenkins added.
The bmxultra.com/One Bicycles team is proudly supported by One Bicycles, Supercross BMX, Dirt Designs, Tioga, THE, Profile, Sun Ringle, and Tektro Brakes.
More information about the bmxultra.com/One Bicycles team at www.bmxultra.com/team.
About bmxultra.com: bmxultra.com, started in 1996, is driven by a life long passion for the sport by owner Shane Jenkins, to provide the latest in BMX racing news from around the world. bmxultra.com provides daily news updates, interviews, photos galleries, product reviews and a discussion forum. The website presents an annual charity event BSX, a one on one flat pedal BMX race where 100% of profits raised are donated to the Royal Children's Hospital. www.bmxultra.com.
About Tioga: A design driven bicycle components company focusing on function with style. In over 30 years in the cycling industry, Tioga has created numerous industry advancing components from the Comp-III BMX racing tire and the T-Bone stem to the standardization of the 1-1/8" steering system. Tioga's new generation of components are not only functionally designed to accommodate athletes with serious skills, but also styled to reflect their commitment to the sport. www.tiogausa.com.
---
---
---
Berkheimer Rings in the New Year and Sends it Like Never Before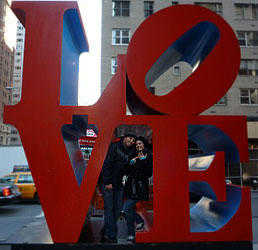 Diamondback's, Nate Berkheimer and his girlfriend Ashley made the big trip to New York City and did the Times Square New Year's Eve Celebration thing up right, with a front row view of the New Year's Ball Drop.
Nate surprised Ashley before they made the trip back to Las Vegas by "poppin the question" and sealin' the deal on a formal engagement.
Look for a sweet Vegas wedding, April of 2010!
Congrats to Nate and Ashley, and best wishes from BMX Mania!
To check out the whole story, go here.

---
CPSC Grants One Year Stay of Testing and Certification Requirements for Certain Products

Editor's Note - In a stunning 'reversal' of policy, the United States Consumer Product Safety Commission has rescinded it's order for articles used by children to be tested and individually certified as "lead free". This was a reversal of an enacted policy that had the potential to force several of the more popular smaller bike manufacturers out of business due to the testing of many parts being cost prohibitive. The ruling stays the standards for one calendar year.
From, www.cpsc.gov ..... WASHINGTON, D.C. - The U.S. Consumer Product Safety Commission voted unanimously (2-0) to issue a one year stay of enforcement for certain testing and certification requirements for manufacturers and importers of regulated products, including products intended for children 12 years old and younger. These requirements are part of the Consumer Product Safety Improvement Act (CPSIA), which added certification and testing requirements for all products subject to CPSC standards or bans.
Significant to makers of children's products, the vote by the Commission provides limited relief from the testing and certification requirements which go into effect on February 10, 2009 for new total lead content limits (600 ppm), phthalates limits for certain products (1000 ppm), and mandatory toy standards, among other things. Manufacturers and importers – large and small – of children's products will not need to test or certify to these new requirements, but will need to meet the lead and phthalates limits, mandatory toy standards and other requirements.
The decision by the Commission gives the staff more time to finalize four proposed rules which could relieve certain materials and products from lead testing and to issue more guidance on when testing is required and how it is to be conducted.
The stay will remain in effect until February 10, 2010, at which time a Commission vote will be taken to terminate the stay.
---
---
Orangeville Indoor Mountain Bike and BMX series
The first ever Orangeville Indoor Mountain Bike And BMX Series in Canada is history and the results are in. Big winners in the series are......
Pro BMX- Men .... 1. Bob Rowley 1190 2. Greg Bidwell 1072 3. Kyle Pearson 1057 4. Brent Smith 1013 5. Jason Rowley 942
Pro BMX- Women ..... 1. Amelia Walsh 983 2. Lee Ryckman 496 3. Mehgan Jarvis 441
Pro Open Wheel ..... 1. Greg Bidwell 949 2. Kyle Pearson 885 3. Alex Brancier 865 4. Brandon Cassell 826 5. Simon Caissie 163
Pro MTB ..... 1. Alex Brancier 1130 2. Brandon Cassell 1107 3. Tom Kakamousias 985 4. Rob Fraser 948 5. Jeff Faulds 933
15 & Over Girls MTB\BMX ..... 1.Christine Schiavone 993 2.Stephanie Huiskamp 941 3. Ashley Pereira 325 4. Stacey Cassell 255 5. Chelsey Hunt 120
16 & Over MTB\ Expert ..... 1. Aaron Smith 1086 2. Matt Gillies 1041 3. Dean Thompson 652 4. P.J. Wegrynawski 641 5. David Klaver 640
16 & Over Novice MTB ..... 1. Chris Siren 992 2. Chris Drysdale 718 3. Adrian Winter 584 4. Victor Addis 513 5. Caleb Glythero 306
16 & Over Novice BMX ..... 1. Scott Graham 1094 2. Paul Schiavone 1002 3. Andrew Gotuaco 425 4. Jonah Fegidero 328 5. Bill Dainty 312
16 & Over BMX\ Expert ..... 1. Jeff Sylvah 685 2. Taylor Rowlands 520 3. Jeff Sylvah 350 4.Chris Kohar 170 5. Dave Thomas 149
---
Emerald Valley BMX Looks To Race For Life/Redline Cup Qualifier This Weekend!

This Weekend RFL/RCQ Saturday and Sunday REGISTRATION 11-NOON BOTH DAYS Doors will at 10:30
There is NO Phone in PRE- REGISTRATION You may email your info to trackoperator@evbmx.com up to midnight FRIDAY and we will have you entered PLEASE MAKE SURE YOUR PLATE NUMBERS are correct so we need no re-post due to PLATE NUMBERS. This is the most inexcusable re-post and the most common.
Swap Meet tables will be pre-staged in the viewing room.. So bring your goodies to sell or swap.
Thanks to Roger Linder for a successful clinic on Saturday.
Please take the time to say thanks to Angie Harris and Jerry Jones they have been running your indoor events quite well and are regularly improving.
Outdoor racing has been fast and furious as the lack of rain has made for a fast surface and we get in and out quickly so yoy don't miss your homework! Please continue to show your support by bringing a friend to join our family of BMX maniacs!
Finally following the success of the Mollala River BMX loonies we are putting together an EVBMX team. Please contact Robert Purkey for info. Kelli Manley is team MOMextraordinaire and will also be available for questions.
Thanks for your support!!
---