---
---
Extreme Sports/Answer Team Report for ABA So Cal National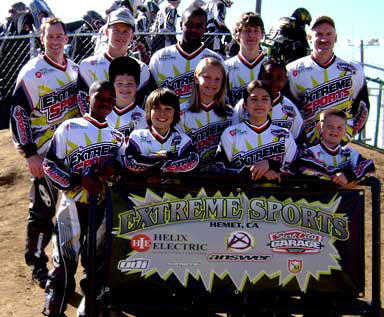 The Extreme Sports/Answer Bike Shop team, primarily based out of Southern California, including a few Lake Perris BMX locals, wanted to add on to the 200+ team scores earned in Reno with some home track advantage. On Saturday, the team squeaked out another win with a score of 194 points. Between the NBL and the ABA this season, the team has won 9 straight nationals. On Sunday, however, the streak came to an end as the team got its fair share of tasting the Lake Perris dirt in the mains to put a big dent into the team sheet scores. I can't say that the team sheet "blew-up" because we did manage to take a 2nd place finish with 178 points to the new VRP/Bike Alley team. Congrats to Jesse Vargas and the gang for their team win on Sunday.
This past weekend also marked the transition of ownership of the Extreme Sports bike shop from Chris "Mechanic on Duty" Patterson to Andria and Brian Morgan and Frank Manqueros, big supporters of Lake Perris BMX the past several years. Chris plans on keeping the trailer and will vending at nationals later in the year. We hope Chris and his new Wet Monkey Power Sports business at Lake Havasu is as successful as his bike shop/vending venture. A special thanks to the new bike shop owners who brought in Monster Energy to co-sponsor the team for the year. Be sure to stop by the team set-up at west coast ABA & NBL nationals to try out some of the new Monster flavors.
In race action, local A Pro Jason Morris got the weekend started with a Pro win in Friday's pre-race over a few AA Pros. With the locals cheering him on, Jason managed two 4th place finishes for the weekend in the drama filled A Pro mains. Michael Darnley who has only ridden in the cruiser class the past decade, decided to try the new Answer Anarchy 20" XL for a change. And wow, two 2nd place finishes in the 36x class that is getting tougher every year. Lauren "Rocket Girl" Whisler also deserves a few props. She won every lap in the 12g class against some very formidable competition. Matt "Hot Rod" Rubeck chalked up three more podiums with a 2nd and 3rd place in 16x, and a win on cruiser on Sunday. LeAndre Parker also made his return to racing after an 11 month lay-off due to major knee surgery late last year by making both his mains in the ultra tough 17-18x class. Alvin Prigett made some significant contributions to the team scores with 2nd places finishes in 10x and 10 cruiser on Saturday, but found the dirt twice in Sunday's mains. Robert Raymonde had big plans for the weekend against me and the rest of the 41-45 cruiser class, but unfortunately snapped his chain, flipping over the bars, and breaking his hand a week before the national. Rob will be back in a couple months to rack up some big points for him and the team.
For those who know my wife Teri Angus, a special thanks to the BMX community who have been showing tremendous support of her efforts to fight her bout with breast cancer. She just completed 5 months of chemotherapy and just started radiation treatment last week. She had a tough week before the national, but found some strength over the weekend (including a loud scream in support of one of our downed riders), which was great to see (hear). Without her, I would not have been a team manager the past eight years and been able to travel the USA to race this sport of BMX.
Thanks to all of the supporters of the Extreme Sports/Answer BMX race team. Because without them, I couldn't be able to make this happen for all of the riders who been with us over the years. This includes team riders and family members, as well as our 2008 sponsors that include: Extreme Sports (www.extremesportsunlimited.com), Answer BMX (www.answerbmx.com), Tangent Products (www.tangentproducts.com), ODI Grips (www.odigrips.com), S&M (www.sandmbikes.com), Helix Electric (www.helixelectric.com), and Surf City Garage (www.surfcitygarage.com).
Sincerely, Scott Angus, TM - (sangus@bas.com)
---
Latvian BMX rider who trained at WCC wins first UCI Supercross leg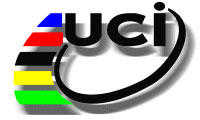 Official UCI News Release
Latvian BMX rider Arturs Matisons, who trained at the World Cycling Centre (WCC) in Aigle, Switzerland, last week, won the first leg of the UCI BMX Supercross in Madrid on Saturday.
Arturs Matisons and his compatriots Ivo Lakucs and Maris Strombergs trained at the WCC from February 4th – 7th. They traveled directly to Madrid for the UCI BMX Supercross on February 9th.
Matisons, 22 years, took the gold medal in front of Marc Willers, New Zealand, and Steven Cisar, of the United States.
To win the final, Matisons also beat Donny Robinson (USA), runner-up in the Supercross series last year. Robinson finished 5th at the Palacio de Deportes arena in Madrid on Saturday, one place in front of the reigning World Champion Kyle Bennett (USA). The winner of the Supercross series in 2007, Robert De Wilde, (Holland) did not qualify for the final.
Arturs Matison's two compatriots were also in the weekend's competition: Ivo Lakucs finished 7th in his semi-final, while Maris Strombergs was knocked out in the heats.
The next leg of the 2008 UCI BMX Supercross World Cup will be held in Adelaide, Australia, from 12th – 13th April.
---
ABA Introduces THE JOEY BRADFORD DISABILITY FUND

Monterey, California – BMX Racing is a dangerous sport. As with the majority of professional sports, the money earned is all-too-often not enough to make ends meet, let alone pay for something as expensive as medical bills. Professional BMX racer Joey Bradford has seen far too many fellow riders and industry professionals become engulfed in insurmountable medical bills stemming from injury or illness. For this reason, in early 2007, the then 17-year old racer took it upon himself to do something about it. With help from his family and key industry veterans, Bradford conceptualized and developed the Joey Bradford Disability Fund.
WHAT IT IS - The Foundation, a federally recognized and regulated non-profit organization, aims to ease the burden of medical bills, either by injury or illness, for BMX professionals as well as BMX industry professionals, those whose primary income comes from the BMX industry itself. "Getting injured is the worst thing that can happen to a professional athlete," states Professional BMX racer Brandon Meadows. "When I broke my femur for the second time, things seem to go downhill real fast. I just started a family, lost my sponsor, broke my leg, no way to make any money, and it soon came to a realization that it was going to be hard to make ends meet."
Applicants must apply themselves or via a family member and their case will be reviewed by the five person Fund Committee. If the application is approved, up to 50% of the fund can be released to help with monetary medical obligations. The five person Fund committee members are as follows- Jerry Bradford, Joey Bradford, Anthony Derosa, Pete Dylewski, and Shannon Gillette.
HOW TO GET INVOLVED - At this time, donations to the fund are welcome and invited. In the past, donations have usually been accepted after a rider is injured or takes ill. With this fund, donations can be made any time, at the donor's convenience, plus all donations are tax deductible. Plus, donors will have the ability to donate to a specific injured or ill athlete or industry professional directly on the Fund site at www.joeybradforddisabilityfund.org.
ABOUT JOEY BRADFORD - Joey Bradford has been working and training with USA Cycling and is a candidate for the 2008 and 2012 US Olympic BMX teams. Joey is the proud owner of 14 World Championship BMX titles, 12 National Championship BMX titles and, in MTB, 4 Sea Otter Classic Mountain Cross Championships. Joey is 18 years old, hails from Monterey, California and rides for GT Bicycles.
---
ABA BMX and the Fire Magic Grill-off Series

The American Bicycle Association and ABA National Series Sponsor Fire Magic Premium Grills are excited to announce the 2008 Fire Magic Grill-off Series heating up a national race event near you. Competition is open to all individuals, groups and teams in attendance and will take place on Day One (Saturdays) at nine (9) designated outdoor national race events throughout the season. To enter, participants are required to prepare on-site, and with their own equipment, an outdoor grill recipe of their choice and submit a prepared sample with written recipe and recipe name before the end of that day's second qualifying round. Entries will be judged based upon taste, presentation and originality of name, with the day's top five (5) finalists being entered into a random drawing to win one of the most innovative, finest outdoor grills on the market today—the all-new Fire Magic Aurora A530s (A530s-1E1N-62 / stand-alone model) or A530i (A530i-1E1N / built-in model) worth a retail value of $4,573.00 and $2,844.00 respectively. With a list of incredible features, including industry-best cast stainless steel burners that are guaranteed for life, the A530s—like every Fire Magic Grill—burns hotter and cooks better than any grill you have every owned—unless, of course, it's been a Fire Magic.
There is no cost to enter and participants can enter as many unique recipes, in as many of the Grill-off competitions as they choose. ABA and Fire Magic reserve the right to select the judge(s) and all recipes will be anonymously submitted to the judge(s) for top five (5) selection and inclusion in a random drawing for that day's award, with a Fire Magic grill being awarded prior to the start of that day's main event. Entrants must be present to win and can choose from either the stand-alone or built-in models—which will be available for pick-up from a Fire Magic dealer in your area sometime before December 31, 2008. Sales tax on all awards will be the responsibility of the winners.
Likewise, every non-winning recipe entered throughout the course of the Fire Magic Grill-off Series will automatically be entered into a random drawing at the Friday Night Spectacular at the Grand Nationals in Tulsa, Oklahoma, with the winner taking home a Fire Magic A530s or A530i. Previous grill winners will not be eligible for this drawing. So fire up your grills because the more you enter, the more chances you have to win!
Fire Magic Grill-Off Series Events: 3/15 – Winter Nationals - Phoenix, AZ ... 3/28 – Super Nationals - Desoto, TX ... 4/26 – East Coast National - Spartanburg, SC ... 5/3 – US Nationals - Tulare, CA ... 5/10 - Mid-America Nationals- Blue Springs, MO ... 6/14 – Mid-West Nationals - Rockford, IL ... 7/26 – Great Salt Lake - Salt Lake City, UT ... 10/4 – Golden State - CA TBA ... And one event still to be named.
--WEATHER PERMITTING FOR EVENTS--
And finally, to reward all those dads, moms and grown-ups racing their hearts out like the kids, ABA and Fire Magic will be awarding one more grill—the state-of-the art Echelon E790s (E790s-2E1N-62 / stand-alone model) or E790i (E790i-2E1N / built-in model), worth a retail value of $7,743.00 and $5,623.00 respectively, as part of the Fire Magic Echelon Race Series. Eligible riders must be ranked in the top ten (10) in any one of the following National Age Group classes after the final ABA regular season national race (Disney Cup Event), with the winner to be being randomly drawn at the Friday Night PRO Spectacular/NAG 5 Challenge event at the 2008 ABA Grand Nationals.
Fire Magic Echelon Race Series / Eligible Classes: 28-35 Men - 36 & Over Men - 26-30 Men's Cruiser - 31-35 Men's Cruiser - 36-40 Men's Cruiser - 41-45 Men's Cruiser - 46-50 Men's Cruiser - 51-55 Men's Cruiser - 56 & Over Men's Cruiser - 28 & Over Women - 26-30 Woman's Cruiser - 31-35 Woman's Cruiser - 36-40 Woman's Cruiser - 41-45 Woman's Cruiser - 46 & Over Woman's Cruiser
So, get your competitive juices flowing and start cooking and racing; you could win one of the world's finest outdoor grills. The American Bicycle Association and the Fire Magic Grill-Off Series—great times and great food. Fire Magic Premium Grills (www.rhpeterson.com/firemagic/)
ABA BMX would like to thank all the 2008 National Series sponsors: Disney's Wide World of Sports Complex (www.disneysports.com) American Suzuki-(www.suzukicycles.com ) Jig-A-Loo-(www.jigaloo.com ) BAWLS Guarana (www.bawls.com) Bawlstyle (www.bawlstyle.com )Redline Bicycles-(www.redlinebicycles.com ) FLY Racing-(www.flyracingbmx.com ) Sponsorhouse-(www.sponsorhouse.com ) Tangent-(www.tangentproducts.com ) Intense BMX-(www.intensebmx.com ) T.H.E. (www.bmxthe.com) Fire Magic Premium Grills (www.rhpeterson.com/firemagic/)
Without their support, we couldn't make the 2008 ABA racing season such a huge success. Support the sponsors that support ABA BMX racing.
---
T.H.E. Products signs multi-year agreement with ABA BMX

Gilbert, Arizona, February 27, 2008 - The American Bicycle Association (ABA) is proud to announce that T.H.E. Products (www.bmxthe.com) has signed a multi-year sponsorship agreement with the ABA. T.H.E. Products are the makers of some of the most innovative products in the industry. They make some of the most popular items in BMX right now, such as the there all new line of full face helmets, number plates, grips, pads, bike racks, bike stands, sweatshirts and back packs. Whatever your need, T.H.E. Products has you covered. Their products and dedication to the sport of BMX racing fit in very well with our programs, as the ABA is the best in BMX. The multi-year agreement will see T.H.E. Products promoted at the ABA National Series level as well as in the BMXer magazine and www.ababmx.com. T.H.E. Products will also once again be a major supporter of the ABA`s Race for Life Series as well as add prizes to the ABA Nag 5 Challenge, Pro Spectacular and the ABA BMX events in Canada.
T.H.E. Products can found on several of the Top ABA Pro's Am's and Teams that they support. Team's like the Intense BMX / Bawls Guarana Pro Team which has the ABA National #1 Pro and National #1 Pro Cruiser rider Danny "Easy Money" Caluag and 2007 ABA Rookie Pro of the Year, David 'The Hermanator' Herman. When it comes to ABA National # 1 Championships, T.H.E. Products can place their name on just about all of them. In addition to ABA National #1 AA Pro "Easy Money" Danny Caluag, they currently have the ABA National #1 Champions like Redlines #1 Vet Pro Jason Carnes, Intense/Phantom/Ontrac's Amateur Boys-Nic Long, Amateur Boys Cruiser-Billy Russell, Amateur Girls-Dominique Daniels, and Amateur Girls Cruiser-Dominique Daniels. All these ABA National #1's are all proudly displayed on T.H.E number plates. ABA #1 Vet Pro is also supported by THE products and runs the THE One Full Face Helmet. T.H.E. Products also supports Pro Riders Cristian Becerine, Javier Colombo, Jason Richardson, Khalen Young, Derek Betcher, Todd Parry, Joey Bradford, Dale Holmes
Bernard Anderson, ABA's Vice President stated - "T.H.E Products are well known in the BMX industry for their top quality products and we like working closely with companies like this. It's an exciting time in BMX Racing right now, and we're very excited to have T.H.E Products on board. They are committed to the sport of BMX and the ABA BMX racers, families, and fans."
T.H.E. Products Marketing Manager Pete Dylewski noted – "We are excited to become a sponsors of the ABA. THE Products founder got started in the sport of BMX over 30 years ago and has a deep history and love for the sport. Now that he is able to give back to the sport he grew up with, he jumped at the chance. THE Products is all about making the best of the best products for racers and with our input from our Pro team, we are doing just that, but making it available for everyone. We are proud to support and work with the ABA and offer the best products in the world to the best racers in BMX!
About T.H.E. Products - With a deep heritage in the Professional level of cycling, THE Products offers some of the worlds finest products available for racing. THE founder, Toby Henderson was one of the Worlds most decorated BMX and Mountain Bike Professional racers, and he now brings the products needed to be able to compete at the Pro level while not having to 2nd guess your choice in equipment. With items produced from the best materials available, THE products deliver the Worlds best products
For more information about THE Products, visit: www.BMXTHE.com. Visit the ABA website to see the full 2008 National Schedule at www.ababmx.com.
ABA BMX would like to thank all the 2008 National Series sponsors: Disney's Wide World of Sports Complex (www.disneysports.com) American Suzuki-(www.suzukicycles.com ) Jig-A-Loo-(www.jigaloo.com ) BAWLS Guarana (www.bawls.com) Bawlstyle (www.bawlstyle.com )Redline Bicycles-(www.redlinebicycles.com ) FLY Racing-(www.flyracingbmx.com ) Sponsorhouse-(www.sponsorhouse.com ) Tangent-(www.tangentproducts.com ) Intense BMX-(www.intensebmx.com ) T.H.E. (www.bmxthe.com) Fire Magic Premium Grills (www.rhpeterson.com/firemagic/ )
Without their support, we couldn't make the 2008 ABA racing season such a huge success. Support the sponsors that support ABA BMX racing.
---
---
Alienation is Now Accepting Applications
for Grass Roots, Picks up Rumple To Ride!

Alienation is extremely excited to announce the hire of Danny Rumple.
Rumple has deep BMX roots stretching back 15 years with multiple pro contest wins.
To his credit he received the Bent Fork Award in 1998 for the best crash.
Rumple will act as our in-house test rider, junior product manager & part-time marketing coordinator.
All sponsorship related matter should be direct to his attention.
Rumple will play a key role in our continued expansion within the bicycle industry and related businesses.
Alienation is now accepting applications for the Grass Roots Program.
This is set up for the individual racer/team. If you have what it takes click here or contact Danny.
dan rumple | sponsorship coordinator | www.alienationbmx.com | info@alienationbmx.com | 574.269.7944 | My Myspace
---
---
ABA BMX and Yamaha has awarded the top ABA 2007 District points earner a Yamaha WaveRunner. Rusty Nesvig of CA02 with 24,510 points came out on top to secure his own personal Yamaha watercraft. Rusty`s races in 2007 including 95 single points races and 22 nationals where he won the majority of them.
At the So Cal National on Saturday February 16, Rusty was brought out to the infield in a special ceremony to draw the name of the second lucky winner. The second winner was a district #1 rider who has earned at least 2000 district points for the 2007 season. There were 346 riders who met the criteria of the contest.
The winner of the drawing was Dani George from CA17. She had earned 15,260 points and now is the proud owner of a new Yamaha Waverunner!
Check out the video, at http://www.youtube.com/watch?v=sDqvz7EIFc8 ...... video courtesy of Pivotal Productions .
ABA BMX and Yamaha Watercraft send their congratulations to these incredible riders!
---
---
---
USAC BMX Championships training plans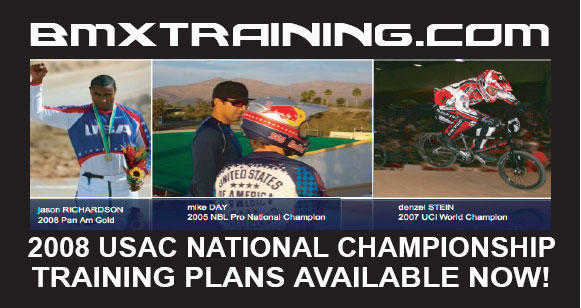 Top BMX Coach, Greg Romero, is offering training plans for the 2008 USAC National Championships.

This 5 week preparation program is to get the athlete in physical peak condition thus improve confidence for the USAC National Championships in Desoto, Texas!

This plan has it all: Sprint training targeting stand start power, acceleration and top end leg speed.

Plyometric training will enhance power on the bike and there is also strength conditioning structured into the plan!

Your athlete will improve against his old self like you have never seen before!

The plans are available for 13&Under, 14& over and there is a plan designed for the 21 & over working Cruiser/Expert athlete.

For more information go to www.bmxtraining.com and get the training that your racing deserves!

This plan must start no later than February 25th!

Red Bull Tabua BMX - An Epic Journey to Fiji, featuring Corey Bohan and Corey Martinez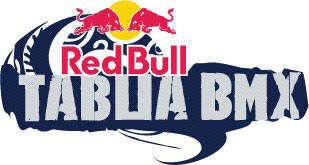 Corey Bohan, the most decorated BMX dirt rider ever embarked on Red Bull Tabua, a unique journey to Fiji in search of never before ridden terrain to capture historic riding moments.
Why BMX in Fiji? Because it's never been done before….
While Corey's competitive history and acclaim are unprecedented in his sport, with back to back to back X Games gold medals and four NORA cups in a row, he traveled to Fiji not in search of further competitive glory, but with the goal of pushing the boundaries of his sport.
Corey teamed up with acclaimed BMX photographer Jeff Zelinski, some master dirt builders and fellow rider Corey Martinez in the hope that they will be able to bring BMX out of the shadows and capture ground breaking, creative photographic moments set to the back-drop of the beautiful and sometime tumultuous Fijian Islands.
The best BMX riders in the world set out to see what could be accomplished over a waterfall, on Table Top Mountain or in the forest by the island shore of Sovi Bay. The challenge was greater than first thought. First was the challenge of building rideable terrain in the jungle or on a mountain top. The riders, filmer and photographer themselves then had to trek through the jungle with all their gear just to access these areas. Finally, that had to ride and try to perform at their peak when the light was just right for that perfect shot.
The story doesn't end with historic progressive riding. Corey and the team immersed themselves within the Fijian culture and when western pop culture collided with the traditional island way of life, it made for quite an interesting experience for all.
Check out the web clip at: http://youtube.com/watch?v=pyxxanH86i4
BMX Mania Photo Of The Day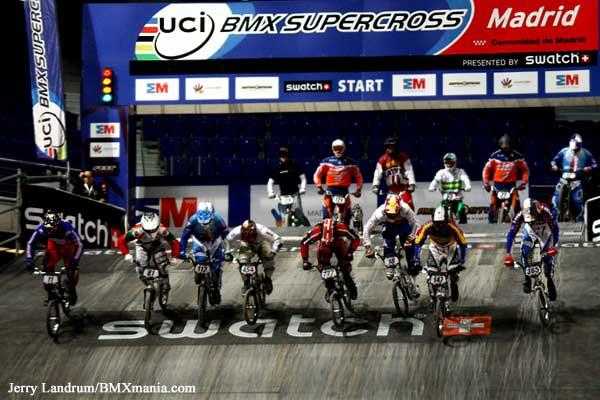 Big Horsepower on the Starting Hill at the UCI BMX Supercross in Madrid, Spain. From left, Thomas Allier, Micael Cesar, Tomas Slavik, Kamakazi, Marc Willers, Lukas Tamme, Jonathan 'Mosquito' Suarez and '365' Mike Day, all tryin' to get the edge in moto action. You can't believe how fast those guys will be going at the bottom of that Starting Hill. WHOOOOOOOOSH!
---
NEW INTERVIEW WITH DUTCH-REDLINE'S MARTIJN SCHERPEN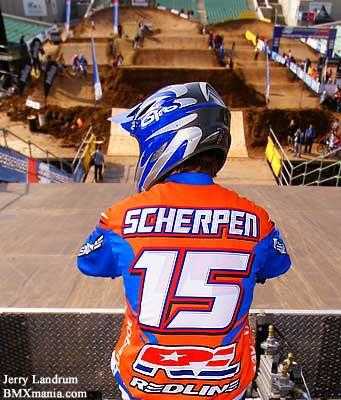 It's 2008 – the year that all of us hardcore BMX racers and fans have been waiting for. Because in just 8 months, BMX racing will finally get its well deserved time in the Olympic spotlight. And right now, there are easily 30 racers around the World who could very well win Olympic Gold for their country. Amongst those medal favorites is Dutch rider and current National Champion in Holland; MARTIJN SCHERPEN. As part of The Netherland's incredible "Orange Crush," racing aboard their custom painted orange/polished 2008 Flight bikes, Martijn is one of the four pre-qualified Dutch Pros who is hoping to earn his ticket to Beijing and get a shot at Gold, Silver and Bronze.
Here are some tidbits from the complete interview which is available on the Martijn Scherpen BMX Mania Interview page!
REDLINE: Who do you think will be the final Dutch team? Who's it look like right now?
MARTIJN: Robert de Wilde.....
REDLINE: Do you think its possible that we'll see three Dutch in the Olympic main.....
MARTIJN: Yes. Everything and anything can happen at the Olympics. It is just one race.....
REDLINE: .....what were your thoughts of the Beijing Olympic track?
MARTIJN: .....The best track I have ever raced on.....
REDLINE: What was your favorite part of the Beijing track?
MARTIJN: The second and third straights.
REDLINE: Was there one lap on the Olympic track that was the best for you?
MARTIJN: No, not really. I was just a bit disappointed that I messed up my final lap with a bad gate and then I came in touch with some other riders.
REDLINE: .....random drop gate.....important?
MARTIJN: .....it doesn't make as big a difference.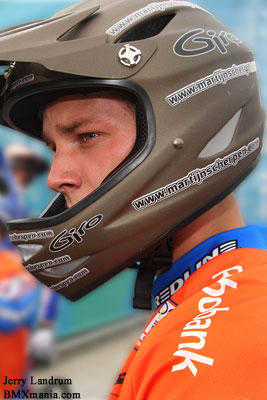 REDLINE: Would you describe yourself more of a skills rider or more strength?
MARTIJN: I am more skills and a spinner (light gear).
REDLINE: .....what is it about the Dutch BMX scene that breeds such good competition and riders?
MARTIJN: .....The secret is out.
REDLINE: .....second time as the Dutch National Champ …
MARTIJN: .....I won the National Championships and Dutch national series…..
REDLINE: There must be some pretty hefty names in Holland's BMX history who have held that title …
MARTIJN: Yes - Robert de Wilde, Bas de Bever, Wilco Groenendaal, Phil Hoogendoorn.
REDLINE: .....How are you sitting in points right now?
MARTIJN: In UCI points I am in 2nd place behind Robert (DeWIlde) and our country is in 2nd place behind USA.....
REDLINE: Besides your own site – you've created many other's BMX sites; right?
MARTIJN: A few.....
REDLINE: Who has been your biggest inspiration to help get you where you are today in the BMX world?
MARTIJN: My parents, Bas, and my team.....
For more of the BIG Interview from Martijn Scherpen, check out the whole bit on the Martijn Scherpen BMX Mania Interview page.
Interview by gOrk / Photos courtesy of www.MartijnScherpen.com, www.fianke.com , www.navada.net & BMXmania.com.
The REDLINE Global Team is sponsored by SHIMANO, SUN RIMS, TIOGA tires, KOOLSTOP brakeshoes and PRYME safety gear. The DUTCH~REDLINE Team is sponsored by INTENSE tires, SWATCH and GIRO helmets.
---
REDLINE~UK's SHANAZE READE WORLDS JERSEY

One of Redline's many hopefuls for an Olympic medal is reigning World Champion SHANAZE READE; the incredibly powerful, stylish BMX babe from the UK.
In her Euro Champ series debut, Shanaze whipped out her new Redline World Champ jersey; and proceeded to stomp the comp as she did all last year on her way to the Worlds Champs victory and Beijing win.
With 100% focus right now on Olympic glory and new coaching help from famed Australian training guru Grant White; all eyes should be firmly planted on the back of Shanaze's jersey at the coming Olympic Qualifier events.
---
---
SE's PK Ripper Looptail on the "Rob & Big" TV Show
BMX Mania Editor's Note - A BMX Mania, "Oops, Sorry" goes out to Todd Lyons at SE. We got this after we closed down shop for the day yesterday and didn't get it posted, even though it was 'time sensitive' as in LAST NIGHT. OOPS, SORRY! But it's a good story anyway, so we're running with it for Wednesday. Hope you like it! - Jerry Landrum/BMXmania.com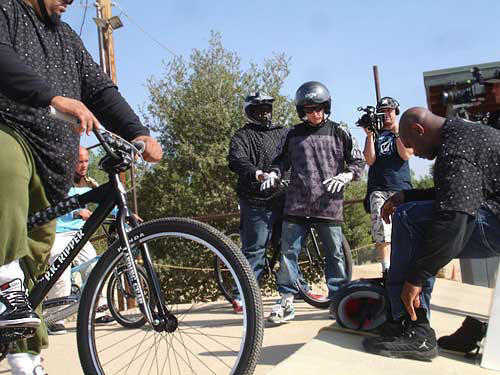 If you've ever seen the "Rob & Big" TV show on MTV, then you know that Big Black is a very, very big guy.
He told us a while ago that he's really into the whole old-school BMX scene.
But his problem was that he couldn't find a BMX bike that came anywhere close to fitting him.
So being the cool guys that we are at SE Bikes, we built him a custom sized PK Ripper Looptail that would fit him like a glove.
I went up to Rob's house & gave it to him a little while ago & they filmed the whole deal for an episode of the "Rob & Big" TV show.
I even went to a BMX track & rode with Rob & Big & their whole crew.
And man, was it funny watching those guys ride!
Anyways, I'm pretty sure that this stuff will air tonight at 10:30pm ET & PT on MTV.
Check it out.
And if this segment of the show doesn't air on the show tonight, then I'm almost positive that it'll air next Tuesday night.
Click here for more info & other air times & to check out the show in case you don't have cable: http://www.mtv.com/ontv/dyn/rob_and_big/series.jhtml
---
Today's BMX Racing News - Tuesday, February 19, 2008
BMX Mania Photo Of The Day!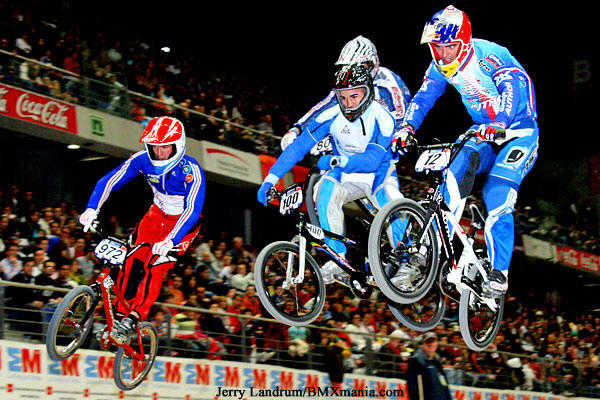 Michal Prokop, the Czech Superbiker, taking it in HOT, to the First Turn at the UCI BMX SX race in Madrid, Spain. Joining Michal up front, are Argentina's, Cristian Becerine and Thomas Hamon from France. Following the speedy trio, is The Wave Of The Future, 'The Hermanator', David Herman.
---
Bob Lunak Memorial / Big Dough Pro-AM
Sunday February 24th
<![if !vml]>

<![endif]>
Rad
Canyon Indoor in Salt Lake City will be closing out its season with a big grand finale! Not only are there thousands of dollars in prizes to be raffled off for the Bob Lunak Memorial Race but there will be BIG BUCKS up for grabs at the last Pro-Am of the indoor season!!! Last count the purse was already at $2300.00 and there are people out pounding the pavement for more $$$!!!
A HUGE raffle will be held to raise money for the Bob Lunak BMX Fund. The money will be used to help those who are less fortunate, buying new loaner equipment for new riders and programs to help support and grow the sport.

Prizes to be raffled:
Complete GT Race Bike
GT & Schwinn Jumping Frames & Forks
FLY Racing Clothing & Equipment
GT & Mongoose shirts
GT, Mongoose & Schwinn Banners
GT & Mongoose BMX Jerseys
GT MTB World Champion Team Jersey *Autographed by the Team!
And More!!!

The Utah BMX scene has a long history of great racers and contributors to the sport and one of the most influential was Bob Lunak. Bob passed away in October of 2005 from cancer.
Bob was a track operator, team manager, industry figure and a friend to all who met him.
Bob's number one concern was always the racers was known to go above and beyond to help them and made sure that when they talked, he listened.
Bob is a cornerstone in the Utah BMX foundation and we would like to take this opportunity to remember him and his positive impact to the sport of BMX.

Be sure to cancel all other plans to be at Rad Canyon Indoor BMX on February 24th for what will be the greatest event of the indoor season!

R.I.P. Bob…. Love, your BMX Family.

A huge thanks goes out to our gracious sponsors: GT Bicycles, Mongoose, Schwinn, FLY Racing, Design Ink, Mike Hale Acura, Ken Garff Nissan of Salt Lake, Bullfrog Marina Boat Rentals and Performance Bike Parts

Go to www.utahbmx.com for updates and race information.

Please contact Steve Spencer for any questions on the event: steve-spencer@hotmail.com
---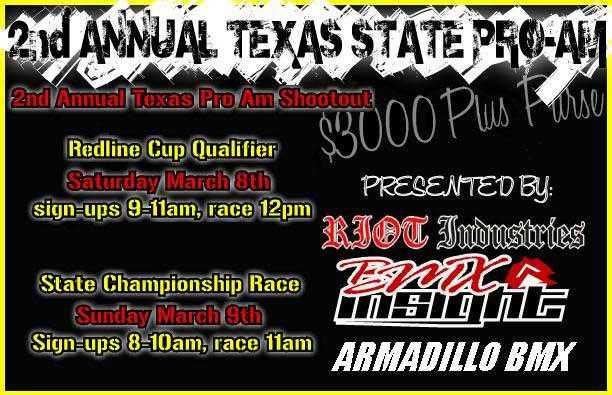 Armadillo BMX is the Home Track for Kyle Bennett, 3 Time UCI Elite Men's World Champ, John "The Jackal" Purse,
and this race will be attended by some of the toughest pros west of the Mississippi!
2nd annual pro-am challenge on Sunday of the Texas ABA State Race weekend!
$3,000 plus purse!
Must be 15 years old and up to race and race class as well!
Pre-Register at www.armadillobmx.net for both races!
Pre-Register up till Thursday, March 6th!
DON'T MISS IT!
Track & Registration Info available at www.armadillobmx.net!
---
Today's BMX Racing News - Monday, February 18, 2008
TEAM REDLINE RIPS IT UP IN "BUBBA'S BACKYARD" - GOODYEAR, AZ

Goodyear, AZ: The NBL's Coyote National wasn't the greatest race of all time for Team Redline. With the Pros-Only UCi points race on Friday, Redline's BUBBA HARRIS was out to redeem himself on his home track (located only 5 minutes from his new home). But he was caught sleeping on the gate in the semi and decided to give the rest of the AA's a slight headstart, and although his trackspeed is good, there was just no room on the straights for him to pass and catch up to the top-4.
In Elite Women, KIM HAYASHI was in third entering the last turn and went for one of her infamous inside-swoops for the lead, but couldn't make it (or her tires) stick. Lil' Kim slid out bigtime on the inside, and wound up with an 8 for the day.
Meanwhile, the big winner for the red, white and black was DENZEL STEIN, who stomped the comp in Jr.Elite – demonstrating to the guys at USA Cycling that he'll be their Man this year for the Jr. Elite class at UCI Worlds in China.
SATURDAY: With the Arizona sun shining on this incredible track with a monstrous Pro section, it was now time for NBL Pro-points action. And again – not the best day for Team Redline. For starters, JASON CARNE$ was flying mid-rhythm section and hit a step-up off balance and out of shape. Upon landing and hitting the immediate roller, C-money was instantly tossed to the ground like a ragdoll and was KO'd. The impact of body and dirt didn't look good, and Jason was hauled to the hospital to get checked out. A good thing too, as the Doc's have told him he has a crushed kidney and tomake himself at home in the ICU at St. Joe's hospital in Phoenix. At this time, he may be there for 3 to 5 days; depending on how his kidney recovers.
In the AA-semi, Bubba was wide awake this time for the UCi random gate - and was right there mid-pack, in the mix and making moves that he has become known for. But without much track width for passing, it wasn't until the last turn that Bubba closed in on the fourth and final transfer spot. Down the final straight, Bub' closed the gap on Tyler Brown and Donny Robinson, and to the virtual-eye the three crossed the finishline line simultaneously. This semi was definitely going to be decided by the finishline camera. Unfortunately, for Redline and Bubba, T.B. took the fourth place spot by about an inch - according to the NBL's camera angle. Again, no main for Bubba and more frustration for the guy who is recovering from a dislocated ankle last August.
This left the winning Redline tradition up to the final Redline riders – DENZEL STEIN in A-pro and new factory 10x BROCK HEFFRON; who made this race his first in Redline colors and his first race back since breaking his arm playing football last October. Sure enough – they both scored the victory. For Denzel, it was his toughest battle of the entire weekend - with Warren McDowell beating him to the first turn and forcing the DeSoto local to play a game of patience for making his move. Nipping on McDowell's back knobbies, Stein flew by Warren in the rhythm section - proving to all that this years best nominee for "Rookie Pro of the Year" is not just make out of super-human strength but he can jump too. Denzel took the lead from there and made it another unbeatable weekend. Not one race loss (unless you want to count the third moto when he shut it down to save his energy).
Brock Heffron, the Sports Illustrated for Kids coverboy, looked like he hadn't lost any strength or skills during his recovery-time, and whupped his competition in class and cruiser with virtual ease. SUNDAY: Being an Arizona national in Janaury, there's always that risk of rain. And sure enough, the clouds came in overnight and doused the Phoenix area good. NBL's Sunday race was canceled - and the scores from Saturday will be doubled. Good for those who did good – Like Brock and Denzel. Bad for those who got beat by an inch in their semi.
But don't worry folks – BUBBA HARRIS is looking back in form. His track speed is right where it was; and it is just a matter of time before he gets his second and third cranks back. With the next race on his schedule being the UCi Supercross in Spain - with a gigantic Olympic-like startng hill to get him moving, you can expect to see the good ol' Bubba back in form in 2 weeks.
---
Puerto Rico's Olympic Committee
Recognizes Olympic Hopefuls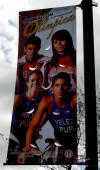 Puerto Rico's Olympic Committee will award this two BMX riders for their achievements in 2007.
Every sports federation from Puerto Rico have to choose two athletes one male and one female to be awarded in this ceremony.
Puerto Rico's Cycling Federation choose Brian Perez (Profile Racing Factory Team) and Samara Rivera.
Brian and Samara are the two athletes on top of the banner.
The award Ceremony is going to be held in the city of Caguas, Puerto Rico on February 24.
On the on going preparations this past Saturday the city of Caguas unveil the banners with the pictures of the athletes.
These were placed in the bridge of the Olympics in Caguas.
More details from the activity will follow.
Click on the above photo to see the "Big Picture".
---
Pan American BMX Brazil Race set for March

The Brazilian Confederation of Cyclism invites to the event Pan American of BMX 2008 - Paulinia, Brazil.
Athletes of 10 countries of Latin America are ready and athletes of Lithuania and Switzerland are expected to attend.
All the information on the event are in the site: www.panbmxbrasil.com - www.panbmxbrazil.com
---
Today's BMX Racing News - Saturday, February 16, 2008
Aussies take charge in men's field but Kiwi dominates women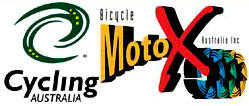 Australian BMX hopeful Jared Graves (TOOWOOMBA) won the seventh round of the UCI Oceania Series in North Harbour, New Zealand today. The 25 year old beat current Oceania leader Marc Willers (CAMBRIDGE, NZ) who finished in sixth place. Fellow Australian High Performance Team member, Luke Madill (PENRITH), claimed second with South Australian, Brian Kirkham (ADELAIDE) in third.

"I got out pretty good. Marc (Willers) was riding well all day. He was the one to beat. He had lane eight which was a little steeper but a bit rougher. I had lane four in the final which couldn't have worked out better for me," Graves said.

Brian (Kirkham) was my main worry," admitted Graves.

A strong start by Graves left him clear of the action behind. Into the final straight Willers tried to correct himself and regain some lost ground nearly crashing but managed to stay upright into the finish.

"These are good country points for Australia," explained Graves. As Australia heads into the Olympic countdown the ranking of each country will determine the number of riders. Willers, however, still maintains the lead in the men's Oceania series.

Riders were pleased with the track designed by Olympic track builder, Tom Ritzenthaler, but it was the gate starts that caused riders the most difficulty.

"The gate was dropping slowly. You pretty well had to wait for the fourth beep," explained Graves.

I've been having a lot of trouble with it. I hit the gate hard in two of the three motos."

Last week at the first World Cup in Spain, Madill qualified the third fastest but missed the final. Willers made the final and placed second overall.

The elite women's race was won by World number one, Sarah Walker (Kawerau,NZ) proving her top ranking by winning comfortably today. Second was Australian Melissa Mankowski (Moranbah/Campbelltown) and Krystal Cranfield (Gladstone, Browns Plains) in third.

Walker now cements her lead in the Oceania Series. Riders will return to the same track tomorrow for the next round. The following two rounds will be held in Australia in Penrith on the 8 – 9 March before Adelaide hosts the World Supercross in April.

Final result - UCI Oceania Series in North Harbour, New Zealand

Elite Men: 1 Jared Graves 2 Luke Madill 3 Brian Kirkham 4 Billy Jolliffe 5 Alex Cameron 6 Marc Willers 7 Tony Wilcock 8 Jamie Gray

Elite Women: 1 Sarah Walker 2 Melissa Mankowski 3 Krystal Cranfield 4 Tanya Bailey 5 Ziggy Callan 6 Victoria Hill 7 Nicolle Callisto 8 Tania Carson

Junior Men: 1 Sam Willoughby 2 Kurt Pickard 3 Stevie Janssen 4 Joshua Callan 5 Luke Londema 6 Michael Chasteauneuf 7 Anthony Dean 8 Andrew McKenzie
---

Factory Pryme ABA Sooner Nationals Report
Factory Pryme rolled into Guthrie, OK with some new riders and new uniforms and rolled out with a ton of trophies.
Amy McIntyre (11 girl) double-doubled, winning open and class both days; INCREDIBLE!!
Bridget Walter also spent some time on the top of the podium, winning cruiser on Saturday.
Bridget (17-20 girl cruiser) backed it up with a 3rd on Sunday and a 5th and 3rd in class, also.
Doc Graham (51-55 cr) wasn't feeling good, still recovering from his shoulder injury, but he still managed a 2nd in cruiser on Saturday.
Our other new rider, Tiva Feltman, followed up two 2nds in Oldsmar with a 2nd and 3rd for the weekend in 14 girls.
Preston Barley (9X), coming off of his Grands main, made three out of four in Guthrie.
Preston made open both days (4th and 3rd), as well as taking a 4th in expert on Saturday.
The McArthur boys were ten for ten when it comes to making mains.
Kyle's best was a 4th in 10X, and so was Cody's in 12X. Little Marc who just turned expert made both of his 7X mains, taking an 8th and a 5th on the weekends; good things to come.
Next stop, Kearney, NE!
Factory Pryme proudly uses: Pryme (www.prymegear.com), Redline (www.redlinebicycles.com), BikeStop (www.bikestoponline.com), Graham Chiropractic, Maxxis (www.maxxis.com), ODI (www.odigrips.com), Sun Rims (www.sun-ringle.com), O'Neal (www.oneal.com), and Big Knobby Squad.
Check out www.factorybmx.com for up to date team news.

---
Winter Racing video From Emerald Valley Indoor BMX
Check this out. Emerald Valley Indoor BMX in Eugene, Oregon has been doing some cool video of their indoor winter racing.
EVBMX002


29 min 59 sec - Feb 10, 2008
Description: Emerald Valley Indoor BMX

- For more info, catch up with them at

www.evbmx.com

.
---
---
2008 ABA BMX PRO Standings through Sooner Nationals - Guthrie, OK

The American Bicycle Association hosted the Sooner Nationals this past weekend, February, 1-3 in Guthrie, OK. The racing at the Sooner National event was second to none! ABA BMX stepped it up in the track department and Billy Allen built a very challenging track to kick off the season. This was the second PRO Series event of the year and Guthrie has become one of the PRO Riders favorite stops on the tour. Guthrie has some of the best dirt in the country, the Arena is HUGWE and there`always a sweet PRO section. This year saw two hip jumps added into the PRO mix and there was lots of air time for the fans!

With 2008 being the debut Olympic year for BMX racing, the buzz is all around. There`s lots of media on hand and many of the sports top athletes from around the world were on hand to take a shot at getting some much needed points towards the ABA BMX titles. The 2008 season seems to be the Danny C., David Herman, and Khalen Young show with a little bit of Cristian sprinkled in for some added flavor.

Day one saw "Big C" Cristian Becerine bring his first AA PRO win of the season for the Free Agent World team. This should get him lots of play over on the Daleholmes.com. Cristian is always in the mix and is a threat to take the win on any given day.

ABA National #1 PRO, Danny "Easy Money" Caluag, was on the box both days with a second in AA PRO on day one, and a third on day two. Danny has had a rough go in Guthrie the last two years, but this year he was able to prevail and stay on top the ABA BMX PRO Points battle chart.

ABA BMX Rookie PRO, David Herman, continued to impress the fans with a Fourth on day one and a solid second on day two. A lot of people were surprised by David's move to the Intense/BAWLS squad at the beginning of 2008. But, the change seems to working out well for both David and Intense/BAWLS team.

I gave Aussie Haro rider, Khalen Young a shout out after Reno for his riding there. This time in Guthrie, "KY" delivered BIG TIME with his first in AA PRO on Sunday. Khalen is another Australian that has made the trek to the USA to live the BMX dream and go for the ABA PRO Title. Will Khalen be holding the ABA Cup at the end of 2008 like his fellow country before him, Wade Bootes and Warwick Stevenson? It`s a long series and only time will tell!

On the Ladies side ABA National #1 Girl and Girl Cruiser Champion, Dominique Daniels continued to impress taking home the victory on both days. "Triple D" has been training harder than ever and it`s really paying off for her in the form of victories and big checks.

Stephanie Barragan really turned some heads again in Guthrie. Stephanie picked two very solid 2nd on both days and keeping her ABA PRO Ladies points lead. Rachel Luna made her Ladies Pro Debut with a new sponsorship. GT Bicycles picked up Rachel and should be every happy with her performance. Rachel was on the box both days with solid thirds. The new crop of ladies PRO`s looks to be a great addition to the class. I can hardly wait to see who ends up the champ this year!

Pro Cruiser was the ABA National #1 PRO Cruiser rider Danny C., Kenth Fallen, and Joe Sowers battling out this weekend. These three went at it toe to toe and when the dust settled it was Kenth Fallen with a one, two for the weekend. Danny C. had a two, one and Joe Sowers had a three, three on the weekend. These three really tightened up the PRO Cruiser battle charts and it should be a very interesting season to see who comes out on top.

Vet Pro was a heck of a show in Guthrie. Kenth Fallen made a big splash in Reno and continued to show he's the "Real Deal" in Guthrie. Kenth picked up the VET PRO win both days and now holds the points lead for the season. The big surprise on the weekend was John "The Jackal" Purse making his VET PRO debut. The Fans were glad to see past ABA National #1 PRO back in the mix. Jackal showed he's still got the speed by keeping Kenth Fallen honest and taking the two spot both days. John's no stranger to the podium and if I know John, he'll be back on the top step in no time. John's a true champion and knows what it takes to get it done!

Everyone's favorite Englishman, Dale Holmes kept his results solid and pulled down the third both days. This keeps Dale right in the middle of the VET PRO title hunt. I hear rumors of a few more AA`s stepping into the VET PRO real soon. Things are only going to get tougher for this class. It's starting to look more and more like the AA PRO class of the 90`s out there. I for one am pumped to see all the guys back out on the track!




The ABA would like to thank all the participants, families, teams, sponsors, and BMX industry for helping make the Guthrie, OK. event such a huge success!


Rider ABA BMX PRO wins after Sooner Dollars Nationals

AA PRO - Danny "Easy Money" Caluag – Intense/BAWLS– 2 ..... Cristian Becerine - Free Agent - 1 ..... Khalen Young - Haro Bicycles- 1


Woman's PRO - "Demolition" Dominique Daniels– Intense/Phantom/On-Trac – 3 ..... Stephanie Barragan – 1

PRO CRUISER - Danny "Easy Money" Caluag – Intense/BAWLS – 2 ..... Kenth Fallen - Supercross - 1 ..... Paul Lange – Redman/Rockstar – 1


VET PRO - Kenth Fallen – Supercross - 3 ... Dale Holmes – Free Agent – 1

2008 Pro Standing through Sooner Nationals

AA PRO - 1 DANNY CALUAG 937 2 DAVID HERMAN 777 3 KHALEN YOUNG 707 4 CRISTIAN BECERINE 477 5 KYLE CUSHMAN 347 6 KELVIN BATEY 217 7 WARWICK STEVENSON 217 8 ALEXIS VERGARA 187 9 BUBBA HARRIS 187 10 MIKE BRABANT 167


WOMEN PRO - 1 STEPHANIE BARRAGAN 878 2 DOMINIQUE DANIELS 778 3 TERRA NICHOLS 538 4 CASSIE BUSHNELL 338 5 RACHAEL LUNA 338 6 TONI RUDE 278 7 BRITTANY BATES 228 8 STEPHANIE HIGGINS 210 9 AFTON SCHRIMPF 128 10 COURTNEY TOMEI 100


PRO CRUISER - 1 DANNY CALUAG 872 2 KENTH FALLEN 612 3 JOE SOWERS 512 4 PAUL LANGE 462 5 TYLER BROWN 382 6 JOEY BRADFORD 262 7 THOMAS FERNANDEZ 170 8 MICHAEL HUGHES 122 9 ADAM TREADWELL 102 10 BILLY ANDERSON 92


VET PRO - 1 KENTH FALLEN 971 2 DALE HOLMES 811 3 CHAD STREET 571 4 JOHN PURSE 417 5 MIKE GUL 291 6 DAVID BITTNER 194 7 JASON CARNES 194 8 BILLY ROSS 137 9 ERIC DYER 94 10 GREG ROMERO 89

A PRO - 1 DENZEL STEIN 615 2 JOSH SMITH 524 3 LIAM PHILLIPS 495 4 KRIS FOX 305 5 SHANE BANKS 299 6 JASON BENNETT 278 7 DEREK SIPKOI 218 8 JON MILLER 216 9 JOE MATHIS 179 10 KEITH GRINE 148
---
South Africa's NHLAPO CONFIRMS HIS CLASS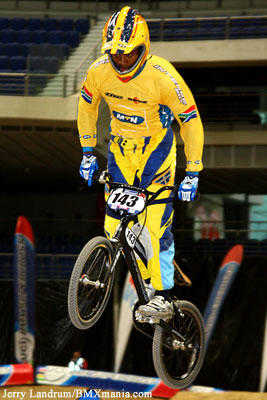 The fast-paced, close-contact sport of BMX racing can be a lottery. Top riders can crash and lose dramatically one day but be unstoppable and out front the next. But it's the classy riders that reach more finals than most and South Africa's Sifiso Nhlapo is showing the kind of consistency that confirms his class.

Nhlapo raced confidently into the finals at Rounds 5 and 6 of the 2008 European Championships in Fredericia, Denmark at the weekend. On Saturday and Sunday he tackled three qualifying motos (races) before moving through to the last 32 and then into the quarter-finals and semi-finals before lining up against Europe's best in the finals.

In Round 5 on Saturday, the 20-year-old MTN rider got off to his customary fast start and went into the first turn in second place looking set for a certain shot at the podium. But Latvia's Maris Strombergs in third place hit the wheel of the leading rider, compatriot Ivo Lakucs, causing Nhlapo a momentary, but costly delay as he unclipped from his pedal to avoid crashing.

Nhlapo managed to fight his way back into the tail of the pack and on the final turn a clash with Spain's Pablo Galan Carrasco saw the South African crash and finish eighth.

In Sunday's Round 6 final, Nhlapo and Strombergs tangled handlebars briefly after the first jump on the opening straight, which saw Nhlapo go down hard along with three other riders. Strombergs went on to win while the South African remounted and managed to salvage sixth place.

Two crashes in two finals would seem like a terrible weekend of racing to the uninitiated. Bad luck, yes, but Nhlapo's ability to have made five out of the six European Championship finals this year shows he's moved up a notch from occasional contender to class act.

The South African was leading the European Championship rankings for six weeks and has now dropped to tie second place with four rounds remaining.

The European Championships is the most competitive continental championship in the world and Nhlapo's bright yellow racing gear is becoming a regular among the likes of Thomas Allier (FRA), multiple world champion and reigning European champion, Martijn Scherpen (NED), multiple European and world champion and Latvia's all-conquering trio of Strombergs, Lakucs and Arturs Matisons.

Nhlapo is considered a strong contender to make the 32-rider field to contest the first ever Olympic BMX racing medals at the Beijing Games in August. The South African's next major race is the first round of the 2008 UCI Supercross World Cup in Madrid, Spain on Friday and Saturday.

2008 European Championships

Round 5: Fredericia, Denmark
Elite Men Final 1. Ivo Lakucs (LAT) 2. Evgeny Komarov (RUS) 3. Martijn Scherpen (NED) 4. Roy van den Berg (NED) 5. Maris Strombergs (LAT) 6. Pablo Gutierrez (FRA) 7. Pablo Galan Carrasco (ESP) 8. Sifiso Nhlapo (RSA)

Round 6: Fredericia, Denmark
Elite Men Final 1. Maris Strombergs (LAT) 2. Ivo Lakucs (LAT) 3. Martijn Scherpen (NED) 4. Roy van den Berg (NED) 5. Thomas Allier (FRA) 6. Sifiso Nhlapo (RSA) 7. Sebastian Kartfjord (NOR) 8. Thomas Hamon (FRA)

Rankings after Round 6 - 1 Maris Strombergs (LAT) 197 points 2 Sifiso Nhlapo (RSA) 181 2 Ivo Lakucs (LAT) 181 4 Arturs Matisons (LAT) 158 5 Thomas Hamon (FRA) 149 6 Martijn Scherpen (NED) 146 7 Thomas Allier (FRA) 142 8 Pablo Guitierrez (FRA) 140 9 Roy van den Berg (NED) 135 10 Rob van den Wildenberg (NED) 129

Follow Sifiso's progress from his perspective at www.sifisonhlapo.com - Watch Sifiso in action on bmx-videos.com (click on EC events).
---
Today's BMX Racing News - Thursday, February 14, 2008
---
new Web Site At Profile Racing
The new redesigned Profile Racing website ( www.profileracing.com) is officially up and open.
Profile celebrates its 40th Anniversary this year and visitors to ProfileRacing.com will find elements of Profile's automotive speed shop heritage woven into the site's pages.
The retro color and theme concept is the creation of Profile's graphic print artist, Adrian Gilbert.
The site implementation and web-design is by Profile's webmaster, Christian Henrich.
Profile's web consultants, Advanced eLearning Solutions handled the mechanics of the new design and provided technical input and assistance.
New to the website are updated team pages, a video archive with a larger playback screen, revamped products page with weights & detailed product descriptions and how-to pages.
The outline border throughout the site is actual vintage hotrod magazine pages from 1968.
Over all, the website has been created to be user friendly with simple, easy to understand links and buttons making it unnecessary to drill down deep into pages to find preferred content.
For additional information, please contact Charlie Fernandez (Marketing Director) or Christian Henrich (Webmaster) at Profile Racing Inc.(727) 391-7370 or by e-mail.
---
BAWLS to Keep ABA BMX Bouncing with Multi-Year Sponsorship Deal
Miami, FL – February 6, 2008 – BAWLS Guarana – the drink of choice for BMXers everywhere - today announced the signing of a multi-year sponsorship deal with the American Bicycle Association (ABA)! Through the partnership, BAWLS will continue to support the "Sanctioning Body of BMX" and its nationwide network of tracks through 2009.
"Many of our most memorable and most successful events in 2007 were ABA races and we are proud to be on board with their team for two more years," said BAWLS Founder and CEO Hoby Buppert.
In addition to their 2007 sponsorship presence, BAWLS will add more "bounce" to 2008 and 2009 races, complete with bike giveaways, autograph sessions, new flavor launches and high-visibility sponsorships. Among the more famous BAWLS-sponsored racers this season are 2007 ABA #1 AA-Pro and #1 Cruiser Danny Caluag and 2007 ABA Pro Rookie of the Year David Herman – both of whom are BAWLS-sponsored. BAWLS is also a partner of the factory team Tangent/BAWLS/FLY Racing, which boasts some of the ABA's top amateur talent.
"ABA is very pleased to be working with BAWLS Guarana through the 2009 season. BAWLS has added lots excitement to our ABA BMX events. They have shown nothing but support for our events, tracks, riders, and fans. We are proud to call BAWLS Guarana an ABA BMX National Series sponsor and we look forward to helping them build their brand even bigger!" said ABA BMX Vice President, BA Anderson.
BAWLS is currently available at BMX tracks across the US, as well as at Target and Microcenter stores. You can also find BAWLS at a number of grocery and convenience chains including 7-Eleven, Speedway SuperAmerica, Racetrack, Plaid Pantry, Casey's General Stores and Publix Supermarkets.
For more info on BAWLS BMX, visit www.BAWLStyle.com.
About BAWLS - BAWLS is the brainchild of entrepreneur Hoby Buppert, CEO of Hobarama, LLC, who named the beverage for the caffeinated "bounce" the drink packs. Widely distributed to local supermarkets, convenience stores (7-Eleven, Speedway/SuperAmerica), Target, Microcenter stores and gaming venues; BAWLS is a premium, non-alcoholic, carbonated beverage made from the guarana berry harvested in the Amazonian Rainforest. The caffeine found in BAWLS Guarana contains the same amount of caffeine as coffee and nearly three times that of traditional sodas due to a naturally occurring form of the stimulant found in the guarana berry. BAWLS' unique refreshing flavor tastes like a citrus infused cream soda and its popularity continues to grow among caffeine-deprived, refreshment-seeking techies, students, professionals and athletes in need of a Bounce. For more information, visit www.bawls.com.
---
Today's BMX Racing News - Wednesday, February 13, 2008
BMX Mania Photo Of The Day!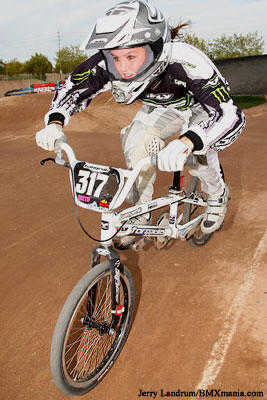 Alise Post Is Awesome! A gazillion UCI World Titles - Two Time ABA National Girl Pro Champ
She IS The Beast, Now She's The BMX Mania POTD!
---
Supercross' Kenth Fallen takes the lead in Dual Sanctions for the 2008 Vet Titles
For Immediate Release – Apple Valley, CA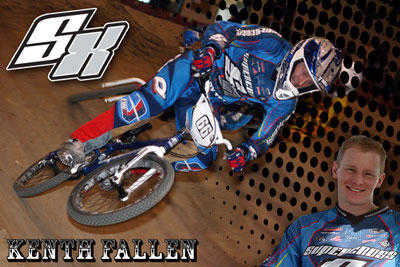 The 2008 season has started off with a bang here at Supercross, first we had Sammy Cools double at the Christmas Classic to take the lead in not only the UCI North American points, but also the UCI International standings, and then we had Kenth Fallen step up to be the new Sheriff in town in the Vet Pro Class.
ABA Reno started out with Kenth being sick but still pulled off a 1st on Saturday and a Second on Sunday in the ABA Vet Pro class, tying up points with Dale Holmes for the title chase, then the next weekend came the NBL Goodyear National where Kenth showed up feeling great and proceeded to tear up the track not losing a single lap to prove his dominance in the NBL Masters Class, unfortunately a little bit of rain kept him from repeating the performance the next day, but Kenth was ready for the next stop on the ABA Pro circuit at the Sooner Nationals in Guthrie.
Kenth kept his winning streak alive by taking the Vet Pro and the Pro Cruiser win for Saturday and then came back to take back to back Vet Pro wins with another win on Sunday.
All these weekends of winnings puts Kenth firmly in the lead in both the ABA and NBL for the Vet/Masters Title chases.
The next stop for both Kenth and Sammy to extend their points leads will be in Sunny Florida for the UCI/NBL Gator Nationals in West Palm Beach Florida in March where they will try to put their Supercross' on the tops of the podiums again.
For more information on Sammy, Kenth and the entire Supercross team is up to check out http://www.supercrossbmx.com for news and product updates and more.
The Supercross BMX Race team is proudly supported by: Atac Jerseys, Oneal Racewear, Blur Optics, Kronik Energy Drinks, FSA Components, Easton Tubing, Ogio Bags, Camp Cools Training Clinics, TECH BMX, and Speedline BMX components
---
ABA Guthrie Main Events posted to Go211.com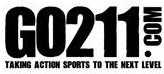 All the exciting action packed main events from the Sooner Nationals in Guthrie, OK. are posted on go211.com NOW!
Just click the link below!
http://www.go211.com/u/abasooner2008/videos
Also GO211.com has a added a new player that allows you to create your very own custom playlists. You can click on the individual videos, then comment on them and bookmark. This is a great and exciting new addition for the fans!
BMX Race Report
ABA Sooner Nationals Guthrie, OK
Round #2 of the 2008 ABA Pro Series took place this past weekend in Guthrie, Oklahoma. The ABA built another great indoor track, once again a perfect blend of technical jumps and great use of the arena layout. The Guthrie track featured a Pro section that went into the last turn with a hip style jump that tested the Pros abilities and made for some great racing. Cristian Becerine and Danny Caluag were the only two Double A Marketing Pros in attendance but they made a huge impact on the outcome of the ABA Pro event. Here is how they finished up.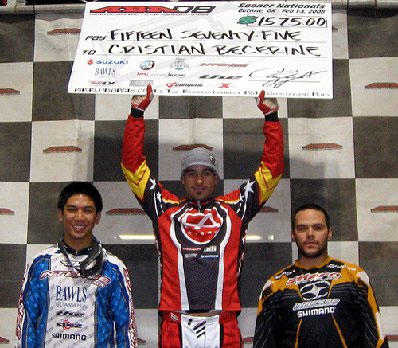 Danny Caluag left the 1st stop of the ABA Pro tour with 2 wins in AA Pro and was looking to continue on with some great results. Guthrie has not been a kind stop on the Pro tour for Danny, as the last 2 season, Danny has been injured at this event and he was not only looking to put the bad memories of Guthrie in his past, but to walk away from the event with some good finishes. Danny did just that, as he Finished up 2nd in AA on Saturday and 3rd on Sunday. In Pro Cruiser Danny also scored a 2nd and 1st in the main events, making this a huge weekend for him. Danny now heads off to Spain for the 1st round of the 2008 UCI Supercross series.
Danny's sponsors include Intense BMX, Bawls Gurana, FLY Racing, Shimano, THE Products, OGIO, SINZ, Go211.com, Group D, Oakley, Thomson, Intense Tyre Systems, Cyto Sport, and BMXpros.com
Cristian Becerine is one of the most consistent pros on the BMX tour and Guthrie was another great showing for him. Cristian has been on the podium at each race he has attended this season, and was looking to continue on with his consistency in the Pro class. On Saturday, Cristian was the fastest Pro in the AA class, as he took the overall win in AA. Cristian is also be on his way to Madrid, Spain for the UCI Supercross event, where he finished up 3rd last year.
Cristian's sponsors include Free Agent, KHS, Fly Racing, SINZ, Kenda, THE Products, ODI, Sun Ringle, Shimano, Powerbar, Cyto Sport, S & M bars, OGIO, Thomson, and BMXpros.com
Double A Marketing is the original and premier BMX Racing Sports Marketing agency in the world. We proudly represent Cristian Becerine, Kyle Bennett, Danny Caluag, and Randy Stumpfhauser. For more information on any of the BMX Pro riders or on Double A Marketing and our services, please visit
www.BMXpros.com
or
e-mail us.
All Photos by BMXpros.com, please contact us to use or purchase hi-res photos
---
Today's BMX Racing News - Tuesday, February 12, 2008
REDLINE'S NEW RACE RIG HITS THE ROAD FOR 2008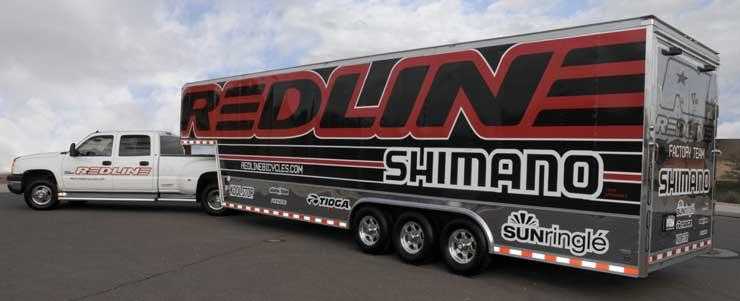 Even with a gimped-out driver, the brand new REDLINE Race Rig will be on the road and hittin' up all of the major BMX events throughout the year … well, except for those big ones in China.
Look for Redline's new 32-foot trailer at an ABA or NBL national event near you; and be sure to stop by to try an '08 Redline on for size, pick up a catalog and poster, or chat it up with Team Redline.

---
Gigantic New SE Signs

Are you ready to show your love for SE Racing to the world?
Or at least anyone who comes over to your house?
SE just released these gigantic new signs to the public.
These bad boys are over a foot tall & 4ft wide.
Retail price is $36 & they are available now.
Get 'em while they're hot!
---
Latvian BMX riders prepare for UCI BMX Supercross at WCC
Official UCI News Release / Feb. 7, 2008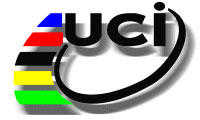 Latvia's top three BMX riders trained at the World Cycling Centre (WCC) in Aigle, Switzerland, this week in preparation for the 2008 UCI BMX Supercross World Cup. The athletes arrived in Aigle on February 4th and today travel directly to the

UCI BMX Supercross in Madrid

for the first leg of the Supercross Series, from February 8th – 9th.

The three Latvian athletes are all in the top 10 of the latest European BMX rankings, released this week: Ivo Lakucs is currently ranked 1st in Europe, Maris Strombergs, 3rd and Arturs Matisons, 6th.

Last year, Maris Strombergs was Vice Champion of Europe and Arturs Matisons 3rd. Their compatriot, Ivo Lakucs was European Champion in 2003 and World Vice Champion in 2001.

The three athletes, who will represent their country at the 2008 Olympic Games, made the most of their time in Aigle to train on the WCC's BMX track, which is a replica of the Beijing Olympic track.
---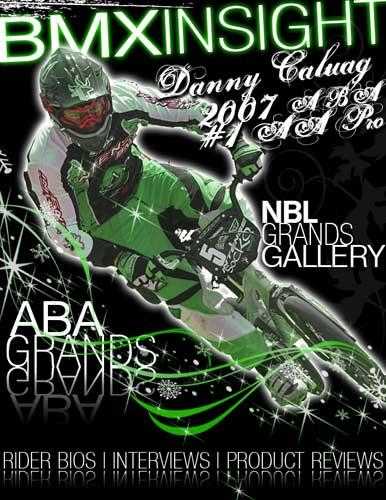 NEW EMAG AT

BMXinsight.com

Check it out, SPORTS FANS, it's a new

Emag, at BMXinsight.com

.

http://www.bmxinsight.com/EmagFinal2.pdf
The Emag lineup includes.....

Terra Nichols Interview

Transit 10 DVD review

T.H.E Helmet Review

a year of Bawls

Intense Podium Review

Matt Beringer's Backyard

interview with Danny Caluag

Tangent Grip Reviews

Lee Lewis Bio

full on coverage of the ABA Grands.
Whew! That's a LOAD of BMX stuff for you to check out, all laid out in a tasty format.

All from the fertile imagination of Glenn Fife, at your service, from BMXinsight.com.....

The NEW

BMXinsight.com Emag

!
---
ABA's Top Amateur Girl Dominique Daniels
Honored By The Governor of Arizona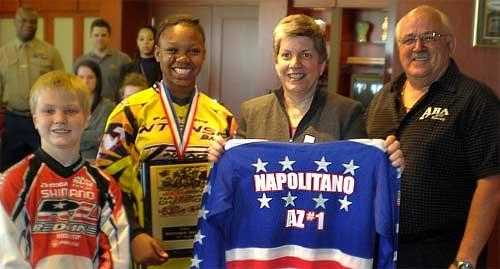 After one of the most dominate years in ABA BMX amateur history, Intense Phantom On-Trac's Dominique Daniels receives congratulations and her Amateur Award from the Governor of Arizona, Janet Napalitono and the President of the ABA, Clayton John.

Dominique is one of the few riders in ABA BMX history to hold all number 1 plates (district-national) at one time.

The Governor was also presented with her own custom USA jersey worn by Dominique when she won the 2007 USAC National Championship.

The 2008 USAC National Championship will hosted by the ABA as part of a spectacular weekend of racing March 28-30 at the Super Nationals to be held at Metroplex BMX in Desoto, Texas just outside of Dallas, Texas.

Dominique has also been getting lots of local press and news coverage.

Below is an article that just came out this past weekend in the East Valley Tribune. Enjoy!

www.eastvalleytribune.com/story/108578
---
BMX Mania featured on BMX Racing Podcast

Rich Eames, one of the Old Skool BMX Addicts that make up the English BMX National Scene, must have too much time on his hands!

He's put together an interview with BMXmania.com's, Jerry Landrum.

Like I said, 'too much time on his hands'......

Anyway, for what it's worth, if you want to check out the latest in Rich's offerings of BMX Podcasts and what the Jerry Mania has to say, check it out at

http://bicyclemotocrossradio.jellycast.com/podcast/feed/2

.

Add the above link into Google Reader, then listen to 'original source' once you are in there. Otherwise, download via iTunes in the usual way.

While you're there, check out the other BMX Podcasts, including chats with Elite Women's Champ/Shanaze Reade, UK's World Class Elite/Kelvin Batey, Nathan 'Nate Dogg' Routledge/on 'BMX Holiday' in the U.S. and some talkin' at last season's "No Clips Race".

BMX Media.....There's all kinds! BMX Podcasts, who would have believed it!
---
Today's BMX Racing News - Monday, February 11, 2008

UCI Supercross World Cup Madrid 2008
ONE KENDA press release
ONE/Kenda's Arturs Matisons wins the first Supercross event of 2008.
The first round of the UCI Supercross series was broadcasted live on Freecaster.tvl. (And the coverage is archived with BMX Legend, Brian Fell calling the race! Ck it out at Freecaster.tvl)
ONE/Kenda's Latvian rider Arturs Matisons won by beating the four US riders : Donny Robinson, Tyler Brown, Kyle Bennett and Steven Cisar, NZ rider Marc Willers, from Columbia Jiminez Caicedo and Arno Kanis from Holland.
To see the race once again, please check BMX-Videos.com.
Results:
1 Arturs Matisons LAT – ONE/Kenda
2 Marc Willers NZL – Free Agent
3 Steven Cisar USA - Redman
4 Tyler Brown USA - Hurley
5 Donny Robinson USA - HP/AT&T
6 Kyle Bennett USA – Free Agent
7 Arno Kanis NED - Redline
8 Andres Jiminez Caicedo COL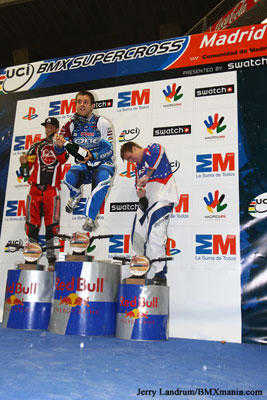 Photo: Jerry Landrum (BMX Mania)
Next race, EC round 7 and 8 in France (Feb. 23/24)
ONE KENDA is sponsored by: Pinch Gear, BOMBSHELL, SHIMANO, SNAP, BOLLÉ, THE Industries, WLM DESIGN, UFO, THOMSON, FIZIK, ODI, KENDA, NIKE and BMXPIX
---
Stumpy's OK!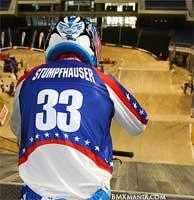 For those of you out there who were watching the UCI BMX SX race on the internet this past weekend and saw Team USA's, Randy Stumpfhauser get slammed when he crashed going in to the first turn....
The Stump Dawg is All Right!
Randy, who is just getting back on track after shattering his collarbone at the 07 UCI SX Finals in Frejus, France crashed hard going in to the turn, Saturday during his second '1/8th - moto'.
The result was that Randy was knocked unconcious and lay unmoving on the track for a long time resulting in scary moments for those observing the whole thing. After about five minutes, the very careful (And competent, might we add!) medical crew moved Randy on the the body board and took him to the hospital where he was tested and pronounced OK except for looking like he got in a fight as the left side of his face was quite swollen.
Of course, Randy's a tough guy and you can expect him to be back on the track looking for his next win soon.
---
Matisons Wins UCI BMX Madrid Supercross!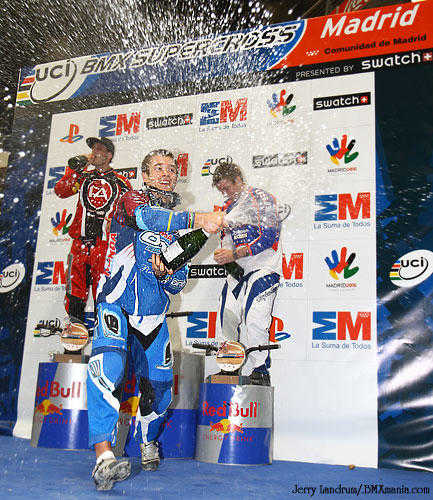 posted on BMX Mania Report Page!
---
---
The "King Of Time Trials" Takes The Win Again!
Mike Day, Donny Robinson & Luke Madill take top times in Madrid at the UCI BMX Supercross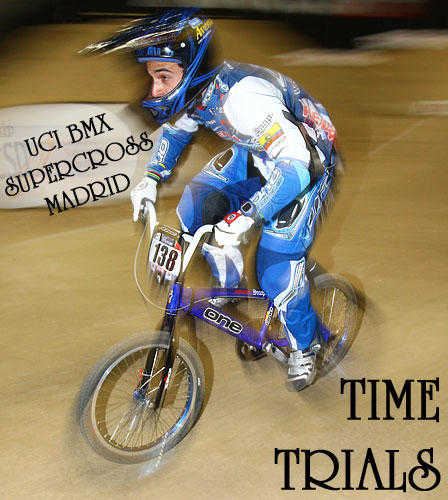 Tune in for more from the race,
complete results to be posted on the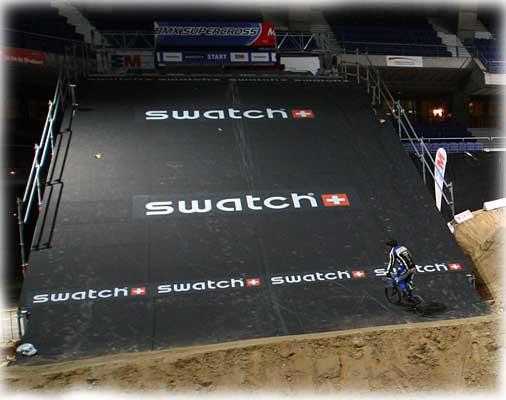 Check out ALL the action from the Palacio de Deportes on the BMX Mania UCI BMX SX Report Page!
---
---
---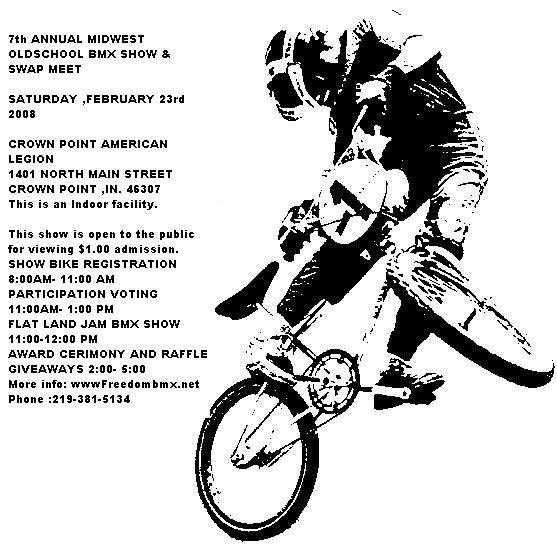 This show is open to the public for viewing $1.00 admission. This will be advertized on the local radio station , Chicago and Indiana news papers and BMX MANIA. There will also be an EXCLUSIVE STORY (including show results) AND PICTURES from the show in BMX WORLD magazine.
The show will include a concession stand... selling all day and there will be a full bar in the legion hall for you to purchase from.
WE ARE STILL LOOKING FOR DONATIONS FOR THE RAFFLE IF YOU HAVE SOMETHING LAYING AROUND YOU DON'T NEED DONATE IT FOR THE CAUSE.
ALL MONEY AND PROCEEDS MADE FROM THE SHOW GOES TO THE NEW ABA BMX TRACK FREEDOM BMX.
---
HEADIN' ON OUT TO UCI SX MADRID!
BMX Mania's On The Road Again, And We're Headin' Out To The UCI Supercross Race In Madrid!
We're in transition and will have tons O stuff for you from the race site, but here's a little treat for you.
Dutch Elite Rider, Sander Bisseling has a pretty cool video of what the track's looking like.
Check it out at, http://www.sanderbisseling.com/nieuws.html
---
Greg Hill interview now Live at Oldskoolukbmx

oldskoolukbmx.comhave landed some of the biggest US pros from the past!
When we all think of the US BMX legends we think Greg Hill, Harry Leary, Rupe or guys like Stu Thompson, Henderson etc.
So when Greg agreed to be interviewed you can imagine all of us over at OSUKBMX were well stoked!
Greg is still heavily involved in the BMX industry and after all these years you can just tell how much passion he still has for BMX.
---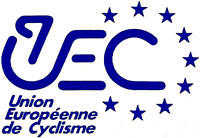 European Championships - Rounds 5 & 6
Fredericia, Denmark
---
NBL EXPANDS PRESENCE IN THE SOUTHWEST WITH COYOTE NATIONAL SUCCESS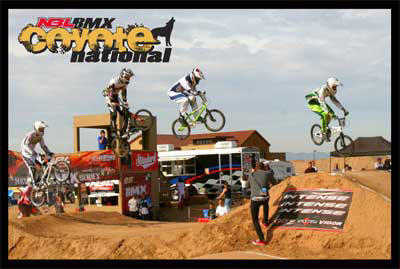 The success of the NBL Coyote National in Goodyear, Arizona continues to resonate throughout the Southwest and judging from the larger-than-expected turnout, it could be become a regular stop on the NBL National circuit. The race, which drew riders from 24 states and a large contingent from Canada, was an instant hit with racers and spectators alike.
A large group of riders even took to the track after Saturday's national and continued to ride. They all echoed the same feeling about the instantly popular Estrella Mtn. Track. "This is one of the best tracks I have ever ridden. After most races, I just pack up my bike and go to the hotel but I can't get enough – Estrella Mtn rocks" said one of the riders.
NBL continues to elevate their presence in the West and the Coyote National provided a golden opportunity for western-based riders and teams to qualify for the 2008 NBL Grand National. Amateurs require only six National scores plus the Grands to earn a NBL National number and two of those scores can come from NBL Regionals. Best of all there're two more big NBL weekends coming up in California - The Pacific Nationals, April 5-6 in SoCal (Whittier Narrows BMX) and the Golden State Nationals, June 21-22 in NorCal (Manzanita Park BMX in Prunedale).
The Coyote Nationals kicked off on Friday with the 8th UCI Continental race – one of the key races in USA Cycling's Olympic ranking schedule, followed by the first of eight Pennant Series Pre-races. The new NBL Pennant series is offered exclusively at War of the Stars Pro events where all entrants receive a cool 'limited edition' pennant when they register for the pre-race.

Under Saturday's beautiful sunny skies, Day one of the Coyote National featured 75 motos of great racing action. Kyle Bennett, the current NBL National Champion, proved that he is the man to beat, edging out GT's Randy Stumpfhauser and Free Agent's Cristian Becerine for the win in Elite Men. Alise Post pulled off her second win in as many days beating out Barragan and VBS-Kenda/BAWLS' Rachel Smith. Supercross's Kenth Fallen made his NBL Masters debut a success winning the main and Denzel Stein did the same in Super-Ex. The parched ground of central Arizona finally received some much-needed rain on Saturday evening which eventually led to the cancellation of Day 2 on Sunday – Bad news if you didn't make the main but good news for Saturday's winners who earned back-to-back wins.
Intense/Phantom On-Trac took top honors in the tough National Team division with back-to-back wins and pocketed Saturday's double-cash payout for their efforts. With their full time commitment to the NBL Nationals and a star-studded roster, they may find themselves challenging Dan's Comp and Factory Felt for the #1 Title. The NBL National Team title will once again come down to the Grands. Extreme Sports/Answer earned the double win in the Team NBL category ahead of BMX Bombers.
A big thank-you goes out to the Woodmansee family, who established this awesome facility, and to Justin and Lynette Hill and all of the volunteers for their efforts leading up to and during the National weekend. A job well done!
Next up in the War of the Stars Pro Series - The Gator Nationals at Okeeheelee BMX in West Palm Beach, FL, March 15-16. The event includes the last two UCI Continental Series races.
The 2008 NBL National Series is proudly sponsored by BAWLS Guarana (www.bawls.com), Intense BMX (www.intensebmx.com), Standard Byke Company (www.standardbyke.com), UGP (www.undergroundproducts.com) Sinz Racing (www.sinz-racing.com), THE Industries (www.bmxthe.com), in association with Camp Woodward (www.campwoodward.com).
---
SHANE VINCENT UPDATE AND THANKS FROM THE MAN, HISSELF!
(Here's an update on injured BMX Pro, Shane Vincent who was critically injured in an attack on his Humvee while serving with the U.S. Army in Iraq. Shane's been down a LONG road to recovery but is making the grade and all along with the help of the 'BMX Family'.)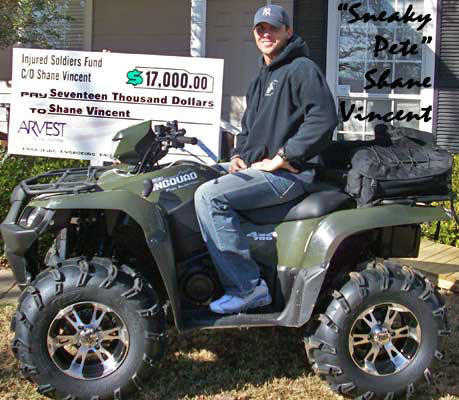 THANK-YOU BMX for all you have done, I know that I will miss some of the many generous and kind BMXer's, that have prayed and
thought of me through some of the difficult times. I also thought that was so cool, seeing my number plate on a Humvee in Iraq.

Here are some of the many that contributed and to whom we are so grateful.

Gene Roden (past vice-president of ABA), Jennifer (the bracelets), the Well's Brothers, Intense Phantom on-trac (the whole team), Spinners, Sadystic Clothing co, Kuwarhara, Redline, Answer, Clayborn, Redman, UNI, Stile Ind, ABA Supercamp, Lizard Skins, T.H.E., Bombshell, KAOS, BMX TV Direct, Get-A Gate, Tangent, Fly, DUB magazine, Pryme, BMX Hex, GT, RaceFace, MJT Designs, Xs Energy Drink, Sun Bru, Kovachi Wheels, D.L. Designs, Bombshell, Socko. Sand Springs BMX track, Carl Lien, Chris Lundgren (Stickers) And all the families, friends who participated in buying raffle tickets and bracelets and plates and the awesome sticker and the cool number plate from Johnson Number Plates.

The pros (That I was able to find out). Mike Moeller, Tyler Brown, Brandon Meadows, Jason Carne$, Bubba Harris, D.R., Mikey Day, Christian Becerine, Eric Rupe, Adam Scott, Mike Gul, Jimmy Monroe, Joe McCarty, Greg Romero and Jason Rogers (who rode for Shane).

Also the Tribute article in the NBL Magazine and the story from Jason of MJT pics in the ABA Magazine. BMX.News .com and of course BMX Mania. All the ABA BMX Staff (you are all so modest) for including me in on the Greatest Race on Earth.

Also the story I was told about a young boy from Texas I believe he is 12. He decided he wanted to help and traded in his racing stamps for me, this started others to join in, and became a sizable contribution. What a true and giving heart from a boy to give to a soldier. I salute you !

I am sure there are many I missed, but it will not go un-noticed.

(Taken from the Tulsa World). "At times I was in so much pain, and an unknowing of where I was, that I wanted it to end, but than I wanted to live and Thank God for saving me" I am so grateful for all the prayers from my "BMX Family" I just wanted all to know that " It Worked".

Again, Thank you all, not only for me but from all the troops. I do not want to leave anyone out . We continue to pray for Stephen Murray and Tara Llanes for their recovery and a well fought battle. (hope we all get to meet)

Hope to see you at the Guthrie Nationals and some of the upcoming events. I am currently in Therapy, living in Tulsa. I have a ways to go before I can even think about getting on a bike, but I am sure your prayers have not stopped!

THANK YOU ALL SO VERY VERY MUCH. BMX has been such a big part of my life, with meeting so many friends, I am so grateful for my BMX family !

And congrat's to all on there performance at the grands " Sometime you have to lose to get better to Win " You are all winners !!
Shane "Sneaky Pete" Vincent

---
---
2008 Toronto Indoor BMX and Mountain Bike Championships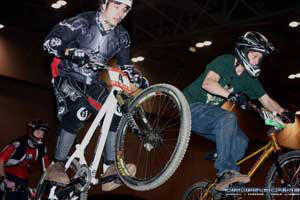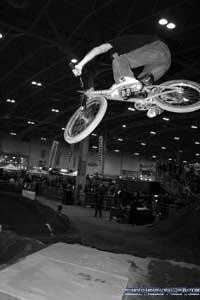 2008 Toronto Indoor BMX and Mountain Bike Championships, 4-Cross dirt racing and stunt contests, March 7-9, Direct Energy Centre, Exhibition Place, Toronto, Canada.
In conjunction with The Toronto International Bicycle Show, with returning sponsors including Kona and DiamondBack, more space and dirt than last years awesome event, the 2008 Toronto Indoor comp promises to be fun for riders and a great show for spectators.
Friday will feature practice for both stunt and race as well as the annual pro only race BMX vs. MTB, in memory of 2006 Champion, BMXer Tim DaSilva.This race pays to third place for both men and women. Saturday and Sunday are two separate days of comps, pro cash purse of $8,500.00 for the weekend, mens pro MTB pays to sixth place both days.
Ohio's Billy Au, was the big race winner in 2006, taking wins on all three bikes, 20",24" and 26" throughout the event and plans on defending his titles in 2008. 05 and 07 race champion Brian lopes is also considering a return to Toronto to reclaim his titles.
Also likely is a good battle from the lady pro racers including Ontarios' own multiple champion, Lee Ryckman and her many lady challengers. Last years BMX and MTB dirt stunt comps saw new faces and awesome style, with some stunt specific crew on staff and a few extra bucks in the purse, this event will kick it up to a new level..
Promoter Brent "Smitty" Smith plans for this years events to top any from his previous, with good friends,a fun course and fair competition, this exhibition type comp is open for riders from 14 years and over 16 can compete in the exhibition pro classes if deemed capable. Exhibition amatuer classes are also great fun, open to 14 years and over with awesome merchandise prizes from our sponsors.
Space for entries is limited, please visit www.motoparkracing.com/bicycleshow/ for entry forms and more info.
---
Bombshell VELOCITY BMX Race Cranks
Check it out, sports fans, some of the hottest cranks on the market, from our friends at Bombshell, the RED HOT, Bombshell VELOCITY BMX Race Cranks!!!!!
---
---
BMX Action Figure Contest!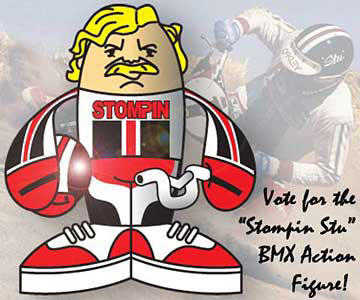 OK, here's one that you can help out with.
BMXers around the world can help out, it doesn't cost anything and it may well honor some of the 'Pioneers Of BMX' and make some money for a good cause, but it won't happen unless we get involved.
Carl Lein, Team Manager for Factory Pryme BMX has stumbled across a good idea.
Carl, who's all about the Old Skool BMXers from back in the day, has found a web site that makes action figures. (http://www.patchtogether.com)
The catch is that to get one made, you have to submit your action figure design, people vote on the design and designs with the highest voting record are selected to be manufactured. 5% of the profits will go to a charity involving BMX, details to be announced at a later date.
Carl's vision is for this to be a series of the Founders Of BMX, and he's started off with the One And Only....Wild And Wooly....Stompin' Stu Thomsen! Stu was the first SUPERSTAR of BMX, eclipsing any of the early heroes of the sport, and still known to show up at a national and terrorize his cruiser class.
Check out Carl's design at http://www.patchtogether.com/?Designs_Details&Id=139
You'll have to create an account, but creating an account is really easy and allows you to vote and leave comments about the design.
Check it out, create your account, vote and rank Stu high, cuz, after all, he IS Stu Thomsen, The Awesome One, and we believe it would help if anyone who voted gave his action figure a high rating.
Let's make the counter spin at the Patch Together web site, come one, BMXers, we can make this one happen!
Stompin' Stu LIVES!
---