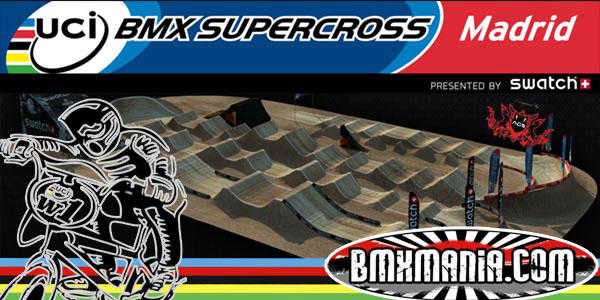 February 8-9, 2008
This Report Page Sponsored By

Thursday - Friday/Practice - Saturday/Time Trials & race Day
Saturday/Time Trials & race Day
Official Main Event Results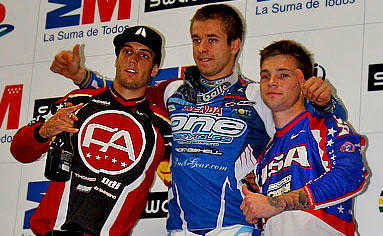 1 Arturs Matisons/LAT 2 Marc Willers/NZL 3 Steven Cisar/USA 4 Tyler Brown/USA
5 donny Robinson/USA 6 Kyle Bennett/USA 7 Arno Kanis/NED 8 Andres Jiminez/Col
Semi final results
Semi One - 1 Marc Willers/NZL 2 Andres Jiminez/COL 3 Steven Cisar/USA 4 Arno Kanis/NED
5 Damien Godet/FRA 6 Afro Bob/NED 7 Ivo Lakucs/LAT 8 Jonathan 'Mosquito' Suarez/VEN
Semi Two - 1 Arturs Matisons/LAT 2 Donny Robinson/USA 3 Tyler Brown/USA 4 Kyle Bennett/USA
5 Pablo Gallan/ESP 6 Luke Madill/AUS 7 David Herman/USA 8 Sander Bisseling/NED
Quarter final results
Quarter One - 1 Mosquito 2 Willers 3 Ivolution 4 Willy's Brother
5 Michal Prokop/CZE 6 Lukas Tamme/CZE 7 Mike Day/USA 8 Jared Graves/AUS
Quarter Two - 1 Cisar 2 Afroman 3 Free Agent Andre 4 Damien G
5 Roger Rinderknecht/SUI 6 Frank Heijne/NED 7 Jason Rogers/USA 8 Nic Long/USA
Quarter Three - 1 dR 2 TB 3 SanderBisseling.com 4 Pablo "Home Crowd" Gallan
5 Bubba Harris/USA 6 Emilio Falla/ECU 7 JoeyBradford.com/USA 8 Ramiro Marino/ARG
Quarter Four - 1 Arturs 2 KB 3 Luke 4 The Hermanator
5 Cristian Becerine/ARG 6 Sifiso Nhlapo/RSA 7 Quentin Caleyron/FRA 8 Martijn Scherpen/NED
race report and photos To be posted
The venue, the Palace Of Sport was at the end of a big walking mall, with tons of shops a HUGE modern shopping center and people skating, eating outside and just hanging out, it was pretty cool. Madrid is a beautiful city, as well.
Two 1's on his plate for his two UCI World Championships, Thomas Allier, missed making the 1/8th's by ONE point!
Kyle Bennett is one of the BEST BMX riders on the face of the planet.

"Wazzup, Champ"

GT/Team USA's, Joey Bradford had a good day at the office. JB took a 10th in the time trials, then went '1,2,3' in his motos, and ended the day in his quarter. Not bad!
Arturs Matisons, out front with Kyle Bennett in Eighth Final race action. Check out how much lower, 'At Speed' Arturs is than the rest of the guys.

Arturs and Kyle again, in the last straightaway of their 1/8th final. Good racing by two awesome riders.
PHOTO GALLERY
MORE PHOTOS TO BE POSTED!
Mike Day Takes Top Honors In UCI BMX Madrid SX Time Trials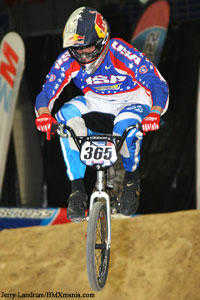 Complete Time Trial Results
| | | | | | | |
| --- | --- | --- | --- | --- | --- | --- |
| | | | | | | |
| Hmmm. Left, U.S. National Champion, Donny Robinson, center, UCI World Champ, Kyle Bennett and right, some super fast kid in a jacket named, Steven Cisar! | Norway Pride, Anders Gronsund, sailin' over the First Straight! | Michal Prokop is one tough customer. He's a World Champ in MTB, now he's got his sites set on Olympic Gold in Beijing. | Afro Bob / AKA known as Robert DeWilde is ALWAYS a threat and tough as nails! | Jason Richardson. Jrich was so happy with his practice, he shut it down early and chilled. That could be a bad sign for others who want to make the final. Jrich has been going FAST lately. | Here's a wild bunch comin' in for a landing. Led by Latvia's Mighty Maris Strombergs, Randy Stumpfhauser and some Flying Euros are in HOT pursuit. | Nice starting hill action, as (From Left) Kyle Bennett, Steven Cisar, Marc Willers and Arturs Matisons motor on down, UCI Supercross Style! Speeeeed! |
Photo Gallery
Check Back Saturday For More UCI SX BMX Racing Action!

| | | | | |
| --- | --- | --- | --- | --- |
| | | | | |
| | If you've ever seen the movie 'Fields Of Dreams', this photo pretty much sez it! | Mike Day, getting all dramatic for Friday Production's, Sandy Stevenson. This'll show up in a UCI SX DVD, count on it. | More of the Mike & Sandy show. Nice shot of the back of Sandy's head. | |
| | | | | |
| Comin' out of the First Turn, lookin' down the barrel of the Second Straight. BIG jumps, lots of speed, gonna be some GREAT BMX racing! | Saturday night, one hard chargin' Elite Man will be crossing this Finish Line and taking home the Gold! | Check it out, sports fans. Don't look like much, but it's the timing trailer for the Swiss Timing team. More Technology and High Speed timing stuff than you can imagine. | The "calm before the storm". The lights are out and the track is ready. Friday, 100 or so of the fastest BMXers on the planet will be rockin' this place. | Joey Bradford is PSYCHED to be in Madrid! |
Check In Friday Night For More From Practice day in Madrid!
---
HEADIN' ON OUT TO UCI SX MADRID!

BMX Mania's On The Road Again, And We're Headin' Out To The UCI Supercross Race In Madrid!
We're in transition and will have tons O stuff for you from the race site, but here's a little treat for you.
Dutch Elite Rider, Sander Bisseling has a pretty cool video of what the track's looking like.
Check it out at, http://www.sanderbisseling.com/nieuws.html
---