---
DECEMBER 2007
Today's BMX Racing News - Saturday, December 29, 2007
Strombergs & Cools Win UCI Day Two In Columbus!
Denzel Stein & Alise Post Sweep Junior classes both days!
Official Results Posted on BMX Mania Report Page!
Today's BMX Racing News - Friday, December 28, 2007
Becerine & Cools Take Elite Wins
NBL Christmas Classic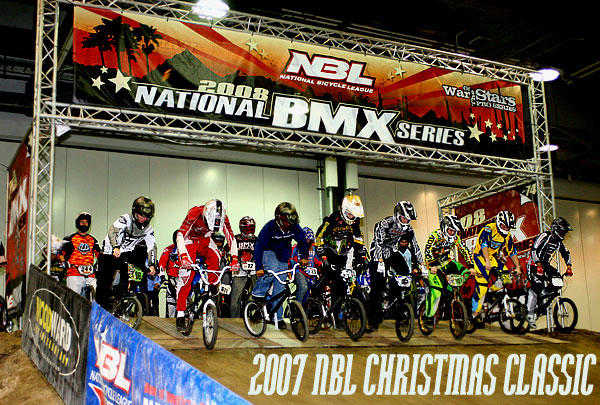 Complete Results To Be Posted on NBL Christmas Classic Report Page
from the Greater Columbus Convention Center in Columbus, Ohio!
---
---
Stephen Gerardi - Co-President - USA Official BMX Training Facility, Inc.- 813-957-7647 - www.usabmxitf.com
---
---
Today's BMX Racing News - weekend uPDATE, mERRY cHRISTMAS, 2007
---
---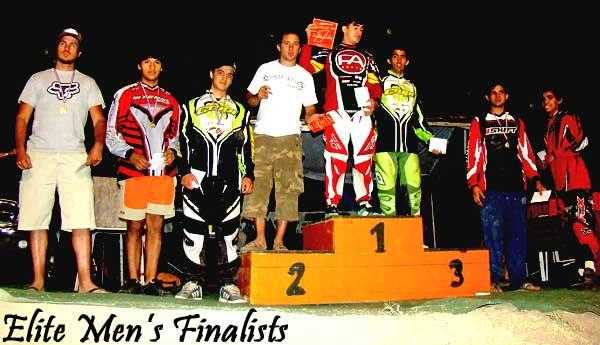 CUP DE CHRISTMAS
ÑUÑOA XTREM BMX
Santiago, Chile - NATIONAL STADIUM - December 14-16 2007
"Excellent Christmas Classic of South American for BMX. The best local riders for dirt and racing were present in great conditions that attracted the attendance of Latin BMX riders from several diverse countries.
The Chilean BMX community is very grateful for the competitive participation of pilots from Argentina, Costa Rica, Spain and Chile, in a beautiful race that was won again by the excellent Ramiro Marino in the Elite Men's class (Argentina / Free Agent), and seconded by Damián López (Argentina / Psykopath), country that also kept the third place featuring Federico Pole.
The race also featured a dirt jumping championship, Dirtjump 27 with the best national riders present, among them, Juanito Pleasures and Jorge Carrasco.
The winners of the BMX Dirt: 1º Juan Arias "Juanito Pleasures" (Valparaíso) 2º Léster Hernández (Pudahuel) 3º Marcos González (Quilpue)
The winners of the BMX Racing:
JUNIOR/ELITE MAN 1º RAMIRO MARINE (Argentina) 2º DAMIÁN LÓPEZ (Argentina) 3º FEDERICO POLO (Argentina) 4º FELIPE FAÚNDEZ (Chile) 5º DARÍO LÓPEZ (Argentina) 6º ISAÍAS ZAPATA (Chile) 7º IGNACIO HENRÍQUEZ (Chile) 8º GUSTAVO LÓPEZ (Argentina)
Challenger 5 years and less - 1º VINCENZO RAMELLI (Chile / Ñuñoa) 2º NICOLÁS GUERRA (Chile / Maipú) 3º MILAN JACOLEVIC (Chile / Maipú) 4º DARKO ZLATAR (Chile / Ñuñoa)
Challenger 6 years - 1º VITTORIO RAMELLI (Chile / Ñuñoa) 2º GORAN JACOLEVIC (Chile / Maipú) 3º MARTÍN HERRERA (Chile / San Joaquín) 4º IAN BORONAT (Spain)
Challenger 7 years - 1º CRISTÓBAL LÓPEZ (Chile / Ñuñoa) 2º GABRIEL MORALES (Chile / Macul) 3º BENJAMÍN GODOY (Chile / San Bernardo) 4º LORENZO URANGA (Costa Rica)
Challenger 8 years - 1º BASTIAN PARDO (Chile / Macul) 2º JOSÉ SILVA (Chile / San Bernardo) 3º MATÍAS SALGADO (Chile / Maipú)
Challenger 9 years - 1º HERNÁN GODOY (Chile / San Bernardo) 2º KURT RAMELLI (Chile / Ñuñoa) 3º DIEGO BARRÍA (Chile / Macul)
Challenger 10 years - 1º FELIPE PACHECO (Chile / Ñuñoa) 2º FELIPE TORRES (Chile / Ñuñoa) 3º NICOLÁS HILLS (Chile / Macul)
Challenger 11 years 1º EDUARDO VALDEZ (Chile / San Bernardo) 2º MATÍAS OSORIO (Chile / Ñuñoa) 3º DIEGO GONZÁLEZ (Chile / Ñuñoa)
Challenger 12 years 1º IVÁN HERNÁNDEZ (Chile / Ñuñoa) 2º SEBASTIAN SALAZAR (Chile / Ñuñoa) 3º ARÍSTIDES CALOGUEREA (Chile / Ñuñoa)
Challenger 13 years 1º CRISTÓBAL PALOMINOS (Chile / San Bernardo) 2º DIEGO AGUIRRE (Chile / San Bernardo) 3º FELIPE OTEGUI (Chile / Ñuñoa)
Challenger 14 and 15 years 1º BRYAN CERPA (Chile / Ñuñoa) 2º CHRISTOPHER SAAVEDRA (Chile / Ñuñoa) 3º JONATHAN BRAVO (Chile / Ñuñoa)
Challenger 16 to 29 years 1º PEDRO OPAZO (Chile / Ñuñoa) 2º FRANCISCO BUSTOS (Chile / Ñuñoa) 3º CLAUDIO LÓPEZ (Chile / Ñuñoa)
Challenger 30 and more years 1º HERBERT SEPULVEDA (Chile / Maipú) 2º GONZALO RETAMALES (Chile / Ñuñoa) 3º DARKO ZLATAR (Chile / Ñuñoa)
ELITE WOMEN 1º KARLA ORTIZ (Chile / Vineyard of the Sea)
Ladies 7 and 8 years - 1º MARÍA LUISA VALDEZ (Chile / San Bernardo)
Ladies 9 and 10 - 1º CAMILA GUERRA (Chile / Maipú) 2º MARÍA JOSÉ TESTA (Chile / San Joaquín) 3º JAVIERA PINTO (Chile / Ñuñoa)
Ladies 11 and 12 - 1º DANIELA FERNÁNDEZ (Chile / Ñuñoa)
Check out the Coolest BMX Poster EVER! Santa's a RED HOT BMXer!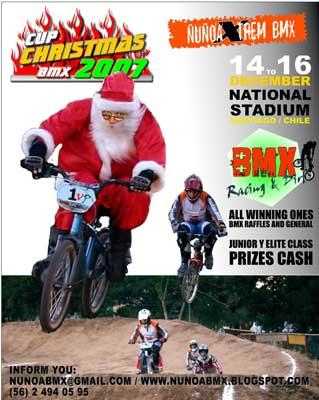 ---

NEW YORK and Madison, Wis. - Dec. 19, 2007- Pacific Cycle, the leading supplier of bikes in the U.S. under brands including Schwinn®, Mongoose® and GT Bicycles®, and Champion System, a manufacturer of customized performance apparel, today announced the signing of a multi-tiered sponsorship and licensing agreement.

Under the terms of the agreement, Champion System will become an official licensee for Schwinn, GT Bicycles and Mongoose cycling apparel and the exclusive technical apparel provider for the GT and Mongoose Pro Mountain and BMX Teams excluding BMX and mountain bike race pants. As part of this strategic alliance, GT Bicycles is also joining Champion System as a sponsor of the Jelly Belly Pro Cycling team.



"Champion System will provide our retailers and pro athletes with the high-quality, fully customized technical apparel they need to be competitive" said Steve Reeds, Executive Vice President and General Manager of Pacific Cycle's IBD division. "Whether you're a shop looking to make jerseys for a club-level team or a company making a special jersey for a World Champion rider, Champion System is a great solution for custom apparel."

Champion has simplified the custom apparel business for retailers and consumers by offering:
Low minimums-10 pieces for jerseys and 50 pairs for socks

Affordable pricing-As low as $45 for a customized short-sleeve jersey

Quick turnaround time-Delivery in as little as two weeks
Regardless of order size, Champion System shows attention to detail by adding a radio pocket to bib shorts, scaling graphics to each particular garment's size through a digital sublimation process and using full-length concealed zippers so that front graphics are clearly visible.

"With its portfolio of strong brands, growing dealer base, and winning pro mountain bike and BMX race programs, we are excited to be aligning our company with Pacific Cycle," said Scott Kaylin, president of Champion System. "We look forward to being an integral part of expanding the Schwinn, Mongoose and GT Bicycle brands globally through our customized team apparel and licensed product."

Champion System currently makes cycling apparel for approximately 3,000 cycling teams. Champion System also manufactures customized technical apparel for the motor sports industry and team sports, such as soccer and rugby.

About Champion System
Founded by competitive cyclists, Champion System combines their knowledge of the apparel business with a love of the sport to offer the finest pro quality garments to the cycling masses. By allowing teams, retailers, clubs and individuals to order custom uniforms with unlimited colors and low minimums, Champion System sets a new standard in the custom cycle wear business. Champion System continues this practice with its simple and all-inclusive pricing structure.
www.champ-sys.com

About Pacific Cycle
Pacific Cycle's parent company, Dorel Industries (TSX: DII.B, DII.A), is engaged in the designing, manufacturing and marketing of a diverse portfolio of powerful consumer brands, sold through its Juvenile, Recreational/Leisure and Home Furnishings segments. Headquartered in Montreal and with significant operations in the United States and Europe, Dorel employs approximately 4,700 people in 15 countries. Annual sales are US$1.8 billion and are made in over 60 countries worldwide.
---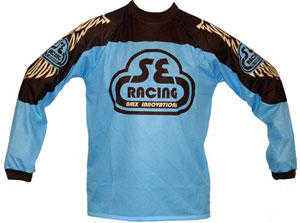 SE Bikes creates auction package
for Stephen Murray Benefit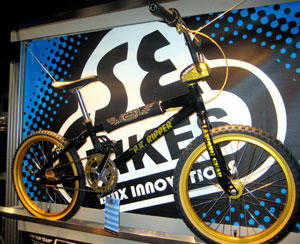 SE Bikes one of the OG's of BMX has put together a one of a kind package to help raise funds to assist Stephen Murray in his fight to "STAY STRONG" and recover from injuries he sustained at the Baltimore AST Dew Tour.
These items are for collectors and serious BMX enthusiasts!
This is the FIRST production bike of the 2008 PK Ripper Looptail. It's the same EXACT bike that was on display at Interbike in Las Vegas. All of the normal production bikes have the serial numbers stamped in numerical order on the inside of the rear dropout. But this bike is unique in the fact that it does not have any serial number stamp. Only 250 of this bike will be available throughout the year in the USA. This was the first one made!
Shoes - These are a brand new pair of the limited edition DC/PK Ripper DC Shoe. This shoe was also VERY limited worldwide and all stores are completely sold out. Size is 10.5. As a bonus, these shows come with a re-release of the "Joe Kid on a Stingray" video with bonus footage.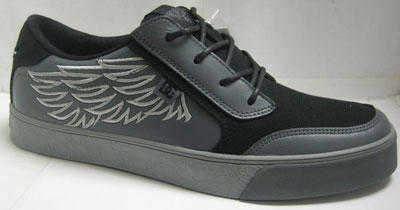 Jersey - The most legendary BMX jersey of all time, the SE retro jersey. Made by Hot Shoppe in the USA. Size large.
Get in on the auction at EBay where you can type in Stephen Murray for the item or the listing information below.
Stephen Murray SE Bikes Collectors Package – 200185371813
Special thanks to Todd Llyons and SE Bikes for making this effort to raise funds!!! Happy Holidays to all!!!
Also visit www.stephenmurrayfamilyfund.com & www.myspace.com/murraystrong
There is a second auction package that will be released on EBay soon as well that includes a Quad Angle frame and tons of SE goods!!!
---
---
---
INDOOR RACING IN SUNBURY, OH
PRACTICE & RACE BEFORE NBL Christmas CLASSIC

Get some pre-Christmas practice in before the Christmas Classic and Presidents Cup. Eden Park Equestrian (www.edenparkequestrian.com) is a new facility that will offer NBL racing starting December 8, 2007. The track is located in Sunbury, OH in the Eden Park Equestrian Complex (20 minutes North of Columbus).

COBRA Indoor BMX will be running practices on Friday nights of race weekends, then double header races on Saturday.


Address: 2607 Blayney Rd. Sunbury, OH 43074
Track Phone: 614-604-5483
Track Director: John Scott 614-206-5144.

Licenses: All Licenses welcome. ABA members can fill out the necessary paperwork on-site and will be granted an NBL membership, valid until their ABA license expires. It is then valid at any NBL track or event including the Christmas Classic, Dec 28-29 in Columbus, Ohio. Bring your friends and enjoy the comforts of indoor BMX.

COBRA INDOOR RACE SCHEDULE
All race dates are double headers from Noon til 6pm.
Dec 21 - Practice 6-9pm
Dec 22 - Racing (Double header)
Jan 4 - Practice 6-9pm
Jan 5 - Racing (Double header)
Jan 18 - Practice 6-9pm
Jan 19 - Racing (Double header)
Jan 25 - Practice 6-9pm
Jan 26 - Racing (Double header)
Feb 2-3, State qualifiers, anyone can race these (big turn out)
Feb 22 - Practice 6-9pm
Feb 23 - Racing (Double header)
Mar 7 - Practice 6-9pm
Mar 8 - Racing (Double header)
Mar 14 - Practice 6-9pm
Mar 15 - Racing (Double header)
Mar 21 - Practice 6-9pm
Mar 22 - Racing (Double header)
Mar 28 - Practice 6-9pm
Mar 29 - Racing (Double header)

Fees: Practice $10, Racing $15 per race.
>> Bring-A-Buddy cards accepted for practices
---
Impressive start to European BMX Championships
for UCI World Cycling Center trainees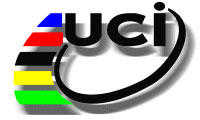 Two World Cycling Centre (WCC) trainees, Sifiso Nhlapo and Yvan Lapraz occupied the two top steps of the podium at the first round of the European BMX Championships last weekend.
Nhlapo (South Africa) and Lapraz (Switzerland) took first and second places respectively at Saturday's competition in St Etienne, France. In doing so, they also won valuable UCI points that will count towards qualification for the Olympic Games in Beijing.
The South African rider followed up his winning performance the next day with a second place in the second round of the European Championships.
The trainees' results surpassed the expectations of coach Hervé Krebs: "There are eight pilots in a final. We had two pilots in the final and we finish first and second. You can't do better than that."
Two other WCC trainees also enjoyed excellent results in St Etienne:
Canadian Samantha Cools finished eighth on the first day and qualified for the semi-final of the second round. Emilo Falla, of Ecuador, also earned himself a position in the semi-final on the second day.
The young WCC trainees aim to compete in all 12 rounds of the European BMX Championships with the exception of Falla, who will concentrate on races in South America.
The final two rounds of the Championships will take place May 3rd and 4th 2008 in Weiterstadt, Germany.
---
---

Dominique Daniels and Brian Mayo Score Big Wins
At Future Pro Challenge At Steel Wheels BMX!
(Monday Night Photo Gallery Being Posted!)
Click Here to See FPC Racing Action!
CLick here to check out the BMX Mania Report Page!
ARCHIVED NEWS FOR December 2007
Big Christmas Gift Savings At J&R
Joe Pittinger - VBS/Kenda BMX Racing Team
---
New, Hot Tee's From SE BMX!
All shirts are now in stock. Available in sizes Small through XXL through your favorite SE dealer.
---
---
World's Largest BMX Sanctioning Body Develops 17 New Tracks during 30th Anniversary!

Gilbert, AZ – While spending the year celebrating 30 years in business, the American Bicycle Association has also been extremely busy building new BMX tracks.
This year 17 new tracks have been fostered into operation thanks to the efforts of local organizations and the ABA.
The mark of any company is growth. In the business of BMX, growth can be measured in two ways, memberships and sanctioned BMX race tracks.
Not since the early seventies and eighties has growth of this magnitude occurred in a single year.
John David, ABA Director of New Track Development, states "It is such and exciting time for the ABA family. We have been so busy building new BMX tracks the year has completely flown by. The growth won't stop now. We already have at least 8 new tracks scheduled to open in the spring. We set many goals years ago to make our 30th year in operation one of the best yet, and we did it!"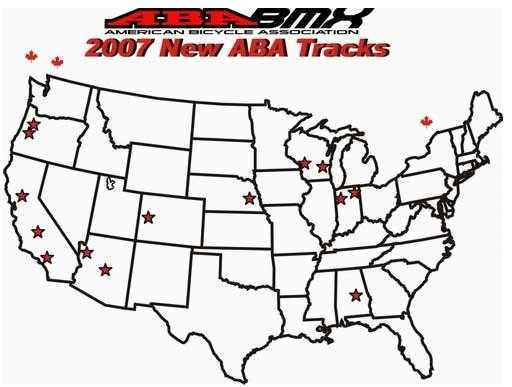 If you're interested in starting a BMX track in you town, contact ABA Director of New Track Development, John David, at 480-961-1903x112 or john@ababmx.com.
About the American Bicycle Association ABA (American Bicycle Association), formed in 1977 and headquartered in Chandler, Arizona, is "The Sanctioning Body of BMX"©. The ABA organizes BMX racing for boys, girls and adults, nationwide and Canada. With 60,000 active members, 274 racing facilities and a 27 event-national race schedule; ABA is the largest promoter of action sports. To find races in your area or view the national event schedule, visit www.ababmx.com.
---
Seth Ponciano 6 Inter
Garret Singletary 6 Inter
Noah Hospodka 8 Inter
Max Headley 10 Inter
Ryan Singletary 11 Inter
KJ Korb 11 Inter
Dylan Price 11 Inter
Jeremy de Wet 12 Inter
Casey Jones 12 Inter
Anthony Harbison 12 Inter
Jacob Young 14 Inter
---
Transit Video Legacy.....Transit 1 Released On DVD!

The Transit Video that got the Transit Race series of BMX going is now available on DVD.
The "Original Transit Race Video" had only existed on VHS.
We decided that after our 10th issue of Transit Race videos, it was time to release the "original" out on DVD.
We have had many people asking for it so that they could "Complete the Set" of all the Transit Race DVDs.
Now you can complete the set.
Transit Race 1 chronicles Kyle Bennett's first NBL title, plus national races from the year, and an entertaining crash section.
The total running time is 1 hour and 45 minutes.

If there is a Transit Race DVD(s) that you need to complete your set Transit Race DVDs, you can get them online at www.stilenation.com.
Collect Transit Race DVDs and collect BMX history.

Also be on the look out for Transit: The First Years soon to be out on DVD.
This DVD will have footage on it from before the Transit Race Series started.
The First Years has coverage from the biggest payout race in BMX History($58,000 and a Ford Ranger), Bubba Harris's last amateur battle with Argentinean nemesis Manuel Lopez, Freestyle contests, Local Skateparks, and much more.
It should be ready for sale by January 1st.
---
The NBL Florida State Series Is Underway......HUGE as usual!
Here's the flier for the Coral Springs Race, coming up next month!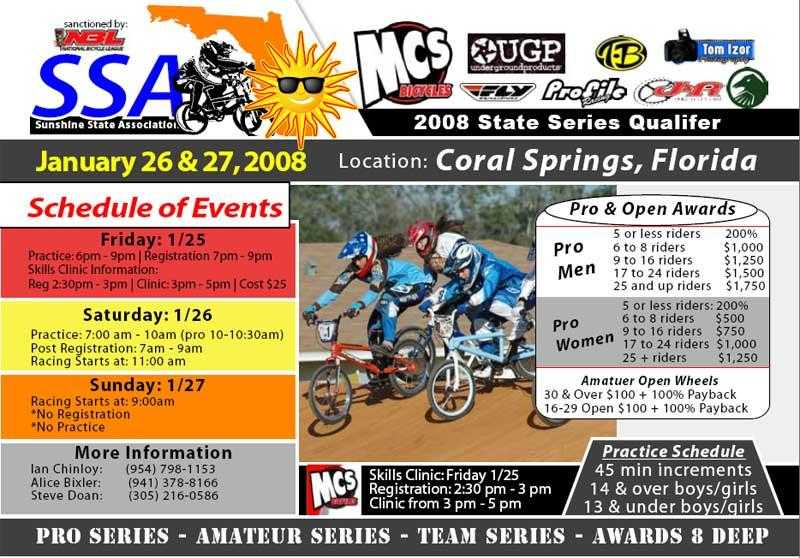 ---
BMX COLOMBIA and Kyle Bennett

By Aicardo Torres.

The Americans Kyle Bennett and Nate Berkheimer, the Australian Khalen Young, the Ecuadorian Fausto Endara and Colombians Augusto Castro (GW Bicicletas-Suramericana), Andres Jimenez, Carlos Ramirez (GW Bicicletas-Festival Noel) Carlos Mario Oquendo, Jhonatan Villa and Mariana Pajón (GW Bicicletas-Nosotras), among others, to delight those attending this great world-class sporting spectacle, never seen before in our city.


Certainly, the figure was the world champion Kyle Bennet, who with his ability to jump and put aside their rivals, won on the first day on Saturday, repeating Sunday in the grand finale before Endara and Berkeimer, getting well the overall title in the elite of this championship.


Five countries were in competition, highlighting the participation of delegations from Venezuela and Aruba in minor categories. Australia, Ecuador, Colombia and the United States presented the best of their level, athletes who surely will be next year at the Olympic Games in Beijing.


More than 280 athletes participated in this third version of the Championship Lights Bicicross, which was played at the Stadium, Antonio Roldan Betancur in the neighborhood Bethlehem. The municipalities of Rionegro, Guadeloupe, El Carmen de Viboral, Itagüí, Envigado, Girardota, Copacabana Bello, Turbo, Chigorodó, Apartadó and Amalfi, as well as other participants in Cali, Bogota, Chía and Armenia are enjoyed this beautiful event to next to the best in the world.

Elite Men - 1 Kyle Bennett 2 Carlos Mario Oquendo 3 Sergio Ignacio Salazar 4 Andres Jimenez 5 Jonathan Villa


Junior Men - 1 David Andrew Oquendo 2 Jorge Daniel Quintero 3 Andres Felipe Loaiza


15/16 & Over Expert 1 John Ernesto Ordoñez 2 Mariana Pajón Londoño 4 Rafael Gomez Restrepo

13/14 Expert 1 Carlos Ramirez Yépez 2 Chavarria Diego Ramirez 3 Kevin Bejarano Arizmendi

9/11 Ladies - 1 Carolina Zuluaga Door 2 Manuela Mazo 3 Dayhana Cherub

12/14 Ladies - 1 Diveana Cherub 2 Manuela Valencia Alzate 3 Yessica Zapata Baena

15 And Over Ladies - 1 Mariana Pajón Londoño 2 Luisa Fernanda Pardo Correa 3 Maria Londono Giraldo

8/9 Expert - 1 Sebastian Arias 2 Juan Jose Cardeño 3 Simon Gaviria Munoz

10/12 Expert - 1 John Paul Arboleda 2 Ricardo Jaramillo 3 Juan Carlos Diaz Serna
---
---
---
Johnson plates November Riders Of The Month!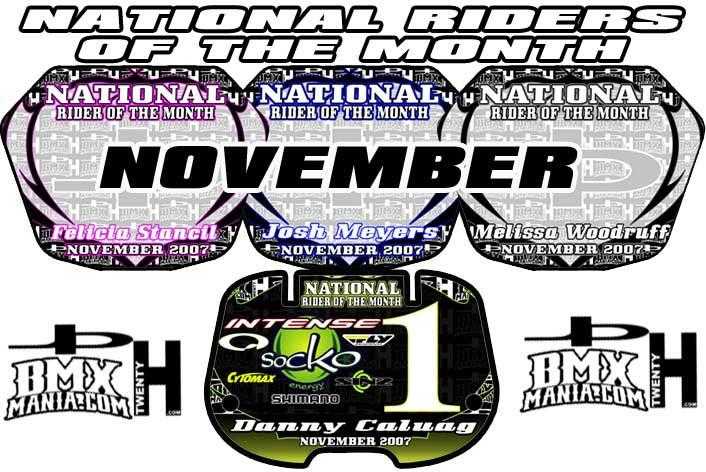 ---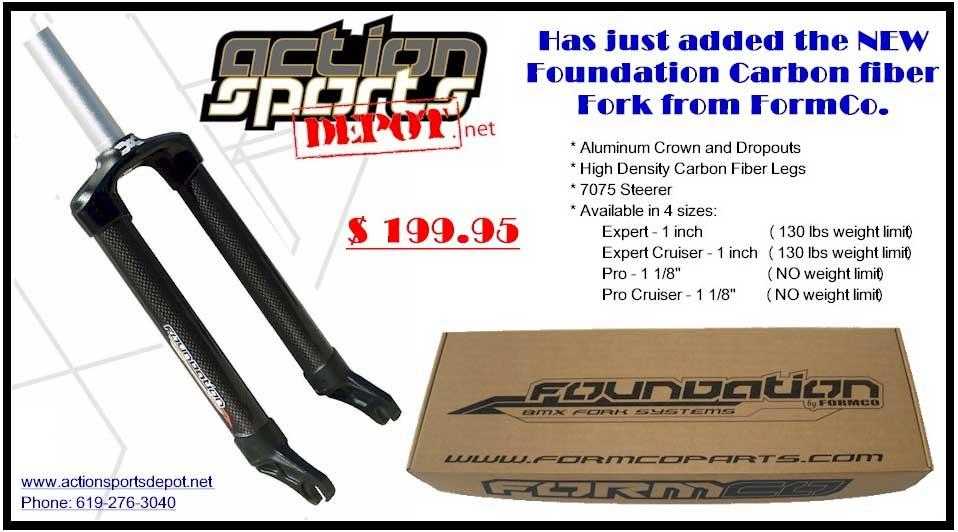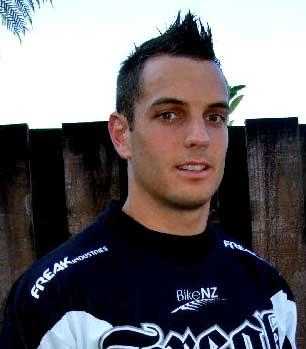 FREE AGENT ADDS NEW ZEALAND'S
MARC WILLERS TO WORLD TEAM
Dominguez Hills, CA—Free Agent, the world champion BMX race team, has just signed Free Agent New Zealand's Marc Willers to the World Team for the 2008 race season, announced team manager Dale Holmes.
Marc is a multi-National Champion and winner of the last UCI World Cup in France, proving he has to be one of the favorites for the Beijing Olympics next season.
Marc will be focusing on the Oceanic series, the UCI World Cup and the World Championships in China before final preparations and qualification selection for the Beijing Olympics next summer.
"'We're really stoked to have Marc on the program," said Dale Holmes. "After such a successful year with Kyle Bennett and Ecuador Team rider Fausto Endara both becoming UCI World Champions, and the Team winning the World Team Title, we have set our goals even higher for '08. With the addition of Marc, I believe Free Agent's chances for a medal at the Olympic just got better."
Marc kicks off the '08 Oceanic season in early January sporting his new Free Agent colors. He joins a celebrated team of champions also wearing Free Agent colors, including Kyle Bennett, Cristian Becerine, Ramiro Marino, Nicole Callisto, Andres Jimenez, Caroline Buchanan, Fausto Endora, Tom Haugen, and Kelvin Batey.
ABOUT FREE AGENT – Free Agent is one of the worlds leading BMX bicycle brands, with distribution around the world. Free Agent has a long and celebrated history of supporting top racers from around the world, and currently sponsors reigning world champions. In the most recent season, Free Agent won a total of eight national and world championships. The Free Agent brand is produced and distributed by KHS Bicycles, Inc. Their website is www.FreeAgentBMX.com
---
COBRA Indoor BMX Sunbury, Ohio

Great news for the Midwest and Ontario, Canada! We're proud to announce that a brand new facility will offer NBL Indoor Racing starting December 8, 2007.

The track is located in Sunbury, OH at the Eden Park Equestrian Complex (20 minutes North of Columbus).
COBRA Indoor BMX will be running practices on Friday nights of race weekends, then double header races on Saturday.

Web Info Available At: www.edenparkequestrian.com

Located at: 2607 Blayney Rd. - Sunbury, OH 43074 - On the race weekends listed below, there will be practice on the Friday night before from 6-9pm

RACE SCHEDULE
All dates are double headers from Noon til 6pm.
Dec 8
Dec 15
Dec 22
Jan 5
Jan 19
Jan 26
Feb 2-3, Ohio State Qualifier (All NBL members are eligible) Feb 23 Mar 8 Mar 15 Mar 22 Mar 29

Fees:Practice $10, Racing $15 per race. - Bring-A-Buddy cards accepted for practices - For additional information contact: John Scott (Track Director) 614-206-5144
---
Fausto Endara FREE AGENT wins big
in Ecuador Grand Nationals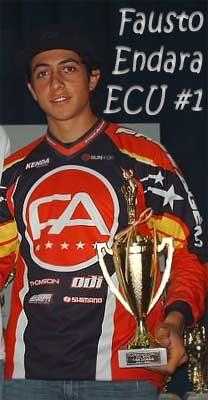 Last weekend in Ambato - Ecuador, the Ecuador Grand Nationals took place.

In the Elite Men Class, Fausto Endara, the Free Agent World Team Member won every single moto, semi and main event, both days. With his big effort, he ended up winning the race, and the 2007 overall title.

Ecuador Grand Nationals Pro Results
ELITE MEN
Day 1 Results
1. Fausto Endara - Free Agent
2. Santiago Endara
3. Geovany Lascano

Day 2 Results
1. Fausto Endara - Free Agent
2. Santiago Endara
3. Sebastian Palacios

2007 Overall Elite Men
1. Fausto Endara - Free Agent
2. Santiago Endara
3. Daniel Nicola


Free Agent Ecuador gave a Free Agent bike to be raffled by Fausto between all the racers that were at the Grands.....the lucky guy was an 8 year old who was so stoked to get a new Free Agent bike from Fausto.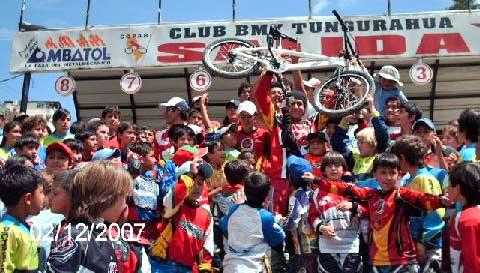 ---

BMX MANAGER signs with Thomas Hamon and Moana Moo Caille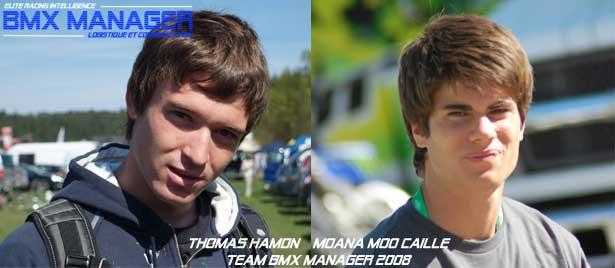 There are some news in the French BMX world : BMX Manager is arriving. This new non profit organization wants to help the "French Superstar" be better in logistic and marketing.
The boss is proud to say that they have picked up Answer's, Moana Moo Caille and Free Agent's, Thomas Hamon, both in the USPROBIKES team, with the Olympic Goal at the end of the 2008 season. These two riders are young but experienced... Recently, Thomas made the main in Elite Men at the NBL Grands and took a 5th at the Last UCI Supercross World Cup of the year.
Moana finished 7th in the Elite Cruiser class at the 2007 UCI BMX World Championship and is regularly in the Top 10 in World Cup and he is only 19... That was logical for BMX Manager to associate those riders, who are more than friends in life !
Our athletes are starting their 2008 season this week end with the First and Second Round of the European Championship. The UCI points are only counting Sunday and we are sure they are ready for this event...
If you want to support our riders through our organization, please contact us : contact@bmxmanager.com or check out our website : www.bmxmanager.com
---
---
VBS-Kenda Heats Up Midwest BMX Racing Action!!!!!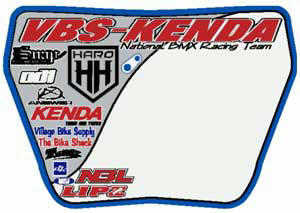 OK, it's been a while since the VBS-Kenda crew has released any updates, so here we go. Last September our Team won the NBL Grand's in Louisville and also entered the record books as the National Team NBL Champions for 2007. For 2008 most of the team returned and we then recruited a few talented racers for the season based, in part, on the new team rules. Competition commenced last fall when the VBS-Kenda Team attended the Supercross National in Woodward, PA., the Midwest Big-A event in Norwalk, OH. , and most recently, we trekked to Morristown, TN for the Thanksgiving Classic. With these three weekends' of Big-A events under our belt I am proud to say that our fine team of riders has won five of the six national races with one third place finish.
The, mostly Midwest, riders are pleased that Indy's NBL Crossroads BMX reopened for winter indoor racing and are thrilled that COBRA BMX has opened an NBL indoor track in Sunbury, Ohio not far from the old Pacer BMX track…and they have HEAT! Thanks to the NBL and great local organizations we Northerners can get ready to battle the southern racers in the President's Cup and get ready for the Christmas Classic in Columbus, OH. PLEASE support these fine indoor tracks as they are a nightmare to get established and thank the volunteers and officials for their efforts.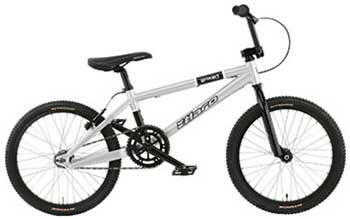 Since our last National, the VBS-Kenda Team has also landed three additional sponsors. Rumors have been circulating and I am both pleased and honored to announce that we will now be sporting new custom team-specific plates from Ryan at LIPZ PANELS and some of the component industry's greatest performing parts from Greg of SNAP BMX PRODUCTS. Finally, an appreciative "welcome aboard" is extended to Tony of HARO BICYCLES. Yes, the VBS-Kenda Team will be sporting the all new 2008 line of Haro 20" and cruiser racing bicycles, along with the new team jerseys by VBS Racing.
So be sure to stop by the pit area and check out the line of Kenda Tires, Haro Bicycles, and Snap Products or visit one of the team's web sites www.vbsbmx.com or www.villagebikesupply.com
I would specially like to thank Jim, of Kenda Tires and Tubes for his continued support of the VBS-Kenda's team of great riders. Appreciation is also extended to Debbie of Answer BMX, ODI Grips, Crank Brothers, Village Bike Supply, The Bike Shack, DK, and Bawls Guarana. Special thanks to Mark Hardy, who is invaluable to the team with his behind the scene help, and to Louie Taylor and Rachel Smith for setting good examples on-and-off the track for our younger riders.
THANKS to the Team Riders, their families and all of our supporters for helping the VBS-Kenda Team achieve success while having FUN!

*** The VBS-Kenda Racing Team wishes everyone a Safe and Happy Holiday Season ***
---
Today's BMX Racing News - Wednesday, December 5, 2007
---
End Of Season Blow Out at Sycamore BMX!!!!!
Sycamore BMX in Simi Valley, California is having their end of the season Double Pointer Race this weekend, December 9th!

Sign Ups are 10-12 racing is ASAP.

Track Hotline is 805-583-BMX7

They will be giving away a bike, a Sirius Satellite Radio with A Free Month of Service, and other goodies.
Make it on out to the track for some hot BMX racing at one of the best tracks in the world!!!!!

---
---
Happy Birthday, And Goodbye, Vet Pro Winner, "TP" Todd Parry!!!!!
Vet Pro Legend, Todd Parry just turned The Big Four Oh, and to celebrate, announced that he was retiring from Vet Pro Racing. Congrats to "T.P." for a GREAT Vet Pro BMX Racing career over the past SIX years, and BMX Mania knows that we haven't heard the last of Todd, he's a hard charger, a winner and a dedicated lover of BMX Racing.
Here's a little "Mini Interview" with T.P. from a posting that he made on VintageBMX.com, check it out, and once again, Congrats on a Great Vet Pro Career, T.P., you're one of a kind!
BMXmania.com
+ + + + + + + + + + + + + + + + + + + + + + + + + + + + + + + + + + + + + + + + + + + + + + + + + + + + + + + + + + + + + + + + + + + + + + + + + + + + + + + + +
Grands report...... well, really not much to tell.... I don't like making excuses, But if you must know. I hit the gate in my semi and just couldn't get up to fourth. I did a ton of sprints for this race and lost it at the gate. again, no excuses just racing. If you relax to much you make mental mistakes and that is what happened. It was all me, which is harder to take. I would rather run a good lap and just flat out get beat. When you feel like you made a mistake and cost yourself a chance it's not easy to take.

I am really relieved my Vet Pro career is over. I started it back in 2002 and nobody gave me a chance in h*** of being a competitive vet pro. But myself and a few close friends believed. I am very very blessed to have had all the good fortune I did over the years. After the first six months of my first year I can count on one hand the mains I missed over the next six seasons. Like I said I am very blessed and consider myself lucky to have had the results I have had. for those you don't know.....

National numbers most recent first. 4,2,2,4,4,5.

ABA world numbers most recent first. 1,2,3,2,3.

I made so many podiums over the years I can't even begin to guess how many. I would love to get all the results from the ABA and go over them and reflect on them.

I met and raced so many great people and racers while in vet, it is truely amazing. I will miss competing against all those guys.

The truth and bottom line is, My heart just hasn't been into my racing for the past two seasons. After the 2005 season I was ready to hang up the vet pro tag and move on. But my head said... give it another shot! but over the last two years I would go to a race and just not want to be there. No matter how hard I tried I just couldn't make myself put all my heart into it. I had a few races where I was more into it than others, like Salt Lake 2006. I had a bad race in Rockford the race before Salt Lake and I was very motivated to do good at my home track... which I did. But for the most part I just couldn't put my heart into it. I wish I could change this and be hungry again, I just can't. My priorities have changed over the years. With my sons and my daughter getting older. All I can say is... My kids need a dad more than I need to be a faster vet pro.

Now.... the future..... The plan is... To continue to race but just change focus and see if I can A) be motivated to win and have some fun again. So I will race some A pro, which allows me to go to any national I want to. No title hunt, no having to go to the pro series races that are picked by the ABA. With a crazy work schedule it will be great to have like 22 nationals to pick from. I would also like to race some pro cruiser, I was always better and faster on the bigger bike, So I want to rack up and just have some fun. Bottom line is just see how much I like riding my bike! just to ride not to try and win a title. At 40 years today! I am to old to not enjoy what I am doing. If I go this route and still can't have a little fun then that is my answer and I will hang the bike up until I feel the hunger to do it again.

I am working on a great deal with GHP right now to support me in 2008. So I will be at a track near you soon.

I would like to thank all the people who have helped me over the years and made it possible to be a success in vet pro. I will never forget what you all did for me. I will add some more thanks later on... sorry I am at work and have to jam! talk to you all soon. - "TP" Todd Parry

---
Mankowski back on track toward Olympic dream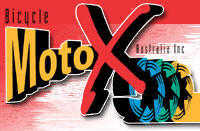 Queenslander Melissa Mankowski proved her recovery from a crash at the BMX pre-Olympic race in August is behind her as she focuses on gaining selection for the Australian BMX team. The 19 year old today managed a win in the second round of the National Probikx Series in Medina, Perth. Mankowski beat Western Australia's junior Lauren Reynolds (Bunbury) and State Champion Catherine Hopkins (High Wycombe, Perth) who finished in second and fourth respectively. Third was another junior from Queensland, Cherie Simpson (Nerang). After winning the first national round yesterday, Mankowski secures an early lead in the elite women's series.
"I've only been on my bike for five weeks," explained Mankowski. "So I thought I'd come over here for a it of a warm-up before Nerang and it paid off."
"My training's been going good at home and everything's fallen back into place since my accident so that's a good thing to look forward to."
The former high performance squad member narrowly missed selection in this year's squad however it has not dampened her enthusiasm.
"Now I've got to concentrate on what I've got to do and keep doing my training and hopefully everything will fall into place before next year," she said.
In the men's final an early challenge from Jamie Gray (Beenleigh, Bris) was responded to by another strong performance by yesterday's winner, Brian Kirkham (Hillbank, Adel). The 21 year old showing his move from Port Augusta to Adelaide has had a positive effect on his racing.
"We've got a great little training group now and South Australians are looking strong," he said.
Gray claimed second after a disappointing crash in yesterday's final. Third was 21 year old, Michael Fenwick (Warradale, Adel) while Canadian rider, Mischa Partridge, got fourth.
Former Australian High Performance Coach, Sean Dwight (Campbelltown, Syd) slipped off the pedals at the start but regained ground to get a creditable fifth place. Local chances Brock Murray (Rockingham, WA and Andrew Gillett (Rockingham, WA) placed seventh and eighth respectively.
Kirkham now leads the series with 261 points; Fenwick claims the series second spot with 201 points while Gray is currently third with 161 points.
Adelaide's rising star, Sam Willoughby (Trott Park, Adel) dominated the junior men's ranks and his consecutive wins now put him well ahead on the leader board.
In the 14 Champbikx South Australians took the wins with Liza Dunn in the girls and Zain Ariffin winning the boys.
The closest racing over the two rounds came from the 15 girls Champbikx. Melinda McLeod (Mackay, QLD) proved her gold medal from the Worlds meant she should beat the silver medallist Lacey Oliver (Nerang, QLD) which she did today. The 15 boys was won by Shannon Burnett.
Western Australians proved their dominance in the 16 divisions with Kirsten Dellar (Hills, Perth) winning the girls and Trent Evans (High Wycombe, Perth) repeating yesterday's win.
The next rounds of the series are combined with the first of the International Oceania Rounds on the Gold Coast on 4 - 6 January. It should attract New Zealand and Australian riders hopeful of making an impression on selectors.
---
---