Morphine Industries crew hits Tampa for Gator National
(photos courtesy of Jerry Landrum/BMXmania.com)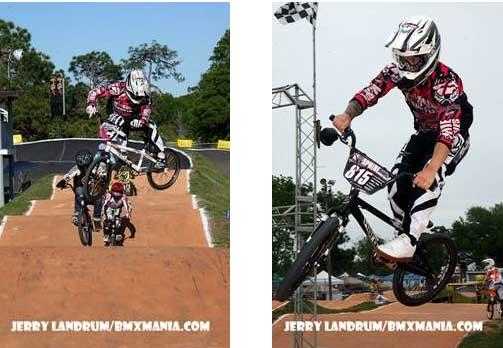 Week two of the sunshine state NBL Nationals rolled into Tampa BMX with the Morphine crew in tow. Once again a smooth track, tons of sun and a lot of racing action to be had.
You ever know that there is something that you need to do but can't quite remember? Then someone comes up to you minutes before the motos are going to start and says hey a few of your riders are not on the moto sheets….%@&#......then you remember that you forgot to register them. Thanks Erma.
Masters – Tim Dinger coming off some podium time at the Easter Classic, came back to Florida for a little more glory. Unfortunately, it appeared that a Friday late night grub session put the hurt on Tim that would keep him down for the weekend. We will keep the details to our self but trust we the man was hurting from both directions.
In true PRO determination, however, he suited up and hit the track on Saturday. With moments of grandeur in motos, his chicken wrap had gotten he best of him and he did not have what it took to be on the gate in the main.
Things took a turn for the worse with Tim showing up to the track on Sunday with a fever, chills and an all four on the floor position. We had mercy on Tim and he pulled out and watched from the sidelines rooting on the rest of the Morphine Industries crew.
Super X - Jason LaRev, hit the track with his skill and flow on Saturday with a uno in motos. Getting an outside gate in a stacked semi unfortunately proved to be a day stopper. Jrev showed up Sunday pulling out of racing due to an injury that was sustained the day before. Rumor has it that a few boys tried to help a little old lady cross the road in Sarasota and things went bad. You may need to talk to him or Barry to get that story straight.
17-18X – Talbott Cross continuing to better himself on this road back to 100%, rode well both days but came up start to put this tire on the gate in the main both days. Watch out boys, soon that wrist brace will be off.
13X – Noah Reeves coming off a perfect weekend at the Easter Classic, Noah was looking to make the same statement. Hitting the track, Saturday brought about deuces in the motos and an uno in the semi. Then coming from lane 8 on the main, Noah finished with a solid 3rd. Sunday was a repeat of the same with deuces in the motos but he captured a spot higher in the main with another deuce
11X – Richie Dey came ready to race in one of the most hotly contested class. Saturday, Richie raced his way to a few 1st in the motos and put a finish on the day with a top podium spot. Sunday heated up with the class determined to try and keep Richie off the top spot. Taking no for an answer, Richie took all his motos . When main time came, Richie hit the gate on the way out and came from behind to take second into the last turn and was pushed of the track running out of real estate to take a second at the line.
Morphine Industries will be hitting the Florida State Series race in Highlands at beginning of May and then Florida State Championship in mid May

See ya there.

Morphine Industries would like to thank its Factory Team Sponsors; HARO BIKES (harobikes.com), Fly Racing (www.flyracingbmx.com), Alienation (www.alienationbmx.com), Sinz Racing (www.sinz-racing.com), Rennen (www.rennendesigngroup.com), Tioga (www.tiogausa.com/bmx), Black Crown (BlackCrownBmx.com)