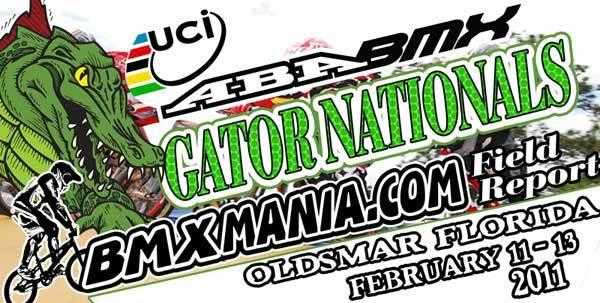 FRIDAY/PRO PRACTICE PHOTO GALLERY - SATURDAY/UCI CATEGORY 3 - SUNDAY/UCI CAT. 5 - SUNDAY FOTOS
| | | | |
| --- | --- | --- | --- |
| Elite Men | Elite Women | Junior Men | Junior Women |
| 39 Riders | 16 Riders | 13 Riders | 7 Riders |
| 1 Marc Willers | 1 Dominique Daniels | 1 Rusty Nesvig | 1 Brooke Crain |
| 2 Sylvain Andre | 2 Amanda Geving | 2 Nate Padilla | 2 Dani George |
| 3 Corey Reid | 3 Samantha Cools | 3 Jordan Miranda | 3 Taylor Wolcott |
| 4 Joris Daudet | 4 Dana Sprengers | 4 Kyle Dodd | 4 Keely Kortman |
| 5 Nic Long | 5 Courtney Applewhite | 5 Nic Koehler | 5 Carly Dyar |
| 6 Jeff Upshaw | 6 Ashley Verhagen | 6 Austin Loebe | 6 Shelby Stacy |
| 7 Sam Willoughby | 7 Arielle Martin | 7 Justin Posey | 7 Sabrina Millman |
| 8 Josh Meyers | 8 Ashley Lynch | 8 Paul Wassenaar | |
MORE SUNDAY OFFICIAL RESULTS COMING! PLEASE CHECK BACK!
Check out Ssquared Pro Josh Meyers' flight
over Oldsmar BMX At The Gator Nationals!
(Please be patient, the Josh Meyers 'Spectacular' is a flash file and may take a bit to load. Also, it may not work with all browsers, try Firefox or Internet Explorer if yours doesn't work and you want to see it real bad.....It IS pretty cool! Sure glad Josh wasn't hurt!)
With forty Elite Men's entrants, the ABA Gator Nationals turned in a GREAT day of Elite racing. Riders from the United States, Canada, France, Great Britain, Belgium, Denmark, The Netherlands, South Africa, Australia, New Zealand and Colombia gave the UCI Championship level racing a real international flavor with 6 of the 8 Elite Men's lanes filled with outside of the U.S. riders.
| | | | |
| --- | --- | --- | --- |
| Elite Men | Elite Women | Junior Men | Junior Women |
| 1 Marc Willers | 1 Dominique Daniels | 1 Rusty Nesvig | 1 Brooke Crain |
| 2 Sam Willoughby | 2 Amanda Carr | 2 Austin Loebe | 2 Dani George |
| 3 Corben Sharrah | 3 Ashley Verhagen | 3 Jordan Miranda | 3 Taylor Wolcott |
| 4 Tory Nyhaug | 4 Amanda Geving | 4 Kyle Dodd | 4 Carly Dyar |
| 5 Joris Daudet | 5 Samantha Cools | 5 Nic Koehler | 5 Keely Kortman |
| 6 Tyler Brown | 6 Arielle Martin | 6 Nate Padilla | 6 Shelby Stacy |
| 7 Sylvain Andre | 7 Ashley Lynch | 7 Justin Posey | |
| 8 Thomas Hamon | 8 Amelia Walsh | 8 Paul Wassenaar | |
FRIDAY/PRO PRACTICE PHOTO GALLERY
---