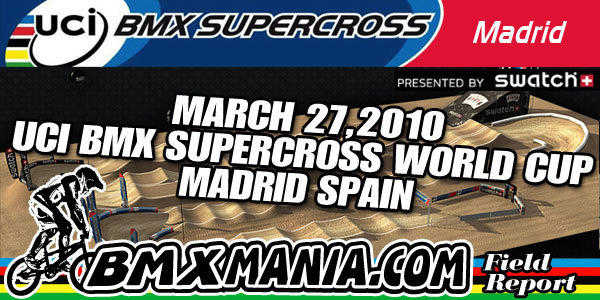 Thursday Track Photos - Friday / Box Jump Chronicles - Friday Photo Gallery
Saturday/Time Trials/Race Day - saturday stats & facts from Swiss timing - Saturday Photo Gallery
Official UCI Press release UCI BMX Supercross Madrid finals - Willoughby wows with World Cup win
Complete and Official Results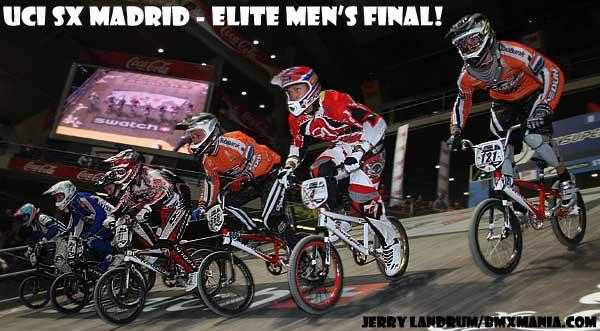 Elite Men - 1 Sam Willoughby/AUS 2 Connor Fields/USA 3 Ivo van der Putten/NED 4 Maris Strombergs/LAT
5 Raymon van der Biezen/NED 6 Ramiro Marino/ARG 7 Luke Madill/AUS 8 Quentin Caleyron/FRA

Elite Women - 1 Laëtitia Le Corguillé/FRA 2 Shanaze Reade/GBR 3 Caroline Buchanan/AUS 4 Brooke Crain/USA
5 Nicole Callisto/AUS 6 Maartje Hereijgers/NED 7 Amanda Geving/USA 8 Gabriela Diaz/ARG
Men's Semi Finals
Women's Semi Finals
Men's Quarter Finals
Connor Fields had a pretty good weekend with a 2nd place finish. His Dad sez, it's back to school Monday morning and doin' studies on the plane on the way home!
Check out the CROWD! People started lining up over an hour early, wanting to get good seats. Eventually, HUNDREDS of people were lined up for a LONG way, waiting to get in the door.
| | |
| --- | --- |
| | |
| Sam Winnerby | Marcus Bloomfield shows how easy it was to not have enough speed to get over the Box Jump. Get tangled up? In to the Valley Of Death! |

official Press release UCI BMX Supercross Madrid finals
Willoughby wins men's event & Le Corguillé outperforms all women

Madrid, 27 March 2010 - It was another victory for Sam Willoughby (AUS) in the men's final of the UCI BMX Supercross in Madrid. In the final motto Willoughby battled with Olympic Champion Maris Strombergs (LAT) for the lead in a very crowded first turn. Willoughby, the junior World Champion and last year's World Cup winner came out the turn leading the pack. He never looked back and continued to win the race. Conner Fields (USA) came second, Yvo van der Putten (NED) finished third, Strombergs fourth. BMX World Champion Donny Robinson crashed in the earlier qualifier stage and was taken to the hospital for a routine check. He is doing fine.

Laëtitia le Corguillé (FRA) won the women's event. At first it looked like Shanaze Reade (GBR) would claim victory in the final. She won the gate and the first turn. Then Reade made a mistake in the second straight and the French rider quickly overtook the multiple World Champion. Le Corguilé defended her lead to the finish. Reade was second and Caroline Buchanan (AUS) finished third.

More than 4.000 thousand spectators watched the spectacular racing in the Palacio des Deportes downtown Madrid. BMX Supercross introduced another innovative element called 'the box'. This box can best be described as a massive, steep, almost square tabletop obstruction that is part of the second straight in the men's section. The riders had to jump on the box and off again. The enthusiastic Spanish crowd loved this challenging element that combines BMX freestyle, slope style and racing.
A record number of 174 competitors from 27 countries entered the first World Cup of the 2010 UCI BMX Supercross season in Madrid. The best 64 men and 32 women qualified for the finals based on their time trial results. Each rider got two time trial attempts to secure the desired slot in the finals. The finals started with a qualifier stage over three rounds. The men raced in eight mottos and the women in four. After the qualifier stage 32 men and 16 women continued to the finals.



(picture UCI BMX / Getty Images: The track with 'The Box' in the centre)

Shanaze Reade made her 'come back' after serious injury in 2009. "I started the event a bit shaky. But I improved. I am happy with this result. But it was a very difficult track. The first turn especially. I really took time away from BMX racing with my injury. I took my time and tried to get some things sorted like buying a house. I am 3 months back on the bike again after my injury. I need to sharpen up a bit but this is a good beginning."

Sam Willoughby (AUS): "A BMX race is so short. Anything can happen. I do not plan a race. I go step by step. First a good gate, then the first turn and so on. I really benefit from racing a lot. That is a big bonus. Having experience on the track to react to situations. 70% of winning is mental. The best races are the ones I don't really remember. You are so focused then."

Ivo van der Putten (NED): "I was between Maris Stromberg and Sam Willoughby on the gate. They got a bit ahead of me. I thought I drop back otherwise I could get in the mix. From then on I could follow my own line. I am happy with this result so early in the World Cup season."

Connor Fields (USA): "When you stand at the gate of a final I tell myself. I did everything right. Worked hard, trained hard, I have done all I can. That gives me confidence. It was a very hard race. I was close to Sam in the last turn. There was little space. But did want to risk to crash us both."

(foto UCI BMX / Getty Images, Willoughby wins)
Willoughby wows with World Cup win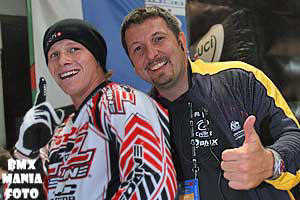 Official BMX Australia News Release
Just when no one dared to think he could do any better than his amazing record breaking rides last season, young BMX phenomenon, Sam Willoughby from Adelaide, came up with another impressive win in the first round of the World Cup Supercross season in Madrid. The 18 year old outclassed Beijing Olympic gold medalist, Maris Strombergs (LAT). As defending world cup series winner, Willoughby did not have it all his own way with a challenge in the final straight by a strong finishing Connor Fields (USA). Fields placed second while Ivo van der Putten (NED) finished third.
"This is how I wanted to start off the season," said Willoughby however the lead up was far from ideal after a recent move by the 18 year old to train and race in the USA.
"It's been a bit of a hard build up as I haven't had a track to ride on. A big shout out to the USA Cycling for letting me ride that Chula Vista track," he added with a grin after beating their young upcoming star, Connor Fields.

| | |
| --- | --- |
| | |
| The view coming IN to the Box Jump | The view going OUT of the Box Jump |
A tasty selection of mayhem and radness from the UCI BMX Madrid Supercross World Cup at the worlds newest diabolical BMX Jump!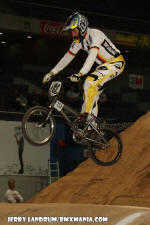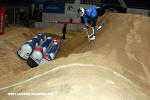 Friday Girl's Practice Photo Gallery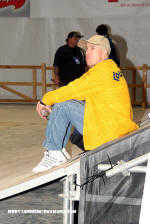 THURSDAY PHOTOS OF THE MADRID TRACK
Photos courtesy of Juan Carlos Pedrosa / Slaughterhouse BMX
Check back, Friday Night for massive UCI SX Madrid Photo Gallery from BMX Mania!
---