THURSDAY PRACTICE - Thursday Photo Gallery - FRIDAY/TIME TRIALS - FRIDAY PHOTO GALLERY
SATURDAY FINALS - BMX SX AWARDS PARTY & YEAR END AWARDS
NEWS RELEASES - UCI - USA CYCLING
Elite Men

Sam Willoughby finished off one of the best seasons that a BMXer has EVER had with a HUGE win in Fréjus. He battled it out with the 'heavy hitters', he duked it out with 'Evil Ivo', staved off TWO bad motos, he faced an UNREAL challenge from Donny Robinson in the Final.
At the end of the day, he stood alone at the top of TWO podiums, wining the UCI BMX Supercross World Cup Final in Frejus, AND taking home the overall UCI SX win for the season. Add in a couple of UCI World Championships in front of his Home Town in Adelaide, Australia; a national title and even victory on the tough national circuit in the U.S. and it all adds up to a dizzying season!
Congrats, Sam Wallaby....er, Sam-sation; hmmmm, Sam Wannabe; uhhhhh, Wonder Boy; ah heck, just call him, King Sam.....That'll do!
UCI SX Fréjus Elite men's Race Results
1 Sam Willoughby/AUS 2 Donny Robinson/USA 3 Cristian Becerine/ARG 4 Ramiro Marino/ARG
5 Maris Strombergs/LAT 6 David Herman (USA) 7 Khalen Young/AUS 8 Sander Bisselling/NED
Elite Women

How CLOSE is the finish for the Elite Women at the UCI SX Final? Inches, Centimeters, you name it, it was Cuh-L-O-S-E! Mariana Pajon ran a superb race, leading from Start to "AlmostTheFinish", but France's "Lady Magician" Laëtitia le Corguille, pulled off an AWESOME "Come From Behind" last straight to beat Mariana to the Finish Stripe by a "Wheely"! With the win, LLC scores a big double, with Race Of The Day AND the Overall UCI SX Title victory as well! NEVER count LLC out of the race! AND, check out a HARD CHARGING, Arielle Martin, finishing a fraction of a bike length from the TopTwo with a broken hand! Who sez GIRL'S CAN'T RACE? You sure didn't hear that here, the LADIES ARE AWESOME!
UCI SX Fréjus Elite Women's Race Results
1 Laëtitia le Corguillé/FRA 2 Mariana Pajon/COL 3 Arielle Martin/USA 4 Eva Ailloud/FRA
5 Caroline Buchanan/AUS 6 Lauren Reynolds/AUS 7 Ramona Labounkova/CZE 8 Manon Valentino/FRA
COMPLETE STATS AND FACT ALONG WITH UNREAL UCI BMX SUPERCROSS
RACE ACTION PHOTOS COMING FROM BMX MANIA!
BMX SX AWARDS PARTY & YEAR END AWARDS
The UCI pulled out all the stops, Saturday night with a 'blow out' Awards Party at Le Village Discothèque in Frejus. All the athletes got free entry to an exclusive Pre Party that included free food and drinks, and the awarding of the UCI SX Season End Awards and the first ever UCI BMX SX Awards.
COMPLETE UCI BMX SX FRÉJUS TIME TRIAL RESULTS!
FRIDAY PHOTO GALLERY POSTED, CHECK IT OUT BELOW.
Caleyron (FRA) wins men's time trials Pajon (COL) fastest woman
Fréjus, 9 October 2009 – Frenchman Quintin Caleyron won the time trials posting 32.133 seconds outperforming 139 elite men riders. Dutchmen Van den Wildenberg was only .005 seconds slower. Third was Wildenberg's countryman Raymond van der Biezen. Marianna Pajon of Columbia beat all other 33 women competing in Fréjus. Second and third respectively were Caroline Buchanan from Australia in 36.375 and Laëtitia Le Corguillé from France posting 36.451 seconds.
The fastest 64 Elite men qualify for tomorrow's 1/8 finals and the top 32 Women advance to the quarterfinals on Saturday 10 October in Fréjus.
Next to winning this leg of the BMX Supercross World Cup, the winner of the overall 2009 price will also be decided in Fréjus. Friday's qualifying races were awarded with UCI rankings points. The top eight women and top 16 men earned points which will prove important for the 2009 standing.
This standing is based on the cumulative points scored this season's Supercross World Cup. Elite men leader is Sam Willoughby from Australia. Willoughby was this year's junior world champion. The young talented rider competed in all three World Cups winning the leg in South Africa. Willoughby finished only 17th in the time trials, not scoring any points for the standings. Second placed in the world cup standing is Ivo van der Putten. Van der Putten posted a 12th place in the time trials today. With that result the Dutchman is closing in on Willoughby. The point difference between two rivals is down to 29 for the final show down on the main event on Saturday 10 October.
Current Elite men Olympic gold medalist Maris Strombergs from Latvia won the Chula Vista Supercross World Cup last month. In France the Latvian posted a 7th place in the time trials. Elite men World Champion Donny Robinson was looking at an 8th place result in the time trials.
In the women's qualifying, Mariane Pajon continued the good form that took her to the 2009 Junior World Championships title in Australia. She clocked the fastest time of 35.734 seconds in France. Pajon means business in France and is keen on winning her first major title in the UCI BMX Supercross World Cup. Le Corguillé is leading the 2009 standing with 15 points now with teammate Eva Allioud in second place.
Saturday's action at the event, which is sponsored by Swatch begins with warm up from 13h00. Racing starts at 14h00. There will be a Swatch autograph session with the top racers from 12.00 hours.
See preview video on freecaster.tv click here.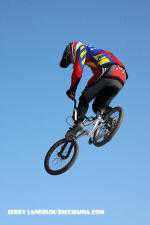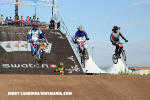 ---
RECORD TURNOUT FOR THE FINAL SHOWDOWN IN BMX SUPERCROSS!
Frejus, France - October 8, 2009 - There will be a record number of Elite riders in Frejus for the ultimate race of the UCI BMX Supercross 2009 season on October 9 & 10. The Supercross series is steadily growing in numbers with 139 Elite Men and 34 Elite Women from 22 countries competing.
The UCI BMX Supercross World Cup was specifically developed by the UCI to prepare the best riders worldwide for the extremely challenging BMX competition during the Olympic Games. The World Cup series in 2009 consisted of four events raced on three continents; Copenhagen, Denmark in May; Pietermaritzburg, South Africa in August and Chula Vista, CA USA in September finishing in Fréjus, France this weekend.
The 2009 Standings are based on the cumulative points scored in this season's Supercross World Cup races. The Elite Men's leader, is Sam Willoughby from Australia. Willoughby was this year's Junior World Champion and the young talented rider competed in all three World Cups winning the leg in South Africa.
The biggest threat to Willoughby is second ranked Ivo Van Der Putten from the Netherlands. Van Der Putten won the Copenhagen World Cup and was fourth in California. The Dutchman is trailing 42 points behind. The overall 2009 winner will most likely be decided between these two riders.
Olympic Champion, Maris Strombergs, only competed in one leg of the UCI BMX Supercross World Cup, but he won that leg in style and he showed he meant business. With that result the Latvian rider is 13th in the standings. BMX World Champ, Donny 'dR' Robinson from the USA missed the Copenhagen event and is 6th overall. Robinson's best result was 2nd in South Africa.
Leading the standings in Elite Women is Laëtitia Le Corguille from France. Le Corguille is threatened by her younger rival from France, Eve Ailloud who is second in the standings for the finals. On Saturday, the Elite Women will continue racing in quarter finals (32 riders left) and the Elite Men with 1/8th finals (64 riders left).
See a four minute preview video on freecaster.tv, click here. The Frejus race will be broadcast on FREECASTER.TV as well.
Thursday Practice Photo Gallery
---