Back To Interview Main Page - Back To BMX Mania Front Page
Posted February 21, 2008 - Interview by gOrk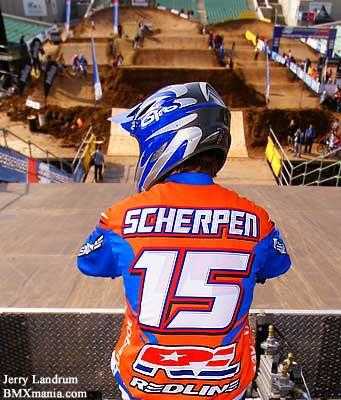 Photos provided by Martijn & BMX Mania, click on the thumbnails to see the Big Picture!


It's 2008 – the year that all of us hardcore BMX racers and fans have been waiting for. Because in just 8 months, BMX racing will finally get its well deserved time in the Olympic spotlight. And right now, there are easily 30 racers around the World who could very well win Olympic Gold for their country.
Amongst those medal favorites is Dutch rider and current National Champion in Holland; MARTIJN SCHERPEN. As part of The Netherland's incredible "Orange Crush," racing aboard their custom painted orange/polished 2008 Flight bikes, Martijn is one of the four pre-qualified Dutch Pros who is hoping to earn his ticket to Beijing and get a shot at Gold, Silver and Bronze.

REDLINE: First up – for those of us who hope to meet you in person someday, how do you pronounce your name? Is that "J" silent?
MARTIJN: You say it, instead of IJ.. Y "Martyn" but you spell it as Martijn
REDLINE: So tell us – what is your favorite color? Gold, silver or bronze?
MARTIJN: Gold!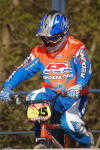 REDLINE: So the Dutch national team has about 10 Elite Men who any one of them could medal in Beijing – how are they going to narrow it down to just three?
MARTIJN: You have to make 1 semi and 1 main at a World Cup or World Championships to get a nomination… and if there more then three who qualified then they take the top 3 of the World cup ranking. So far, we already have four riders who are nominated.
REDLINE: Who do you think will be the final Dutch team? Who's it look like right now?
MARTIJN: Robert de Wilde, Rob van den Wildenberg, Raymon van der Biezen and myself have a nomination.
REDLINE: Back in August of '07, the Dutch Team outnumbered all others in the main event – 4 out of 8. Do you think its possible that we'll see three Dutch in the Olympic main; or better yet – sweeping all three spots on the podium?
MARTIJN: Yes. Everything and anything can happen at the Olympics. It is just one race, so we will see.

REDLINE: For all of those readers who haven't been to your website; what were your thoughts of the Beijing Olympic track?
MARTIJN: It is the best track ever! The best track I have ever raced on. The track is wide and the jumps are big. REALLY big.
REDLINE: What was your favorite part of the Beijing track?
MARTIJN: The second and third straights.

REDLINE: Was there one lap on the Olympic track that was the best for you?
MARTIJN: No, not really. I was just a bit disappointed that I messed up my final lap with a bad gate and then I came in touch with some other riders.
REDLINE: Now that UCi's gone to a random drop gate, is the time trial and choosing gate position as important?
MARTIJN: It doesn't make a big difference for me. I still can do my gates and the inside lane is better mostly. But everyone is used to it now so it doesn't make as big a difference.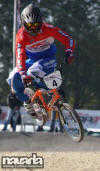 REDLINE: How do you approach time trials – is it all-out both laps, or do you try to put in a "safe" one first?
MARTIJN: I am just going for it - even in a safe lap you can make mistakes. So you just do your best both tries and try to set a fast time.
REDLINE: Percentage-wise, how much will the Olympic race be you-against-the-track, or you-against-7-other racers?
MARTIJN: The track ain't a big problem. You can have many laps to know what you are doing on the track but there is always a chance for a little mistake, against the other seven riders … 99% of it will be against the competition.
REDLINE: The Dutch guys have some pretty big dudes on the team – what are your specs? (height / weight?)
MARTIJN: Height: 181cm (5.94 feet). Weight: 74kg (162 pounds)

REDLINE: Would you describe yourself more of a skills rider or more strength? What's your ratio?
MARTIJN: I am more skills and a spinner (light gear).
REDLINE: BMXers from the Netherlands have always been fast; what is it about the Dutch BMX scene that breeds such good competition and riders?
MARTIJN: It is because we all train in wooden shoes. The secret is out.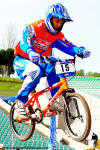 REDLINE: How old were you when you first raced? How did you do in it?
MARTIJN: I started racing when I was just 3 years old and I won the Dutch Championships in the 4 and under boys, back in 1995. I did my first European Championships in 7 boys and finished 2nd. I kept getting 2nd each year until 1999 when I won my first European title in 11 boys and 12 and under cruiser. Then in 1996, I did my first World Championships in England, where I also finished 2nd. In 1999, I won my first World Championships.
REDLINE: So was your National Team Coach Bas DeBever "The Man" back then, who you looked up to? Who were your other Dutch BMX heroes growing up?
MARTIJN: He had quit BMX racing when I started, so my heroes where Robert de Wilde and Robert Sprokholt.
REDLINE: Do you have a favorite American pro? French pro? Australian? UK? Etc?
MARTIJN: Not anymore. But when I was a kid, I liked Danny Nelson, and Frenchmen Thomas Allier and Christophe Leveque.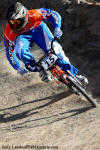 REDLINE: So explain one thing to me – you're from The Netherlands, and you're Dutch, but sometimes they say you're from Holland? Which one is it? Why do you guys have so many different names for your country and nationalities?
MARTIJN: When I stayed at the Bradford family they asked me the same thing … but I still don't know the answer.
REDLINE: So in 2007, you became the Dutch National Champion .. again. And that means you get to wear the red, white and blue of the Dutch flag. Tell us about this years' race and how it went for you leading up to the main. MARTIJN: I was the current National Champion so I had a title to defend. For the Dutch Championships, you have to qualify. So we only had a semi final. I won my motos pretty easy and in my semi I was up against Rob vd Wildenberg who was really fast at that track. But I qualified first to the main and picked lane 1. When the gate dropped, I led from start to finish.
REDLINE: So this was your second time as the Dutch National Champ …
MARTIJN: It is my 2nd time in Elite. My first title I was still a Junior but got dispensation to race Elite for the Dutch races. And I won the National Championships and Dutch national series … which I also won in 2007.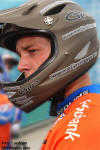 REDLINE: There must be some pretty hefty names in Holland's BMX history who have held that title …
MARTIJN: Yes - Robert de Wilde, Bas de Bever, Wilco Groenendaal, Phil Hoogendoorn.
REDLINE: So you just finished the 3rd and 4th rounds of the Euro Champs; where a good overall finish will help determine who gets an Olympic spot – correct? How are you sitting in points right now?
MARTIJN: In UCI points I am in 2nd place behind Robert (DeWIlde) and our country is in 2nd place behind USA. But for our Olympic spots, they look more at the World Cup ranking.
REDLINE: Let's talk websites. www.MartijnScherpen.com is home for the most current Euro BMX news. How long have you been doing your own site?
MARTIJN: I started my website on the end of the 2005 season. People like it because all the races I go to, I'll post some video's and people just like to watch it.

REDLINE: Besides your own site – you've created many others BMX sites; right?
MARTIJN: A few. I did some for my sponsors and some other riders. I have just finished with www.bensinkbmxgates.com - he is the builder of a lot of BMX starting gates in Holland and Europe.
REDLINE: So after BMX, are you hoping to be the BMX website guru for Europe? Is that the business you want to get in to?
MARTIJN: No. I just do it for fun. I think that the most riders want to do something with coaching and so do I, to stay in sport is a thing I like.

REDLINE: Are you a self-taught webmaster, or have you gone to school to learn this skill?
MARTIJN: My brother learned me all those things, and he still does a lot for my website, too.
REDLINE: Who has been your biggest inspiration to help get you where you are today in the BMX world?
MARTIJN: My parents, Bas, and my team. Also my main goal - has been "The Olympics."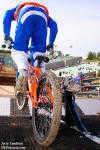 REDLINE: One year ago this January, the Dutch Team were all handed their new Redline frames. Bone-stock Pro XXL's; just painted up in a different color. What do you think of riding a Redline the past 12 months?
MARTIJN: The Redline bike feels good. I changed this winter to a Pro XXL frame, because I was still riding the Pro XL. But it was getting a bit too small for me. The Pro XXL Redline feels really good. I have done a few races on it and I took it to every main so far.
REDLINE: Here in the States, everybody got Guitar Hero for Christmas – what'd you get?
MARTIJN: We don't really celebrate Christmas, we just went for dinner with the whole family and been partying a bit.
REDLINE: Since everybody in Holland rides a bike more than they drive cars – have you ever ridden a Batavus "Old Dutch" bike?
MARTIJN: Yes, I have ridden an Old Dutch bike, but the bike I always went to school on was just a normal Batavus bike.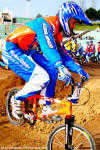 REDLINE: I know – that was a stupid question. I'm running out of good ones. Any final words of wisdom to the BMX groms all over the world? Good Dutch advice?
MARTIJN: Always give 110% at the training. Try to always do a little more than the other riders and most of all, have fun.
REDLINE: Thanks a bunch for taking the time to answer – and best of luck to you in your quest for Olympic glory.
MARTIJN: Thanks Redline for the interview and hope for the best in 2008!
Interview by gOrk / Photos courtesy of www.MartijnScherpen.com, www.fianke.com, www.navada.net & BMXmania.com.
The REDLINE Global Team is sponsored by SHIMANO, SUN RIMS, TIOGA tires, KOOLSTOP brakeshoes and PRYME safety gear. The DUTCH~REDLINE Team is sponsored by INTENSE tires, SWATCH and GIRO helmets.
---