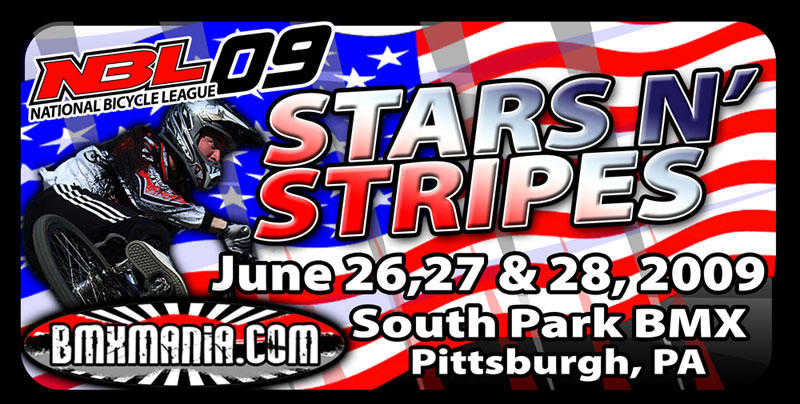 FRIDAY/PRACTICE DAY - SATURDAY/DAY ONE - SUNDAY/DAY TWO
SUNDAY/DAY TWO
Sunday Pro Results
Elite Men - 1 Randy Stumpfhauser 2 Cristian Becerine 3 Matt Pohlkamp 4 Augusto Castro 5 Andres Jiminez 6 Phil Delizia 7 Javier Colombo 8 Jeff Upshaw
Elite Women - 1 Dominique Daniels 2 Amanda Geving 3 Madison Pitts 4 Amanda Carr 5 Liz Passwaters 6 Frances Maycroft 7 Alise Post 8 Ashley Kneram
Masters - 1 Tommy Opincar 2 Phil Potosnak 3 Ronnie Gaska 4 Joey Albright 5 Doug-E-Fresh 6 Tim Dinger 7 Scott Moreland 8 Matt Silva
Super Ex - 1 Josh Meyers 2 Fausto Endara 3 Vance Wiesendanger 4 Randall Neave 5 Tyler Faoro 6 Facundo Narpe 7 Ernesto Pizatto 8 Dustin Voegler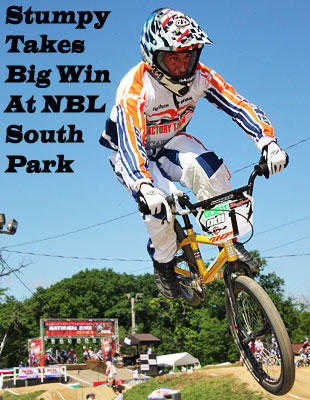 Elite Men

1 Randy Stumpfhauser

2 Matt Pohlkamp

3 Augusto Castro

4 Josh Callan

5 Ramiro Marino

6 Jeff Upshaw

7 Javier Colombo

8 Cristian Becerine

Elite Women

1 Dominique Daniels

2 Amanda Geving

3 Alise Post

4 Jamie Lilly

5 Ashley Kneram

6 Amanda Carr

7 Madison Pitts

8 Allie Dragoo

Super Ex

1 Josh Meyers

2 Fausto Endara

3 Jason Larev

4 Diego Carvalla

5 Matt Beatty

6 Jared Becker

7 Tyler Faoro

8 Randall Neave

Masters

1 Doug-E-Fresh Crowell

2 Tommy Opincar

3 Phil Potosnak

4 Tim Dinger

5 Brian Strieby

6 Carlos Gonzales

7 Ronnie Gaska

8 Joey Albright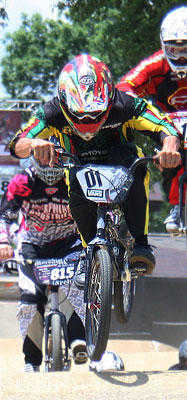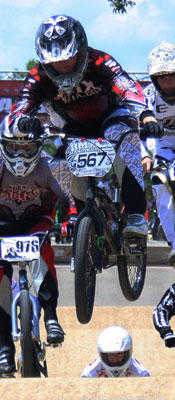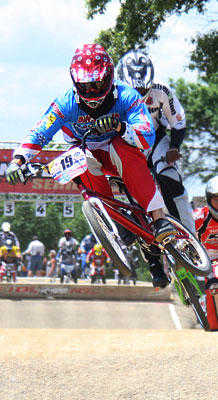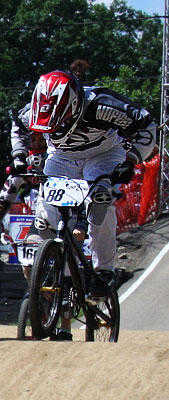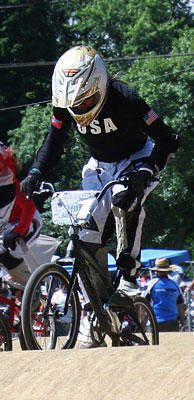 FLIGHT TIME IN SOUTH PARK!
Medical Tech's, checkin' out Stumpy and Pohlkamp, goin' BIG over the famous So. Park Pro Section!
Cristian Becerine, leaving his bike behind as things go WRONG in the Elite Men's Final.
Style Points In The Pro Section! - Left, BMX Mania's, Vance Wiesendanger and right, Alienation's, Jeff Upshaw get loose over South Park!
Saturday At South Park
Friday, things didn't look so good with a Big Time rain storm roaring thru in the middle of Pro Practice. The NBL crew kept the track in good shape and things were ready to roll on Saturday.
Jamie Lilly, one of the greatest Elite Women of all time took 5 years off her bike and got 4th today. Here she's giving Alise Post all she can handle.
Turn Two in Pittsburgh is one of the GNARLIEST places to crash, EVER. Big Dubs goin' RIGHT in to the turn makes for some high speed road rash!
Ronnie Gaska was leadin' the Masters when he crashed in the 3rd straight. Ronnie just came back from a year long injury, and you haven't heard the last from this tough guy!
Haro's, Shannon Troglia, is cheerin' on his buddy, Doug-E-Fresh, in his first big Master's win.

"Fresh!"

Rennen/Intense's, Sean Diprete went out early with a bad injury. Get back on track, Sean!
MASSIVE SATURDAY PHOTO GALLERY!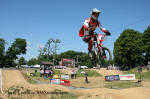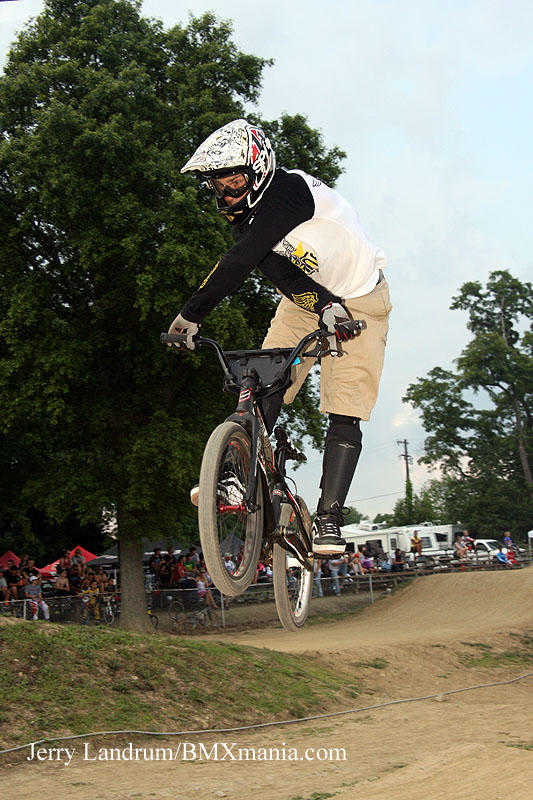 Haro's, Shannon Troglia is psyched to be at South Park, how come you're not out there!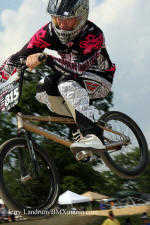 ---