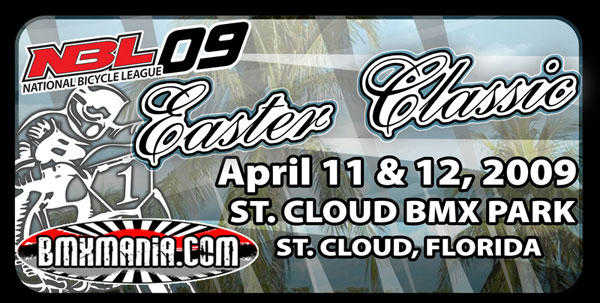 FRIDAY/PRACTICE - FRIDAY PRACTICE VIDEO - SATURDAY/DAY ONE - Saturday Photo Gallery - SUNDAY DAY TWO
Words & Pix by
Jerrod Huffman
/
JrodsPhotoShop.Com
for
BMXmania.com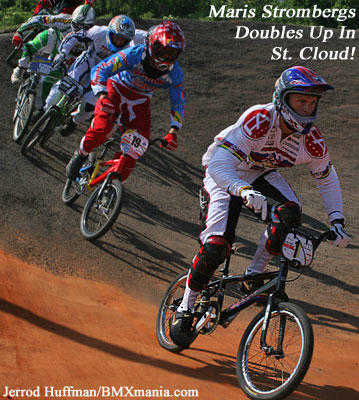 St. Cloud, Florida sure was a change from the boring ol' Midwest Spring. It was 80 degrees and sunny with a small ocean breeze, perfect for some elite racing action.
Day 1 in the Elite Men's class was all about your Olympic gold medalist, Maris Strombergs. Maris as well as a few of the other usual suspect each nailed down a few wins in motos. In the main the holeshot went to Maris with Kyle Bennett and Barry Nobles close behind. They held that formation all the way around the track. Nobles tried a move in the last corner but Bennett held him off and they finished in that order.
Day 2 of Elite Men the Strombergs Show continued. Rack up another holeshot for the champ and another main win. Bennett made his charge twice but was unsuccessful, and Carlos Oquendo stayed in third and watched.
Elite Women's class was mixing it up all weekend. Mariana Pajon, Dominique Daniels, Alise Post, and many more of the fastest females in BMX were there for some cash. Mariana was looking like the shoe-in for the main winner on day 1, but when she didn't get the holeshot in the main event, Dominique just had to keep up her winning ways and that is just what she did. Pajon finished second and Post took the three spot. Shortly after the main, Dominique was hit hard by the heat and was barely able to even get up to the podium. She pulled out of Sundays race so she could get some rest and recover a bit.
Speaking of Sundays race, with Dominique out of competition, it was all about the 3P's. Pijon, Post, and Pitts....Madison, that is. They went into the first corner that way and finished in the same order.
Tomorrows champions... the Super Ex class... Once more everyone was anticipating the battle between Weston Pope and Josh Meyers. Pope had gate 8 and Meyers with 6, when the gate slammed down Pope shot out front like the little rabbit at the dog races. Fausto Endara slid his Free Agent ride in behind Pope and Meyers was nowhere to be found. Josh was playing catch up after being in 6th coming out of the first turn. One by one Meyers passed them and he settled for third after a hard fought battle for that position on the podium. Pope took home his first ever Super Ex main win and Fausto Endara grabbed the 2 spot.
Day 2 of Super Ex Ended up with a little upset at the stripe. Matt Kelty took to the point with Tyler Faoro and Weston Pope hot on his tail. They rode the lap in this order until the last straight, when Faoro showed his skill in the rythem section and passed Kelty at the line, while Pope had to go home with third.
Tim Dinger of the Elite Masters class showed that he wasn't playing around when he took the holeshot in Saturdays main. Will Murray and Tommy Opincar were close behind until Murray seemed to run out of gas allowing Opincar to get past and then The "O" Show, Percy Owens cranked it up and wound up passing Murray on the last straight. As for Dinger and Opincar, it was a scorers nightmare, Side By Side at the line and the win went to Tommy Opincar.
The second day of Elite Masters had almost the same main event. This lap wasn't so good for Tim Dinger who came unclipped right out of the gate. Will Murray shot out front and led for most of the race, but Percy Owens showed his experience and made his move past Murray in the last corner, and it seemed that Murray shut it down, which allowed
Domingos Lammoglia
to also pass him at the line. So in the end it was Owens, Lammoglia, and Murray.
Elite Men

Elite Women

Super Ex

Elite Masters

1 Maris Strombergs

2 Kyle Bennett

3 Carlos Oquendo

4 Augusto Castro

5 Barry Nobles

6 Randy Stumpfhauser

7 Robert DeWilde

8 Danny Calaug

1 Mariana Pajon

2 Alise Post

3 Madison Pitts

4 Amanda Geving

5 Stephanie Barragan

6 Ashley Kneram

7 Donna Snow

8 Jessica Cartwright

1 Tyler Faoro

2 Matt Kelty

3 Weston Pope

4 Josh Meyers

5 Matt Kelty

6 Randall Neave

7 Julian Martinez

8 Michael Henderson

1 Percy Owens

2 Domingos Lammoglia

3 Will Murray

4 Bryan Elisabeth

5 Tommy Opincar

6 Tim Dinger

7 Phil Potosnak

8 Scott Moreland
Elite Men

Elite Women

Super Ex

Elite Masters

1 Maris Strombergs

2 Kyle Bennett

3 Barry Nobles

4 Carlos Oquendo

5 Robert DeWilde

6 Randy Stumpfhauser

7 Augusto Castro

8 Matt Pohlkamp

1 Dominique Daniels

2 Mariana Pajon

3 Alise Post

4 Amanda Geving

5 Stephanie Barragan

6 Ashley Kneram

7 Madison Pitts

8 Ashley Lynch

1 Weston Pope

2 Fausto Endara

3 Josh Meyers

4 Tyler Faoro

5 Matt Kelty

6 Julian Martinez

7 Gavin Lubbe

8 Randal Neave

1 Tommy Opincar

2 Tim Dinger

3 Percy Owens

4 Will Murray

5 Bryan Elisabeth

6 Phil Potosnak

7 Domingos Lammoglia

8 Tremain Johnson


Photo Genius by JrodsPhotoshop.com!
NBL EASTER CLASSIC LIVE WEBCAST 10:00 am (EST) APRIL 10th and 11th

Watch the NBL Easter Classic LIVE webcast from St. Cloud BMX in Florida, April 11th and 12th at 10:00 am. The format will feature a pre-race show, athlete interviews, industry buzz, and tons of great racing action.
The LIVE webcast will include:
Elite Series Action – Olympic Gold Medalist, Maris Strombergs vs. NBL's National Champion, Randy Stumpfhauser. Dominique Daniels vs. NBL's National Champion, Stephanie Barragan.
National Team Competition – AFH took the win both days in High Springs – Watch for Jesters to give them a run for their eggs at Easter. Factory Felt/SC Action Sports and Excalibur BMX are separated by a mere point at the top of the standings but things will tighten up by the Grands.
Team NBL Competition – Can Intense/Dyna-Pep win both days and sweep NBL Spring Break? HBR/SE Racing holds the current lead in points but that could change soon.
The HUGE Easter Egg Hunt put on by St. Cloud BMX.
UGP Open Classes – Are you qualified to race the Championship at the NBL Grands? All Open class winners at Easter get FREE UGP products both days.
Tune in April 11th and 12 to watch the LIVE racing action at http://www.go211.com/u/easterclassic2009/

---
Friday Photo Gallery
Photo Genius by JrodsPhotoshop.com!
---
---