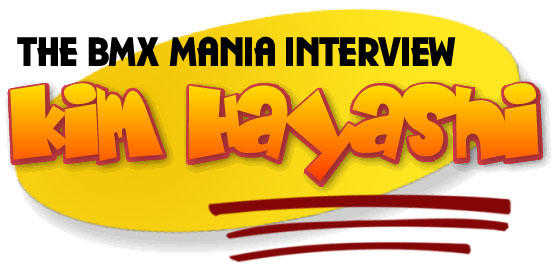 Back To Interview Main Page - Back To BMX Mania Front Page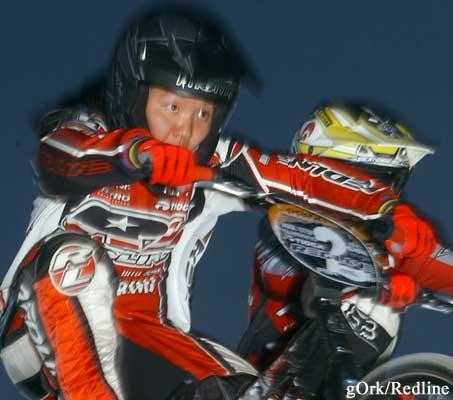 KIM HAYASHI interview - 2008
With the long awaited Olympic BMX debut 5 months and 20 days away, we wanted to catch up with REDLINEís Elite Woman KIM HAYASHI; and see how things are moving along toward a qualifying spot on the USA Olympic BMX team.
We caught up with her in Chula Vista, CA, at the US Olympic training center. Here is what the 5-time/consecutive NBL No.1 Elite Woman had to say.
REDLINE: So you moved to the USOC training center in Chula Vista 2 months ago? How is it going so far?
KIM: Itís going great so far. I actually had moved in after the ABA Grands, but ended up having to go home after 3 days because I got really sick which was a bummer because I was really excited about getting more familiar with the facility before I moved back on the 2nd of January. Amanda Geving and I moved in on the 2nd, Jill Kintner had already been living there since December and Arielle Martin showed up on January 6th. It was raining like crazy the whole month of January, so everything was flooded Ö including the new Olympic track. Been putting in a lot of gym-work.
REDLINE: Tell us what itís like at the USOC Training Center? We hear itís like a resort for athletes Ö
KIM: It definitely is! The center has pretty much everything we need to train. They provide a performance building which houses the athletic trainers and a massage therapist which is a huge plus. Since weíre residents we live on site in a pretty comfortable 2 bedroom apartment or dorm. They have a pretty good size cafeteria and no athlete would argue against free food thatís good for you and an athlete recreation center with a pool table, ping pong table, Xbox with guitar hero, 4 big screen tvís and about 12 computers.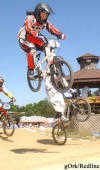 REDLINE: So you four are obviously the USAís top picks for the 2 womenís spot on the Olympic team. Whatís it going to take for you to ink in name for one of those positions.
KIM: Better finishes. I havenít been riding at my potential and I know I can do better. I just have to keep training, stop getting injured and just do it. I have to finish better in the UCI races here in the US and start making the mains at Supercross races.
REDLINE: So they just finished the Olympic-replica track last month?
KIM: The track is completely done. Tom R. was finished with the day before the ribbon cutting ceremony so we only rode the first two straights before the ceremony and before the rain hit. After the rains, the track was pretty soft and definitely not ready for us to ride it again until things dried up.
REDLINE: So this beast of a practice track is an exact duplicate of the Olympic track. What did you think of the Beijing track when you raced on it last August?
KIM: I absolutely loved it. The jumps were so much fun and because of the big starting hill we were flying! The track was in perfect condition and Iím hoping that I can have a chance to go back there and ride on it again.
REDLINE: Anything in particular that you know you have to work extra-hard on?
KIM: Time trials and gates. Iíve never done time trials and I found out that Iím not very good at riding them. I donít really know what it is about them, but I have a lot of work to do to get them up to par. My gates have never been the best, but with the random gate that we have at the center I can do gates everyday if I want. So Iíve been working on my timing and technique a lot.

REDLINE: How long have you been dreaming of all this? Do you pinch yourself every now and then to make sure itís all real Ö
KIM: Iíve been dreaming of this chance since I was little. I wanted to be a professional athlete when I was in elementary school and every athlete dreams of going to the Olympics so itís hard to believe that I have this opportunity now. There are times when I wake up and I canít believe this is all happening.
REDLINE: From what we saw on the Go211.com webcast of the Christmas Classic, it looked like Canadaís Samantha Cools has stepped up her game. Any other girls youíre worrying about?
KIM: Yeah, Sam has always been a great competitor and one to watch for. Weíve always battled at the races and she was riding very strong in Ohio. As far as other riders Iím worried about, I think that everyone is a threat. Itís a whole new ball game and everyone is stepping it up so you canít count anyone out.
REDLINE: Obviously, with her World Champ win and Beijing victory, your Redline teammate Shanaze Reade has got to be on everyoneís hit-list. What do the women of BMX need to do to beat her?
KIM: Strength and speed. Shanaze is a big, powerful rider with great bike handling skills so thatís a hard combination to beat.
REDLINE: Whatís the gym and equipment at the US Olympic training center like? You must have everything available to you Ö
KIM: Thereís a full gym with squat racks and power lifting platforms that line one end of the facility to the other end. As much equipment that any athlete would need to train with, from dumbbells, to plyometric boxes, weighted balls, you name it.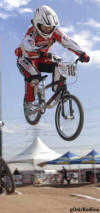 REDLINE: Youíve got a busy schedule ahead of you Ė with Supercross races in Australia (April) and Denmark (May), before the World Champs in China. You looking forward to the travel?
KIM: Iím very excited about going back to Australia and going to Denmark for the first time. I think Iím getting used to the jet lag too!
REDLINE: Now USA Cycling just announced that the U.S. National Championships are going to be in Desoto Ė you planning on going there and winning the illustrious Stars Ďn Stripes jersey?
KIM: Definitely! I missed getting the jersey last year in a good battle with Krystal Hime, so this year Iím definitely wanting to get my hands on it.
REDLINE: I know weíve been working on lightening up your bike Ė what have you been adding or changing on your Flight Expert XL?
KIM: Well my Flight Expert XL frame is pretty light to begin with and I switched to riding the Shimano DXR hubs, cranks, brakes and pedals. All of which are pretty light so my bike canít get any lighter than what it is now and Iím happy with it.
REDLINE: How stoked are you that Shimano has come on board as the official Redline team sponsor?
KIM: Iím so excited about it! I rode Shimano parts when I first started racing and Iíve always loved their products.
REDLINE: Last September you took your 5th consecutive NBL No.1 Elite title Ė are you going to be able to do like Carne$ and make it a 6-peat?
KIM: Iím not too sure. This year Iím really focusing on the UCI races and not so much the Elite races. If I make the Olympics, that race would be my last because Iím going to hang up the Redline and focus on dental school. It would be a huge accomplishment to get 6 in a row, but Iím happy with what Iíve accomplished in BMX and getting that fifth No.1 meant a lot to me.
REDLINE: How hard is it to dominate the way you have for half a decade? What does it take Ė both mentally and physically, to do so?
KIM: It takes so much dedication, determination and mental focus. Year after year of grueling training and crashing, my poor body has been put through so much and it takes a lot to get up every day and go to the gym and to go do sprints, plus being at races and putting your mind through the stress and pressure. It does become mentally draining. I guess the one question I kept asking myself every day I got out of bed wasÖĒDo I want it?Ē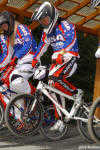 REDLINE: So were you able to wrap up your college classes and graduate early from ASU, or have you put that on hold for 2008? Whatís your current education situation?
KIM: Well, I ran into a little bit of a road block in that area. My teachers werenít very cooperative with letting me miss class to race BMX, so the last few classes I need, I canít attend because Iím living in San Diego. So I changed my major to sociology and am still a full time student taking online classes. After this, I have 2 more classes until I graduate. My parents wouldnít allow me to put college on hold and I wouldnít allow myself to do it either because school has always been first in my life.
REDLINE: Still planning on retiring from BMX at the end of í08; to pursue being an orthodontist?
KIM: Yes! Iím really excited about it too! Who knows though Ö I may make an appearance before the next Olympics. You might see me again in 2011.
REDLINE: Looking back now, when your Mom first talked you in to trying BMX racing, like your brother and cousin were doing Ė at that time, what did you think BMX would do for you compared to now?
KIM: Wow! Nothing like this. I could never have imagined BMX taking me to where I am right now. I never thought that Iíd be trying out for the Olympics; I figured that it was just going to be another sport Iíd do on the weekends just for fun Ö boy, was I wrong. Thanks mom!
REDLINE: As a professional athlete who has done BMX and softball, how would you describe what makes BMX the Greatest Youth Sport in the World?
KIM: I would have to say that itís the combination of being an individual, family oriented, extreme sport, that also teaches the same values as other traditional sports -- such as discipline, determination, focus and sportsmanship. Plus itís just incredibly fun to get on a bike, race your friends and fly through the air over dirt jumps.

REDLINE: How about some fun ďifĒ questions - if you make it atop the podium in Beijing and theyíre playing the U.S. national anthem, what place did you just get?
KIM: First, of course! You always want to picture yourself as being number one!
REDLINE: If an NBC camera zooms in on you at the starting gate, who will you say ďHiĒ to in to the camera?
KIM: Iíd probably keep it short because Iíd probably be really nervous so I would say Hi to my family, friends and all my supportersÖjust like that.
REDLINE: If you win the Olympics, what will be your first reaction after you cross the finishline?
KIM: Iíd probably flip out, jump off my bike, jump around with my hands in the air and say ďwoo hoo!Ē
REDLINE: If youíre locked in to a good position at any race, and out of the corner of your eye, you see Jill Kintner coming in hard and fast, what will you do?
KIM: Iíd stick my elbow out, lean as hard, pedal as hard as I could and brace myself for impact.
REDLINE: I know a lot of girl BMX racers out there look up to you. Is that what keeps you motivated the most?
KIM: Yes, itís always a good feeling to have younger girls and supporters who cheer you on at every race. It motivates me to train harder and improve my riding skills so that I donít let them down. Even when I donít ride very well or have a bad lap itís great to see them running up to me telling me I did a good job.

REDLINE: Any last words of advice to give the younger kids in BMX?
KIM: Thank you very much! Iíd like to tell kids to never give up. I know thatís such a clichť, but Iíve been through the same thing. There are times when things arenít going your way and you question yourself on the reason you continue to put yourself through it, but ask if you still enjoy doing it and if you want it. If so, then grit your teeth, continue to work at it and pedal HARD.
REDLINE: Well, on behalf of everyone here at Redline and all of our factory and co-sponsored riders and Redline owners, we wish you the best of luck in your quest for Olympic glory. We know you can make the team and medal in Beijing.
KIM: Thank you so much!!!
---