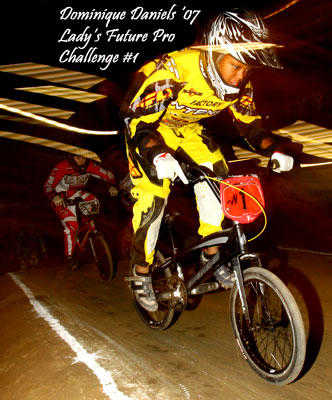 1st Dominique Daniels 2nd Savannah Lahr 3rd Jessica Lambert 4th Brittany Dubel
5th Erin Moore 6th Samantha Brungart 7th Alicia Bigelow 8th Rachael Luna
Throughout the history of sports there have been many epic rivalries. Ali-Frazer, Sosa-McGuire, Earnhardt-Gordon. But in 2007 in the realm of woman's amateur BMX racing two names come to mind. Luna-Daniels. Lufkin Texas', Rachael Luna and Phatom/On Trac/Intense's Dominique Daniels have chased each other around the country fighting to get the top spot to be the ABA's national #1 girl. They also met on the track for the first time at this years ABA NAG5 challenge where they both touched bars over the first jump and fell.
Now, their paths once again crossed at the SUN RINGLE/FLY Future Girl Pro Challenge presented by BMXMANIA and JOHNSON PLATES at the ABA's Steel Wheels BMX in Portage, Indiana. Would this prove to be the colossal battle between the two before they move into the ranks of the woman's pro class next year? Some of the other best talent in the country and some super fast local girls lined up with them for the main event to find out. The gate slams! And demolition shot out like she was trying to catch her flight back to Arizona. I mean REALLY, like she was on the runway with it.
But in the first turn she left the door open for the raw horsepower of Fusion Force/Mike's Bikes, Erin Moore to move in. But Erin was just "too sweet" and didn't take her over like she could have. Rachael Luna made a good exit from turn one and caught Erin going in to turn two but she started to wash out and came unclipped. Erin buzzed her back wheel and went down.
Team Diamondbmx.com's, Alicia Bigelow blasted by her as she tried to recover. Trackstarsbmx.com's Savannah Lahr, Revolution Gunslinger bikes Utopia optics' Jessica "Hollywood" Lambert and Mudslingers Samantha Brungart gave chase but slammin Sam slid out and was done. Luna and Bigelow finally met coming out of the last turn but they hooked bars and both of them went crashing into the FLY hay bales that lined the last straight. At the line it was Daniels, Lahr, and Lambert taking the top spots.
One of the fastest girls to ever come out of the state of Wisconsin, Dirt Warriors FLY,SUN,Profile,Intense,Sinz's Brittany Dubel who overcame a crash and a sprained wrist in the first moto and fought through the pain to even make it in was able to swerve around the wreckage and take 4th. Fusion Force and FORMULA were able to make one lucky fan very happy at the end of the girls main by giving away a new red Nucleus frame to the 50/50 winner, so Dom was called back to the finish line for a very quick interview. (She really was trying to catch her flight) and to pick the winning number. The Whites out of Crown Point Indiana were the winners. I think it's easy to say that they'll be her fans forever.
And a girl who's going to be a star in this race a few years from now Teresa "the flying T" Nowdomski's mom and dad won the money 50/50 drawing. So it was a good day for northwest Indiana. The girl that wins this race every year is called "The Queen of the Midwest".
But for now Miss Daniels will have to be known as the Queen Of The World!
Note - If you are interested in purchasing a photo from these galleries, you can contact us by clicking here.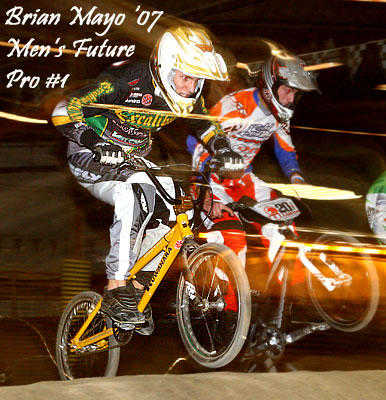 1st Brian Mayo 2nd Doug Brickey 3rd Jared Becker 4th Blake Riley
5th Stefan Fahy 6th Alex Burton 7th Tommy Zula 8th Scott McMahon
The 29 men racing in their half of this years show were greeted to a brand new format that has never been used at a BMX race before. It was a pro type scramble.
Ok, that's done all of the time, but only the top 4 in each moto would score points. 4 for 1st, 3 for 2nd and so on, so you want a high score. This made scoring more accurate and kept riders charging hard in all 3 rounds because their lanes for the semis were based on their score.
After a briefing by the race director most of the riders got the hang of it and the fans loved it because no one could sit down in the 3rd moto because they had "good points".
The talk of the first two rounds was all about the lightning fast 14 year old, Bartlett Illinois', Stefan Fahy who rides for Mudslingers. He was blowing the doors off of even riders 10 years older. In Round 3 he took a Third and gave up the overall point lead to Raceface Plates/Actionsportsconnection.com's, Blake Riley as they were both tied with 10 points. This put them both in lane 1 of their respective semi finials.
What did Blake do in his? Oh nothing.....but blast HUGE AIR over the 25 foot triples going into the last turn!
Brandon Laing who was last years hole shot champ fought with the heart of a lion to race after breaking 2 bones in his wrist at the ABA Grands. A good gate, and he was in 3rd at the first turn, but a crash in front of him forced him to swerve off the track and his dream of winning this year was over.
Standard's, Scott McMahon made it through the semis with no problem and the crowd was starting to think that this might be his year. The stage was now set for 8 of the strongest amateurs in the Midwest to blast off and split up their half of the $2,100 in cash and prizes that SUN RINGLE/FLY/BMXMANIA and JOHNSON PLATES put up for the entire event.
Gate's down!!!
Excalibur/Rockstar/Kuwahara/FLY's, Tommy Zula had something to say about what the crowd was thinking. He snapped and drifted out to block Scotty going into the first turn, but this only opened the door for Blake to move inside. Just like in Nascar,"3 don't go into 1". Blake, Tommy and Scott all crashed and with Team Diamond's, Jared Becker and Michigan's, Alex Burton crashing mid-pack, the first turn looked more like bowling with bikes then a BMX race.
Three pins stayed up (oops I mean riders) Kegels Bike Shop's, Doug Brickey came out the cleanest and took the lead. Excalibur/Rockstar/Kuwahara/FLY's, Brian Mayo and Stefan Fahy had to bob and weave to get through which slowed them down.
The pack however tightened up as they reached the last turn with Mayo going inside and Fahy going outside. Well, "3 don't go into 4 either I guess", because Fahy went over the last burm as the pass was being made.
At the line it was Mayo, Brickey and the pin sweeper was quick to get Becker up and to the finish line for 3rd.
As a way to get the best sport in the world out to the masses, the race director put together a YouTube contest for the spectators at the track to participate in. As you're reading this, videos of these exciting races are popping up all over the net. So call your friends and tell them to hit "Future Pro Challenge" on YouTube.
As a fun 'extra', Steel Wheels was running a pro class the night of the FPC, and Kuwahara Superstars, Jeff Upshaw and Warwick Stevenson drove in for some fun! It was NICE to see those two guys makin' their way around the track......Nice to see ya, guys!
Until next year.
Congratulations to Dominique Daniels and Brian Mayo and Thank you to all of the riders and sponsors for making this race possible.
Note - If you are interested in purchasing a photo from these galleries, you can contact us by clicking here.
---