THIS BMX MANIA RACE REPORT PAGE BROUGHT TO YOU BY GHP!

Friday/Cruiser Day - Saturday/Round 11 - Sunday/round 12 - Overall Rankings
The European Championships.....2008 Style!
The 2008 version of the European BMX Championships was held in Weiterstadt, Germany this year, and it was a GREAT event!
If you are ever in Weiterstadt for a BMX race, you HAVE to stay at the Hamm Hotel. GREAT service, nice place and Ralf and the awesome staff (Above with Race Organizer, Andi Hopping) are The Best. Also, they have one of the BESTEST breakfasts that I've ever seen and it come with the price of the room, Euro Style.
Speaking of Race Organizer, Andi Hopping ..... He and His Mother, Christiane were the overall organizers. Many people were heard to say, "One of the best EVER!"
Ha! Somebody in Germany has "Intense Fever", they've got it all. Sinz, THE, Intense ... Throw in a little "Fly" for good measure!
Sunday's racing was highlighted by some pretty "high profile" collisions involving Latvia's, Arturs Matisons (See series below.) and in this series, Sifiso Nhlapo. Left pic shows three guys going for one spot, and in the photo at right, Sifiso comes out on the losing end of the activity. Unfortunately, Skizo went off the berm and to the ground. A trip to the hospital and an overnight stay and he was released from the doctor's care.
Robert "Afro Bob" De Wilde was carvin' hard on Sunday, but went out with a Fifth in the Semi. On to Copenhagen, for Afro Man.
Yet, ANOTHER, fast Latvian on a ONE bike, Toms Skujins took the Season End title in Junior Men.
There were a LOT of Finish Line charges at the 'Euros' due to the 50 meter FLAT OUT sprint at the end. From left, it's Junior Men's, Jan Svub, Florian Duhamel and Rihards Veide.
Fast French Guys - Speaking of "Fast Riders On The Rise", you might check out Quentin Caleyron (Left) and Thomas Hamon. Main Event appearances for both guys, and TH (Not to be confused with PH!) turns in a 2nd and a 7th in class and a Big #1 in Elite Cruiser, not a bad weekend at the races for either guy.
A dangerous guy, any time he's on the track, Michal Prokop is a Winner, ready to 'break it loose' at a moments notice.
Laëtitia Le Corguille is establishing herself as one of the "Fastest Of The Fast" in the Elite Women's class. Her battles with Anne Caroline Chausson are becoming legendary. LLC took both days AND the overall title this year.
Overall Rankings/top ten riders
Elite Men - 1 Maris Strombergs/Latvia 2 Sifiso Nhlapo/South Africa 3 Ivo Lakucs/Latvia 4 Thomas Hamon/France 5 Arturs Matisons/Latvia
6 Roy Van Den Berg/Netherlands 7 Pablo Gutierrez/France 8 Thomas Allier/France 9 Martijn Scherpen/Netherlands 10 Michal Prokop/Czech Republic
Elite Women - 1 Laëtitia Le Corguille/France 2 Anne Caroline Chausson/France 3 Magalie Pottier/France 4 Shanaze Reade/Great Britain 5 Aurela Don/France
6 Amelie Despeaux/France 7 Blandine Cottereau/France 8 Cyrielle Convert/France 9 Romana Labounkova/Czech Republic 10 Lieke Klaus/Netherlands
Junior Men - 1 Toms Skujins/Latvia 2 Vincent Pelluard/France 3 Jelle Van Gorkom/Netherlands 4 Joris Daudet/France 5 Andre Fossa Aguiluz/Norway
6 Florian Duhamel/France 7 Robin Van Der Kolk/Netherlands 8 Jan Svub/Czech Republic 9 Mike Kaltoft/Denmark 10 Jordan Lajmi/France
Junior Women - 1 Eva Ailloud/France 2 Manon Valentino/France 3 Joyce Seesing/Netherlands 4 Elke Vanhoof/Belgium 5 Gaelle Charpentier/France
6 Dana Sprengers/Netherlands 7 Sailly Armonie/France 8 Karine Chantelot/France 9 Magali Arnoux/France 10 Cassandre Brousse/France
Coach's Corner - The unsung heroes, Left, Herve Krebs, who heads up the UCI Training Center effort and Bas De Bever, the man behind the Orange Crush from The Netherlands, are responsible for the training and care of some of the finest BMX racers in the world.
"Pro Section" has got to be one of the coolest names ever for a BMX Vendor. Nice lookin' race shirt, too!
Look out for Evgeny Komarov. The Russians haven't been doing BMX a long time, but this kid is getting FAST!
Official UEC Results
Elite Men (97 Riders) -1 Ivo Lakucs/Latvia 2 Michal Prokop/Czech Republic 3 Martijn Scherpen/Netherlands 4 Roy Van Den Berg/Netherlands
5 Arnaud Dubois/Belgium 6 Ivo Van Der Putten/Netherlands 7 Thomas Hamon/France 8 Quentin Caleyron/France
Elite Women (20 Riders) - 1 Laëtitia Le Corguille/France 2 Anne Caroline Chausson/France 3 Magalie Pottier/France 4 Amélie Despeaux/France
5 Willy Kanis/Netherlands 6 Lieke Klaus/Netherlands 7 Romana Labounkova/Czech Republic 8 Audrey Le Corguille/France
Junior Men (63 Riders) - 1 Sam Willoughby/Australia 2 Jelle Van Gorkom/Netherlands 3 Vincent Pelluard/France 4 Mike Kaltoft/Denmark
5 Toms Skujins/Latvia 6 Jan Svub/Czech Republic 7 Rihards Veide/Latvia 8 Gabor Rozsenich/Hungary
Junior Women (19 Riders) - 1 Elke Vanhoof/Belgium 2 Manon Valentino/France 3 Karine Chantelot/France 4 Sandra Aleksejeva/Latvia
5 Magali Arnoux/France 6 Joyce Seesing/Netherlands 8 Eva Ailloud/France 8 Gaelle Charpentier/France
Official UEC Results
Elite Men
Elite Women
Junior Men
Junior Women

1 Sifiso Nhlapo/South Africa

2 Thomas Hamon/France

3 Ivo Lakucs/Latvia

4 Arnaud Dubois/Belgium

5 Arturs Matisons/Latvia

6 Lukas Tamme/Czech Republic

7 Maris Strombergs/Latvia

8 Robert De Wilde/Netherlands

1 Laëtitia Le Corguille/France

2 Anne Caroline Chausson/France

3 Amélie Despeaux/France

4 Willy Kanis/Netherlands

5 Arielle Martin/USA

6 Cyrielle Convert/France

7 Magalie Pottier/France

8 Ramona Labounkova/Czech Republic

1 Sam Willoughby/Australia

2 Jelle Van Gorkom/Netherlands

3 Joris Daudet/France

4 Toms Skujins/Latvia

5 Vincent Pelluard/France

6 Robin Van Der Kolk/Netherlands

7 Florian Duhamel/France

8 Andre Fossa Aquiluz/Norway

1 Eva Ailloud/France

2 Manon Valentino/France

3 Elke Vanhoof/Belgium

4 Joyce Seesing/Netherlands

5 Karine Chantalot/France

6 Armonie Sailly/France

7 Gaëlle Charpentier/France

8 Magali Arnoux/France
No matter where you go, some things are always the same. Excited Dad's love to watch their kid race. (And shoot some photos of Little Junior as well!)
Another one of those "No Matter Where You Go" things. For every BMX superstar, there's a little kid who just got done racing who goes to play in the dirt! You know it's true! BMXers all just kind of like playing in the dirt, huh? Maybe on the track, maybe in the parking lot.
Amélie Despeaux makes Yellow & Black look GOOD! Mark down a nice 3rd Place finish for the French Girl. (Believe me, there are LOTS of fast ones!)
Anne Caro, France's BMX & MTB Superstar, was just ahead of a hard charging Arielle Martin and the plane taking off behind her (upper left) from the Frankfurt Airport!
The ever stylish, Redman Factory rider, Steven Cisar made the Euro Scene on his way to train at the UCI Center. Steven looked good all day until he got parked at the top of Turn 1 in the Semi and everyone went 'bye bye'.
Team USA's, Arielle Martin was on TV before millions of people in the U.S. mid week, hopped on a plane, got off the plane in Germany, went straight to the track, got a couple laps of practice and ended up with a 5th in some of the tuffest Women's racing in the world. Not Bad!
France's, Eva Ailloud, won Junior Women on Saturday. She's now winning big for World Famous Announcer, Mike Redman and Redman Bikes. Redman/Europe sponsored the Euro Championships.
Jelle Van Grokom is just plain RAD! Two podiums in two days, style for miles and fast as a rocket.

Jelle undergoes shoulder surgery later this year, and if he's fast now with a bad shoulder, well, wait until he's stronger. Look Out!
| | | | | | | | |
| --- | --- | --- | --- | --- | --- | --- | --- |
| | | | | | | | |
| The Latvians! From left, it's Ivo, Arturs and Maris, doin' their thing, winning races and making things happen in BMX. Maris still leads the Euro Series with the win to be decided at Sunday's event. | That's disappointment written all over Roy Van Den Berg's face after crashing while going for a spot in the finals. We've include a nice shot of Roy below so he gets a good one and a not so good one! | Robert De Wilde had a nice little trip to the final. It's been a while since Robert's been racing in Europe and the fans enjoyed watching the "Afro'd One" hit the track. | We've invented a new phrase. "He Got Euro'd!" Arturs parks Cisar at the top of #1 and a HORDE of hungry Euro Elites motor on by. Euro Racing talent is WIDE! LOTS of good riders. | Here's a gate full of "Bad Hombres" gettin' ready to hit up the Weiterstadt first straight. Tough Guys, Tough Comp! | Elite Women's Final, and Laetitia (Left) and Anne Caro are wheel to wheel near the Finish Line. AC lead the whole race until just after this shot. LC wins by half a meter! (Nice photo, Jerry!) | Sam Whoabee? Yep, Aussie Sam showed up and made it a fun day of racing in Jr. Men. Jelle Van Gorkom (right) and Joris Daudet gave Sam a race, but the Aussie won it at the Finish Line. | WHOA! There's some serious horsepower goin' on during the Elite Men's Final. Wheel for Wheel, but Sifiso Nhlapo (Far Right) sorted things out to take the win. |
This is trouble for somebody! Two Time World Champ, Willy Kanis on a BMX bike means one thing. The Dutch have a legitimate contender for the Gold Medal if Willy can qualify to go to The Games. 4th place first race back.

Sifiso Flies!

Say no more.

Lukas Tamme is coming back from an injury and had a good day at the races. Mark down final appearence for the talented Czech. Nice TRP Brakes, Lukas! (Donny Robinson Signature brakes, that is!)
One thing you can't accuse Roy Van Den Berg of is lack of intensity. Roy get's IN to everything he does. Here he's sky high of Weiterstadt.
Perfect Form.

Thomas Allier, the legendary French Elite went out in the Semi with a disappointing crash after looking AWESOME all day.
| | |
| --- | --- |
| | |
| We've never seen the "Water The Track Guy" go quite this crazy, but the crowd LOVED it! Lots of fun stuff went on like this at the Euros. The Weiterstadt folks are RAD! | Yvan Lapraz was looking good in his Quarter until he and his Formula parted ways. Game Over! |
Elite Men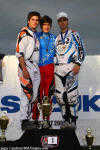 1st Thomas Hamon/France 2nd Moana Moo Caille/France 3rd Michel Cesar/Portugal 4th Pablo Gutierrez/France
5th Sander Bisseling/Netherlands 6th Manuel De Vecchi/Italy 7th Jérémy Chaffot/France 8th Roy Van Den Berg/Netherlands
Elite Women

1st Cyrielle Convert/FRA 2nd Amélie Despeaux/FRA 3rd Magalie Pottier/FRA 4th Ramona Labounkova/Czech Republic
5th Vilma Rimsaite/Lithuania 6th Audrey Le Corguille/France 7th Lucie Crozet/France 8th Femke Majchrzak/Nederland
Junior Men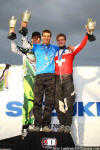 1st Joris Daudet/France 2nd Jelle Van Gorkom/Netherlands 3rd Renaud Blanc/Switzerland 4th Jan Svub/Czech Republic
5th Vincent Pelluard/France 6th Robin Van Der Kolk/Netherlands 7th Roberto Cristofoli/Italy 8th Ruddy Begue/France
Junior Women

1st Joyce Seesing/Netherlands 2nd Eva Ailloud/France 3rd Manon Valentino/France 4th Karine Chantelot/France
5th Sailly Armonie 6th Cassandre Brousse/France 7th Magalie Arnoux/France 8th Gaëlle Charpentier
The Finish Line Banner Sez It All! Welcome!

The Organizers did a GREAT job, it's going to be a good weekend of racing!!!!!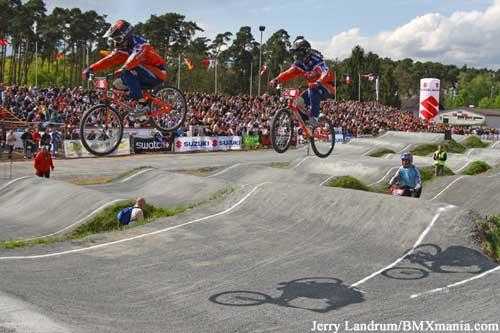 Full stands, great weather, good racing......Awesome!
---