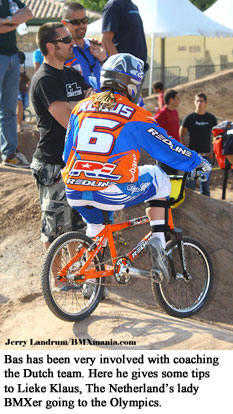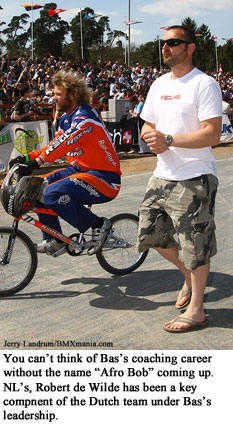 BMX Mania - Bas, what's up over there in OrangeLand'
Bas - Hey Jerry, it is really orange, since the European Soccer Championships start today the whole of Holland turns orange.
BMX Mania -
He
y, can you give us a heads up on your nominations for the Dutch Olympic Team'
Bas –
O
ver the last 2 seasons Dutch riders could qualify themselves for the O.G. by meeting certain criteria. These criteria could be met at UCI Supercross races and at the UCI World Championships. Six riders met these criteria, Robert De Wilde, Raymon Van Der Beizen, Rob Van Wildenberg, and Martijn Scherpen in the men's and Lieke Klaus and Willy Kanis in the women's.
We had set up an internal ranking system made of the results of the SX races in '07 and '08. The first man and woman to go to the O.G. are the highest ranked on the UCI individual ranking '08, after the recent UCI Worlds those were Robert and Lieke. The remaining 2 spots for the guys were given to the number's 1 and 2 in our internal ranking, which are Raymon and Rob. Martijn got 3rd in that ranking and is the alternate.
BMX Mania –
You have had one of the strongest national teams in the history of BMX, was it difficult to trim the team down to three men and one woman'
Bas –
To a certain extent, sure, it was difficult 'cause I have been working with these guys and girls intensely over the last 3 years, and you bond with them, and then it is hard to "pick" riders, for in this case, the Olympic Games. But I have to be honest to myself and the riders, we knew we only had 3 spots and there are 9 guys on the team, so choices needed to be made. Also, we had set up the above explained system which kind of left it to the riders themselves whether or not they would make the cut.
BMX Mania –
What's it been like to have such a great group of riders under your care and coaching'
Bas –
It has been an experience like no other. I don't think I could have wished for a group that was more motivated and driven to improve themselves as this group. Although BMX is an individual sport, I think it made all the individuals stronger by working as a team as we did.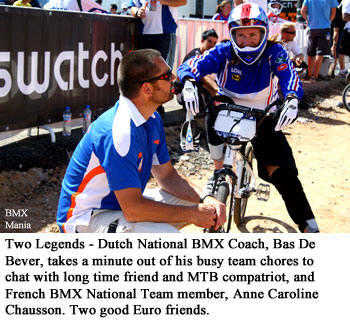 BMX Mania –
How's the excitement level going in to the Olympics on the team'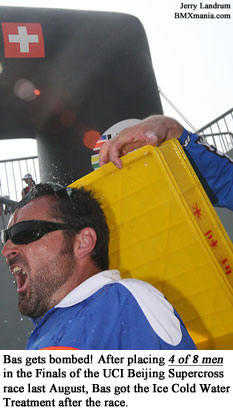 Bas –
The announcing of BMX becoming an Olympic sport has made a big impact on BMX, all of a sudden there were these coaches and federations trying to change how these athletes should train or how to go about their sport.
For some I'm sure this was going too fast and is way beyond the BMX lifestyle, but every athlete with a right mind knows that the Olympics is were you want to be as an athlete. So, if you have been working as hard as these guys did over the last 3-4 years, and you know you made the cut to go there, I think you're exited as you'll ever be. You should be.
BMX Mania –
Will the National Team Program continue next year'
Bas –
Most likely it will. In what way will depend on a few things. The UCI point system in regard to the London Games could be a factor in all this.
BMX Mania –
Thanks, Bas, it's been a pretty wild ride, huh' Who would have thought back when you were "riding high" in BMX, back in the "day", that you'd end up coaching a national team and going to the Olympics'
Bas – I for sure didn't even think for a moment (back in the 80's and early 90's) that BMX would make it into the Olympics, let alone me being the national coach. But it did make it into the Olympics, and I enjoy every minute of coaching these guys.
BMX Mania –
Congratulations and continued success to you and the Super Successful Team NL!