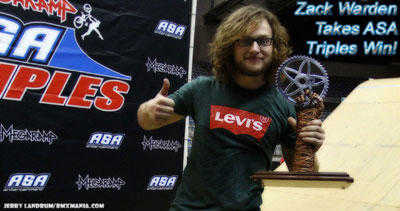 FORT WAYNE, Indiana (September 25, 2010)

— Dubbed the "Zack Attack" by friends and family who waved signs and cheered him to a victory during tonight's MegaRamp ASA Triples (Triples) event at Fort Wayne's Allen County War Memorial Coliseum, Zack Warden (O'Fallon, IL) claimed his first ASA Entertainment event title by beating favorite Brett Banasiewicz (South Bend, IN) in the finals.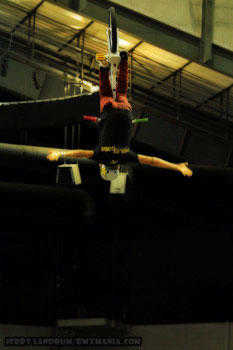 The competition was close and came down to the last run of the event. Both men took spills on their first run of the two-run finals; Warden crashed attempting a back-flip bike-flip and Banasiewicz failed to complete a front-flip tail-whip. Knowing that Banasiewicz was the event favorite having won the last two Triples events (Augusta, GA and Sacramento, CA), and was performing before an audience filled with his Washington High School classmates and family, Warden knew it would take a great run to win. He threw a 360* bar spin tail-whip, back-flip bike-flip, then a double tail-whip off the quarter-pipe and landed everything, surprising himself and thrilling the crowd with the back-flip bike-flip which he had never done.

"I've been working on that trick for the last three and half months. I knew I had to pull that out to win," said Warden.

For his last run, Banasiewicz triple tail-whipped the first jump, landed a cash roll over the second jump and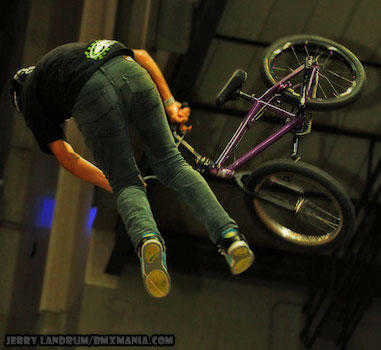 double downside-whipped the quarter-pipe, but slipped slightly and his feet hit the ramp. He then regained his balance, finished the run and waited for the results. Warden's skillful performance and Banasiewicz's slight misstep put a new man atop the winner's podium.


"I feel good!" said Warden lifting the trophy above his head in celebration. "I'm really pumped that I did the trick that I wanted, and walked away with this sweet trophy."

Warden met Pat Casey (Yorba Linda, CA) in the semi-finals. Casey recently placed second at the Triples event in Sacramento and looked set to roll into the finals tonight, but with everything clicking for Warden, the pressure was on. Casey fell in both of his runs and had to settle for third place along with Colton Satterfield (Salt Lake
City, UT), who, not only for the second consecutive Triples competition, but also for the second time tonight, was eliminated by Banasiewicz.

Satterfield first met Banasiewicz in the quarter-finals, then had to best all of his opponent's in the Battle Back round to return to the main competition, where he found himself matched against Banasiewicz again, this time in the semi-finals. Satterfield's best semi-final run was no match for the front-flip tail-whip, corked out 720* and inverted flair that Banasiewicz executed, so he had to accept third place.

All of the excitement of the MegaRamp ASA Triples from Fort Wayne, IN will be broadcast nationally on Fox Sports Net as part of event producer, ASA Entertainment's action sports block which starts in November. Check your local listings for specific broadcast times and dates.



For more information about the MegaRamp ASA Triples, please visit
www.MegaRampASAtriples.com
.