The BMX Mania Race Report Page
ABA Gator National
Oldsmar BMX - Oldsmar, Florida
February 20-21, 2010
Elite Men/AA - 1 Josh Meyers 2 Nic Long 3 Randy Stumpfhauser 4 Sam Willoughby 5 Donny Robinson 6 Danny Caluag 7 Cristian Becerine 8 Barry Nobles/DNS
Elite Women - 1 Mariana Pajon 2 Amanda Geving 3 Ashley Verhagen 4 Alise Post 5 Kim Hayashi 6 Stephanie Barragan 7 Madison Pitts 8 Courtney Tomei
Junior Men - 1 Connor Fields 2 Tommy Zula 3 Austin Loebe 4 David Oquendo 5 Tory Nyhaug 6 Juan Marin 7 Shaun O'Connor 8 Chase Hines
Junior Women - 1 Dominique Daniels 2 Ashley Lynch 3 Tegan O'Keeffe 4 Tiva Feltman 5 Alaina Henderson 6 Bianca Quinalha 7 Kaitlyn Larson
Vet Pro - 1 Kenth Fallen 2 Joey Albright 3 Tim Dinger 4 Chad Street 5 Dave Bittner 6 Paul Caldwell 7 Vinny Moreira 8 Bryan Meyer
A Pro - 1 Corben Sharrah 2 C.J. McGuire 3 Tyler Faoro 4 Maris Gutmanis 5 Alfredo Campo 6 Harrison Britt 7 Jordan Seward 8 Randall Neave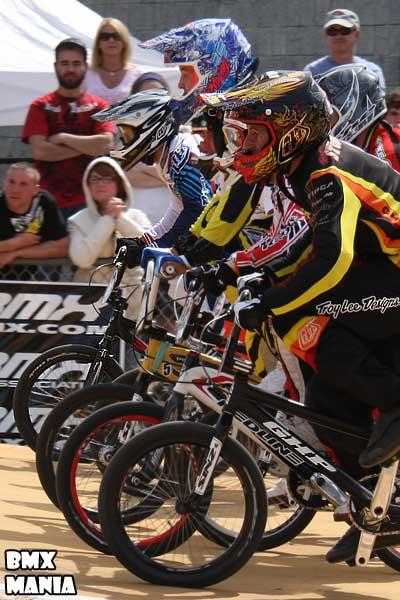 Sunday Elite Men's Main! Yep, that's eventual winner, Josh Meyers' front wheel leading the way from Lane Eight, just as it would eventually end up at the Finish Line.
sunDAY PHOTO GALLERY
Coming Sunday Night From BMX Mania!
More ABA Gator National Photos!
Official Race Results
Elite Men/AA - 1 Maris Strombergs 2 Cristian Becerine 3 Randy Stumpfhauser 4 Gavin Lubbe 5 Barry Nobles 6 Nic Long 7 Arturs Matisons 8 Sam Willoughby
Elite Women – 1 Amanda Geving 2 Stephanie Barragan 3 Madison Pitts 4 Amanda Carr 5 Ashley Verhagen 6 Alise Post 7 Mariana Pajon 8 Kim Hayashi
Junior Men – 1 Austin Loebe 2 Tommy Zula 3 Corben Sharrah 4 Tory Nyhaug 5 Chase Hines 6 Alfredo Campo 7 Juan Marin 8 Connor Fields
Junior Women – 1 Dominique Daniels 2 Alaina Henderson 3 Ashley Lynch 4 Bianca Quinalha 5 Tiva Feltman 6 Teagan O'Keeffe 7 Kaitlyn Larson
A Pro – 1 C.J. McGuire 2 Randall Neave 3 Maris Gutmanis 4 Harrison Britt 5 Dennison Smith 6 Matt Beatty 7 Javier Morales 8 Jonathan Chislett
Vet Pro – 1 Chad Street 2 Percy Owens 3 Bryan Elisabeth 4 Dave Bittner 5 Will Murray 6 John Purse 7 Domingos Lammoglia 8 Kenth Fallen
Pro Cruiser – 1 Joey Bradford 2 Barry Nobles 3 Danny Caluag 4 Tyler Brown 5 Josh Meyers 6 Jason Carnes 7 Masahiro Sampei 8 Eric Rupe
SATURDAY PHOTO GALLERY
Wild Elite Women's Final!

Photos by Jerry Landrum/BMXmania.com

Going in to Turn One, Mariana Pajon is on the inside and Alise Post is on the outside. Alise has just enough lead to lay claim to being in First, but.....
Mariana had a little bit too much speed to try to make her move on Alise and kind of leans over on her while they are still moving.
Both Marian and Alise crash, sliding down the turn and 'The Pack' ran in to them and everyone crashed except for a couple ladies who went on thru for the 1 & 2 and everyone else was scramblin' for their bikes.
Who's mixin' it UP at the Gator Nationals?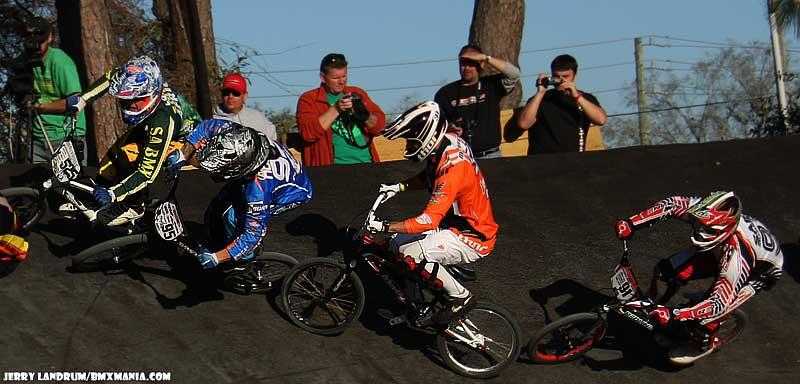 Arturs Matisons (Middle) has no where to go, as he and Barry Nobles get in touch in the first turn. Sam Willoughby is hoping that he can get by Arturs' tire as he comes in HOT, looking to go inside.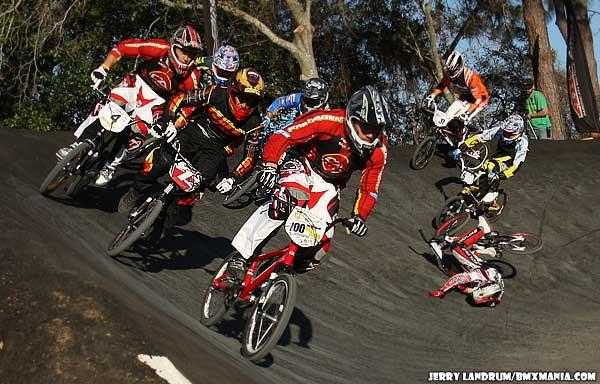 Cristian Becerine leads everyone out of Turn One, and as we can see, Sam did NOT get by Arturs tire and he's getting a close up look at the inside of the turn. At the end of the race, Maris Strombergs (#4) passed Randy Stumpfhauser (#1) AND Cristian to take the 'come from behind' win!
---