NBL Elite Series
UCI North American Round 9
Okeeheelee BMX - West Palm Beach, Florida

March 14, 15, & 16 2008

Elite Men (28 Riders) - 1 Bubba Harris 2 David Herman 3 Jonathan Suarez 4 Ramiro Marino 5 Barry Nobles 6 Donny Robinson 7 Arnaud Dubois 8 Danny Caluag
Elite Women (17 Riders) - 1 Stephanie Barragan 2 Kaila Sweeney 3 Kim Hayashi 4 Toni Rude 5 Madison Pitts 6 Rachel Smith 7 Rosemary Adams 8 Cim Sjolander
Super Ex (45 Riders) - 1 Denzel Stein 2 CJ McGuire 3 Fausto Endara 4 Kris Fox 5 Jim Brown 6 Rafael Alvarez 7 Matt Kelty 8 Josh Smith
Masters (15 Riders) - 1 Dale Holmes 2 Tim Dinger 3 Percy Owens 4 Jason Carnes 5 Phil Potosnak 6 Geoff Ssengoba 7 Mike Gul 8 Kenth Fallen
| | | | | | | | |
| --- | --- | --- | --- | --- | --- | --- | --- |
| | | | | | | | |
| | | | Stephanie Barragan made a strong showing in the Elite Women's Final, with Canada's, Kaila Sweeney RIGHT in the mix scoring a big 2nd place. | Bubba Harris (Right), started the main, in 6th place, & worked his way up to 3rd here in turn 2. Ck out how Bubba's 'eyeing' Herman and Caluag, getting ready to pick em off. He did. Chalk up a BIG 1st for Bub. | Logan Collins went from winning Jr. Men last night, to getting BLASTED by Harrison Britt, here. Kris Fox just misses Logan's bike, but Harrison hit him hard and went down himself. Nothing broken though, hang in there Logan. | | |
| | | | | | | | |
| | | | | Cim Sjolander, from Sweden was racing in the Elite Women's class. Cim and several other Euro's were making the Spring Break tour, training hard for the Euro Championships in May. Probably just having fun in the sun, but the training thing SOUNDS nice, huh? :-) | | | |

Elite Men (47 Riders) - 1 Kyle Bennett/USA 2 Donny Robinson/USA 3 Danny Caluag/USA 4 Mike Day/USA
5 Robert De Wilde/NED 6 Nic Long/USA 7 David Herman/USA 8 Arnaud Dubois/BEL
Semi Finalists - 5 Micael Cesar/POR 5 Mike Brabant/USA 6 Kyle Cushman/USA 6 Mike Kapes/USA
7 Michal Prokop/CZE 7 Tyler Brown/USA 8 Cristian Becerine/ARG 8 Steven Cisar/USA
Elite Women (21 Riders) - 1 Arielle Martin/USA 2 Sam Cools/CAN 3 Jill Kintner/USA 4 Kim Hayashi/USA
5 Amanda Geving/USA 6 Alise Post/USA 7 Rachel Smith/USA 8 Stephanie Barragan/USA
Semi Finalists - 5 Kaila Sweeney/CAN 5 Vilma Rimsaite/LTU 6 Madison Pitts/USA 6 Aneta Hladikova/CZE
7 Christine Miller/CAN 7 Rosemary Adams/CAN 8 Andrea Zuluaga/COL 8 Allison Thomas/USA
Junior Men (11 Riders) - 1 Logan Collins/USA 2 Denzel Stein/USA 3 Gavin Lubbe/USA 4 Jake Trevino/USA
5 Cory Watts/USA 6 Jordan O'Keefe/RSA 7 Cameron Murphy/CAN 8 Travis Ohrazda/USA
Super Ex (35 Riders) - 1 Deivlim Balthazar/BRA 2 CJ McGuire/USA 3 Kris Fox/USA 4 Logan Collins/USA
5 Rafael Alvarez/ESP 6 Matt Kelty/USA 7 Warren McDow/USA 8 Ryan Magin/USA
Masters (17 Riders) - 1 Percy Owens/USA 2 Kenth Fallen/USA 3 Dale Holmes/GBR 4 Domingos Lammoglia/BRA
5 Tommy Opincar/USA 6 Phil Potosnak/USA 7 Geoff Ssengoba/USA 8 Adri Koolman/ARU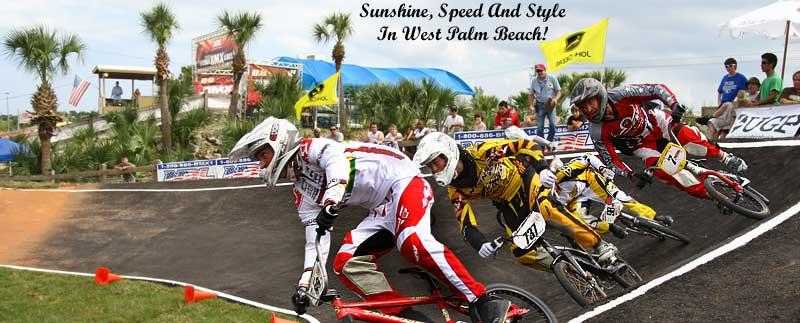 Official Results
Elite Men (56 Riders) - 1 Kyle Bennett/USA 2 Jonathan Suarez/VEN 3 Ramiro Marino/ARG 4 Donny Robinson/USA
5 Augusto Castro/COL 6 Michal Prokop/CZE 7 Danny Caluag/USA 8 Mike Day/USA
Semi Finalists - 5 Jason Rogers 5 Javier Colombo 6 Randy Stumpfhauser 6 Robert De Wilde 6 7 Jeff Upshaw 7 Micael Cesar 8 Jason Richardson 8 Tyler Brown
Elite Women (22 Riders)- 1 Jill Kintner/USA 2 Alise Post/USA 3 Vilma Rimsaite/LTU 4 Arielle Martin/USA
5Aneta Hladikova/CZE 6 Amanda Geving/USA 7 Stephanie Barragan/USA 8 Kim Hayashi/USA
Semi Finalists - 5 Sammy Cools/CAN 5 Andrea Zuluaga/COL 6 Kaila Sweeney/CAN 6 Rachel Smith/USA 7 Madison Pitts/USA 7 Toni Rude/USA 8 Christine Miller/CAN 8 Liyun Ma/CHN
Junior Men (14 riders) - 1 Denzel Stein/USA 2 Logan Collins/USA 3 Gavin Lubbe/USA 4 Jake Trevino/USA
5 Nick Lucas/USA 6 Cory Watts/USA 7 Jordan O'Keefe/RSA 8 Travis Ohrazda/USA
Photo Gallery
Smile, Amanda! A. Geving is from Florida and looks from here like she's happy to be at home!
Tyler Brown looks more and more like he's ridin' full on Supercross BMX Factory.
SE Racing's, Javier Colombo was absolutely stylin' in his new SE jersey, fresh out for 2008.
Phantom / Intense / On Trac's Jake Trevino was in town and lookin' good in Junior Men. Jake was shakin' out a 4th for the day.
Kyle Weisenberger is back on the bike and training. Kyle is one of the most stylish fast guys on the track.
BMX Mania Little Known Fact Of Science ... Nate Berkheimer, besides doin' it up for Dback is now the BMX Race Rep for UGP.
Jason Richardson has been without a banner sponsor, but now has the hookup with Race Place BMX Dot Com, Las Vegas's online BMX parts site.
Ever want to be right in the middle of a Starting Gate full of Elite Riders to Feel The Fury? Belgium's, Arnaud Dubois, gettin' it done from Lane Two.
Go211.com was on the scene, and Brian Fell is shown here, interviewing Bawls Factory Rider, Rachel Smith. Rachel was OUT FRONT her first two motos, lookin' VERY fast!
Suarez.....'The Mosquito' was OTG (On The Gas!) After Mikey Day and Donny got balled up in Turn 2, Skeeter was 'flyin low' UNTIL, Mr. Smooth, Kyle Bennett, slashed thru the last turn, MOTO'd the last straight to take the win.
Speaking of new jerseys, Matt Pohlkamp was sportin' the '08 Kuwahara threads. Nice lookin' Blast From The East, with cool colors and graphics to match.
Denzel Stein is the Real Deal, he's ruling the Junior Men's class right now in the U.S. It'll be fun to see if he can repeat at the UCI Worlds. It'd be hard to bet against him!
1 2 3 4

Here're some ladies that were flyin' low, on Friday at the UCI Points Race. 1 - Kim Hayashi has been jugglin' university and BMX, but in Florida, she had some HOT laps, out front, in the lead. ... 2 - Arielle Martin has been training at the US Olympic Center and it showed. ... 3 - Stephanie Barragan just got picked up by RacePlaceBMX.com, and had her First Straight Dialed IN! ... 4 - Liyun Ma. OK, people have been saying "The Chinese are going to come on strong since they have an Olympic BMX Team, and Liyun Ma is proof positive. Here she leads the Czech Republic's, Aneta Hladikova and Team USA's, Jill Kintner.
---