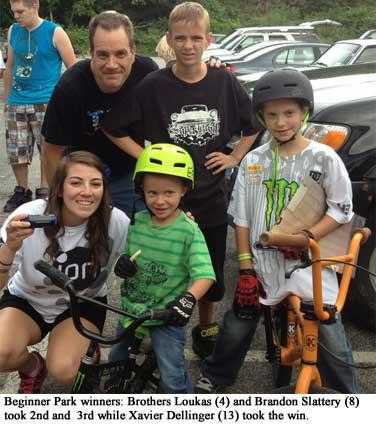 Bethlehem, PA (August 8, 2013) – TRA's first event went down Saturday, August 3rd at the Grindlab Indoor/Outdoor Bike & Skatepark in Camp Hill, PA. Featuring an outdoor pump track with a jump line as well a full indoor skatepark, the event was a fun, action-packed day for riders of all ages and skill levels. With great prizes from iON, Shadow, and Subrosa, the jam had something to ride for everyone and attracted over 150 riders and spectators from several surrounding states.
Dave King's Dirstsculpt-designed course featured two separate pump track areas and a jump line laid out so that riders could share the entire loop even when the contests were running. Add in the indoor/outdoor setup and everyone had plenty of room to ride. TRA founder and event organizer, Mike Gentilcore explained, "We accomplished what we set out to do with this event - there was something for everyone and you could ride all day and have fun with a relaxed vibe. We had hardcore trail riders sessioning the same venue with 40 year old dads and their 8 year old kids and everybody was cheering each other on. And a bunch of young riders who've never competed before got a chance to rip it up. It was really cool to see."
While the morning rain storm may have kept a good number of riders from attending, the sun came out and the weather turned out perfect for riding. The course was untarped and some great action went down.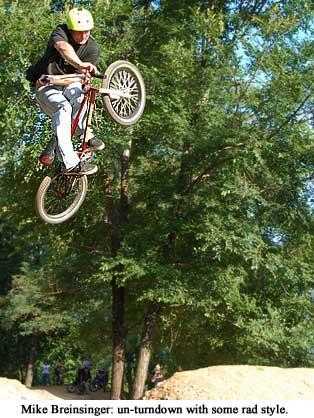 There were four contests: Beginner Park, Expert Park, Beginner Dirt, and Expert Dirt. The panel of judges included Catty Trails' / Axelrad's Matt Trieval, Catty's Kyle "Abe" Abraham, and Posh trails' main caretaker and Red Bull Stomping Grounds / Dreamline contest judge, Jay "J Bone" Lonergan. Each rider got 3 runs and highest average score was used to determine the top three in each class. Mike Gentilcore announced the action with 70's and 80's metal blasting over the PA while Jami Braafheart, Grindlab owner and all-around good soul, served up the grill and kept everyone full of tasty goodness. iON was on site to demo their HD Sports camera line and iON's Alaine Gordon presented a brand new HD camera to first place Expert Dirt. TRA VP, Dave King added that "My iON camera works awesome and gives a clearer picture than other cameras I've tried. I've used mine at Catty for a while now and it rules. We're psyched to have one as a prize for this contest."
Beginner Park had the crowd cheering when 4 year old Loukas Slattery took to the course for 2nd place with an ear to ear grin. He used age to his advantage as he inched out his 8 year old older brother Brandan who took third with some nice lines of his own over the box hip. First place went to 13 year old Xavier Dellinger who launched big airs to flat off the edge of the wedge ramp.
Expert Park was a throwdown with 11 riders and 11 distinctly different riding styles. Matt Stampski took third after the judges had to decide a tie-breaker over the solid runs of Dan Depre. Don Pirwitz blasted some big airs out of the quarter for a strong 2nd. 1st place went to Grindlab's own Evan Smedley who had the park wired with high speed lines and big tire slides over the top of the vert wall. Some big moves went down, including Jeremy Smith's picnic-bench handplant attempts into the mini that had the crowd on its feet.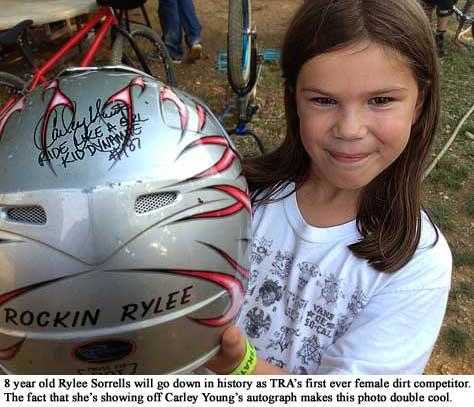 In Beginner Dirt it was a refreshing site to see boys and girls from ages 8 to 14 competing in their own dirt comp. 12 year old Nicholas Suhr took the first place spot with clean flowing lines in the table rhythm while Anthony LaCroix (11) and Sawyer Sorrells (11) took the 2nd and 3rd place spots, resulting in a clean sweep for team Dirtlab. Special mentions include 8 year old Rylee Sorrels as TRA's first female competitor and 14 year old Steven Dates who proved that Autism is no match for his passion for BMX.
At the end of the day,16 riders lined up to compete in Expert Dirt. After a last-minute watering, Ekim King guinea pigged the course for slick spots, the Motorhead was turned up, and the action was on. New York's Andrew Fable ripped it up with solid runs including a one footed cross up 360 for 3rd. Maryland's Dan Depre clicked turndowns at height and showed his own style with tricks like his tire grab whips for 2nd. But in the end it was a another win for Eric Smedley who took the iON HD camera first place prize with flowing big airs, tons of moto whips, and effortless tricks like his no footed toboggans. Two wins in one day was not bad for a guy who also shot photos, helped to promote the contest, and also maintained the jumps leading up to the event. Other notable mentions included a last minute entry by 45 year old Mike Gage who ripped it up after camping out in a tent Friday night and Jacob "Clipper" Pudlinger's all-in riding style with a backflip over the last set that had many thinking he had a shot at the podium. At the end of the day, prizes were awarded and the top three riders received great prizes from iON, Shadow, and Subrosa that were presented by TRA's Mike Gentilcore and iON's Alaine Gordon.
The day ended with an all-age jam till sundown. With a great reception from the riders, spectators, and many good times going down, expect to see Grindlab on the TRA contest schedule again for 2014. See you there!
Keep an eye out for future events on www.TRABMX.com and www.Grindlabskatepark.com and be sure to visit the event sponsors at www.ioncamera.com, www.sparkysdistribution.com, www.theshadowconspiracy.com, and www.subrosabrand.com.