Today's BMX Racing News - sunday, November 30, 2008
ALL ABA GRANDS PRO RESULTS POSTED TO BMX MANIA REPORT PAGE!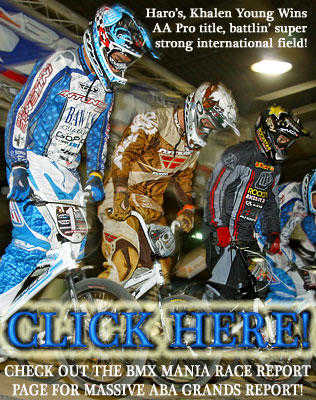 DOMINIQUE DANIELS WINS GIRL PRO
KENTH FALLEN TAKES VET PRO TITLE
---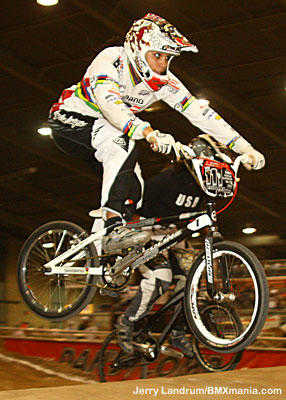 Complete Friday/Race Of Champions
HUGE SATURDAY AM SECTION POSTED!
---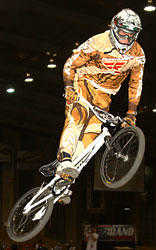 FORMULA BAGS WILLOUGHBY,
COMES UP HUGE AT PRO SPECTACULAR
Tulsa, Oklahoma
Formula Bicycle Company pulled off the coup of the coming off-season by working a deal with UCI Jr Men's World Champ Sam Willoughby.
The young ripper, who will still be a Junior at the 2009 UCI Worlds in his home country of Australia, has turned heads on the international scene ever since his dominating win at the '08 World Championships.
Sam proved he was no fluke with huge win over the USA's best at the ABA Pro Spectacular Friday night at the ABA Grand Nationals.
Look for a full report coming next week, in the meantime, congrats to Sam and thanks for proving once again, the best riders in the WORLD ride Formula!
---
Today's BMX Racing News - Friday, November 28, 2008
International Riders Take Big ABA Grands Wins!

Willoughby Takes AA Pro Win & Reade Wins Girl Pro Class
During Friday Night Feature Racing!
RACE OF CHAMPIONS PODIUM FINISHES
AA Pro - 1 Sam Willoughby 2 Joey Bradford 3 Danny Caluag
A Pro - 1 Josh Meyers 2 Gavin Lubbe 3 Vance Weisendanger
Vet Pro - 1 John Purse 2 Chad Street 3 Kenth Fallen
Girl Pro - 1 Shanaze Reade 2 Dominic Daniels 3 Alise Post
NAG Challenge/Men - 1 Nic Long
NAG Challenge/ Women - 1 Taylor Wolcott
MORE RESULTS AND PHOTOS ON THE BMX MANIA ABA GRANDS RACE REPORT PAGE!!!!!
---
---
---
Danny Caluag Interview On Go211.com

GO211's Danny Caluag is answering the Who? What? Why? Where? and How? from the GO211 community as he prepares to make history again by winning both ABA #1 titles in AA Pro and Pro Cruiser in the same season.
So ask this history making, Disneyland lovin' BMXer anything and everything about little bikes, losing bets and traveling the world with Nanna's Brat.
Fire Away he's all yours..... Be sure to watch Danny go for the ABA titles live on Go211 Nov 28th-30th! Wish him luck!
You can ask Danny a question directly by visiting the GO211 Q&A section at http://www.go211.com/pros/qanda/EasyMoney
Questions from Go211's Tricia Byrnes
Who do you consider to be the most influential BMXer?
from: Tricia Byrnes
Probably Randy Stumpfhauser because he is always professional. One of my favorite pros since I was an amateur. He was very consistant.
What do people consider to be your greatest accomplishment and what do you consider to be your greatest accomplishment?
from: Tricia Byrnes
People and myself would both agree that my greatest accomplishment would be winning the ABA National Pro title in both AA Pro and Cruiser in the same year.
What are your goals in BMX? Life?
from: Tricia Byrnes
In BMX, it would have to be in the Olympics. I would love to make the Olympics, also just to have fun in BMX. In Life, one day get married to my girlfriend Stephanie Barragan and have a family and provide for them. Also to be healthy.
Best advice you have ever received?
from: Tricia Byrnes
Never ever give up!
What would it mean to win this years title in both AA Pro and Pro Cruiser?
from: Tricia Byrnes
I would mean the world! Last year was just plain amazing. This year would be astonishing. Can't wait to see how it pans out.
What is your nickname and Why?
from: Tricia Byrnes
It is Easy Money. First off people might think that name came from me making money, but it's not. Greg Leasure gave me the name. It all start when I was amateur, I would always make little bets with him on who is going to win and if I could jump this or that and I would always lose the bet to him. I never won a bet from him not until recently. So I would pay him up and he said, "Man, that's EASY MONEY" and that's how I got the nickname. Greg still gives me a hard time from time to time.
What do you like to do?
from: Tricia Byrnes
Go to Disneyland or sightseeing California. I'm a tourist in my own state.
What's the best thing to happen to BMX?
from: Tricia Byrnes
I found my girlfriend of almost 8 years in BMX. Also traveling the world.

---
---
Orangeville Indoor winter MTB and BMX - 4-cross series
Round One race report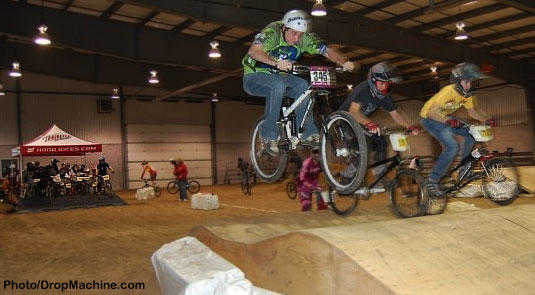 November 25, 2008. - Round one is in the history books and we're still grinnin from all the fun! Some challenges with packing the new soil didn't deter the riders from making the most of Ontario's first indoor dirt series in over a decade. The incredible Orangeville Fairgrounds facility was greeted by riders from Kingston to London, with its large track area, heating, grandstands, clean washrooms and full concession it suits the riders and spectators ideally.
With 71 racers and 23 motos of BMX and Mountain Bikes combined, the racing was as exciting as we've seen in awhile. Highlights included 16 year old young lady Ameila Walsh signing in for the 16 over boys expert bmx class and proceeding to win, but not without getting bumped, cut, dirty and crashing! This chick rocks, and her fans were pumped.
The young guns were also out in full force with some awesome battles and impressive jumping, the wood doubles worked out sweet where the little guys could get some fun airtime. J.J. Kocsisan was impressive with a perfect 3 motos and has an early series lead on the 12 expert class. James Hedgecock was turning heads with jumpin the doubles and a win in 7 & Under.
Pro Mountain bikers had a stacked class, with 12 riders and 50% payback there were greenbacks on the line. Each of the three pro MTB gates was full of riders capable to make the main, no single rider dominated these motos, with finishes switching up each lap and transfers missed by single points, or ties with 3rd moto finishes to decide. In the end it was Milton's Alex Brancier on top, Harold Woolnough in tight for second. The pro BMX class saw 8 riders and me (Organizer, Brent "Smitty" Smith) race for the first time in over 5 years, 40 years old and a perfect 3 wins in the motos! Bob Rowley did the same in the other moto, then smoked us all like a AA pro should in the main.The loose track had us all workin some skills to hold speed and lines and made a lot of the races anyone's' chance to win, with many close to the line finishes.
Orangeville Indoor winter MTB and BMX - 4-cross series Round One Results
7& Under Novice BMX -1st-James Hedgecock, 2nd-Romyk Soltys, 3rd-Justin Rowley, 4th- Grant Colwell.
8 & 9 BMX -1st-Josh Samells, 2nd-David Richard, 3rd- Noah Simms, 4th-Matthew Hickey.
10-12 BMX/MTB - 1st-Anthony Richard, 2nd-Will Summer (MTB), 3rd-Josh Seitz, 4th-Troy Bishop.
12 & 13 Expert BMX-1st-J.J. Kocsisan, 2nd-Nick McKay, 3rd-Andrew Ketchin.
12-13 Girls BMX-1st-Kaitlyn Richard, 2nd-Kristen Brooks.
14\15 BMX-1st-Corey Walsh, 2nd-Jason Mckinnon, 3rd-Chris Hardie, 4th-Hunter Foster.
16 & Over Am MTB-1st-Aaron Smith, 2nd-Kyle Sangers, 3rd-Peter-John Wegrynawski, 4th-Matt Gillies.
16 & Over BMX Expert-1st- Amelia Walsh, 2nd-Ryan Wright,3rd-Taylor Rowlands, 4th-Paul Schiavone.
16 Over Girls-1st-Christine Schiavone, 2nd-Stephanie Huiskamp.
30 & Over MTB-1st-Cam Milliken, 2nd-Corey Kantola, 3rd-Micheal Doushen, 4th- Rob Calma.
30 & Over Cruiser-1st- Cam Milliken, 2nd-Glenn Cressman, 3rd- Derek Nischan, 4th- Mike Paveo.
Pro Open - 1st- Alex Brancier-MTB-$72.00, 2nd-Kyle Pearson-BMX-$36.00, 3rd-Bradie Johnston-BMX-$20.00, 4th-Greg Bidwell-BMX.
Pro BMX - 1st- Bob Rowley-$72.00, 2nd-Bradie Johnston-$54.00, 3rd- Brent Smith-$36.00, 4th-Kyle Pearson-$18.00.
Pro MTB-1st-Alex Brancier-$108, 2nd-Harold Woolnough-$81.00, 3rd-Brandon Cassells-$54.00, 4th-Jeff Faulds-$27.00.
We have 8 more races to go. A new layout each weekend, a heavy duty packing roller and more dirt on order for round two. Also a bunnyhop contest and a draw for a complete Haro bike at the series end, we expect this series will get even better.
Check out the OCA website (www.ontariocycling.org), or the facebook group- Orangeville Indoor MTB and BMX- for dates and info and plan to hit up Orangeville for some good old fashioned fun in the dirt this winter.
Huge thanks to my crew, the volunteers, OCA, the Orangeville locals and our sponsors, Haro bicycles, Kona bikes and Ryders eyewear.
Orangeville Indoor BMX and Mountain Bike 4 Cross Series
Orangeville Fairgrounds, Winter, 2008/09
Orangeville, Ontario, Canada
Directions - From 401 follow 410 North Brampton (11 miles) to Mayfield rd. Exit left and follow (2.5 miles) to Hurontario/hwy 10 North. Turn right and follow highway 10 North to Orangeville, follow 2km past Orangeville. Turn right on Hockley Valley road, follow signs 1.5 km to Fairgrounds.
---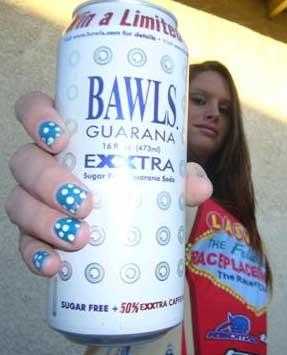 BAWLS GUARANA SIGNS NBL #1 PRO STEPHANIE BARRAGAN!
---
---
Supercross BMX's Icon Completes now available Worldwide!

When Supercross BMX released it's line of Race Ready Completes, the Icon Series earlier this year, it was available immediately in the U.S.A through it's Authorized Dealer Network, and through J&R Bicycles for mailorder.

But it was tough for BMXers outside of the USA to get their hands on one of the Supercross Icon completes.

After 6 months of working with an international Distributor network, these awesome completes from Supercross are now available on almost every Continent World Wide.

Radical Rydz in New Zealand, just took delivery of their container last week, Alan's BMX in England has them available, Bikeshop LTDA in Chile, MIZ 29 in Singapore and soon the Completes will be arriving in South Africa, Latvia and in the Czech Replublic.

So now Racers world wide have easy access to the Race Ready Supercross Icon completes in all 5 sizes ( Mini, Jr., Expert, Pro and Pro Cruiser ) and 3 color ways ( Snow White, Candy Blue/White, and Sammy Cools Pearl Pink/White combos ).

Please be sure to visit supercrossbmx.com for more information on your local dealer and the full list of specifications on these race ready completes.
---
Stile Ind./Transit BMX Bail out sale
In light of the current economic struggles Stile Industries(BMXican and Transit) will be having a "BMX Bail Out Sale" at the ABA grands this year.
The Federal Government might not be helping to "Bail Out" the BMX industry, but Stile Industires will be doing their best to help out all BMXicans.
Stop by the Stile Industries booth to watch some of the Transit DVDs and check out the sales.
This weekend will be the only time that prices will be this low.
Unless you are at the "Greatest Race on Earth" you will miss out on all the BMX savings.
All Transit Race DVDs(excluding How to Race) will be on sale for $10 each.
If you need to complete the collection of Transit BMX history, this will be the best time to do it.
All Stile/BMXican T Shirts will also be on sale for only $10.
This BMX Bail out sale will be ABA Grands weekend only.
We take saver stamps so if you have been saving them up all year this will be the ti! me to use them.
There will also be some other items on sale.
If you need to get some great deals or just want to kill some time watching some Transit DVDs during the long day just make sure to find the Stile Industries booth.
---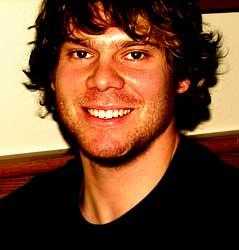 Weisenberger Out For 2009
Kyle Weisenberger will not be in competition on the BMX Scene for the 2009 season.
Monday Nov. 17th Kyle underwent his 3rd ankle surgery and in January he will be undergoing his 4th knee operation.
This will be his 9th surgery (BMX related) in his last 12 years of competition.
Kyle plans to be taking the year off to finish college and give himself time to heal properly.
Kyle sends some props and thanks out to his parents, friends, and ADDISON BIKES for all the support!
---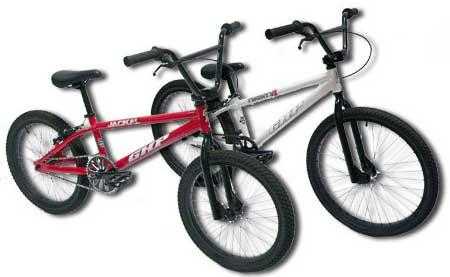 GHP Complete Bikes
Have you heard the news?
GHP Complete bikes have arrived!
The 20" Jackal and the Twenty4" Cruiser.
Race ready!
If you are a already a dealer or would like to become one,
now is the time to place your orders!
---
ABD supporting BSX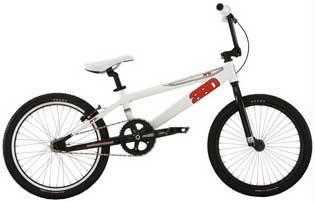 by bmxultra.com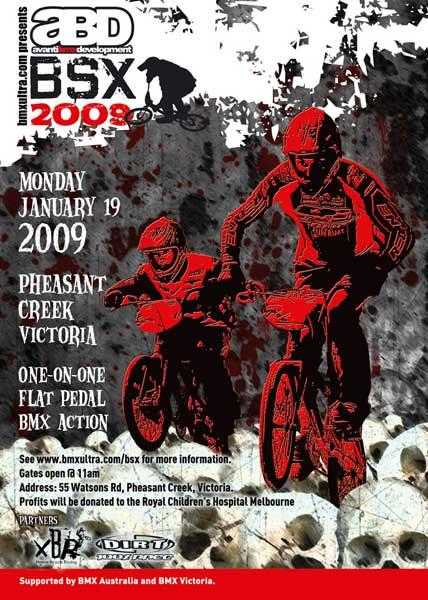 When: Monday 19th January 2009 (During Track Attack week)
Where: Pheasant Creek (60kms North East of Melbourne's CBD)
Classes: Open Men, Open Women, 30 & Over open wheel
Why: The BSX is a fund raising event for the Royal Children's Hospital
Video: Click here to download a video of the 2008 event. (64Mb Windows Media file)
ABD supporting BSX 2009
"As BSX event organiser I am pleased to welcome ABD as the naming rights partner for fourth annual BSX in 2009. From now on the event will be officially referred to as the ABD BSX." BSX event organiser, Shane Jenkins, announced this morning.
ABD's significant contribution to the event will help raise much needed funds for new equipment at the Royal Children's Hospital. The products that ABD have provided, including two complete race bikes, are sure to generate a lot of interest and help attract larger crowds and bigger donations.
ABD's BMX racing program helped New Zealand's Sarah Walker to achieve her life long dream of becoming one of the first BMX Olympians and a very respectable fourth place in the women's Olympic final. Now the ABD BSX will be able to provide much needed funds that will ultimately help thousands of children from Australia, New Zealand and beyond to fulfil their dreams.
The goal for the ABD BSX in 2009 is to raise an additional $4,000 on top of the $11,678.45 which has already been raised over the past three years. Weather we fall short of our goal or surpass it we are just happy to be helping out such a great cause. It's with the support of companies like ABD, and the ongoing support of many others since the first ever BSX in 2006, that it's possible to make such a huge difference to the community. It's events like BSX that remind you of how important services like the Royal Children's Hospital to the general public.
Visit
www.avantibikes.com
for more information about ABD.
Win one of two ABD race bikes.....We will have an XL and an Expert up for grabs at the ABD BSX, but you'll have to be there to win. More details coming soon.
Open day coming soon
Saturday December 6 from 11am until 3 pm we'll have a small get together on the track to see how the changes hold up, take feedback and make any final tweaks if time allows. Hopefully the starting gate mechanism will be fitted by then and we can have some practice races.
Donations
One of the various ways you can help BSX is to make a donation for the Royal Children's Hospital, even if you can't make it on race day.
Each donation over $2 is tax deductable. If you would like to make a donation, all donated funds via cheque, cash or credit card will go directly to the RCH, just fill out this form and mail it as directed.
BSX2009 Donation Coupon (PDF document)
Volunteers
Each year it takes many people to keep BSX running smoothly. We need people to help with parking, on the gate, in the merchadise stand, selling raffle tickets, and around the track. If you can help out on the day please email webmaster@bmxultra.com.
Partnership opportunities
If you are interested in becoming a BSX partner we have many packages available, contact us at webmaster@bmxultra.com for details.
ABD BSX is presented by bmxultra.com and proudly supported by Platinum Partner ABD (
www.avantibikes.com
) Gold Partners Dirt Designs (
www.bmxultra.com/dirt
) XBR (
www.xbr.com.au
) Silver Partners Elite Cycle Imports (S&M, THE Industries, Alienation, Sinz and Profile Racing)
Supporting Partners
BMX Australia
BMX Victoria
BMX Press Magazine
For more information see bmxultra.com/bsx
About BSX
BSX (Bicycle Supercross) is one-on-one sprint trails style racing on a backyard track built specifically to test a rider's skills. The short straights, lofty jumps and tight corners are very intense under race conditions but also fun for competitors and create quite a lot of entertainment for spectators. The event provides a unique experience for the local Victorian riders, as well as the interstate and international visitors during an off day of the Track Attack series. The events primary function is to raise money for the Royal Children's Hospital Foundation. In just three years the event has raised $11,678.45 which has provided the hospital with new equipment.
Funds have been raised through gate takings, raffles, auctions and donations.
About the Royal Children's Hospital
'The Royal Children's Hospital is the major specialist paediatric hospital in Victoria and provides a full range of clinical services and health promotion and prevention programs for infants through to adolescents. Each year the Royal Children's Hospital treats tens of thousands of children through our Emergency Department, inpatient admissions and outpatient visits. The Royal Children's Hospital Foundation plays a vital role in providing additional funding to support important research projects and purchase state of the art medical equipment to ensure that every child receives the very best treatment now and into the future.
---
Kuwahara Says Thanks

As the 2008 season comes to an end, we at Kuwahara would like to take this opportunity to thank our teams and riders on our support program for making this year a success.
Natarsha and I are honored to have the opportunity to bring back the legend of Kuwahara to the US BMX market and we wouldn't be here today without all the efforts of our teams and racers on the program, as well as all that Matt Pohlkamp, Justin Posey, and Jeffery Upshaw have done to help promote the brand.
A big thanks goes out to Bruce and the Excalibur team for lugging our display bikes and set up to most of the races this season for us.

And a big Happy Birthday goes out to Justin Posey who just turned 15 and he wants to thank his parents for giving him such a great ABA birth date.

The 2009 model bikes will be here shortly and we've got some big things planned for 09. Stay Tuned!

Thanks, Ryan and Natarsha Birk - Contact us at
usa@kuwaharabmx.com
and ryan@alienationbmx.com
---
SEND YOUR BIKES TO THE GRANDS WITH REDMAN

Mike Redman and Co., pulling the legendary 48' Redman/Rockstar Factory Team trailer, will be making the annual trek to Tulsa for the ABA Grand Nationals and will be once again offering bike transport services for a fee of $60.00 round trip.
Contact Redman at 951.334.7396 or email them at rideredman@roadrunner.com to reserve your spot.
Special arrangements can be made to drop-off your ride at either the Redman Boneyard in Murrieta or with Jeff Glynn in Corona.
Special arrangements possible upon request.
Today's BMX Racing News - Tuesday, November 17, 2008
---
Australia Cyclist Of The Year Award

Cycling Australia is pleased to announce the finalists in the 2008 Cyclist of the Year Awards.

The Awards will be presented at a gala celebration being staged at the Grand Hyatt Melbourne Hotel on Sunday 23 November.

The night will culminate with the presentation of the Sir Hubert 'Oppy' Opperman Medal and Trophy to the 2008 Australian Cyclist of the Year.

"I congratulate all the nominees who have been and will continue to be outstanding ambassadors for cycling and for Australia," said Mike Victor OAM, President of Cycling Australia. "We have a wealth of talent in our sport from masters to juniors and across all the disciplines and we continue to rank amongst the worlds top nations in the sport.

"I look forward to enjoying a night of celebration to mark the great achievements of our cyclists in 2008."

The complete list of finalists in the respective Award categories is listed below. For more detailed information on each of the finalists please go to the Cycling Australia website.

Finalists in the 2008 Cyclist of the Year Awards

Elite BMX Cyclist of the Year - Male - Jared Graves (QLD) ... Kamakazi (QLD) ... Luke Madill (NSW)

Elite BMX Cyclist of the Year - Female -

Tanya Bailey (WA) ... Nicole Callisto (WA) ... Melissa Mankowski (NSW)

cyclingnews.com Junior Cyclist of the Year - Male BMX - Josh Callan (VIC) ... Stevie Janssen (QLD) ... Sam Willoughby (SA)

cyclingnews.com Junior Cyclist of the Year - Female BMX -

Rachel Bracken (QLD) ... Caroline Buchanan (ACT) ... Lauren Reynolds ( WA)

Elite Mountainbike Cyclist of the Year - Male - Jared Graves (QLD) ... Sam Hill (WA) ... Nathan Rennie (QLD)

Elite Mountainbike Cyclist of the Year - Female - Caroline Buchanan (ACT) ... Dellys Starr (VIC)

cyclingnews.com Junior Cyclist of the Year - Male MTB - Shaun O'Connor (NSW) ... Rhys Willemse (QLD) ... Sam Willoughby (SA)

cyclingnews.com Junior Cyclist of the Year - Female MTB - Caroline Buchanan (ACT) ... Rebecca Henderson (ACT)
---

MCS BMX Factory Team Hooks It UP With DNA Energy Drink

We are very excited to announce that we have a new sponsor, DNA Energy Drink !
"This is the best tasting energy drink that I have ever had!" said Brian Fell, Marketing Director for MCS Bicycles. "I am very excited about what the future holds with our partnership with DNA." he added.
DNA which is located in Boca Raton, Florida is super close to us here in South Florida and they share the same type of enthusiasm for racing which is clearly evident in their support of motocross with Butler Brothers Racing, also located in South Florida.
Combine that with the other action sports individuals they are involved with Freestyle BMX, Skateboarding and Wake Skate and DNA is sure to be the next big thing!
DNA is available at Circle K, 7-Eleven and finer stores all throughout Florida.
So stop in and try it out, you'll be glad you did!
For more info on DNA Energy Drink, check out there super hot web site located at www.dnaenergydrink.com!
---
Formula goes French
November 18, 2008
With France being one of most important BMX countries in Europe, Formula and EuroBmx -Super Smart racing- are proud to announce the collaboration with Custom's BMX to promote the Formula brand in France.
The Custom's BMX team will rock the French tracks on their Formula bikes.
On the Customs Bmx site (
www.customsbmx.com
) will be all the hot news about the Formula Euro Trade Team as well.

Interested French dealers, can contact Jan via
www.eurobmx.be
.

Furthermore, the Formula Euro Trade Team added Bastien Merle, a young French talented rider, to their ranks to complete their definitive 2009 team setup.

The Team is also happy to announce the collaboration with Shimano. The

2009 Euro Team bikes will be equipped with the complete Shimano DXR group.

For more information about the DXR group for BMX, check out the Press Release from Shimano: Dedicated to BMX racing - Shimano DXR. (.pdf )

The Formula Europe Trade Team is supported by: Formula Bicycles, Shimano, EuroBMX, Formco Parts, Swatch Watches and Navada.Net Web Design.
---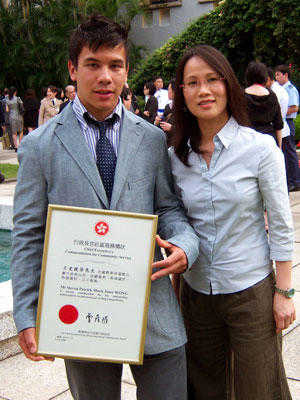 Steven Wong honored
by Hong Kong President
November 6, 2008
Recently, Formula¹s Steven Wong was invited to meet the President of Hong Kong, who honoured him with the chief executive's commendation for community service award.
Steven received this recognition for his fine results from the past years in BMX and his excellent efforts promoting the sport to the HK youth.
Steven has obtained somewhat of a celebrity status after winning the All China Games in 2006.
This was the introduction of BMX racing for most Hong Kong citizens.
In 2009, the first ever official BMX track will be built in Hong Kong in support of the Hong Kong Cycling Federation.
Without a doubt, a lot of HK youngsters will try to follow in Steven¹s tire tracks.
Formula Bicycles, EuroBMX, Formco Parts, Swatch Watches and Navada.Net Web Design.
EuroBmx - Super Smart Racing- is still looking for dynamic dealers in France, Latvia, Norway, Spain, Italy, and the Czech Republic to promote the Formula brand. If interested, check
www.eurobmx.be
.
---
---
ACTION SPORTS DEPOT UPDATE
NEW RETAIL STORE - NEW WEB SITE - NEW Uniforms - 2008 TEAM
Action Sports Depot has been busy this year. We recently moved our satellite business offices, shipping and receiving, sales and warehousing to one location near two major freeways in San Diego. The new location has allowed us to open a retail sales store front with showroom. It may not the biggest shop in town, but its a start, and we sure have been busy since we opened. We have spent the last few months building inventory, adding displays, stocking up on BMX race gear, bikes, frames and parts. At the same time we have branched out into MTB, street and road biking. If we don't have an item you are looking for in house, or if you want to special order something, we can usually have it ordered and delivered within a few days.
In the last few months we launched our newly updated website, www.actionsportsdepot.net which now has over 30,000 items at your disposal! As always, ASD guarantees it will meet or beat any of our competitors published prices!
Action Sports Depot (ASD) has been building a Factory team over the last few years and has been expanding outside of California. We currently have a full team competing in Canada, which is joined from time to time by members of our west coast team such as Shelby Stacy, and Austin Hiatt. Our US team is also joined from time to time by some of the Canadian riders such as Nick Goertzen, Michel Berti, Abigail

Cantelon

, Christopher and Anthony White. ASD also has a complete team on the north east coast in Delaware and a number of members scattered around the US from Missouri, Texas, Rhode Island, South Carolina, Indiana and Arizona. ASD also supports a team in Florida, Jesters BMX Racing, 48 riders strong, run by Pat Marchese, and is well represented by his team.

Jesters also makes

all the ASD and Formula Factory team riders very welcome when they come to Florida to race. Check them out at www.freewebs.com/jestersbmx
Recently, ASD has picked up the sponsorship of a San Diego local team that has 28 members. This team will represent ASD at local, regional and some national series races the rest of 2008 and throughout the 2009 season.
meet the ACTION SPORTS DEPOT 2008 team members
Action Sports Depot would like to thank FORMULA BICYCLES www.formulabicycles.com FORMCO www.formcoparts.com FLY www.flyracing.com WIRED-X www.wiredenergydrink.com Bear Mountain Fence Company - Bakersfield. A special thanks goes out to Robert Stacy, Shelby Stacy's Dad, for his overall team support and contributions and extra assistance with the ASD team in Canada. I would also like to thank Walter Berti for his efforts in establishing the ASD Canada team and promoting Action Sports Depot, Formula, Formco, and Fly in Canada, and Pat Marchese for making Action Sports Depot part of his Jesters Factory Sponsored team (www.freewebs.com/jestersbmx) and his promotion of Action Sport Depot, Formula and Formco in Florida.
---
Today's BMX Racing News - Saturday/Sunday, November 14/15, 2008
FREE AGENT BMX to be distributed in the u.k. by REECE CYCLES

Dominguez Hills, CA—Free Agent, the world champion BMX race brand FREEAGENT have announced it has signed a distribution agreement with REECE CYCLES, UK.
"Having been involved with BMX since 1983 & owning an original FA back in the 80's I feel it's an awesome opportunity for myself & Reece to re establish the brand here in the UK. I am also very proud that we (FREEAGENT) will be the frame sponsor for the "STAY STRONG", UK BMX race team for 2009.The team has been created to increase awareness to the fund for Stephen Murray, who was tragically injured whilst competing" said Jason Boness, Product Manager, Reece cycles
"Having the Free Agent name back in the UK with Reece makes sense with the brand doing so well World wide right now. With the global expose of BMX Racing in the recent 2008 Beijing Olympics, alongside the success of the Free Agent Team in the last few years, plus the recent signing of the Olympic Champion Maris Strombergs, 2009 is going to be the year FREEAGENT dominate" Said Dale Holmes, FREEAGENT world team manager
The 2009 bikes are due to hit the UK shores later this month; the range contains the World Championship winning race bikes, and a range of Freestyle & Dirt Jump bmx bikes.
ABOUT FREEAGENT – Free Agent is one of the worlds leading BMX bicycle brands, and has been in the BMX business since 1984.
FreeAgent has a long and celebrated history of supporting top racers from around the world, and currently sponsors several reigning Olympic & World champions.
FREEAGENT is distributed in 38 Countries throughout the world. - www.freeagentbmx.com - www.stephenmurrayfamilyfund.com
---
---
MORE CHRISTMAS GIFT INSANITY FROM J&R!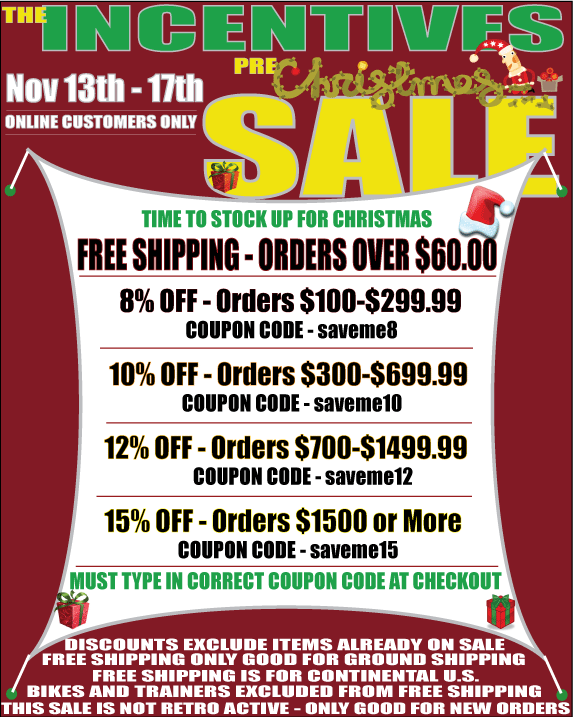 ---
---
---
---
---
Lighten-up and Stand-out with Tioga's New BMX Racing Saddle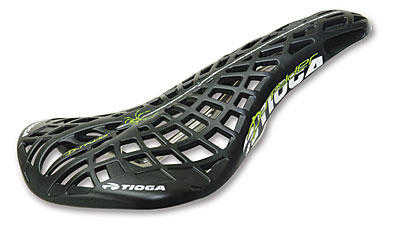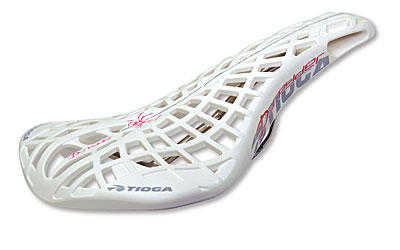 Tioga is going back to the basics with the introduction of the D-Spyder BMX racing saddle. Inspired by the simplicity of the molded one-piece BMX saddles so iconic in the 80's, the D-Spyder is an updated version with modern aesthetics and functionality designed for the new generation of BMXers who demand components with style and substance.
Pad-less saddles generally offer the distinction of lighter weight and better durability compared to padded saddles, but are often considered much less comfortable. The D-Spyder pushes the limits of pad-less saddle designs by incorporating Tioga's patented SpyderWeb saddle shell technology, designed to flex and conform to the rider's anatomy and provide a level of comfort unimaginable from its stunning appearance. "The flexibility of the shell has much greater impact on the overall riding experience than the pad itself" explains Kai Cheng, Tioga's Marketing Manager. "The SpyderWeb technology allows us to save substantial weight by eliminating the pad while retaining great overall comfort" concluded Cheng. At 5.6 Oz, or 160g, the D-Spyder is significantly lighter than most BMX saddles on the market.
Durability of the D-Spyder is heightened by its Carbonite shell, a proprietary blend of polyamide, reinforcing fibers and chemical additives, tested to withstand the rigors of BMX racing. D-Spyder is also equipped with Hollow Composite Alloy seat rails that exhibit greater strength to weight ratio than solid Titanium rails. Finally, add the fact there's no pad or cover to rip and tear, the D-Spyder is the poised to become the prototypical BMX racing saddle.
The D-Spyder saddle is available in black or white with an MSRP of $80.00. Expect the D-Spyder to hit fine retailers in November 2008.
---
---
---
Welcome a new Winter Indoor Track In Michigan......Midwest Winter Riding!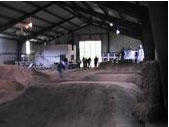 There's a new BMX practice track in Michigan for you snow bound BMXers in the Midwest.

Michigan Indoor BMX features a 4 man gate and 4 straights. It's located in Davison, near Flint, right on I-69.

If that's too far for ya, don't forget Indianapolis, Indiana's, Crossroads Indoor BMX (

www.crossroadsindoorbmx.com);

Dayton Indoor BMX

in Dayton, Ohio (www.bmxdayton.com); Steel Wheels Indoor BMX (www.steelwheelsbmx.com) in Hobart, Indiana; Walworth Indoor BMX in Elkhorn, Wisconsin (www.walworthbmx.com) and

Farmer City Indoor BMX

(www.fcbmx.com) in Farmer City, Illinois.

Don't forget to check out the Michigan Indoor BMX at their MySpace account, at
http://profile.myspace.com/index.cfm?fuseaction=user.viewprofile&friendid=419590362
---
HRVfitness.com dominates Knox Thunderdome
---
---
J&R BICYCLES - BMX SUPERSTORE:
This is a WIN-WIN situation. Every time you buy a 50/50 ticket you will be giving money to support the track and one of the greatest sports on earth. Not only will you get a chance to win the 50/50 money and other prices but you will also get a chance at building the bike of your dreams for FREE!!!!!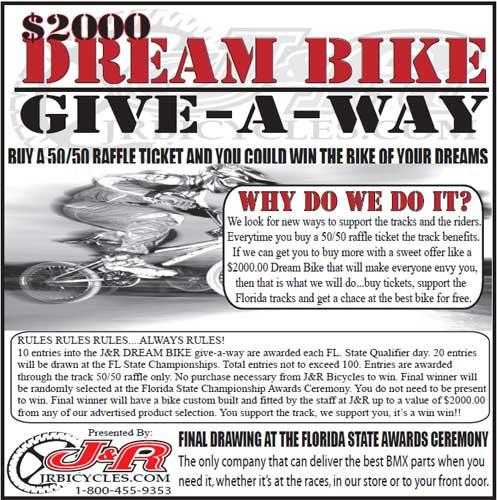 Danny Caluag Clinic @ Whittier Narrows BMX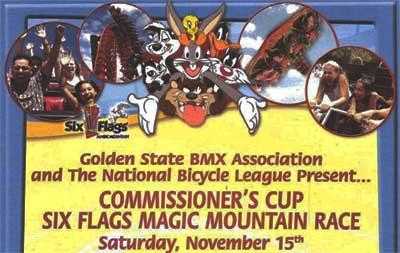 On Friday November 14 NBL & Golden State BMX will move into Whittier Narrows BMX for the California Commissioners Cup race weekend.
The weekend will start with Intense/BAWLS' Danny Caluag having a clinic on Friday afternoon.
The clinic will include the training from ABA #1 Pro Danny C., French trainer "PH" Pierre-Henri Sauze, and NBL #1 Girl Pro Stephanie Barragan.
Clinic times will be from 1PM to 4PM with the pre state race practice following from 5PM to 8PM.
The first qualifying state race for the 2009 state series will take place on Saturday November 15.
Sign ups from 7:30 to 9:30AM with racing scheduled for 11AM.
NBL BMX action will continue Sunday at Six Flags Magic Mountain theme park for the 2008 state awards presentation in the east grand oak picnic area at 10:30AM.
Competing in the state qualifier on Saturday will get you entry into magic mountain for Sunday!!!
Additional tickets for family & friends may be purchased at Whittier Narrows BMX for over a 55% discount!
State Qualifier race fee: $30.00, Danny Caluag Clinic on Friday will be a cost of $35.00.
For more details on the clinic or to pre register for the clinic check out wnparkbmx.com.
Details on the California state series along with race pre registration instructions are available at calbmx.com
Don't miss your chance to improve your skills with Danny C., start getting qualified for the 2009 series, check out or receive your NBL state Number Plate, Jacket, 100% awards and more from 2008 while taking in a whole day of roller coasters!
---
CHRISTMAS IS COMING, SAVE BIG MONEY AT J&R BICYCLES!
---
new Ontario Indoor MTB\BMX series
Canadian Mountain Bike and BMX pioneer, Brent "Smitty" Smith has done it again! Smittybuilts' latest baby is a 9 event winter ride or race series heated indoors on a dirt and wood course.
The Orangeville Fairgrounds will play host to riders from all over the northeast region for some fun riding on a course similar to Smitty's bike show dirt courses with an infield area featuring some rhythm and technical lines to work the skills.
Open to all ages and skill levels, daily events will feature skills clinics, ride only times as well as a race time.
Four rider races for boys and girls on BMX or MTB from 7 & under, to 30 and over with Pro racing too.
Open classes will pit BMX vs. MTB's and best 5 of 8 races plus the double point finals will determine series rankings.
Event dates are Nov. 23/2008, Dec.07/2008, Dec.21/2008, Dec.27/28/2008, Jan.03/04/2009 and Jan.24/25/2009.
For more info, www.ontariocycling.org, Facebook group-Orangeville Indoor Mountain Bike and BMX, or email Brent at brent.smith4@sympatico.ca.
Further info on sponsors, prizes and more to follow, plan to be there it will be fun for all and a series to be remembered!
---
FREE AGENT SIGNS CONNOR FIELDS FOR 2009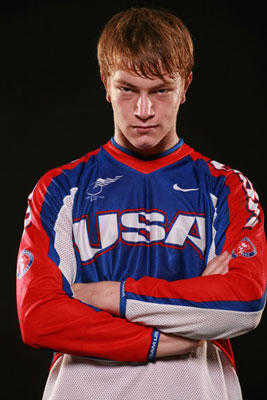 Dominguez Hills, Calif. - Free Agent Bicycles is proud to announce the signing 16 year-old sensation Connor Fields to the Free Agent Team for 2009.
Fields, from Henderson Nevada, has won over 25 Nationals already this year.
He is currently the USAC number one, NBL number one and current ABA age group points leader.
"Connor is already ahead off his time with his skill, speed and maturity for such a young age," said Free Agents Team Manager Dale Holmes.
"When Connor is out on the track even the Worlds best Pros will stop and watch, keeping a close eye on where the competition could come from in the next few years."
Fields will focus on both the ABA and NBL National series, alongside the UCI North American Continental series and the World Championships in Australia.
He will ease into the UCI World Cup over the next few years with the Junior Olympic being the goal in 2010 and then the London Olympics in 2012.
This January, Fields will begin his role on the Free Agent Team as the ABA season gets under way in Reno where he looks forward to meeting and learning as much as he can from his Free Agent Teammates.
ABOUT FREE AGENT – Free Agent is one of the worlds leading BMX bicycle brands, with distribution around the world.
Free Agent has a long and celebrated history of supporting top racers from around the world, and currently sponsors reigning world champions.
In the most recent season, Free Agent won a total of eight national and world championships.
The Free Agent brand is produced and distributed by KHS Bicycles, Inc.
Their website is www.FreeAgentBMX.com.
---
---
GOBBLE, GOBBLE, GOBBLE BMX!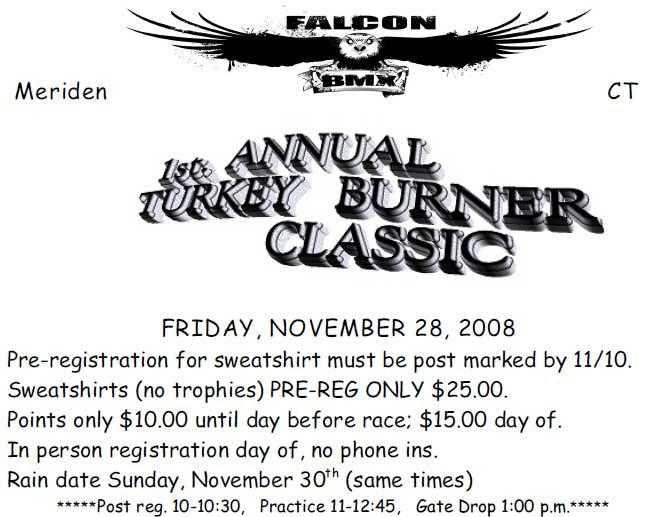 For information, call Gina Layman @ 860-638-9441
Don't Forget! - The deadline is November 10 to still be able to pre-reg for an official "Flaming Turkey" sweatshirt
---
ABA BMX would like to thank all the 2008 National Series sponsors: American Suzuki-(www.suzukicycles.com ) Dan's Comp (www.danscomp.com) Jig-A-Loo-(www.jigaloo.com) BAWLS Guarana (www.bawls.com) Bawlstyle (www.bawlstyle.com)Redline Bicycles-(www.redlinebicycles.com) FLY Racing-(www.flyracingbmx.com) Sponsorhouse-(www.sponsorhouse.com) Tangent-(www.tangentproducts.com) ABABMXRACERS- (www.ababmxracers.com) Intense BMX-(www.intensebmx.com) T.H.E. (www.bmxthe.com) Fire Magic Premium Grills (www.rhpeterson.com/firemagic/) Disney's Wide World of Sports Complex (www.disneysports.com) GO211.com (www.go211.com)
Without their support, we couldn't make the 2008 ABA racing season such a huge success. Support the sponsors that support ABA BMX racing.
---
Team Audiobahn is no more?
Due to an exciting new sponsorship deal, Team Audiobahn/Justgobmx.com has undergone a name change.
Justgobmx.com is now Intense/Dyna-Pep/Justgobmx.com.
Intense BMX, the #1 bike sponsor of BMX racing and Dyna-Pep, the world's first supercharged energy micro shot are joining forces as our new sponsors. "It is great to have sponsors that are as excited about BMX racing as we are about their products." said team owner Todd Lackey.
Veteran BMX racers, Darrin Houston and Mike Powers will remain the anchors of our 40 member team.
The exciting new team additions include, World Champion: (Vet Pro) Tommy Opincar, (Elite woman) Amanda Geving, (17 G) Kyrstin Bluhm, (15X)Geoffrey Banser, (Cru) Ezell Johnson, (Cru) Donny Beals.
We are grateful for the opportunity to promote Intense/THE/Sinz and Dyna-Pep products.
Justgobmx.com will be featuring the Intense/THE/Sinz gear at the Florida State and National BMX races throughout 2009.
Feel free to stop by the team tents and grab yourself a Dyna-Pep energy shot on us.
We would like to express our gratitude to Audiobahn and all of our previous sponsors who have supported us for the past three years.
Without their support we would not be in a position to win a team championship in 2009.
We are excited to have our new team sponsors: Intense/THE/Sinz, Dyna-Pep, Bawls Guarana, Nor-tech, Troy Lee Designs, Profile Racing, Prolink, HRP Designs, Trico Shrimp, Ciari, Snap, and ANS Graphix.
---
Italian Club Lookin' to sponsor an Elite BMXer!
The Italian team BMX ACTION CREMONA, is looking for an Elite BMX Team rider for the 2009 season.
The rider will have to participate in 13 Italian National competitions, the European BMX Championships in Cruiser AND, the UCI BMX World Championships in both Cruiser and Class. An option is the European Championship BMX (Class?).
BMX ACTION CREMONA, offers euro 250,00 ; 200,00 and 150,00 for first, second and third position classified in the competitions above described.
BMX ACTION CREMONA, informs that for the 2009 season, in Italy, for the competitions of the Italian circuit (7 / cup Italy), they will be (still to be confirmed), first, second and third classified Euro 180,00; 135,00; 105,00.
Besides as a reward for competition from fourth to the eighth classification, Euro 90,00; 60,00; 55,00 ;40,00; 30,00;
The rider will have to belong and to compete with the uniform of the club.
For information info@bmxactioncremona.eu. - www.bmxactioncremona.eu
---
---
---
---
JRICH Sez....."Go To School!

Everyone knows JRICH as a BMX racer.

Now, the former World Champion and PanAm Games Gold Medalist, who always put education first in his endeavors, hopes to help others with higher academic aspirations decide on and apply to a College or University that best suits you.

Jason is an advocate for change and as such, he thrives in an environment of transition and uncertainty.

Among his peers, family, and friends, he is known to be outspoken, balanced, and multi-faceted.

The best thing about life, according to Jason, is "you can do anything you want".

Jason believes in everyone's ability to realize his or her own potential.

If you are interested in furthering your education and do not know where to begin; or you want to increase your chances of acceptance to a College or University, please visit: TheCollegeCounselors.com.
---