---
ARCHIVED NEWS FOR NOVEMBER 2007
Today's BMX Racing News - Monday, November 27, 2007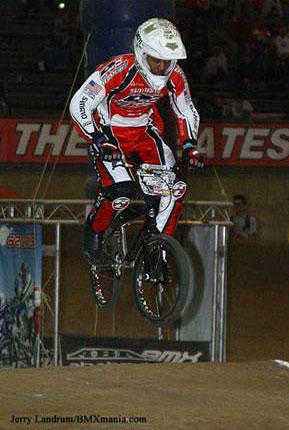 ANOTHER GREAT GRANDS FOR TEAM REDLINE:
· GOLDEN CRANK AWARD FOR TEAM OF THE YEAR
· GOLDEN CRANK AWARD FOR PRO OF THE YEAR: BUBBA HARRIS
· NAG-5 CHALLENGE VICTORY FOR DENZEL STEIN
· NATIONAL NO.1 VET PRO TITLE FOR JASON CARNE$ (HIS SIXTH)
· 16X WIN FOR DENZEL; EARNING HIM ANOTHER NAG NO.1 PLATE AND NATL. NO.2
Despite not having BUBBA HARRIS in the hunt for a fourth No.1 Pro plate, the '07 ABA GRANDS was still another great one for the red, white and black.
Coming in to Tulsa's Thanksgiving tradition, JASON CARNE$ was up for a record-tying 6th consecutive No.1 Vet Pro title, and the 16 year old DeSoto powerhouse DENZEL STEIN was again within grasp of the illustrious No.1 Amateur plate. Also, DAKOTA SENGER and ANTHONY DeROSA were both out to nab a NAG No.1 plate for the year.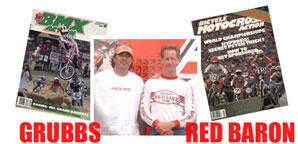 WEDNESDAY: As always, the 5 days of action-packed BMXin' began in the banquet hall with BMX Hall of Fame inductions and Golden Crank Awards.
For starters, two more past REDLINE legends made it in to the Hall of Fame; DENNIS DAIN and GREG GRUBBS. Both of these guys helped put Redline on the map in the 70's and 80's. They are true ambassadors to the sport and it was great to see them recognized for their early contributions to the sport of BMX.
Next came the Golden Cranks; voted on by our peers - the ABA membership. For TEAM of the YEAR, Redline's small 6-rider squad took the gold Crank trophy for the second time ever. And for PRO of the YEAR; it was the guy who puts in more time on a BMX track doing BMX Clinics than any other AA-pro - BUBBA HARRIS. The Grands was Bubba's first race back since his foot-injury in Beijing, and being handed his fifth Golden Crank was a nice way to welcome him back to the circuit.
We'd like to thank all of those who voted for Redline and Bubba! Winning this award means as much to us as a No.1 title, since it is voted on by the riders and fans.
…
THURSDAY: Practice day with time in between to hit up Subway for a turkey sub (no mayo, please).
…
FRIDAY: Throughout Friday was the ROC (Race of Champions), and Redline riders and bikes were out front aplenty. Among the standouts would be Oregon's determined one; DAKOTA "The ROBOT" SENGER. A "double," with wins in both 11x and 11cruiser, was a good way to start off the long weekend of highspeed thrills and spills. Following up Dakota was ANTHONY DeROSA, with a 2nd in 12cruiser and an impressive 12x victory. Those three red-background No.1 plates will look pretty sweet on their new hightech '08 Flight bikes.
Oh; we can't forget our supercharged Japanese import MASA SAMPEI, who scored himself a 3rd in 17-20 cruiser.
…

FRIDAY NIGHT: The annual Pro Spectacular and NAG Challenge takes place immediately after the ROC; where the qualified Pros from the day move on to the big ticket finale. To our delight, JASON CARNE$ was in the final. But to our disappointment, he placed 8th after a tangle-up in the 1-lap main. But the big story here was DENZEL STEIN; who was the crowd favorite in the special invitational Amateur challenge.
Denzel was pumped for this race and proved his point by winning it by nearly half a straightaway! Up for the prizes was a Redline road bike, the carbon-fiber rear'ed R-760 (msrp: $1,200) … and coincidentally, it just so happened to be in Denzel's size.
…
SATURDAY: First round of motos went well for the entire Redline team with 90% of the guys qualifying out. Plenty of time to sign autographs, check out the huge ABA Vendor row, or just chill out in the plush Redline pits with friends, family and teammates.
…
SUNDAY: It's the BIG day that everyone has been waiting 11 months for; where ABA's eight National Championships are decided in the main events. In the Redline camp this year, our chances for some big silver cups were in the Vet Pro (Carne$) and Amateur (Denzel) title chases, with a slim longshot for No.1 Cruiser (Senger & DeRosa).
Already with 5 Vet Pro titles under his weight belt, JASON CARNE$ had his work cut out to win a record-tying 6-in-a-row title. In ABA history, only Eric Rupe had been able to dominate for more than half a decade. And with new Vets John Whipperman, Greg Romero and Dale Holmes joining the class this year, Jason and his Flight Pro XL have been putting in overtime to make podiums, score wins and remain in the points chase. After 11 months of racing, it would all came down to these final three mains Sunday evening.
For those who know Carne$, he doesn't give up easy. With the very No.1 plate that he has zip-tied to his bars for the past 5 years on the line, he handled the pressure like the Champ he is, and against all odds, held on to it with a crazy 3rd main win. Miraculously, "The Horny Toad" made it 6 in a row!
In the Amateur chase, the 16 Expert class was low in rider-count; compared to 17-18 and 19-27 Expert. To get the No.1 Am title, Denzel would need two things to happen: First, he MUST win his main. And secondly, something drastic would have to happen to the top dogs in those larger age divisions.
Only one of those things Denzel could control; and that was winning the 16x main. He did just that, as if it were an encore performance from Friday night's NAG Challenge.
From there, it's just crossing your fingers, hoping and praying for luck to come your way, and sweatin' it out. There was a glimmer of hope as the Amatuer points leader failed to make it to the 19-27x finale'. And it looked as if the only rider standing in the way of Denzel and the silver Cup was Phantom~OnTrac's Nic Long in 17-18x. And in the 8-man main with Long was Redline's top Japanese superstar, Masa Sampei. Could Masa be the hiro; and keep the win way from Long, while simultaneously giving Denzel the title? It would've been a great story if he had, but just like Denzel was in 16x, Long was unbeatable this weekend.
And so, once again, for the second year in a row, DENZEL STEIN will strap a National No.2 plate to his Redline Bubba Harris bars. Or, when he feels like it, he can run the familiar grey-background NAG No.1 plate that he has earned now for three years straight.
…
With one silver Cup, a Nag Challenge win, two Golden Crank awards, and a rack full of Grands podium finishes - all in all, it was a great way for Team REDLINE to wrap up the '07 BMX season.
We would like to congratulate the many riders who made their mains on a Redline bike, and virtually high-five those who podium'ed in Tulsa on a Proline or Flight bike.

REDLINE couldn't have done it without the loyal support from: SHIMANO, SUN RIMS, TIOGA tires, KOOL STOP brakeshoes, PRYME safety gear, and ALIENATION saddles.
---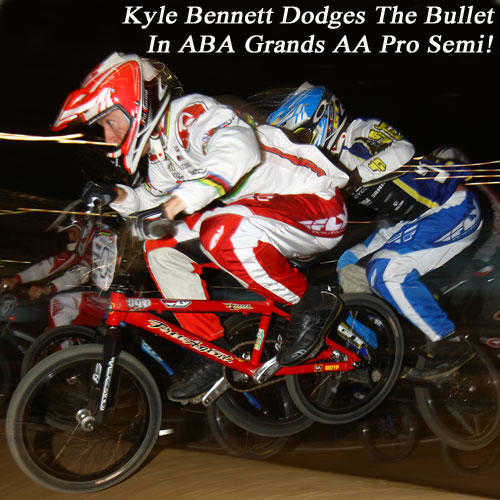 Bennett advances in dramatic Fashion With Caluag
check it out on the BMX Mania Report Page
---
Today's BMX Racing News - Sunday, November 25, 2007
Tyler Brown Says Good-bye to Avent
11/25/07 – San Clemente, CA – Tyler Brown showed up in Tulsa, OK sporting Hurley clothes and Zune to race his final weekend for Avent.
It's time for Tyler to move on to bigger and better, and he has made the decision to leave Avent following this race.
The weekend brought some decent results for Tyler taking the win in Pro Cruiser on Friday, then following with a third on Sunday.
Tyler will spend the next couple of weeks seeking a frame deal to prepare for the NBL Christmas Classic and the new season.
If you want your bike to be going fast at the Christmas Classic, Tyler can be contacted at tylerbrown_123@hotmail.com.
---
Today's BMX Racing News - Friday, November 23, 2007
ABA GRANDS Mega Coverage From BMX mania!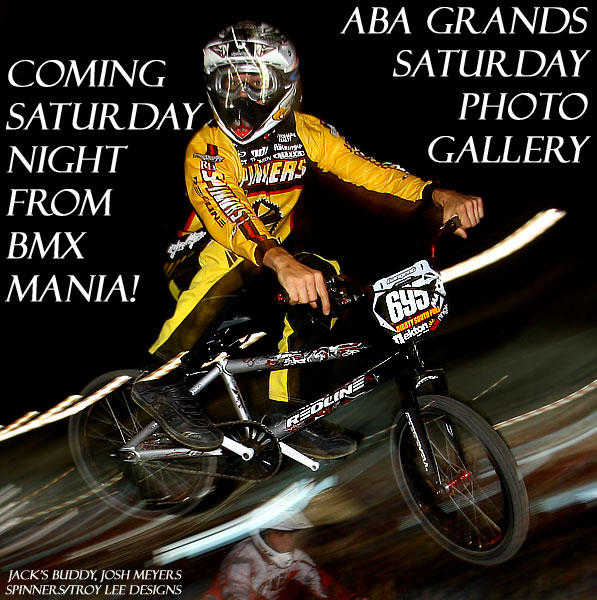 Yeah, Buddy! It's Thanksgiving in Tulsa, Oklahoma and BMXers from all around the world are giving thanks that the ABA Grands are here again!
Friday, it's Awesome Pro and Amateur Action from the 2007 ABA Race Of Champions!
Saturday & Sunday, it's the BIG ONE........The ABA Grand Nationals!
Check back, Saturday and Sunday for full info from the Big Race, it's always a GRAND time!
Bennett & Post Take R.O.C. Top Honors!
Check Out Complete Results On The
BMX Mania ABA Grands Race Report Page!
---
New BMX Racing Book from Bellwether Media and NBL
to reach Millions of US School kids!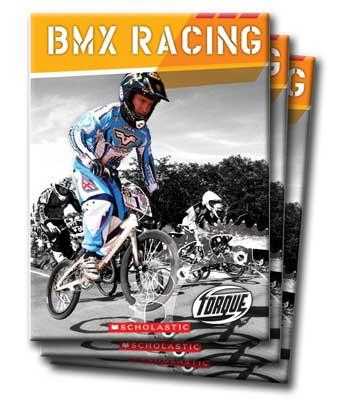 Hilliard, Ohio – November 14, 2007 - The National Bicycle League (NBL) and Bellwether Media, Inc. have teamed up to educate kids about BMX Racing in schools across the country. A new book, published by Bellwether Media and titled simply as 'BMX Racing', is part of an 8-book Torque-Action Sports series now available through the Scholastic School Supply network. The new book will soon show up in tens of thousands of school libraries across the country and expose BMX and NBL, directly to kids between the ages of four and ten.
The 24-page color book features NBL 2006 National Elite Champion, Donny Robinson on the cover along with general sport information and tons of great NBL BMX racing images throughout the publication. It will share the library shelves with other action-sport titles including snowboarding, skateboarding and mountain biking. The book provides basic explanations about the sport and compliments the easy-to-read text with photos on each page including great snaps of Justin Posey, Matt Pohlkamp, Jeff Upshaw and Amanda Geving. "We are honored to have the chance to work with Bellwether Books and our contributions will help peak the interest of millions of school kids around the country at just the right time." said Kevin O'Brien, NBL's Marketing Director.
The book appeals to kids between the ages of four and ten who will also see the NBL logo and website address with a prompt to contact NBL for more information on how to get started. Scholastic Books is the World's largest publisher and distributor of Children's books and this translates into great exposure for BMX Racing. To see more details about the book and to purchase a copy, visit the Scholastic website at www.scholastic.com.
About the National Bicycle League
The National Bicycle League (NBL) sanctions exciting local, state, and national levels of BMX racing across the country and in Puerto Rico. With more than 30,000 members and more than 150 BMX race tracks, the NBL is the largest not-for-profit BMX racing association in America and is also the proud host of the 2008 UCI North American Continental Series – the gateway to the Olympics for US athletes. NBL sanctions tracks in a growing number of states across the country offering programs for all levels and ages of riders, both male and female. The NBL National Series is the premier National BMX series in America and comes to a thrilling end on Labor Day weekend of each year with the legendary NBL Grand National.

---
Today's BMX Racing News - Wednesday, November 21, 2007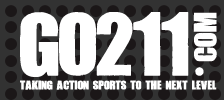 GO211 TO WEBCAST ABA GRANDS - Tulsa, Oklahoma - Make sure to tune in this Thanksgiving weekend for go211.com's exclusive coverage of the ABA Grand Nationals.
Beginning Friday morning with LIVE webcast coverage starting with the ABA's Race of Champions, continues to Friday evening with the Pro Spectacular and NAG 5 challenge, then starting Saturday morning, the ABA Grand Nationals.
Also make sure to check out the Pre Race show on Friday hosted by Will Rells and Shannon Gillette. Get the lowdown from Pro points leaders Danny Caluag and Alise Post going into the last race of the year. go211 will also have exclusive video coverage of the Golden Crank Awards.

Friday (all times CST)
6:45am ROC coverage begins
5:45pm Pre Race Show
6:45pm Pro Spectacular/NAG 5 Challenge begins

Saturday
8:15am Grands Coverage starts - Opening ceremony, rounds 1 and 2

Sunday
7:45am Grands Coverage continues - Round 3, Quarters, Semis, Mains
---
USA Cycling Announces UCI BMX Worlds challenge Signup Info
Attention USA Cycling Members:
USA Cycling released today the qualification procedures for the 2008 UCI BMX World Challenge in Taiyuan, China, May 27-June 1, 2008.
Automatic nominations to the U.S. Team will once again be awarded based on performance at the USA Cycling BMX National Championships scheduled for March 29, 2008 at a yet-to-be-announced location, as well as performances from the 2007 UCI BMX World Challenge.
Eligible participants MUST hold a USA Cycling BMX International License and be U.S. citizens.
All qualified USA Cycling members who plan to compete at the 2008 UCI BMX World Challenge must have both a valid passport and visa to enter China. USA Cycling utilizes Visa Express for its travel visas. Members can apply online at www.visaexpress.net/china/chinatouristvisa.htm.
Any fees charged by Visa Express or any other company are the sole responsibility of the athlete. Please be aware that visa applications can take up to, or longer than, one month, so please plan accordingly.
For athletes who qualified with a top-eight finish at the 2007 UCI BMX World Challenge, registration for the event will begin on March 1, 2008 and will be available at www.usacycling.org.
Entry for riders qualifying via the 2008 USA Cycling BMX National Championships will begin on March 31.
For complete qualification criteria, entry instructions and guidelines, visa information and fees, click here.
---

NBL and BAWLS Guarana renew Partnership to keep BMXer's Bouncing through 2008 and Beyond!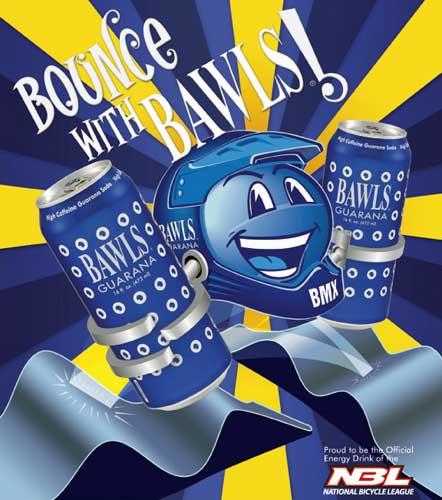 Hilliard, OH – November 21, 2007 – The National Bicycle League (NBL) is excited to announce that BAWLS Guarana has renewed their vows with NBL in a multi-year deal that will keep NBL BMXers bouncing down the track for years to come!

NBL introduced BAWLS Guarana to BMXers around the country at the 2007 NBL National Series. To keep the 'buzz' going, BAWLS will launch TWO new drinks in 2008 to accompany their already popular flavors.
Riders, start practicing! The BAWLStyle.com Bunny Hop Contest - a hit at the 2007 NBL Grands - will become part of the program at all BAWLS-attended races in 2008, complete with bigger prizes than ever! BAWLS also plans to announce several new pro sponsorships in the next few weeks and will be launching a bigger and better nationwide BMX contest Spring 2008.

"BAWLS Guarana had a wonderful 2007 season with the NBL – the athletes, volunteers, track owners, parents and staff have truly welcomed us into their family," said BAWLS Founder and CEO Hoby Buppert. "2008 is going to be a very exciting year for us and we're thrilled to make BMX racing a permanent part of our marketing for years to come."
"2007 was a very successful year for our partnership and we are thrilled to 'bounce' our way into the Olympic year with BAWLS. They genuinely love the sport so their presence adds a lot of value to our National races," said NBL Marketing Director Kevin O'Brien. "The fact that they are marketing-savvy helps extend the reach of our partnership beyond the confines of the races and this will help promote the NBL brand, and sport, to a brand new group of consumers."
BAWLS is currently available at BMX tracks across the US, as well as at Target, CompUSA and Microcenter stores. You can also find BAWLS at a number of smaller grocery and convenience stores including 7-Eleven, Speedway SuperAmerica, Plaid Pantry, Casey's General Stores and Publix Supermarkets.
For more info on BAWLS and BMX Racing, visit www.BAWLStyle.com.
About BAWLS
BAWLS is the brainchild of entrepreneur Hoby Buppert, CEO of Hobarama, LLC, who named the beverage for the caffeinated "bounce" the drink packs. Widely distributed to local super markets, convenience stores (7-Eleven), Target Superstores, CompUSA stores and gaming venues; BAWLS is a premium, non-alcoholic, carbonated beverage made from the guarana berry harvested in the Amazonian Rainforest. The caffeine found in BAWLS Guarana contains the same amount of caffeine as coffee and nearly three times that of traditional sodas due to a naturally occurring form of the stimulant found in the guarana berry. BAWLS' unique refreshing flavor tastes like a citrus infused cream soda and its popularity continues to grow over a variety of different sectors including financial institutions, the fashion industry, technology businesses, military bases, extreme sports and college campuses. For more information, please visit www.bawls.com.
About the National Bicycle League
The National Bicycle League (NBL) sanctions exciting local, state, and national levels of BMX (Bicycle Motocross) racing across the country and in Puerto Rico. With more than 30,000 members and more than 150 BMX race tracks, the NBL is the largest not-for-profit BMX racing association in America and is also the proud host of the 2008 UCI North American Continental Series – the gateway to the Olympics for US athletes. NBL sanctions tracks in a growing number of states across the country offering programs for all levels and ages of riders, both male and female. The NBL National Series is the premier National BMX series in America and comes to a thrilling end on Labor Day weekend of each year with the legendary NBL Grand National.
---
PROBIX/CHAMPBIX WEEKEND, PERTH WESTERN AUSTRALIA
Coaching opportunity
In the lead-up to the Probix/Champbix weekend in Perth, Western Australia on the weekend of the 1st and 2nd of December 2007.
BMXSportsWA with the support of the Department of Sports and Recreation (DSR) have secured the expertise of world renowned coach Sean DWIGHT to conduct coaching clinics in the week leading up to the event.
Positions within these sessions are limited so please advise of your attendance asap.
Sunday 25/11/2007 9-11am 5-12 years Southern Districts
Monday 26/11/2007 5-7pm 13+ years Southern Districts
Wednesday 27/11/2007 5-7pm All ages Wanneroo
Thursday 28/11/2007 5-7pm All ages Southern Districts
The cost is $20.00 per rider, per 2 hour session to be paid on the night.
Following the Thursday night session a coaching forum will be held, all accredited and interested coaches are welcome to attend.
Please register your interest to Karl Mustchin at munchy7081@iinet.net.au
Remember mail and fax nominations have closed but emailed nominations close on the 27th of November, so get your nomination in for this fantastic event.
For more information on the event go to www.bmxaustralia.com.au or www.bmxsportswa.com.au
---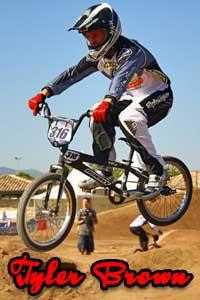 Tyler Brown signs
with Zune and Hurley
San Clemente, CA
November 20, 2007
Zune by Microsoft has signed a deal with AA Pro Tyler Brown to be the BMX racer for the Zune Team.
The Zune media player will be sold with stock videos of the team to include BMX race videos that will go out to over 2.5 million homes in the 2008 race year.
For more details about getting your hands on a Zune go to www.zune.net .
If you've seen Tyler stylin' at the track lately it's due to Hurley.
Hurley has joined in to provide clothing to assure that TB is looking hot off the track too!
Go to www.hurley.com to check out the latest in Hurley fashion.
Expect to see Tyler all decked out at Grands, jammin' to his Zune tunes and lighting up the track!
---
Sun Bru ABA GRANDS Happenings!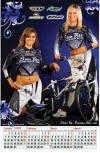 Sun Bru will be giving away a limited supply of Calendars on Friday at the ABA Grands.
This is the first of 3 Calendars for 2008 and features products from THE, Fly, AVENT, Animal Custom Jerseys & Sun Bru .
This is appropriate for all ages and will be free at the Sun Bru booth.

Calendars wont be the only thing happening at the sun Bru booth this year.
Every year at grands there are 7 National BMX Titles and 3 Team Titles but there will be only 1 Sun Bru Dance Title.
Stop by the Sun Bru booth to get information about the the contest and check out all the prizes that go along with the title.
Sun Bru Custom Body Lotions - Brandon Shaw/President - Phone: 866-Tan-Life (826-5433) - Email: info@sunbru.com - Web: www.sunbru.com
---

Wanna Start
Your Own
Sun Bru Team?

Have you ever wanted to Start a team but didn't know were to start?
Start with Sun Bru, we are searching for individuals to set up independent teams in the ABA.

This will be a great opportunity to follow the path that has worked so well for the Sun BRU factory team for the past 3 years.

With your team Sun Bru will help with fund raising, rider discount programs and getting outside sponsors.

The team will also be able to work with current Sun Bru sponsors and Graphic Artist to give the team that Factory look.

For more info stop by the Sun Bru booth at the Grands or contact us @ info@sunbru.com Check out all things Sun Bru @ www.sunbru.com.

Sun Bru Custom Body Lotions - Brandon Shaw/President - Phone: 866-Tan-Life (826-5433) - Email: info@sunbru.com - Web: www.sunbru.com
---
Thank You Orange Y BMX for
"Tara Llanes Road to Recovery" Race!!
This past weekend we held a benefit race in honor of Tara Llanes at Orange Y BMX. What an amazing day, and a whole lot of amazing people who showed up to raise $3,575.00! We had raffles and silent auctions, and the local Pros showed up to race in "Tara Llanes Road to Recovery" shirts to show their support.
So much love and generosity was shown by all. Friends and family of Tara showed up to support, and the BMX family at Orange Y absolutely gave from their hearts to make sure the day was a success. Thanks to all of the riders and parents who came out to race and bought many raffle tickets, t-shirts and also bid on the products donated for the silent auction. So many thanks to the sponsors and pros:
• Robby Miranda (X-Games Gold Medalist) donated his bike and a jersey to the raffle.
• Christian Becerine donated his hole shot award winnings to Tara. He also donated a jersey and purchased a handful of raffle tickets only to win Javier Columbo's jersey that was also donated.
Of course he threw it back in and a lucky young rider at Orange Y took the jersey and Javier's autograph home with him!
• Derek Betcher also donated a jersey and bought a t-shirt.
• Chris Fox was unable to race, but donated the $40.00 that he would have paid for sign-up.
• Danny Caluag won the race, followed by Mikey Brabant and Javier Columbo, all who donated their winnings back to Tara.
• Also on the Pro gate were "Wild Willy" Suarez (So-Cal's newest A Pro), Damian Lopez, Kyle Cushman and Tyler Brown.
Thanks to the many sponsors who donated items for the silent auction and raffles:
• S & M Bikes • Intense • Free Agent
• Shimano • Fly • Profile
• Tangent • Sun • Sharp
• SINZ • SE Racing • THE
• Bombshell • Greg Hill Products
We also don't want to forget Vince Calvillo from Free Agent who showed up with lots of help, a tent and chairs, and many goodies from Free Agent!
Kassie Groves worked with us all day, Jason from Orange Y BMX was there from start to finish, and lastly, the two men who made this possible: Ruben Sanchez and AA Pro, Tyler Brown.
Ruben donated the track, a portion of sign-ups, and he also worked with Tyler to coordinate donations.
Tyler had the idea for this race and spent the past several weeks calling sponsors, making and passing out fliers, setting up the auctions, raffles and all of the t-shirt sales.
Thank you to all who made this day possible. Barry Nilson even showed up to support, he raced and ended up with a great set of wheels from the silent auction.
Thank you Orange Y riders, parents, Pros and supporters, you ROCK!
---
Second Annual Barcelona International BMX Open
The Second Annual Barcelona International BMX Open is comin' up, next month, December 15 & 16.
The race is going to be a hot one, with the Sant Andreu de la Barca track, ONLY 10km from downtown Barcelona, AND, it's the 25th Anniversary of the club, so you KNOW they'll be going all out!

Actually, with a new truck, with random gate, they will also celebrate the same week-end, the first contest of the 2008 Spanish Championship.
Look for all riders from all parts of Spain to be there !!!!

For more information....e-mail: juanjo-villar@hotmail.com....web: www.totenbmx.com

---
Today's BMX Racing News - Tuesday, November 20, 2007
New Sponsor Slips Into ABA BMX Schedule for 2008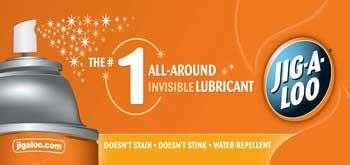 Jig-A-Loo Lubricant is named the "Official Lubricant " of the 2008 ABA National BMX Series

Gilbert , Arizona —November 17,, 2007— The American Bicycle Association (ABA) is proud to announce an exclusive association with Jig-A-Loo lubricants to be named as the "Official Lubricants" of ABA BMX. The association will begin with the ABA Grand Nationals of BMX (Bicycle Motocross) held annually in Tulsa , Oklahoma . This years event will draw thousands of riders from around the world to compete for national standings. Jig-A-Loo will launch its new affiliation by providing a sample can of spray lubricate to every racer in attendance.

The name Jig-A-Loo has been a household name in Canada for over 50 years because it is a premium product that delivers unparalleled results. The all purpose lubricant is both invisible and water repellent making it the ideal product for BMX racers who require low friction to reach maximum velocity. "Jig-A-Loo is pleased to begin its sponsorship and partnership with the ABA , the world leader in BMX racing. This is a very progressive endeavor and one that we feel is on the edge of becoming very powerful. Jig-A-Loo will re-invent the lubrication business and the ABA will be in the fore-front of extreme competition.", stated Patrice Lafleur, Vice President of Marketing, Jig-A-Loo World, Inc.

"Jig-A-Loo has taken a bold step by choosing the sport of BMX and the American Bicycle Association to assist with the marketing of this fantastic product line. The Jig-A Loo brand is dynamic and I know that our membership and racers worldwide will find the lubricants useful!", said Clayton John, President of the ABA .

The ABA has made recent strides in adding both new sponsors to the sport of BMX, but also in establishing new marketing objectives that will increase awareness of the sport. New sponsors have become marketing partners that reach beyond the confines of previous affiliations. With BMX emerging as the newest of Olympic action sports in 2008, the ABA is poised for tremendous growth.

About Jig-A-Loo
Jig-A-Loo, a named derived from the inventor's exclamation "Ti-gi-dou," the Canadian phrase meaning I've got it!" when he found the winning formula, which has been used in industrial and commercial establishments since 1958. The product was launched in 1998 in the Canadian mass retail market, quickly capturing a substantial portion of the lubricant market with its clean, dry and smooth application winning over do it yourselfers and professionals alike. Jig-A-Loo is ideal for wood, metal, leather, most plastics and a number of other surfaces. It is an exceptional water-repellent, a rust and freeze inhibitor, and will not drip or stain. Unlike traditional lubricants, Jig-A-Loo contains no oil, grease, wax or detergent.

History
A favorite product in Canada for industrial and commercial uses since 1958, Jig-A-Loo quickly conquered the do-it-yourself and professional handyman markets since its retail launch a decade ago. It is now available nationwide in the U.S. for the first time ever.

Jig-A-Loo is the world's first and only lubripellent – it stops squeaks, un-sticks just about anything and protects against water damage. Unlike other spray lubricants, Jig A-Loo goes on dry and doesn't stain or smell. Because it's silicone-based, it contains no oil, grease, wax or detergent – so it's perfect for wood, metal, leather, fabric, and most plastics. It's also a strong freeze inhibitor and rust preventer.

An affordable wonder, the product has a suggested retail price of $6.50-$7.00 – making it the must-have can for the kitchen, garage, tool-belt and even the purse!

About the American Bicycle Association
ABA (American Bicycle Association), formed in 1977 and headquartered in Chandler , Arizona , is "The Sanctioning Body of BMX"©. The ABA organizes BMX racing for boys, girls and adults, nationwide and Canada . With 60,000 active members, 274 racing facilities and a 27 event-national race schedule; ABA is the largest promoter of action sports. For additional press information about ABA , the sport of BMX, ABA events or Professional racers, call bonspeedMedia; (714) 666-1999. To find races in your area or view the national event schedule, visit www.ababmx.com..
---
Today's BMX Racing News - Monday, November 19, 2007
The Gattis Family Sez "Thanks!"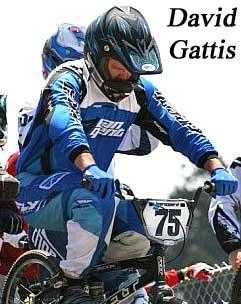 California BMXer, David Gattis had a really bad accident at the NBL California State Championships in a Pro/Am Dash for Cash.
David crashed hard in the third moto and broke his femur in four places. It was really bad; David almost lost my life after a five hour surgery and the loss of too much blood.
Here's a BIG Thanks from David to some cool people who helped out......"I just wanted to send out a special thanks to everyone at the race. The way people responded was absolutely amazing, by helping my wife with the three kids, loading stuff up and also, with the help of Linda Dorsey, my wife Kathleen had close to $1000.00 in cash that people just donated to help us out. We didn't want the money but they would not let her leave without taking it. It brought tears to our eyes of how generous all of these people were. It has been a challenging time for us as I continue to recover. It happened six weeks ago."
"I just wanted to see if you would be able to do that for me and if so I will write up another letter that is sweet and to the point! To our extended BMX FAMILY!"
"The Gattis family also went through another accident a couple weeks back when Zachary (10), our son crashed at Manzanita BMX (local track) and broke his arm in two places and his jaw… BMX has been rough on us the last couple months…"
---
Today's BMX Racing News - Friday, November 16, 2007
2007 ABA BMX PRO Spectacular/N.A.G. 5 Challenge Racers

2007 ABA BMX PRO Spectacular/N.A.G. 5 Challenge Racers
We all know what this time of year means its ABA BMX Grands time. The ABA Grands is "The Greatest Race on Earth", and this year will be no exception. One of the highlights to the ABA Grands weekend has always been the PRO Spectacular/N.A.G. 5 Challenge. This event pits the best of the best against each other in a special racing format. We take the top riders from across the country and line them up on the gate. For all the Top PRO's this event WILL BE FOR PRO POINTS once again and will be the last chance for them to move up in the ABA PRO standings. It will add an exciting twist for the ABA BMX PRO Title chase for sure. For all the top Am`s this race isn`t about N.A.G. points, it`s about bragging rights and an awesome prize list to all who make the main. After the HUGE success last year ABA is excited to add N.A.G 5 women to the show as a permanent fixture. This will add even more outstanding racing to an already stacked field. GO211.com will be on site, so be sure to catch all the "Live" action on the GO211.com web-cast as well. Good luck to everyone and we`ll see you in Tulsa!
These are the Top 5 age class riders in the nation going into the ABA Grands:
N.A.G. 5 BOYS
AGE 15 - 1 CONNOR FIELDS HENDERSON, NV - 2 CORBEN SHARRAH TUCSON, AZ - 3 TORY NYHAUG COQUITLAM, BC - 4 FERNIE JACQUEZ EL PASO, TX - 5 BUCK TAYLOR DALLAS, PA
Age 16 - 1 DENZEL STEIN DESOTO, TX - 2 SEAN LECHNER WICHITA, KS - 3 LAHSAAN KOBZA CHULA VISTA, CA - 4 JACOB TREVINO CIBOLO, TX - 5 JORDAN SEWARD ROCKFORD, IL
AGE 17-18 - 1 NIC LONG LAKESIDE, CA - 2 JACOB PEEBLES CITRUS HEIGHTS, CA - 3 RANDALL LEE LEWIS FRIENDSWOOD, TX - 4 BAKARI HASSAN PENDELTON, SC - 5 MATT KELTY DOVER, DE
AGE 19-27 - 1 DEREK SIPKOI PERRIS, CA - 2 DEAK BROWN ARVADA, CO - 3 JOSHUA MEYERS TREASURE ISLAND, FL - 4 TRAVIS JURELL LITITZ, PA - 5 COREY REID UCON, ID
AGE 28-35 - 1 SCOTT SIMMONS RENO, NV - 2 ROBERT TAYLOR LEAGUE CITY, TX - 3 DOUG CROWELL KYLE, TX - 4 JAYSON LINDSAY HAM LAKE, MN - 5 JACOB HENSLEY FOLSOM, CA
AGE 36 and over - 1 CHRIS VERHAGEN SIMI VALLEY, CA - 2 SHAWN DIPRETE LOS ANGELES, CA - 3 FRANK NUCCIO SCHAUMBURG, IL - 4 LONNY LIERLEY N LAS VEGAS, NV - 5 LARRY MIYAMOTO SANTA ANA, CA
N.A.G. 5 GIRLS
AGE 14 - 1 DOMINIQUE DANIELS GILBERT, AZ - 2 TYLER SCHAEFER SAN DIEGO, CA - 3 VICTORIA JOHNSON PHOENIX, AZ - 4 TAYLOR WOLCOTT ROSEVILLE, CA - 5 BROOKE CRAIN VISALIA, CA
AGE 15 - 1 SAMANTHA BRETHEIM LINDSTROM, MN - 2 KRISTIN HOKIT BAKERSFIELD, CA - 3 ALAINA HENDERSON RUBY, NY - 4 LAUREN PADILLA LAKEWOOD, CA - 5 JESSICA LAMBERT WATAUGA, TX
AGE 16 - 1 SHELBI LONG LAKESIDE, CA - 2 MORGAN BARAJAS RANCHO CUCAMONGA, CA - 3 ELIZABETH PASSWATERS GREENWOOD, DE - 4 BELINDA WASSENAAR BELLFLOWER, CA - 5 COURTNEY APPLEWHITE GARNER, NC
AGE 17-27 - 1 RACHAEL LUNA LUFKIN, TX - 2 FRANCES GARCIA ALBUQUERQUE, NM - 3 NICOLE WOODROW ROSEBURG, OR - 4 ERIN MOORE FAYETTEVILLE, AR - 5 ALYSSA ENRIQUEZ LONG BEACH, CA
AGE 28 and over - 1 SANDY NICKEL SAN JOSE, CA - 2 DEBBIE CHAPMAN TRAVELERS REST, SC - 3 PEGGY MILLER ESCALON, CA - 4 CAROLYN DAVIS CHICAGO, IL - 5 MALINDA KRENEK YUKON, OK
PRO hole-short awards: AA PRO - J&R Bicycles sponsored $400 - Ladies PRO - Clayborn Bikes sponsored $200 - Vet PRO - Vintagebmx.com sponsored $200 - A-PRO – TwentyH.com/HRP Designs $100
N.A.G. 5 Challenge Prizes from: Redline Bicycles – R760 Road Bike ... Phanton/Ontrac- 80 gig Ipod and Bose + Quiet comfort 2 headphones ... Torker Bicycles –Bermuda RS Ladies Beach Cruiser ... O'GIO - 9800 travel bags - Burn helmet bags ... Industrialrideshop.com – Long board Skate Board - Ladies Nixon watch ... BAWLS Guarana - cases of BAWLS Energy ... Clif Bar – Boxs of Clif Bars ... Clif Bar – Boxes of Clif Bar Bloks and more great prizes to be named at the event!
Once again VSI Products has stepped up big time for the N.A.G. 5 Challenge. All N.A.G. 5 Challenge main makers will receive a T.H.E. Industries T-shirt, T.H.E. bike stand, T.H.E. hat, T.H.E. socks, and T.H.E. B-1 jump helmet. The two main event winners will also receive a T.H.E. hoodie to boot!
---
New Team Member For Kuwahara/Sun Rims
Congrats go out to Ryan and Natarsha Williams Birk on the birth of their little guy, Ryder. Ryder came right after the NBL Grands and made his first BMX Road Trip to the ABA Disney Cup......The kid is DOOMED! Doomed to a life of BMX tracks, back yard trails and posters of his Mom and Dad on his walls!
Seriously, Ryan (BMX Product Manager for Sun Rims) and Natarsha (National Sales Manager for Kuwahara BMX) are busy takin' care of little Ryder and running their various BMX racing exploits out of their Warsaw, Indiana home, getting ready for another busy BMX racing season. Ryder's next trip? You guessed it.....ABA Grands in Tulsa, Oklahoma......NEXT WEEK!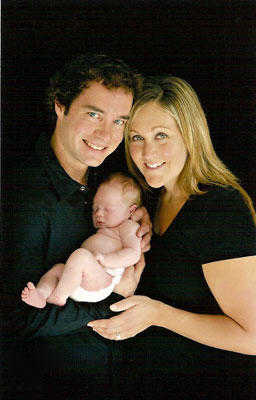 Ryder Andrew Birk with Dad & Mom ..... Born-9/21/07 ..... Weight-9lbs 1oz ..... 'Height'-22inches
---

2008 Intense Podium Frames – Mini, Expert, & Junior Sizes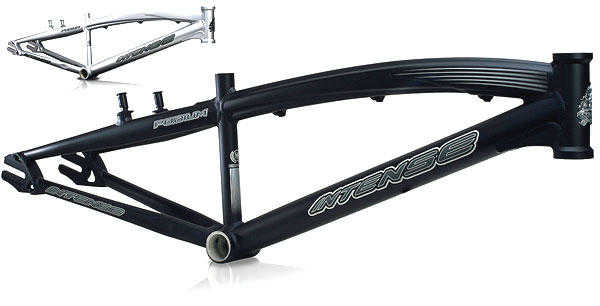 Parents of future Pro BMX'ers, are you ready to make your racer way faster? We have the easiest way for you to do that. Intense is proud to announce the arrival of the Podium Frame Series for the little racers. The hottest frames in BMX racing are now ready to take the little guys and girls to wins and atop the Podium on a Podium.
Built with super light Hydroformed tubes, the Podium series was designed exclusively for racing to bring you the best BMX racing frame in the world, our BRO line of high performance racing frames (BMX Race Only). Frame features include Hydroformed top tubes, triple butted seat and chain stays, and ultra light integrated head tubes.
Sizes offered and Frame Weights- Mini – 2Lbs 7oz, Mini XL 2 Lbs 8oz, Junior- 2Lbs 9oz, Junior XL- 2Lbs 10oz, Junior Cruiser 2Lbs 11oz, Expert 2Lbs 11oz, Expert XL - 2Lbs 12 oz, Expert Cruiser 2 Lbs 12 oz. For Frame specs, please visit www.IntenseBMX.com
The frames are offered in both a flat black and flat silver finish and included with the frame is the integrated headset. The suggested retail price for the Intense BMX Podium frame series is $389.99 per frame.
To check them out and see what's all new at Intense BMX for 2008, check out the all new website at www.IntenseBMX.com
For information on the 2008 complete line up of the Intense BMX Race and Jump Bikes, as well as the Intense Podium and Sabot Frame Sets please check out http://www.intensebmx.com
Intense BMX and Intense Tire System are proud to be associated with the finest Bicycle dealers' world wide. Intense BMX Products are a division of VSI Products. – www.vsiproducts.com
---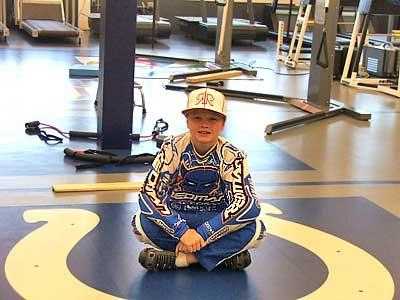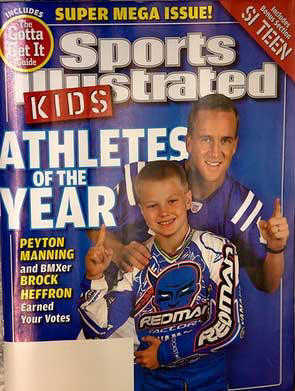 Sports illustrated KIDS
Youth Athlete of the Year Award
Brock Heffron says "Thank You!"
Every vote for Brock was a vote for BMX! It's been an awesome experience to be honored with the SIKIDS Youth Athlete of the Year Award. Meeting Peyton Manning was real cool!
I hope to be one of the many outstanding BMXers representing the Sport of BMX.
I'll be exploring every opportunity to raise the interest level of BMX and making our family bigger!
I'm looking forward to seeing all the BMXer's and future family members at the ABA Grands.
Sincerely, Brock "The Rock" Heffron
ABA's Factory Redman rider Brock Heffron voted SI Kids "Youth Athlete of the Year"

Brock Heffron from Gilbert, AZ was announced this weekend as Sports Illustrated for Kids 2007 "Youth Athlete of the Year". Brock was featured on national television on the "CBS Early Show" Saturday morning where they unveiled the December cover of SI Kids featuring Brock posing with Superbowl MVP, Peyton Manning of the Indianapolis Colts. Brock flew to Indianapolis Colts Training Center earlier this month for a photo shoot with Peyton who is SI Kids "Athlete of the Year". Brock was chosen out or over 6,000 athletes for his many athletic accomplishments in football, baseball, and BMX as well as outstanding grades in school.
Brocks father John Heffron was asked by SI Kids, what makes your son so special? John stated "Brocks desire to do what ever it takes in practice to be #1" this is the #1 quality that makes a great athlete, with this attitude Brock will achieve great success in everything he attempts.
Brock is sitting #1 in the ABA BMX National Cruiser Title points, but will not be racing the ABA Grands due to an injury sustained playing football. Brock will be on hand to sign autographs for all the fans and cheer on his Redman Yamaha teammates.
Brock is the first ever SI for Kids "Youth Athlete of the Year". This award is a major accomplishment for Brock and a huge milestone for the sport of BMX. The ABA, on behalf of all Track operators and members would like to congratulate Brock and his family. Be sure to pick up a copy of the December SI Kids at the newsstands which not only features Brock on the cover but also a 2 page article and pull out poster. A link to the video footage from the "CBS Early Show" is below for your enjoyment.
http://aba.loopd.com/Members/BrocktherockHeffron/Default.aspx
---
Today's BMX Racing News - Thursday, November 15, 2007
Prunedale's Manzanita Park BMX To Support "Toys For Tots"

Manzanita Park is having its 2nd Annual Toys for Tots race this weekend (Nov. 18th) in support of the United States Marine Corps program that helps those friends and families in need.
Along with a $500.00 + pro/am there will also be a bike raffled off to one participants that brings a toy.
We would like to invite evryone to the race, as it will be Manzanita's final race of the 2007 season.
There is always plenty of food and laughs at the Prunedale track.
After the races there wil be a riding sesh at the Watsonville trails followed by a BBQ and some more laughs.
So we invite all the NOR-CAL ballers to reunite for a great cause at Manzanita this Sunday.
Sign-ups are from 9-10:30 and race at 11:00am.
The track hotline to pre-reg is (831)663-1BMX or you can check the website at www.ManzanitaParkBMX.com for more info.
We hope to see everyone there!
---
Crupi Europe Joins With Fly Racing

Netherlands, 14 november 2007
CRUPI Europe
After a year of co-sponsoring the Crupi Europe Bmx race team, FLY racing wishes to increase their presence in European BMX racing.
Crupi Europe is proud to announce that besides CRUPI, FLY racing will be their new main sponsor.
From now on the name of the team will be :
CRUPI-FLY Europe
Crupi-Fly Europe wishes to thank their sponsors CRUPI - FLY racing - SHIMANO - TVE sport - ANSWER - SIXSIXONE - LIZARD SKINS for 2007 season and supporting the 2008 team again.
Special thanks goes out to SHIMANO's Hennie Stamsnijder for his confidence in our young and talented team.
Jan Schippers - Crupi-Fly Europe
---
Today's BMX Racing News - Wednesday, November 14, 2007
Here's one for ya from our friends at J&R, straight from the source.....this is a "sale that we are doing for our 1 year anniversary in our new store. It will save all the BMXers some $$$ for Christmas."
J&R Bicycles BMX Superstore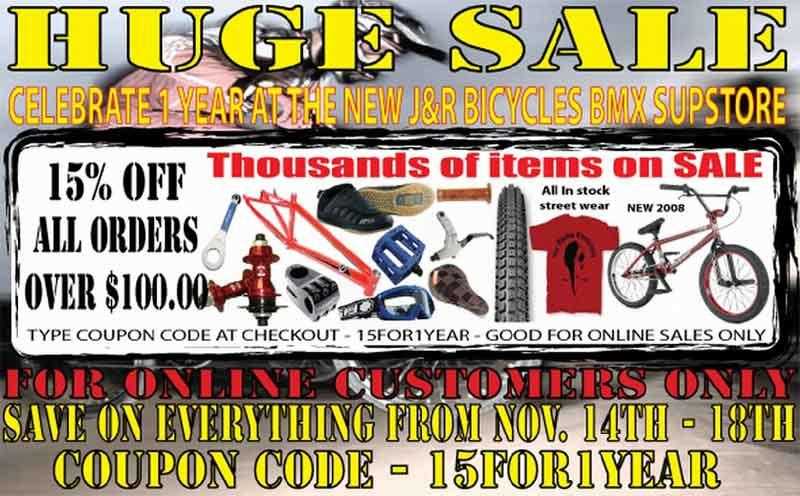 ---
Another Big Sale......This time, it's Action Sports Depot!!!!!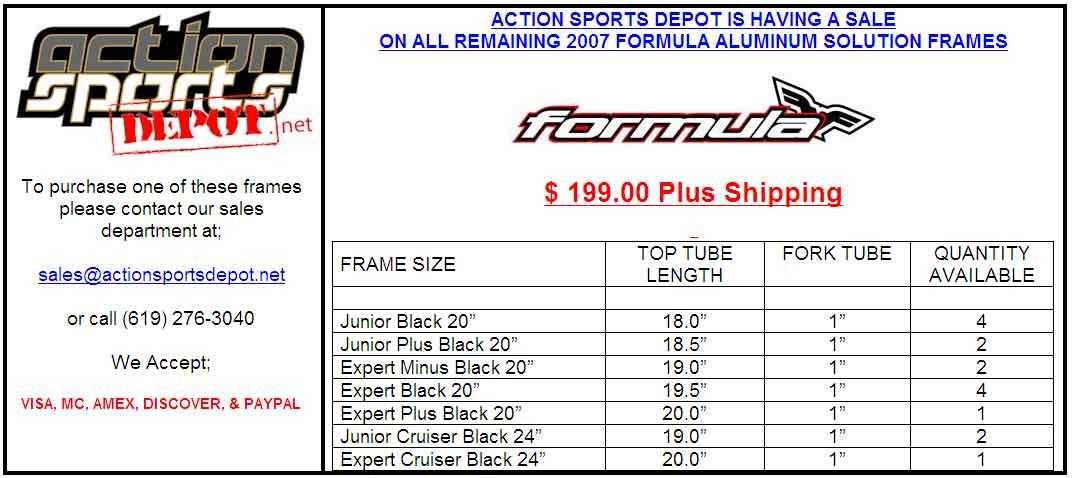 ---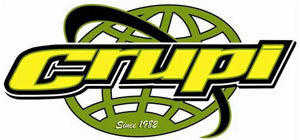 Crupi Launches Rhythm Line!
Arcadia, California – In just a year's time since Crupi owner Greg Swingrover took over the company and declared in his first press release that Crupi would be offering a "more affordable" line of products, we are proud to announce Rhythm, by Crupi!
It was a difficult decision as to how to market Crupi with second less expensive line since Crupi is known as having only the highest level products in BMX racing. Thus, we developed this new line under the name Rhythm which is designed by Crupi, but manufactured outside of the US. Rhythm will feature very innovative products that will not simply be "me too" products. A lot of thought will go into each and every product that Rhythm will release and dealers will be able to make great margins!
Although we have several big projects currently in production, we have released the following new products which are now in stock and available for purchase. Please visit www.crupibmx.com for more details on these new products or contact Crupi directly for our new 2008 price list.
---
BMXinsight.com Adds Two New Features

BMXinsight.com Adds Riders Pro Shop's Mechanic TJ Johnson and Elite Trainer, Greg Romero, to the Features List.
(Houston, TX)- BMXinsight is proud to announce the arrival of two new features, "Tangent TJ's Tech Tips" and "Inside Greg Romero's Elite Training Program". These two key features play a vital roll into helping us provide the viewers with specific BMX information. "We are very happy to have joined together with Tangent Products and BMXTrainging.com to extend our Features List and provide our viewers with the best features and information out there," says owner Glenn Fife.
"Tangent TJ's Tech Tips" is a bi-weekly column done by Tangent's TJ Johnson that will provide you with instructional information on how to work on your bike. These tech tips will include a wide range of different tips from "how to change your sprocket" to "how to keep your bike nice and clean!"
"Inside Greg Romero's Elite Training Program" is a weekly installment done by BMXinsight Owner Glenn Fife who will participate in the training program and write up a weekly journal on how he is progressing thought the program and how it is improving his racing.
Make sure you stay tuned for those two features to air in the coming week. Also take the time to check out some of our other features, Inside The Life of Mike Moeller, MJT's National Photo Galleries, Roy's Really Rad Videos, Product Reviews, Rider Bios and much more coming soon.
BMXinsight would like to thank our website supporters: MJT Designs (www.mjtdesigns.com), ABA BMX (www.ababmx.com), NBL (www.nbl.org), Tangent Products (www.tangentproducts.com), (www.BMXTraining.com), THE (www.the-industries.com), Pivotal Productions (www.pivotalproductions.net)
---
Today's BMX Racing News - Tuesday, November 13, 2007
Australian Nationals announced for W.A. after BMX debuts in Beijing
BMX Australia today announced that Western Australia will be the location for the 2009 National BMX Championships. Perth will host the BMX National Championships early in May 2009 just one year after the sport makes its debut as a medal sport at the Beijing Olympics.
BMX Australia President, Barry Knight, said the event will be especially popular in the lead up to the World Championships in Adelaide just two months later.

The National Championships will be staged in the State Equestrian Centre at Brigadoon located in the Swan Valley, one of Western Australia's premier tourism and wine regions. The bid received substantial support from EventsCorp a division of Tourism Western Australia.
BMX Sports WA President, Steve Dixon, said, "The support of EventsCorp was crucial in Western Australia's bid for this event. Along with support from the Department of Sport and Recreation and the East Metropolitan Regional Councils this event will allow the people of Western Australia to experience the exciting new Olympic sport of BMX first hand."
The 2009 National Championships will be held indoors and organizers expect to attract 1 800 entries from all over Australia. According to Dixon an indoor venue has enormous advantages apart from being unaffected by the weather. "The cost to stage an event indoors is more expensive but it removes all the variables," he explained. "No competitor has the advantage of knowing the track better. It's a level playing field for everyone."
According to Dixon the location is bigger and better. "There have been big improvements with seating since the last National Championships held in the same venue in 1999. We can fit more spectators into the venue now and the track will be longer than last time which will be excellent," he explained.
Dixon says the event will also showcase a wealth of talented BMX riders from Western Australia.
"Currently WA have 30 percent of the young riders in the national talent ID squad and three out of the seven elite high performance squad are from WA. It is obvious that we have the dept h of talent. An event like this gives those riders the opportunity to shine in their own state," Dixon said.
With two current National BMX Champions from Perth, Tanya Bailey and Khalen Young the championships will have a strong local following. Bailey and Young are on the elite high performance squad along with Nicole Callisto who was the World Junior Champion in 2005.
"We aim to bring a very exciting sport to the Western Australian public," said Dixon.
BMX riders will travel to Perth next month for the first two rounds of the National Probikx Series which get underway in Perth on the 1 - 2 December at the Southern District BMX Club in Medina.
---
Felt/extreme Sports/hbr passed their sophomore year with flying colors,
placing second overall for the 2007 season!
BMX Mania Note - Apologies to Felt/Extreme Sports/hbr for not getting this posted sooner. This got lost in the In Box and we're just now getting to it, but it's GOOD stuff, so.....Read On!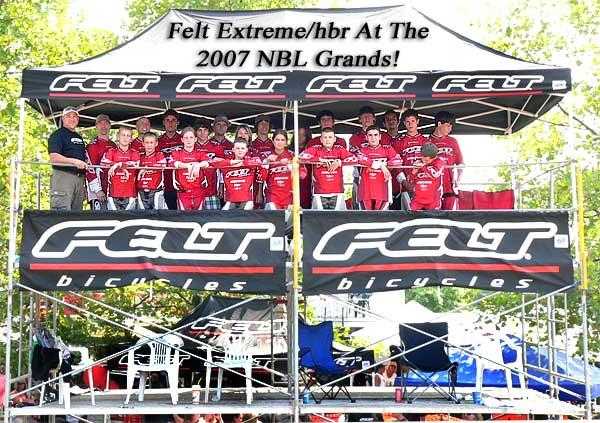 It was a battle all year long with Dan's Comp going back and forth in the standings and in the end Dan's Comp was victorious, congrats to Terri Sonner and her riders on winning the 2007 NBL National Championship.
Felt/Extreme Sports went into the Grands with some of the most talented riders in the country. Most were competing for the National#1 title and seven of them came out with the coveted prize.
Jeremy Smith 9x/cr scored a #3 in class and #1 in cruiser, Austin Vincent 10x/cr came home with #1 in class and #2 in cruiser, Brandon Murphy 14x/cr battled for a #4 in class and #1 in cruiser, Alaina Henderson 14G/cr doubled in class and cruiser, Tiffany Bontorno 13G/cr finished #1 in class and #2 in cruiser, Matt Rubeck 16x/cr dominated taking home two skinny digits, Jeremy "The Flamingo Kid" Thompson 35x grabbed the #1 title this year in class.
There were also eight top five finishes with TJ Albright 8x finishing #4, Dalton Simons 13x/cr taking a national#3 in class and an #8 in cruiser, Geoffrey Banser 14x came home with a #5 in class, Matt Kelty 17-24x in one of the largest classes that we've seen in years will wear the #5 on his plate for 2008, Tommy Board 35x/cr rode his butt off in the tough 35 year old class and went home wearing a #10 in class and a #2 in cruiser, Taylor Williams 11g rode great all year and will take home the #4 plate, Mike Darnley 35cr battled on two coasts and joined his teammates at the top with a #3 for the season.
Also with some tremendous riding and who showed grit and determination was Buck Taylor 15x taking home the #6 plate, Heather Rieman 9g will also wear the #6 next year, Brandon Roharick 12x finished with a #7, Chris Jameison 17-24x moved up and took the #8 home with him, Ryan Pettigrew 9x/cr battled for #8 in class and #7 in cruiser, Matty Cranmer 10x will take home the #13 plate and Dylan Perez 13X will be rocking the #15 plate.
It was an exciting 2007 season and it was my pleasure and honor to be a part of such a talented and fun group of riders. We have to thank Alan Foster at Felt Bicycles for his support and dedication to the team. Joey Licata and Debbie Rubeck at Answer BMX for all their support. Alex Rims for making us go round and round. Todd Hines at hbr for his support and wisdom. Chris at Extreme Sports for another great year. But most of all Lou Roberti at Roberti Saab who was not only one of the biggest supporters and sponsors but a loyal friend. Lastly to all the Felt/Extreme Sports/hbr parents who trudged across the country racing BMX and were there for their kids when they fell or when they won...THANK YOU!
Carlos Perez - TM NBL Felt/Extreme Sports/hbr
---
Today's BMX Racing News - Monday, November 12, 2007
Big Free Shipping Deal At J&R!
---
When too much BMX isn't enough....
Australia's TrackAttack 2008 is coming soon!
6 days of hot racing action incorporating round 5 of the UCI Oceania series.
For details see

www.trackattackbmx.com.au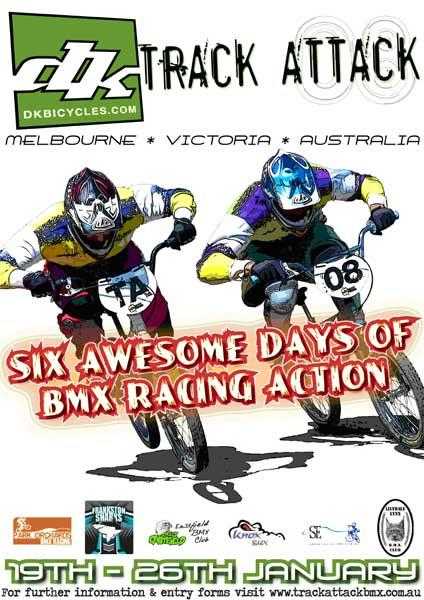 ---

2008 Intense BMX Race Jersey
Intense BMX /Socko Energy AA Pro Danny Caluag
The all new 2008 Intense BMX Race jersey is now in stock at VSI Products and ready for the BMX track.
The Intense BMX jersey features a lot of Aeroprene mesh material to keep you cool while on the track and a patent pending stain proof material that will help keep the jersey looking like new for many rides and races.
Using a unique design pattern, this jersey has great detail not found in any other BMX jerseys. Padded elbows and forearms, V Neck collar, and a contoured cut make this a great fitting jersey as well.
The Intense BMX Jersey has a suggested retail price of $39.99 and comes in Youth Small, Medium, and Large and Adult XS, Small, Medium, Large, X-Large, and XX-Large.
To check them out and see what's all new at Intense BMX for 2008, check out the all new website at www.IntenseBMX.com
For information on the 2008 complete line up of the Intense BMX Race and Jump Bikes, as well as the Intense Podium and Sabot Frame Sets please check out http://www.intensebmx.com
Intense BMX and Intense Tire System are proud to be associated with the finest Bicycle dealers' world wide. Intense BMX Products are a division of VSI Products. – www.vsiproducts.com
---
ABA NAG BMXer Off To Iraq
Current ABA National Age Group leader in the 41-45 Cruiser class, Larry Miyamoto will be leaving shortly after the ABA Grands to serve his country.
He will be on a 8-12 month mission.
This is not the first time he has been to Iraq... Larry is a great guy and everyone that knows him likes having him around.
Keep Larry in your thoughts and prayers as he takes a BMX break to serve in this tough and dangerous time.

---
Today's BMX Racing News - Saturday/Sunday, November 10/11, 2007
Sayonara, Spinners BMX!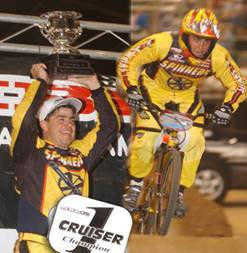 After getting permission from Gail Hardcastle (Former Spinners Team Owner) back in 2000 to bring back an East coast version of the Spinners team, I knew that it would not last forever. And on that day I knew the most difficult decision in running the team would be the decision to stop running it. That is where I found myself a month or so ago when I made the decision and told my teammates. As it is already spreading a bit through BMX land, I thought I'd formally announce it.
The ABA 2007 Grands will be the last Spinners~Redline team event. The decision was slowly being made throughout the year and was finalized in late September. I struggled with the timing of the communication as I did not want that Grands to be a downer. In the end, I thought it best to give the riders more opportunity to find other teams. We've known each other well enough and long enough that we'll have a good time at the Grands regardless.
For the record, this had nothing to do with with any track drama and primarily due to my own decision to step away from competition. After my 2nd concussion and my 4th shoulder surgery, I decided it was best to do something else (for a while). I will likely be back in the sport at some point (in some capacity) but I'm likely done with competing in the US circuit. If I race at all, I'll make one more training push a year from now and finish out at the Australian Worlds in the summer of '09. We'll see come next year, but if this past labor day was my last, it would be a great last memory for competition.
Regarding the team and how much it has meant to me, there is so much I can say, I'm not sure of where to start... So forgive me if I ramble a bit.
We started the team in 2000 in memory of Ray Hardcastle (the initial owner of Spinners). There was a lot of potential in this area (NC) and I thought it would be good to put together a nationally competitive ABA team from the East. It was fun to see the progress of the riders over time as they began to dominate a lot of the East coast races. The next level or progress became evident after a number of the riders would consistently podium out West. Finally, over the past couple years I could not have been happier to see a few of the riders get invited on to the top Factory teams. It has been fun to be a part of it all. I will miss it.
The team has had a great run over the past 7 years consistently placing in the top 5 in year-end Bike Shop competition with our highest finish of 2nd overall. We've won allot of the smaller races out here in the East as well as number of top finishes at the biggest races in Phoenix, Reno, and even Tulsa.
Not only has Spinners been a highly competitive team, it has been a wonderful extended family. I will never forget the riders and parents. I will always remember their first wins. I will always remember their big wins. But most importantly, I will always remember their friendship.
My racing may be coming to an end but our friendship will go on. I look forward to the camaraderie at the Grands once again.
Now to the thanks. I want to thank all of the sponsors we've had over the years including Redline, Shimano, Fly, Lizard Skins, Marzocchi, Kovachi Wheels, and Pryme.
I want to thank all of my riders and parents for being a part of my life. I want to thank my brother Swifty and his family for all of the good times. I want to thank my son Brandon for the quality time we've had to share. And finally, I want to thank my wife Gina and daughter Courtney for supporting us all of the way.
Thanks again all!
Bob O'Gorman
P.S. - Be sure to stop by the Spinners pit and say hey.
---
BMXSTOP.com JUST ADDED NEW CLOTHES TO THEIR BMX CLOSET

Your online source for Retro BMX decals and BMX Clothing and Collectibles has just been updated with a wide assortment of shirts 'n hats from companies such as REDLINE and PRYME.

Just in time for the Christmas shopping spree, you can get your lil' or extra-large BMXer some of the latest threads from their '08 Fall Collection – including the popular new Cotton Beanies w/ visor, herringbone cap and the Redline flex fit hats in either blue-pinstripe or solid white. Also freshly added are new zipper-front hoodys and a wide assortment of guys and gals t-shirts.

Take care of plenty of your Holiday shopping without leaving your house – at your own stop, hip-hop, place to shop:
Today's BMX Racing News - Friday, November 9, 2007
RACING SLATED TO BEGIN AT CAMARILLO'S FREEDOM PARK

After an initial six week "practice run", Freedom Park BMX Raceway will hold its first ABA sanctioned race, Saturday November 17th, 4:00pm-6:00pm sign-ups, racing ASAP.
Check out SoCal's coolest new track—the crowds and excitement have been great and last minute points are here for the taking!
Located in Camarillo, California just one mile off U.S. 101, the track boasts Channel Island views, great weather and a host of nearby conveniences including Camarillo's Premium Outlets, great dining and lodging options.
The track will be open for one final "practice-only Saturday", this weekend, November 10th—and continue with its regularly scheduled practice days every Monday and Thursday, 5:30 – 8:30pm.
Likewise, during the remainder of the 2007 ABA season and beginning in 2008, racing will continue regularly on Saturdays, 4:00-6:00pm signs ups, racing ASAP.
To reach the track from North or South U.S. 101, exit Las Posas Road, proceed south on Las Posas one mile to Pleasant Valley Road. Turn right and proceed west on Pleasant Valley for one mile to Freedom Park Drive. Turn right into the park.
The track is located adjacent the Camarillo Airport and the Pleasant Valley Rec & Park District's Inline Hockey arena.
Full restroom facilities, multiple ball fields, an R/C racetrack and more are all located within the 30-plus acre Freedom Park.
For more information or to get involved with the track, please call the track hotline at 805-824-7854 or visit us on the web at www.freedomparkbmx.com.
---
ABD Team Report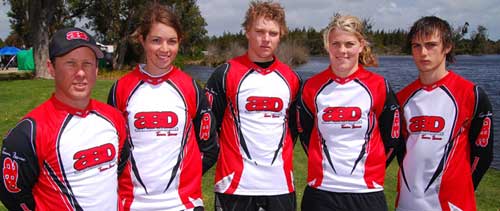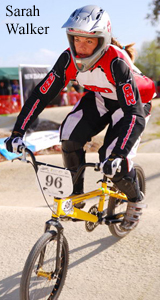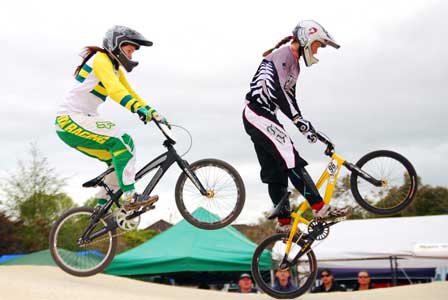 Many people might not know what, who and where ABD is from. ABD stands for Avanti BMX Development. Avanti is a major bike player in New Zealand and Australia. They have a very strong product line, combining rider feedback with the experience and knowledge of a development team to produce a range of innovative bikes taking on the world.
Looking at how the company started was from the boom of BMX in the 80's. The name Supersport was a well known name in BMX, with a BMX team of riders travelling the country promoting BMX.
Avanti with the future of BMX now in the Olympics started the ABD BMX brand 4 years ago and have continued to prove themselves in the street and on the track.
If you had noticed what bike Sarah Walker of New Zealand was riding to her win in Elite Women Cruiser and second in Elite Women it was an ABD bike.
With a design team pushing the limits of bicycle engineering along with Richard Mclachlan 8x National Champion in New Zealand behind some of the critical design features you can expect only the best from the ABD range.
The new team for 2008 are Sarah Walker, Michael Fenwick, Matt Willoughby, Victoria Hill, Rhys Telford, Shane Eddy and Richard Mclachlan. This team of up and comers are looking to prove themselves on the world stage and ABD is supporting them all the way.
Team Issue Frame - As raced by the ABD BMX Team, this bike is the ultimate bike to have on the track as demonstrated by Sarah Walker who became a world champion on her ABD cruiser frame in Canada, out classing all in her race by leading from start to finish.
The team will be active at all major BMX events around NZ and Australia and will be sure to make their mark as they continue to develop their skills and refine their techniques, all while being backed by ABD.
---
Johnson Plates Announces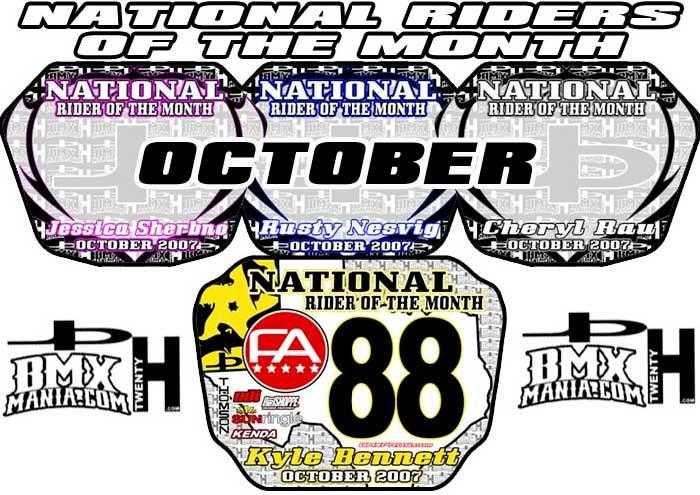 Vote For The November National Rider Of The Month, at http://www.johnsonbmx.com/NROTMInputpage.php !
The BMX Public is free to nominate their favorite riders regardless of sanction. Male / Female/Old Timer (Male or Female over 35) must be from the amateur ranks, Pro Riders can be from either the AA / A / Vet Pro / Girl Pro / Elite / Super X / Master as long as it is a BMX Pro rider. People who are nominating (Voting) must identify a rider in each of the eligible categories or that nomination does not go into the tally.
The riders nominated must show/be a positive influence in BMX racing both on the track and off. Riders of all caliber are eligible for this award, they DO NOT have to race the national circuits, nor do they have to have a national/world ranking of any sorts, they don't even need to be the fastest riders in any particular group, that is what the sanction awards are for.
The voting will be from the 1st of the month to the 22nd of the month to allow time to tally the nominations and contact the winners, to verify that the individual wishes to accept the award and will fill out the interview sheet and provide a picture for the interview page, if required with help from the nominating individuals.
All Track Operators are encouraged to promote the rider(s) from their track that help make the biggest difference in the local racing scene by rallying the local racers/parents/volunteers to nominate their riders….. Johnson Plates will produce and send the customized plate and another mountable replica to the winners each month based on their input for numbers and size.
To avoid any conflict in pro riders sponsorships, the riders are not required to endorse or support Johnson Plates or any other product included in this award that would otherwise jeopardize their sponsorship status, since this award is intended in providing acknowledgment of riders that have a positive impact on us the BMX community. However, Pro Riders would still need to allow us to post them as a winner of the award and allow the plate to be displayed on both Johnson BMX and BMX Mania...
http://www.johnsonbmx.com/NROTMInputpage.php
Get out the VOTE!
---
Tara Llanes Benefit race At Orange Y BMX, November 18th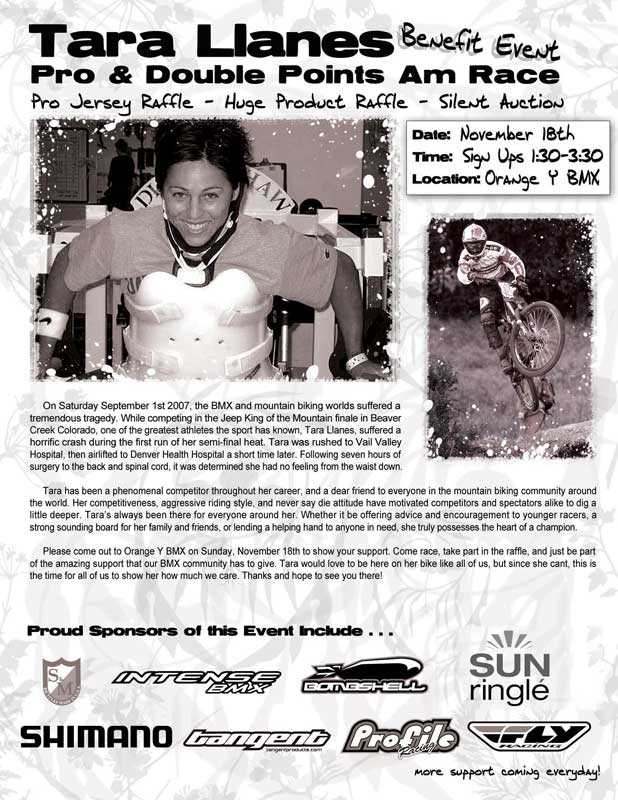 ---
BMX Spain, Grand Nacional!


Here is a report of the « Gran nacional » Spanish event which took place last week end in Zaragoza (North Spain).
The race has been a great success thanks to the work carried out by The « Club Pirineos » BMX department in order to celebrate the 7th edition of the Gran Nacional.
A really amazing BMX week end with a great weather, atmosphere and 120 riders ready to race with the participation of the best Spanish riders and a high level competition thanks to a bunch of French riders. The show kicked off on Saturday afternoon with cruisers and followed right after by The Open (15 & over). During the presentation of the final, all the best riders were making the main as Pablo Galan, Rafa Alvarez and the unbelievable Daniel Sanchez (15boys).


In the open, Pablo Galan (Madrid), kills the gate with an amazing speed in the first straight and takes the lead closely followed by the 2007 Spanish elite champion Rafa Alvarez (Andalousia). In the third straight, Pablo Galan makes a mistake and looses speed, and Rafa Alvarez takes finally the lead and wins. 1- Rafa Alvarez 2 - Pablo Galan 3 - Daniel Sanchez.
Sunday is a perfect day and all categories are going to race from 6years old to Elite men. It was an emotional and amazing race thanks to the great level of all the riders and we can point out the participation of all the Spanish champions of each category and also the presence of many French riders.


In Junior men, the Spanish junior champion Fernando Fornier (Badajoz) dominated the whole race going like an elite men on the first straight. However he needed to stay concentrated because the skilled rider Gustavo Alcojor (Talavera) kept tied to Fornier's back wheel.
Elite Men, here we go, Pablo Galan showed his skill and speed again and had already 5 meters lead on the other finalists in the second straight but too much speed in the second corner makes him fall with 6 other riders. Rafa Alvarez got lucky and avoided the fall. He won without any problems. 1-Rafa Alvarez 2-William Métairie (France) 3-Marc Killiam (Alicante).


Now that the race is over, it's paramount to say that all riders came back home very happy of their week end and that's a good proof of the hard work of Zaragoza's bmx club which keeps a nice BMX racing level and keeps improving his organisation. However it could have been better with more helps and better installations in order to get more results in national as much as international events.
A big thank to all riders and all sponsors whom allowed BMX to live again in Zaragoza.
Report : José Mª Fuente Caballero (Responsable Club Pirineos)
Pics : Chus Guiral.
Translation : Renaud Hérin
---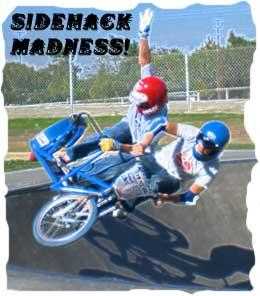 Here's one you never figured you'd be hearing about today!
Out in California, where you can find just about any kind of concept living and breathing, there's an interesting thing going on with Sidehacks........YES, you heard right, Sidehacks!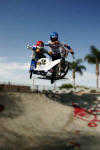 Andreas Stevens previously known as, "DJ Greyboy" and his partner, Patrick Freitas, P.K.A. as, "DJ Truly Odd" who are both long time DJ/Music Producers, have deep BMX roots as well.
Both of them rode and raced BMX in the late 70's and early 80's as kids in Cali, and now in 2007, are both deeply involved in the 'Old Skool BMX' scene, basically a resurgence of the Golden Age of BMX, (1974-1984).
These guys are really in to it, and that means, the bikes, the clothing, and the overall styling is all 'era correct', hence the o.g. helmets, gear, etc.
In the photos posted here, the bike they are riding is called a SIDEHACK.
It's a '78 Gary Littlejohn to be exact.
The hack is meant to be raced on dirt, mostly downhill tracks back in the day.


The boys decided that Sidehacks needed a revival, but downhill tracks are few and far between, so skateparks seemed the obvious next level.
Andreas and Patrick have been having a great time experimenting, they've decided that they want to try to set a spark to Sidehacks and the scene in general.
So, that's what's going on, here.
REAL Old Skool meets the new millennium........Sidehacks, who would have thunk it!
---
Today's BMX Racing News - Thursday, November 8, 2007
IMPORTANT info on the R.O.C. and Friday Night PRO SPECTACULAR:

This year you will receive National PRO Points for racing the PRO Spectacular.
This year we will be running the PRO classes in the three moto format.
You MUST sign up and race the R.O.C and qualify to your semi. The semis and ONE MAIN will be run that evening in the PRO Spectacular for all PRO 20" classes.
For the R.O.C. we will run the first PRO moto at the start of the race as usual. The second moto will run after the last amateur Girl class in the first round. The third moto will be run after 10 ex in the first round.
If your class goes to a quarter that quarter will run at the beginning of the second round of motos.
If your class (after three motos) goes straight to a semi or main you will receive an arm band at the Finishline to get you into the PRO Spectacular later that evening for the PRO Spectacular mains.
PRO CRUISER will run a two moto transfer to a semi or main. Your first moto will run in its normal place after Girls cruiser in the first round.
The second moto will run after the Girls class in the second round of motos.
Your semi will run after the Girls cruiser in the second round.
The PRO CRUISER main will run after 10 ex in the second round.
PRO Purses shall be as follows: AA Pro = $6,000 guarantee - A Pro = $2,500 guarantee - Vet Pro = $2,000 guarantee - Women Pro = $2,000 guarantee - Pro Cruiser = $2,000 guarantee
Also, for the AA PRO class, J&R Bicycles has stepped up to podium big time and will be offering a $400 "Hole-Shot" award for the Friday Night PRO Spectacular Main Event.
Clayborn Bicycles is stepping up for the Ladies PRO once again with $200 for the "Hole Shot" award
TwentyH.com/HRP Desings is taking care of the A PRO classes with a $100 for their "Hole Shot" efforts.
Everyone's favorite website, vintagebmx.com will be throwing down the old school $200 cash for the VET PRO "Hole Shot" award as well.
This new format will add a very exciting twist to the 2007 ABA Grands weekend. We would like to wish all PRO riders the best of luck out there this weekend and we look forward to seeing everyone in 2008.
---
ABA BMX PRO wins after Fall Nationals/Disney Cup Nationals

The racing at the ABA Fall Nationals - Disney Cup was exciting to say the least. With three PRO SERIES scores on the line, many of the sports top athletes were on hand to take a shot at getting some much needed points towards the ABA BMX titles and the brand new Suzuki's that go with them. Kyle Bennett continued his tear on the PRO BMX scene by picking up the wins on the first two days and taking home solid second on Sunday. Kyle is on the fast track to ABA title contention and looks to be keeping "Easy Money" Danny C. in check. Kyle has been close many time to winning it all, will this be the year? Not to be out done, Danny C. showed why he's been the man to beat this season on the ABA PRO circuit. Danny picked up a HUGE win on Sunday to stop Kyle's domination of the weekend. This marks Danny's 8 win on the season and puts him in the drivers seat for his first ever ABA PO title. Danny is also looking to make ABA history and be the first PRO to win both the ABA BMX PRO title and PRO Cruiser title in the same year. Either way, "Easy Money" looks to be the man to beat if you want the ABA PRO titles. ABA BMX has had an unbelievable 12 different AA Pro winners this season which tops the 2006 record of 9 AA Pro winners. That just goes to show how DEEP the talent pool is at ABA BMX Pro Series events. With only the Race Of Champions and the ABA GRANDS left the racing is going to be intense!
On the Ladies side . Mariana Pajon flew in from South America to take on the ABA's best ladies. Mariana impressed the fans with mad skills and power. Defending ABA PRO ladies champ, Alise Post, battled out with Mariana all weekend long and put on one heck of a show for the Disney fans. Mariana picked up three wins on the weekend and is looking for a sponsorship to move over to the USA. We hope she does because it will only add more talent to an already stacked ladies field. We can't wait for the ABA Grands!
Pro Cruiser saw Danny C. take three big wins at Disney. This makes three wins in-a-row for Danny and he has a strangle hold on the ABA PRO Cruiser Title. But, Pauly has been so close before he could taste it, he seems to be more focused then ever on winning it all at this years ABA Grands!
Vet Pro saw the domination of Dale. Dale been back racing the BMX scene and taking it by storm. Dale took the three big Vet PRO wins at the Disney Cup and can now at the Disney Cup Championship to his already impressive resume. Unfortunately Dale won't be up for the VET PRO title this season, but he will be a HUGE factor to the points!
The ABA would like to thank all the participants, families, teams, sponsors, and BMX industry for helping make the Disney Cup event such a huge success
ABA BMX PRO wins after Fall Nationals/Disney Cup Nationals

AA PRO

Danny "Easy Money" Caluag – Intense/Socko – 8

Randy Stumpfhauser -GT Bicycles -5

Kyle Bennett – Free Agent – 4

Cristian Becerine – Free Agent – 2

Derek Betcher – Haro - 2

Mike Brabant – Unbound/Intense - 1

Mike Day – GT Bicycles - 1

Javier Colombo -- SE Bikes/No Wimps - 1

Jarrett Kolich – Avent/Bombshell – 1

Donny Robinson – Formula/Monster/HP – 1

Khalen Young – Haro - 1

David Herman – Answer/Anarchy - 1

Woman's PRO

Alise "The Beast" Post – Formula/Monster – 11

Krystal Hime – Supercross/O'neal – 5

Terra Nichols - Intense/Phantom/On-Trac – 4

Mariana Pajon – Columbia - 3

Kayla Gaddis -- Bizzarro - 2

Arielle Martin – Action Sports Depot – 1

PRO CRUISER

Danny "Easy Money" Caluag – Intense/Socko – 12

Paul Lange – Felt Bicycles – 6

Kenth Fallen – Supercross BMX – 4

Tyler Brown - Avent/Bombshell - 3

Jeff Upshaw -- Kuwahara – 2

VET PRO

Jason Carnes – Redline bikes – 8

John Whipperman – Redman/ Yamaha Waverunner – 6

Dale Holmes – Free Agent - 4

Todd Parry – Socko Energy drink -3

Chad Street – Intense/ Phantom/On-Trac – 3

Greg Romero – Sun Bru – 2

Jason Silva – Unbound/Intense – 1
2007 Pro Standings through Disney Cup / Fall Nationals:
AA PRO - 1 DANNY CALUAG 2537 2 RANDY STUMPFHAUSER 2280 3 KYLE BENNETT 1903 4 BUBBA HARRIS 1730 5 DEREK BETCHER 1529 6 MIKE BRABANT 1529 7 CRISTIAN BECERINE 1443 8 DAVID HERMAN 1418 9 JAVIER COLOMBO 1355 10 DONNY ROBINSON 1264
WOMEN PRO - 1 ALISE POST 2487 2 TERRA NICHOLS 2115 3 STEPHANIE BARRAGAN 1974 4 AFTON SCHRIMPF 1753 5 KRYSTAL HIME 1405 6 ERIKA SHORT 1342 7 TONI RUDE 1030 8 BRITTANY BATES 817 9 CASSIE BUSHNELL 782 10 MARIANA PAJON 762
PRO CRUISER - 1 DANNY CALUAG 2483 2 PAUL LANGE 2289 3 KENTH FALLEN 2239 4 TYLER BROWN 1893 5 JEFF UPSHAW 1380 6 JASON CARNES 1351 7 THOMAS FERNANDEZ 1158 8 BILLY ANDERSON 1133 9 JOE SOWERS 1036 10 ERIC RUPE 907
VET PRO - 1 JASON CARNES 2494 2 CHAD STREET 2305 3 JOHN WHIPPERMAN 2289 4 TODD PARRY 2239 5 JASON SILVA 1827 6 DALE HOLMES 1256 7 ERIC RUPE 1098 8 MIKE GUL 1043 9 GREG ROMERO 1032 10 DREW DOWNEY 918
A PRO - 1 JASON MORRIS 929 2 PHIL DELIZIA 925 3 NICK GOERTZEN 823 4 JUSTIN MCLINTOCK 810 5 WARREN MCDOW 791 6 JASON EGBERT 712 7 DOMINIC THERRIEN 698 8 JOSH SMITH 669 9 KARL CLARK 651 10 EVAN STEINBERG 650
ABA BMX would like to thank all the 2007 National Series sponsors:
Disney's Wide World of Sports Complex (www.disneysports.com) American Suzuki-(www.suzukicycles.com ) Yamaha Waverunner-(www.yamaha-motor.com ) BAWLS Guarana (www.bawls.com) Bawlstyle (www.bawlstyle.com )Redline Bicycles-(www.redlinebicycles.com ) FLY Racing-(www.flyracingbmx.com ) Sponsorhouse-(www.sponsorhouse.com ) GT Bicycles-(www.gtbicycles.com ) Tangent-(www.tangentproducts.com ) Intense BMX-(www.intensebmx.com ) GameStop-(www.gamestop.com ) EB Games-(www.ebgames.com )
Without their support, we couldn't make the 2007 ABA racing season such a huge success. Support the sponsors that support ABA BMX racing.
---
Last Chance to Train For The GrandS
Don't Miss It, ITS NOW OR NEVER!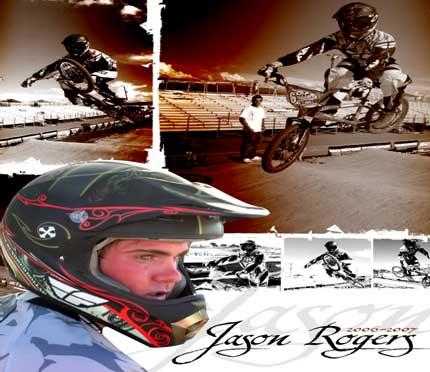 Place: Desoto Metroplex BMX
Date: Nov. 17th-18th
Time: 11 a.m. to 3 p.m.
Cost: $75 for both days or $50 for one
Phone: 214-538-4835 Jason Rogers
COME TRAIN WITH DOUBLE A PRO, JASON ROGERS
YOU'VE TRAINED WITH THE REST, COME TRAIN WITH THE BEST!!!!
CLINICS INCLUDE SKILLS AND TECHNIQUES FROM THE STARTING GATE TO THE FINISH LINE.
---
Today's BMX Racing News - Wednesday, November 7, 2007
LOOKING TO JUMP START YOUR CAREER AS A SPONSORED RIDER?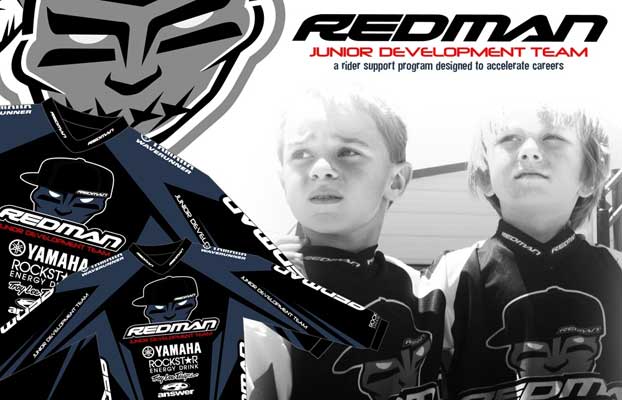 The Redman Junior Development Team is designed to initiate upcoming riders into the world of being a sponsored athlete. By joining our program you will become part of the biggest program in BMX and will have access to knowledge, status, and confidence that normally takes riders years to achieve. From team meetings to hanging with the "factory" guys, the riders will be placing themselves in an environment that has been developing national titles for the last ten years. Our program is proven and there is no better place than with the Redman Junior Development Team to jump start your sponsored career and improve as a racer.
BENEFITS & FEATURES
* Rider becomes part of a nationally recognized BMX program
* Increased chance of being recognized by high profile factory teams
* Confidence by being part of something established and respected
* Team meetings at all major events to discuss tactics and strategies
* Pit area for team members and families to relax at all major events
PROGRAM OPTIONS AND PRICING
OPTION 1 - WARRIOR - $350.00
Rider receives custom designed Redman Jr. Development Team jersey, Troy Lee Designs pants, pair of Troy Lee Designs gloves, a Redman t-shirt, and 15% of all Redman gear and clinics.
OPTION 2 - CHIEF - $750.00
Rider receives Redman frame, custom designed Redman Junior Development Team jersey, Troy Lee Designs pants, pair of Troy Lee Designs gloves, a Redman t-shirt, Redman hat, and 15% of all Redman gear and clinics.
ABOUT REDMAN BIKES
Redman bike's is all about the Mike Redman Experience, combining his knowledge of the industry with a vision for the future. For years he has been developing national champions and is still recognized as the best trainer in our sport. Mike is also the "voice of BMX", announcing at ABA and UCI events across the globe acting as an ambassador for his riders, company, and sport. Redman knows what it takes to make it to the top, let him take you there…
Today's BMX Racing News - Tuesday, November 6, 2007
---
2007 NBL Christmas Classic Schedule Announced

Be a part of the 'coolest' BMX race of the year inside the Columbus Convention Center in downtown Columbus, Ohio. Ohio State will be defending their President's Cup title against Florida and more than 20 other title-hungry states. Look for more announcements soon about contests, prizes and the Friday Night Elite Spectacular event.
2007 NBL CHRISTMAS CLASSIC RACE SCHEDULE:
Sunday, December 23rd – Pre-Practice Day - Doors open at 1:30pm - Practice: 3:00 – 7:30pm (see schedule below) - Fee: $15/person - Registration: 2pm / Bike Inspection: 2pm
Wednesday, December 26th – Practice Day - Doors open at 6:00am - Registration for Christmas Classic and President's Cup: 8:00-1:00pm & 2:00-7:00pm - Bike Inspection: 6:30am -12:30pm & 1:30-7:30pm - Practice: 7:00am – 8:15pm
Thursday, December 27th – President's Cup - Doors open at 7:00am - Registration for Christmas Classic: 10:00-1:00pm - Bike Inspection: 8:00 – 9:00am - President's Cup Opening Ceremony: 8:00 – 8:45am - Racing Starts: 9:00am
Thursday, December 27th - UCI Continental #6 - 1 Hour following President's Cup - Registration 2:00-4:00pm - Transponder Set-Up – 4:00-5:00pm - UCI Practice: 45mins following the President's Cup - Race Starts: 1 hour following the President's Cup
Friday, December 28th – NBL Christmas Classic #1 - Doors open at 6:30am - Opening Ceremony: 8:45 – 9:00am - Bike Inspection: 7:00 – 8:00am - Practice for riders who didn't race President's Cup only: 7:00 – 8:30am - Racing Starts: 9:00am - Pro Autograph Session: 3:00 - 4:30pm - 2007 Team Award Ceremony: Before main events
Friday, December 28th – UCI Elite Spectacular/UCI Continental #7 - 6:00pm - Registration 1-2:00PM - Transponder Set-Up: 2-3:00pm - UCI Practice: Immediately following the Christmas Classic #1 - Pro Autograph Session: 3:00 - 4:30pm - Race Starts: 6:00pm
Saturday, December 29th – NBL Christmas Classic #2 - Doors open at 6:30am - Bike Inspection: 7:00 – 7:30am - Racing Starts: 8:00am - Elite Series information: Super-Ex and Masters will race during the Christmas Classic both days. NBL Elite Men and Elite Women will not be offered. The UCI Continental Races will be run after the President's Cup and Day 1 of the Christmas Classic #1.

UCI Registration and Set-up Information:
Thursday, December 27 - UCI Continental Race #6 - Registration 2-4:00PM - Transponder Set-Up - 4-5:00pm - Practice: Immediately following the President's Cup - Race Starts:1 hour following the President's Cup
Friday, December 28 –UCI Elite Spectacular / UCI Continental Race #7 - Registration: 1-2:00PM - Transponder Set-Up: 2-3:00pm - Pro Autograph Session: 3:00-4:30pm - Practice: Immediately following the Christmas Classic #1 - Race Starts: 6pm

UCI ELITE SPECTACULAR - Friday, December 28 at 6pm - UCI Continental Race #7 - Tickets: $5/person, available at the NBL Booth all day on the 27th and 28th and at the door - Entertainment, awards, contests and tons of prizes - 5 & Under get in free - Portion of proceeds go to charity - Featured Classes: UCI Elite Men, UCI Elite Women, UCI Junior Men, UCI Junior Women
++++++++++++++++++++++++++++++++++++++++++++++++++++++++++++++++++++++++++++

PRACTICE SCHEDULE: Sunday, December 23rd – Pre Practice - Fee: $15/person - Registration: 2pm / Bike Inspection: 2pm
3:00 - 3:45pm 15 & Over ..... 3:45 - 4:30pm 14 & Under ..... 4:30 - 5:15pm 15 & Over ..... 5:15 - 6:00pm 14 & Under ..... 6:00 - 6:45pm 15 & Over ..... 6:45 - 7:30pm 14 & Under
Wednesday, December 26th (Doors open at 6am)

7:00 - 7:15am

13-16 Boys Cruiser

1:20 - 1:40pm

7:15 - 7:30am

17-34 Mens Cruiser

1:40 - 2:20pm

7:30 - 7:45am

12 & Under Boys Cruiser

2:00 - 2:20pm

7:45 - 8:00am

Girls Cruiser

2:20 - 2:40pm

8:00 - 8:25am

35+ Mens Cruiser

2:40 - 3:00pm

8:25 - 8:50am

7 & Under Boys & Girls (20")

3:00 - 3:30pm

8:50 - 9:20am

8-9 Boys (20")

3:30 - 4:00pm

9:20 - 9:40am

8-13 Girls (20")

4:00 - 4:20pm

9:40 - 10:10am

10-11 Boys (20")

4:20 - 4:50pm

10:10 - 10:40am

12-13 Boys (20")

4:50 - 5:20pm

10:40 - 11:10am

14-15 Boys (20")

5:20 - 5:50pm

11:10 - 11:30pm

16 Boys (20")

5:50 - 6:10pm

11:30 - 12:00pm

17-24 Boys (20") Ams

6:10 - 6:40pm

12:00 - 12:30pm

25 & Over Men (20")

6:40 - 7:10pm

12:30 - 12:50pm

14+ Girls/Women (20")

7:10 - 7:30pm

12:50 - 1:20pm

Elite/Junior/Masters/Super-Ex

7:30 - 8:15pm
Thursday, December 27th – No Practice - Friday, December 28th – Special practice only for those who did not race the President's Cup 7:00 – 8:30AM - Saturday, December 29th – No Practice
---
ABA Hall Of Fame Banquet Details Announced

2007 ABA BMX Hall of Fame Inductees: The American Bicycle Association is proud to announce this year`s inductees for the ABA BMX Hall of Fame. The ABA is in its 30th year of operations as the largest BMX sanction in the world. The ABA BMX Hall of Fame began in 1985 and is now in its 23nd year. The annual Hall of Fame Banquet takes place in Tulsa, Oklahoma at ABA`s host hotel, the Crowne Plaza, Wednesday November 21st at 2:00pm. Go211.com will be on hand to cover all the festivities. Seats are limited so be sure to get there early!
This year, the ABA BMX Hall`O Fame welcomes the following people for their contributions to the sport of BMX:

Dennis Dain: Best known as the "Red Baron", this Western Sports-A-Rama local was pilot of the world's greatest side-hack team. During the hack era of the 70's, Dain & Ruiz were on top, practically undefeated between the years 1975 to 1979. He was one of the original bike testers for Elaine Holt's Bicycle Motocross News (the sport's first newspaper). Dain was one of the first racers to be sponsored by GT, and even had his own Dain replica frame. He also rode for Redline and was a longtime racer for ABA BMX Hall of Famer "Big Daddy" Ralph throughout most of his career. Dain was a founding member of PRO. Dennis still lives in California and works for UPS.
Greg Grubbs: Greg was the first racer from Nebraska to make a name for his self on the national circuit. Not only was he fast, he was the hero to many racers that wore glasses and he was well known for his sense of humor. Greg started racing in 1976, turned Pro at age 15 in 1980, then won the ABA Cornhusker National in the 16 expert class, back when you could race Pro and expert in the same day. In 1981, he won 12 ABA single A races, while riding for SE Racing in the summer. He won the Jag World Championships in A Pro and Pro Open in 1981. In 1982, he was picked up by Redline and won his first race for his new sponsor in Orlando , Florida as AA Pro. He was featured on the December '82 BMX ACTION cover. He finished the '82 season as the #3 Pro behind the Patterson Bros. In 1983, Greg was dropped from Redline and began wearing a jersey that stated "FREE AGENT". In the summer of '83, he was the first instructor/counselor at the Woodward Training Center along with Mike Miranda, Mike Poulson and Joe Baumert. He briefly rode for JAG BMX. He rode for Hyper BMX from mid-1984 to end of 1985, until owner Billy Farrell was killed in an auto accident. He retired in 1986. From '86 to '90, he attended the University of Nebraska , where he received his B.A. in Anthropology. He made a comeback in 1990 by winning first race back as A Pro at the Mid-West Nationals. In 1991, he blew out his knee at the Mile High Nationals and retired permanently. He was the on-camera talent for the ABA BMX TV Show "Pump". Greg currently lives in Los Angeles where he works on commercial production and works for the TV show Motocross Files.

Elaine Holt-Osmond: Elaine became involved in BMX through her marriage to Ben Holt, who had introduced a plastic gas tank for BMX. Seeing a great opportunity, Elaine came out with the first real publication devoted to BMX, "Bicycle Motocross News", in June 1974. She actively covered BMX races and is responsible for spreading the word of BMX to tens of thousands of potential racers from the beginning. Elaine is credited with coining the term "BMX" from our sport of Bicycle Motocross.

The votes are in and have all been tallied for this years ABA/BMXer magazines Golden Crank awards as well. This year we received more votes than ever and the voting was closer than ever. The Golden Crank Awards are voted on by the fans and are awarded at the Hall Of Fame banquet in Tulsa, Oklahoma at ABA`s host hotel, the Crowne Plaza, Wednesday November 21st at 2:00pm. Go211.com will be on hand to catch all the festivities. Seats are limited so be sure to get there early!
2007 BMXer Magazine Golden Crank Nominees: These are the Top 5 in each category listed in no particular order
AA Pro of the Year - Donny Robinson - Danny Caluag - Alise Post - Bubba Harris - Kyle Bennett
Rookie Pro of the Year - David Herman - Jeff Upshaw - Joe Szurek - Joey Bradford - Joe Sowers
Bike of the Year - Redline - Intense - Formula - Supercross - Staats
Team of the Year - Redline - Intense-Phantom-Ontrac - Formula-Monster-Fly - Supercross - Redman-Yamaha-Rockstar
We hope to see you all in Tulsa!
---
Benefit Mountain Bike Race For Tara Llanes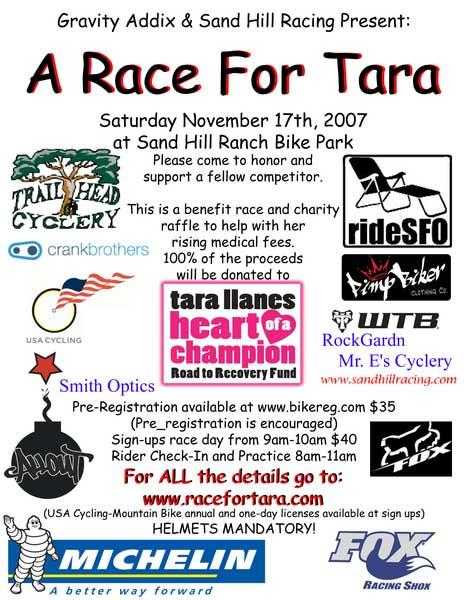 ---
Intense/Phantom/On-Trac Captures the Inaugural Disney Cup!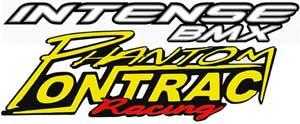 When the ABA 2007 schedule was released we all knew early we were going to Disney World. Rarely do we get to be part of a special event offering three National scores, the Disney Cup and momentum going into the Grands, it was clear we had to be a part of BMX history and an alliance that can only be HUGE for our beloved sport. Driving under the Disney arches as we entered the property and being exposed to all the great men and women of Disney, this event was really something special. Oh – and the racing rocked, too!

Terra Nichols took on the monsters of Women's BMX including Alise Post and Marian Pajon. Terra rides awesome and nails a 3rd on Day One and crashes taking an 8th on Day Two and is retired for the weekend. Hopefully, she'll be healed up in time for Tulsa. Chad Street, BMX's version of John Wayne's "Quiet Man", does what he always does – rides consistently and very well taking the podium in 2nd two days and a capturing a respectable 4th the other. Watch for Chad in Tulsa at the Grands – he might just sneak up on ya!
All of our ladies rode very well most of whom came away from the weekend with hardware, victories and momentum heading towards the climax of the season. The fearsome Kristen Long is really coming into her own and showed it this weekend nailing a Triple in 11 Girls and a 1st and two 2nds in 11-12 Mixed Open. Dominique "Demolition" Daniels continued her dominant ways achieving an unprecedented Triple – Triple – Triple in 14 Girls, 14-16 Girls Cruiser and 13-14 Mixed Open. Teammate Taylor Wolcott also had a tremendous outing finding Dominique her biggest competition managing three 2nds in 14 Girls and two 2nds and a 3rd in 13-14 Mixed Open. And last-but-not-least veteran Shelbi Long also compiled an impressive Triple in 16 Girls and two 1sts and a 2nd in 15-16 Mixed Open.

Future CFO Seanie Seanie Gaian got a preview of the Grands in 11X and held his own making his mains and nabbing a 2nd, 3rd and 4th for the three days. Fergus Falls' BMX ambassador Derik Bergh made all his mains for the weekend managing a 2nd and 3rd in 11-12 Open and a 3rd on Sunday in a stacked 12X class. UCI World Champion and NAG 1 Rusty "Razzberry" Nesvig had an extraordinary weekend competing in 13-14 Open and 13X. Rusty's blazing first ten pedals enabled him to easily handle the top dogs in 14X winning two out-of-three 13-14 Opens and taking down a 2nd on day three. In class he did what he always does – win it all notching an impressive triple in 13X.

In another young versus old match up, new to the 15X class Connor Fields also mixed up the 15-16 Open class. The Conman takes the win Saturday and 3rd and 4th for the rest of the weekend. In the 15X class, Connor notched two wins and a 2nd. Nic Long a.k.a. "The King of Open" turned in yet another dominant performance sporting his new Leatt neck brace (www.leatt-brace.com), a new accessory since Nic's glute-clenching UCI Supercross debut in China. Smart kid, this one! Nic powered his way to a Triple in 17 and over Open and two 1sts and a 2nd in 17-18X. Teammate Jake "Pumkinhead" Peebles also had good outings in 17 and over Open taking a 2nd and 3rd . Matt Baisley celebrated his 20th birthday with his BMX family and put together some great races in 17-20 Cruiser achieving three 2nds behind Florida-boy Josh Meyers.

Several of our riders came home with Disney Cup hardware establishing their names in history as inaugural winners. These winning riders include Kristen Long, Dominique Daniels, Shelbi Long, Christopher Blevins, Rusty Nesvig, Connor Fields and Nic Long. Additionally, the Intense/Phantom/On-Trac team captures the Factory Team Title and are proud to have our team set the tone for many great Disney competitions in the future. The team would also like to offer our "Congratulations" to all the other Disney Cup winning riders and to both Intense Racing and BMX Rush for their team victories in the Bike Shop and Trophy Team categories, respectively.

Now that the Disney race is over, it is time for the most serious business of the year; the ABA Grands in Tulsa, Oklahoma, the Greatest-Race-On-Earth. There's a lot at stake for the team as we enter the season's ultimate event sitting atop the Factory Team table with the clear goal of recapturing the Factory Team Title. Additionally, the team has several riders on the cusp of history. Three of our male riders are representing the team in the most exciting "Rock-Star" event of the year – the NAG 5 Challenge. Nic Long, Jake Peebles and the Conman, Connor Fields will all be vying for this auspicious title. From our Ladies corp, Dominique Daniels, Taylor Wolcott and Shelbi Long will all be in the new Ladies version of this event. Just making the main is a victory in itself in the NAG 5 elite pack of riders.
In addition to the NAG 5 representatives, a handful of our racers are also in contention for top honors in the Amateur classes. Nic Long sits # 2 in the country in amateur standing, only two points out of the lead. Connor Fields is a dark horse in the 4th spot. In Cruiser, "Bad-Boy" Billy Russell sits # 2. In the ladies classes, Dominique Daniels holds the lead in Girls Cruiser and sits # 2 in Girls. As always, the season comes down to Tulsa for everyone. If you can't make it this year, watch all the action "live" on www.go211.com !
As the season winds down, we'd like to thank all the terrific sponsors who helped us get to this point including Intense BMX (www.intensebmx.com), On-Trac Garage Doors (www.ontracdoors.com), Phantom BMX Products, Fly Racing www.flyracingbmx.com, Bombshell (www.bombshellparts.com), FSA (www.fullspeedahead.com), THE Products (www.the-industries.com), SINZ Racing (www.sinz-racing.com), Intense Tire Systems, (www.intensetires.com ), BMX Jerseys (www.groupdmfg.com), and Scott goggles (www.scottusa.com).
Text.....Mike Fields - Photos.....Dan Mooney/ABA
---