Supercross BMX owner, Bill Ryan is kickin' 2012 in to gear in a BIG way with the building of a Supercross / Olympic format track at their California World Headquarters, literally as we speak!
According to Bill, "There are really no "SUPERCROSS" style tracks for our riders to get on to on a regular basis for training" so he decided to build one for them!
Of course, in California, there is the BMX SX track at the Olympic Training Center in Chula Vista, but it does have limited availability to just drop by and practice on.
Also, if someone wants to work on a section or feature at their own pace, the options for SX style race training is limited, so the SX team decided that maybe it'd be cool to practice whatever they needed for an upcoming event, it'd be great to be able to design their own obstacles, jumps, turns as needed.
Bill continues......"So when we were looking for our new building, Land was an issue as we wanted to make sure we could build a track for our riders to practice on all they wanted, and if we wanted to change something, we can do it."
With riders like Bubba Harris, Dani George, Jeremy Rommel and Nate Padilla all on the roster and all doing the Supercross events, we knew this was something we had to do for the benefit of our riders.
Not to mention it is a great test facility.
Well after a year of dirt falling through and tractor issues, the time has finally come. So far we have had over 120 loads of Clay dropped off and have more coming.
So with dirt in hand, we sat down to decide what we wanted the Supercross Track to be. The end result is a 6 straight, 4 turn monster!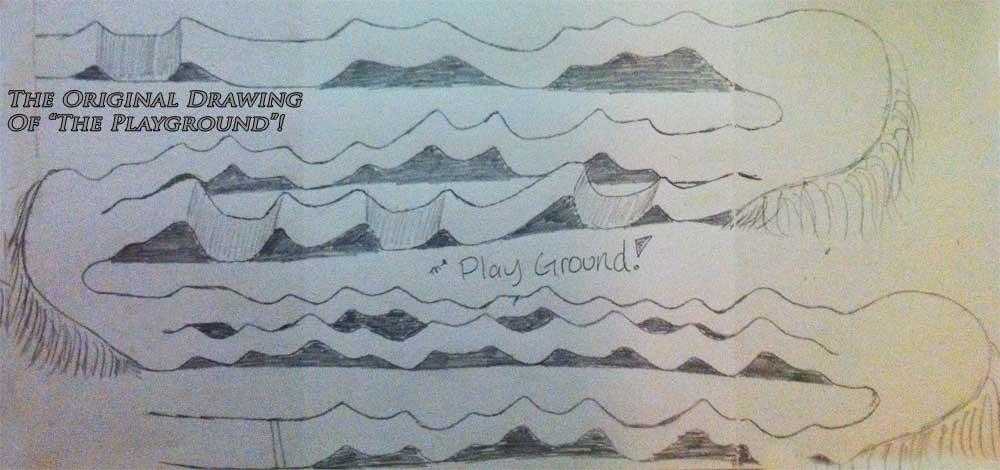 Now you are probably going, 6 straights? 4 Turns? What the heck, well the second straight and the 3rd straight are dual straights, and it is not Men's/Women's straights, it is the Gnarly Straight and the Super Gnarly straight and there are 2 second turns, 1 for the Gnarly straight that the Super narly straight jumps over into it's second turn. So the course itself is a typical 4 straight 3 turn track, but with options. At at an estimated 1400 ft it is going to be the perfect size for training.
So with the plan in mind, Austin Hiatt took everyone's comments and notes and put it to paper, then he used a cad program to lay it all out. Once that was done we hired ourselves up a tractor operator, Danny Purdue, who has helped us with our Apple Valley BMX track and has also built Motocross tracks for the Alessi's, so Danny knows his way around a dirt pile or two.
So with that, Jeremy and I set out to the lot and started marking off the ground with contractors paint, 42ft double here, 38 ft triple step here, 28ft doubles here, 28ft Bonzai jump, a 35ft berm jump, yeah it is going to have a few fun obstacles.
And of course as the building was going, we modified a few things, like the addition of the berm jump, that wasn't in the original plans, but it just seems to fit the flow of the track, and the Bonzai that drops you 4ft underground out of the first turn, yeah that wasn't in the original plans either, but just seemed to fit the flow of it all.
So far we have the first 3 straights in, and the last three are going in on New Years Day, then the grooming begins and we will be riding soon.
All of the above mentioned riders, plus Kenth Fallen and Austin Hiatt had input on the track design.
Stay tuned for more from the Supercross BMX Company Compound as we put together one awesome Supercross Practice Track!